Choosing the right thick yoga mat can be a difficult task. With so many brands in the market, it is hard to know which brands are worth investing in. Gaiam is a company that sells premium, extra-thick, and non-slip yoga mats. This Gaiam Yoga Mat review will look at the company's bestsellers, customer ratings, discounts, and much more to help you determine if their products are worth the purchase. 
About Gaiam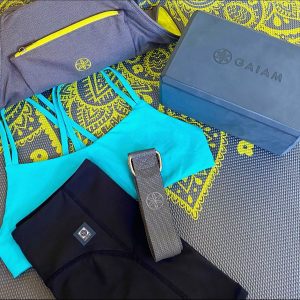 Gaiam is a leading lifestyle yoga company that aims at making yoga, wellness, and fitness accessible to all. The company's main goal is to use yoga to promote lifestyle wellness and fitness.
The company has a well-advanced distribution network of 18,000 stores, 38,000 retail doors, e-commerce, and 5000 management locations. 
The name Gaiam is a blend of the word Gaia and I am. Gaia is an ancient Greek goddess in charge of the earth. 'I am' basically translates to I belong to the earth. It aims to create a sense of connectivity between human beings and nature. The company believes that we create a peaceful and co-existing environment by protecting, respecting nature, and treating everyone with respect. 
The founder of Gaiam is Jirka Rysavy, who is an immigrant in the United States. Jirka migrated to the United States to start a company that will offer people products that enhance ecological sustainability and natural health. With a handful of money in his pocket, Jirka left Czechoslovakia in 1984 to purchase a dream that only made sense to him.
He settled in Boulder, Colorado, a city known for having a vibrant and socially progressive community. Jirka first secured a printing job where he was being paid $3.35 per hour. His ambition gave him sleepless nights, and after three months, he managed to save $600. He used the money to start Transformational Economy, a recycling paper distribution company. 
More about the brand
With time, Jirka became a serial entrepreneur, having opened many companies. He founded Gaiam in the late 80s to help popularize yoga. Yoga is an ancient Indian practice that aims to promote body fitness and lifestyle wellness. His main goal was to sell yoga equipment, exercise videos, and other conscious products. 
In 2009, the brand decided to spin its yoga business and make its yoga mats and bricks. Years later, the company sold its brand and yoga equipment to Sequential Brands Group. Gaiam continued with video streaming services. They also sold 51% of the company's interest to Natural Habitat for $12.85.
Gaiam continues to be successful with its products being sold everywhere from Amazon to Target. Their products are also recommended by Wirecutter, a prestigious New York Times review site. They also have a large social media following, with 143k followers on Instagram and over 234k followers on Facebook. 
This Gaiam Yoga Mat review will now look at the pros and cons of this yoga brand.
Pros
The brand sells an expansive selection of stable and anti-slip mats for all yoga positions

They offer diverse mats with different thicknesses to suit your needs

They offer BPA free products that are a healthy option for the environment

They offer durable and light mats that make them portable

Customers enjoy free shipping for orders above $125

The company has promotions and discounts throughout the year
Cons
The company does not offer guidelines on the positioning of their products

They only ship in Canada and the United States

You can only return products that you have bought from the brand's website
Gaiam Products Review
Gaiam is a company dedicated to using yoga to promote lifestyle wellness and fitness. Below is an overview of the company's best-selling products. 
Gaiam Yoga Mats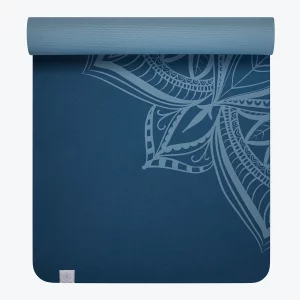 If you want to delve into your yoga practice worry-free, consider buying the Gaiam Yoga Mats. The company sells premium yoga mats specially designed by yogis for all yogis. 
The performance dry-grip yoga mat is a top-selling mat. It has a unique topcoat that provides a better grip and absorbs sweat and moisture when temperatures rise. This Gaiam Yoga Mat review also found that it has a rubber-free construction that works well for people who are sensitive to latex.
It is the go-to yoga mat because it's soft on the knees and joints and has a 5mm cushioning. The product is free from harmful phthalates, making it a perfect choice for those who want to stay fit and care for the environment. 
The mat is lightweight, made from latex, rubber, and 6P free. It is the ideal mat for a hot day, as it wicks away moisture, keeping you dry and comfortable during your exercises. 
The measurements of this mat are 68 inches long and 24 inches wide. Gaiam mats are made from high-quality materials and designed with competent professionalism. 
General care of the mats involves airing them out for two to three days before using them. Do not leave your mat unrolled because it will release a strong unpleasant odor. Use a damp cloth, cold water, and mild detergent to clean and dry flat. 
You can get the mat at $69.98, and it is available in black, purple, and blue. Other yoga mats that Gaiam offers include:
Classic solid color yoga mats

Reversible metallic sun and moon yoga mats

Premium grip yoga mats
Gaiam Blocks & Straps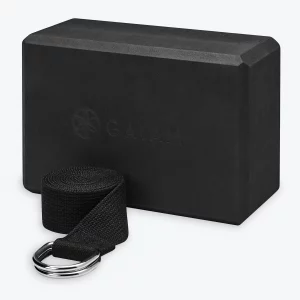 If you are looking for quality blocks and straps for your yoga, look no further. Gaiam sells classic and quality blocks and straps that do a great job in providing support when you make different poses.
The block & strap combo is a classy example. It is available in black, purple, and grey. The combo has been specially designed to safely support you and make you flexible as you modify your poses. 
The product is lightweight, stable, and has a sturdy foam for easy gripping. It offers you the extra height and support you need during your workout sessions. Additionally, the strap is 6″ long and made from 100% cotton, which is responsible for keeping you comfortable for long.
The Gaiam Yoga Block measures 9" long and 6" wide. To clean the block, use a soft cloth and mild detergent. Gently clean with cold water and air dry. You can also hand wash and dry it flat. 
Always use clean blocks & straps when starting a new yoga session to avoid spreading harmful sweat bacteria. For only $17.98, this combo can be yours.
Gaiam Recovery Tools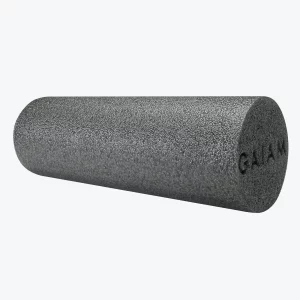 Roll your way to wellness and fitness using the Gaiam Recovery Tools. The Restore Muscle Therapy Foam Roller is designed to ensure you are stronger and healthier. It is a muscle therapy foam that tightens your muscles to improve mobility. 
This recovery tool is 18 inches long, and it allows a double arm and double leg simultaneous workout. It uses a restore formula effective in soothing workout soreness. 
The materials used to make the Gaiam Foam Roller are 6P free, meaning they do not contain DIDP, DEHP, BBP, and DINP. Additionally, it is semi-firm with minimal intensity. 
Consult with your physician before starting any exercise program that involves using the company's recovery tools. Always use the muscle therapy foam roller in an open area free from obstacles like furniture and other items that could get in the way.
The care tips involve drying the muscle therapy foam roller with a towel or a piece of soft cloth after use. Inspect the roller for any tears or nicks. You can also spot clean the roller with a damp cloth and air dry it. Do not air dry in heat or excessive sunlight. Also, avoid exposing the foam to sharp or abrasive surfaces. 
Gaiam Balance Ball Chair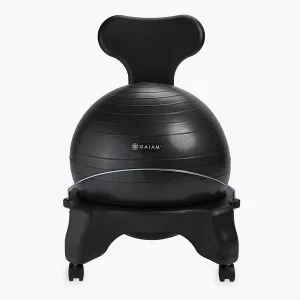 If your work involves active sitting for long periods, you need to stay healthy by using an ergonomic seat, such as the Classic Balance Ball Chair from Gaiam.
The Gaiam Balance Ball Chair is available in black, purple, cool gray, and blue. You can purchase the chair for $ 69.98 and enjoy a perfect and comfortable day as you work. 
A healthier back results in a productive workday, and the Classic Balance Ball Chair is an ergonomic chair that offers support for a healthier back. The chair is designed to help you improve your posture and achieve spinal alignment while strengthening your core as you sit.
The chair features a lightweight base made from molded PVC. The desktop workout guide is effective for stretching and working out. The baseball on the chair is 52cm, latex-free, and anti-burst. 
The measurements of the chair are 22w * 31H * 22D. It has a weight capacity of 300 lbs and is suitable for those with a height of between 5' and 5' 11". You can get yourself this ergonomic chair for $69.98.
It is advisable to use the balance chair on smooth surfaces. The chair should not be put near wood furniture or painted walls for long periods. 
Gaiam Ultimate Core Toning Kit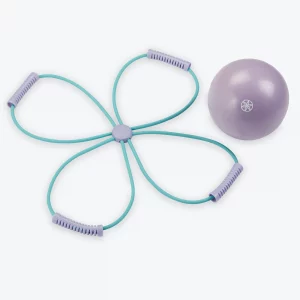 Ideal for your home workouts, the Gaiam Ultimate Core Toning Kit is easy to use, and it will help you get full-body pilates. This toning kit is soft and lightweight, making it perfect for home use. 
It is made from a durable 4-looped core reformer. The toning kit will intensify your workout and help you build strength, tone the core, and improve your flexibility.
The toning kit comes with an exercise guide and digital workouts, and you can get a pair for $50.00.
Gaiam Yoga Mat Review from Customers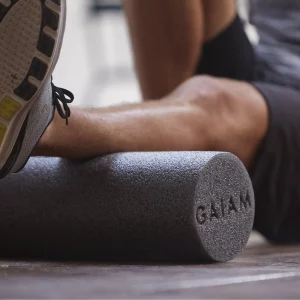 Our team checked the brand reviews from customers and found that most left positive reviews. Gaiam yoga mats are popular for beginner yogis. The company provides a wide range of yoga products. There are over 3248 reviews on the company's website, with an average rating of 5/5 stars.
 From the reviews, our team concluded that many customers prefer to buy Gaiam mats because they are made from foam or PVC material that is relatively inexpensive, making their products affordable. 
One new yogi from Amazon stated that he did a lot of research on the internet before purchasing a premium 6-mm print extra-thick yoga mat. The customer does regular hot yoga, and since he is a newbie, he was looking for a stable mat as he learns to perform the poses. His search on Pinterest led him to purchase the Gaiam yoga mat with beautiful flowery patterns.
Popular Alternatives to Gaiam
The customer said that the mat had a weird smell when they unpacked it. But after cleaning it with soap and water, the smell went away. They were pleased with the mat and recommended it to anyone new to yoga.   
Another customer commented on their website and stated that they loved their yoga mats. The customer had tried using other brands previously but would always find themselves sweaty and unable to make poses like the downward dog. 
They were happy that they finally found their desired mat that does not require them to do additional work to prevent slipping. The customer loved how the mat was cushy when they sat on it. It also remained hard on the floor, which prevented sore knees and joints.
We also came across a couple of negative Gaiam reviews, with most customers complaining that the brand doesn't offer guidelines on the positioning of the products they sell. 
Sign up for Gaiam
If you want to be part of the Gaiam family, visit the company's website and click on the Sign button. Next, select the New Customer? Sign up → option and fill out the registration form. You'll have to provide your name, email address, and password. 
Do not forget to subscribe to their newsletter to stay updated with offers and new products.
Where to Buy
You can purchase Gaiam products on their official website Gaiam.com. Once you log in to the website, add items to the cart to make a purchase. You can also buy their products on Amazon, Kohl's, Dick's Sporting Goods, Walmart, or Target.
Shipping and Return Policy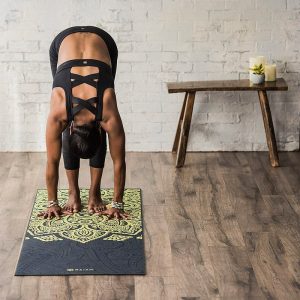 Gaiam currently ships its products to addresses in the United States and Canada. There are a variety of carriers used for shipment, and different shipping rates apply. For bulky orders, contact their customer support team. 
The company uses DHL Express to ship orders to Canada. Allow between 2 and 3 business days to process and an additional 2-5 business days to arrive. 
The shipping rates depend on the size of the order and where the product is being delivered. Free shipping is available for orders above $125 and is only applicable to orders made online.
If you buy any product from Gaiam and you are unsatisfied with it, Gaiam accepts returns. However, you have to return the item within 30 days of purchase. It also has to be unused and unopened.
If you receive the wrong order or the company sells you a defective item, reach out to their support team before returning the product. 
Gaiam Promotions and Discounts
Our team found several promotions and discounts available for Gaiam customers. They can use these offers to save money when purchasing yoga equipment on the brand's site. The available promotions and discounts include:
Free shipping on orders worth over $125

Up to 50% bulk yoga mats and supplies with wholesale program sign up

20% off site wide when you sign up for the newsletter

There is a 20% off on your orders if you use the code RETAILMENOT

 Get a 30% off when you buy the classic balance ball chair
Additionally, they also have rewards programs that allow customers to earn points with every dollar they spend on their site. You can also earn points by signing up and sharing or following them on their social media pages.
Contact Gaiam
Gaiam is a company that is customer orientated, and they would love to hear your feedback. If you have any questions about their products, you can reach out to them through their phone at 1-877-989-6321. You can also send their support team an email at [email protected]. Alternatively, you can send a direct message on the Gaiam Instagram or Facebook page.
Gaiam Yoga Mat Review: Editor's Verdict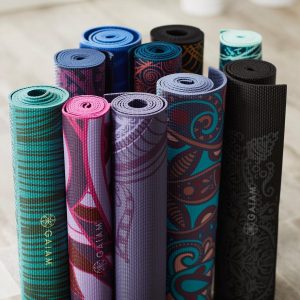 If you are looking for premium yoga mats, yoga clothing, or yoga props, check out Gaiam. This Gaiam Yoga Mat review recommends their products because they are BPA-free and durable. The brand also offers a range of products to suit everyone's yoga needs. Additionally, the company has many positive reviews from customers who are content and satisfied with their products. 
Interested in other fitness and wellness brands? Have a look at our reviews of Find Your Trainer, Foria Wellness, Alo Moves, and For Hers.
Gaiam FAQ
What's the most important piece of yoga equipment?
A yoga mat is the most important piece of yoga equipment to have. Yoga mats allow you to meditate and exercise comfortably. Using them will help you complete your yoga poses when laying on the ground or standing.
What size yoga block is the best?
A 4" yoga block is the standard measurement across many yoga studios. However, different yoga needs require different dimensions of yoga blocks.
What equipment do you need to meditate?
Meditation does not require much equipment. A meditation cushion like a zafu or a simple chair is all you need to stay comfortable during the meditation process.
How should I dress for mediation?
You might want to wear loose and comfortable clothing that will not interfere with your meditation sessions. Avoid restrictive and tight clothing, especially around the chest and abdomen.