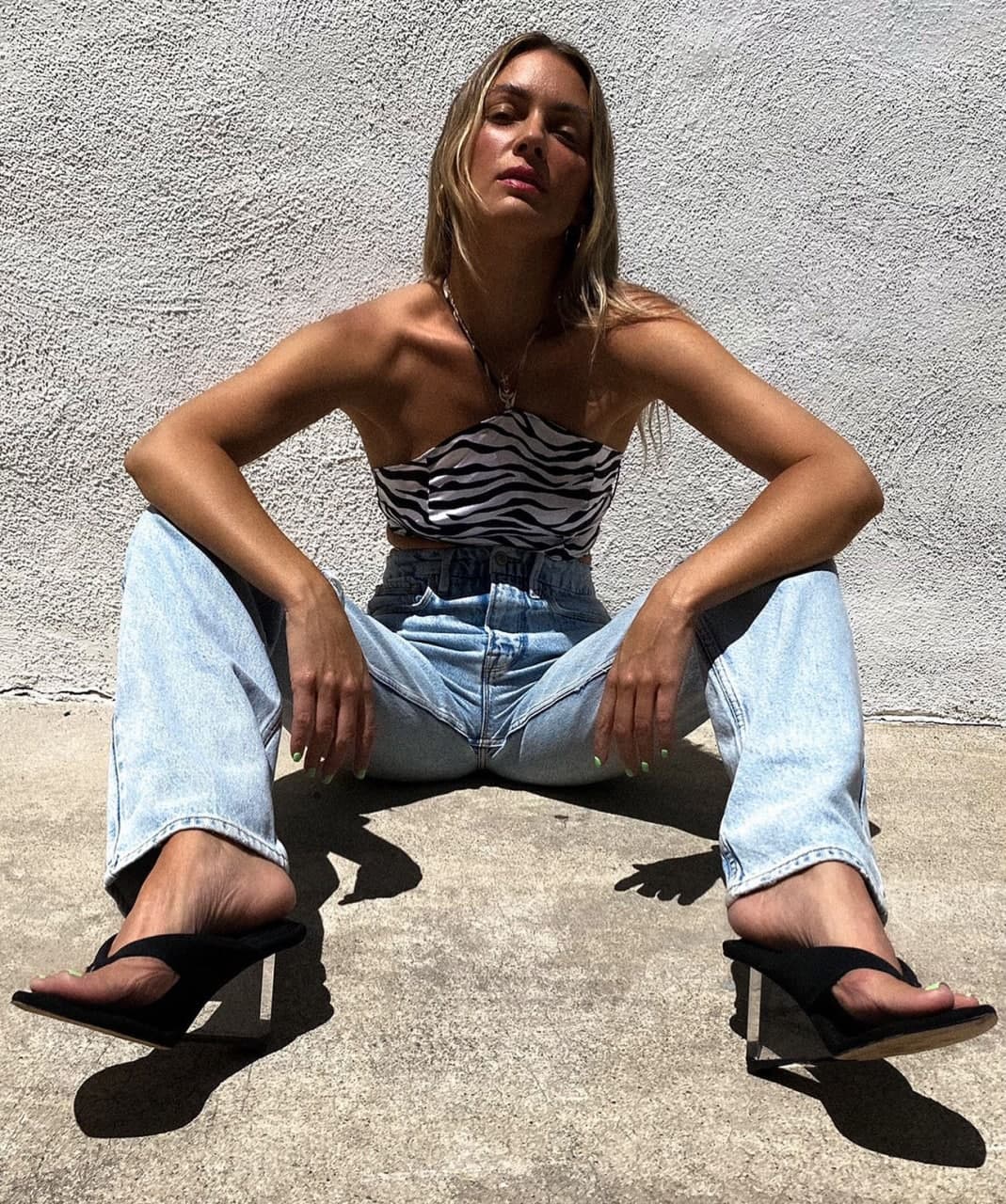 Eco-conscious and high-quality denim jeans made using sustainable manufacturing techniques Finding a clothing brand that caters to women who wear clothes above size 12 is challenging, and that's where Good American comes in. Based in Los Angeles, California, Good American is a clothing company that sells women's shoes, clothing, and accessories. The brand champions inclusivity and body positivity through designs that range between sizes 00 and 24. Our in-depth Good American Jeans review will check out this size-inclusive brand to find out the sort of experience it can offer.
Since its inception on October 18, 2016, Good American has been working hard to find solutions, innovate, and redefine fashion for modern women. They are determined to challenge industry norms to bring their customers a 100% inclusive collection.
Below we have provided all the information you need to help you make the best decision and determine if this clothing brand is worthwhile.
About Good American Jeans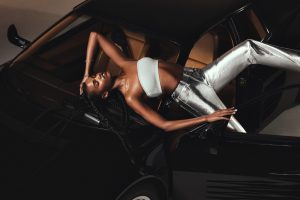 Founded by Khloé Kardashian and Emma Grede, the duo launched this company to address the shortage of sizing options in clothing for women. Finding the perfect pair of jeans seems to be quite the task these days. Known for its vast collection of activewear and denim, the brand also sells outerwear, workwear, leather, dresses, swimwear, and maternity wear.
Their jeans are made from high-quality European fabrics, and they are designed, cut, sewn, and then washed in LA.
To bridge the gap between plus and straight sizes, Good American announced they had created size 15 in September 2018, making them the first clothing company to develop this size. In 2019, the brand launched a sizing tool that features pictures of products on 15 models from sizes 00-24 to allow shoppers to find the right fit.
In 2020, the brand rolled out Always Fits, one-size-fits-four jeans created to adapt to the usual weight change in women, and it was available from sizes 00 to 32+. Then in December 2020, Good American launched its first shoe collection that features thigh-high boots, booties, mules, pumps, and sandals, with the sizes going from 4-14 in extended and standard widths.
The brand has more than 2 million followers on Instagram, and Elle, Forbes, Nylon, Harper's Bazaar, and Vogue have all featured the brand.
More about the brand
Additionally, Good American nurtures the next generation of women; they give a portion of their earnings from the clothes they sell to the charitable organization Step Up to allow them to help girls fulfill their potential.
Ecological and social consciousness is also a pillar of Good American, and the brand strives for sustainable production. Over 90% of their denim products are made with sustainable components, such as organic and recycled cotton.
Their shipment packaging also does not include plastic, and they introduced QR codes to all their denim products to allow you to get the details of their manufacturing process.
Pros
Offers free shipping on orders worth more than $125
Ships internationally
Installment payment plans are available through Klarna Bank AB
They offer clothes in sizes that you cannot find in mainstreams brands
The brand focuses on inclusivity, diversity, and women's self-empowerment
They accept returns and exchanges
Cons
They do not offer 4X and 5X sizes
Pricey items, but worthwhile
They don't have phone support
Some clothes are not available in the full-size range
Good American Jeans Review
Our Good American Jeans review will give an overview of some of the top-selling clothing items this brand offers to help you decide if they are right for you.
Good American Jeans Shorts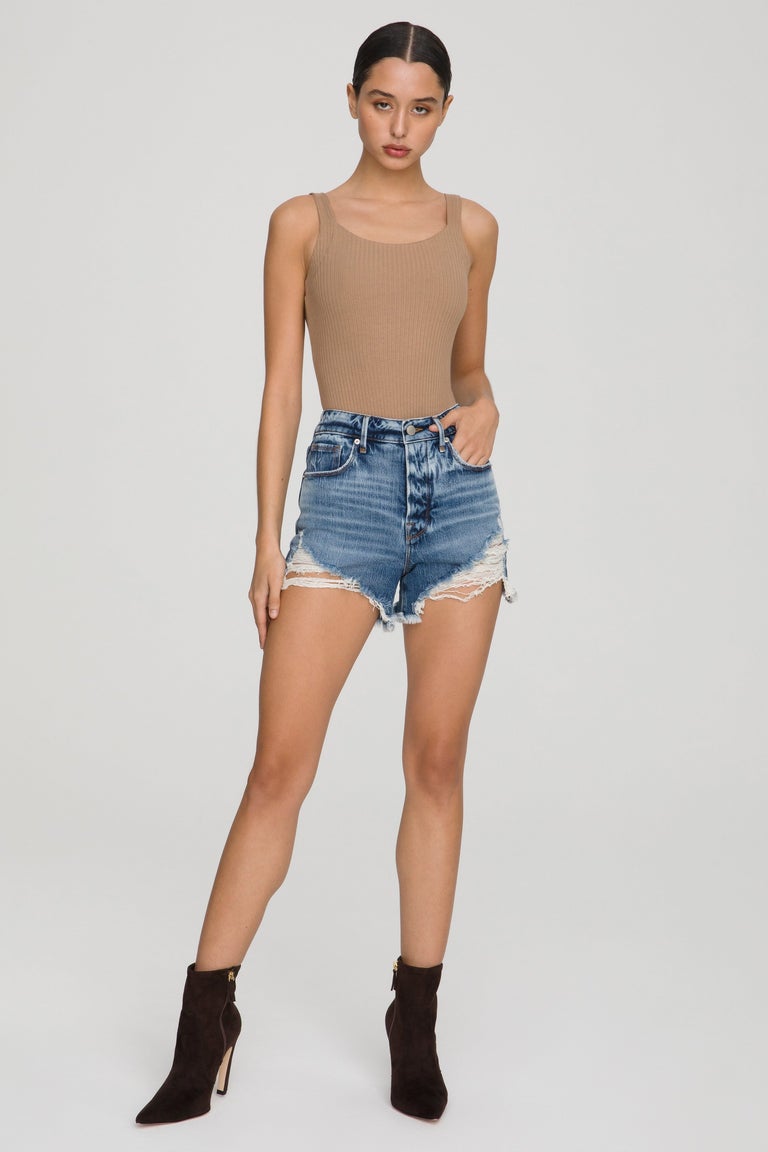 This clothing brand offers denim shorts starting from 00 to plus size 32. Good American Jeans shorts are a wardrobe staple because they are soft, comfortable, and stylish. These shorts are a perfect choice for spring and summer, as they do not cover your entire legs and allow you to stay cool and comfortable.
Additionally, the shorts are low maintenance, as they only need occasional washing and drying. You don't require special cleaning, and you can use a steam iron to press any wrinkles.
The Good American Jeans Short collection includes Bombshell Shorts in sizes 00 to plus size 30. Made from 99% cotton and 1% elastane, these tummy control jeans shorts give you a flat stomach, emphasize your curves, and lift your booty.
These curve-hugging jeans shorts also have a gap-proof waistband and frayed hems that make you look effortlessly chic. Whenever you wear these high-waisted jeans short, the compliments will undoubtedly roll in.
The Nineties jeans shorts have made a comeback, and Good American offers an impressive 90s jean shorts selection. These high-waisted shorts feature split-level hems and are available in medium blue wash.
The brand also has Bermuda shorts made from a mixture of organic cotton, elastane, and Elasterell-p. Organic cotton results from agriculture and eco-friendly methods, as producing this material uses lower carbon due to lesser energy and fuel consumption.
Because organic cotton goes through a production process that does not use chemicals, it helps prevent water contamination. The price of shorts that Good American offers ranges between $94.90 and $129.
Good American Black Jeans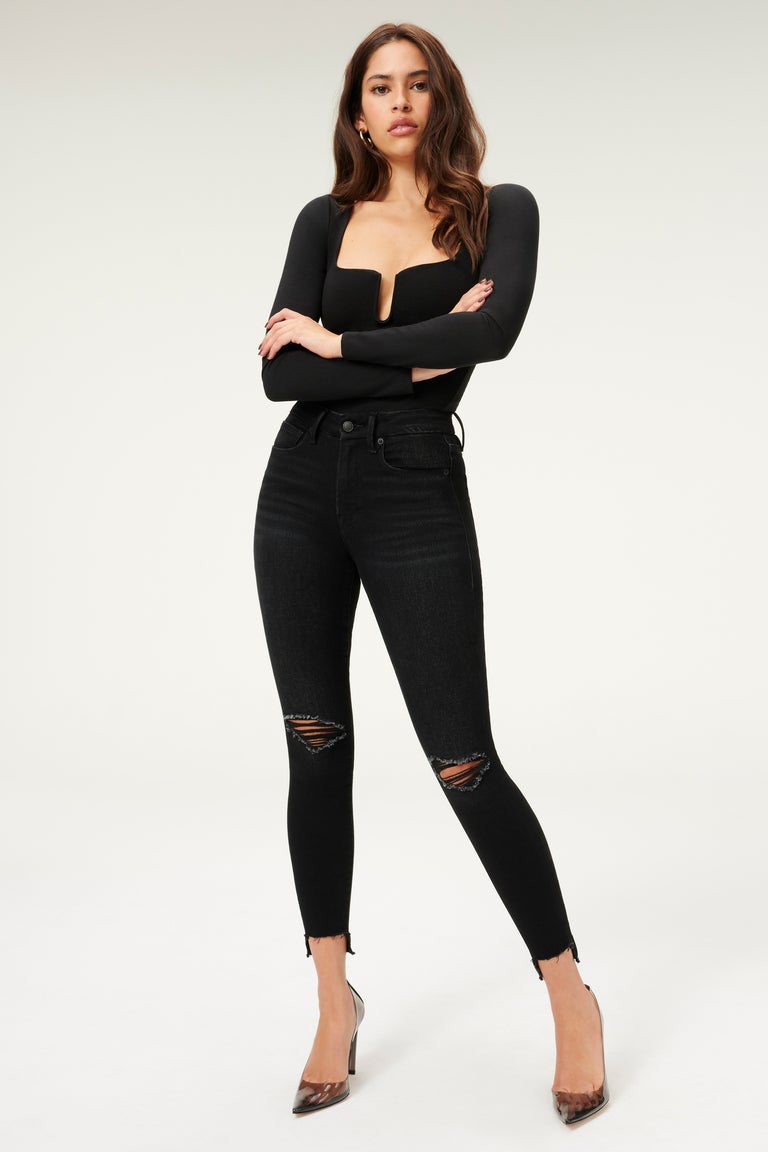 The Good American collection has a variety of black jeans that you can mix and match with loads of options. You cannot go wrong with Good American black jeans, as their versatility means you can style them in numerous ways.
Made with recovery fabric, you can wear the Good Waist Crop raw black skinny jeans several times before washing them to preserve their shape. These jeans feature a high waist that makes your legs look longer and flatters every curve. They feature double knee blowouts, a clean hem and are available in sizes 00 to 26.
The Good Legs black high waist skinny jeans are available in different sizes, ranging from 00 to 26. They are extra stretch to ensure they hug your shape while making you look long and lean.
Their minimalist style and vintage black wash make dressing up and down a breeze, meaning you can use them as classy date-night wear or casual office apparel.
The Good Straight is available in vintage black wash and features clean hems and waistband reinforced belt loops. These classic straight legs, high-waist jeans are made of 94.8% organic cotton that sculpts and lifts your figure.
Lastly, the black Good Always Fits Black Skinny jeans live up to their name, as they feature a super-stretch design that can adapt to the usual changes of your body. These jeans will move up or down with you to ensure a perfect fit, whether you gain or lose weight.
Available in different sizes, these jeans come with a gap-proof waistband and high-rise waist.
Good American White Jeans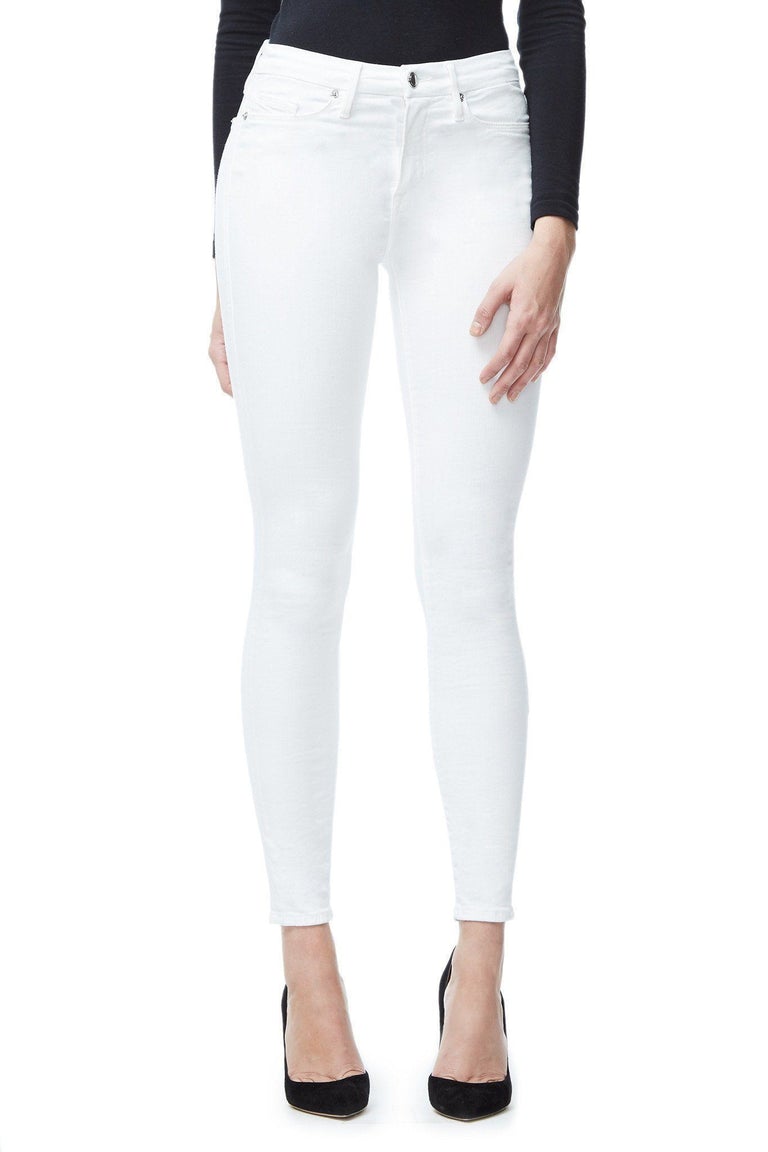 You can make a statement with the stylish white jeans that Good American offers. Because cotton is naturally white, these jeans provide high levels of protection against fading.
With Good American white jeans, you can easily mix up your outfits. There is no single color on the wheel that can clash with white. They also have a naturally reflective surface, meaning that they reflect sunlight and heat to keep you cool and comfortable. These white jeans are the ideal clothes to wear in summer and spring.
Additionally, these white jeans enhance your footwear and make them stand out. That means your footwear will be more visible and allow you to achieve a stylish, head-turning appearance.
Good American white jeans create a flattering figure, as they make you look slimmer and enhance your body's natural figure. Best of all, it is easy to remove stains on these jeans.
Because these jeans are protected against fading, you can always wash them in a washing machine using hot water to remove stains. Good American offers skinny white leg and leg crop jeans, and they also come in different sizes.
Good American Petite Jeans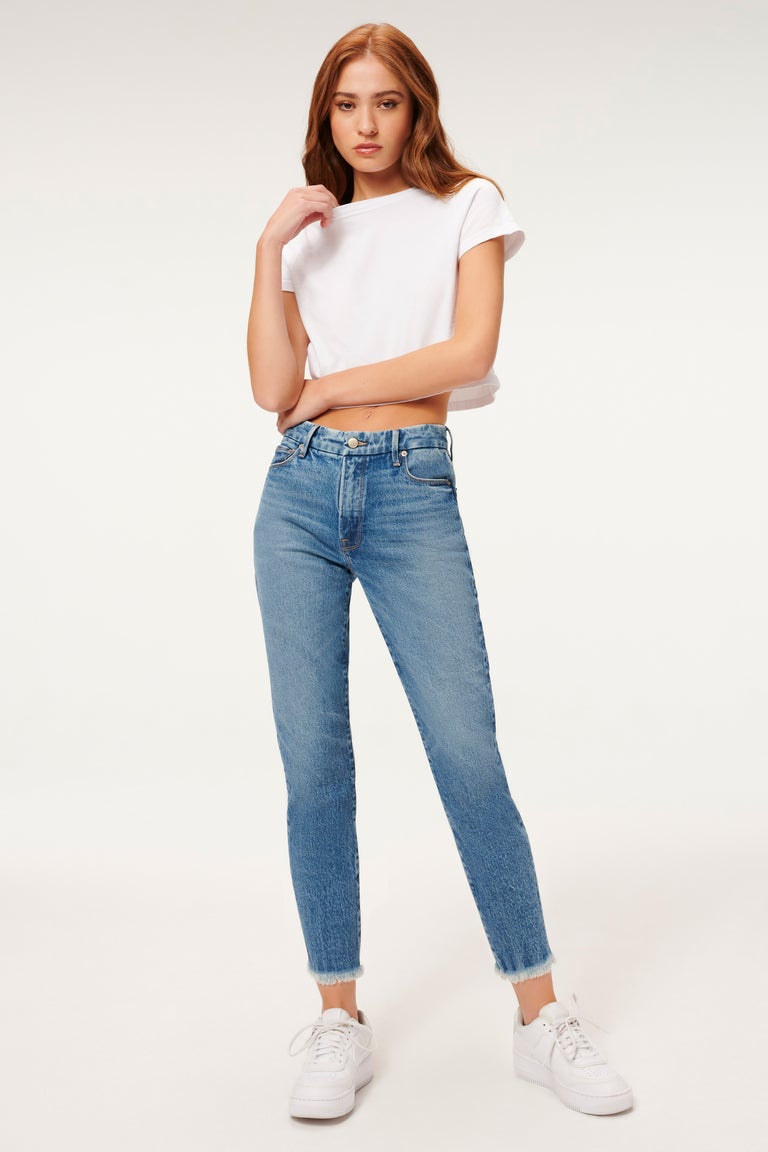 This clothing company offers a wide range of petite jeans with a shorter inseam, rise, and length. Some Good American petite jeans feature small details, such as trim and pockets to flatter women with smaller frames.
Good Girlfriend Petite is a low-rise pair of jeans available from sizes 00 to 24, and it comes in a slightly faded light-medium blue wash. Made from 99% cotton and 1% elastane, Good Girlfriend Petite is loose in the leg and features five pockets and frayed hems.
Available in black and blue color, Good Petite Skinny Jeans are designed to fit your booty and waist. These mid-rise jeans are narrow in the hip and come with clean hems. Good Girlfriend Petite Curtain jeans are available in medium wash style and feature distressed curtain hems.
Designed to make your legs look longer, Good Straight Slit Rive comes with a medium wash style, mid-rise waist, slit hem detailing with rivet, and it has the same width from the leg to the knee.
These jeans are ideal for women looking for a streamlined effect without going to the skinny jeans extreme. Good American Petite Jeans cost between $99 and $179 to suit women with different budgets.
Good American Good Waist Jeans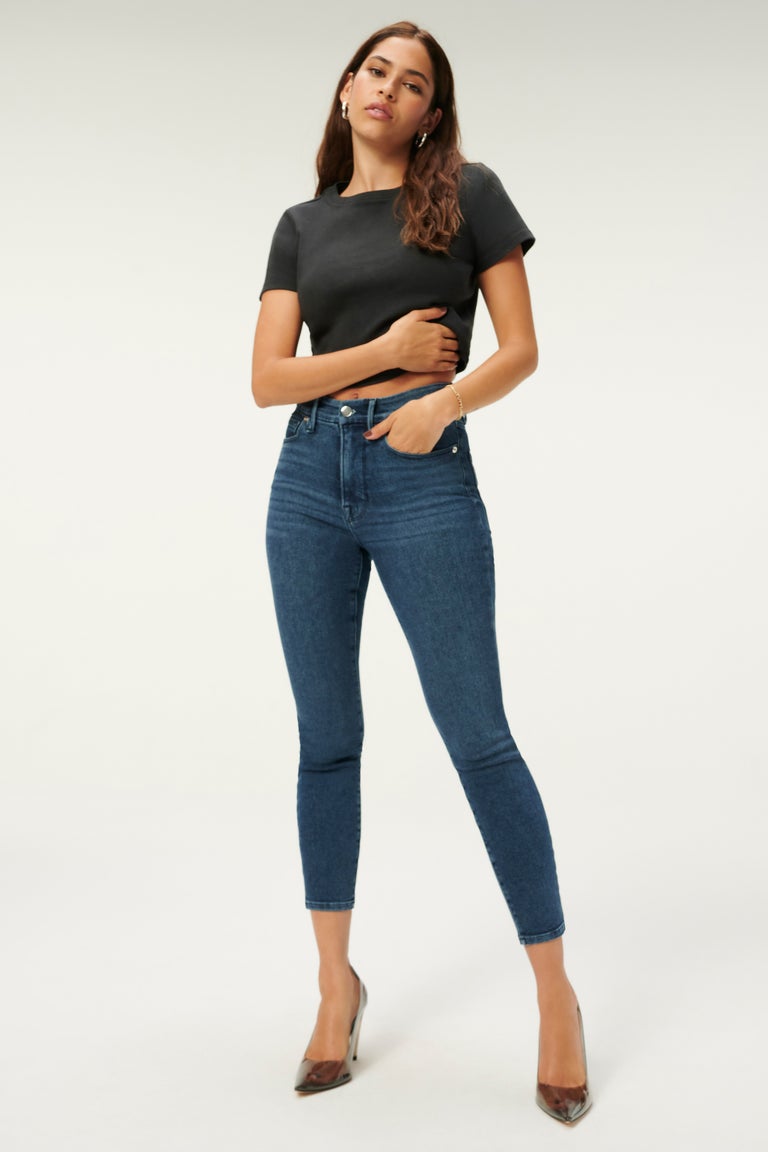 There is a wide variety of Good American Good Waist Jeans designed to nip you in at the waist. The Good Waist Palazzo blends a robust structure with a flawless, off-white "bone" tone that is not overly bright and thick material. The wide flare on the Good waist jeans makes them look casual and effortless.
Our Good American Jeans review found that this pair of high-rise jeans features a slender style designed to hug your body down to slightly above your knee, where the flare starts. They also come with beautiful silver hardware, Good American flat-tummy technology that locks the midsection comfortably in place, and a long inseam to make your legs appear longer.
Other notable features include reinforced belt loops, five pockets, a gap-proof waistband, a clean hem, and zip fly closure. These jeans are made from 72% cotton, 1% elastane, 9% Elasterell-P, 11% modal, and 7% recycled cotton.
The Good Waist Raw Edge is a super high-rise pair of jeans in a skinny-fit style. These dark blue wash jeans feature reinforced belt loops, a gap-proof waistband, raw hem, five pockets, and a zip fly with button closure.
As the name suggests, the Good Waist Crop Side Slit is a cropped super skinny pair of jeans that comes with a slit. These waist-nipping high-rise jeans also feature a flat tummy technology, a gap-proof waistband, and they are available from size 00 to 24.
Other Good American Good Waist Jeans include Good Waist Crop Fray Hem, Good Waist Shadow Pockets, Good Waist Crop Broke Down Hem, and much more. The price of these jeans ranges from $97.30 to $175.
Good American Maternity Jeans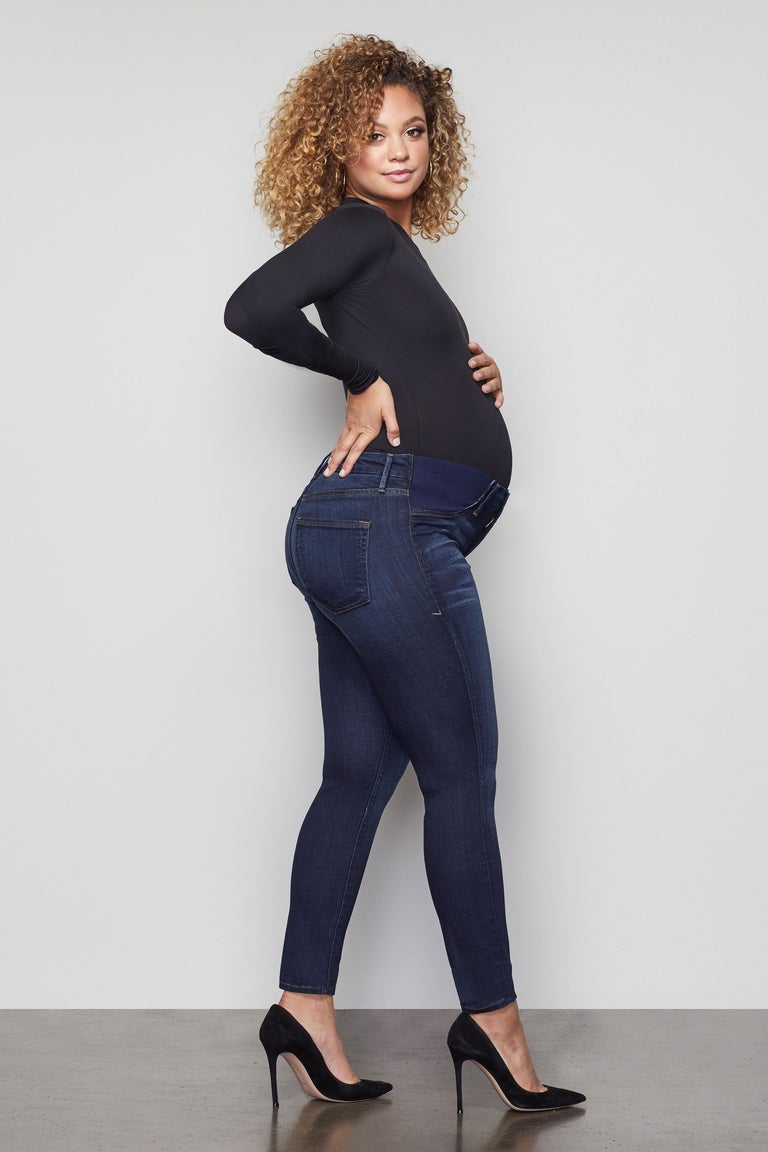 This clothing brand knows that women need to dress for comfort during pregnancy, and that's why they offer jeans that come with panels and waistbands to accommodate a baby bump.
Good American maternity jeans come in various styles: you can choose from loose-fitting, low-rise, mid-rise, and over-the-bump maternity jeans. You can also choose from crossover and inset panels.
Over-the-bump maternity jeans work best with looser than usual tops. The maternity jeans that Good American offers feature side stretch panels to give you support from below.
Some of these jeans do not come with a button or zipper, meaning you can wear them even after giving birth without worrying about bulges or sagging.
The jeans are soft and comfortable because they are made from high-quality imported materials, meaning you won't have to worry about irritation while wearing them.
Good American maternity jeans are available in blue and black, and they come in size 00 to plus size 24. The price of these jeans ranges from $89.90 to $179.
Good American Crossover Jeans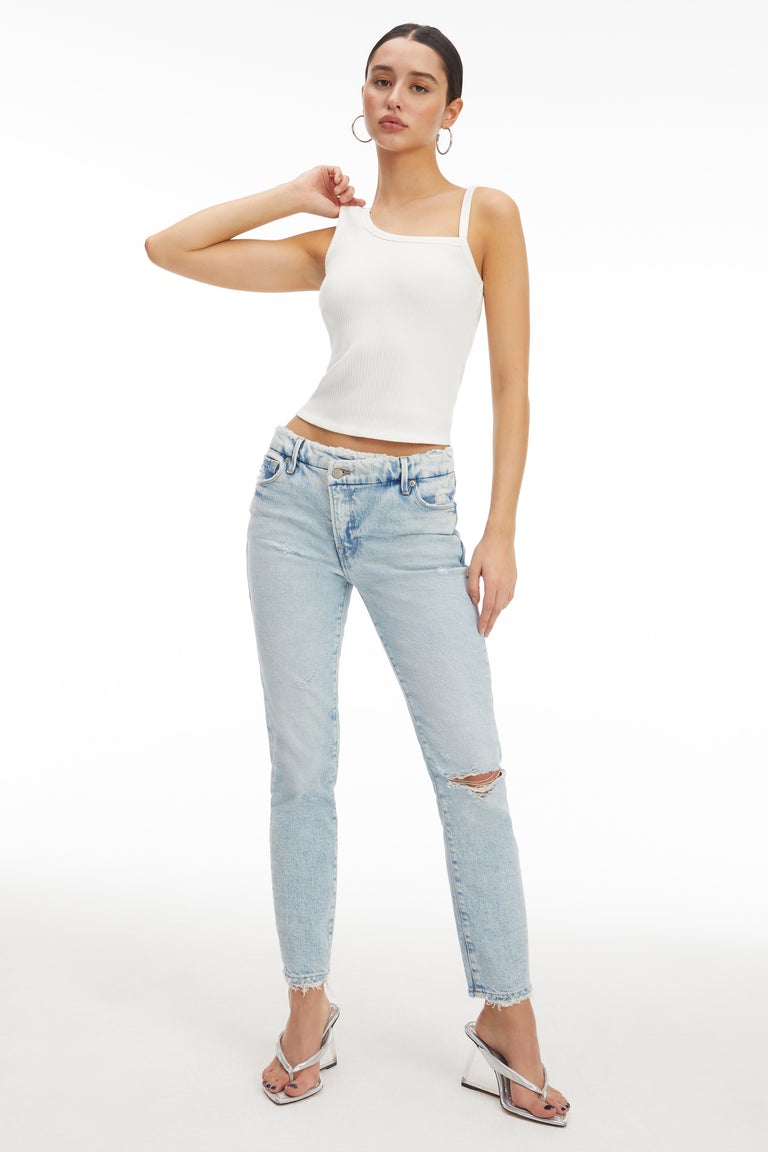 The company offers light blue wash style skinny crossover jeans with slit knees and skinny legs. Good American Crossover jeans also come with a crossover waistband and feature recycled trims that make them aesthetically appealing.
Made from 1% elastane and 99% cotton, these crossover stretch jeans have recovery fabric, allowing them to preserve their original shape even after wearing and washing them numerous times.
These crossover jeans will cost you $175, and they provide the right amount of comfort while molding and holding.
Good American Jeans Reviews from Customers
Most of the jeans Good American jeans have managed to pull in positive reviews on the internet, with a high percentage of customers leaving 4 or 4.5 stars. Shoppers rave about how their jeans provide a perfect fit for all types of bodies.
Popular Alternatives to Good American Jeans
Many customers also praised the high-quality imported materials used to make Good American jeans, making them soft and comfortable to wear. Other buyers loved the impressive level of diversity that this brand offers with its jeans collection, as they have different styles and designs.
While most buyers had good things to say about this clothing brand and the jeans they offer, a couple of shoppers left some negative reviews on Trustpilot. Most complaints are about late deliveries due to the COVID-19 pandemic.
Sign Up for Good American
To get the ball rolling with Good American and receive the latest updates, you need to head to their official site and sign up by providing your email address. You will then receive 15% off your first purchase.
Where to Buy Good American Jeans
If you are wondering where to buy Good American Jeans, we have got you covered. You purchase their jeans directly from their site GoodAmerican.com or at Amazon.
Many retailers in more than 20 states also offer Good American jeans. You can use their Find a Store page to find a nearby store.
Good American Jeans Shipping and Return Policy
Shipping
Our Good American Jeans review found that this clothing company ships internationally via their partner Flow. Buyers from the United States have the following shipping options:
Standard: This has an estimated delivery of 7 to 14 days.
Ground: This option takes between 3 and 7 days, and they don't deliver to PO Boxes.
2-day shipping: With the 2-day, it takes between 2 and 3 days.
Good American will process your order within 1-4 business days after you have placed it. Tax and duty amounts calculated and paid on checkout are guaranteed, and you won't pay extra charges upon delivery.
Returns Policy
The company accepts returns and exchanges of any item you buy on their website, but it has to be in its original condition with tags attached and unused. However, you have to request within 45 days of the shipping date.
Returns and exchanges are also subject to a 5-dollar restocking fee, and the company will deduct this amount from your refund.
Good American Promotions & Discounts
The good male Sale page always has great offers that you can take advantage of and get discounts on various items. Currently, you can get up to 60% off on specific items. When you register an account with Good American, you will receive a 30% off the first pair of denim you purchase.
Contact Good American
You can reach the Good American support team via the contact page. You only need to fill out the contact form, and they will respond within 2 to 4 business days. The site has a live chat function, and you can also reach them via their Twitter, Facebook, or Instagram accounts.
Are Good American Jeans Worth It: Editors' Verdict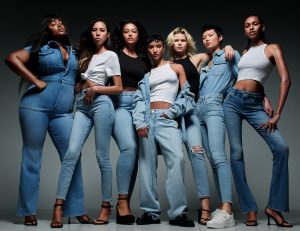 If you are asking yourself: Are Good American Jeans worth it? Our reviewers found that this brand offers value for money. Their products are high-quality, stylish, have durable stitching, and are made from strong, heavy materials that make them long-lasting.
This Good American Jeans review also discovered that customers generally have good things to say about this brand and the items they sell. The major con is that they do not offer jeans in 4X and 5X sizes and don't have a phone for customers to call and talk to the support team. Other than that, this clothing brand is worth checking out.
If you are still looking for your perfect contemporary fashion style, consider reading the most popular brand reviews of American Eagle, Shopbop, Revolve, and Faithfull the Brand.
Good American Jeans FAQ
Does Good American honor price adjustments for orders?
Yes, the company honors price adjustments for any order you place within seven days of the markdown. They can only honor price adjustments if the specific color and size of the item are in stock and available on their site for purchase.
Does Good American offer plus sizes?
Yes, their sizes 16 to 24 are the same as plus sizes 16W to 24W.
What if my item is faulty?
In case you have received a faulty Good American item, you can ask for a refund by logging into your account. Which items are considered faulty?
The ones that have been received damaged or any manufacturing fault which happens within 3 months of purchase.
Is Good American good quality?
According to their customers, the products are high-quality and reliable to wear. They mostly love the Good American jeans as they are soft and comfortable.