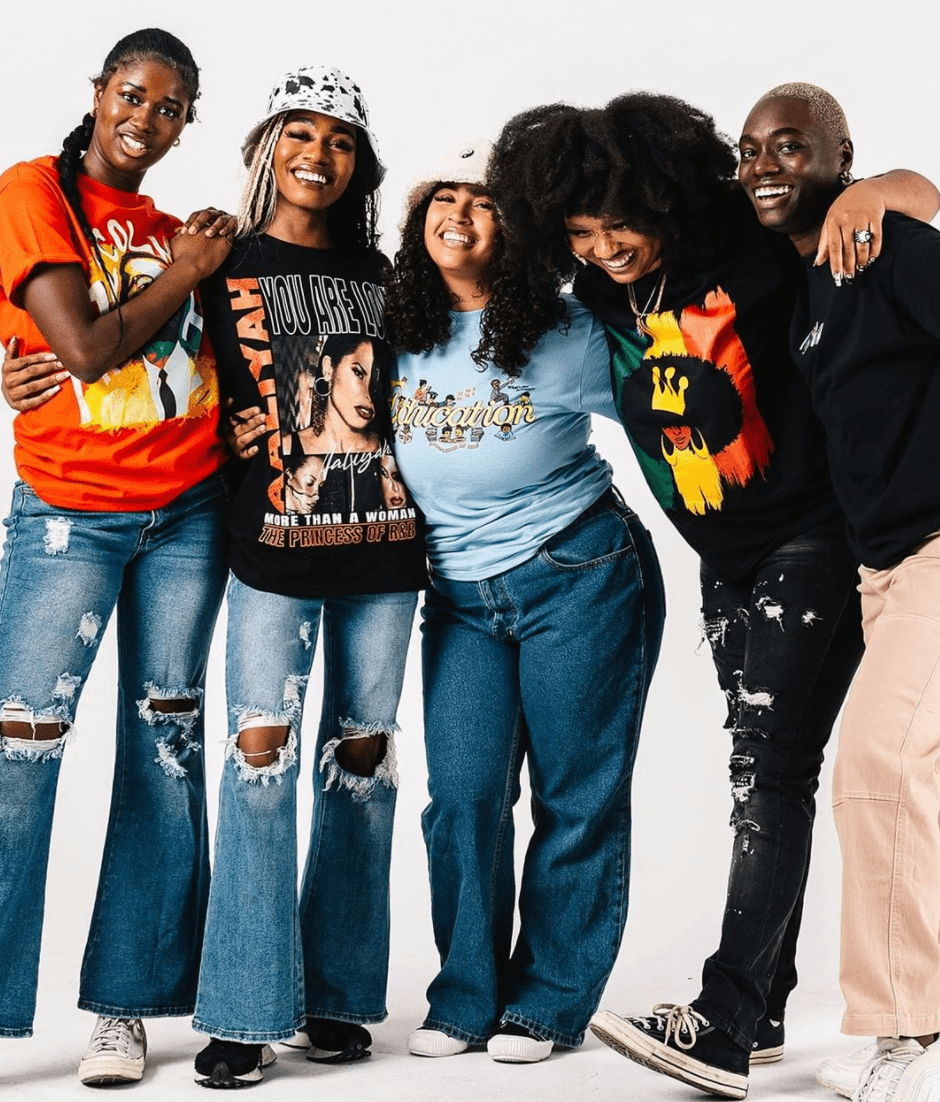 As one of the fastest-growing specialty retailers in the country, Rue21 specializes in men's and women's casual apparel and accessories. Our Rue21 review will give you the low-down on this clothing brand to see if it's worth the hype. Based in Warrendale, Pennsylvania, Rue21 believes fashion should be fun and available to everyone at an affordable price. They offer cool casual clothes designed for the most rad individuals.
To help you determine if Rue21 is right for you, keep reading to learn the ins and outs of the clothing brand.
About Rue21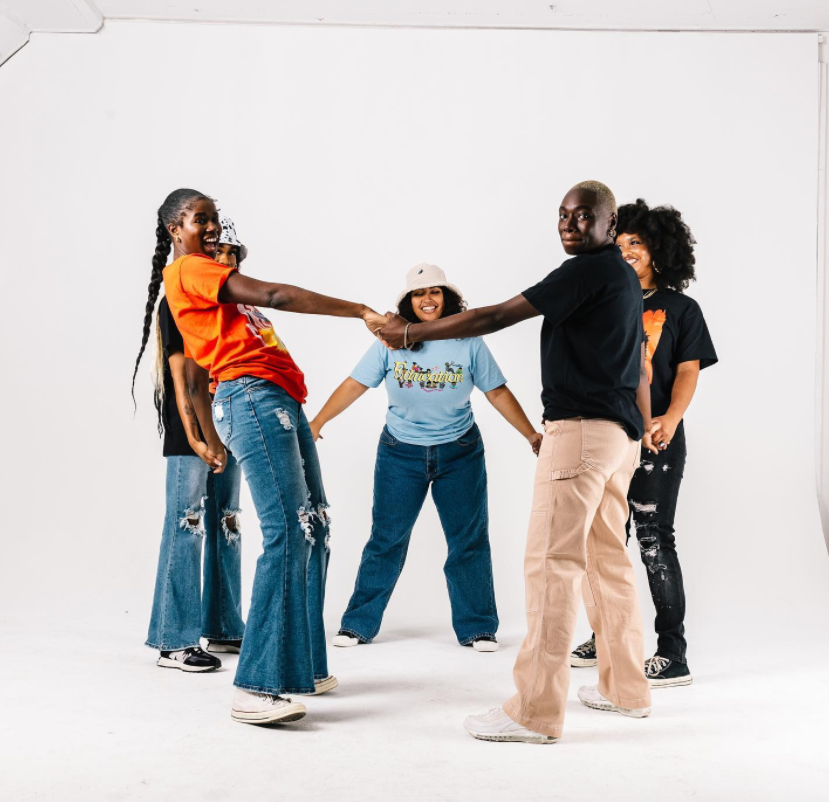 Cary Klein Pennsylvania Fashions in 1976, and the company changed its name to Rue21 in 2003 after Klein sold a 50-percent stake to the investment firm in Stamford, Connecticut.
Throughout the end of the 20th century, Pennsylvania Fashions grew considerably and managed to establish a retail network comprising approximately 1,800 employees and 250 stores.
After changing its name to Rue21, the company then set out an ambitious plan of expanding its 170 stores for the next five years. The brand opened its 500th store in 2009, and by November 14, 2013, Rue21 had 1000 stores.
On March 17, 2011, the company continued its growth and expansion by announcing it was doubling the size of its Weirton, West Virginia- based Distribution Center.
The company currently operates a network of more than 700 brick-and-mortar stores across 48 U.S. states. The brand also supplemented its physical retail locations by launching an online store.
The company was first marketed to the public in November 2009. Robert Fisch is the CEO and president of Rue21, with the main stakeholder being Saunders Karp & Megrue.
Rue is a French term that means street, while 21 is the age that everyone desires, wishes, or feels to be. Inspired by the style and spirit of one of the best periods in life, their stores and website cater to people seeking fashion that is trendy, modern, and inexpensive. The brand was featured in many fashion publications such as Bloomberg, Women Wear Daily, and Forbes. At the moment of writing, there are 900k followers on Instagram, and 1,5 million followers on Facebook. Carry on reading our Rue21 Review to find out more about the brand.
Pros
Offers the hottest fashion trends at affordable prices
It has a large collection of clothing designed for men and women
Accepts returns and exchanges
Top-notch customer service
Free standard shipping orders worth $50 or more
Fast deliveries
Cons
You cannot return in-store purchases online
They don't ship internationally
There is no live chat function
They don't offer around-the-clock support
Rue21 Clothing Review
We checked Rue 21 reviews and put together a list of some of their hottest picks within the women's and men's clothing.
Rue21 Jeans for Girls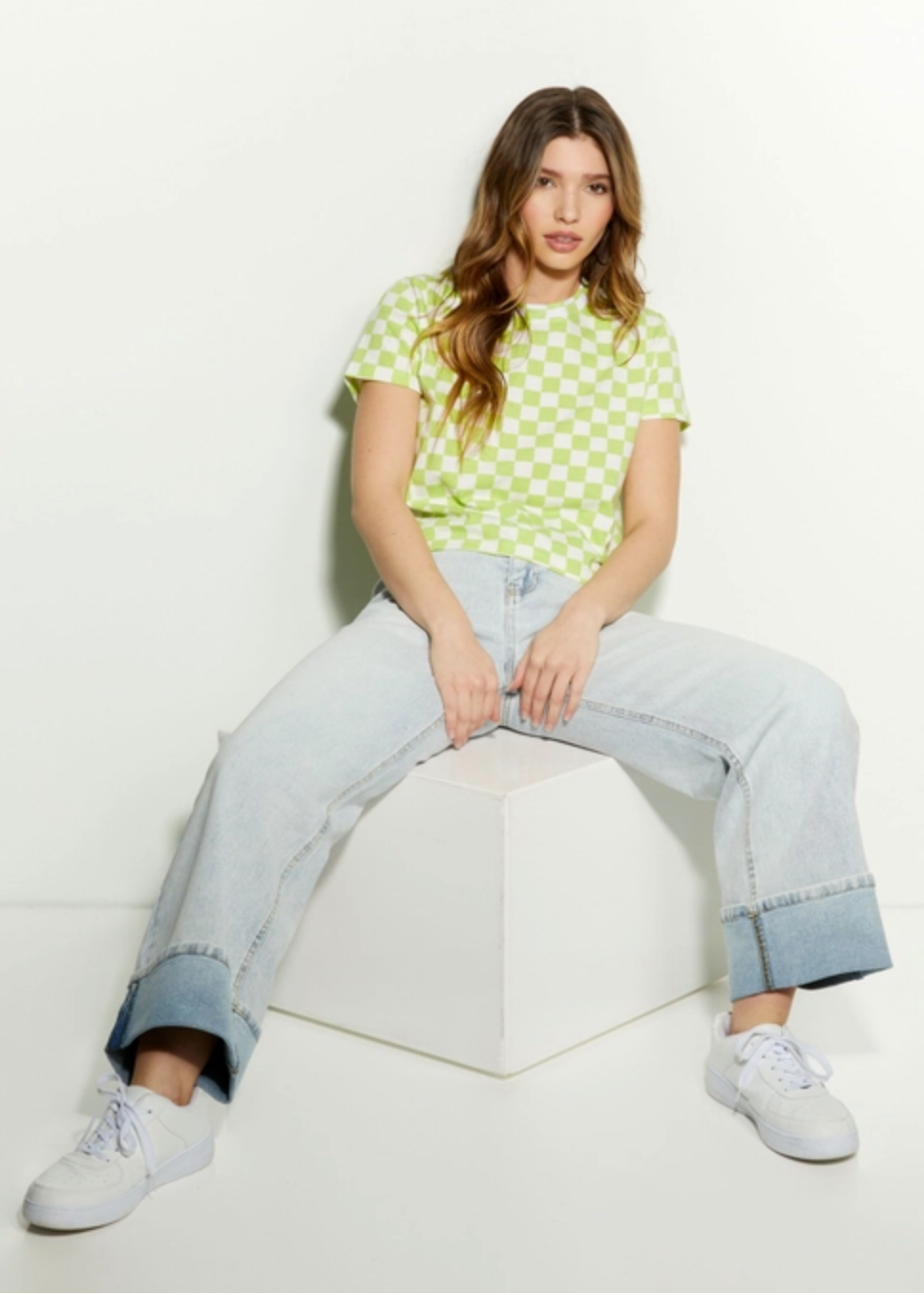 No matter how the seasons and trends change, a good pair of jeans will never miss in our closets. Rue21 jeans for girls come in different styles and designs.
The brand offers a variety of print skate jeans that will make your fit pic go viral. These jeans come with different print patterns, such as blue floral, brown and multi-color swirl, and green warped checker print.
Our Rue21 review also found that this company has a range of dad jeans in various designs. These jeans sit high on your waist and are relaxed through your thighs.
They are also loose and tapered from the knee down and are comfortable to wear, versatile, and ideal for all-weather.
Rue21 dad jeans can hide your body imperfections aptly, as they are not too baggy but unhindered. Dad jeans come in light blue medium blue wash, and some feature rolled cuffs, while others come ripped.
If you're looking to add a vintage look to your wardrobe, the brand has tons of flared jeans in different styles. These jeans feature a wide opening from the knees to the ankle, making them comfortable to wear.
The mage flare jeans offer excellent ventilation in hot weather.
Additionally, Rue21 has a collection of straight jeans that are flattering and skim over your hips while sitting perfectly straight. These jeans give your ankles breathing space, and they have a relaxed fit.
Moreover, the brand offers a wide variety of curve jeans with a large room for hips and thighs and a small room for your waist to give you a perfect fit. The price of Rue21 jeans ranges from $4.99 to $49.99.
Rue21 Dresses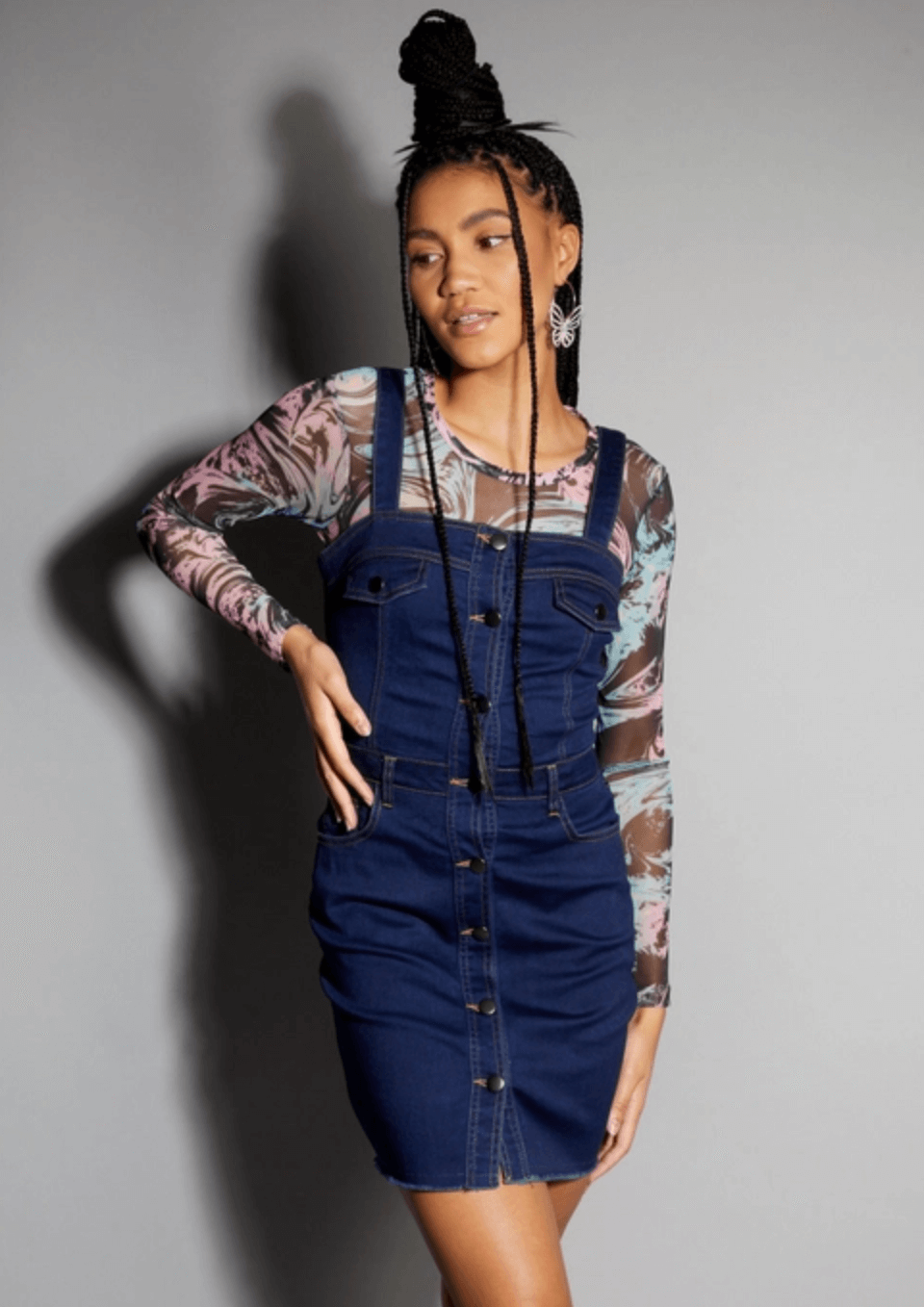 Rue21 has an extensive selection of stylish dresses made from high-quality fabrics. Designed for every occasion, Rue21 dresses come in varying lengths and silhouettes to ensure that everyone finds one that matches their body type and accentuates their best asset.
If you have a voluptuous body, the brand offers an array of bodycon dresses that feature a cut designed to fit close to the body. The tight fit accentuates and outlines the contours of your silhouette. Putting on and taking off these dresses is a breeze, especially if you buy the perfect size.
Heavily inspired by petticoats or underslips, Rue21 slip dresses are available in various lengths and styles. These dresses feature adjustable spaghetti straps and are made from soft fabrics like polyester and satin.
The cut-out fashion continues to turn heads, and that's why Rue21 offers an expansive range of cut-out dresses that come with cuts in various forms and sizes. The dresses can either expose your back, shoulders, or stomach.
As such, you can choose the body part that you are comfortable showing and pick a dress that will flaunt it. Depending on the placement and size of the cut, these dresses are ideal for a night of dancing and are demure enough for daytime events.
Sweater dresses
Rue21 sweater dresses are comfortable, versatile, and look stylish with boots, heels, and sneakers. Their versatility means you can wear them on almost all events on your calendar.
These sweater dresses feature different print patterns, including black star and daisy print.
With their front closure formed by wrapping one of the sides across the other, Rue21 wrap dresses are designed to accentuate your waist and bust. They do a great job when it comes to hiding your bulges and creating curves even if you lack them.
The clothing company also offers polo, midi, and denim dresses in different colors, designs, and sizes. The price of Rue21 dresses ranges between $2.99 and $34.99.
Rue21 Sweaters for Girls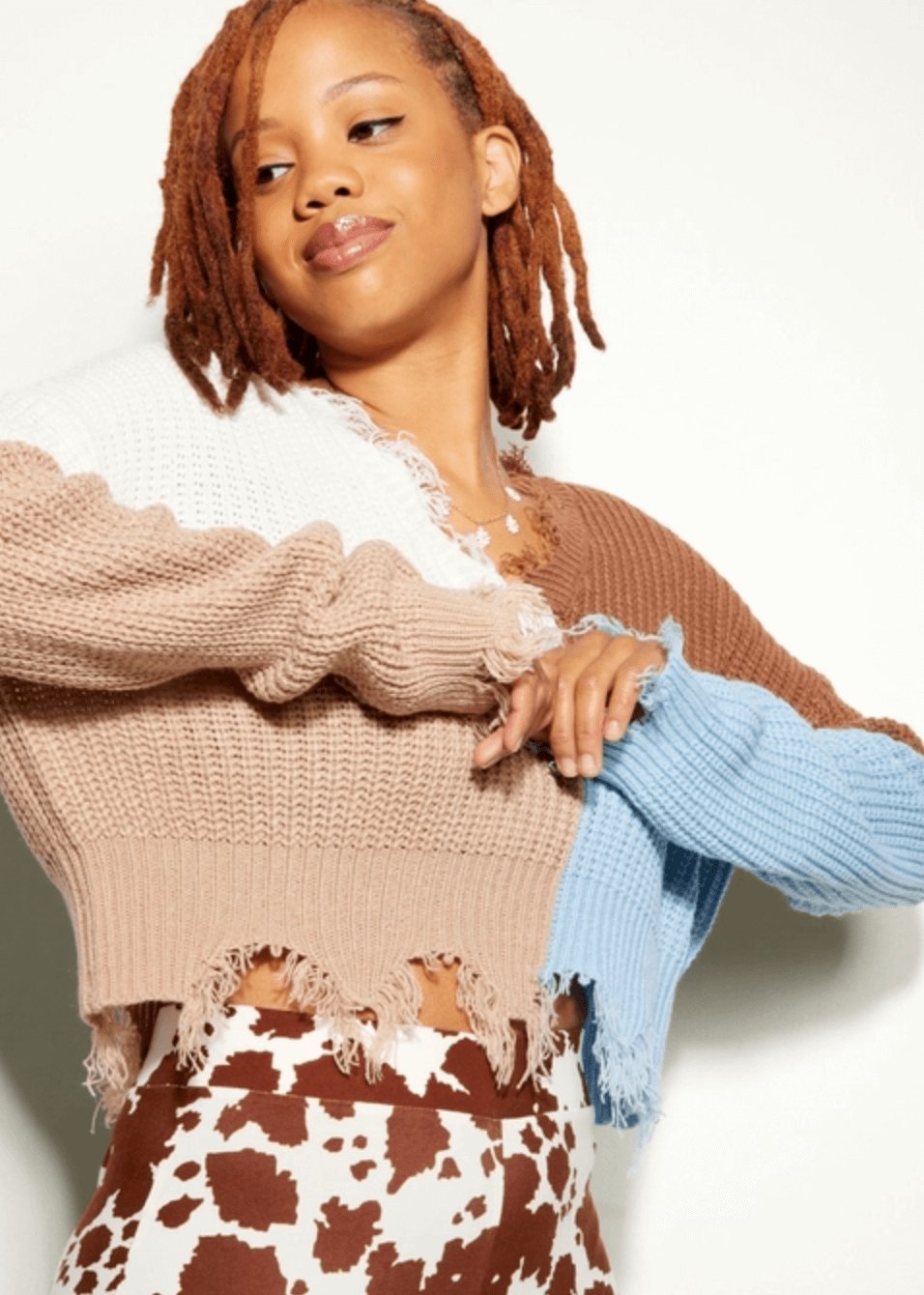 Sweaters for girls are popular due to their multi-purpose nature: you can wear them for comfort and style. Available in different neckline designs, Rue21 sweaters are warm, soft, and iconic.
The brand has a great selection of stylish cropped sweaters that are versatile. Styling these sweaters is a breeze, as you can pair them with a range of bottom wear, such as high waist jeans, skirts, palazzo, sweat pants, and trousers.
Adding a few Rue21 cropped sweaters to your wardrobe will make day-to-day styling a walk in the park.
Rue21 waffle knit sweaters feature long sleeves and small, square grids that resemble the pattern of a small breakfast waffle. Some come with dropped shoulders and button-down henley neckline, while others have drawstring ruched front.
The clothing company also has open-front print cardigans with a skimmer length and V neck. Layer these cardigans over their matching sweater tank to achieve the y2K main character vibe.
The company also offers sweater vests, crochet sweaters, and pocket chest sweaters. Rue21 sweaters for girls cost between $3.97 and 34.99.
Rue21 Bathing Suits for Women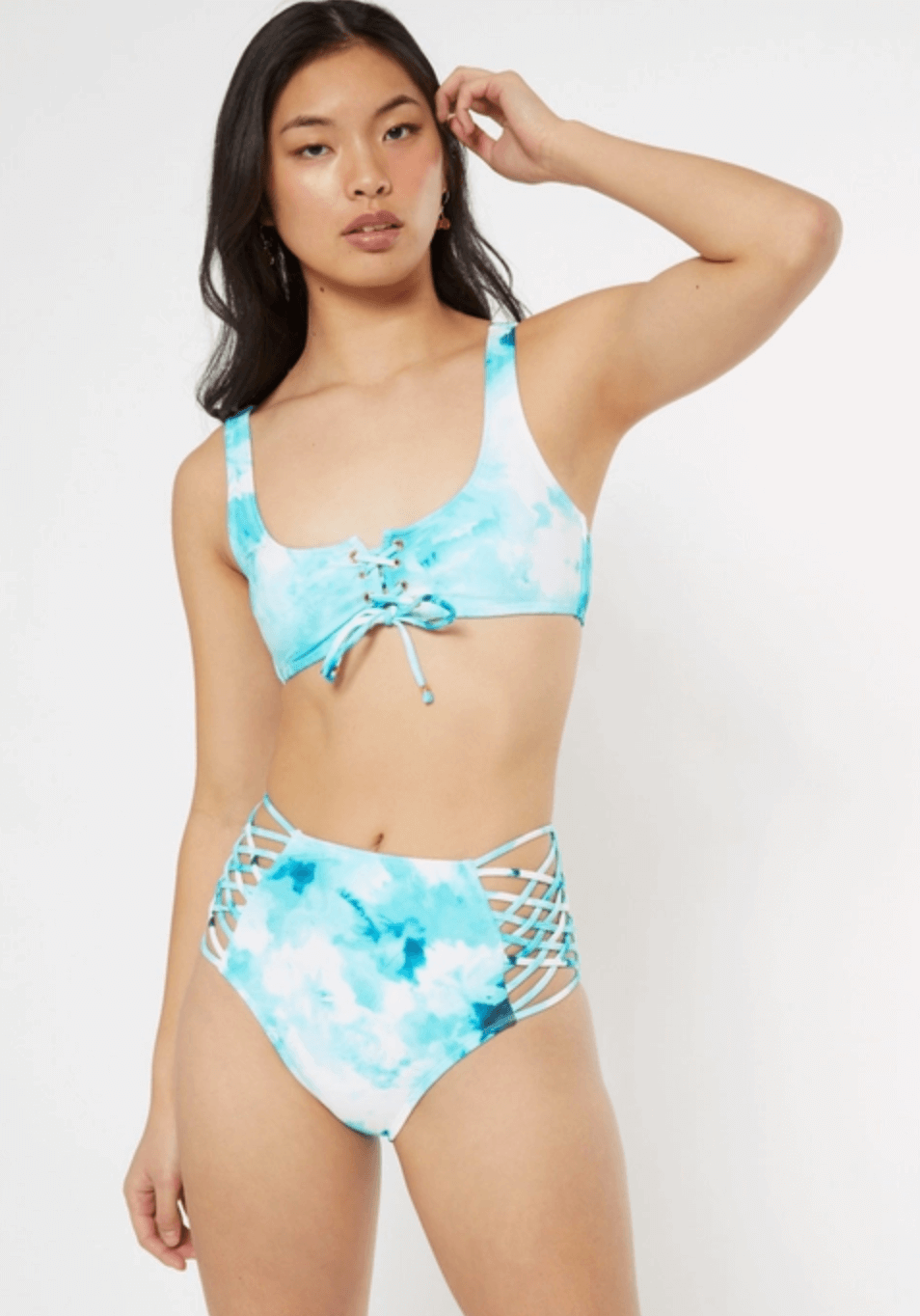 Designed to enhance your body shape, Rue21 bathing suits are suitable for women who like engaging in swimming. No matter your body type, this clothing brand has the perfect bathing suit for you.
The brand offers a convertible swimsuit with a ruched drawstring bust and cutout placed on the front and back. You can wear it with the straps crisscrossed or straight over the shoulders for a daring plunge.
Rue21 one-piece swimsuits offer security if you want to go into waters with strong currents, as you do not have to worry about losing your swimsuit bottom or top to the tide.
Their stylish bikini tops and bottoms can make a great addition to your swimwear collection. Bathing suits rue21 cost between $2.99 and $6.49, which are reasonable price points.
Rue21 Jackets for Men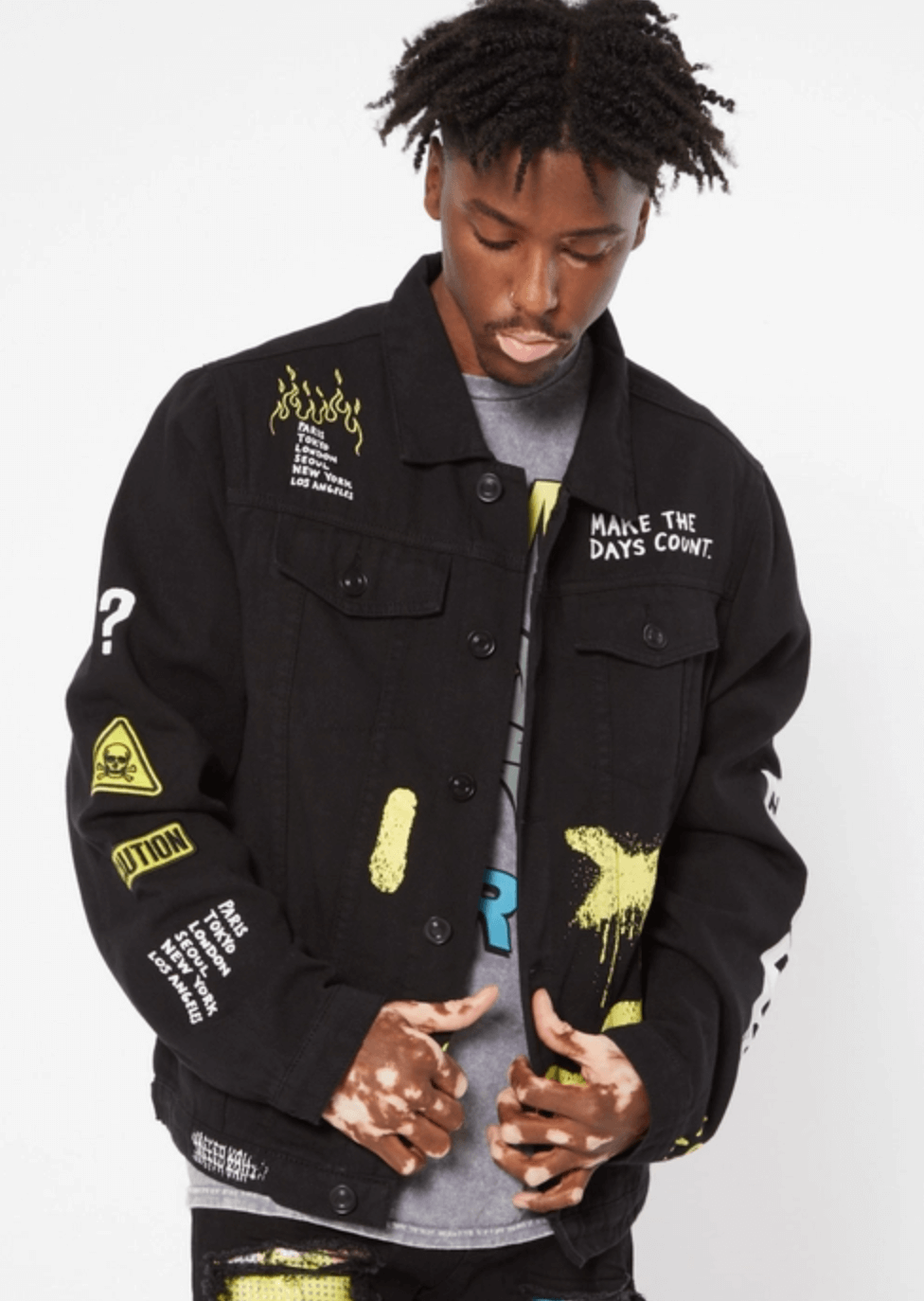 A good jacket is the best way to pull off the perfect all-weather outfit. Rue21 jackets are versatile and come in various styles to ensure everyone finds the perfect jacket for their outfit.
Rue21 windbreaker jackets are wind-resistant and feature cuffs, a waistband, and a close-fitting neck. Windbreaker jackets give you that casual Nineties vibe, and they are ideal for semi-active lifestyles.
Available in different colors and designs, these jackets are lightweight, and they are perfect for warmer seasons when you are expecting rain or wind.
You can pair these jackets with chinos if you are looking for a slightly dressier fit, or you can wear them as a one-piece outfit by pairing them with matching pants to achieve a throwback look.
Rue21 men's section includes jean jackets made from denim. These jackets are strong and durable, and you can pull or tug on them without causing visible damage. For this reason, these jackets are a smart financial investment because they offer many years of use.
Matching these denim jackets with jeans is easy since they are made from the same materials. Whether you prefer high-rise, mid-rise, low-rise styles, creating an attractive outfit with these jean jackets is a breeze.
Create looks
The physical properties of denim provide a balanced level of insulation that is not too cold or hot. As such, you can wear Rue21 jean jackets all year round. They are resistant to wrinkle and are easy to clean, and you can easily create a layered look with these jackets.
A layered outfit is an attractive, versatile look, and you can use these denim jackets to add new styles and colors to your outfit while keeping a high level of comfort.
You can wear one or two shirts underneath a jean jacket to take advantage of this. For a dynamic appearance, you can include additional colors.
Rue21 bombers jackets feature a zip front and a gathered, ribbed waistband that matches the cuffs. These jackets are lightweight and suitable for all occasions. Their versatility means you have loads of options to pair with them.
Some Rue21 jackets come with a hood that you can pull over your head, making them a perfect versatile fit. The price of Rue21 jackets ranges from $4.99 to $79.99.
Rue21 Hoodies for Men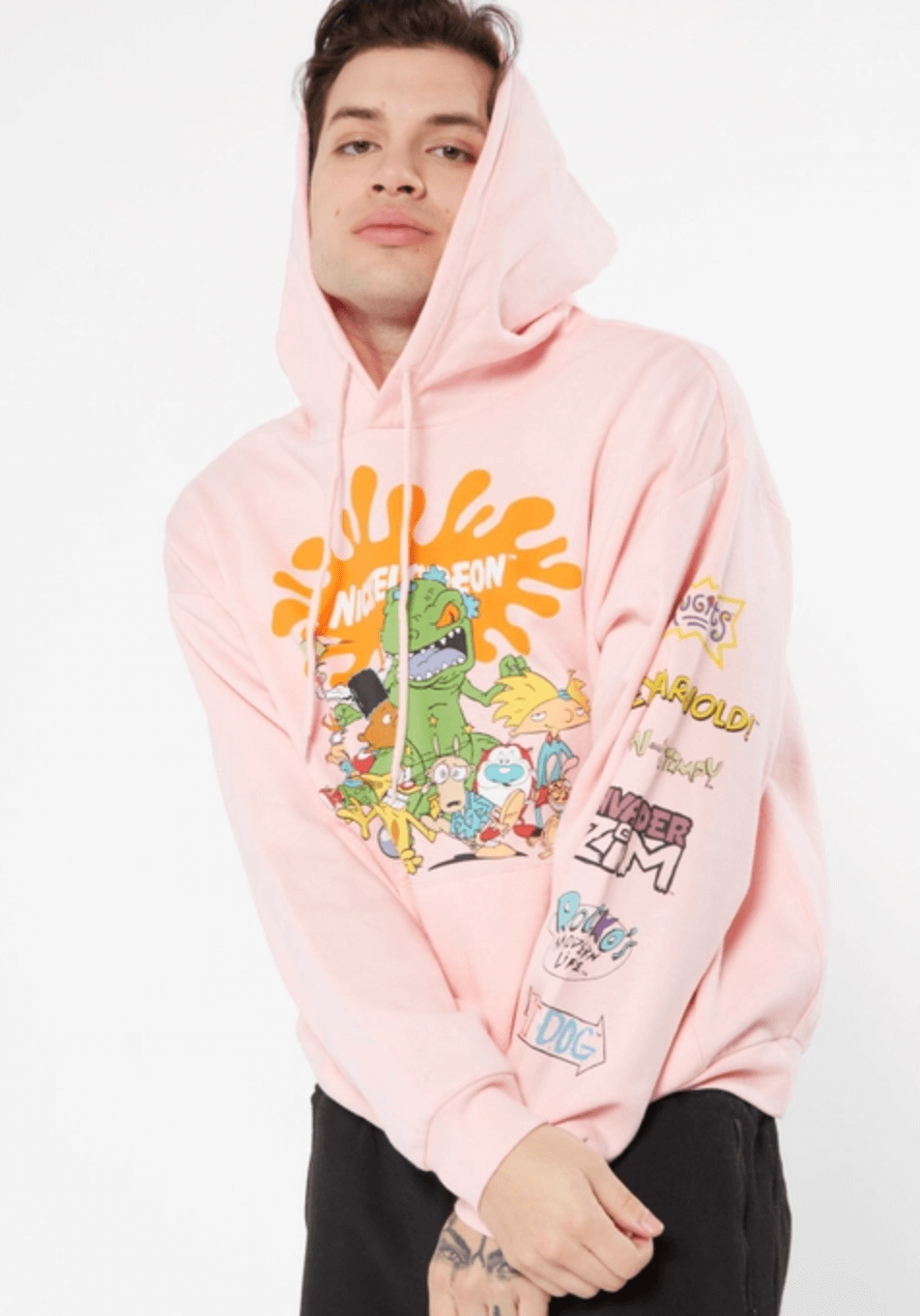 Designed to keep you warm while amping up your style, Rue21 hoodies for men are light and comfortable to wear. The brand offers zippered and pullover hoodies, with some having a kangaroo pocket.
You can wear these hoodies during workout sessions, as they help you sweat better, providing your high detoxification. Also, when you wear these hoodies, they give you a feeling of covering yourself with a blanket.
They also allow you to move freely and give you a perfect cover-up with their hoods.
These hoodies provide a classy, casual look, and they perfectly combine with other outfits, meaning they will match all the outfits in your wardrobe. They also come with a drawstring around the area that circles your face when you pull the hood up.
You can use the drawstring to draw the hood tightly to your head to keep it warm, dry, and protected from high winds.
Rue21 printed hoodies will keep you in the limelight, as they bring a cool, vibrant vibe with trendy graphics and a stylish, fashionable look.
Whether you like embroidered, sweater, or logo hoodies, this clothing brand has got you covered, with the price of Rue21 hoodies ranging between $4.99 and $69.99.
Rue21 Plus Size Jumpsuits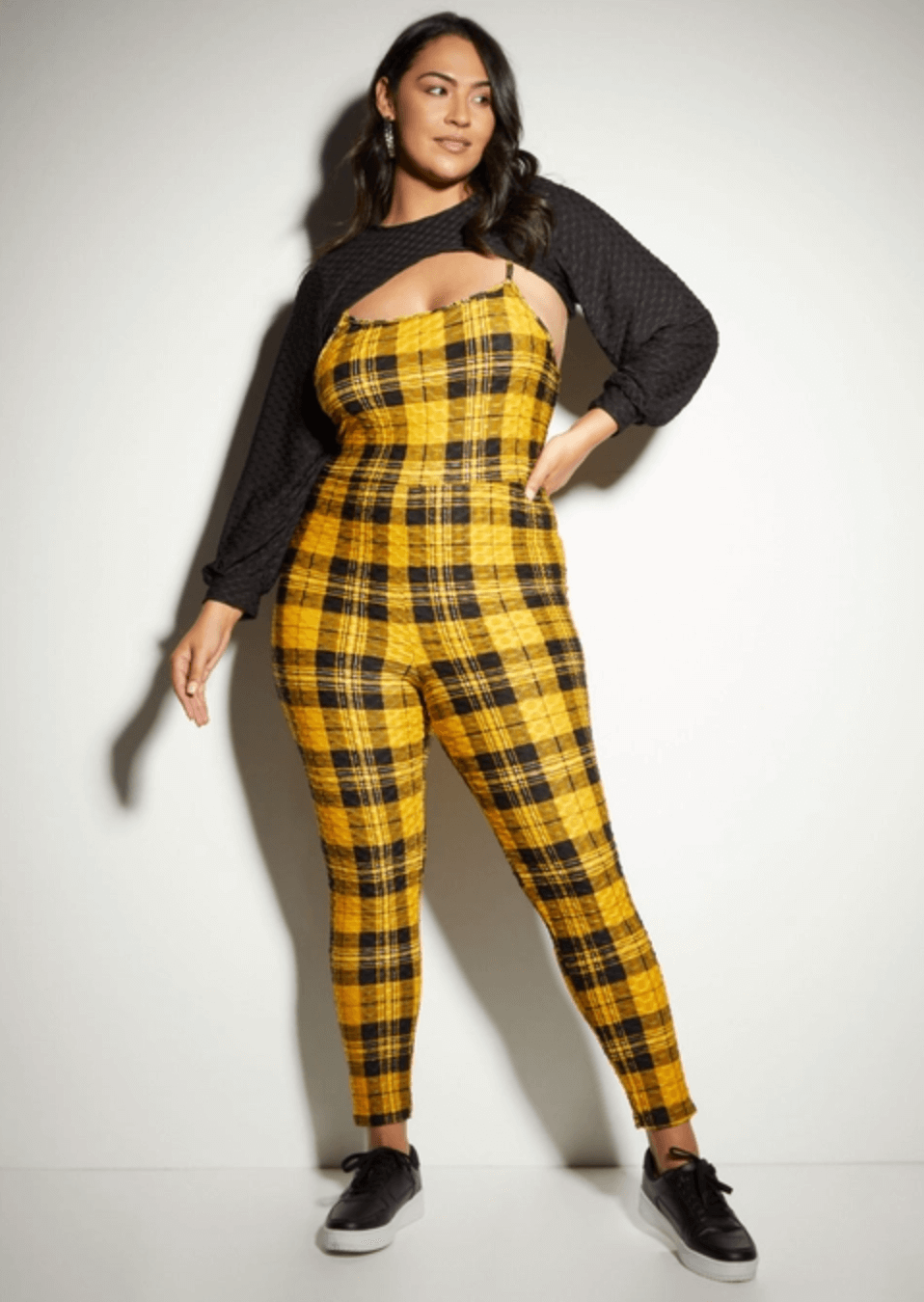 So, Rue21 has a broad range of jumpsuits for plus-size women who want to look stylish. Rue21 plus size jumpsuits are comfortable, easy to wear, and flattering.
Rue21 2-Piece Honey Jumpsuit Matching Set is available in sage and black color. They feature a suspender-style jumpsuit with a matching long-sleeve shirt made from honeycomb material.
These jumpsuits are made from polyester and spandex. Polyester's long and stable polymers make these jumpsuits strong and resilient. As a result, the fabric holds its shape perfectly without getting stretched out.
Our Rue21 review found that the garment is lightweight and smooth, and spandex prevents it from sagging and bagging.
Rue21 Black Flounce Wide Leg Jumpsuit can help you achieve a dashing look. This stretchy crepe jumpsuit features a wide-leg finish in black, a tie waist sash, and a flounced off-the-shoulder.
The brand also offers rompers that come as a combination of a shirt or blouse and a short-length skirt or shorts. Rue21 rompers are made from lightweight, breathable materials that allow you to wear them during the summer.
Now, Rue21 plus size jumpsuits are available from size 1x to 4x, and the price range is between $4.99 and $34.99.
Rue21 Reviews from Customers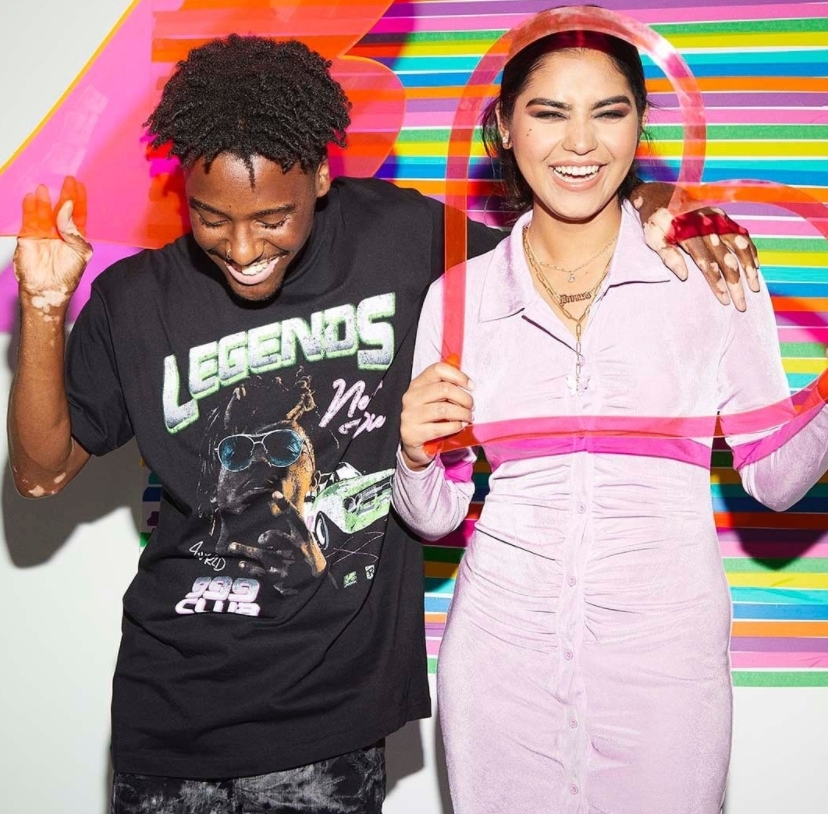 This wouldn't be an in-depth Rue21 review without hearing what customers had to say about this brand and the fashion products they offer. The overall impression varies from website to website. While customers on Influenster are almost completely satisfied, there are many negative customer reviews on Sitejabber and TrustPilot.  Most customers are ecstatic and reported the company provides unparalleled customer service.
Others said that they had a great shopping experience and would shop again and again.
Popular Alternatives to Rue21
Customers also love the user-friendliness site, which allows them to find what they are looking for swiftly. They commended the search function, as they used it to filter results and narrow down their search to find their favorite item of clothing fast.
However, some customers felt neglected and left negative reviews saying that the brand should add more plus-size clothing for women.
Sign Up for Rue21
Signing up with Rue21 is a straightforward procedure and will only take a few minutes of your time. The site will ask you for your name, phone number, zip code, and email address.
You'll also have to create a strong password with at least eight characters. Once your Rue21 account is activated, you will enjoy faster checkouts and earn points with Ruerewards.
Where to Buy Rue21
You can buy Rue21 online by visiting their site. They also have over 700 physical outlets in 48 U.S. states. Check their Store Locator page to find locations of the nearest brick-and-mortar stores.
Shipping and Return Policy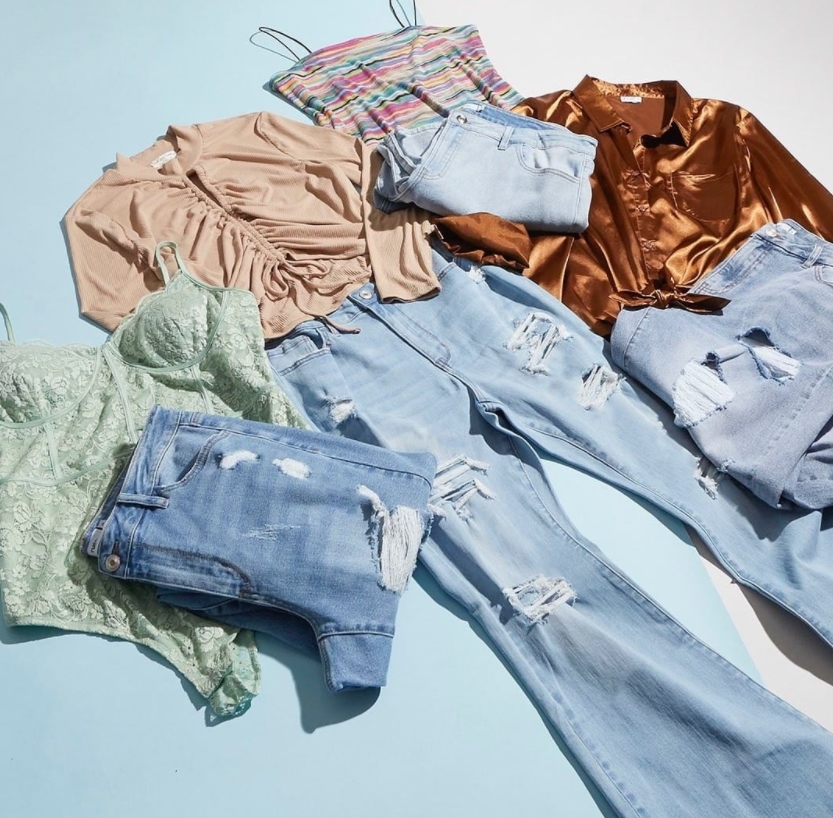 Shipping 
Rue21 ships to the 48 contiguous states, which excludes Hawaii and Alaska. While the company ships to P.O. boxes, it is only available in their standard shipping option.
Currently, they don't ship to APO/FPO, Puerto Rico, and international addresses. The company ships with FedEx for ship-to-store orders, UPS SurePost for standard orders, and UPS for overnight and 2-day orders.
With UPS SurePost, the United States Postal Service will deliver your package. Also, with standard service, packages are delivered on Saturday through the United States Postal Service.
Additionally, Standard service deliveries made to any residential address don't require a signature.
Below are the Rue21's shipping rates:
Overnight shipping will cost you $25.95
2-Day shipping needs $17.95
The fee for standard shipping is $7.95
Customers will enjoy free standard shipping when they place orders worth at least $50. However, this is valid at their official site for a limited time only.
Gifts cards and items purchased at Rue21 physical stores are not eligible for free standard shipping. This offer is also not valid for orders shipped to APO/FPO addresses, P.O. Boxes, U.S. territories, Hawaii, and Alaska.
You cannot combine this offer with other offers, and additional charges apply for overnight and 2-day shipping.
Allow a processing time of 1 to 2 business days when placing your order. The company is not responsible for any stolen or lost packages once the carrier gives a delivery notice.
If a package is returned due to undeliverable addresses, they will treat it as a cancellation, meaning the cost of the item will be refunded to the customer's account.
They process orders Monday to Friday, except on holidays. Standard processing and shipping take between 7 and 10 business days.
Once your order ships, you'll receive a shipping confirmation email with the tracking number for the order you placed and a link to the carrier's site.
You can use your tracking number 24 hours after the shipment of your order. Rue21 will send emails to update you on the status of your order.
Returns and Exchanges
The company accepts returns and exchanges, but you have to return the item with the bag it came with and the original packing slip.
Alternatively, you can write the details of your orders on a piece of paper, including your address, billing name, and order number. If you want to return swimwear, make sure it has the original tags attached and the hygienic liner intact.
Blacken out or remove all other shipping labels before mailing your return package, as this will eliminate confusion. The clothing brand doesn't accept COD deliveries, and return shipping charges have to be prepaid.
The company encourages you to send your returns via a traceable carrier like FedEx or UPS, as they won't be responsible for any packages sent using an untraceable carrier.
Rue21 return policy states that they accept returns within 60 days of purchase, but the items have to be in their original condition for you to receive a refund. Refunds are sent to the original payment method used.
Exchanges don't have a time limit. If you return items after the designated return window, they will refund them via merchandise credit. You can return gifts for merchandise credit or exchange.
Promotions & Discounts
Students enjoy a 15% discount when they shop at Rue21. You have to use their Rue21 student discount code during checkout to get 15% off your order. To access this discount, sign-up for Rue21, then verify that you are a student with Student Beans.
The company also has a rewards program called Rue Rewards that allows you to earn points whenever you purchase something on their website. You can redeem these points and use them to buy items on their site.
For every 1$ you spend at Rue21, you'll receive ten points. When you earn 750 points, you will receive a $5 reward to use online or in-store.
Rue21 Customer Service
Is there something we have not covered in our Rue21 Review? If you want to reach out to Rue21 customer service agents, you can use their phone number 866-533-4783 or the contact form on their website.
Is Rue21 Legit: Editor's Verdict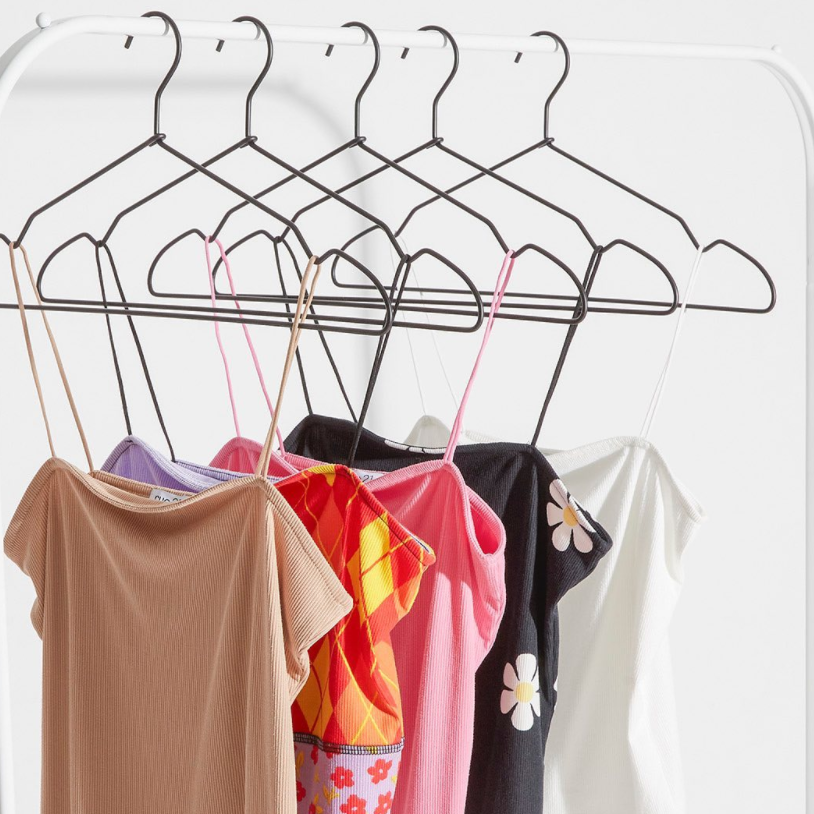 If you are wondering: Is Rue21 legit? The answer is yes. The positive reviews from customers show this clothing brand is legitimate.
Most customers raved about having thrilling experiences with the company and praised their excellent customer service and high-quality fashion products.
Their affordable prices have also made this brand the destination of many women and men looking for the latest fashion trends that make them look like 21-year-olds. Rue21 kids' clothing is also available at reasonable prices.
If you are looking for something stylish to spice up your wardrobe, our Rue21 review found that this is the perfect place to go.
If you are looking for other fashion brands, consider checking our reviews of TheRealReal, American Eagle, Lisa Says Gah, and Shopbop.
Rue21 FAQ
Is Rue21 true to size?
Yes, their apparel runs true to size. On each of the clothing items, they mention what size does the model wear so you have a slight idea of whether it will fit or not. The size chart will also give you a good idea of which size should you order, however, from reading the reviews you should stick to your regular size.
What is Rue+?
Rue+ is the brand's collection of fashion-forward clothing for plus-size women. On their website, you will find this section under Plus, next to the Girls tab.
How often are new products added online?
The good news is that new items are added to the site on a daily basis.
Where does Rue21 get their clothes from?
After thorough research on the Internet, Rue21 does not mention anywhere where do they make their clothes. Online sources claim that they are manufactured in China or Guatemala.
What age group is Rue21 for?
Rue21 is not for any specific age group. Their clothing is designed to be worn by anyone who wishes to feel like they are 21, just as the name suggests. With that being said, the clothing is playful, fashionable, and colorful, so it definitely seems like a younger generation would wear it.