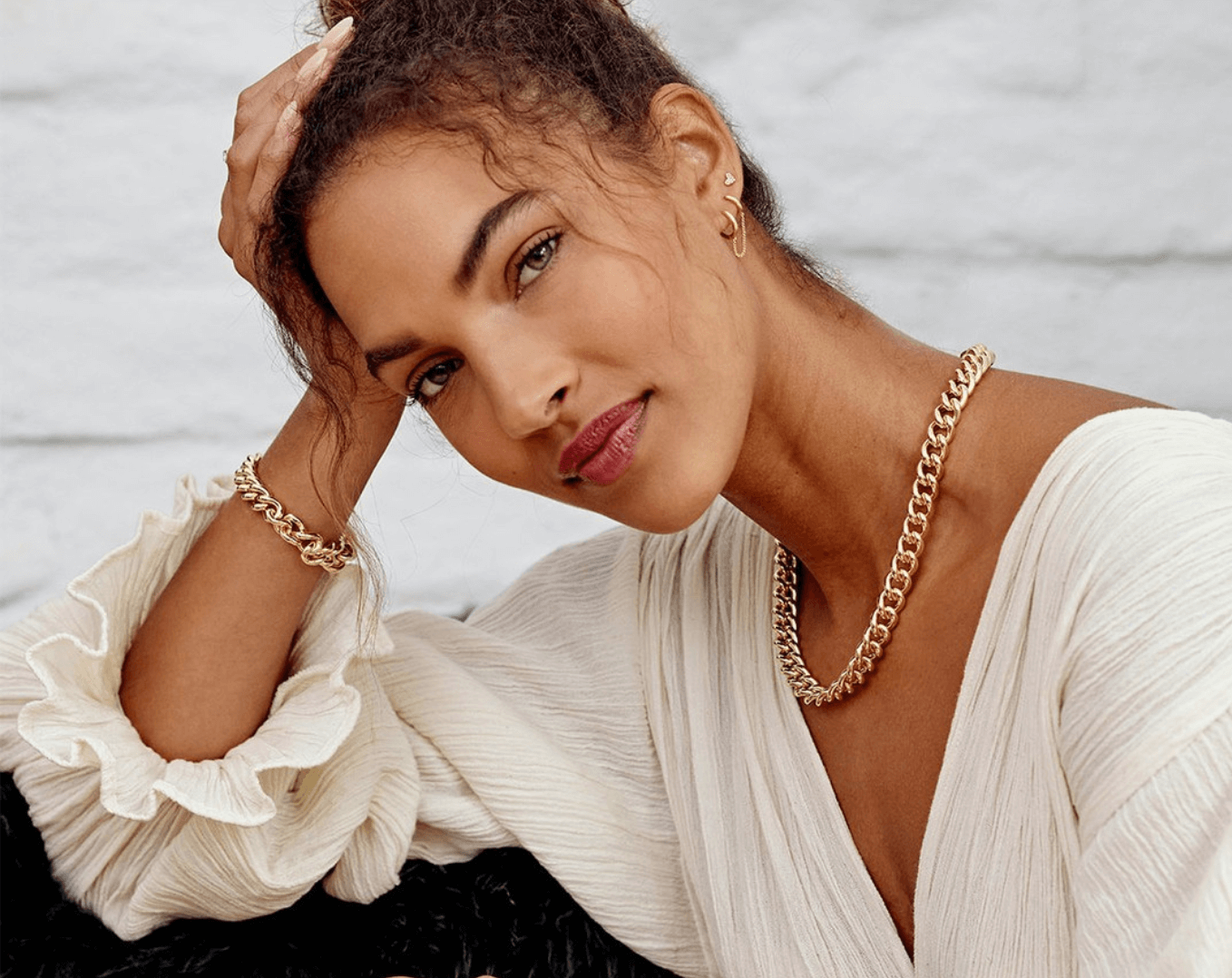 Based in Laguna Beach, California, Gorjana is a jewelry brand that women gravitate toward year after year, and its popularity keeps on growing. Due to the unique design of their sophisticated pieces, you can wear them daily or for special occasions without breaking the bank. This company makes jewelry that women will live in, and its designs are inspired by Southern California's natural beauty. We'll look at Gorjana reviews from buyers to help you determine if you will make a purchase.
About Gorjana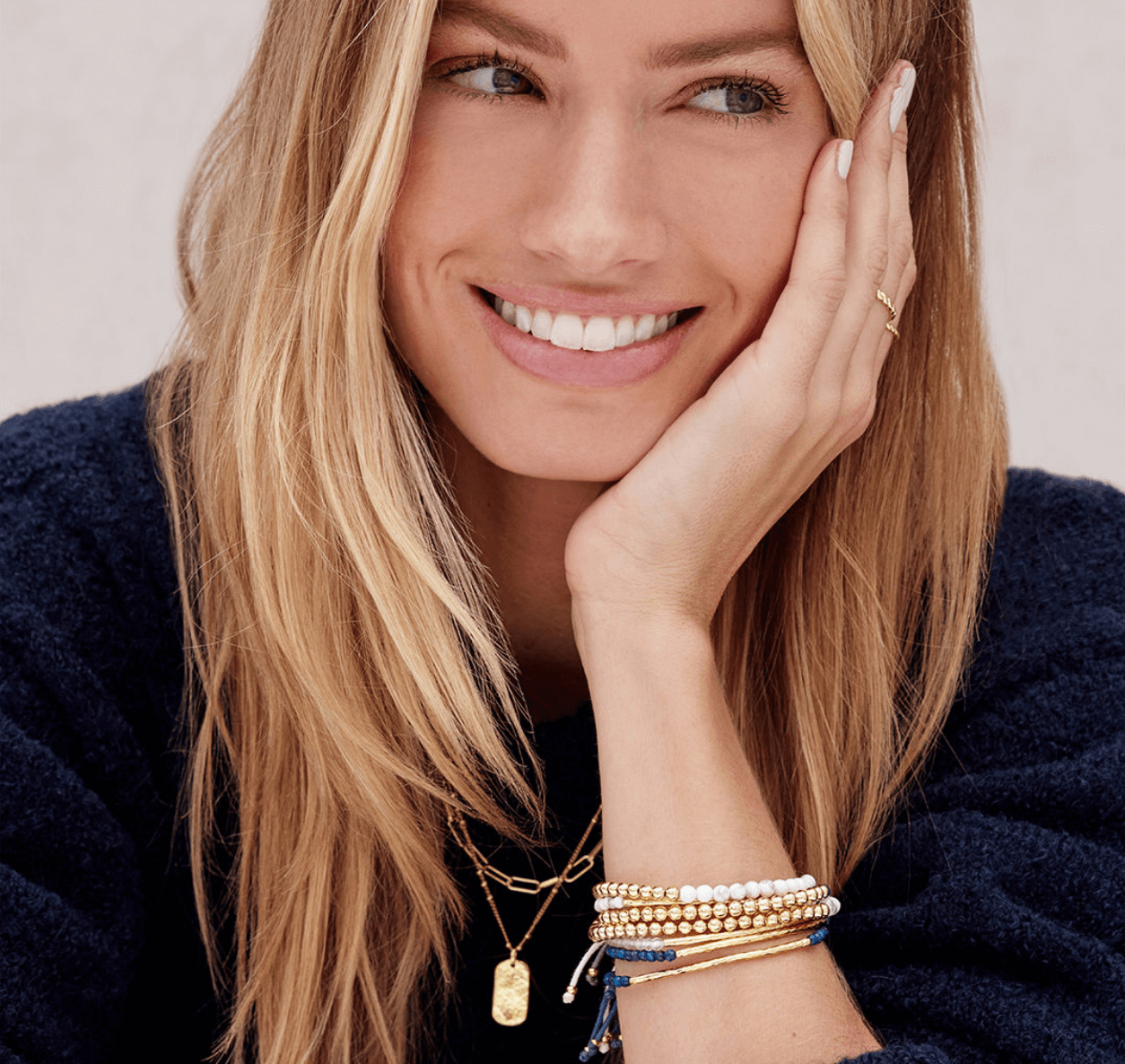 In 2004, Gorjana and Jason Reidel started Gorjana Jewelry as a family business in Laguna Beach, California. The jewelry line, Gorjana, is mainly focused on everyday women's jewelry.
The Gorjana jewelry collection combines casual style and sophisticated elegance, but most of them can best be described by the word "layering." The company takes layering a step further by offering an endless array of combinations you can create.
The brand offers a range of jewelry pieces, from dainty to statement pieces. There are only four choices for the pieces: silver, rose gold, 18k gold plated, and 14k gold.
All the pieces are designed in-house and are made of gold-plated brass, 14k gold, silver, and rose gold. Several publications have featured Gorjana, including Forbes, Well + Good, Modern Luxury, and The Chalkboard. Michelle Obama also recommended the jewelry in People magazine.
Jewelry-making was Gorjana's hobby, which led to the inception of this company that included modest items that were hard to find without a hefty price tag at the time. It was an undeniable success among their closest friends and relatives.
The husband-and-wife duo then sold their products in local shops, which quickly sold out. Afterward, they began approaching more retailers and visiting trade and fair exhibitions.
Gorjana has grown from a concept to a multimillion-dollar company that the two still own and run. In addition to its 18 brick-and-mortar stores, Gorjana jewelry is currently available at more than 1,000 retailers.
The brand is continuing to grow rapidly, helping communities in need in the process.
Currently, the brand has 94,000 Facebook followers and 271,000 Instagram followers, showing that its customer base is extensive.
Pros
Mid-range prices that are affordable
Domestic shipping is free
Free returns
This brand of gold-plated jewelry has superior quality gold plating compared to other cheaper brands.
A good warranty policy covers the replacement or repair of damaged jewelry
Because gold does not tarnish, Gorjana's 14k and 18k gold platings are tarnish-resistant
Cons
Some customers dislike their gold-plated jewelry because they view it as less prestigious than solid gold jewelry
Gorjana doesn't have a dedicated engagement ring collection, though you can wear some of its rings as engagement rings
Despite their advertised durability, some jewelry pieces may not suit everyday use
Gorjana Jewelry Reviews
The gorgeous line of Gorjana jewelry is made with only the finest precious metals and gemstones.
Gorjana Jewelry reviews show that customers like their jewelry because they have a modern, feel-good sensibility, which is achieved by mixing, matching, and layering every piece. Keeping this in mind, here are some of their top-selling popular pieces.
Gorjana Necklace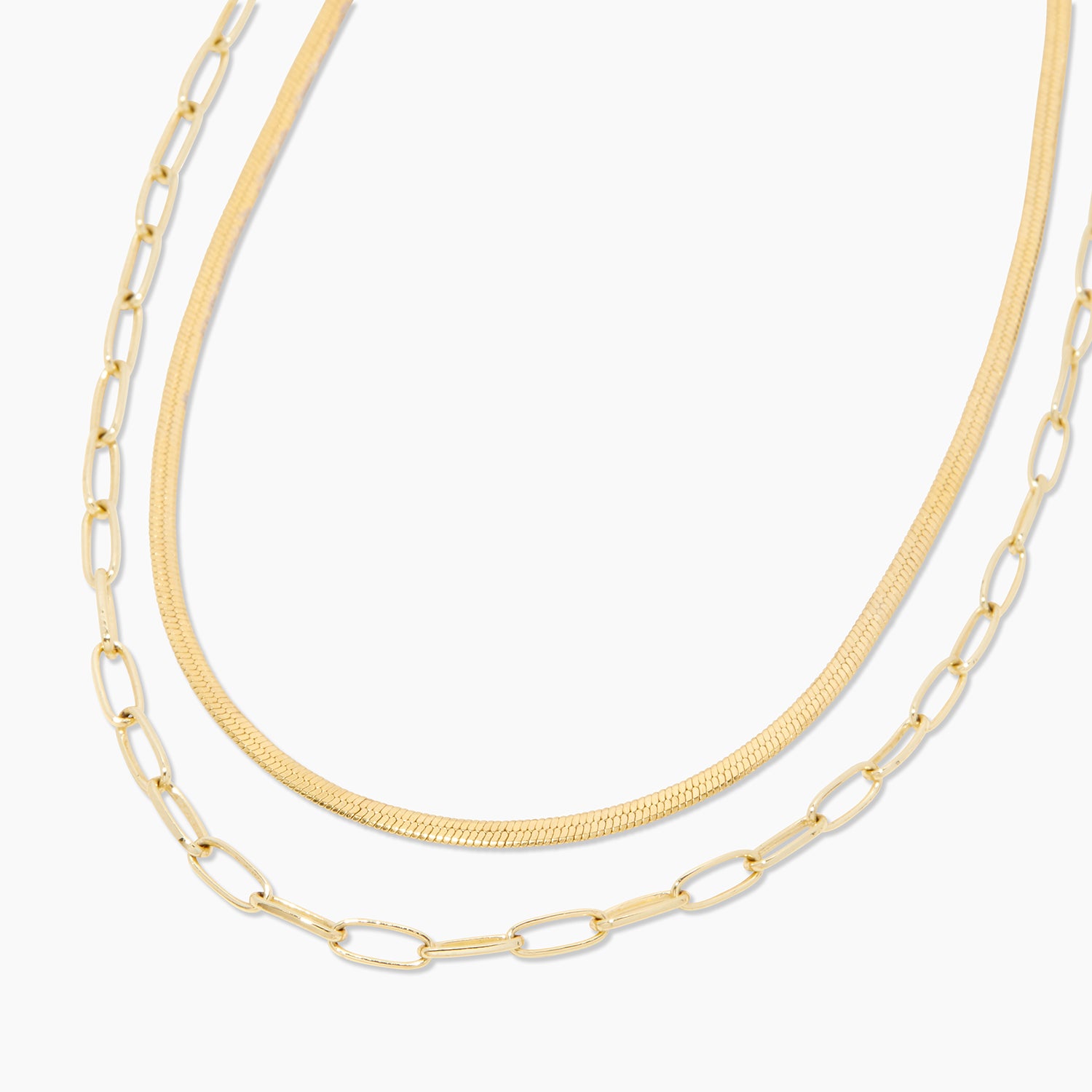 As with most yellow and rose gold jewelry, the Gorjana necklace collection successfully combines vintage and contemporary styles. The designs range from elegant statement pieces to more casual and dainty pieces.
Necklaces in Gorjana's catalog include astrology coin necklaces, chain links, layering sets, and gem necklaces, among much more.
The Parker Necklace Layer Set features the brand's favorite pieces that can be worn together or separately and are perfect for layering. The set includes two mini necklaces, a Venice necklace, and a Parker necklace.
They are both made of 18k gold-plated brass, and they must not be in contact with anything containing alcohol or alcohol derivatives.
Based on Gorjana reviews, customers love this piece because they can wear it every day. You can give it as a gift or buy it for yourself.
Gorjana Earrings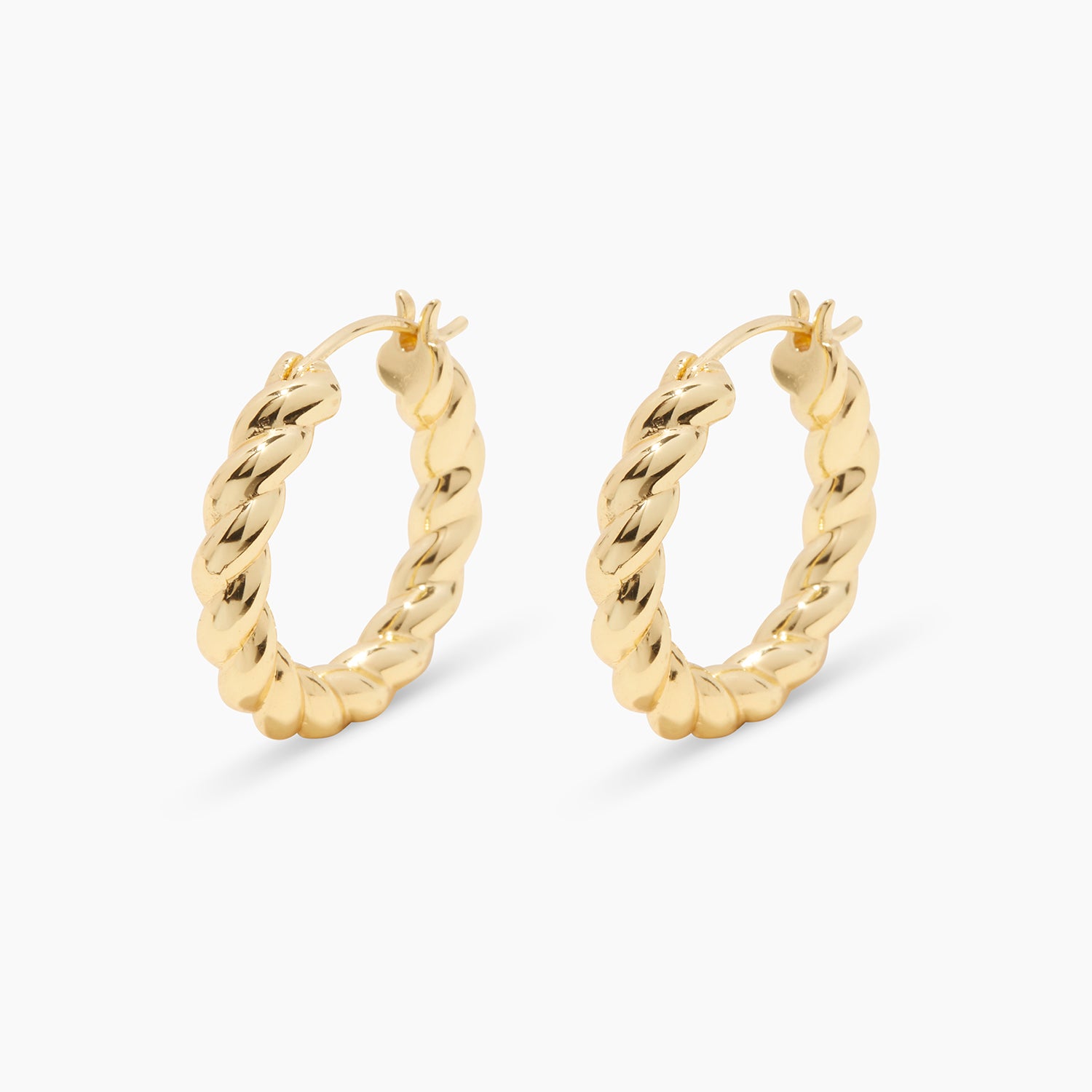 There are many styles available from Gorjana, including studs, hoops, Huggies, climbers, and more. Most Gorjana Earrings are suitable for casual wear.
Gorjana Crew Hoops are available in gold-plated brass and should not be in contact with anything that contains alcohol derivatives. Despite looking heavy, these earrings are comfortable and light enough to wear all day long.
According to Gorjana reviews, buyers love these earrings because they are lightweight and have a versatile design, allowing them to wear them on all occasions — from a day in the sun to a night out.
Gorjana Bracelet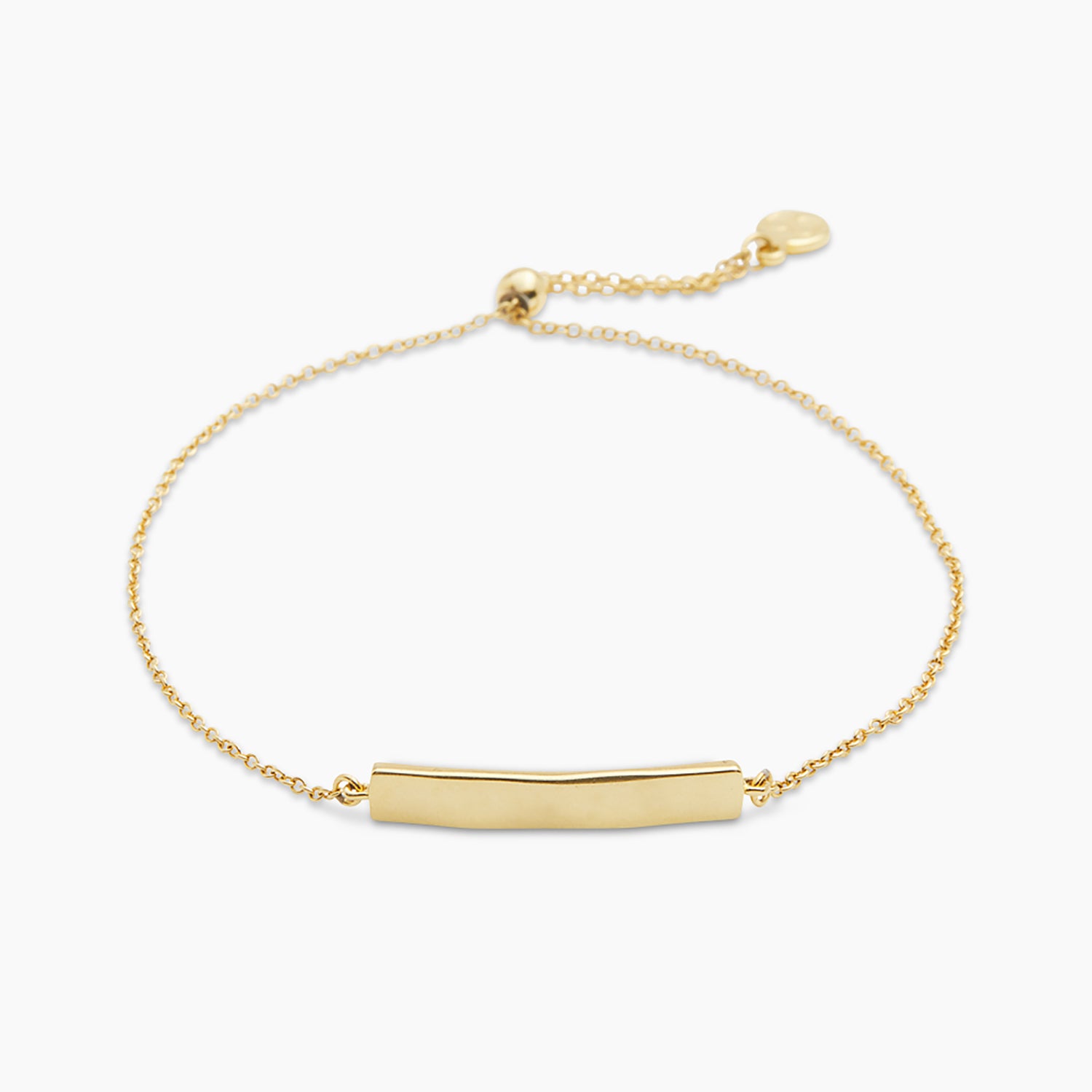 Just like all other products they offer, you can also layer these bracelets. You also have a wide variety of styles to choose from in their Gorjana bracelet collection, including solid bracelets, link bracelets, gemstone bracelets, and more.
Bespoke Plate Adjustable Bracelet is a delicate plate bracelet that offers an even higher level of customization with the ability to include initials, a date, a statement of love, or anything else you like.
The adjustable sliding bead on the bespoke styles ensures it fits every wrist; this is a great sentimental gift for brides, bridesmaids, graduates, mothers, or simply because you want to.
Gorjana Rings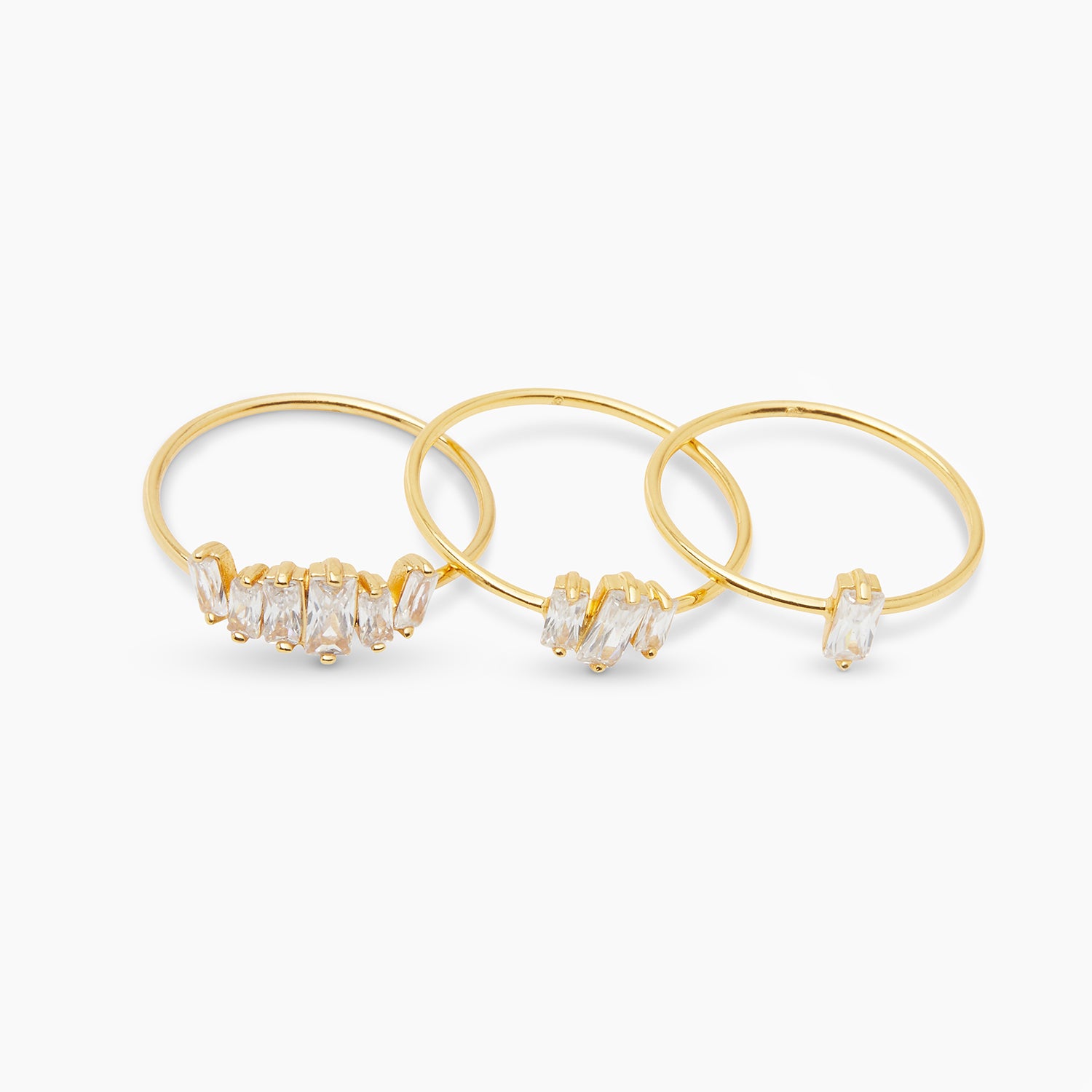 The metal-only and precious Gorjana rings are designed to be worn daily.
Gorjana Jewelry reviews show that customers love their ring collection since they can choose from an array of ring designs, some of which are plain and recognizable, others are more elegant and stylish than one might expect.
A bespoke Gorjana ring and engraving are also available for special occasions.
Amara Ring Set is a gleaming ring set that combines glamor and edginess—a perfect combination of dainty, minimalist, and glam. This piece is extremely sparkly and does not fade even with prolonged wear.
Gorjana Charms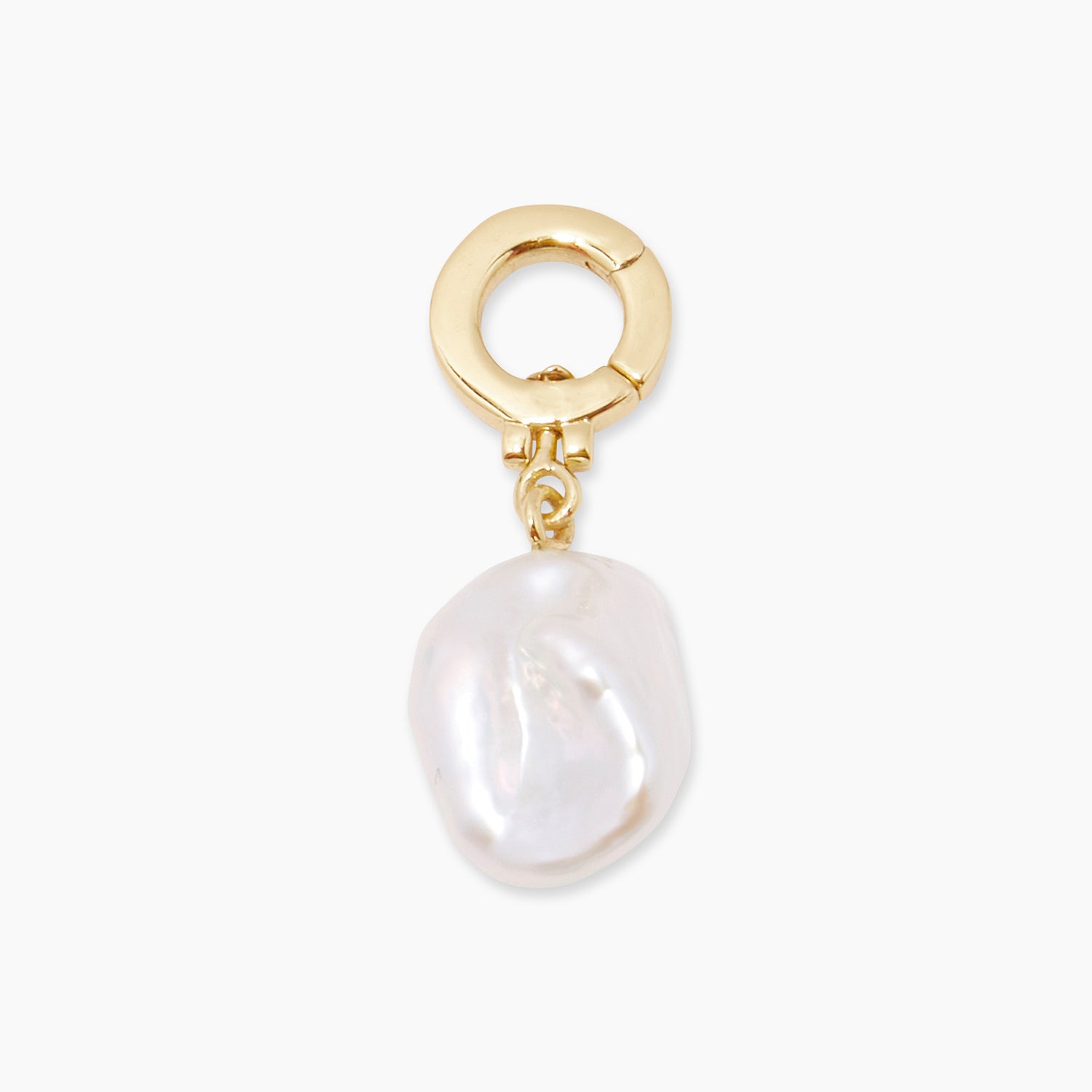 Jewelry charms allow customers to add personality to their jewelry. The brand has an expansive selection of Gorjana gold charms for bracelets & necklaces themes that enables you to tell your story.
Layers can be customized with letters and charms, allowing you to create something truly unique. The collection of Gorjana charms includes alphabet Parkers, custom coin charms, and personalized dog tags.
Gorjana Reviews from Customers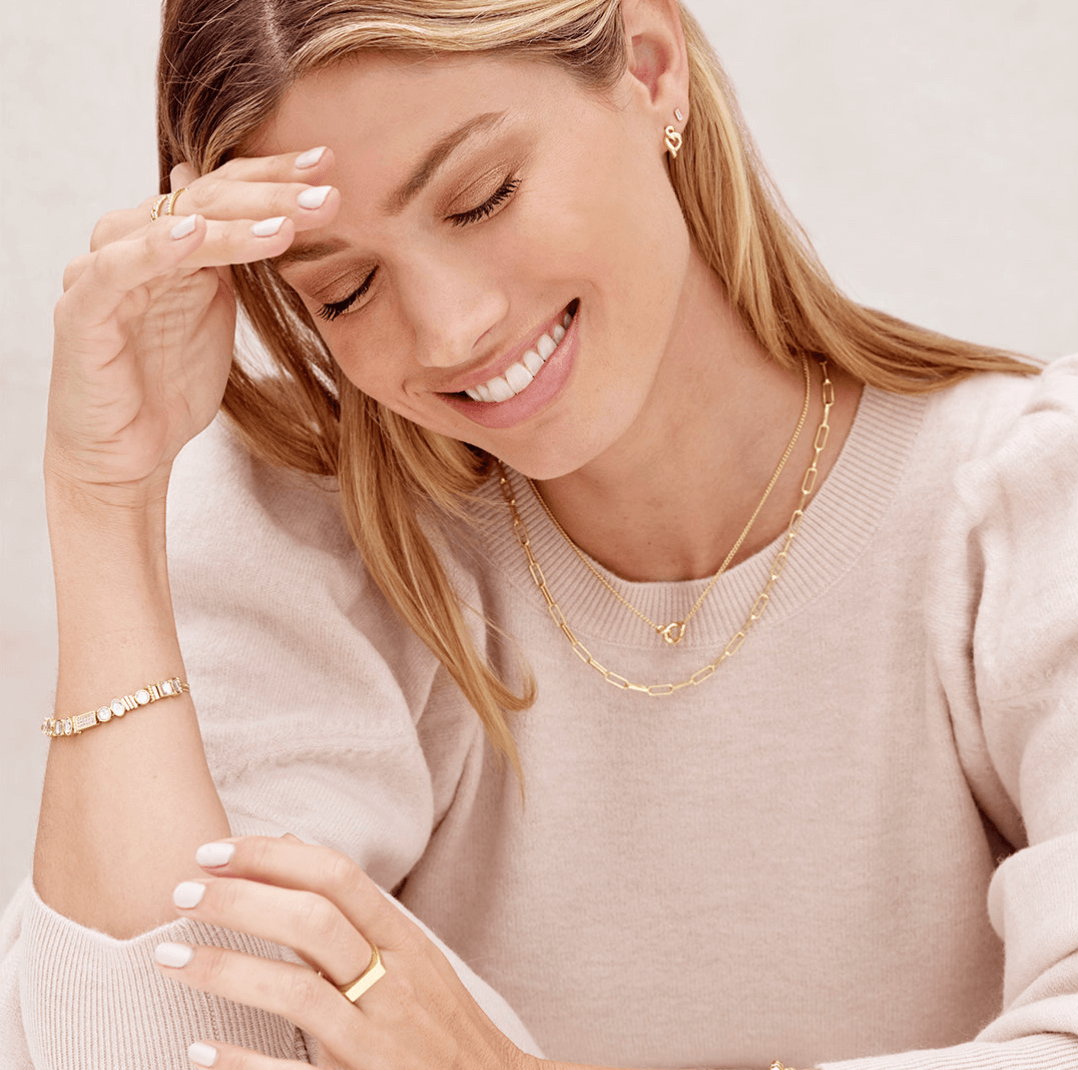 Several of the products on the Gorjana website received 5-star reviews across the board. A couple of examples are the Parker Necklace and the G Ring Set. Many of the items advertised on Amazon received positive reviews.
The Gorjana star necklace has received rave reviews, asserting that it is beautiful, easy to layer, compliments any outfit, and makes a statement without being overwhelming.
Popular Alternatives to Gorjana
There were also a few negative reviews on Trustpilot; some customers expressed dissatisfaction with the brand since it doesn't offer around-the-clock customer service.
There are always angry customers in any jewelry company, and with Gorjana, the positive evaluations outnumber the negative ones.
Sign Up for Gorjana
Get a faster checkout by creating an account. Just enter your names, email, and password on the sign-up page, and voila, you are in. You can now start browsing for your favorite pieces of jewelry.
Where to Buy Gorjana Jewelry
In addition to Gorjana's website Gorjana.com, Amazon also offers a limited collection selection of its jewelry.
Additionally, the company operates 18 brick-and-mortar stores across the United States, including California, Arizona, and New York. The company also sells its jewelry at several other retailers across the country.
Gorjana Shipping and Return Policy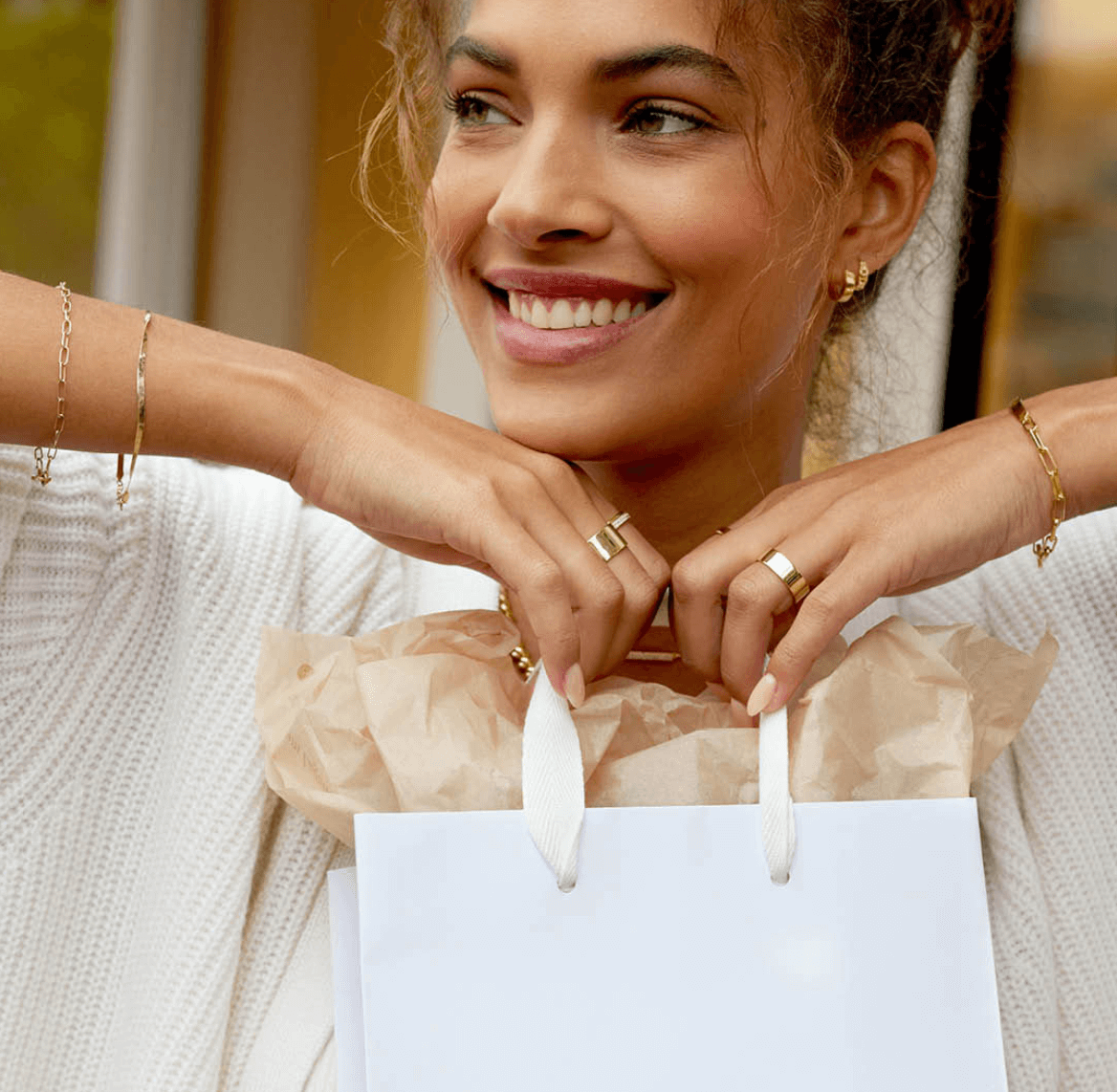 Shipping
For orders within the United States and Puerto Rico, Gorjana Jewelry offers free standard shipping. When you order, you can also choose the shipping method you want.
Monday through Saturday, expedite orders placed before 2 pm (PST) will ship the same day. Orders placed after 2 pm (PST) are shipped the next day. Sunday orders will ship the following day.
Orders typically processed within 24 hours can take up to three days in some cases. You can get your items the next day for $20 if you choose two-day shipping. The cost of overnight shipping is $30, and it takes two business days.
They will charge customers ordering items from abroad a shipping fee of $15, and their items will arrive within 14 to 30 days, depending on their location.
Return Policy
The Gorjana return policy states that you can only return unworn products within 30 days of the purchase date. Customers must go through the brand's return portal to initiate the return process.
Whether you want a refund or a replacement, this return policy eliminates any potential issues that could arise from faulty delivery, incorrect purchases, or unmet expectations.
Jewelry purchased from other retailers carrying the brand may have different return policies. Returns for Instagram orders must be made via the Instagram app.
Within 1-2 business days of receiving your return authorization, Gorjana will email you step-by-step instructions on how to return your product, as well as a free pre-paid postage label.
Gorjana will process your refund within 1-3 business days, and if you're getting a credit card refund, it'll be in your account within 10-15 business days.
This Gorjana review must point out that your refund does not cover any shipping charges you may have incurred. Also, Gorjana does not accept returns on sale and final sale items.
Gorjana Promotions & Discounts
Gorjana provides a wide variety of discounts, including 1.5% off regular retail and even 70% off on clearance items. Coupon codes and promotional codes are usually good ways to save money at Gorjana.
You can find a Gorjana coupon code, Gorjana promo code, or Gorjana discount code on the internet and use it when checking out to purchase items at discounted prices.
Additionally, if you refer a friend and they spend $60 or more, you'll earn $20 for each order they place, and they'll also get a $20 discount. You can get inside information about Gorjana by signing up for their emails or following them on social media.
Contact Gorjana
If you require any additional information or need to contact Gorjana directly, you can reach out to their customer service representatives using the following contact methods:
Email: [email protected]
Phone: 866-829-0030
Use the contact form Gorjana has provided on its website
Live chat function: To use the live chat, go to the bottom right corner of your screen and click the speech bubble
Gorjana Reviews: Editor's Verdict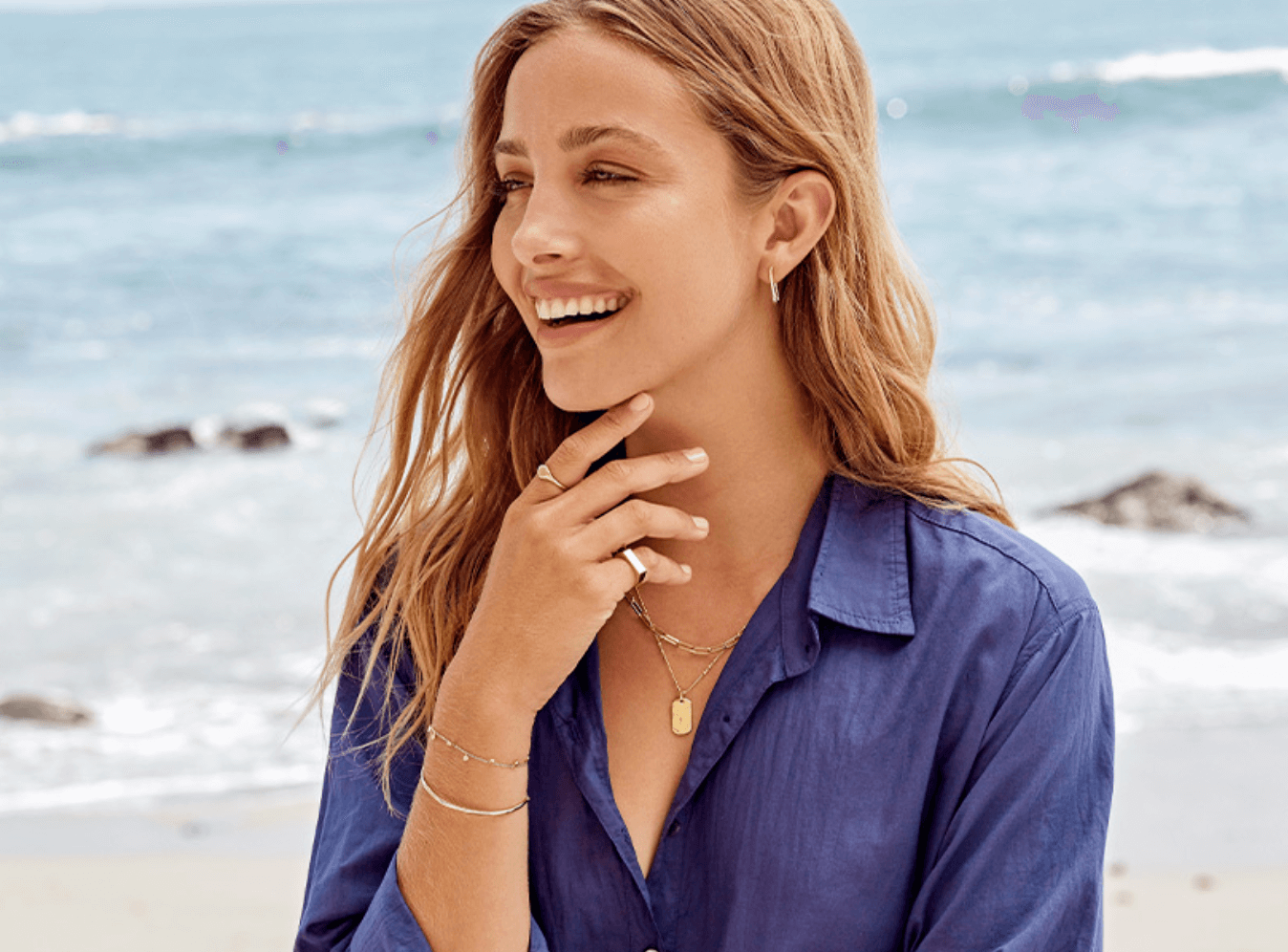 Gorjana is an excellent alternative if you're seeking economical and good-looking gold jewelry that's worth the money. The brand is well-deserving of its reputation due to the high quality of the craftsmanship, the range of design options, and the affordable costs.
Gorjana Jewelry is recognized for producing low-cost jewelry, with prices ranging from $10 to $850. That means you will get a piece of jewelry that suits you no matter your budget.
Based on Gorjana reviews, customers had positive things to talk about this company and its pieces. The good reputation shows that this is a reliable brand that offers value for money.
While some customers were not happy about their customer support service not being available 24/7, the low costs and excellent warranty, return, and repair policies more than compensate for these flaws.
The Gorjana's generally quick and responsive customer service makes this company a great and safe pick for everyday, high-quality gold-plated jewelry.
The website is user-friendly, and you don't need to be tech-savvy to navigate it and purchase your favorite jewelry; the site is designed to ensure you have a thrilling shopping experience.
Also, the company collaborates with local charities to hold fundraising events in-store and donate a portion of the earnings to the charity of their choice.
Gorjana's stylish jewelry is of good quality, and its most popular jewelry line is its inexpensive fashion line, which includes rings, bracelets, and necklaces ranging from $30 to $120.
Overall, their products are reasonably priced and have an attractive design, and that's why they are worth checking out.
Still looking for your special jewelry brand to look gorgeous? Check out our fashion jewelry brands reviews such as James Allen, Miansai, Lightbox Jewelry and Allurez.
Gorjana FAQ
What is Gorjana's commitment to sustainability?
According to its website, the company focuses on and continues to push for social, economic, and environmental sustainability. They take pride in paying fair wages and providing possibilities for advancement in the workplace.
In terms of the environment, they focus on reducing their carbon footprint through their happiness guarantee program, eliminating the need for clients to return products.
They also collaborate with several national and local organizations to help the communities they are part of.
The company has made it a priority to continue to focus equally on all the pillars of sustainability and understand that it is a never-ending endeavor to improve, push themselves and their businesses forward, and ensure that they are expanding consciously.
Are Gorjana items nickel-free?
Yes, Gorjana's yellow gold, rose gold, and silver platings are entirely nickel-free, ensuring that they will not cause nickel allergies or skin irritations.
However, the brass base for most Gorjana's jewelry contains nickel. But, because the platings are so thick, the nickel isn't supposed to come into touch with your flesh.
Gorjana's platings are incredibly long-lasting and durable. Even if the plating wears off, you can quickly repair the jewelry and keep the nickel-containing brass core away from your skin.
How do I care for Gorjana's new jewelry?
According to the Gorjana website, Gorjana applies an anti-tarnish barrier to every Gorjana 18k gold plated piece. To ensure that your Gorjana jewelry lasts as long as possible, they recommend you follow the following care instructions:
Avoid contact with cleaning agents, beauty products, water, and chemicals to preserve the plating on your jewelry.
Before exercising, cleaning your hands, or swimming, take off your jewelry.
Keep your jewelry safe by storing it in the Gorjana cloth bag that came with your purchase in a dry place.
To restore the luster of your jewelry, clean it with a dry cotton cloth.
Storing your Gorjana sterling silver styles in your Gorjana cloth bag with the anti-tarnishing strip provided. Find a stamp with the sterling silver '925' mark to identify all sterling silver products.
Natural jewels are delicate. Avoid using paper towels when cleaning your gemstones because they may scratch them.
According to their website, fine jewelry made of 14k and 18k gold will not oxidize or tarnish if you take care of these metals. Care instructions include:
Use warm water and light soap to wash fine jewelry.
Rinse thoroughly.
Use a dry cloth to dry completely.
Because natural gemstones like sapphires and topaz are delicate, it's best to avoid using harsh chemicals when wearing your jewelry.
Avoid using paper towels when cleaning your gemstones because they may scratch them.
Keep your precious jewelry safe by placing it in the pink Gorjana enclosure that came with your purchase in a dry place.
What materials does Gorjana use?
Most Gorjana pieces are plated in 18k gold, rose gold, or sterling silver over brass. The Fine Jewelry Collection is made entirely of 14k gold. You'll find further information on each style on the product's details page.
Can my favorite Gorjana piece be repaired if it is damaged?
Yes. If your Gorjana piece has been damaged, their free repair service is available for all items.