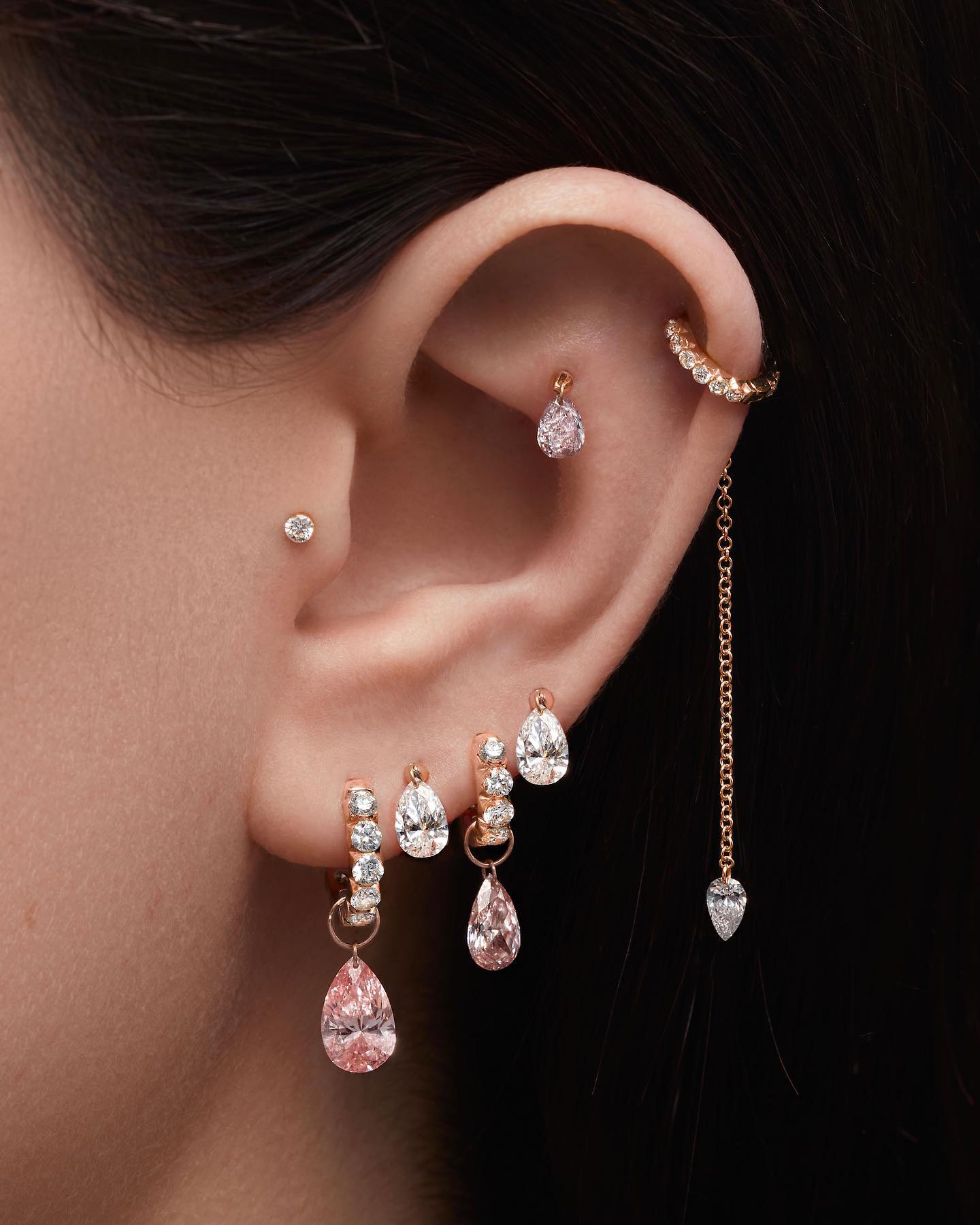 You might have seen Maria Tash products on your favorite celebrity without knowing it. You might even have heard the name someplace without recognizing what it stood for. Well, Maria Tash is a brand that deals in fine jewelry, piercings, and piercing goods. Our Maria Tash jewelry review checks out how the brand has attained the status it enjoys and if it's worth the hype.
The brand believes there's no one right way or place to wear jewelry. Today we wear them how we want and where we want. However, in the 70s, unconventional piercings were a sign of rebellion. That didn't stop Maria Tash from studying and starting a business based on piercings. This Maria Tash jewelry review aims to shine a brighter light on the brand's origin, presence and success. So, keep reading to learn all we have to share about Maria Tash and decide for yourself if it is worth patronizing.  
About Maria Tash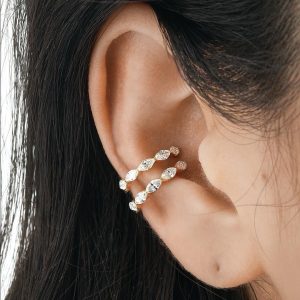 We don't believe there are pioneers in the Piercing industry, given that the tradition has been around for centuries. However, Maria Tash is arguably the closest thing the Modern world can have to one. Thankfully, she applied her expertise, crafting, and innovative styling on a global scale. The result of her efforts is the Maria Tash brand.
A Native New Yorker, Maria's first inspiration and considerable experience with piercings occurred during her time in London. Then she returned home, refined her skills, and hasn't looked back since. Evidence of her success is present as features in reputable publications like Vogue, Elle, Marie Clarie, etc. 
Today, the brand has been around for close to thirty years. It has since established a presence online and in physical stores worldwide. Our Maria Tash jewelry review would look at the brand, some products in its range of jewelry, and other important information regarding their activities.
Pros
The company ships its products domestically and internationally

Maria Tash jewelry is available for multiple body parts

The company has professional piercing shops

The customer service at their physical shops and stores is reputedly great

The brand offers quality products
Cons
Its offerings are relatively expensive

There is no sales section for better deals

The company's website doesn't contain online reviews attesting to the quality of its products.
Maria Tash Products Review
Maria Tash NYC outlets are a familiar hub for people looking for high-end luxury piercings. Fine jewelry goods from the same brand also attract the same level of attention globally. The brand is primarily synonymous with diamond jewelry. As such, no Maria Tash Jewelry Review is complete without mentioning a lot of diamonds and Maria Tash piercing goods. Ours is no different in this regard.
However, unlike most Maria Tash Products reviews, we would try to give an unbiased preview of the major Maria Tash Jewelry collections. Furthermore, we have included some of the characteristic pieces within these collections and the reception the brand has enjoyed so far. Keep reading to learn more about the products from which Maria Tash NYC has made its name, and you might hear of a few pieces that should be sitting in your jewelry box.
Maria Tash Stud Earrings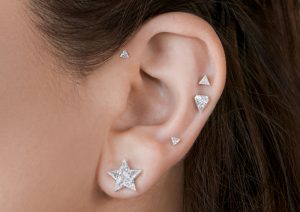 Studs are a popular earring choice for both men and women. Still, the Maria Tash stud earrings collection takes the concept to a new level. For starters, most of the pieces in this collection are not the regular studs you might feel comfortable losing. That's why the company uses state-of-the-art settings to hold gemstones in place and a thread design to fit the Maria Tash piercings studs within your piercing.
However, not all the Maria Tash studs are as expensive as the Invisible Set Diamond Lotus and open curve earrings. There are more affordable pieces like the Invisible Set Blue Diamond stud and the Emeralds Trinity Threaded stud. From the names of the pieces (and a glance at the Maria Tash earrings collection page), you can surmise that diamonds are a favorite gemstone in this category. However, the brand also employs other gems as well.
Maria Tash Hoop Earrings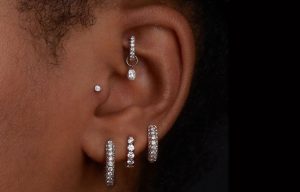 A feature of the Maria Tash brand is the diversity of its styles and approaches. So, studs aren't the only type of Maria Tash piercing goods you can find gracing ears. The Maria Tash hoop earrings can stake a claim to being just as popular as the company's other products. This is no surprise, given the exquisite jewelry pieces within the collection. 
There are rotating and non-rotating hoop earrings in the collection. However, the Invisible Set Diamond three-row Pave is an excellent place to start your browsing. It's a lot to take in, but it's easy on the eye. From there onwards, the brand's love story with diamonds rears its head in many shades. There are blue diamond and purple diamond hoop earrings (like some of the Invisible Set Eternity hoop earrings). 
The brand, though, understands the need for more diversity. Among this collection of Maria Tash Piercing products are also pieces made from Sapphires, Opals, and Emeralds. 
Maria Tash Earring Charm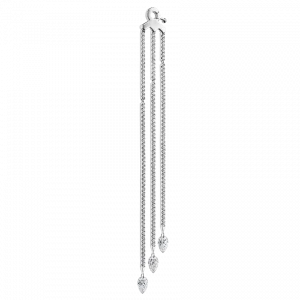 Studs meld to the skin, and hoops hold on tight, but Charms dangle, dance in the light, and refuse to let go of people's attention. That effect is even more striking when the charms are made from diamonds and gemstones. The Maria Tash earrings in this collection meet those parameters and surpass them. The company's store stocks up on pendulum charm earrings like the Diamond and Emerald Eternity Bar charms or the Pendulum and Spike charms.  
However, those (like the Double Pearl Chain connecting charm) are on the cheap side of these Maria Tash earrings collections. Some of the more stunning earrings here are the Invisible Set Diamond charms, which come with a heftier price tag. The collection's best part must be the variety of themes represented. There are lightning bolt-inspired pieces, triangle charms, flower charms, etc. Essentially, the brand tries to have something to help anyone express themselves in style.
Maria Tash Necklaces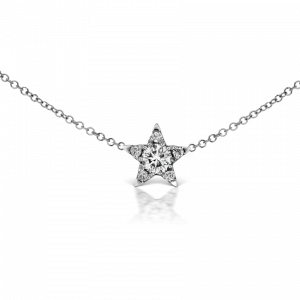 The first couple of collections could have got you thinking that Maria Tash was all about Piercings and ears. Well, think again. Though Maria Tash made her name with piercings and related goods, the brand provides fine jewelry for many body parts, including necks. Like the other collections, Maria Tash necklaces are a mix of some eye-catching pieces and understated quality jewelry.
For instance, there are literal Eye necklaces such as the Invisible Set diamond halo teardrop. Those are sure to grab some attention in public. Then, there are the simple-looking necklaces like the Diamond Star necklace, the Padlock necklace, the Lightning Bolt necklace, the Handcuff necklaces, etc. In typical Maria Tash style, very few of these necklaces are easy on the pocket, but that's the price of quality jewelry.
Maria Tash Finger Rings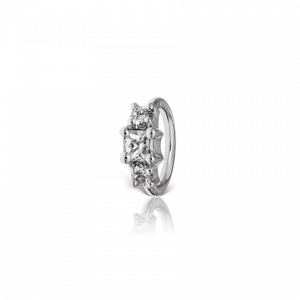 Finger rings are too popular a fashion statement for any significant jewel brand to cast aside, and Maria Tash is a major brand. The company brings its usual style and taste to the collection, and it's no wonder that some of the pieces in this collection are among the most expensive Jewelry Maria Tash has to offer.
The eye theme expressed in the Maria Tash necklace collection makes a return in the ring segment. In line with this observation, there is the Diamond Halo Invisible Set Teardrop Eye ring, the Lace and Pave Diamond Eye ring, and the Diamond Crown Eye finger ring. All three attract a lot of attention because of their style, but the brand has some less gaudy rings. You can opt for the Opal Eternity ring or the Pave Diamond and Engraved Finger Ring if you want simpler alternatives.
Maria Tash Jewelry Reviews from Customers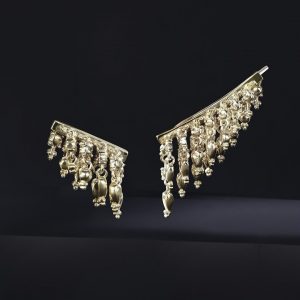 There are lots of Maria Tash jewelry pieces. You could filter them by style, body part, or gemstone, and they would still be too many to review. So, we decided to isolate some of the brand's best-sellers if you want to check them out. Fortunately, the company's website devotes a particular page to its best-sellers, all 93 of them. We randomly selected a few. Unfortunately, the brand doesn't post Maria Tash jewelry reviews on its website or other notable review platforms. Regardless, here are the best-sellers we picked out. 
Diamond Eternity Hoop Earring

Floating Double Diamond Charm

Marquise Diamond Threaded Stud Earring

Large Diamond Star Eternity Ring

Diamond Lotus Cascade Hoop
A lack of company-posted reviews meant we couldn't put forth numbers to justify the performance of the jewelry pieces above. However, careful research online helped to unearth some brand reviews. For instance, we found on Trustpilot that Maria Tash had an average rating of 2.9 stars out of five, but only three reviews were on the platform. Furthermore, two of those were 1-star reviews complaining about the metal of the jewelry. Not the largest sample size to base conclusions on.
There were more reviews on Yelp, 375 of them to be exact. The brand had an average rating of 4 stars out of five. However, while some of the reviews praised the style and design of Maria Tash's jewelry, most were about the quality of the customer service. Even Nordstrom, which typically posts reviews on products, struggled to garner more than one or two per product. In those reviews, the brand's performance was reasonably strong, though.
Popular Alternatives to Maria Tash
Further customer reviews
In our opinion, the nature of Maria Tash's offerings contributed to the lack of reviews on their website and other platforms. The company produces quality luxury jewelry that is not affordable for many people. So, it stands to reason that their clientele isn't necessarily the type to speak about their purchases online. This opinion is supported by the many Maria Tash online reviews that were in-store judgments on their piercing services.
There is one thing the brand has going for it that cannot be disputed, though; celebrity patronage. That, in itself, is an indicator of performance and a loud one. Here is a list of celebrities who have rocked some Maria Tash jewelry at one time or another:
Lashana Lynch

Rihanna

Florence Pugh

Tessa Thompson

Sarah Paulson

Demi Lovato

Keke Palmer

Ellie Goulding

Zoe Kravitz

Lewis Hamilton
We can't ask the above celebrities to share their experience wearing Maria Tash Jewelry. Still, we can conclude that multiple sightings in their jewelry are a good sign of performance and acceptability. Many of the above names have been public with a Maria Tash piece on their fingers, ears, neck, or nose. Our Maria Tash jewelry review couldn't find numbers, but it stumbled on an online presence that justifies the brand's success. We rest our case.
Sign Up for Maria Tash
You can sign up for Marie Tash on the company website. When doing so, you can add your birthday info or not. Perks of registering on the platform include access to the Maria Tash newsletter for new releases and exclusive deals. Furthermore, registered customers get a 10% discount on purchases from the company shop. The latter offer is not available for in-store purchases.
Where to Buy
Maria Tash jewelry is available for sale and international delivery from the company's online shop. Alternatively, you can get their products from stores in different locations worldwide, including London, Kuwait, Dubai, New York, and Miami.
Maria Tash Shipping and Return Policy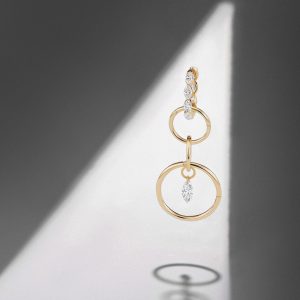 The Maria Tash shipping policies are as follows:
Processing of orders and shipping occurs from the US

The company offers free ground shipping on domestic orders over $60

The company offers free expedited domestic shipping on orders over $400. Otherwise, the shipping fee on such orders is $25

The company offers overnight domestic shipping for $50

The company offers free shipping on international orders over $1,000. Otherwise, the shipping fee on such orders is $20

The company is currently not offering to ship to Brazil, Indonesia, China, Malaysia, Portugal, Switzerland, Russia, and China.

Orders placed during business hours from Monday to Thursday would ship the next day

Orders placed from Friday to Sunday would ship on Monday

Orders placed during holidays would ship on the next business day

The company provides a tracking number via email through which customers can track their orders

Unless waived at checkout, the company requires a signature upon all deliveries

Customers who opt for no signature absolve the company of responsibility for any losses incurred during shipping
The Maria Tash return policies are as follows:
All returns must be processed and made within 30 days of the purchase date

Jewelry bought online is not returnable to physical stores

Returnable jewelry must be unworn and altered

Jewelry used for a new Maria Tash piercing are final sale

The company doesn't return shipping fees on international returns

The company doesn't offer returns on custom items

Maria Tash doesn't accept exchanges. As such, if you want to change an item, you would need to return the original purchase, and then reorder a new item
Promotions and Discounts
There are no Maria Tash promo codes on the company website, nor was there a Maria Tash sale collection for customers looking to bag better deals. However, the company offers a 10% discount for customers that sign up for its newsletter. In addition, Maria Tash offers free basic domestic shipping on orders over $60 and free international shipping on orders over $1,000.
Contact Maria Tash
In line with accepted e-commerce practices, Maria Tash keeps open lines of communication across multiple mediums. Customers can contact the brand via:
Its live chat feature at all hours from Monday – Friday and 7 am – 6 pm EST on Saturdays and Sundays

Text messages throughout the day from Monday – Friday and 7 am – 6 pm EST on Saturdays and Sundays. The contact number is +1 513 370 5904

Phone calls at all hours from Monday – Friday and 7 am – 6 pm EST on Saturdays and Sundays. The contact number is +1 833 775 8274

Email at

[email protected]
In addition to the above means of communication, the company also provides particular email addresses for other inquiries. They are:
Maria Tash Jewelry review: Editor's Verdict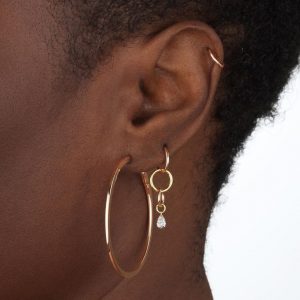 The brand is undoubtedly quality, and the founder's reputation is confirmation of this fact. However, the absence of enough Maria Tash jewelry review numbers to confirm its quality is a big deal for some customers. This is made slightly inconsequential by the celebrity patronage Maria Tash jewelry enjoys. The performance of the Maria Tash piercing shops in other reviews helps matters. 
Then, there's the issue of price. Our Maria Tash jewelry review found out that despite the relative expensiveness of the brand's products, it still compares favorably to similar outfits in terms of quality and pricing. In summary, the brand has its issues. Still, it's an excellent source for people looking to get quality jewelry at just value.
Are you passionate about jewelry? Check out our Ginette NY Reviews, Daniel Wellington Review, Lightbox Jewelry, and Georg Jensen Review. 
Maria Tash FAQs
Are Maria Tash earrings sold as pairs or single?
The company sells large earrings in pairs; all other Maria Tash jewelry items are in singles unless otherwise stated. As such, customers need to add two of the singly-sold pieces to their cart if they wish to purchase a pair.
How do I determine what size is right for me?
Online customers can access the company-provided list of standard sizes (suitable for most piercing placements) by visiting the gifting FAQ section on its website. In addition, product pages on the online shop contain images showing how different sizes fit on different ears. Customers at physical stores can book a styling appointment with an expert to help determine their size.
Does Maria Tash repair damaged jewelry?
Yes. Maria Tash offers repair services on jewelry purchased from the company's store. If the jewelry requires repair within six months of its purchase, the company will do it at no cost to the customer. However, suppose the need for repair comes up outside the 6-month window or is due to mishandling on the customer's part. In that case, the company charges an additional fee. Maria Tash assesses repairs individually, and the price may vary as such. According to the company's website, the time window for repairs is 2 – 8 weeks.
Why is there a price difference between your jewelry online and in-store?
Whatever price difference exists between Maria Tash jewelry in online stores and those in physical stores is due to newness, availability, and seasonality.