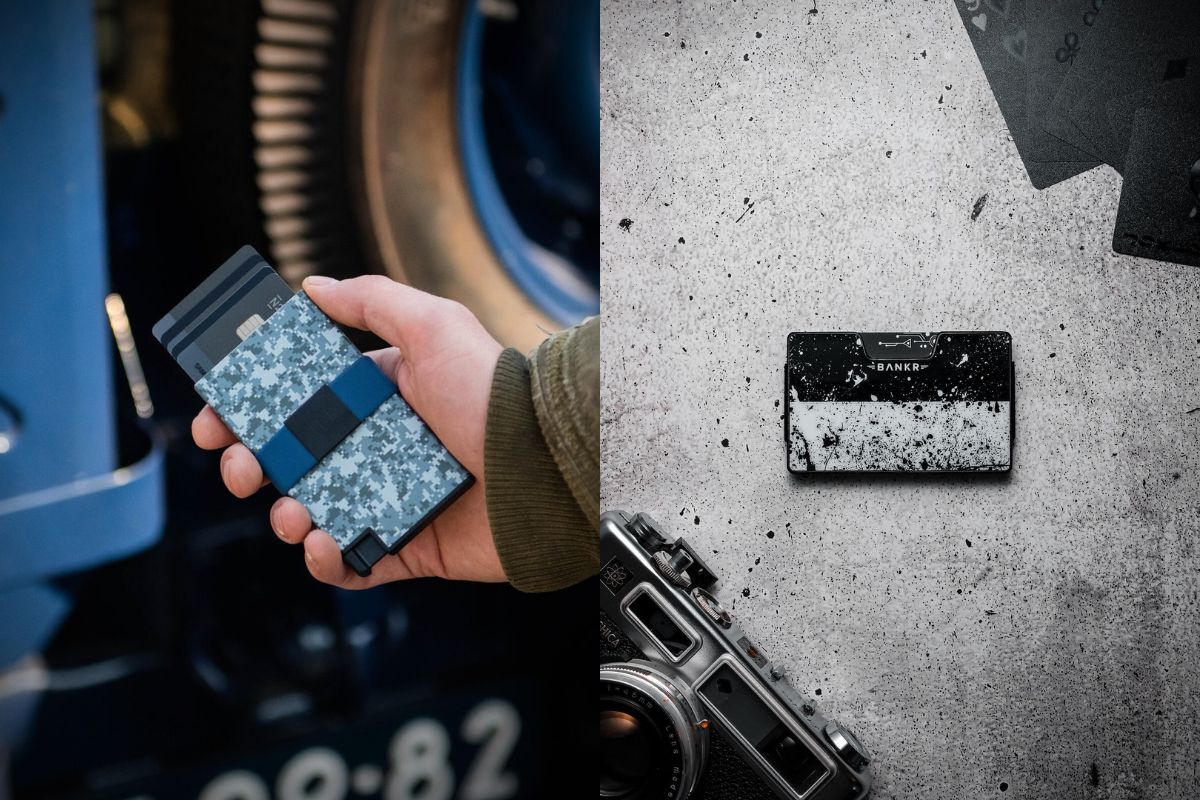 If you're in the market for a more slimline answer to storing your cards and cash, then our Ridge Wallet vs Ekster review is a great place to start.
Both companies looked at conventional leather bi-fold wallets stuffed with old ID cards, shopping lists, and receipts and asked themselves whether it was all really necessary. Successful Kickstarter campaigns for both Ridge and Ekster wallets showed that plenty of people agreed, and this type of slimline wallet has since become recognizable worldwide.
But these brands aren't just about making something that fits into your pocket better – for both companies, there is an emphasis on living a more slimmed-down lifestyle, only carrying what we need, and having everything we use work together as part of a seamless ecosystem.
Ekster offers a wider range of styles than Ridge, but the range of designs and finishes (as well as personalization options) available for the single style of Ridge wallet is very impressive. We all find it difficult sometimes to pick out the right gift for certain men. The Ridge wallet limited edition and custom designs may be the answer for the man who has everything else!
Ridge Wallet vs Ekster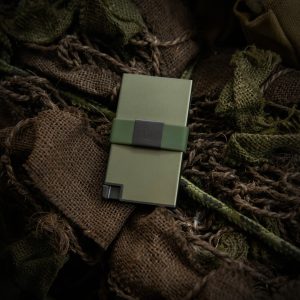 Ridge and Ekster both make slimline cardholder style wallets designed to reduce the number of extraneous cards and items you take everywhere with you, but there are a few differences that might make one product or the other a better fit for your lifestyle.
The Ridge wallet money clip or cash strap is integrated into the wallet design and allows you to securely hold bills on the outside of your slimline cardholder. All Ridge wallets ship with a cash strap, money clip, or both. They can be clipped onto either side of your Ridge wallet and removed when not needed.
Ekster's most unique product is the solar-powered Ekster tracker card, which allows you to track the last location you had your wallet. The slimline card fits neatly into a space designed for a debit or credit card and can stay charged for months on only a few hours of sunlight.
Another neat feature of the Ekster tracker card is the ability to call your wallet from your phone or your phone from your wallet. So long as you don't lose both at once, you'll never be searching under the couch cushions instead of leaving the house on time again! 
Ridge Wallet vs Ekster Pros and Cons
Ridge Wallet
Pros
Huge range of plain and patterned finishes.
Easy to repair and replace parts yourself.
Cons
A high price point for not very much product.
Slow and unresponsive customer service.
Ekster
Pros
Wide range of designs to accommodate different lifestyles.
High priority on sustainable materials and practices.
Generous and responsive customer service.
Cons
Some moving parts are quite fragile.
No customization options and comparatively few color/finish choices.
Ekster vs Ridge Materials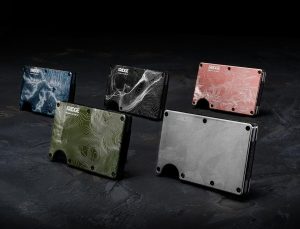 The Ekster smart wallets are available in a wide range of materials, including various premium leather and metal finishes. The Ekster aluminum wallet is available in 12 gorgeous colors, many of them designed to perfectly match common iPhone colorways.
The Ridge range is more slimline in terms of available styles (they only sell one wallet!), but the range of colors and finishes is pretty phenomenal. As well as a vast range of curated and limited edition designs, the option is there to further personalize your wallet with engravings or even contact the company about bespoke logo designs for larger orders.
Whether the outside is leather, carbon fiber, or custom engraved stainless steel, all smart wallets include a protective aluminum panel to protect your cards from RFID data skimmers.
Package and sustainability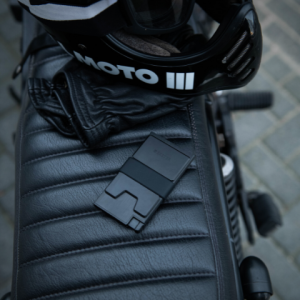 The Ekster package is as sleek as its product, including only your new wallet – since that's all you need. All its cardholder products allow you to add an Ekster tracker card at checkout for 20% off the usual price.
The Ridge package includes your new wallet, a Ridge wallet money clip or cash strap, and a hex tool that you can use to switch between the cash strap and money clip or replace the elastic components when they wear out.
Ekster considers its sustainability and environmental impact important enough to warrant a whole page on its website. It's even working towards B-corp certification, which shows that a company has social and environmental responsibility at the center of its philosophy.
If you're looking for some swift reassurance that your new wallet won't have a negative impact on the planet, then Ekster's extensive sustainability statement and information have all the relevant info.  
Ridge doesn't have a lot to say about the sustainability of its packaging or manufacturing, so we have to give the points to Ekster here!
Product types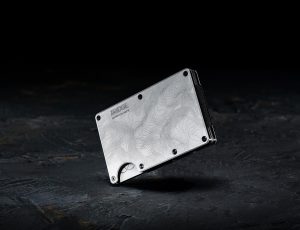 Ekster sells a range of ultra slimline cardholders in both metal and leather finishes and a range of more familiar billfold style wallets. Ridge only carries one style of wallet in its unique, expandable design and a massive range of finishes. 
When you see how different this wallet looks from the kind of accessory you're used to carrying, you may wonder how to use a Ridge wallet, but it's as simple as sliding up to 12 cards in and watching the unique design expand to accommodate them.
As well as wallets, both companies sell a variety of phone cases, bags, keyholders, and accessories which can be purchased as matching sets with many of their wallet designs.
Quality
Quality comes at a cost and with products designed to last a lifetime, it's not surprising the price tag is a little higher than we'd normally expect to pay for a new wallet. We have to wonder, though, how much have we spent in the long run on buying new wallets instead of cleaning out old ones or replacing cheap items with broken zips and torn stitching?
Even when the price seems justifiable, we won't pretend we're not the first ones searching for an elusive Ridge wallet coupon or Ekster discount code!
If you're in the armed forces, then you can confirm your serving status at checkout for a massive 15% discount off your entire order. Ekster discounts pop up every now and then in its regular sales, so keep an eye on the website or join the mailing list to make sure you're the first to take advantage.
Customer review ratings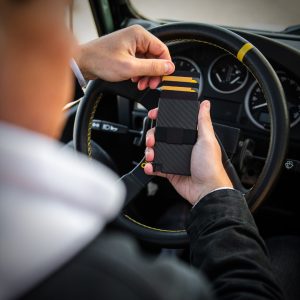 Both companies display some very persuasive reviews on their respective websites, with happy customers raving about these clever designs allowing them to slim down and streamline what they carry with them on a day-to-day basis.
The similar reviews end there, though, and we found a shocking difference over on Trustpilot – both in the types of reviews and the responses.
The Ridge wallet profile on Trustpilot has been claimed, so the company is aware of the quality of reviews being left. However, it's made no effort to respond to comments or try to rectify customer issues. Many of the reviews mention difficulties getting in touch with customer services, and the overwhelming impression we received was that once they'd got your money, there was little interest in resolving problems.
While there are positive reviews, we noticed that most of them were written shortly after receiving the product, picking one up with a Ridge wallet discount code, or after buying it as a gift, whereas the negative ones were predominantly from people who didn't feel the durability and convenience met expectations or matched the price point when in use.
Further customer reviews
The Ekster Trustpilot profile was noticeably different, with reviews matching up closely with the distribution shown on the company's own website and customer services responding to nearly every negative review with either an immediate resolution or information to allow the customer to get in touch.
Multiple positive customer reviews directly compliment customer services for quickly resolving issues and replacing faulty products without running customers through the third degree.
One negative we saw a lot of for Ekster was criticisms of the Ekster tracker card – it doesn't seem to be as useful as customers expect in practice, and the range isn't sufficient to find anything unless you happen to have lost it very close to your phone.  
You can also read our Ridge wallet and Ekster wallet reviews.
Ridge Wallet vs Ekster: Editor's Verdict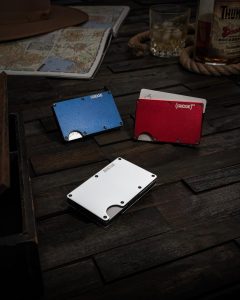 Our editor's verdict on Ridge Wallet vs Ekster is that either of these designs is functional if all you need is a couple of cards and minimal cash. While Ekster and Ridge Wallet money clips are available, neither seems like a particularly secure option, especially if you're carrying a larger amount of cash that would be better kept hidden. Neither wallet has a particularly good solution to coin storage and while you may leave the house carrying only bills, you're eventually going to have some change rattling around in your pocket with no pallet to store it in.
For difficult-to-shop-for men, Ridge wallets are a great novelty gift and may see some use for the truly minimalist businessman who carries nothing but his briefcase and platinum card. But we think these wallets are unlikely to work out as a daily driver for anyone who needs to keep hold of receipts or needs to carry multiple IDs.
On the other hand, Ekster wallets are available in a significantly wider range of styles, and this gives them a wider appeal when not all of us want to leave half the content of our wallet at home.
Ekster customer services are what really wins this for them, though, since we're confident that if we had any issues with our purchase, they'd bend over backward to fix it, and we have nothing like that guarantee from Ridge.
Check out our other wallet reviews of Cuyana, Bellroy, Aviator, and Kaai.