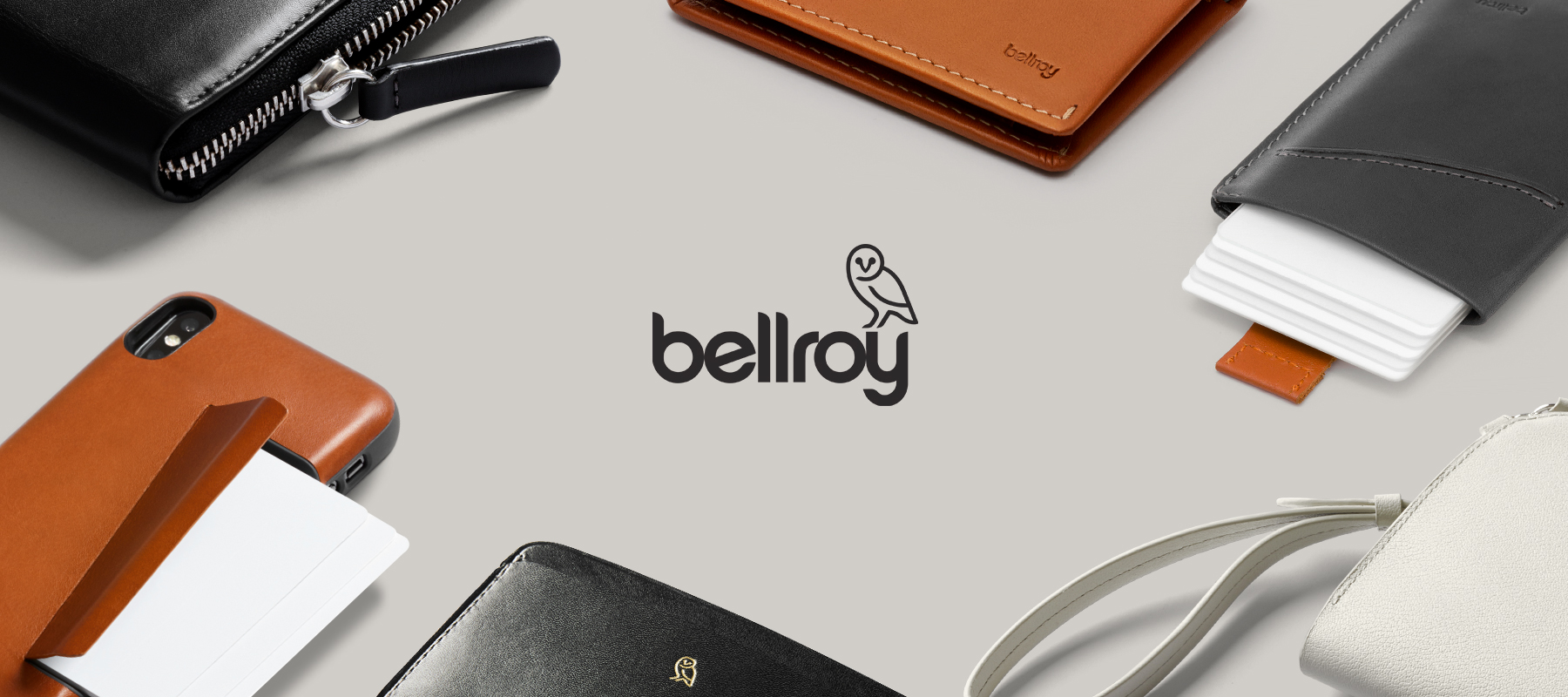 With a sustainable approach to their manufacturing – they only use eco-friendly tanning processes, and offer products made from recycled and plant-based materials – there's a lot to like about this stylish Australian brand. With a mission to rethink the wallet into a slimline, durable, and lightweight design, their range is almost minimalist in look without sacrificing style. And all their products come with a generous three-year warranty. Our unbiased Bellroy review will unzip the story behind this growing brand. We also look deeper into their range and customer opinions so you can decide if Bellroy's products and accessories are for you.
About Bellroy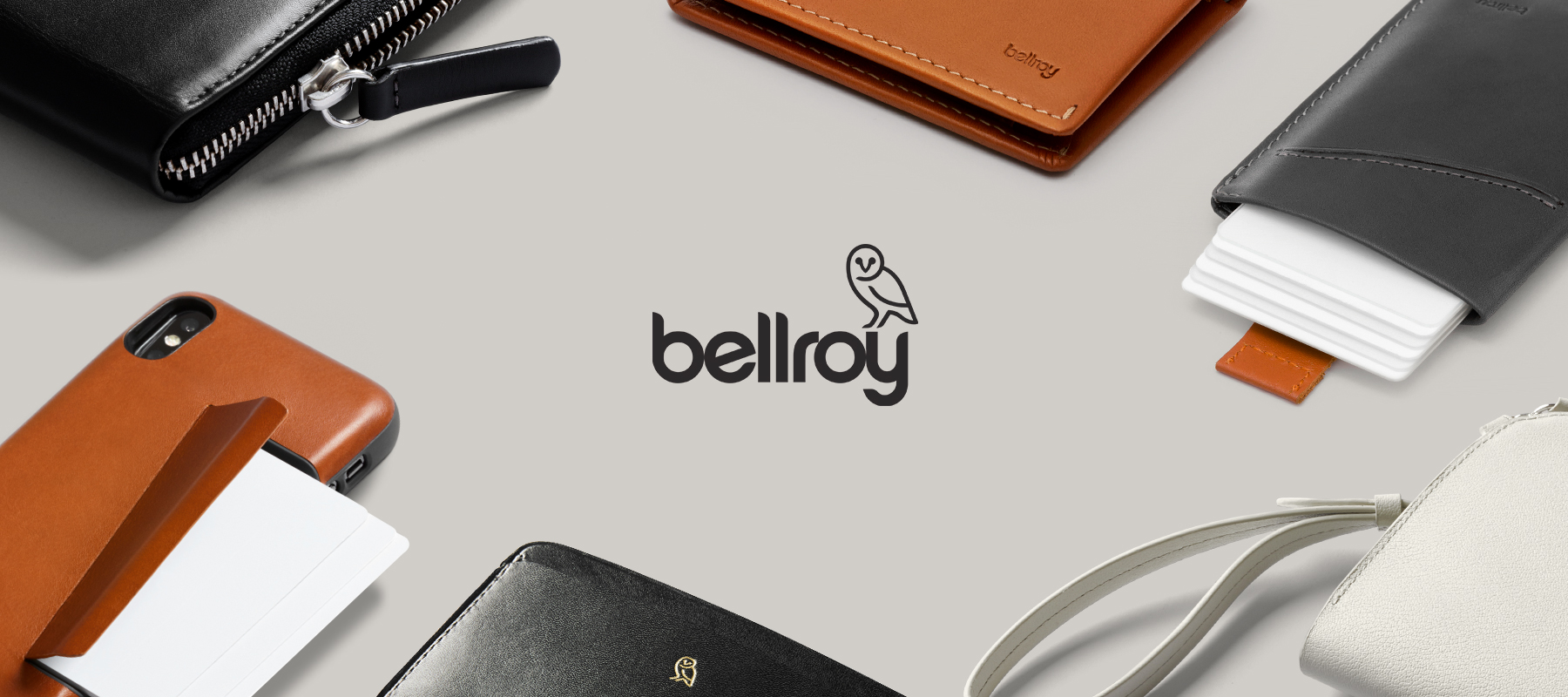 Bellroy is a testament to the adage, 'if you can't find what you are looking for, make it yourself.' Back in the early 2000s, the company was born out of a conversation amongst a group of friends in Bells Beach and Fitzroy, Australia, hence the Bellroy name. The friends were bemoaning the fact that their wallets were far too bulky and cumbersome and decided to streamline the design to something less bulky.
Fast forward to 2010 Bellroy launched its first product. A Slim Bellroy wallet with fewer layers reduced bulk and easier card access. Since then, Bellroy has developed into a global business, with an expanded range that now includes backpacks, bags, phone and tech cases, document holders, and accessories.
Bellroy's motto remains 'carrying it forward' and from its humble beginnings around a kitchen table in Australia, the brand now distributes its products around the world and has collaborated with the likes of Barneys New York, Google Notes, and Huckberry.
With designs that are understated, practical, and durable, all the Bellroy products are also created to age gracefully. The company remains committed to sustainability and uses materials and production processes that are kinder to the environment.
The brand was featured in many huge online publications, including Forbes, Bloomberg, and Women's Wear Daily.They are also very popular on social networks, primarily Instagram, Facebook, and TikTok.
Pros
Products are made from premium quality leather
Uses eco-friendly leather tanning processes
Also offers non-animal product designs
All Bellroy products come with a three-year warranty
RFID protection available on many items
Free worldwide shipping and 30 day return policy
Cons
You can't actually speak to a customer service rep – email or social media contact only
In-country courier costs and tax may apply to international orders
Express shipping option is not available in all locations
Bellroy Wallet Review
Looking for the best Bellroy wallet, cardholder, or bag for your budget and lifestyle? Then read on as we check out just what is on offer from this slimline and stylish brand. All their products have superior storage qualities and retail from around $38 for a phone case to $350 for a lux weekender bag. Here's what you can expect from the Bellroy product range.
Leather Card Holders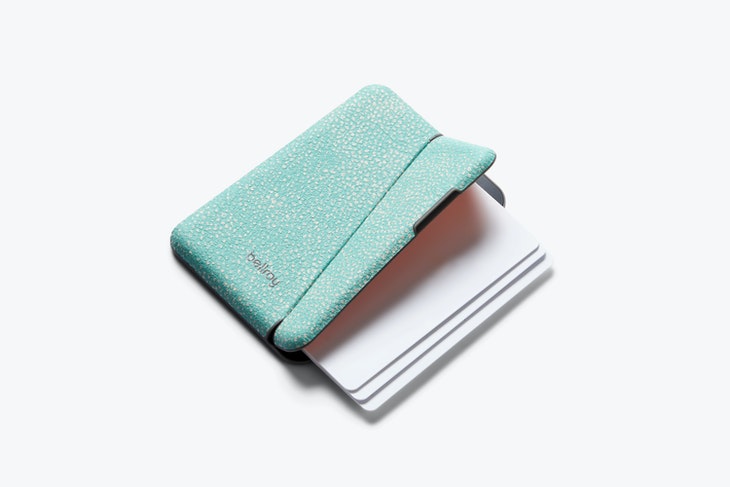 Cardholders are the ultimate in space-saving, ensuring you safely have your money cards without adding bulk to your pockets. Use as your main 'minimalist' wallet, or as a backup for extras when you need the most important cards to hand. And with a Bellroy cardholder, you can expect a few ingenious ways to cut back size without losing out on function or style.
Opt for a straightforward leather card holder which has enough space for your cards, business cards, or folded notes. Or up the security ante with one of Bellroy's RFID-enabled holders, which are perfect for travel or city life. Bellroy has also recognized that two of the most important things we carry are our smartphones and our wallet, so has cleverly combined the two without adding bulk.
Check out their neat cases for iPhones which include a cardholder or opt for a cardholder clip-on which is compatible with most smartphones. They also do a few nice-looking leather folding holders for Google phones, so you have a decent choice. The range uses a combination of leather and flexes polymer for durability and finish plus a decent choice of colors for a fashionably minimalist touch.
Bellroy leather card holders range from £38 for a single cardholder to around $120 for a modular phone case with an add-on wallet.
Slim Leather Billfolds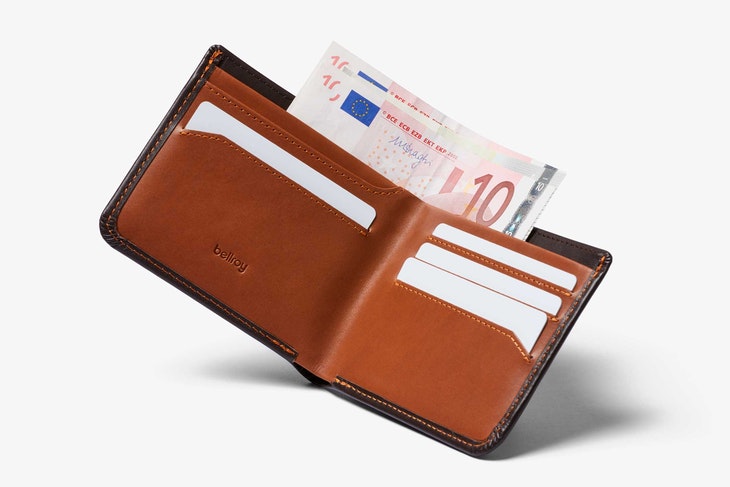 Bellroy's billfold wallets are amongst their bestsellers and as this design got the company started, it has proved to be a perennial favorite. Based on the classic three-fold design and using premium leather that has been eco-tanned, Bellroy has taken the size down to basics so there is no waste of space.
But the design is also deceptive, as when folded out you can easily get your notes safely stored away. Bellroy has also been clever with the slim profile design and has been able to add in some extra details, including a key wallet and coin pocket, without adding bulk. We particularly like their best-selling Hide and Seek wallet, which sports a classic timeless design while being able to store up to 12 cards as well as coins for an everyday wallet that won't go out of fashion.
Starting from around $70 for a slim sleeve billfold to $200+ for a full-size folio wallet, they aren't the cheapest wallets you can buy, but they are designed to last, plus many of the Bellroy models also feature RFID protection.
Travel Wallets & Passport Holders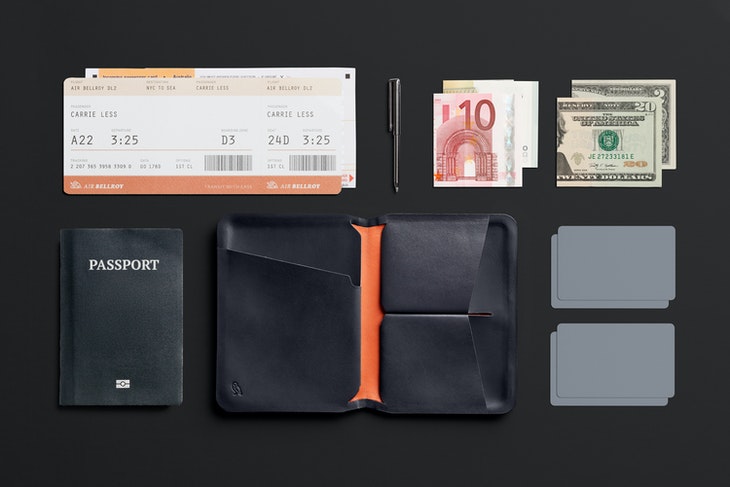 Knowing your valuables are safe when traveling is paramount to an enjoyable, stress-free trip. So, a travel wallet and passport holder from Bellroy is a good investment. All their travel wallets and passport holders are also RFID secure for extra peace of mind.
Style-wise, the designs are not overly adventurous but have a simple yet classical look that is both smart and practical. However, the choice of colors is not extensive, but all the popular standard colors are there. And you get a good choice of designs to suit your traveling style, from single passport holders to folio-style wallets to keep your cards, documents, and boarding passes all in one safe place.
Plus, Bellroy offers value bundles of wallets and passport holders which also make great gifts for the jet setter in your life. Expect to pay from $130 for an RFID travel wallet, rising to around $200 for a full passport cover, with RFID protection.
Bellroy Slim Sleeve Wallets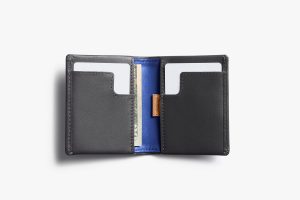 Another one of the bestsellers is the slim sleeve Bellroy wallets. These can easily hold 4-8 cards yet still keep that slim design. There are two quick access card slots as well as a pull-tab for cards you might not access that often. If you wish to keep some bills inside then you can do so. The Bellroy slim sleeve wallet is mostly suitable for anyone who doesn't like bulky wallets or just doesn't wish to carry around too many cards and cash.
Bellroy Bags
As well as its core wallet range, Bellroy has also evolved to include streamlined bags that are both practical and stylish for everyday use. Here's the Bellroy review lowdown on what they offer when it comes to bags.
Backpacks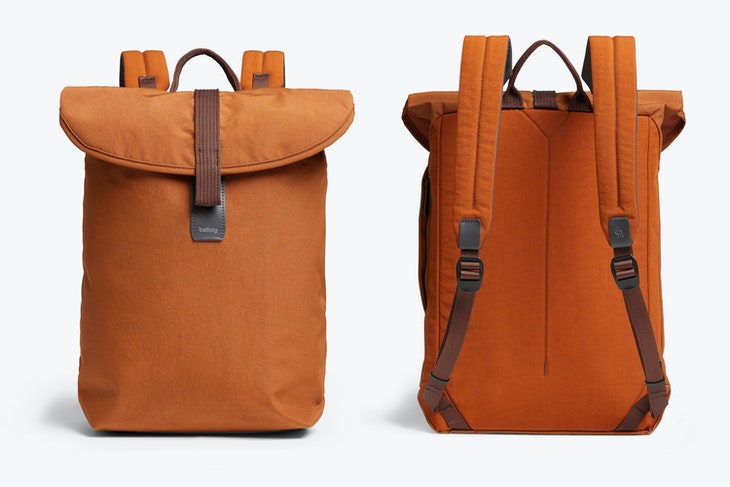 Who doesn't love a backpack? The ultimate in comfort and convenience, Bellroy backpacks offer a touch of the outdoor, married with urban style for carriers that are a delight to use and wear. With over 18 designs to choose from, it appears there's a Bellroy backpack for every occasion!
For lightweight, everyday use, opt for the compact Tokyo Tote bag, or for an overnighter, the Classic, with its 22-liter capacity will more than suffice. And for longer trips, Bellroy also does a generous 38-liter that has space for your tech so you can keep connected as you travel. All the Bellroy backpacks are made from recycled materials, with prices starting from $120 for a leather-free daypack.
Travel Bags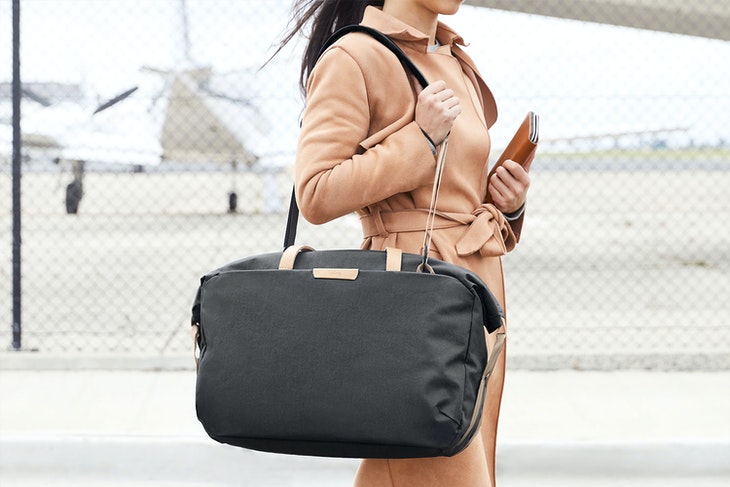 Whether it is for a day's sightseeing to a longer road trip, these well-made travel bags will have your belongings and essentials covered. As well as the backpacks we have already looked at, Bellroy has added weekender bags, duffels, and zipped travel totes to their range.
As well as their classic leather, you can also choose from non-leather designs, including bags made from recycled plastic bottles and water-resistant fabric. The color choice is a little limited, however, as Bellroy stick to their trademark utilitarian colors but for laidback, urban chic, this is not a bad thing. Expect to pay around $80 for a day bag, rising to over $300 for a full-on weekend bag.
Work Bags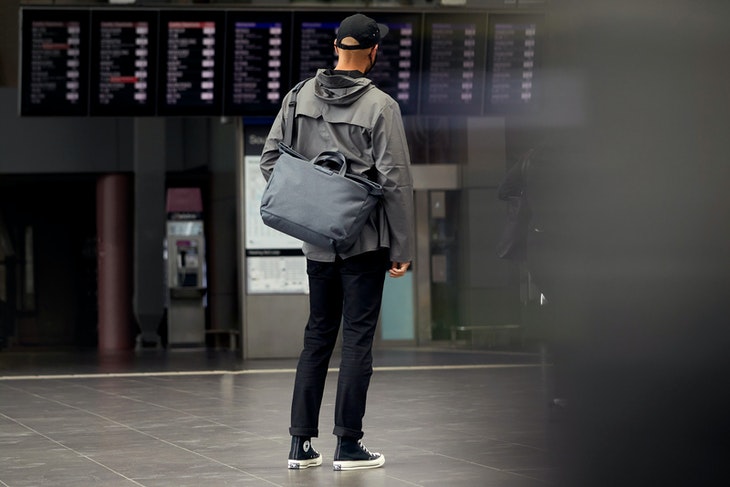 Looking for a well-designed and low-key stylish work bag? Then Bellroy has a small range that could come up trumps. Durable fabric, urban styling, practical designs, and deceptively spacious – that's a tick in all boxes.
As well as totes and backpacks, you also get convertible tote/backpack combos and a larger messenger bag, all with plenty of space for laptops and devices plus pockets to spare. The Bellroy work bag range starts at around $140.
Bellroy Accessories
Moving on from their core bag and wallet range, Bellroy also offers additional accessories, from key covers to notebook pens and covers.
Travel Accessories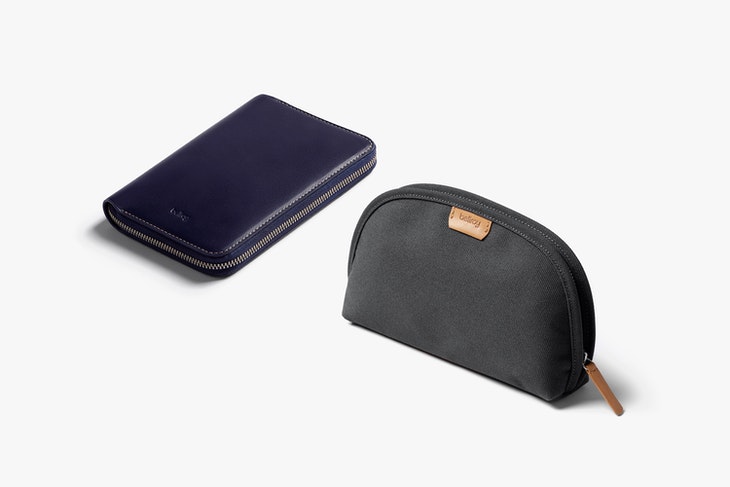 For any travel enthusiast there Bellroy has a whole section on travel items. They say that "Whether it's a business trip or a fun getaway, organization is key". We couldn't agree more! What do these include? Well, one of the handy accessories is the Tech Kit. This allows you to store your cables, charger, mouse, and earbuds. It comes in a compact little case.
Do you like the Bellroy wallet? There's one for travel too. It fits anywhere from 4 to 10 cards, as well as sections for passports and tickets. If that wasn't enough, the wallet also has 4 quick access card slots. It's still a slim wallet, so you don't have to be afraid that it will be bulky in your pocket.
Pouches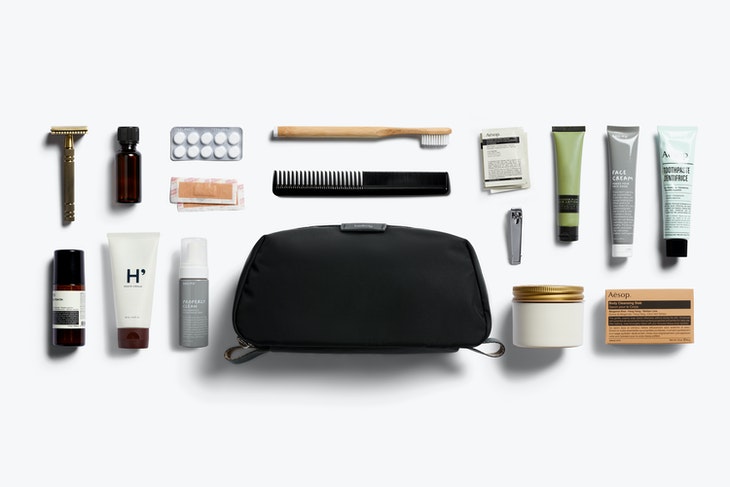 A well-designed pouch can become invaluable, whether it's for your overnight or travel pack or work commute bag. Bellroy has taken their 'less is more' design approach to the humble pouch and made it a versatile piece of kit, whether you need to pack your toiletries, stationery, or IT kit.
From a straightforward standing pouch to a fold-out and multi-zip kit bag, Bellroy pouches are not the cheapest, but they are an effective and durable way to get organized, whether at home, work, or on your travels.
Bellroy Review from Customers
So, is Bellroy a good brand? Well, the product range is popular, and they've garnered some good press coverage and accolades, including a top award from Conde Nast Traveler. But looking at the Bellroy review from customers across the internet and their feedback is a little more hit and miss.
Overall, their online customer reviews – both on their own website and via independent sites – is favorable, and it's clear that the Bellroy brand has a strong band of loyal users.
On Amazon alone, they consistently score 4/5 or above, with the bestselling Bellroy slim sleeve garnering a five star on over 70% of the reviews. The most positive points generally raised about the brand and its product range are the quality of materials used, the attention to detail, and the choice of sustainable materials. The fact that the designs are attractive and practical also figures highly:
'This is my favorite wallet because of its size'; 'Bellroy gets it. They think if things no one else does'; 'The craftsmanship is excellent, and all their products have lasted'.
Bellroy also has great reviews on independent review websites, scoring 4.2/5 on TrustPilot and 5/5  on Influenster.
Further customer reviews
However, Bellroy performs less well in certain areas, with their customer service one of the most frequent complaints. The inability to speak to a customer service agent is a bugbear for many while dealing with queries over email has also proved unsatisfactory. On their website, Bellroy explains why they don't have a telephone customer service number – We're a global support team. Our current channels allow us to use translators so that we can effectively communicate with all the members of our community.
Longer than promised delivery times, some issues with color discrepancies, and a less-than-smooth returns process also stand out when scanning the many customer reviews online.
That said, this is a premium company that has quite rightly built a reputation for quality products that hit the Bellroy brief of being lightweight and slimline as well as easy to care for and use.
Where to Buy Bellroy Wallet?
The next question within our Bellroy review is where to buy Bellroy wallet and leather goods? As well as being able to buy direct via Bellroy's own website – bellroy.com – many items from their product range, including accessories can also be found on Amazon.
The company doesn't have its own physical retail presence, but its products are currently available via over 1,200 high street stockists around the world. You can search for your nearest Bellroy stockist via their store finder on their website.
Bellroy Wallet Shipping and Return Policy
A big draw for many Bellroy customers is the fact that they offer free shipping worldwide, although you may be charged for express delivery. And the global nature of the company means that, in their own words, they 'can ship anywhere with a letterbox', with orders typically dispatched within two working days.
Delivery times will depend on the destination, and express shipping is also available to most locations. For more specific shipping information before you place an order can be found using Bellroy's online Estimated Arrival Date Calculator.
With a three-year warranty on all its products, Bellroy's return policy is pretty straightforward. If your purchase is faulty or the received order is incorrect, you will get a full refund (including shipping costs) if returned within 30 days.
You also have 30 days to return or exchange your purchase if you have changed your mind, but you do have to contact Bellroy's customer service team first to arrange a return. However, for these returns, your shipping will not be reimbursed.
Bellroy Review –  Promotions & Discounts
The main route to discounts on Bellroy's products is via its online Outlet which features 'last chance to buy deals on end of line ranges, where you can get up to half price off on many items. Bellroy also runs occasional promotions throughout the year. Furthermore, signing up for their newsletter as well as following Bellroy on social media is the best way to be in the know.
Contact Bellroy
Considering that Bellroy is a global company, they do not provide telephone customer support. The company believes it can offer the best service via email and social media, which includes 24-hour support, seven days a week. To be fair, if you wanted to get in touch with them, it's easy to do so via email too, phone calls is not always necessary. You can access their support team via:
The company also has a good information and support section on its website.
Bellroy Wallet Review: Editors' Verdict
So, does Bellroy stand up to the hype? Following our Bellroy review, here's our verdict! Yes, we believe that Bellroy is very much worth the hype. The products remain true to their initial desire for slim designs. You get well-designed items that look good and are durable enough to use every day.
Plus, they are designed to age well so even after plenty of use, they still retain an attractive 'lived-in' charm. The range is also diverse and has embraced our growing dependence on smart tech, so your gadgets can also look Bellroy savvy. Add in RFID technology on many of their products and you get security peace of mind too.
Finally, we like their approach to mixing premium leather with sustainability, as well as catering to customers who prefer non-leather-based or recycled material items, without compromising on design or quality. And for many customers, this could be a dealbreaker.
Are you looking for other similar fashion brands? Read our reviews of Fashionphile luxury bags and for Oliver Cabell sneakers.
Bellroy FAQ
Where are Bellroy products designed?
Most of the Bellroy range is designed in the company's Australian HQ, although they also collaborate on projects with designers in the US. When it comes to where are Bellroy wallets made, their products are crafted by makers in China, India, and The Philippines to a strict Supplier Code of Conduct. As a company, Bellroy is also committed to being a responsible business when it comes to its working practices and the environment.
Are Bellroy products RFID protected?
Designed to keep your credit and bank cards safe inside your wallet by protecting them from electronic scanners, RFID is an excellent extra layer of security for your valuables.
And, while not all of the Bellroy range features the technology, they do feature a substantial range of stylish RFID protected wallets, card sleeves and passport holders for both men and women if you are wanting a little extra peace of mind.
Does Bellroy use real leather?
Bellroy does use leather in many of their products but also strives to be environmentally sustainable, stating on their website that they source leather with the 'least environmental impact'. This also includes using eco tanning which uses fewer chemicals in the process.
As well as leather, Bellroy also uses recycled nylon, and plant-based materials, including Refiber, which is made from sustainably harvested wood pulp.
Is Bellroy cruelty free?
While the company does use animal leather, they only source leather from tanneries that are classed as Gold Rated by the Leather Working Group, which strives for sustainable environmental practices and high standards of production. Bellroy also donates a portion of its sales towards improving animal welfare.
Does Bellroy have warranty?
Yes, Bellroy has a 3-year warranty from the day you have purchased a product. They do not cover for any unreasonable use or neglect or if you change your mind. To make a claim you must have purchased the items on the Bellroy website directly or through an authorized seller.