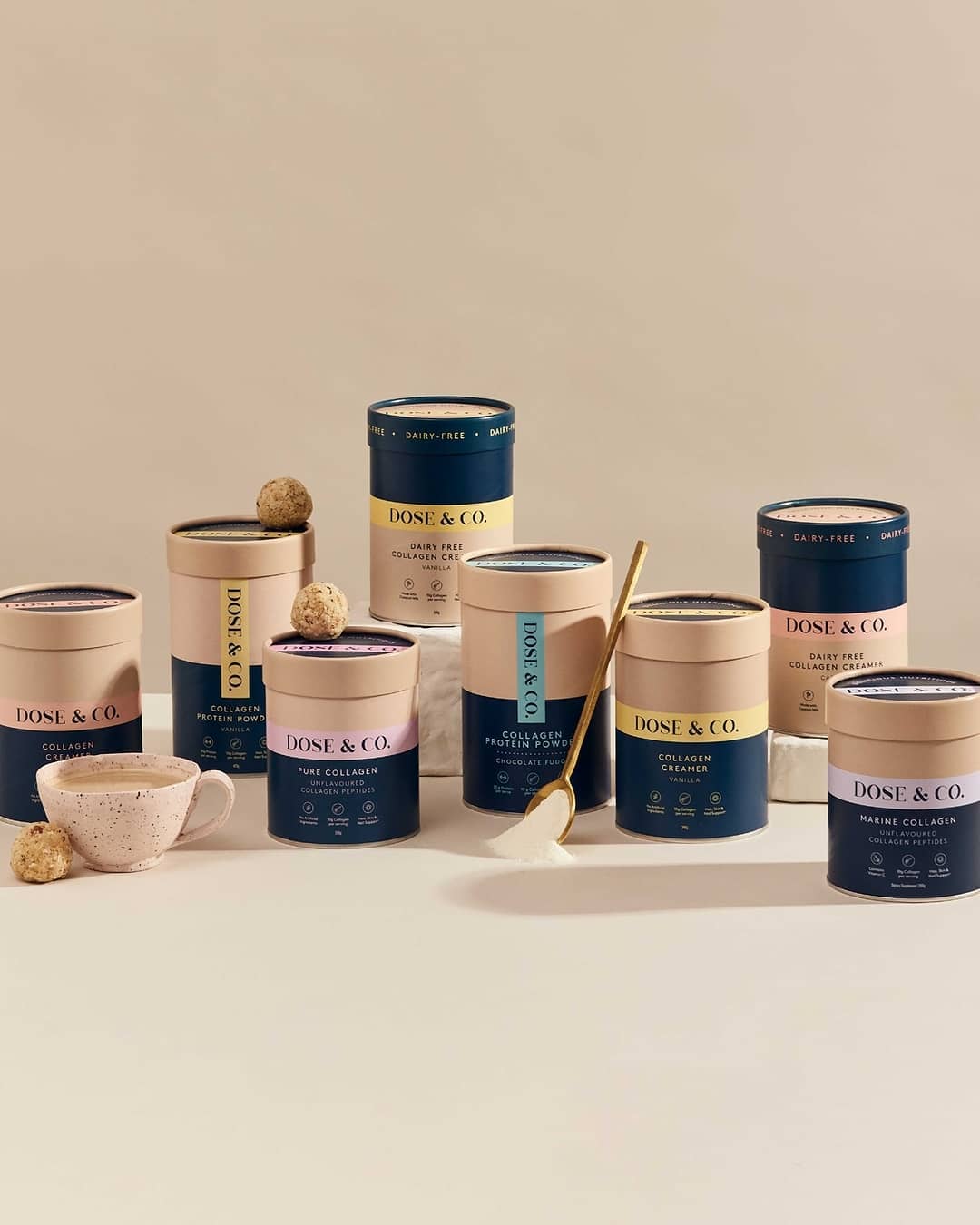 Collagen has been big news in the health and beauty world for years and can be found in everything from skin creams to daily supplements. A lot of us already know that taking collagen supplements instead of just using the products is 'the big secret' to getting this crucial molecule where it's needed. With many supplements manufactured by shady international conglomerates, who knows what's in them or where it comes from? Our Dose and Co collagen reviews can answer this question!
A collagen supplement that's kind to you and kind to the planet might seem too good to be true, but Dose and Co founder Libby Matthews has big claims for her company's products. Using real Dose and Co collagen reviews, alongside deep-dive research into the company's history, products, and ethics, we're here to find out if this brand makes the cut.
About Dose and Co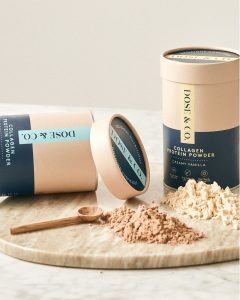 Dose and Co collagen reviews are overwhelmingly positive. We haven't found an average below 4.5 out of 5 anywhere we've looked. It's certainly refreshing to see so many people going out of their way to say nice things about a company. But what, exactly, is so special about Dose and Co?
Most of us have seen collagen-based creams and serums designed to deliver extra collagen to specific parts of the body (like night creams to smooth out wrinkles). A little research can make you quick to doubt some of these claims when you learn about how collagen is absorbed and used.
Collagen is naturally absorbed from our diet and distributed to the places it's needed. Some of them are too far under the surface of our skin for outside absorption. Especially as we get older, we don't always extract as much collagen as we need from our diet.  It, therefore, makes sense to add more where we can make the most out of it.
Dose and Co have further streamlined the process with a huge range of diverse and innovative products. These include flavored coffee creamers and workout-ready Dose and Co collagen protein powder. All so you can fit collagen supplements around your existing routine.
Founder Libby Matthews said she wanted to create "a range of products that promotes inner beauty and wellness while still being kind to the planet".  She discovered that so many of the collagen supplements available were stuffed with fillers and artificial flavorings. More often than not packed in reams of plastic wrapping to boot!
Stick around for our verdict on Dose and Co collagen benefits from real customers and our answers to top questions about the range.
Pros
No artificial colors, flavors, or fillers.
Plastic-free packaging.
A wide range of styles and flavors are available.
No GMO ingredients.
Gluten-free formula.
The majority of the range is halal friendly.
USA made and dispatched.
Cons
Uses animal collagen, so none of their collagen products are suitable for vegans.
Sometimes discontinues popular lines or flavors with no warning.
Some formulations don't blend as well as others and experimentation may be required to find the right product for your lifestyle.
A limited number of products are available to US customers.
Dose and Co Products Review
As we mentioned above, Dose and Co reviews seem to be mostly very positive with the usual smattering of shipping issues experienced by almost any international company.
A lot of negative reviews concern the discontinuing of favorite flavors. Sometimes even canceling orders for them that people have already made. We all know the pain of a favorite treat being discontinued by the company that makes it. It's easy to understand why someone would leave a bad review. However, it's not really a fair reflection on the company or its products as a whole.
ok at some individual products to get a better idea of what Dose and Co offer and what it can do for you. We'll also look at what existing customers think of their ranges.
Dose and Co Plant-Based Protein Powders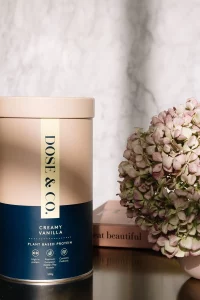 Plant-based Dose and Co products are currently only available in a few locations and unfortunately, they've not reached the US yet. However, we've managed to take a sneak peek at some of the Dose and Co Plant-Based Protein Powders and what real customers have said about them…
In selected locations, Dose and Co offers a completely vegan protein powder made using 100% vegan, gluten-free, plant-based ingredients.
While this alternative won't provide the same benefits as a product that contains collagen, it's great to know the option's there. So you can boost protein intake with no animal products in the same convenient and eco-friendly package Dose and Co collagen protein powder is delivered in.
Customers seem to rate this non-gritty and delicious formula highly, so we look forward to seeing it in the USA soon!
Dose and Co Collagen Creamers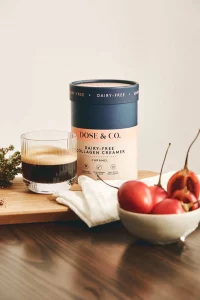 Dose and Co collagen benefits are so wide-ranging that you might be looking for the easiest way to incorporate it into your daily routine. If you already use creamer in your coffee, this range of collagen creamers could be exactly what you're looking for.
Both the milk-based and dairy-free versions provide 10 grams of collagen per serving and are keto-friendly. They can be added straight into hot drinks for a boost of natural sweetness and creaminess from healthy fats and sugars.
Most reviewers rave about the flavors. We've noticed that there seems to be a big difference in the consistency and taste between the dairy and non-dairy versions. Customers buying the type they're not used to by accident are often very vocal about the difference!
Some customers have complained that the powders produce a grainy residue or oily film when mixed into drinks. However, other reviews may solve this: a really good mix is required to get the powder to dissolve completely.
Dose and Co Collagen Protein Powders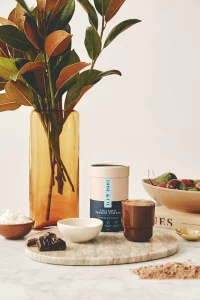 Dose and Co collagen protein powders provide all the benefits of collagen supplements and a whey protein shake base in delicious and planet-friendly chocolate or vanilla powder.
Containing 10 grams of type 1 and 3 bovine collagen and 20 grams of whey protein per serving, it's an easy way to add value to smoothies, shakes, oat dishes, or even your morning coffee!
Dose and Co provide a full ingredient list and even share the results of their clinical trials right on the product page of their webshop. There are no mysteries over the source of their ingredients. It's also easy to see the percentage of people who felt a benefit.
While a few customers have had issues getting the powder to mix smoothly into their favorite recipes, the majority have only good things to say about the flavor and texture of these products.
The protein and collagen in Dose and Co collagen protein powders are bioavailable and easily absorbed by your body. Adding it to your pre or post-workout smoothie or even your morning coffee or cereal is hassle-free. Plus it will help your body get as much of these vital ingredients as it needs.
Dose and Co Beauty Blends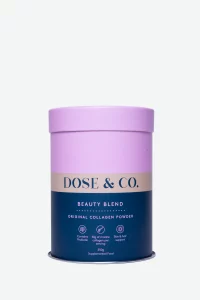 Collagen beauty blends are another product that Dose and Co haven't yet brought to the US, but it's been available in some of their other locations for long enough to get a good idea of how customers feel about it.
This all-in-one supplement product combines marine collagen, probiotics, vitamin B7, and superfood extracts from lacuna fruit into a convenient, soluble product that can be added to many foods and beverages.
Dose and Co Beauty Blends are available in original cinnamon flavor or tangy citrus which can add zing to your workout hydration. They also provide gluten, dairy, and soy-free boost to your body.
Reviews of Dose and Co Beauty Blend powders are very positive, with the exception of a few people who would prefer a wider range of flavors or an unflavored version.
We're hopeful that an expansion of the range would include this product becoming available to American customers. It seems to tick a lot of boxes (and avoid a cupboard full of supplements).
Dose and Co Collagen Beauty Tablets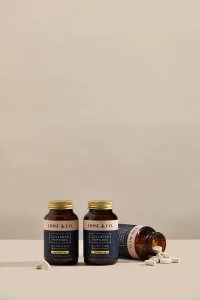 Dose and Co collagen pills contain a few more ingredients than many similar products on the market. They're advertised as a complete 'Beauty Tablet' solution that provides several essential nutrients in one go.
The pills contain vitamin C and biotin (a form of B vitamin) to promote the absorption of collagen ingredients. Two Dose and Co collagen pills a day will also provide your body with 6,000mg of collagen to support the healthy growth of hair and nails. All this plus feeds the body's natural repair processes that keep skin smooth and hydrated.
Dose and Co Collagen pills seem to go out of stock quickly, but customers who have been able to get their hands on them rave about the results they see in the strength of their hair and nails.
Beauty Tablets really do seem to be a no-muss, no-fuss way of adding the necessary collagen to your diet with no mixing or measuring required!
Dose and Co Collagen Reviews from Customers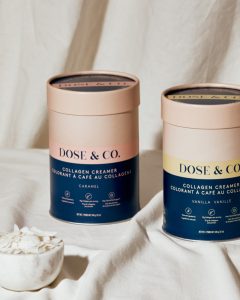 Dose and Co have been established in Europe and Australasia for some time and there's a wealth of positive reviews going back many years, giving us confidence in the brand's products and customer service.
While the range of products available in the US is smaller, the majority of the customer reviews we've looked at are very positive and we have high hopes for an expansion of the range in the future.
While there are very few negative Dose and Co reviews out there, one comment we've seen a few times mentions a change in the way the powder-based products behave when mixed into liquids or changes in the flavor profile when ingredients are altered.
Popular Alternatives to Dose and Co
Similarly, many customers end up disappointed when reordering a favorite flavor or formulation to discover it is no longer available.
We understand that formulas change for a wide range of reasons and that sometimes crucial ingredients become harder to find, but we feel that a little more communication with customers when changes are made could have avoided a lot of the negative reviews we've seen.
Other than these issues with flavors and formulations, the only negative reviews we've seen seem to be isolated incidents concerning problems with shipping or packaging. There aren't enough of these to consider it a major problem though so it seems likely that Dose and Co customer services are quick to resolve the majority of problems.
Sign Up for Dose and Co
You can sign up for Dose and Co by entering your details on their website to create an account. Reward points are earned every time you make a purchase as well as for leaving reviews and interacting with Dose and Co social media channels.
When you've gathered enough points, they can be redeemed for money off new purchases.
Dose and Co also offer a subscription service, allowing you to have your favorite flavors delivered regularly. Subscribers get a massive 25% discount on every order as well as free shipping.
Where to Buy
Dose and Co products are available on their website as well as in selected Target stores nationwide.
Shipping and Return Policy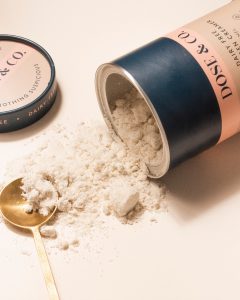 Delivery is free for all orders over $40 and all subscription orders. Dose and Co use a flat rate of $5.99 for all other orders within the USA.
Damaged, incorrect, or faulty items can be returned within 30 days of the purchase date. You will be responsible for return shipping costs and will receive a refund once the returned items have been received and inspected.
Dose and Co mention in their FAQs that shipping has experienced some unavoidable delays since the start of the covid19 pandemic and as a result may take longer than expected. They advise any returns over $50 are tracked to ensure they are received in good time.
Promotions & Discounts
Signing up for a Dose and Co account or subscribing to the newsletter is the best way to find discounts and special offers, as well as ensuring you're the first to know about new promotions, product ranges, or other Dose and Co news.
You might occasionally see outside promotions so it's worth keeping an eye on your favorite social media channels for more Dose and Co offers.
Contact Dose and Co
Dose and Co have a contact page on their website with a form you can fill in to send a message and be connected to the right department.
For changes to existing orders and subscriptions, you can log into your account and make any changes online.
Dose and Co Collagen Reviews: Editors' Verdict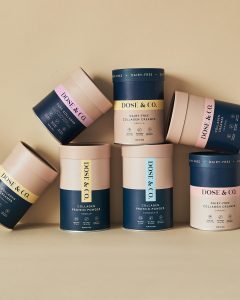 After our detailed and unbiased Dose and Co review and analysis, we can only report that the brand certainly seems to live up to the founder's vision of being good for you and good for the planet.
There are proven benefits to taking collagen supplements for anyone not getting enough through their diet, and Dose and Co make all their ingredients and their sources highly visible, both on their website and on the product packaging.
Everything is sustainably sourced, locally where possible, and there are plant-based options in many of their lines (though not any of the ones containing collagen yet).
We've noticed that the range offered can be quite different depending on which country you order from and that ingredients are always sourced as locally as possible to the customer.
This is great for the planet and we're always in support of buying local… However, this is probably a big part of the reason why so many product lines are still missing from US stores. We hope to see this range expand as Dose and Co find American suppliers who meet their exacting standards.
Dose and Co Collagen reviews bear out this good impression as nearly every review we read, whether for an individual product or the company as a whole, was extremely positive.
One negative impression we did get from Dose and Co reviews was that formulations and available flavors may change without warning, sometimes leading to disappointed customers. One customer even stated that their order had been canceled when their favorite flavor was discontinued, even though it appeared in stock when they placed the order.
Our final verdict
Overall, our verdict is that Dose and Co make a high-quality product for a competitive price and can be relied on to keep promises and maintain the standards they set for themselves. We hope to see the range in the US expand without compromising on these ideals and look forward to having more of these great products to choose from.
Are you still interested in other beauty brands? Read our unbiased reviews of Vapour Beauty, Gleamin, DHC Cosmetics, and Maya Chia.
Dose & Co FAQ
Are Dose and Co products safe to use during pregnancy and breastfeeding?
While collagen isn't generally considered harmful when pregnant or breastfeeding, the official Dose and Co advice (which we would agree with) is that you should always consult a healthcare professional about any dietary supplements when pregnant or breastfeeding.
Are Dose and Co products gluten-free?
Currently, there are no commercially viable sources of collagen that do not use animal products so all Dose and Co products containing collagen are non-vegan.
That said, Dose and Co do offer a plant-based version of their non-collagen protein powder in some locations. This product contains absolutely no animal derivatives and is 100% vegan-friendly.
Can I have more than one serving of collagen per day?
You can have up to three servings of Dose and Co collagen products per day and it is fine to spread this intake across different products in the range.
How does collagen work?
Collagen is often described as the building block of the body because it is important to so many different systems and tissues.
Your body extracts collagen from the things you eat and it is used wherever new cells are made (such as in skin, nails, and hair). Because your body can extract collagen from your food and send it to where it's most needed, adding more collagen to your diet with supplements like those at Dose and Co is the most effective way of seeing its benefit.