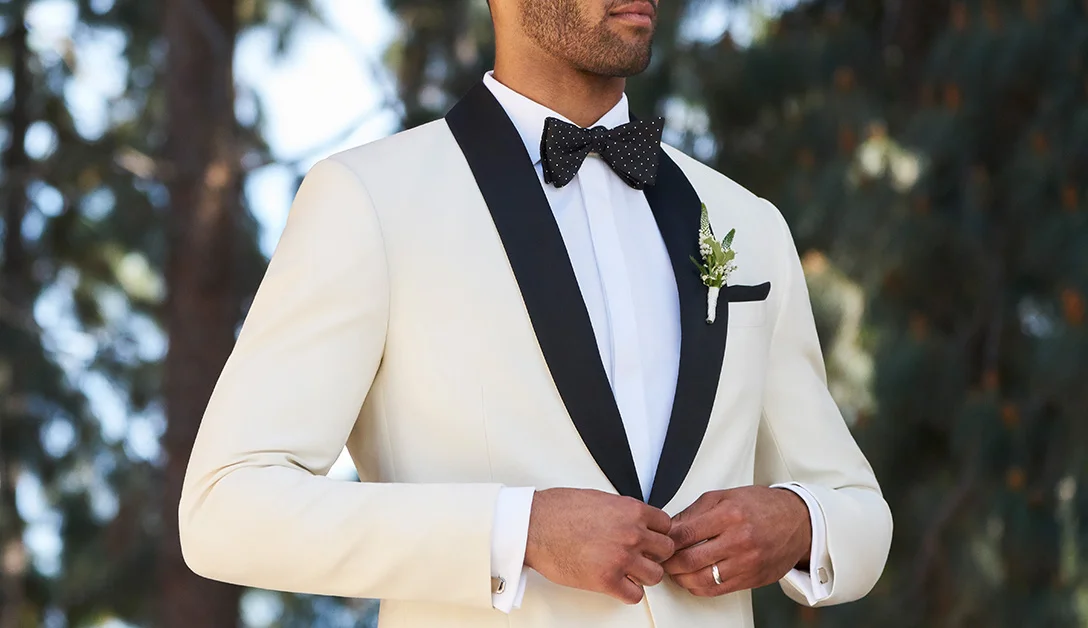 Whether it's your wedding anniversary or a gala function at your workplace, a tuxedo is one of the best ways to spice up your outfit. However, owning a good suit often comes at a great expense. Luckily, The Black Tux is a cost-effective tuxedo and suit rental service that offers you a great way to dress properly for that special occasion. It is primarily a men's tuxedo company that offers suites and related formal wear online. So you can style your outfits appropriately whether you're going to prom, a wedding, or even a funeral. Customers generally have positive feedback of the Black Tux reviews all over the internet. In our review, we'll provide our objective and unbiased opinion on whether or not it is worth a purchase.
About the Black Tux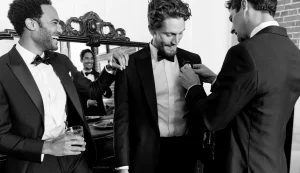 Andrew Blackmon and Patrick Coyne opened the Black Tux in 2011, intending to make men's shopping for suits and tuxedos more convenient. It all started at Andrew's wedding when the two close friends made arrangements for their wear. After seeing how complicated the tux rental service is, they sought an affordable and straightforward alternative.
According to the brand's website, "At one point Patrick and Andrew asked themselves, how could this experience be easier and more enjoyable? They decided to start a company that would give people a better option for renting a tux."
The Black Tux has a wide selection of styles you can choose from. It offers suits and formal menswear in different sizes. They work with experienced manufacturers who ensure that all their clothing and wears are top quality. The company mentions that their suits and tuxedo are of top-quality, equivalent to a $1200+ garment found in a retail store.
Their suits are made with 100% merino wool, while the shirts consist of 100% cotton and shoes with real leather. The Black Tux is based in Los Angeles, California. It has gained a lot of popularity with over 100k followers on Instagram. It has also been featured in notable media publications such as Business Insider, Forbes, The New York Times, Brides.com, etc.
Pros
Wide selection of top-quality tuxedos and suits with other menswear clothing accessories.
Offers a more convenient and stress-free way to shop for your suits right at home
Home try-on program
Rental or purchase option
Free USPS shipping for orders over $95
Cons
No refund policy for purchases
Only ships to the US excluding Alaska and Hawaii
The Black Tux Clothing Review
The Black Tux is a men's clothing company that offers tuxedos, suits, and other formal menswear which customers can rent or purchase. With a collection of over 50 tuxedos, you can choose from a wide selection of designs and styles. It also provides shirts, vests, neckwear, shoes, cufflinks, and other accessories to ensure your dressing is complete.
After choosing the design you want, you can enter the event date to confirm its availability. You also have to check if it's available in your size, and if you're not sure of your measurements, you can take the Black Tux fit survey. It's important to have the right size to ensure a perfect fit.
Since it was established in 2013, The Black Tux has gained popular recognition with a huge following on Instagram. This review will examine some of the bestseller products in the brand's collection to give you a taste of what to expect from The Black Tux. Our clothing review also includes unbiased reviews to show you the real customer experience.
Emerald Shawl Black Tux Green Suit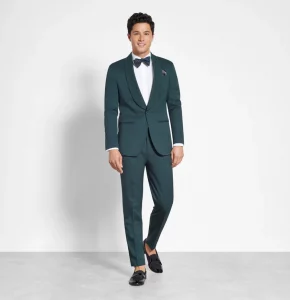 You can be sure to grab all the attention at your event with this Black Tux green suit. Many men now wear a colored tuxedo following modern trends instead of the classic all-white or all-black suit. It presents a sharp, edgy style with the cool-toned emerald green color. If you want to look different and stand out, then this Emerald Shawl Black Tux Green Suit is the one for you.
The set includes a green jacket with a single-buttoned closure and a pair of matching green pants. This suit is fully canvassed with a shawl collar and comes with side vents. We also noted that the brand mentions that this suit is not meant for wedding parties. It's made up of 97% merino wool and 3% elastane.
You can style this green shawl suit from Black Tux with black or brown accessories to amp up your look. The plain shades contrast with the emerald color to create a sophisticated, elegant look. It comes in different size options from sizes 34-58, and you can opt for a classic or slim fit. You can purchase this suit for $650; however, to rent it only costs $179.
Black Tux White Bow Tie
The bow tie signals sophistication and elegance in traditional men's suit fashion. While it was predominantly worn by an older generation, bow ties quickly made a comeback. If you want to show off your dapper sense of style, then this Black Tux white bow tie is just what you need. It comes pre-tied with adjustable straps, and it's made of 100% linen.
You can wear the bow tie with the black tux white dinner jacket to create an effortless yet minimalist look, a warmer alternative to the original black tux. It can also be worn with a colored suit to create a soft and cool contrast.
If you're a Gatsby fan, you can recreate a similar look with this white-on-white combo. While this white bow tie is not available for purchase, you can rent it for $10.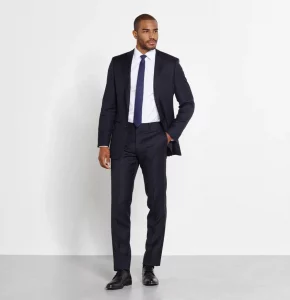 If the tuxedo is too much for you, but you still want to elevate your style, then the Black Tux navy suit is a great option. Even though it gives you a simpler look, the navy suit does not compromise class. The set includes a jacket and pants, available in classic and slim fits.
You can style this deep ocean blue suit with a crisp white shirt and blue necktie to achieve a modern and classy silhouette ideal for cocktail events, cocktail parties, and even prom. The fabric consists of high-quality Italian merino wool. The suit is fully canvassed with a two-button fastening, notch lapels, and side vents.
It is a must-have for the fashionable modern man, and you can buy the complete set for $375. However, The Black Tux offers a rental option for $110.
Black Tux Blue Striped Shirt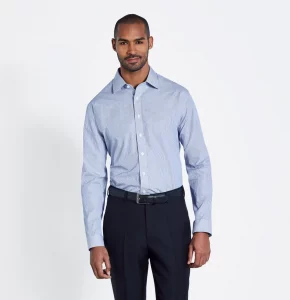 You have to know that an ordinary jacket and pants will not complete your outfit. The inner shirt matters just as much as the jacket cover, and it ensures you have the perfect dressing. Black Tux offers the blue striped shirt which you can wear by itself or under a suit jacket. It comes in a classic and slim fit option with different collar and sleeve sizes to ensure a proper fit.
The shirt is made of 100% fine cotton with convertible barrel cuffs. While you can wear it with cufflinks, it doesn't accept button studs. Its pinstripes also allow you to wear the top with any type of neckwear, and this shirt will look good on anyone. However, this shirt isn't for keeps since Black Tux doesn't offer it for purchase, but you can rent it for $10.
Black Patent Leather Shoes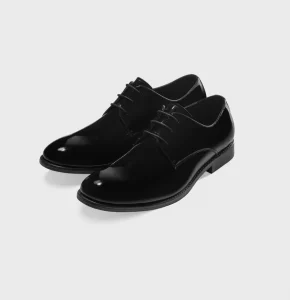 Maybe you've chosen a suit and shirt design; your outfit is almost complete, but the only thing missing is your footwear. What you wear on your feet is equally as important as your clothes. And, you can trust Black Tux to be ready to meet your footwear needs. The brand offers black patent leather shoes with a sleek shiny black appearance.
These dress shoes are designed to elevate your look from formal to fashion-forward. The cover of the shoes is made with patent leather, and it has a rubber sole. It comes in different male sizes, from sizes 6 – 16. You can choose to buy these shoes for $95 or rent them for $25.
The Black Tux  Customer Reviews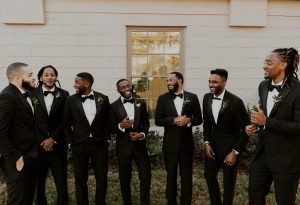 The brand offers customer recipes on every single item to build your confidence in their services. You'll find the customer ratings on the bestseller suits below.
Emerald Shawl Black Tux Green Suit – 5-star ratings from 20 customer reviews
The Black Tux Peak Lapel Tuxedo – 4.5/5 stars from 1,925 ratings
Black Tux Navy Suit – 4.5/5 stars from 1,193 reviews
The Black Tux Midnight Blue Tuxedo – 5-star ratings from 1,004 ratings.
The Black Tux Charcoal Suit – 4.5/5 stars from 804 customer reviews.
The brand has an average of 4.5 stars based on the overall customer ratings from the list above. Many customers have positive reviews and enjoy the service from the company. One customer who purchased the Charcoal suit stated,
"Color was as expected (both groom and groomsmen) and matched perfectly. Packaging was very nice and made the return so easy. It was ever so slightly big, but not enough to warrant an exchange. The whole process was a pleasure, and I would use it again!"
For more objective reviews, we checked outside the brand's website. On Trustpilot, the average ex-customer ratings are 3.9/5 stars from 975 reviews. If you look through the comments, you'll find a series of positive reports from customers who were happy with their prices and fast delivery service.
Popular Alternatives to The Black Tux
One happy customer remarked
"I used The Black Tux when I realized I needed a tux three days before a wedding took place. Not only did the online fitting recommend the perfect fit, but the tux also arrived the next day and fit to a "T." I will be using The Black Tux for my formal wear needs moving forward." Many comments were similar to this claim that they're the best and most affordable option to get quality suits for any formal occasion.
However, we checked to see any negative reviews, and we found quite a few complaints on poor clothing quality, bad customer service, and delayed shipping. However, the positive reviews outperform the negative comments by a long stretch. Similarly, on Highya, if you look through The Black Tux customer reviews, there are a few negative comments.
For instance, one customer complaint said, "Phones are shut down. No email response over 5 days. Are these guys still in business? My jacket is way too big. I went to David's Bridal and got properly sized and resubmitted for a replacement. I hope it gets here." However, the positive comments show that many customers are pleased with their service.
Sign Up For The Black Tux
You have to create a free membership account before purchasing or renting your suits from the brand. If you're shopping for the first time, you'll have to choose the type of event you're preparing for, whether a wedding, prom, or any special event. This way, the brand can streamline its collection so you can choose from styles best suited for your event.
Where To Buy The Black Tux
You can get your suits directly from the brand's website at theblacktux.com. However, they have showrooms in different areas such as California, Colorado, Florida, Georgia, Illinois, and many others. You can simply check for a store locator to see any storefront near your location.
The Black Tux Shipping and Return Policy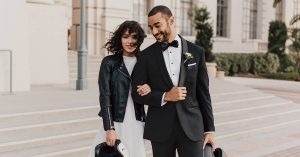 The Black Tux offers you both purchase and rental options to choose which option is most convenient. Renting from The Black Tux involves a three-step process. First off, you need to choose the suit or tuxedo design you want. Then, you can input the event date to see if it'll be available. Once you've confirmed the availability, sizing is the final step.
You have to take the Black Tux fit survey, which involves a short quiz the brand uses to offer you the best size. Once you choose a size, the brand will send the suit to try it on within 48 hours. If it doesn't fit, you can request a replacement size. For rentals, the company sends out your order two weeks before the date of the event to prevent any fitting mishaps.
It is also recommended that you place your order at least 21 days before your event date. The company offers free shipping for orders above $95 within 48 states in the United States. The shipping cost is $20 for orders under $95.
The brand's shipping policy also states that if you order less than 13 days before the date of the occasion, a rush shipping fee which can cost up to $40, will be added to your order. All replacement items are free. They offer USPS shipping, and you'll get your delivery within 14 days before the event date.
Return policy
Once your order has been sent out, you'll receive a confirmation mail with your tracking ID, which you'll use to track your delivery by logging into your account. Meanwhile, the company's return policy states that you must return the suit 3 days after the event. It doesn't require laundry, but your order must be returned with the original packaging. Suppose you fail to return the order within 3 days.
In that case, you will be automatically charged a late return-free directly from your card and extend the return period to 10 days. Then, if you don't return the suit after 10 days, you will be charged the full purchase value of the suit. And it's important to note that the company doesn't offer refunds for purchased items.
The Black Tux Promotions and Discount
We haven't noticed any recent promotions or sales, such as the Black Tux promo code or discount code.
The Black Tux Customer Service
Many customers absolutely love the Black Tux Customer service based on the customer reviews. If you want to reach out to the service team outside this review, then you can contact them through:
The Black Tux phone number – (888)-717-1588.
Customer Service mail – [email protected]
The Black Tux Reviews: Editors Verdict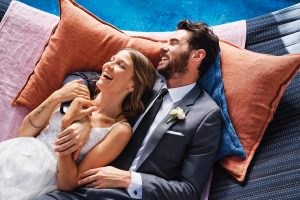 We score this brand ⅘ stars based on the brand's performance and customer reviews. It deserves recognition for offering menswear such as suits and tuxedos conveniently and affordably. It allows you to prepare for that big event for your upcoming event. With this company, you can say no to tailor mishaps overpriced charges, and you will also avoid stress.
Their purchase prices are competitive with other brands. They offer elegant, timeless designs that you can wear to any occasion. Apart from stellar media recognition from Forbes, Business Insider, and other publications, the brand has a great following on Instagram. It also comes with thousands of positive customers reviews.
Still, there are some minor complaints among the Black Tux reviews on sizing issues and delayed deliveries.
Are you looking for other fashion brands for men? Consider reading the most popular brand reviews of Buck Mason, Mr Porter, For Days and Rhone Apparel.
The Black Tux Reviews FAQ
Do the Black Tux Ties come tied?
All the Black Tux neckties are self-tied, but the bow times come with a mix of self-tied and pre-tied options.
What happens if I damage my rental?
The brand offers a damage waiver to cover any minor damages or stains. However, if the damage is such that the suit cannot be rented again, you will be charged a Damage Item Fee.
Do I need to press or dry clean my The Black Tux rental?
The company takes care of all the proper laundry processes before and after wearing the suit.
Can I purchase The Black Tux items?
You can choose to purchase instead of rent a suit or tuxedo. However, the brand only rents out certain items.
What is the home try-on program?
It is the process where customers can try on the rentals and ensure a perfect fit before directly paying.