For Days is a sustainable clothing company that caters to environmentally conscious consumers. The brand focuses on creating better clothing products for a cleaner planet using a closed-loop system, organic materials, and zero waste. Is this sustainable clothing brand worth your time and money? This For Days clothing review will give you a low-down of this clothing line, including its bestsellers, customer rating, and shipping and return policies to answer this question.
About For Days Clothing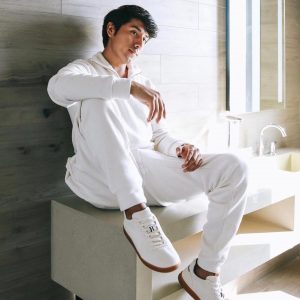 For Days is a Los Angeles-based clothing brand that has taken the streetwear scene by storm. The brand was founded in 2016 by two friends: Mary Saunders and Kristy Caylor. They were inspired to create a streetwear brand that catered to a broader range of body types and was more affordable than many other popular brands.
For Days' products are designed to be versatile and stylish. The clothes can be dressed up or down, making them perfect for any occasion.
For Days is a slang word that means many or a lot, and the company gives that view an environmentally friendly twist. Its SWAP program allows shoppers to swap out clothing items anytime they want. Everything they send back is recycled, which creates a closed-loop system. 
Their clothing contains soft fabrics that make them comfortable, and the pieces have a good amount of stretch. The construction is also well-done, so the clothes don't fall apart after a few washes.
Many people love that the brand uses sustainable practices in its manufacturing. The brand only uses eco-friendly products in its production process. These materials are reusable and recyclable, thus helping the company minimize waste.
The brand has saved over 350,000 gallons of water, 74,000 pounds of waste, and nearly 20,000 pounds of Carbon. Due to its energy conservation efforts, the company was certified as a carbon-neutral company in 2020. This was after it participated in the Los Angeles Renewable Energy Program in 2019.
More about the brand
The brand also supports initiatives advocating for a circular economic model. Essentially, this ensures that waste products from the production process of goods are used in other ways and not dumped to bring about pollution. The foundations include the Connect Fashion Global initiative and the Ellen McArthur Foundation.
The brand has been featured in numerous media outlets, including Fashionista, Vogue, and even Forbes. It also enjoys a massive following across social media platforms, with over 137k followers on Instagram and 7k Facebook followers.
Before we go further with our For Days clothing review, check out the company's pros and cons. 
Pros
The brand's clothing pieces are made from 100% recycled materials

They package its products in recyclable materials

The company has a SWAP program that allows customers to return unsatisfied items

For Days supports different initiatives that focus on benefiting the environment

The brand offers its customers free shipping and also free returns

They ensure it does not produce waste by operating under a closed-loop system
Cons
There have been a few complaints regarding the company's shipping and customer service

The brand does not ship worldwide

They have a short return window period
For or Days Products Review
The brand offers a range of high-quality clothing items at affordable prices. For Days clothing items come in various styles and colors and are suitable for any occasion. With that in mind, here are some of its best-selling products. 
For Days Women's Dresses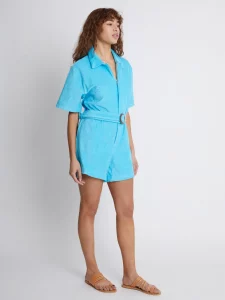 The brand is known for its trendy and affordable women's dresses. This For Days clothing review found that its dresses are categorized by style, color, and occasion. There is a good mix of casual and formal dresses and various colors and styles. Prices start at $36 and go up to $128.
One of the dresses that caught our eye is the Marguerite Dress. This dress is a beautiful example of the Marguerite Dress pattern. It has an asymmetrical neckline, comfortable sleeves, and a hidden back zipper. The front is open, making movement easy, but it closes with a hidden zipper. 
You can wear this dress in many ways depending on the occasion or season. You can wear it as a dress with tights and boots in the winter or leggings or jeans in the summertime: the possibilities are endless.
The brand's talented designers have designed this pattern at Blacktogrey Designs to give you something you will wear repeatedly.
For Days Men's Tops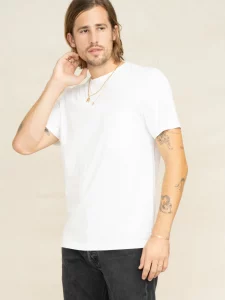 The For Days men's top collection is full of impressive, casual basics that you can wear any day. The tees are made from high-quality cotton and are designed to fit comfortably and look great on everyone.
We especially love the striped tees — they add a fun, modern touch to any outfit. The crew necks are perfect for layering, and we love the subtle details like the hemline and the contrasting stitching. If you're looking for versatile tees you can wear with anything, check out the For Days men's top collection.
If you are a fan of classic tops, you'll love the Light Pocket Tee. The shirt has a slight stretch, so it doesn't feel too tight or loose. The small chest pocket features a rounded corner to prevent your items from rolling out while running around town.
The fabric is soft and supple and feels great against your skin. The front of the shirt is slightly longer than the back, which gives you more room for movement when you're active. The fabric also has a slight sheen that makes it look like you've been wearing it for days instead of hours.
The best thing about this shirt is that it's made of recycled cotton. Eco-conscious consumers love this shirt because it helps them do their part in keeping the planet green.
The Recycled Cotton Pocket Tee is a classic fit, which means it's slightly more fitted than the standard men's t-shirt. It also has a more relaxed cut, meaning too boxy or tight around your waist.
For Days Women's Sweats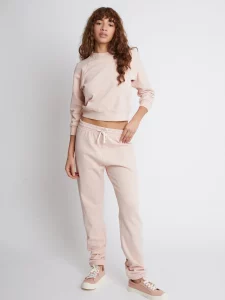 The brand also offers a variety of comfortable and trendy sweatshirts, tees, and joggers for women. What most people love about For Days sweats is that they're perfect for lazy days when you want to lounge around the house or run errands. The fabric is soft, and the fit is comfortable without being oversized or baggy.
The brand's sweatshirts, tees, and joggers are ideal for anyone who wants to add some comfort and style to their everyday look. The Recycled Fleece Hoodie is available in Paloma, linen, and black. It is designed to provide you with warmth, style, and comfort. This hooded women's sweatshirt is suitable for just about any occasion, and you can wear it during any season. It is also perfect to wear while you are traveling.
You can wear the For Days Recycled Fleece Jogger when you want to hit the gym, as it will increase your body heat. This jogger makes your legs hot, making you sweat faster during your workout sessions. 
For Days Men's Sweats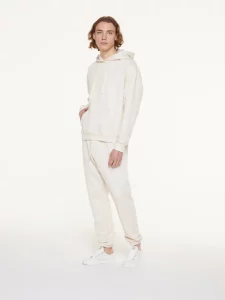 The brand offers a wide range of sweat for men. For Days sweats for men are incredibly comfortable and perfect for everyday wear. The designs are trendy and stylish, and the quality is excellent. These sweats are ideal for men looking for a great pair of everyday pants. 
Ideal for keeping you warm during the fall, the For Better Days Original Sweatshirt will upgrade your look sustainably. It contains non-toxic dyes and organic and recycled cotton. It is available in black-white, dark-green-white, gray-white, and sage-white.
This sweatshirt is soft, light, and warm, making it comfortable. When wearing this For Better Days Original Sweatshirt, you will feel like you are being wrapped in a blanket. 
The Classic Fleece Hoodie is a hooded sweatshirt that will keep you comfortable when out of town or at home. It is available in black, dark green, and gray. The hoodie sweatshirt is roomy in the body and features rib trim at the bottom opening and sleeve.
The Re-New For Days Fleece Jogger is relaxed drawstring sweatpants that come with a logo embroidered in white. It comes with side pockets and is available in various colors, including black-white, gray-white, and dark-green white. 
For Days Clothing Review from Customers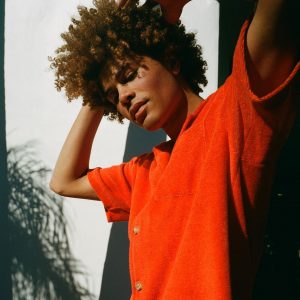 Our team had to check what customers think and say about this clothing brand. We found a thread on Trustpilot that gave the brand a 3.6 out of 5. Customers rated their clothing items from excellent to bad. More than 68% of buyers stated that the brand is worth checking out.
For Days dresses are one of their clothing items with tons of positive reviews. Many shoppers also loved For Days sweats because they are comfortable and sustainable. 
On Reddit, buyers left positive reviews on the quality of their products. One of the satisfied customers was impressed by the quality of For Days joggers and stated they will return for more clothing items.
Popular Alternatives to For Days
A 5-star reviewer on their Facebook page commented that they were in love with the brand's tees. The reviewer went ahead and praised the quality, price, and how stylish they were. They also recommended the brand to anyone looking for stylish and affordable tees. 
One customer ordered a pink dress with lace detailing online and stated that it arrived within a few days and was exactly what she expected. The fabric was high quality, and the lace detailing was beautiful. She was pleased with her purchase and stated she would order from For Days again.
Further customer reviews
We found several negative reviews. One customer complained that after shopping from their website, they took a whole week and could not deliver the items. On following up, they stated that the shipping was not yet initiated since two of the things were missing; this was a frustrating experience for them. 
Some customers complained about the brand's poor customer service. One reviewer stated that the brand was difficult to contact since they long to respond to their email. 
Overall, the positive For Days clothing reviews outnumbered the negative ones. That means most shoppers love this sustainable clothing brand. 
Sign Up for For Days
To be part of the team and loyal members of For Days, you have to register as a member. Head to their website and click on the Account at the bottom of the page. You will then click on whether you are signing up to receive a message, closet cash log in, or exchanges and return issues. 
If you don't have an account, create one by providing your details, including an active email. Do not forget to subscribe to For Days newsletter to receive notifications about deals and new arrivals.
Where to Buy
One can quickly get the brand's items directly from their website at ForDays.com. At the time of this review, they do not have any brick-and-mortar stores where you can purchase their clothing items.
For Days Shipping and Return Policy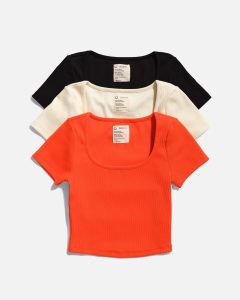 For Days provides free shipping to its customers within the U.S. The delivery period for the orders is not specified. If you want to know the information about the whereabouts of your order, the company will provide you with the tracking information through their emails to help you track your order. 
For Days allows customers to return unworn items for credit within seven days. The clothing company also allows their customers to exchange items for different colors or sizes if they do not like their purchase. But they have to do this within seven days of receipt. 
Here are the steps you have to follow to exchange an item.
Ensure you have logged in to your For Days account.

Identify and adequately indicate the exact items you want to exchange.

Print a mailing label.

Ensure the item you want to exchange is sent in the original package.

Ensure the item you wish to swap has the original sticker attached to indicate that it is unworn.
For Days Promotions & Discounts
The brand has several discounts to offer through the closet cash system. Some of the benefits of the closet cash include:
10% back on your closet after a maximum purchase, the brand will set

A 5% plus bonus for each item from For Days you have recycled

$20 closet cash when you purchase a bag pack of the same amount
For more details and information on active promotions or discounts, sign up for For Days newsletter to get notifications on the ongoing deal. 
Contact For Days
 If you still have questions after going through this For Days review, you can reach out to their support team. Feel free to contact the brand through the following channels:
For Days Clothing Review: Editor's Verdict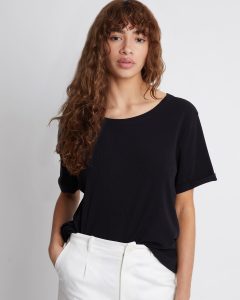 This For Days clothing review finds this brand worthwhile because it is devoted to ensuring an article of sustainable clothing is created. For Days has a closed-loop system that is innovative and game-changing as it makes sure that the clothes are 100% recycled. It is also dedicated to changing the fashion industry; hence, it has many dedicated customers.
Reviews from customers also show they love their products. The company also offers free shipping. The delivery period may be delayed due to environmental issues, such as covid-19. However, if the delivery is delayed, the item will always get back to the customers.
For Days clothing reviews also establish that buying items from the brand will not only organize your wardrobe but also show some love to the environment; hence its products are worth buying.
The company creates 100% recycled and recyclable clothing items that range from women's and men's basics to T-shirts and masks. For Days also allows you to swap your clothing items anytime you want. 
For Days offers sustainable clothing affordable at the same time. And we found that for every negative review, there were tons of positive ones from satisfied customers who had good things to say about their clothing items. 
From the reviews we have come across, it will be selfish not to recommend this brand to customers. If you are a fashionista and money has been a limiting factor, this should be your next stop. It is worth it, and you will not regret purchasing clothing items from them. 
Interested in other fashion brands? Check out our reviews of Frankies Bikinis, 15 Best Swimsuit Brands, Rhone, and Ssense.
For Days FAQ
How do I recycle For Days items?
To recycle For Days items, go to their site and order a Take Back Bag. Fill the bag with the items and send it back to them. The company will recycle them and give you store credits worth $20 as the cost of the bag.
Where are For Days products made?
The brand is headquartered in Los Angeles, California, where all its products are made.
What are the care instructions for For Days products?
The brand recommends machine washing their products using cold water. When drying the clothes, ensure they are lying on a flat surface. Doing this will ensure they do not expand after washing.
Are For Days products cruelty free?
Yes, the brand is 100% cruelty-free. They do not use any leather or test their items on animals.