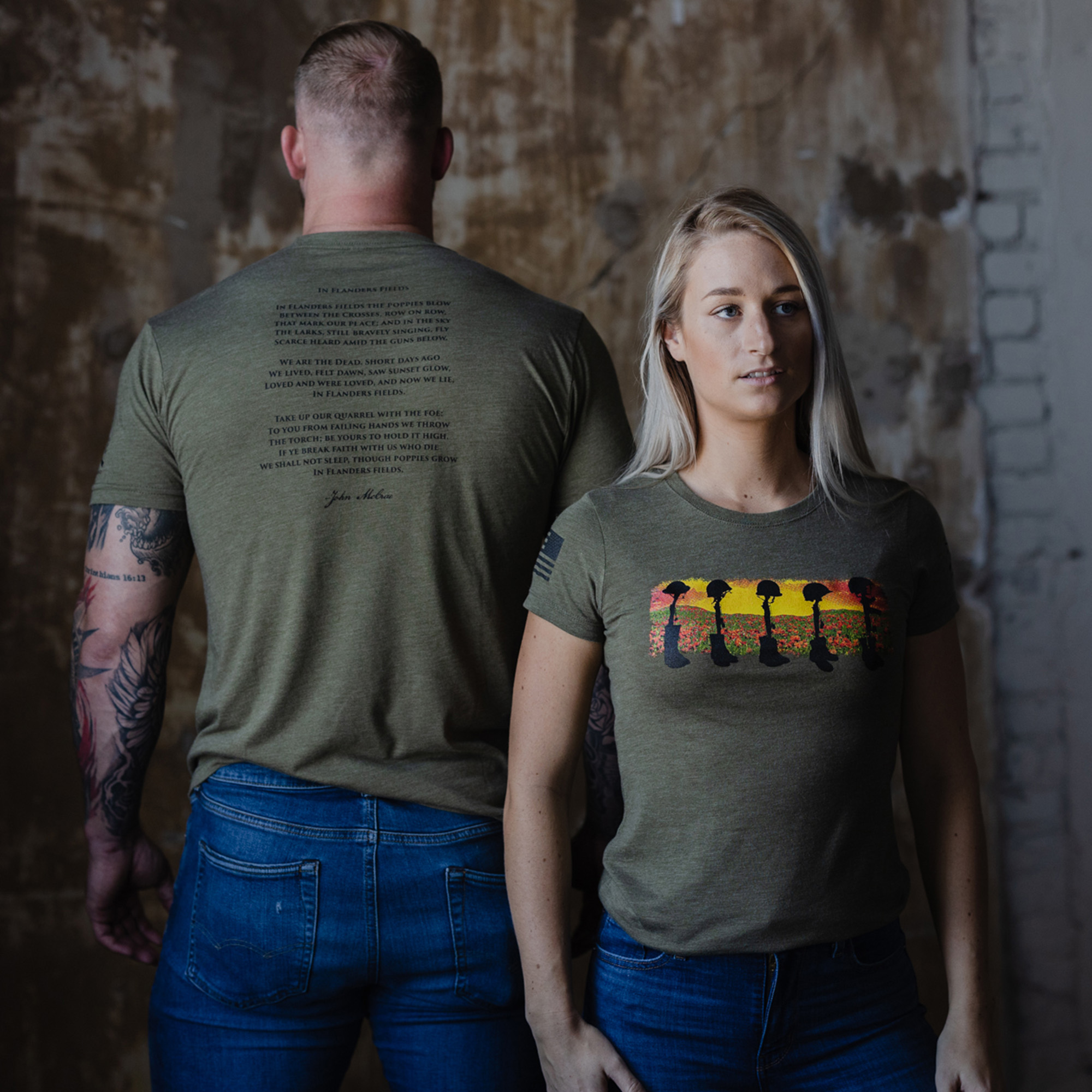 With over one million Instagram followers, the growing number of Grunt Style reviews has put this military-inspired clothing brand in the spotlight. Loud and proud, Grunt Style may not be for everyone. But it knows what makes its core customers happy. And that attitude, slogan T-shirts, and quality products, all at a reasonable price.
Created to support US military vets – it has its own foundation – Grunt Style capitalizes on patriotism and national pride. In their own words, they design for anyone who 'loves freedom, bacon, and whiskey.' This means this upfront clothing brand may not be to everyone's taste.
In our Grunt Style reviews, we look at the company, its ethos, products, and customers' experience so you can decide whether this is a brand for your wardrobe.
About Grunt Style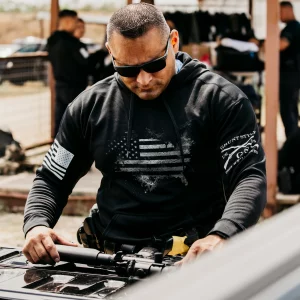 The inspiration behind Grunt Style is founder Daniel Alarik. A former Army Drill Sergeant, Alarik created Grunt Style in Fort Benning, Georgia, in 2009 with an initial investment of just $1,200.
Alarik aimed to create a clothing brand that directly appealed to the military and vets or customers who love the 'Grunt' style. As the website explains: To us, what you wear is more than just a necessity, it's about attitude! We have taken the fighting American spirit and instilled it in everything we do.
But Grunt Style was also meant to be more than an apparel business, as Alarik wanted to support the military vet community. Grunt Style employs over 400 vets and has grown into one of the largest post-9/11 veteran-owned companies in the States. And its mission remains the same – 'to provide the highest quality, most patriotic apparel on the planet.'
All Grunt Style clothing also comes with a Beer Guarantee, which guarantees your purchases for life. We look at this in more depth later in our review.
The Grunt Style Foundation launched in 2021 as a national not-for-profit organization. The foundation now helps the veteran community through various projects, including mental health and homeless programs.
The brand was featured in BroBible, SkyRocket, PR Newswire, Holr Magazine, and Emerald Coast Connected, and it also has an astonishing amount of followers on Instagram, Facebook, and TikTok.
Before we march on with our Grunt Style review, let's take a moment to consider the main pros and cons of this clothing brand.
Pros
Wide range of clothing and accessories, including women's and Grunt Style Kids
Owned and run by US veterans
Runs a non-profit foundation to support ex-military personnel
You also get the option to customize many of their products
Exclusive discounts and offers if you join the Grunt Style Club
Free expedited shipping for Club members
Free standard shipping on all orders over $69
All items come with the Beer Guarantee for life
Cons
Some of the T-shirt slogans are sweary or could potentially offend, so their clothing is not for everyone
You need to sign up for a minimum of seven months if you join the Grunt Style Club
If many of the Grunt Style reviews are anything to go by, their customer service can be hit and miss
Not all their clothing is made in the USA
Grunt Style Clothing Review
Grunt Style clothing is both varied and well-made and designed to reflect the lifestyle of the every-American patriot. From their iconic T-shirts, to hoodies, headwear, and accessories, it's no wonder growing numbers of casual clothing fans are making the brand their wardrobe staple. To give you an idea of what you can expect from Grunt Style, we check out some of their clothing range bestsellers.
Men's Clothing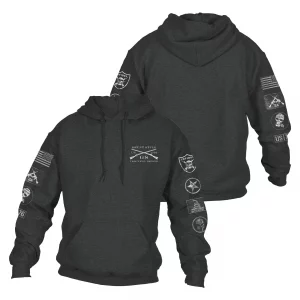 It's fair to say that Grunt Style covers all those casual wear bases, as its men's clothing collection spans T-shirts, long-sleeves, hoodies, polos, vests, outerwear, and the popular Grunt Style shirts.
The website enables you to zone into what you are looking for quickly. Search product type, size, purpose, fabric color, and price, and you should get a healthy list of items. Prices are generally affordable, ranging from $25 for a graphic T to $105 for a tradesmith jacket.
Among their bestsellers, the Grunt Style hoodie range is a particular winner. They are not the cheapest starting at around $50, but the quality is good, and the designs fit the All-American brief. Or, for a more versatile look, opt for one of the Grunt Style sweatshirts, which also offer outdoor performance designs.
True to the brand's vision, you get some eyebrow-raising slogans and humorous taglines. But if slogans are not your thing, you do have some choice of plain or less 'in-your-face' designs. Or you could add a dash of the brand's attitude with one of the Grunt Style hats.
The material quality is good, with 100% cotton used for their T-shirts, and all their men's range is covered by the Grunt Style lifetime 'Beer Guarantee.' Let's see the women's clothing in our Grunt Style reviews.
Women's Clothing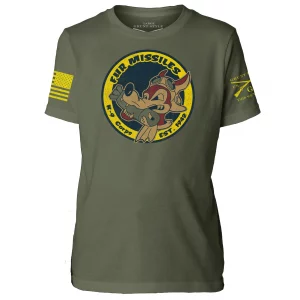 Created for 'badass women,' there's a relaxed unisex vibe to the Grunt Style ladies' range, and it's good to see that the collection has as much choice as the mens'. And this includes activewear, with hardworking items such as performance tops and fitness leggings.
Searching for what you want is straightforward, and the sizes are varied, from small to XXX large. However, be mindful that the sizes run a little on the small side, so Grunt Style suggests you go one size up if you are unsure.
This is a laid-back casual collection, and the t-shirts are nicely fitted and can dress up or down your favorite jeans. With 100% cotton or a soft cotton/polyester blend, the women's collection is comfortable to wear, easy to wash, durable, and ideal for active or outdoor life lovers.
We particularly like the Grunt Style hoodie collection for women, which is not too close-fitting but won't add too much bulk. And the choice of graphics and slogans are there if you want to wear your Grunt Style heart on your sleeve.
As well as the core women's clothing line, you also get some neat accessories, including baseball caps, beanies, and bandanas, to add a twist to your Grunt Women's Style!
Kids Clothing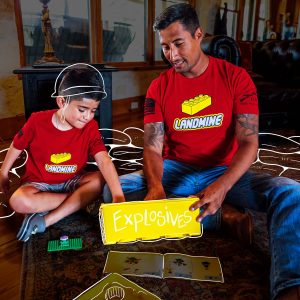 There's no need to let your mini-me miss out as there's now also a decent choice of apparel in the Grunt Style Kids collection. While not as extensive as the men's and women's ranges, there's still enough choice for the kids. And all without you worrying about adult humor. The range, however, does still include weapon references, so it may not be to every mom or dad's taste.
You get some fun and cool T-shirts and hoodies, long-sleeves, tanks, and sweatshirts within the kids' range. And all are available in sizes from kids' small to extra-large. Or, if you only want to add a touch of Grunt Style to their wardrobe, check out their accessories.
Prices range from $10 for a T through to around $35 for a quality hoodie. And your very little one isn't neglected either, as there's a cute collection of babies' bibs and onesies. All with the imitable Grunt Style vibe, of course!
Grunt Style Reviews from Customers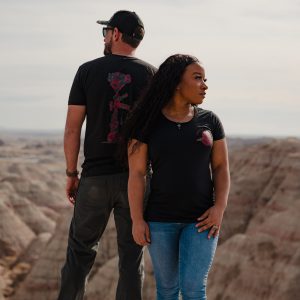 With its Grunt Style community, the brand has an excellent way of gaining feedback and works to provide its customers with what they want. And this means that reviews on its website are mainly supportive of its clothing range.
Looking at some of the bestsellers, you get a feel of the love for this brand. The Grunt Style T-shirts are a case in point, with many of the designs scoring 5 out of 5. 'Comfortable and lightweight', 'An awesome shirt, color, and graphics are spot on,' and 'Perfect size good material, and looks excellent' are all typical of the comments left by shoppers.
Moving over to independent review sites and the positivity largely continues, although some criticisms start to also come to the fore.
Popular Alternatives to Grunt Style
For example, on Trustpilot, the brand scores an average 2.6/5 from 6,530 reviews. Highlights for reviewers include the pricing, quality of the clothing, and design choice. However, 5% of reviewers scored Grunt Style as 'bad.' The most common issues include that not all their garments are 100% made in the USA, although Grunt Style very openly addresses this on their website.
But customer service does seem to stand out when it comes to the most negative comments, especially on Sitejabber. Gripes include poor communication, lack of follow-up on queries, and paid-for shipping that didn't arrive in time. But to be fair to Grunt Style, they are quick to reach out to customers posting on such review sites to resolve the issues raised, which is a plus point in their favor.
The brand is so popular that there is even a thread on Reddit of a person never being in the military asking if it would be ok if he ordered some of the items from the website.
Sign Up for Grunt Style
Create an account on the website and you can also join the Grunt Style Club, which gives you access to exclusive promotions plus 10% off orders and other benefits. But you are signing up for a monthly t-shirt delivery as part of your membership, which after an initial $9.99 will cost you $20 per month.
To sign up for Grunt Style, use the sign-in button at the top of the home page and create your account.  Your Grunt Style membership will auto-renew (either monthly or annually, depending on your preference) but you can cancel at any time. Although you may be hit with an early cancellation fee.
Where to Buy Grunt Style
The best place to buy from the full Grunt Style range is directly from GruntStyle.com. They also have their own bricks and mortar store, which opened in San Antonio, Texas, in 2020.
Otherwise, it is possible to find some of their T-shirts at Amazon, Walmart, and Sears, among other online retailers.
Grunt Style Shipping and Return Policy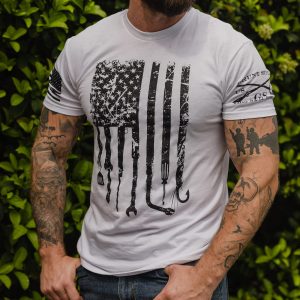 Grunt Style ships to all US states and territories, including PO boxes and APO/FPO/DPO addresses. They can also ship overseas, depending on your location.
US standard shipping is free for orders over $69 or for all Grunt Style Club members. Typical standard delivery takes between 3-6 working days. You can opt for 2-3 business day delivery for $15 or next day delivery for $25. International shipping can take between 10 and 31 days to arrive. Additional customs charges may apply.
When it comes to returns, you have 60 days from purchase to send back or exchange your Grunt Style items. You will need to contact their customer service team to start a return.
All purchases from Grunt Style come with their 'Beer Guarantee,' which is a promise to exchange or provide a credit note for any damage to your goods, including holes, blood, or beer stains! You will need to print out your Beer Guarantee and send it to the Grunt Style team, who will send out a returns label.
Grunt Style Promotions & Discounts
A quick search on the Internet didn't show any options for a Grunt Style coupon that could save you money. But there are several ways to save when shopping on their website. As well as free standard shipping on orders over $69, you can also save 10% off your first order if you sign up for SMS updates.
However, we think the best way to access Grunt Style promotions or discounts is to join the Grunt Style Club. Yes, you are signing up for a monthly shirt which you need to pay for, but you get free shipping as standard. There's 10% off all orders, exclusive promotions, and early access to their sales, amongst other Grunt Style perks.
Contact Grunt Style
Is there anything we haven't covered in our Grunt Style reviews? The website has an acceptable FAQ section that should answer the most common queries. But if you still need to contact the company, there are a couple of ways to do it.
First up, you can call their customer service team (CST) at 1-877-555-7868 between 9 am and 5 pm, Monday to Friday. Or use the Live Chat function on the website (same office hours apply).
Alternatively, you can whizz them an email to [email protected] (or [email protected] if you are a Club Member.)
Grunt Style Reviews: Editors' Verdict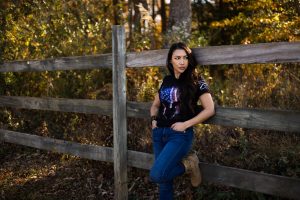 As we have found with the many Grunt Style reviews, there's a large loyal following for this 'All-American' clothing brand. And when you look at the company's background, its commitment to quality, and putting something back into the vet community, you can understand why. But it is not all about charity as this is a smart business that knows its target audience. And, on the whole, it gives them exactly what they want.
The quality of the clothing is good, plus it's all backed by Grunt Style's lifetime 'Beer Guarantee.' It is also true to its patriot roots and adds humor to its slogans and branded clothes. The sizings are true, and customers highlight the durability and design of the apparel. There are some complaints about the customer service, which at times appears to lack communication or is a bit heavy-handed. But credit to the Grunt Style team, who are not afraid to reach out and try to resolve any raised issues. And the overall feedback vibe about the brand is positive.
Grunt Styling is perhaps not the clothing range for everyone, but the company doesn't hide away from this fact. And as a brand, it knows its target audience and works hard to keep them happy. So, if slogan T-shirts, military life, and country pride is your thing, then we say Grunt Style is worth a try.
Are you looking for other fashion brands? Check out our reviews of Gorman, Fashion Nova, 686, and Gentle Herd.