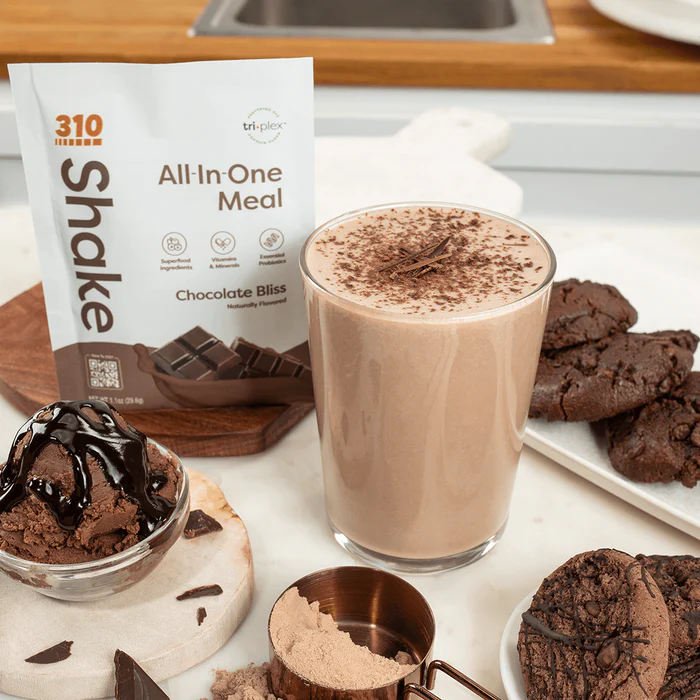 Being on a diet is never easy. It not only requires toughness and perseverance but creativity too. This is especially true when it comes to developing new eating habits and finding nutrient-dense foods that can replace the meals you have been eating before. 310 Nutrition offers a broad range of all-in-one meal replacement shakes that are healthy, rich in nutrients, and also delicious. The brand is dedicated to helping you get closer to your fitness goals and providing support in your weight loss journey. To help you learn about the brand, we collected lots of information about the company and the products they sell. To give you the whole picture, we have also looked at 310 Nutrition reviews from previous customers and current subscribers. And now, we are excited to share with you all we have found.
About 310 Nutrition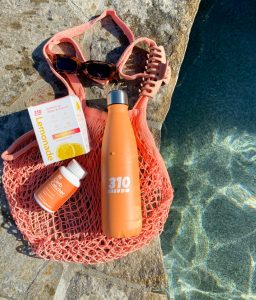 Before we dive deep into 310 Nutrition reviews, first, let's take a close look at the company itself. 310 Nutrition is driven by the passion to provide healthy nutrition to everyone. They started the company selling one vanilla shake, then they quickly became one of the most famous meal replacement shake brands in the nutrition industry. The main message and mission the brand is based on are to provide healthy, nutrient-dense, clean products that will help people lose weight, stay in shape and live a healthier life.
All products are made in the US in a cGMP-certified facility. Also, they are FDA-approved and contain 100% plant based protein. The shakes are easy to include in your meals, the limit is your creativity. You can add and blend them into your smoothie, yogurt, oatmeal, dessert, and other baked goods.  But now, before seeing what 310 Nutrition reviews say, let's take a quick look at the most important pros and cons of the company:
Pros
The company offers a decent selection of plant based flavors

Products are vegan and keto friendly

All shakes are low in carbs, non-GMO verified, free of sugars, soy, gluten, dairy, and artificial sweeteners

You can find 310 Nutrition products in Walmart and Amazon too, also international shipping is available

30-day money-back guarantee
Cons
The shakes are not 100% organic, they are made from a mix of organic and non-organic ingredients

Looking at customer feedback, people find the products pricey
310 Nutrition Products Review
Next, we are going to show you what you can expect when shopping from 310 Nutrition. For this section, we took a close look at some randomly selected products and analyzed their ingredients and pricing.
310 Nutrition Meal Replacement Shakes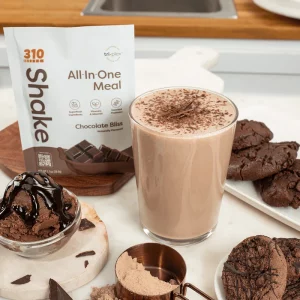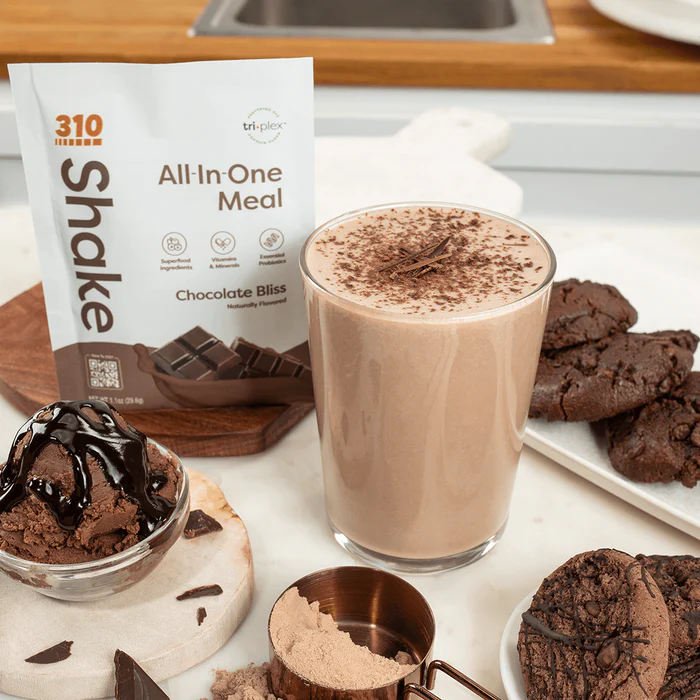 310 Nutrition shakes are the most popular products sold by the company. These shakes provide a complete food meal and well-balanced nutrition. There are two types of shakes to choose from. The All-In-One Meal collection includes shakes that can replace high-calorie foods with healthy alternatives. Thanks to the carefully selected high-quality ingredients, these support your digestive, and immune systems, and your overall health. They are based on the Tri-Plex Protein Blend that includes plant based protein sourced from pea, brown rice, and pumpkin. Also, it contains over 25 superfoods, a blend of probiotics and digestive enzymes, 26 vitamins and minerals, and last, but not least, adaptogens.
The other collection, the Original Shakes are a classic blend of proteins and superfoods. This shake features an organic formula with a decent variety of delicious flavors. In terms of pricing, the All-In-One Meal Shakes start at $49.99, while the Original Shakes start at $39.99.
310 Nutrition Shake Boosters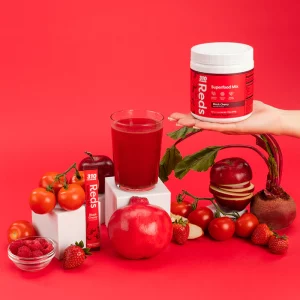 If you want to boost your shake with the powerhouse of superfoods and other nutrients, you should definitely check out the Shake Boosters. Here you will find goodies you can easily blend into your shake or sprinkle on top of your smoothie bowl. For instance, 310 Reds-Black Cherry is a delicious, sugar-free blend of the tart cherry. It is loaded with phytonutrient-rich super-fruits and berries such as acai, ashwagandha, beetroot, etc. On the same note, you will find here products like 310 Greens that are packed with over 70 superfoods, 12 cell-supporting minerals and vitamins, and 10 probiotics and digestive enzymes that support gut health. A scoop or a sprinkle of these will definitely boost your shakes and improve the nutrient level of your meals.
310 Nutrition Lemonade Mixes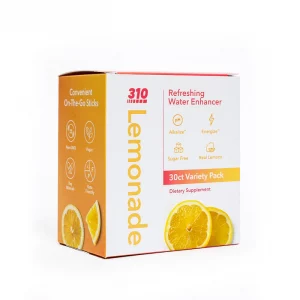 In case you prefer to replace a part of your daily water intake with lemonade, 310 Nutrition has got you covered. The company sells some truly delicious healthy lemonade flavors that contain no sugars or artificial sweeteners. Also, the lemonade mixes are gluten-free and vegan, too. Among the lemonade mixes, you can find Kiwi Strawberry, Ginger Cayenne, Peach Pear, Blackberry, Watermelon, Pineapple Mango, Peach Punch, Cucumber & Cherry Lime, and other flavors. And here's the good news! Each serving contains only 5 calories! What makes these lemonades outstanding is that they support overall wellness, including the immune system, pH balance, and gut health. They enhance vitality, and faster metabolism, and help with cravings. A box of lemonade mix costs $39.99
310 Nutrition Superfoods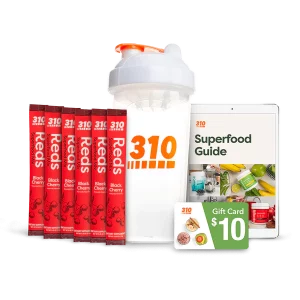 310 Nutrition Superfoods include the previously mentioned Shake Boosters, but that is not all. You can either purchase individual superfood items or purchase a superfood bundle. The latter allows you to customize your superfood kit and choose the flavors you like the most. Each kit costs $9 and can be purchased once per customer. Also, each kit comes with 6 servings of superfoods of your choice, a shaker cup, a Superfoods Guide, and a $10 gift card you can use for your next purchase.
Individual superfoods include the following: 310 Greens – Mixed Berry, 310 Greens – Apple Banana, 310 Reds – Black Cherry, and 310 Golds. Each superfood costs $49.99.
310 Nutrition Subscribe & Safe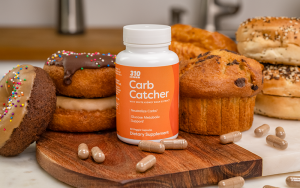 If you are serious about your fitness goals and you are ready to make some commitment, you can opt for the company's Subscribe and Save offer. This will give you a 25% discount for each purchase you make. It also allows you to manage your order anytime, gives you access to exclusive products, and last, but not least, gives you the chance to get free products from time to time.
In case you're ready to Shake Up and Save Up, here are the steps you should follow to become a subscriber:
Browse your favorite products on the company's official website.
Select the Subscribe and Save option.
Choose the frequency. Here you can choose from the following option: 15, 30, 45, or 60 days.
Add your order to your cart.
310 Nutrition Reviews from Customers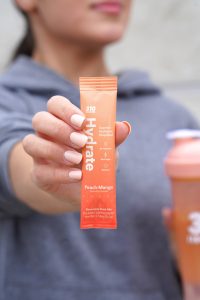 Now it is time to take a look at 310 Nutrition reviews from previous customers and current subscribers. Looking at the reviews, our first impression is that the overall customer feedback is very positive. People enjoy the company's products and are satisfied with the brand. On the official website, you can read lots of success stories from people who were struggling for a long time with unhealthy eating habits, weight issues, and lack of physical activity. Crystal's story for example shares her struggle of being overweight for a long time. She weighed 231 lbs, but with the 310 Nutrition meal plan she managed to improve her diet and as a result, she lost 63 pounds. There are endless stories like hers on both the company's website and 3-rd party sites like Trustpilot or Amazon.
Also, on the official 310 Nutrition website, people can review products and rate them. For instance, both The Original 310 Vanilla Shake and the All-In-One 310 Chocolate Bliss Shake got a 4.8 rating. People say that they enjoy the creamy texture and delicious and rich taste of shakes. The Shake Boosters are also popular. The 310 Greens – Mixed Berry got a 4.9 rating, and customers are all over the moon. People who constantly use these superfood boosters to improve the nutrition level of shakes say that they experienced an improvement in their metabolism, and digestive system.
On Trustpilot, the overall rating of the company is 3.3 based on 8 reviews. The poor reviews include complaints regarding the pricing, as people find the products too expensive.
Sign Up for 310 Nutrition
If you want to sign up for 310 Nutrition, here are the steps you should follow. First, you need to click on the Create Account button, then fill in the form with the necessary information. 310 Nutrition will ask for your personal information such as your first name and last name. Then, you will need to add your email address and choose a password for your account. It's straightforward and fast, takes a few seconds. What is also important to mention is that you can simply log in using your Facebook or Google account. So in case you prefer an even quicker solution for signing up, this function can undoubtedly speed things up.
Where to Buy
If you want to purchase 310 Nutrition products, the easiest and most convenient option is to head to their website at 310nutrition.com and place your order. In addition, you can find 310 Nutrition on Amazon and in Walmart, too.
Alternatives for 319 Nutrition
310 Nutrition Shipping and Return Policy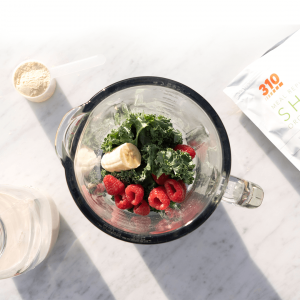 Our 310 Nutrition review could not be complete without taking a close look at the shipping and return policy of the company. When it comes to shipping, you can choose from 3 types of shipping methods. The first option you can choose is Domestic 5-7 Business Day Shipping, which costs $6.99. The second method you can opt for is Domestic 3-5 Business Day Shipping, this will cost you $9.99. In case you wish to receive your order sooner, the company offers Domestic 2 Business Day Shipping that will cost you $12.99.
In case you need to return an item, you have 30 days to do so. However, keep in mind that the company must receive your return within 30 days counting from the date of your purchase. As the refunding process usually takes up to 4-6 business days plus the refund request to the bank which usually requires 4-9 business days, refunds may take up to 4 weeks depending on the shipping time. Eventually, your refund will appear on your bank statement.
But before you send your unwanted products back to the company, here are some other important things you should keep in mind:
Shipping fees are not refundable unless the item you received is broken or incorrect
To initiate a return process, you need to reach out to the customer team by calling them at (800-996-0974), sending an email to [email protected], or starting a live chat on the official website. Then the customer service will send you the confirmation alongside the RMA number, and the address where you should send the returned items.
The company only accepts 2 returns per year per customer. The only exception is when you receive an order that is damaged or incorrect.
Promotions & Discounts
In general, the high pricing of clean and healthy products can often stand in the way of maintaining a healthy diet that is rich in nutrients. Luckily, when it comes to 310 Nutrients, thanks to the constant promotions, you can get your hands on their products for quite an affordable price. For instance, at the time of writing, the company offers 25% off on every order if you are a subscriber. Subscription orders also give you the chance to receive free gifts from time to time.
Also, 310 Nutrition offers a 100% money-back guarantee. This means that you can try their products for 30 days, and in case you are not satisfied with them, you can get in touch with customer service and they will refund your money. And needless to say, it is always worth it to do a quick Google search for special promotions. Chances are you might find a discount code for 310 Nutrition!
Contact 310 Nutrition
When it comes to contacting the company, we've got good news! 310 Nutrition offers many options you can rely on to get in touch with the customer service team. To help you find the option that suits you the best, we collected all the ways you can reach out to the company:
Send them an email at [email protected]. According to the official website, the customer support team will get back to you within 24 hours.
If you are from the US, you can call them at (800)-996-0974.
You can also call the (310)-842-0220 international number.
On the website, you can get in touch with one of the agents by clicking on the Start Chat button.
The customer service business hours are the following:
Monday to Friday: 5.30 AM to 6.00 PM Pacific Time
Saturday and Sunday: 6.00 AM to 3.00 PM Pacific Time
310 Nutrition Reviews: Editor's Verdict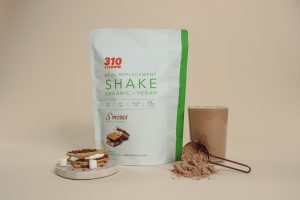 Now that we got to the end of our 310 Nutrition review, it is time to uncover our verdict about this brand. As you could see, we looked behind the company's history, we analyzed the products, including the formulas and the ingredients. We have also looked into the shipping and return policy of the company, and last, but not least, check 310 Nutrition reviews from customers. Based on all that we learned we can totally see why 310 Nutrition became so quickly such a well-known meal replacement shake and nutritive food brand. Their shakes are loaded with the best benefits of superfoods that target gut health, and the immune system, and offer continuous support for people who want to lose weight.
Also, we like the fact that there are multiple ways to contact the customer service. According to reviews, people are happy with the shipping and return policy, especially the 30 days money-back guarantee. The products are undoubtedly pricey, but if you choose to subscribe to the Subscribe and Save program, you can save a significant amount of money on each other and enjoy further benefits offered by the company.
All in all, we think that 310 Nutrition is a great choice if you want to support your immune and digestive systems. You can also try it if you want to lose weight, and enjoy being powered by superfoods and other nutrients on your journey.
Looking for other superfood brands? Check out our reviews of Suncore Foods, Revive Superfoods, HumanN, and Anthony's Goods.
310 Nutrition FAQ:
Are the new All-In-One Shakes organic?
According to the official 310 Nutrition website, the new All-In-One Shakes are made from a blend of organic and non-organic ingredients, including nutrient-dense superfoods. These shakes contain a broad range of organic ingredients, but also vitamins, minerals, probiotics, and digestive enzymes.
Are the shakes Keto-friendly?
Yes, being low in net carbs, all 310 Nutrition shakes are keto diet friendly.
Are the shakes peanut free?
Yes, all 310 Nutrition shakes are peanut-free. However, keep in mind that the shakes are made in a facility that processes peanut products. To prevent cross-contamination, the company relies on allergen control sanitation methods, but to be 100% sure that you won't have any issues, it is recommended to consult with your doctor.
What is the $9 Starter Kit?
310 Nutrition offers a $9 Starter Kit for those who want to try their products without making any commitments. The kit includes products such as shakes, lemonades, and others. Purchasing the kit does not require any subscription. Also, the 310 Nutrition Starter Kit is limited to 1 kit per customer.