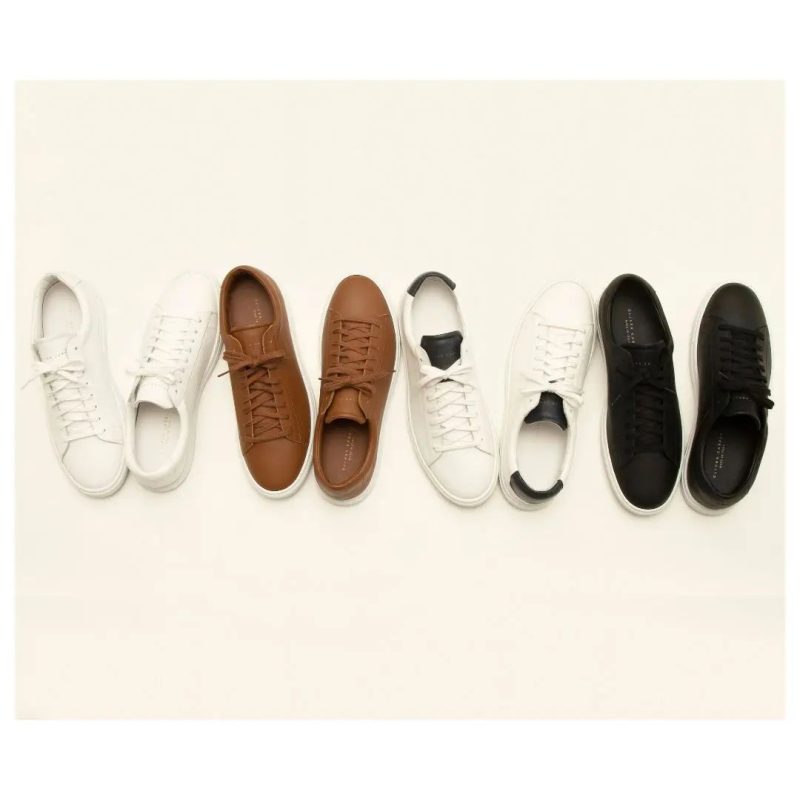 Have you ever wondered why sneakers from luxury fashion brands are so expensive despite looking like their high-street counterparts and using very similar materials? Not only that, they are often made by the same underpaid workers in the same places, like Thailand or China. And yet, luxury brands charge anywhere from $500 to $800 for a pair of basic white sneakers. In this Oliver Cabell Sneakers Review, we're going to dig deeper into this!
This is exactly what Scott Gabrielson was confronted by when visiting a factory in Asia as a graduate student, seeing female workers crowded into small spaces making designer shoes that the brands claimed to be manufactured in Italy, getting paid around $7 a day. The cost of producing those shoes was about $25 a pair but adding several markups, the luxury brand would sell them for over $400.
About Oliver Cabell Sneakers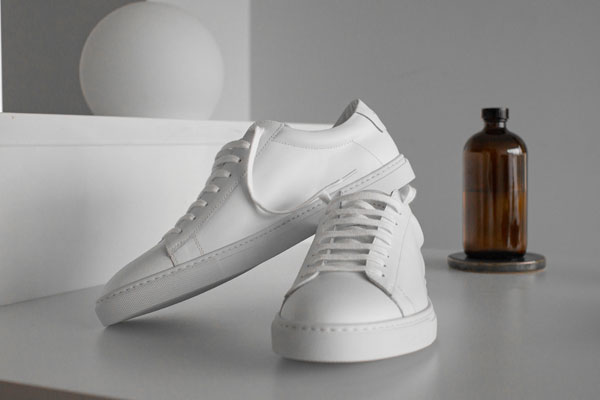 This ridiculous unfairness towards both the customers and the workers due to the unethical manufacturing practices and inflated practices, made Scott start Oliver Cabell, his own independent brand of high-quality footwear that is actually made in Italy by hand by craftsmen using traditional techniques. And he sells his sneakers at fair prices without adding any unnecessary markups.
Even though Oliver Cabell sneakers are cheaper than most designer brands, they are still a luxury item, with prices averaging at $310. So do your research before going ahead and purchasing the Oliver Cabell footwear is advised. We take a close look at the brand and its claims, philosophy, products, and very telling reviews from existing customers and we answer the most important question of all – is Oliver Cabell really worth it? Read on to find out.
Oliver Cabell is an independent brand of luxury shoes and sneakers for men and women made in Italy using traditional craftsmanship and the highest quality materials such as ethically sourced Italian calfskin leather and durable Margom soles, sold at fair prices directly to the customer. Founded in 2016 by Scott Gabrielson after leaving a job in finance and releasing its first collection in 2018, Oliver Cabell was first set up in England before later moving the operation to the US.
More about Oliver Cabell
The company doesn't add extra markups to its products like most luxury brands do. On every product page, Oliver Cabell includes a very honest and transparent price breakdown of all the costs that went into making the pair of shoes and that informed the end price. It also includes a direct comparison of Oliver Cabell's price with the prices of sneakers from the likes of Saint Laurent and Maison Margiela.
At first glance, the seemingly random name of the company was inspired by the founder's longtime hero, actor Steve McQueen and the rebellious duo he former with fellow actor Oliver Reed. The two starred in the roles of Oliver Twist and Martin Cabell and by merging the names of the two characters came the brand's name – Oliver Cabell. So perhaps it is slightly random after all.
The brand's focus is also on balanced design which results in classic and often minimalist and understated aesthetics. All of this combined got Oliver Cabell featured in many top publications such as Forbes, GQ, Esquire, Highsnobiety, or The New York Times. Let's see our Oliver Cabell Sneakers review of the products.
Pros
High quality materials
Made ethically by hand in Italy using traditional techniques
Sold at fair prices
Very transparent - includes a price breakdown for every product
No additional markups resulting in inflated prices
Wide range of styles and colors to choose from
Minimal sleek design
Ships internationally
Free shipping within the US on orders over $100
Free shipping on international orders over $170
Cons
More expensive than most sneaker brands
Long delivery times
Doesn't have a physical store or stockists where customers could try sneakers on
Shipping costs for international returns are not covered by the brand
Isn't always true to size, depending on the style, which makes things confusing
Oliver Cabell Men's Shoes Review
The men's offering is substantially larger than the women's and covers several categories:
Sneakers
Distressed sneakers
Drivers which is what the brand call's suede loafers
Boots, both lace-up and Chelsea
Accessories, including jewelry, leather cardholders, and phone cases
The men's sneakers and drivers are available in the US in sizes 6 to 15, while the boots come in sizes 7 to 13. While Oliver Cabell's shoes might not always be true to traditional sizes, the brand provides a size calculator that will determine your Oliver Cabell size based on the following questions:
What is your athletic shoe size?
Or what is your dress shoe size?
What is the width of your foot? With narrow, regular, and wide options.
All of the materials used to make the shoes come from Europe and the footwear is mainly made in Marche which is a region of Italy on the east coast. Some parts of the manufacturing process of certain styles are completed in Portugal and Spain as well but the sneakers are made exclusively in Italy from Italian materials.
Low 1 Belmont Sneakers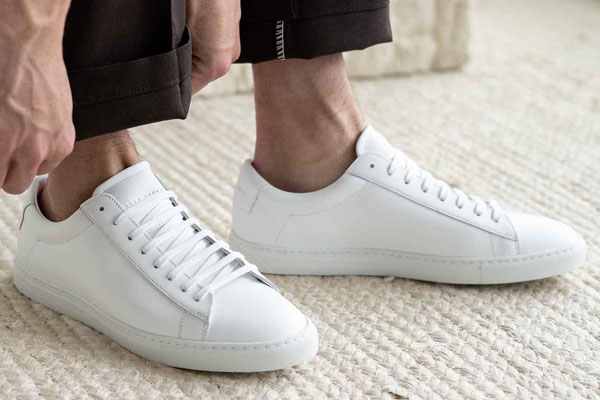 Do you know how a pair of Converse looks best once they get a bit rugged and worn out? The internet is full of tips on how to best achieve this look on purpose and some celebrities have been known to do just that. It's the same thing with the trend of distressed jeans with holes purposefully inflicted upon brand-new denim.
Enter the Oliver Cabell Low 1 Belmont sneakers, the best-selling low-top style for men which is the brand's classic with a distressed and slightly disheveled look, complete with some scuffing and the sole being a faded white almost grey as if weathered. All of this gives the sneaker a relaxed worn-in look.
The design is otherwise very sleek and minimalist with white 3oz full grain (i.e. the most premium leather of the highest quality) calfskin leather from Marche in Italy as the main material, complete with a grey suede letter O for Oliver on the side of the shoe. The logo of the brand is written in delicate gold writing on the heel on a black leather background. The lining and the footbed are also made with calfskin. The sole is by an Italian company called Margom which is renowned for the best quality, durable but lightweight rubber soles, and laces are made with Italian cotton.
The best sneaker is assembled and finished in Italy's Marche region and retails for $310. The cost to produce one pair of Low 1 sneakers comes to $192.97, which means the brand makes a profit of $117.03 which seems fair, especially if considering the earlier example of brands charging over $400 for sneakers that took about $25 to make.
SB 1 Natural Boots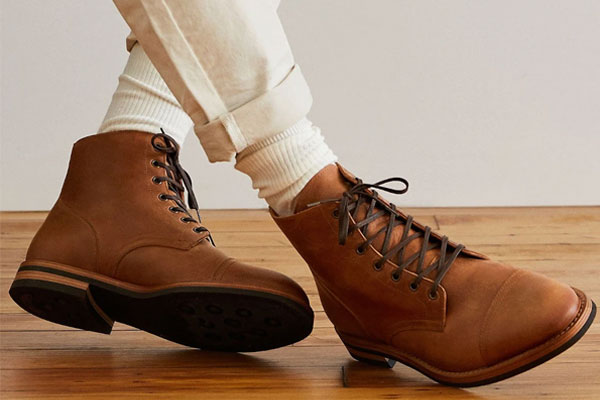 The SB1 is a style of classic and elegant leather lace-up boot for men that are beautifully structured and fall just above the ankle. The Natural option is a light brown shade achieved by vegetable tanning water-resistant full-grain leather sourced from a small tannery in the Spanish region of Albacete. The tannery sources its hides exclusively from small family-run farms to ensure ethical practices. The final product is then also hand-stitched and put together in Albacete.
The leather is not the only part of the boot that is water-resistant. So is the anti-slip rubber sole with studs sourced from England which is Blake stitched to allow resolving in the future. And while they take a few days to tame, once broken in, these boots are super comfortable to walk in.
These boots retail for $248, with the traditional retail price being at least $385.
Oliver Cabell Women's Shoes Review
The women's collection is a bit different from the men's and includes:
Sneakers
Flat mules
Ballet pumps
Loafers
The sizing ranges from US size 4 to 11 for the sneakers and 4 to 10 for all the other styles.
Low 1 Nude Sneakers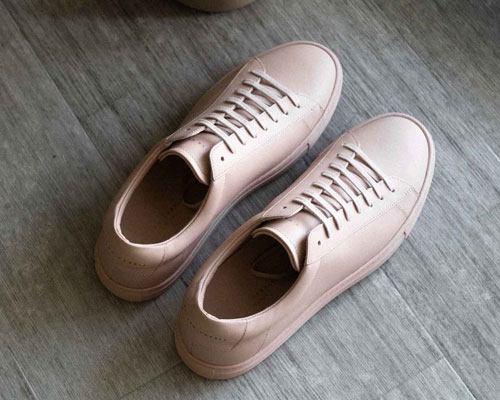 As said before in this Oliver Cabell Sneakers Review, the Low 1 low-top sneakers are the icon of the brand. In contrast to the men's Low 1 Belmont, which actually comes in a female version as well, the women's best-selling Low 1 Nude is crisp and clean with a striking minimalist aesthetic of a single-tone look. Everything on the sneaker, from the leather to the sole to the laces, is of the same shade of soft blush pink. The only presence of another color comes in the form of the brand's logo in gold writing on the heel and the top of the tongue.
The production process of the Low 1 Nude sneakers is the same as for the men's Low 1 Belmont, crafted in the Marche region of Italy using buttery-soft Italian calfskin leather and rubber Margom soles.
These sneakers run a full size larger so it is recommended to size down. Retailing at $215, the traditional price for this kind of sneaker is usually around $385, according to the brand's research.
Dream Mule Light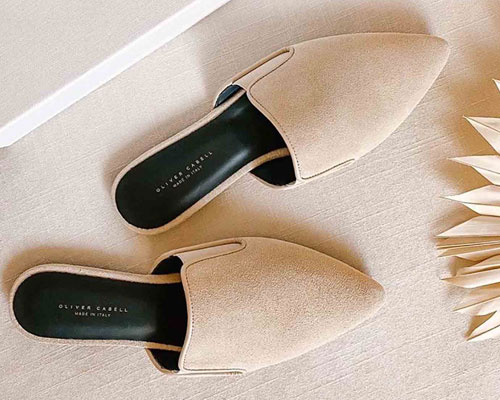 The chic and easy-to-wear Dream Mule is the perfect companion for summer and a great addition to elevate a summer wardrobe. The flat slip-on mules with a pointed toe include elastics on the sides of the instep of the foot for a more comfortable fit. They are made with soft Italian suede, available in a few different colors. The Light option is a neutral sand shade that is versatile and easy to pair with other colors.
This style is made in Italy and doesn't require any breaking in. It retails for $180 and runs slightly smaller to size so it is recommended to size up if you're in between two sizes.
Oliver Cabell Shoe Care Review
We don't need to tell you that shoe care is highly important and essential, especially when it comes to leather shoes and when you spend serious money on your shoes, making them a real investment. Which is exactly what Oliver Cabell's sneakers are. That is why the brand offers several shoe care products and kits on its website, so many that it can be called a collection in its own right.
The brand also includes the following cleaning instructions to follow:
1. Dip the brush into a bowl of water
2. Apply a generous amount of shoe cleaner to brush
3. Dip the brush back into the bowl of water
4. Scrub shoes create foaming action
5. Wipe clean with a towel
Repeat steps 1-5 if necessary
6. Air dry
Distressed Kit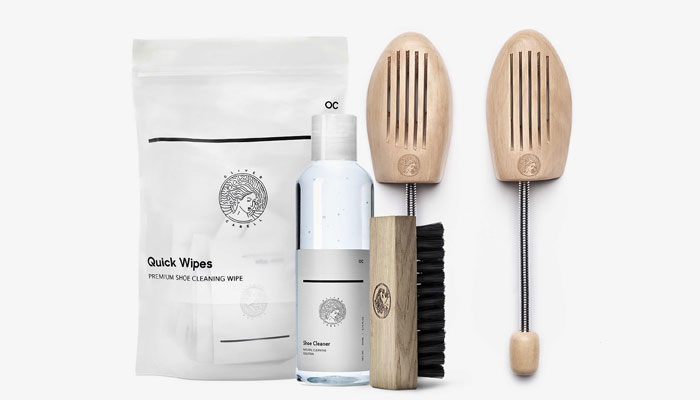 We've already had a look at the Low 1 Belmont which is only one of many distressing styles offered by Oliver Cabell. This kit is designed specifically for these styles, because as the product page states, "Distressed doesn't mean dirty." This is what the $98 Distressed Kit includes:
A 6.75oz bottle of the Premium Shoe Cleaner is a natural gentle foaming solution formulated without any harsh chemicals to remove dirt and stains. It is safe to use in all colors and materials, including leather, suede, canvas, and cotton. One bottle can clean up to 175 pairs of sneakers according to the brand. Very specific.
Shoe cleaning brush handmade from beech wood with soft hog bristles which is tough on stubborn stains without damaging the shoe.
One set of custom wooden shoe trees is made from cedar wood which is naturally odor-absorbing and metal spring coils. They prevent shoes from losing their shape and creasing and absorb moisture.
A pack of 24 Quick Wipes, individually packaged shoe cleaning wipes to keep in your bag at all times to refresh and clean your shoes while on the go
Refresh Kit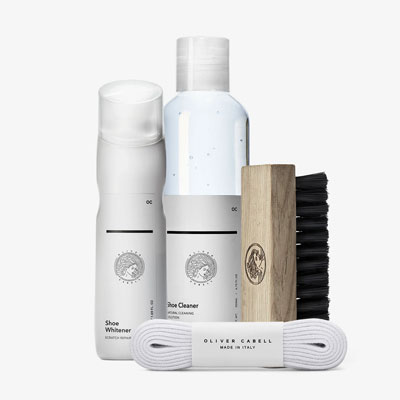 It's a known fact that maintaining anything white to stay white for a long period of time is a struggle. That is even more true when it comes to footwear as the ground is filled with dirt which the shoes constantly come into contact with. The Refresh Kit is the solution to this issue and is made specifically for cleaning white leather sneakers, or any white leather shoes really. The kit retails for $39 and consists of:
A bottle of the same Premium Shoe Cleaner as in the Distressed Kit because of its universal effectiveness when it comes to stains and dirt.
A 1.69oz bottle of the Shoe Whitener is a protective white shoe cream that also nourishes the leather and repairs scuffs and small scratches. One bottle can whiten up to 50 pairs of white sneakers.
Spare white cotton laces to replace your old and damaged ones with.
Shoe cleaning brush
Oliver Cabell Sizing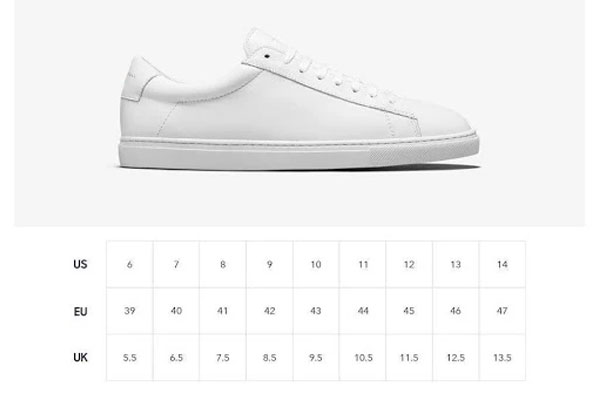 Some models by Oliver Cabell run true to size while others can be a full size larger or smaller which is definitely confusing and the brand admits this leads to many returns and exchanges. However, every product page includes a fit guide and a size calculator which will determine what your perfect size for the Oliver Cabell shoe would be based on your answers to a few quick questions. But here is our guide breaking it down:
The iconic men's Low 1 sneakers run quite true to size but are on the shorter and more narrow side. It's recommended to size up if you have a wider foot or are in between sizes.
The Demi sneakers are true to size
Men's GAT sneakers also run true to size
The men's Phoenix sneakers fit short and narrow so again, size up for a wider foot or if you wear a half size.
All the men's boots, including the SB 1, Wilson, Chelsea, and Mock, run true to size
The men's Drivers fit true to size
The Low 1 sneakers run a full size larger so you need to size down one size.
Women's Demi sneakers also run a full size larger
The women's Dream Mules come slightly small so it is recommended to size up if between sizes.
The women's Dream Flats too run smaller
And so do the women's Monti loafers so size up
The range of sizes differs with every style but for the most part, the men's sizes range from US 5 to 15 and the women's go from 4 to 11.
Oliver Cabell Sneakers Review from Customers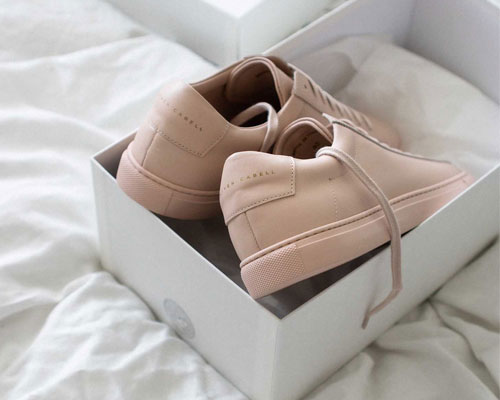 While the Oliver Cabell website doesn't show any negative customer reviews, every review is either five or four stars scoring most products 4.9/5. However, visiting Reddit or Trustpilot where the brand has scored an unimpressive rating of 2.6/5, the feedback is suddenly very mixed. While the quality of the product itself is not really an issue, the company's customer service returns policy and months-long delivery times are. Here are some examples of customer reviews:
"Bought a pair of shoes for my partner, they don't fit. Luckily they have a 30-day return policy. Oh, it took 30 days to arrive so now we're stuck with some overpriced shoes that don't fit. If you want some expensive white shoes just spend a little bit more and buy common projects."
"I just received another pair of Low 1 sneakers, the crimson red. They look great and are comfortable. Top-quality sneakers at a very reasonable price. Customer service has been very helpful throughout the process of changing size of a previous order."
Popular Alternatives to Oliver Cabell
"I ordered trainers in February which are now being delivered to me end of June. The sheer extent of the fulfilment period was heavily underestimated on their website for pre-sale. MOST IMPORTANTLY, I have now been hit with a £61 charge by UK customs, significantly impacting cost of the trainers. Customer services was terrible about it and are referring to vague clauses buried in their website rather than in the purchase process."
"These shoes are absolutely perfect. The moment I slipped one on I knew they were of high quality. The lines of these shoes are clean and simple. Modern and sleek. Very comfortable and definitely made of premium materials."
Where to Buy Oliver Cabell Sneakers
Oliver Cabell's sneakers are available for purchase exclusively through its website.
Shipping and Return Policy
Oliver Cabell offers free shipping on domestic orders over $100 and international orders over $170 which are delivered by DHL.
Returns
The wrong size and fit is the reason behind 75-80% of Oliver Cabell's returns and exchanges. The brand has a 30-day return policy from the date of receiving your order as long as the shoes are unworn and in their original condition and packaging.
Oliver Cabell Promotions & Discounts
Oliver Cabell offers you $15 off your next order if you refer a friend and they make a purchase, they, in turn, will also receive $15 off their first order.
Contact Oliver Cabell
If you have any additional questions that this in-depth Oliver Cabell Sneakers review didn't cover, you are welcome to get in touch with the brand directly via:
Oliver Cabell Sneakers Review: Editors' Verdict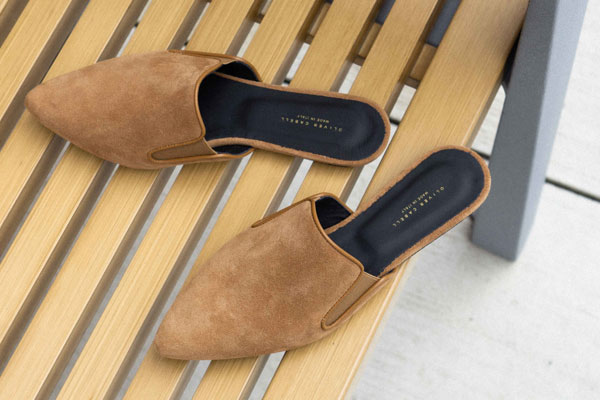 Oliver Cabell is certainly a good-looking and good-sounding brand with a stylish design, thoughtful construction, a wide color palette of some great shades, and high-quality materials, made in Italy by traditional craftsmen and sold at fair prices. However, when looking at customer feedback, it is hard to know what to believe as the reviews are almost 50/50, good and bad. So do you think the brand is worth it after reading our Oliver Cabell Sneakers Review?
If you have the funds, we believe the brand is worth it. We are willing to give the brand the benefit of the doubt for being still a fairly new and up-and-coming brand on the market and we can appreciate the effort to do things differently and properly. Plus, we have fallen in love with the cool and chic look of the tonal Low 1 sneaker and the variety of lush colors like matte crimson red or blush pink nude.
Check out other amazing shoe brands like Atoms Shoes, Birdies Shoes, M Gemi, and Jack Erwin.
Frequently Asked Questions
Where is Oliver Cabell located?
The brand was founded in England but is now located in the US. The manufacturing process still takes place exclusively in Europe, namely Italy for the most part, as well as Spain and Portugal.
Do Oliver Cabell's shoes squeak?
Some customers have complained about Oliver Cabell shoes squeaking or developing a squeak over time, but there are others that don't have this problem at all.
Is Oliver Cabell true to size?
According to online reviews, Oliver Cabbell runs true to size. You can refer to their size guide by selecting 'Calculate your size' on the product page.
Are Oliver Cabell shoes comfortable?
Yes, customers claim they are comfortable shoes. It might take a few wears to break in the leather, however, afterward, they feel lightweight and easy to walk in.