For many Americans, a cup of hot coffee in the morning is the perfect way to start the morning. And, there's nothing like the smell of a fresh coffee brew to awaken your senses to a bright new day. But if all your coffee beans are from the grocery store, you're missing out on the pleasures of truly fresh coffee. Still, you may not have the time or tools to roast your own coffee for a fresh brew. That's when a coffee subscription box could come in handy.
10 Coffee Subscription Box
Luckily, some commercial brands offer fresh, roasted coffee for a well-flavored cup of coffee. These brands provide coffee subscription services that ensure that you never run out of coffee in the mornings. If you're interested in getting your own coffee subscription box, you can opt for any of the brands below to get the best services!
1. Atlas Coffee Club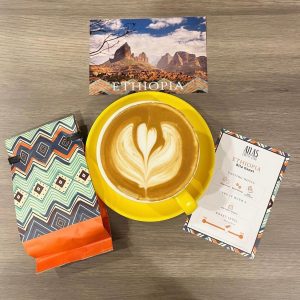 If you've always wanted to try coffee from all over the world, look no further than Atlas Coffee Club. This company offers coffee sourced from different locations with rich backstories and origins. The subscription service is often described as the monthly coffee tour of the world. You can taste original finely-made coffee from different areas. They will all have different coffee notes.
According to the brand, the mission is to share the world of coffee and also satisfy your sense of adventure 'one cup of coffee at a time. Brand one was one of the first to introduce the idea of coffee delivered right in front of your door. Atlas Coffee Club is based in Austen, Texas, and; it supplies coffee obtained from notable micro-lot plantations in Rwanda, Costa Rica, Ethiopia, etc.
The company promotes sustainable and ethical production that supports the planet and also, the plantation workers. Also, every coffee subscription box comes with a detailed profile on the origins and history of the coffee. You'll also be exposed to different cultures and traditions from lesser-known regions around the globe.
With three easy steps, you can be part of the Atlas Coffee Club subscription. You may choose either the monthly or fortnight subscription plan. The standard order is one 12-ounce bag of coffee or, you can opt for four bags or half-bag if you want. Also, you have options to choose your roast type or whether you prefer it pre-ground or whole.
It offers the best coffee subscription box with an interesting tropical background. You can pause or cancel your membership whenever without any extra charges. With Atlas, you can explore the types of coffee in the world and find your favorite cup every month.
2. Trade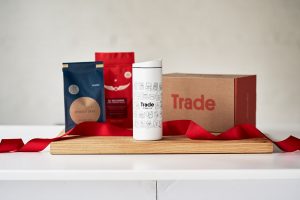 Trade offers the best quality and ethically-sourced coffee from plantations and farms all around the United States. The brand aims to connect coffee lovers with the best brews from local communities and introduce modern coffee trends. They offer coffee from independent roasters and lesser-known regions to increase people's access to better coffee.
The Trade team consists of dedicated experts researching the market to source premium and the highest quality roasters. One of Trade's selling points is its personalized recommendation for individual coffee drinkers. With their team of data scientists and coffee experts, they select the best coffee matches based on customer feedback to meet varying tastes.
It builds a significant network of coffee lovers with 450+ coffee varieties curated and specially handpicked by the team's Q Grader with high-quality standards. The brand connects you with coffee ethically sourced from different locations. Also, Trade is committed to positive social impact, and it also offers compostable packaging to protect the planet.
In addition, with the brand's effective network system, you will have your appetizing Trade coffee subscription box right at home at the estimated date. As a member of the coffee subscription plan, you can customize your order frequency, grind setting and choose the number of coffee bags. Once you've paid, you'll get a fresh bag of coffee from a different roaster every time.
3. Bean Box Coffee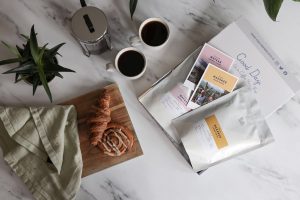 Bean Box coffee offers the best high-quality artisanal coffee from over 35 top-rated roasters in the Pacific Northwest areas. Unlike other brands, Bean box provides the most versatile coffee boxes with multiple options to meet individual coffee tolerance. So whether you like a strong black coffee or a light espresso, this brand offers whatever you prefer.
For the Bean Box team, coffee drinking is all about the experience. The brand allows you to enjoy diverse strains of coffee. They partner with the best roasters from Seattle to guarantee flavor and freshness in every single cup. The brand's skilled in-house curators are well-celebrated in the coffee network and even won the distinguished Cup of Experience.
In addition, Bean Box offers a detailed and comprehensive guide that helps you choose the best coffee to ensure premium satisfaction in every single state. The brand offers a wide selection of coffee from light to heavy roasts created in independent local communities. Each coffee bean subscription box comes with detailed info about the coffee's history and origins.
Bean Box coffee also claims that they ship out the coffee two days after roasting to ensure that no old coffee beans arrive in your order. Some of Bean Box's coffee blends include the Tartine Bakery's House Blend, Crème Brule coffee, Cookie Dough coffee, and Waikiki coffee. For $16.50, you can be part of the brand's coffee tasting subscription that offers four expertly-curated coffee monthly.
4. Mistobox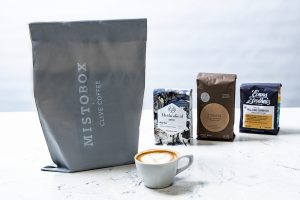 Mistobox sends out the best coffee subscription box specifically curated to suit your taste. The brand allows you to enjoy your favorite cup of coffee every morning, and it's one of the most diverse coffee subscription plans you'll ever find. With a team of award-winning roasters and expert curators, the company guarantees 100% customer satisfaction.
It's highly recommended for seasoned coffee drinkers with unique tastes and preferences. Mistobox partners with the country's top-rated team of more than 60 award-winning roasters celebrated in the US.
With Mistobox, you're allowed to choose your favorite coffee blends with the help of your coffee curator. Once you sign up for a Mistobox coffee subscription box, your assigned coffee expert will recommend your coffee based on your taste and preferences. The company is managed by an experts team that aim to build a large community of coffee lovers.
Using what the brand calls the Brew Queue, you can select from over 600 coffees prepared by any of the brand's top roasters. After you've selected your order frequency and paid, you will officially be part of the company's coffee subscription box delivered directly to your home. Mistobox also offers a great gifting option where you can send out a coffee subscription box to your loved ones.
5. Driftaway Coffee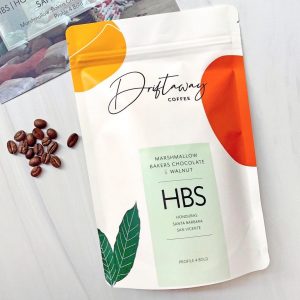 This Brooklyn-based coffee brand offers a fantastic selection of coffee brews from the top roasters in the US. Driftaway primarily focuses on sustainability by providing coffee subscription boxes through ethical and environmentally conscious means. It was founded by Suyog Mody and Anu Menon in 2012 with spotlights in top magazines such as Vogue, GMA, Time, and Country.
The brand aims to offer the best sustainably-farmed coffee by connecting its customers to the best artisanal coffee. According to the team, their mission is to allow coffee fanatics experience exciting high-quality coffee farmed and roasted in different parts of the world. The best part? Every month, it sends out coffee from all over the world, ensuring that its customers have an amazing experience.
Products
With Driftaway coffee products, you'll get to experience coffee from different farms and regions across the globe with a finely-roasted production. The Driftaway single bags include BBK coffee grown in Burundi, Guinea PHA coffee, and other kinds of coffee from Ecuador and Peru. Each coffee comes with its own taste, flavors, and history. The brand also provides roast options available.
In addition, you can opt for Driftaway Coffee Brew which allows you to experience the pleasure of a cold brew right at home. To recreate the taste of your favorite local cafe, the brand uses cold water to extract the flavors to grind the proper coffee into the right coarse texture. The cold brew is pre-grinded, and it's available in three coffee blends; bright, balanced, and bold.
Driftaway supplies customers with a range of coffee accessories such as brewers, grinders, kettles, and scales. Also, it offers customers coffee subscriptions that are personalized to their taste. You can start with the explore kit that comes with five kinds of coffee from different parts of the world. Then, you'll need to rate the coffees so the brand can send you the option you prefer.
6. Craft Coffee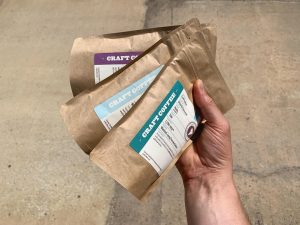 Craft Coffee subscription box costs the same as the old blend you'll find at your local grocery store. But, it comes with fine quality, freshly-roasted beans. A fresh, roasted coffee retains the perfect flavor and taste for four weeks before it becomes stale and loses flavor. That's why your local store-bought coffee will not produce the same brew as a newly roasted blend.
Meanwhile, Craft coffee offers its customers a better and more convenient way to buy coffee. The brand's high-selling point is the price match which offers quality coffee blends at affordable and friendly prices. It is highly recommended by The New York Times, Wired, The Wall Street Journal, Fortune, and several others.
With Craft Coffee, you can avoid the hassle of going to the store and getting freshly-made coffee delivered directly to your home. The coffee selection is easy as the brand recommends blends that you'll enjoy based on your usual store-bought option.
You can get started with a Craft coffee subscription by selecting your favorite coffee or roasters and personalizing your order frequency and quantity. Once you have paid, your Craft coffee will be shipped directly to your location. Some customers also enjoy the coffee subscription box gift option as a thoughtful way to appreciate your loved one with their favorite coffee blend.
7. Grounds & Hounds Coffee
Grounds & Hounds' purpose is to help its customers create the best coffee drinks, and help at-risk puppies find better homes. The company's commitment to social impact and support for animal rescue initiatives to save lives of pups in need. Through the sale of organic, specialty, and fair-trade coffee, the brand brings us a step closer to a no-kill society.
The brand aims to change the life of every puppy one cup of coffee at a time. If you're a coffee aficionado and a rescue lover, then this brand will suit you perfectly. Grounds & Hounds coffee blend is 100% Arabica including specialty grade organic coffee that is sourced from major growing regions around the world.
In addition, the brand partners with some of the top-skilled roasters in the country to provide the ideal flavor for your perfect brew. You'll also enjoy the experience of tasting varieties of coffee from different parts of the world. It offers a wide option of blends and flavors where you can also choose from light roasts to dark heavy roasts.
The Grounds and Hounds Coffee club is a subscription service that offers members a coffee bean subscription box at chosen intervals. All you need to do is select your choice of coffee from whole beans to ground, or single-serve pods. You can also choose your preferred coffee brew choice with a quantity and delivery frequency.
8. Crema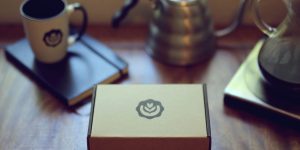 It offers coffee from independently owned roasters introducing coffee drinkers to the community of locally made coffee. Crema also reveals the faces behind the farmers and skilled artisans that grow your coffee. You can explore 57 award-winning roasters to find your favorite new coffee blend.
On the site, there's a quiz you can take to help you decide which coffee flavor is best suited to your taste. Recently, the brand made a firm decision to leave social media to focus more attention on customer needs. This decision was well-received and many customers claim that the brand offers the best services.
Apart from the sale of the specialty coffee subscription box, Crema seeks to build a community of coffee lovers and drinkers who have superior knowledge of coffee. It offers brew guides and coffee articles prepared by expert coffee curators. You'll enjoy reading and learning about the world of coffee and discover coffee trends from all over the world.
All you have to do is choose from more than 450 coffee blends or try the sample kit product which offers 3 sample coffees from award-winning roasters. Once you've made your order, and paid, you're officially a member of the Crema coffee subscription box package. You can temporarily pause your next delivery or cancel your member anytime you, please.
9. Equator Coffees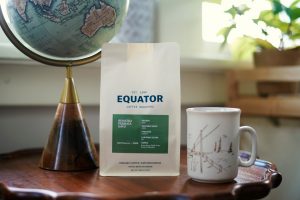 This brand has consistently proved its dedication to excellence and positive social impact by offering specialty high-quality coffees to ensure the best brews. Equator coffees are distributed directly from the farm to cups and they offer a variety of coffee blends from light to medium, dark roasts. According to Forbes, Equator coffees are roasted better, brewed better, and sourced in a way that makes life better.
The Equator is an award-winning brand that partners with award-winning artisans that produce exciting and delicious coffee roasts. If you're an espresso lover, it creates the purest flavors with careful preparations to ensure an extraordinary drink. For coffee enthusiasts, the single-origin collection includes excellent coffees with special origins and backgrounds for every item.
While you can shop for single coffee bags, the Equator subscription service supplies your favorite coffee blends or espresso directly to your doorstep. Furthermore, Equator coffees are certified fair trade and organic ensuring that all the coffee farmers and traders are well treated. You can also check the coffee gift card section and gift your special someone Equator coffee subscription box gift service.
10. Blue Bottle Coffee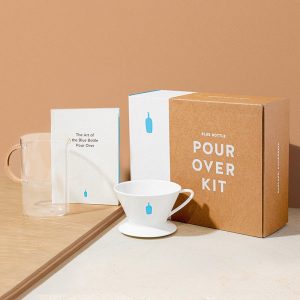 Blue Bottle is a specialty coffee company that seeks to provide its customers with the pleasure of good-tasting coffee drinks from freshly-roasted beans. The brand is committed to sustainability and environmental protection, offering organic coffees that exceed specialty grade standards. It also works with a team of trusted producers to source traceable coffee products.
In addition, no matter your coffee preference, Blue Bottle offers appetizing arrangements from lightly roasted origins to dark roasts. It also has a team of coffee sourcing experts with the Q-grader certification so you can be sure that your coffee has been expertly curated by trained professionals. With the Blue bottle coffee subscription box, you can confidently enjoy your favorite drink.
The company has its own roasteries located across the world with award-winning roasters to offer you the best quality coffee. You can shop for a wide variety of coffees and pick your favorite flavors or use the help guide to find a selection that works for you. Once you've paid and chosen your order, you'll get your Blue Bottle coffee subscription box in eco-friendly packaging.
Coffee subscription box: Editor's Verdict
Coffee is more than a drink; it's an enriching experience and for many people, it is a lifestyle. If you consider yourself a coffee lover, then you can't be satisfied with the on-shelf coffees in grocery stores that offer a poor brew. The pleasures of a coffee drink from a freshly-roasted blend cannot be unmatched. But the problem is usually how to find the best coffee.
Our list above provides a detailed review of the best coffee subscription services in the United States. These companies directly supply you with freshly-roasted coffee with rich origins and culture to help you create your favorite drink whenever you need it. With your coffee subscription box, you can discover the coffee world from different sources around the world.
If you're still interested in coffee that we haven't mentioned in this article, then read our reviews of Eight Ounce Coffee, Death Wish Coffee Review, Angelinos Coffee, and Bulletproof Coffee.