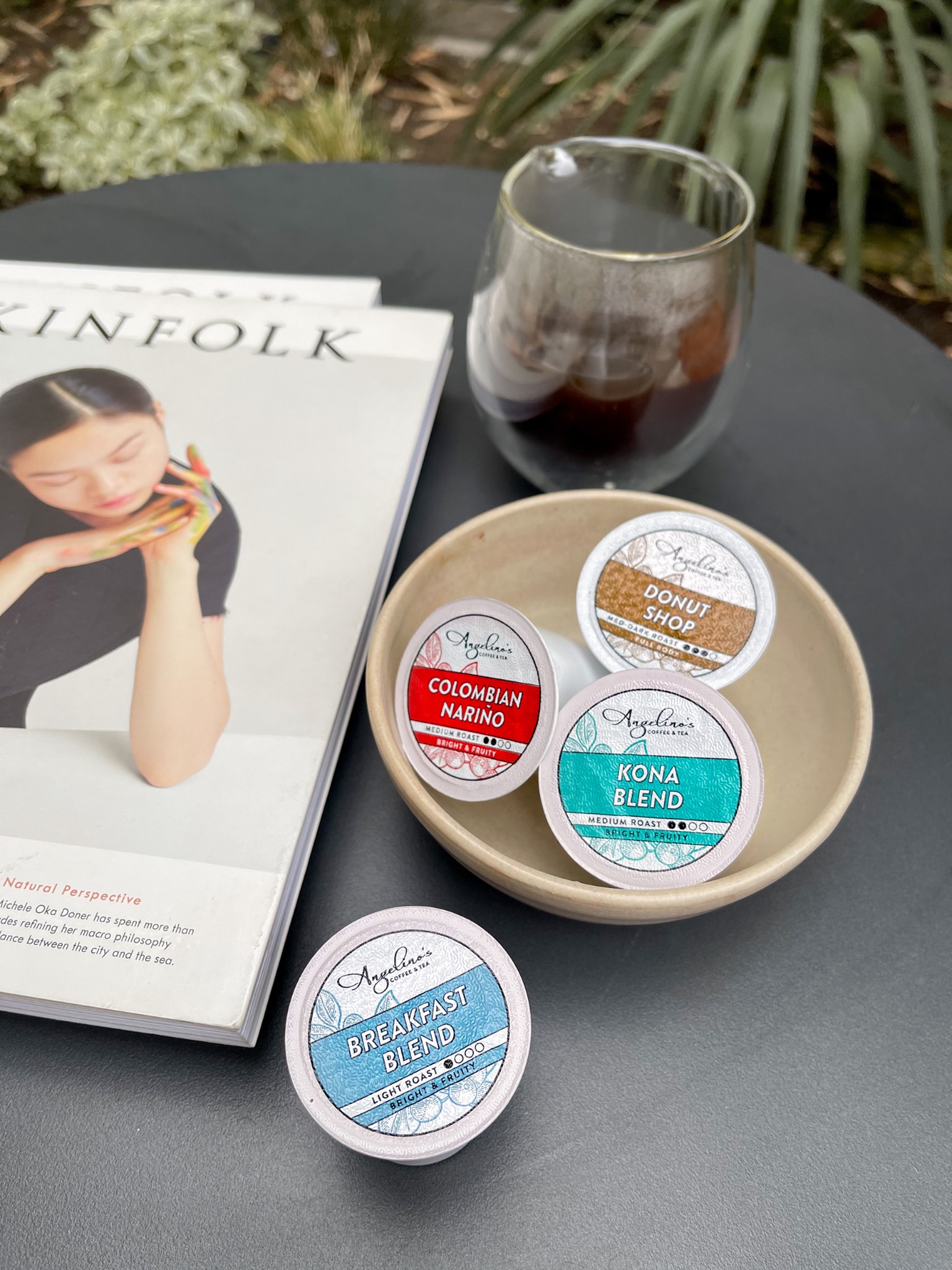 There is good news for caffeinated brew enthusiasts who are passionate about starting the day with a cup of an energy boost. Angelino's Coffee provides you with fresh and flavorful pod coffee that comes at an unbeatable price. You get to enjoy the liberty of choosing between decaf and flavored coffee, medium, and dark roasts, in addition to several cappuccinos, teas, and hot cocoa. We'll look at Angelino's Coffee reviews from customers, their products, promotions, and much more to help you determine if the brand is worthwhile.
The brand's coffee is not just a regular caffeinated brew, as it guarantees the best dry roast like the English breakfast and Moka Java. The company also partners with Keurig and Nespresso to give you the ultimate coffee experience you anticipate.
Read to learn more about this company to decide if it's right for you.
About Angelino's Coffee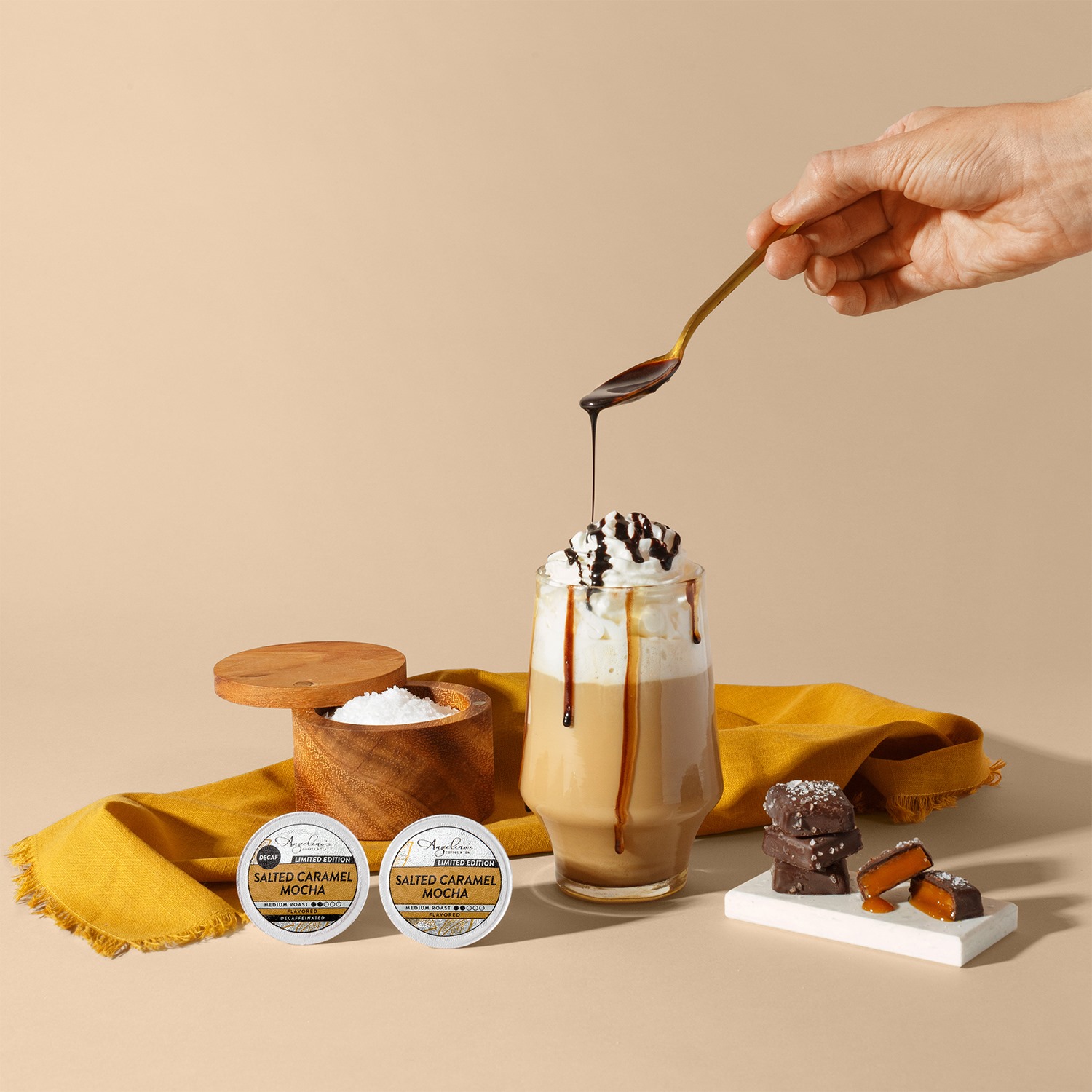 The founder Kirk Bedrossian and his father, who was a coffee processor, were quite passionate about coffee. In 1998, when Kirk was still young, the two went to Costa Rica for a coffee sourcing trip where Kirk's love and interest in coffee deepened.
It was supposed to be a one-week vacation, but it turned out that Kirk became his father's traveling partner for all the coffee-sourcing trips. In search of the best coffees, the duo traveled to different parts of the world, including Amazon, Indonesia, and regions of Africa
Kirk found the business trips with his father enlightening and enriching. He enjoyed the adventures, lifestyle, meeting new people, and learning new traditions. His vision became more explicit in 2002 when he thought of enjoying a cup of coffee with the world.
Since then, the brand has been faithful to its roots by producing quality and sustainable coffee for everyone. Just like the brand is family-oriented, it sources its coffee from committed families' coffee farms around the world. Angelino's Coffee warehouse is located in Downtown Los Angeles.
Pros
They have an extensive selection of tea and coffee blends
The brand is affiliated with Keurig and Nespresso (1.0 and 2.0) coffee machines for an enriching coffee experience
Tea, decaf, and hot cocoa options are available
The packaging is attractive and comes with a convenient storage box
Their products are pocket friendly
They offer free shipping
Cons
The brand serves only pod coffee takers
They don't offer a curation service
The brand does not ship orders internationally
Angelino's Coffee Review
Angelino's virtual café offers every type of coffee to suit your taste buds. Whether you prefer flavored brews, teas, hot chocolate, or decaf coffee, you are in the right place. There are many delicious coffee brands that are similar to Angelino's, like Bean Box Coffee. To help you in the decision-making process between some of the best-known brands, we have listed the top-selling Angelino's Coffee.
Angelino's Coffee Jamaican Me Crazy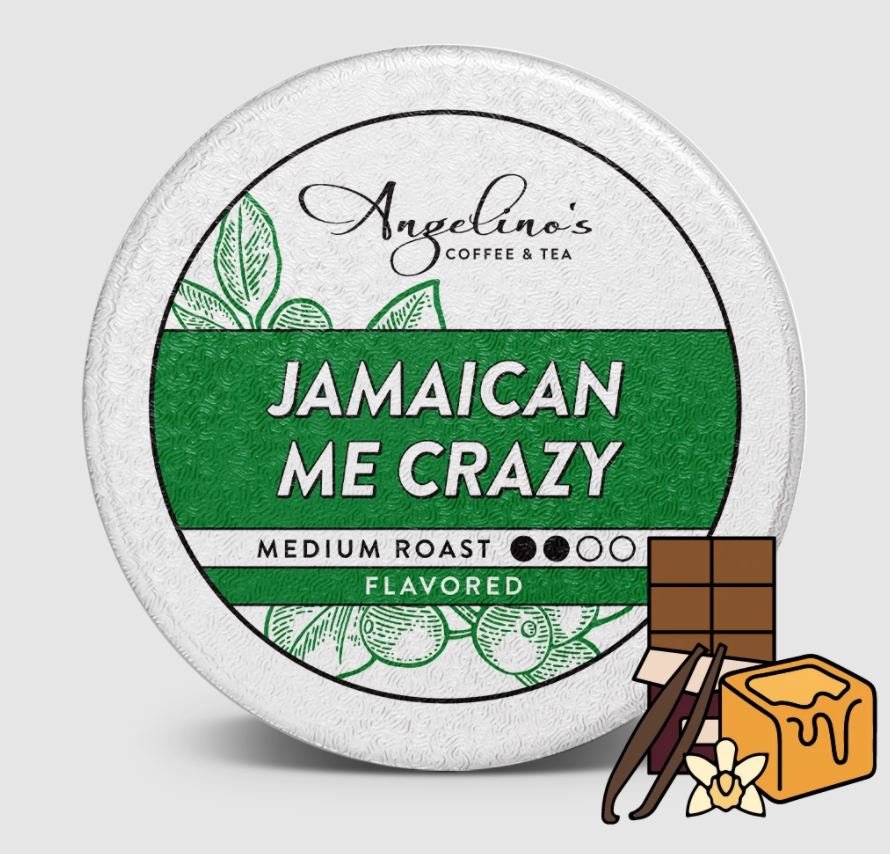 Are you looking for a drink that incorporates a beautiful assortment of flavors? Angelino's Coffee Jamaican Me Crazy is ideal for you. These are flavored coffees and feature types of vanilla, caramel, and chocolate to give you an enriching taste and experience. The product is one of the most popular decaf coffee at Angelino's processed under the Swiss water process to remove the caffeine.
Online reviews on Angelino's Coffee Jamaican Me Crazy show that customers enjoy the unique blend because of its fantastic flavor, well-roasted, and comfortably brewed at home. Sweet Jamaican rum-flavored coffee lowers the risk of type 2 diabetes, contains antioxidants, improves sleep, and lowers anxiety. On the other hand, caramel gives the coffee a rich, delicious, and aromatic taste that comes in handy with the chocolate confection.
When cooked, caramel contains beneficial antioxidant compounds that contribute to the coffee's dark color and excellent flavor. A thousand different molecules are produced when cooking caramel, and therefore, the longer it is "caramelized," the more remarkable its antioxidants and the fewer the remaining sugars. Chocolate has a sweet and pleasant taste, is high in beneficial vitamins and minerals, and is a colossal mood booster.
Jamaican Me Crazy Overview
Being a by-product of metabolism, it contains high amounts of theobromine and less caffeine. They give you anti-carcinogenic antioxidants, alertness, and heart-protective powers when mixed with coffee. Chocolate also increases good cholesterol as it takes down the bad ones and lowers blood pressure.
Based on Angelino's Coffee reviews, customers love this coffee because it contains vanilla, which gives it an exquisite taste. This ingredient also relieves digestive issues, stress, and joint pains.
Angelino's Coffee Hawaiian Blend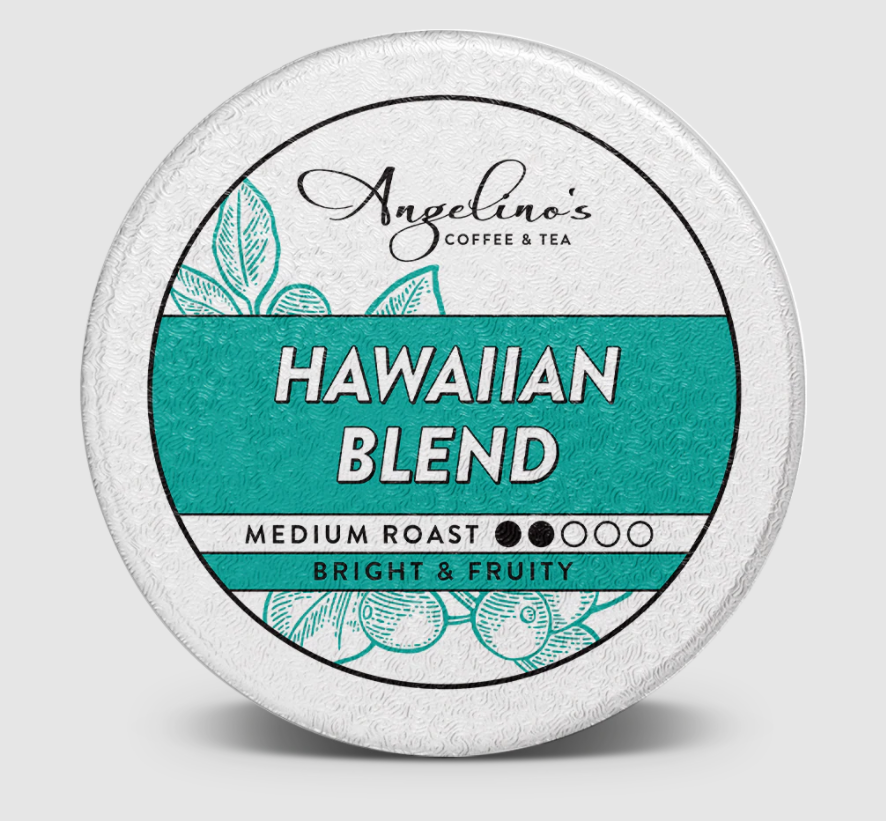 This type of coffee is ideal for those looking for a bright and fruity taste out of the caffeinated brew. Originating from Hawaii, Costa Rica, and Rwanda, the blend contains nuts, caramel, and sweet fruit that contribute to an irresistible and pleasant floral aroma. This coffee was traditionally known as the Kona blend. Tasting coffee has never been easier with these capsules Angelino's has to offer.
What makes it special from those grown in other parts of the world is that its coffee trees grow in a unique environment on the Mauna Loa Mountains and Hualalai slopes. Coffee thrives in such regions because they are rich in volcanic soil and cool temperature throughout the day.
Angelino's Coffee Hawaiian blend is lightly roasted and then mixed with flavor notes to display a bright acidity and a mellow body. Online reviews from customers indicate that this is an excellent coffee. Buyers like the great and not bitter flavorful taste that leaves you wanting more. Brain-boosting activities are some of the best things to make Hawaiian blend in your daily coffee.
When you take this coffee, your brain releases endorphins, which are the major mood boosters that keep you happy, creative, and focused throughout the day. You also reduce the risk of liver damage, Alzheimer's disease, type-2 diabetes, and arterial complications. A cup a day will also diminish cancer risk, improve digestion, increase longevity, and contribute to weight loss.
Angelino's Coffee Italian Roast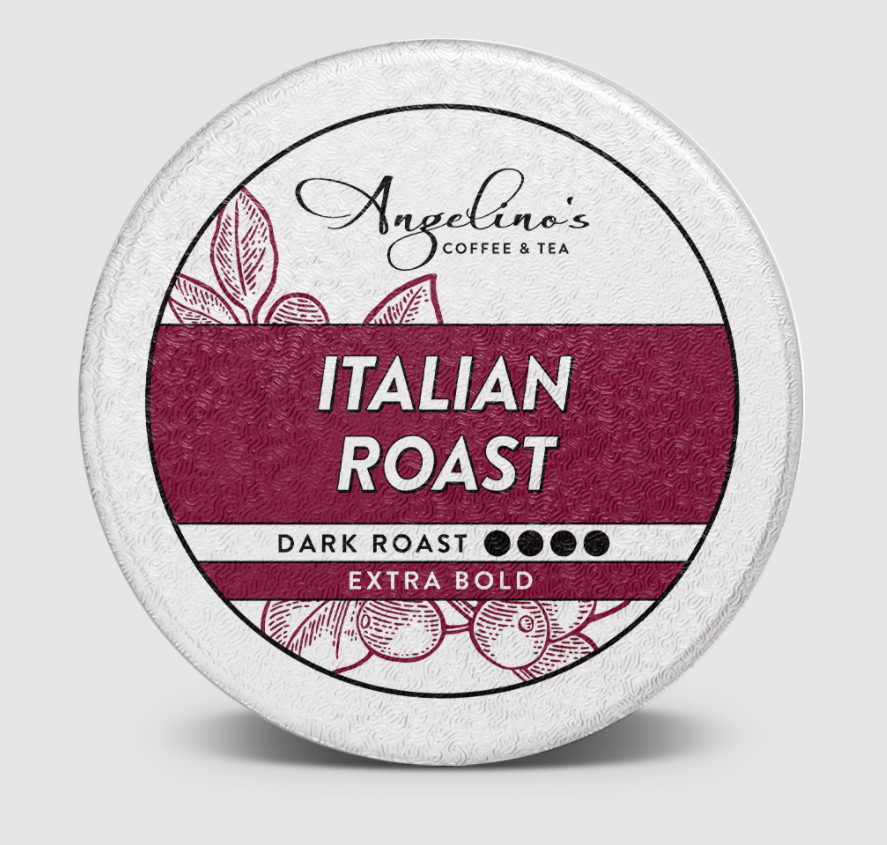 Do you want a drink that is deep yet balanced and smooth? What if you found that in coffee pods? Angelino's Italian Roast is your solution. This coffee originates from a collection of sources in Colombia, Yemen, Ethiopia, Bolivia, and Indonesia. It is designed to refresh your soul right before it reaches your stomach with a bold flavor. You will get to experience the satisfaction you get at a coffee shop right in your own home. Angelino's flavored coffees are the go-to!
The extra dark version features a bold, deep roast with woodsy, dark chocolate notes. The product is well-roasted, easy to use, convenient, and can be comfortably brewed at home. If sugar is not for you, this classy coffee suits your kitchen shelf for an early morning or a late evening Smokey taste.
The freshly Italian roasted beans are rich in antioxidants and hold nutrients that are beneficial to your health. Angelino's Coffee reviews reveal that customers prefer the Italian roast because it improves their mood at any time of the day.
When you take it in the morning, be sure of a more productive day ahead with lots of creativity and focus. Your energy levels increase as the Italian roast blocks adenosine- a neurotransmitter that causes fatigue and drowsiness, leaving your nerve cells heated up.
Depression won't be part of your worries when you regularly take Italian roast from Angelinos. The coffee relieves you of the stresses making you happier and more active.
Angelino's Coffee Salted Caramel Mocha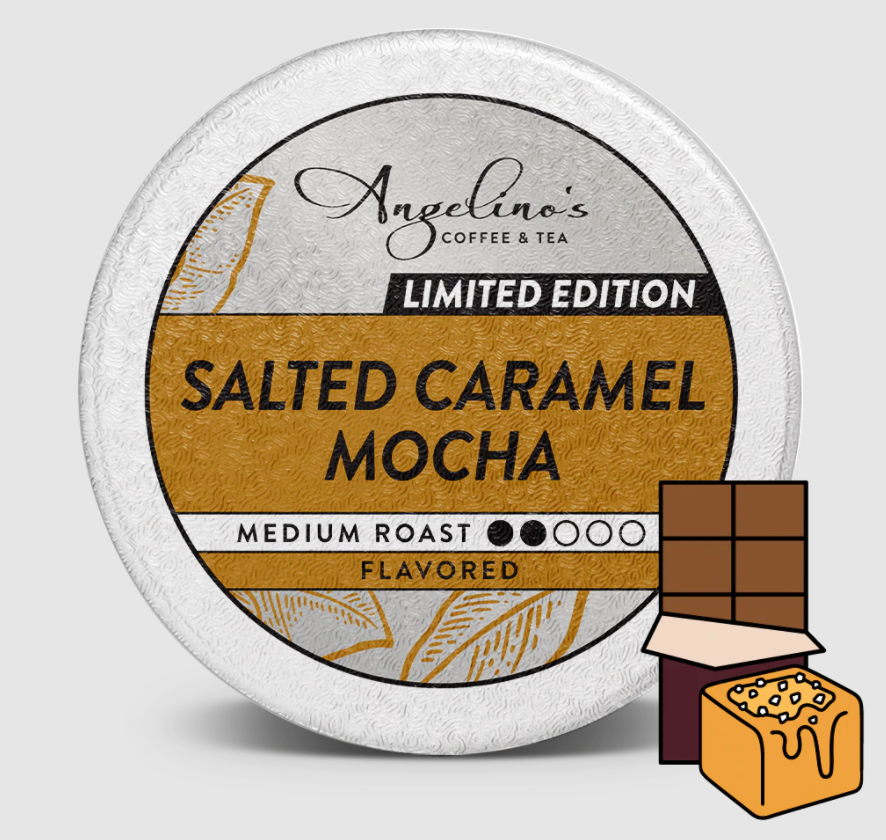 Salted Caramel Mocha from Angelinos is the perfect way to start a productive day. This k-cup contains salted caramel and chocolate flavored coffees that gives a sweet and smooth taste with every sip you take. Salted caramel has caramel and salt mixed, just as the name suggests.
Caramel is one of the most popular flavoring ingredients with various health benefits. It contains reasonable amounts of vitamins and minerals and is also rich in calcium, perfect for the bones and teeth. Taking Angelino's Coffee Salted Caramel helps protect the arteries by protecting the oxygenated blood supplying blood vessels.
Additionally, caramel taken in moderate amounts helps the body fight cancer cells. Angelino's Coffee Salted Caramel Mocha contains dark cocoa and is also one of the best sources of antioxidants and other nutrients. Cocoa improves your general health because it is a powerful source of antioxidants way more than foods.
It also prevents cholesterol from clogging the arteries. In turn, this lessens the risk of getting heart diseases and improves blood flow in the arteries, thereby lowering blood pressure.
Bioactive components present in dark cocoa, such as flavonols, improve blood flow into the skin, protecting it from the sun. Additionally, cocoa contains theobromine and caffeine, which are stimulants that will enhance brain functioning, verbal fluency, and cognitive functions.
Angelino's Coffee Decaf Dark Roast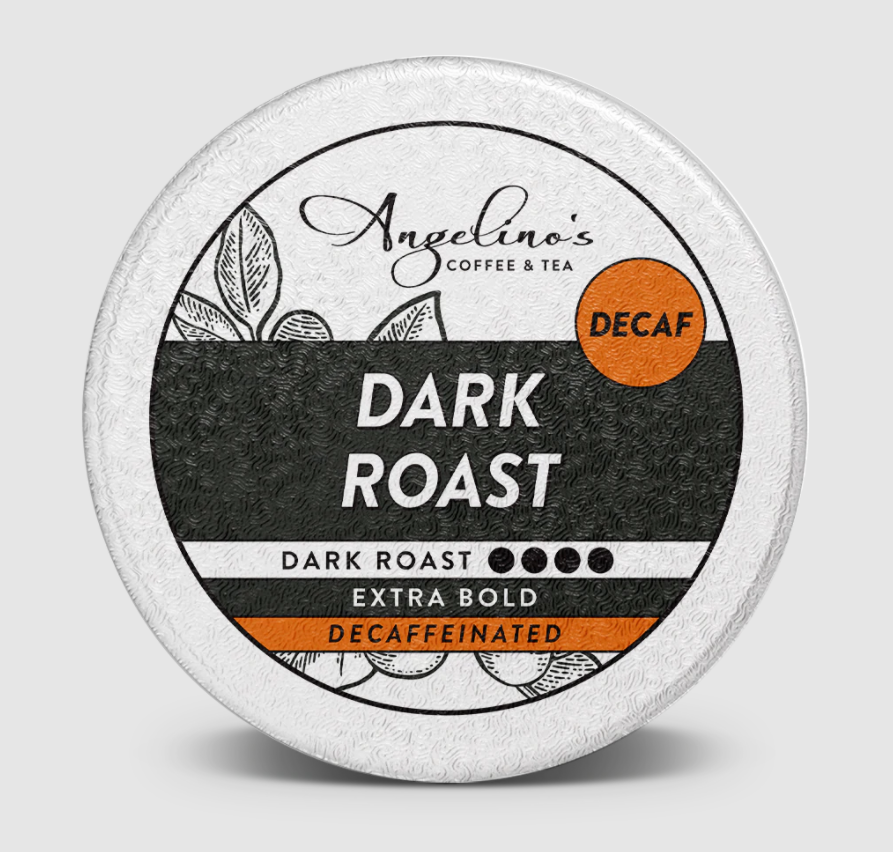 This decaffeinated dark roast is for people who love sugar-free coffee. It comes with a solid, bitter, and unsophisticated taste that resembles traditional coffee. It also features chocolate notes, fruity flavors, and floral hints that naturally tingle your taste buds. The dark roast originates from Bolivia, Indonesia, and Ethiopia.
From the decaf coffee selection, the decaf dark roast is also chock full of health improvement benefits. It is made through the water processing method that flushes the caffeine and is entirely chemical-free.
Popular Alternatives to Angelino's Coffee
Other methods used include carbon dioxide decaffeination (which involves carbon dioxide as the solvent) and the direct solvent (methylene chloride). Decaf dark roast reduces the risk of contracting type 2 diabetes, improves sleep, and lowers anxiety.
Moreover, decaf dark roast contains antioxidants as those found in regular coffee but in slight amounts. This is because of the quantities of the caffeine removed from the content. Decaf dark roast is less acidic due to the decaffeination process, making it suitable for people who suffer from heartburn and other acidity complications.
This product also reduces the risk of cardiovascular diseases. Caffeine can worsen fatal heart disease; therefore, going for a caffeine-free option can positively affect your cardiovascular health.
Angelino's Coffee Reviews from Customers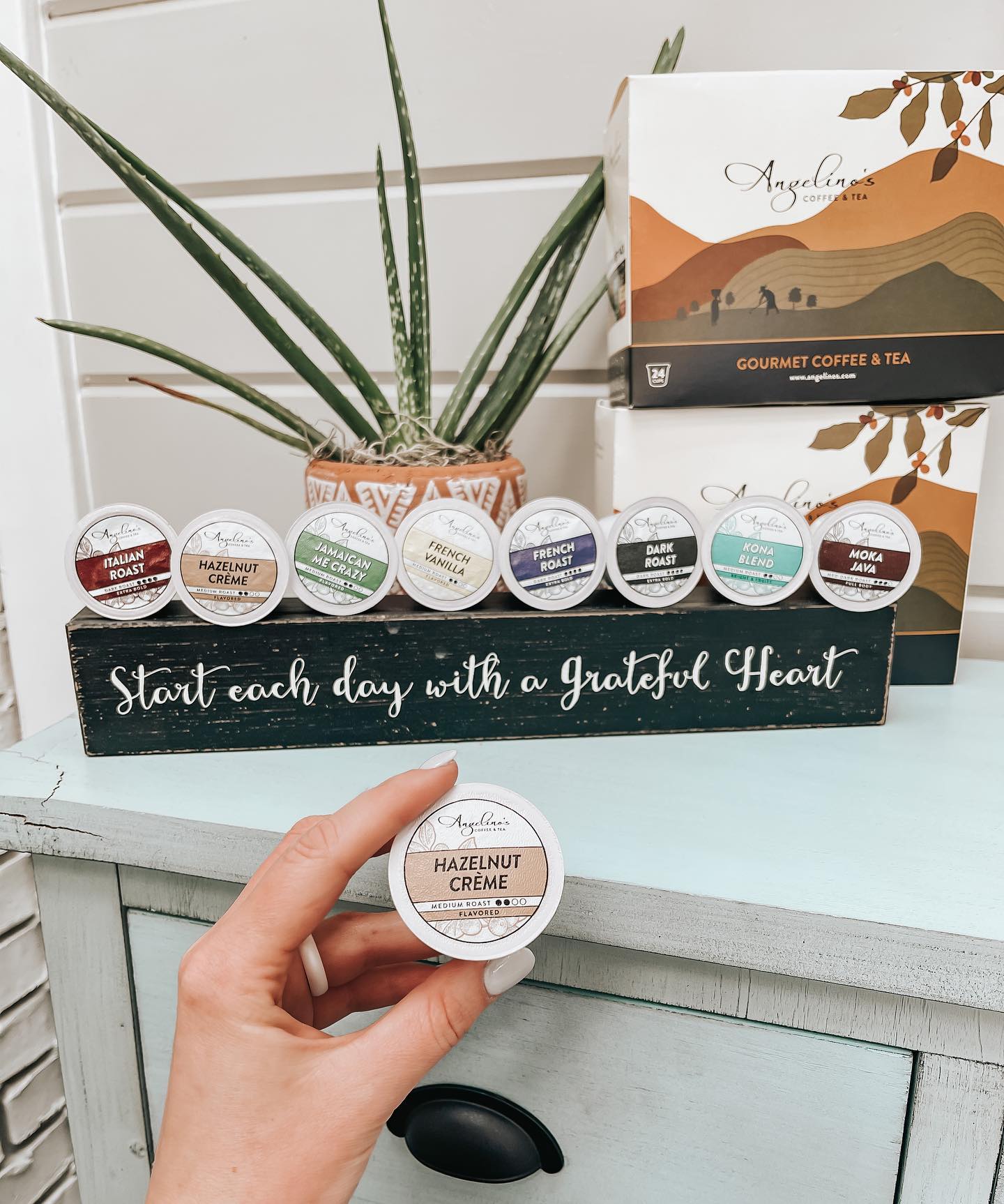 We investigated further from Angelino's Coffee website, Amazon, Trustpilot, and other reliable online sources to find out what customers say about the brand and its flavored coffees. It seems that the brand has proven to be worth the praises it gets.
On the brand's website, Angelino's Coffee reviews show that customers are overwhelmed by the convenience and quality of their products. They talk of their great experience, flavor, and pocket-friendly prices. Other customers are happy about the short shipping time it took for the products to arrive.
Moving on to Amazon, the brand has an average of 4.5 stars. Customers share their pleasing experience stating that the products are robust, original, delicious, and worth the price. On this site, only a few customers left negative reviews, with most of them complaining they were unhappy about delayed responses from the customer service team.
Trustpilot gave this branda4.7 average rating, with a high percentage of customers saying they are satisfied with the quality, selection of flavors, and prices of the products. Although a few customers raised their concerns about unsatisfactory customer service, shoppers left lots of positive feedback.
Sign Up for Angelino's
Create your Angelino's Coffee account today and earn 100 points automatically. The sign-up process is straightforward and takes the shortest time possible. You need to fill out the form by providing your name and a valid email address, specify the coffee maker machine brand you own, and submit the details. You will access your personalized dashboard for easy account and order management.
Where Can I Buy Angelino's Coffee
You could be asking yourself: Where can I buy Angelino's Coffee? You are not alone, as numerous people are asking the same question. To place your order, visit Angelino's website angelinos.com, create an account and see what they have to offer. Angelino's is a well-known coffee brand within the USA, therefore it will be easy for you to get it. You can also get your favorite coffee from this brand on Amazon.
Angelino's Coffee Shipping and Return Policy
Shipping
The brand caters to all the domestic shipping costs but does not ship orders internationally. Shipping takes 1-5 business days, and the company provides customers with a tracking number through email.
Return Policy
You should initiate returns within 15 days from the shipping date, and the return shipping costs are the customers' responsibility. The products should be in their original shape and unopened and the product's price tag untouched for the company to approve the return. To initiate a return, contact customer service for further instructions.
Angelino's Coffee Promotions & Discounts
You can earn points by creating an account at Angelino's, writing reviews, inviting friends, or following them on their social media accounts like Instagram and Facebook. These rewards can get you coffee discounts, Angelino's gear, exclusive perks, and more. You can also find Angelino's Coffee promo code and Angelino's Coffee coupon and use them to save money when checking out.
Additionally, you can get up to four Angelino's Coffee samples at $14.95 each to try them out and see which one you prefer.
Contact Angelino's
To reach out to Angelino's Coffee, contact customer care through their phone number (888) 407-0889 from Mon-Fri 8 a.m.-4 p.m. PST. The company also has a live chat feature that you can use to talk to one of their customer service agents in real-time. Alternatively, you could email the brand at [email protected] or fill out the contact form provided on their website.
Angelino's Coffee Reviews: Editor's Verdict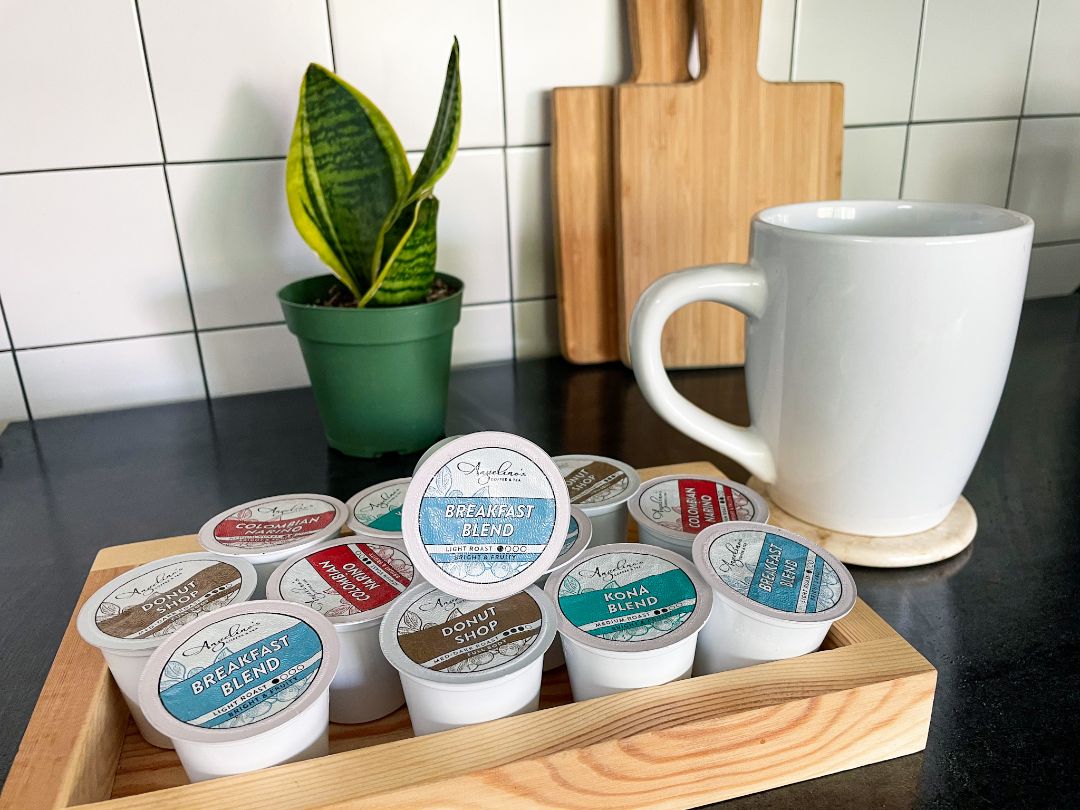 To conclude this review, we found this brand provides value for money. Coffee lovers will adore their selection of products and enjoy the different flavors they offer. Angelino's Coffee reviews show that customers praise their products because they are ++high quality, full of nutritional components, and brewed to perfection.
The brand offers freshly roasted coffee coupled with delicious flavors to delight your taste buds. Drinking Angelino's Coffee has a lot of benefits on your health, including reduced risk of fatal diseases such as diabetes, cardiovascular problems, depression, and many more.
The company also has caffeine-free products for people who suffer from chronic heartburn and gastrointestinal acidity issues. That means the brand has something for everyone.
If you are a die-hard coffee brewer, we encourage you to grab a product of your taste and enjoy the experience. Regular drinkers should go for Keurig or Nespresso coffee makers to brew their drinks.
Still on the hunt for the perfect coffee? Consider reading our honest reviews of Bean Box Coffee, Blue Bottle Coffee, Bulletproof Coffee, and Driftaway Coffee. 
Angelino's Coffee FAQ
How fresh is Angelino's Coffee?
Angelino's Coffee is made from high-quality beans sourced directly from estates all over the world, processed, and passed to you without going through the go-betweens who delay products in their warehouses. As such, this guarantees shipment of freshly roasted beans as delicious as they should be when they reach you.
Does Angelino's have any organic coffee options?
Not all Angelino's Coffee products are certified organic, but most beans are organically grown. The beans are sourced from coffee farms known to provide good quality coffee. Some of these coffee farmers can't afford to be certified. The brand imports raw beans from over 25 regions across the world.
How many cups are in a box?
For Aluminum Nespresso, compatible cups come in sets of 20. For Keurig, each box has 24 cups.
Is Angelino's Coffee fair or direct trade?
Angelino's Coffee doesn't involve any third-party certifications. The company outsources its coffee directly from coffee farmers around the globe through the farmers' initiatives.
The benefits go to the farmers directly instead of passing through 3rd party certifications. That means the company pays higher prices than fair trade and commodity pricing.
Is Angelino's coffee organic?
Angelino's coffee is not certified organic, however, they use a ton of organically grown beans. The way they do it is by partnering with small family farms all over the world. That's also the reason why they cannot bear the cost of being certified.