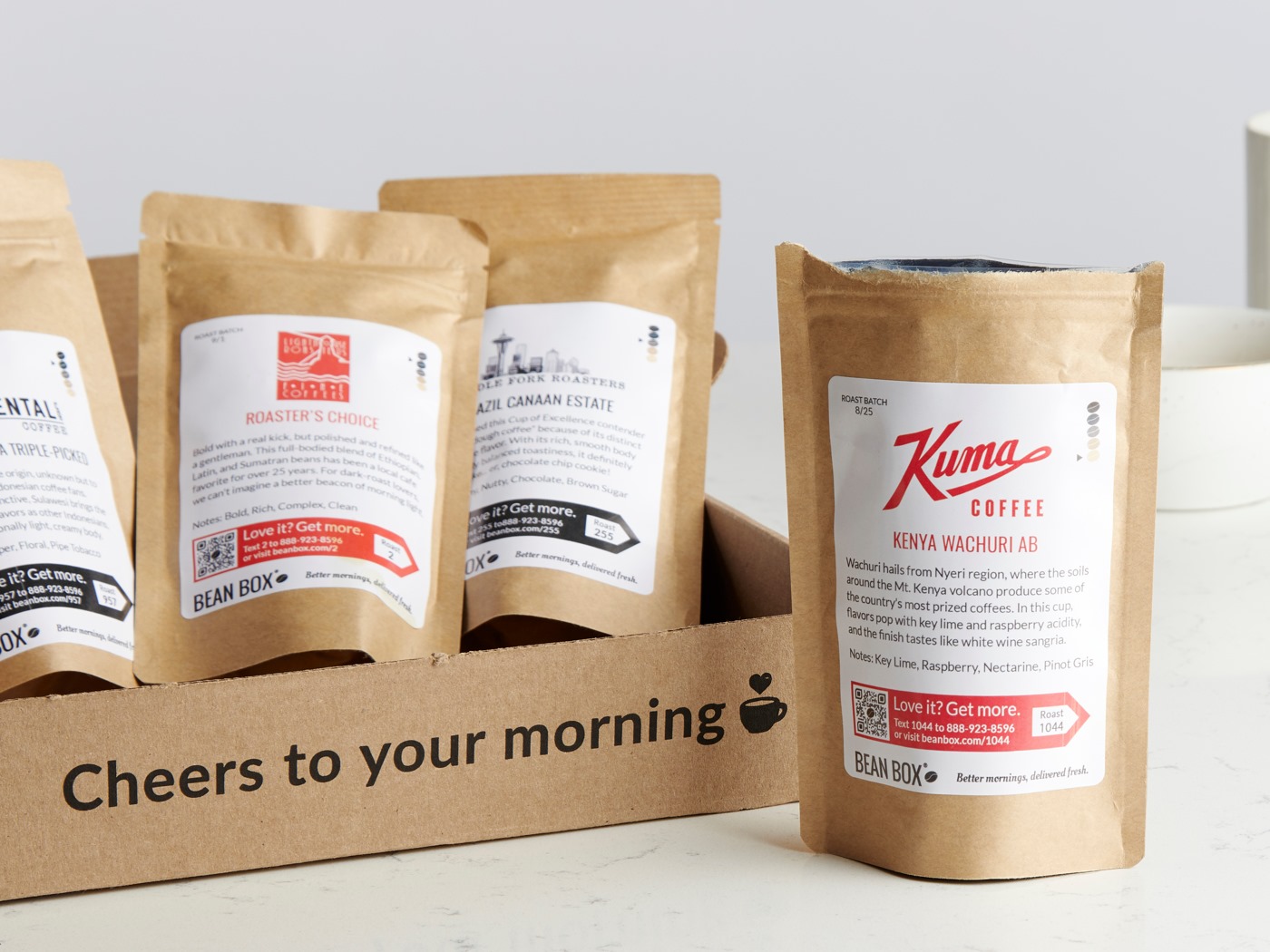 Are you a coffee die-hard fan seeking the best coffee brand? If your answer is yes, you have probably noticed that finding high-quality coffee is not easy. Bean Box Coffee subscription might be your solution, as it offers quality artisanal coffee blends that range from dark to light roasts espressos. The brand works with more than 35 top-rated, Pacific Northwest-based coffee roasters. The company aims to make your morning memorable. This Bean Box review will give you the low down of this coffee brand to help you determine if you will add its products into your morning routine.
About Bean Box Coffee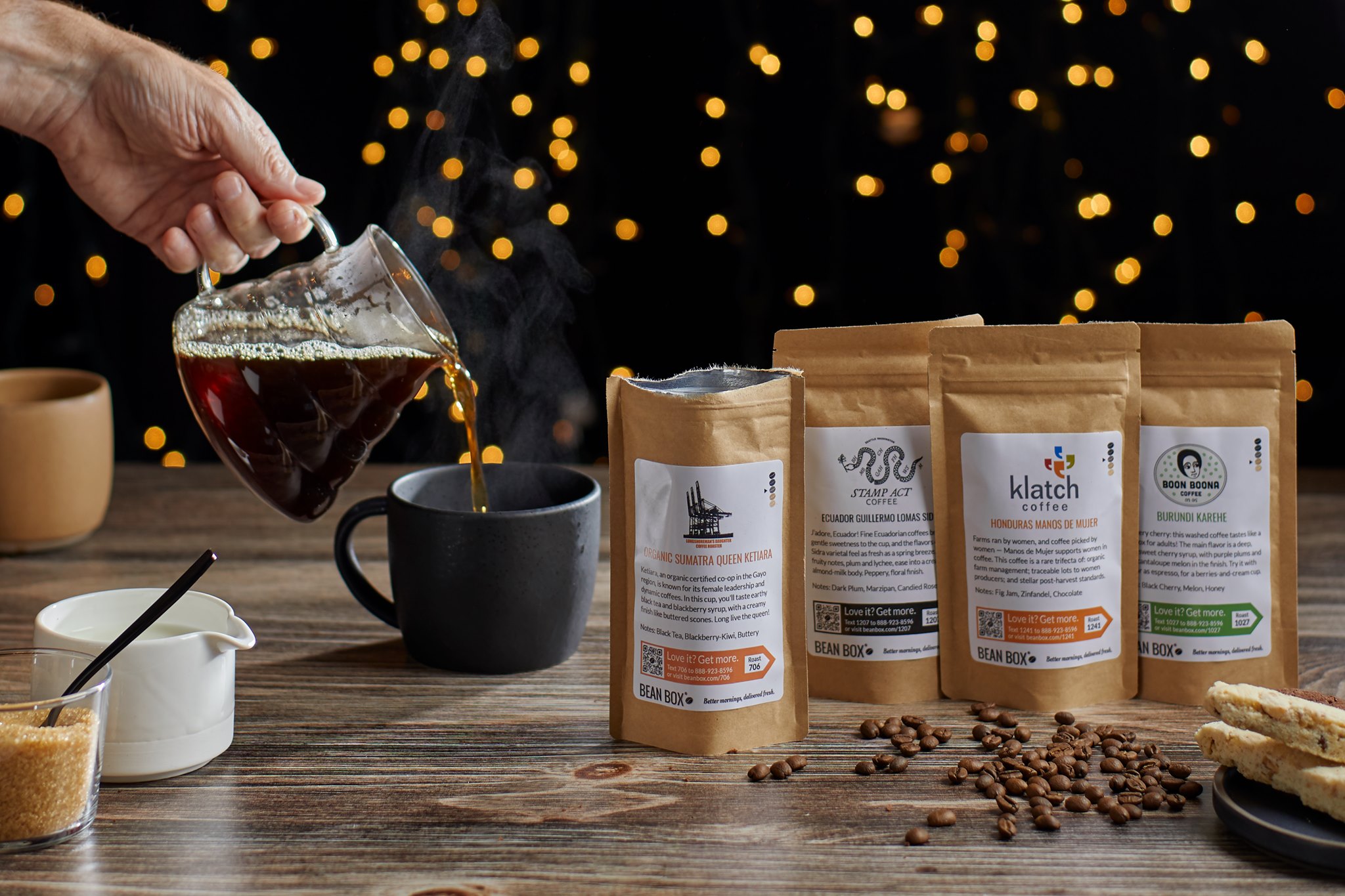 The company's co-founders — Ryan Fritzky and Matthew Berk — worked as software engineers where they completed several projects, including building mobile apps and data mining systems, among other innovations. The nature of their work saw the two spend long hours staring at computer screens, where they gulped several cups of coffee to remain awake. The duo had unlimited access to some of the best coffee sources in the world.
Their belief from experience that coffee is the most reliable ultimate power fuel inspired the duo to establish their company in 2012. The two engineers exploited their technology prowess to create a company that would allow clients access to the best-roasted coffee in Seattle. And Bean Box was born.
Bean Box is among the most diverse coffee subscription services hailing from Seattle's ever-bumping coffee scene. The brand offers various coffee boxes matching your tastes and delivers them to your doorstep within two days after roasting to ensure that you taste the maximum freshness you love.
At Bean Box, great coffee is more than just a drink; it entails experience and the agility to brighten your mornings and make you have a great day. The company incorporates over a decade of experience in Seattle tech and partnerships with the best coffee roasters to inspire you and your colleagues with the exciting steaming cup.
There is every reason why even beginners would love to taste a cup of Bean Box's coffee. The company opens a limitless avenue for you to stock the crème de la crème coffee in your kitchen. The top roasters that the company has partnered with do not indulge in guesswork or trial and error when roasting your coffee. The bran allows you to interact with the endless varieties of coffee from the comfort of your kitchen.
Bean Box Overview
Choosing a bottle of wine or crafted beer can be an overwhelming task, and coffee is not exceptional. Bean Box offers you a comprehensive guide to assist you in choosing your favorite coffee beans that will keep you coming back for more. The company boasts of seasoned in-house curators whose judgment prowess when selecting the best coffee has won several awards, such as the prestigious Cup of Experience.
Bean Box strives to offer you a different coffee experience. So rigorous and careful is the company in choosing the best coffee such that clients will have no room for any worries about getting old beans or low-quality coffee: It is a guaranteed flavor and freshness in one cup.
Bean Box boasts 38k followers on Instagram, and the fan base keeps on increasing by the day. The company has also featured in numerous reputable publications, including CNN, CNET, New York Magazine, and Refinery 29.
Pros
You have several coffee blends to choose your favorite cup
The in-house curators ensure that you get quality coffee
You will receive your shipment within two days after roasting
Clients enjoy free shipping on paid subscriptions
Save up to 10% for auto-delivery of your favorite coffee box
They offer generous gifts such as caramel candies
Cons
Clients pay a shipping fee for the first-month trial
No international shipping
They do not accept exchanges and returns
Gourmet price
Bean Box Coffee Review
It is worth noting that Bean Box isn't a coffee roaster. The brand is only a company of coffee artisan experts who have partnered with several local coffee roasters to ensure that clients get their favorite cup just in time when they need it most. It offers unique flavors of coffee beans and you can get a sampler box too. Are you wondering what are the different types of beans available through Bean Box? You're about to find out in this review.
Individuals searching for a single coffee batch can access their one-time premium purchases at Bean Box. Our Bean Box review will explore some of the bestselling coffee boxes that this brand offers to assist you in making the right choice to keep you awake for longer as you work on your crucial projects. One or a couple of the following delicious coffee blends might be lucky to make it to the list of your daily ultimate power brews.
Bean Box Tartine Bakery's House Blend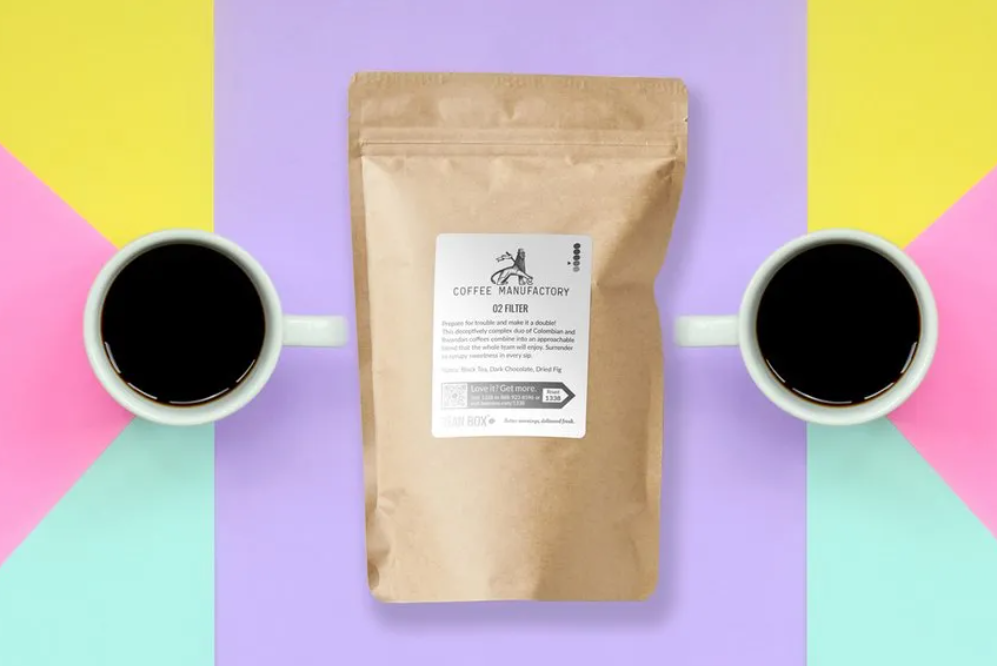 The Bean Box Tartine Bakery's House Blend is among the newly introduced 02 Filter at Bean Box. This light roast blend results from the company's recent partnership with Coffee Manufactory.
You can never go wrong with the coffee blend from Rwanda and Colombia. Have you tasted Coffee Manufactory's brew in the past? Well, if you haven't, you are in for a real treat. However, don't brew 2 Fast and 2 Furious because 02 Filter delivers the one-two bunch for you.
A cup of 02 Filter strikes a balance between the fruit-forward acidity with a special flavor and warm notes of sweet dried fig and Assam black tea. It is recommended to round out the finish with warm notes of chocolate milk to make such a tasty cup that will prompt you to go for the second one.
They never lied when they said that it takes two to tango. Coffee Manufactory was founded in 2016, and the Tartine blend was crafted following the company's partnership with Tartine Bakery. The blend is currently available in Coffee Manufactory's multiple cafes, spanning San Francisco to Seoul.
Bean Box's proud partnership with Coffee Manufactory brings your favorite cup to the table. Coffee fanatics have every reason to smile because accessing the most sought 02 Filter has become as easy as ever.
Bean Box Crème Brulee Coffee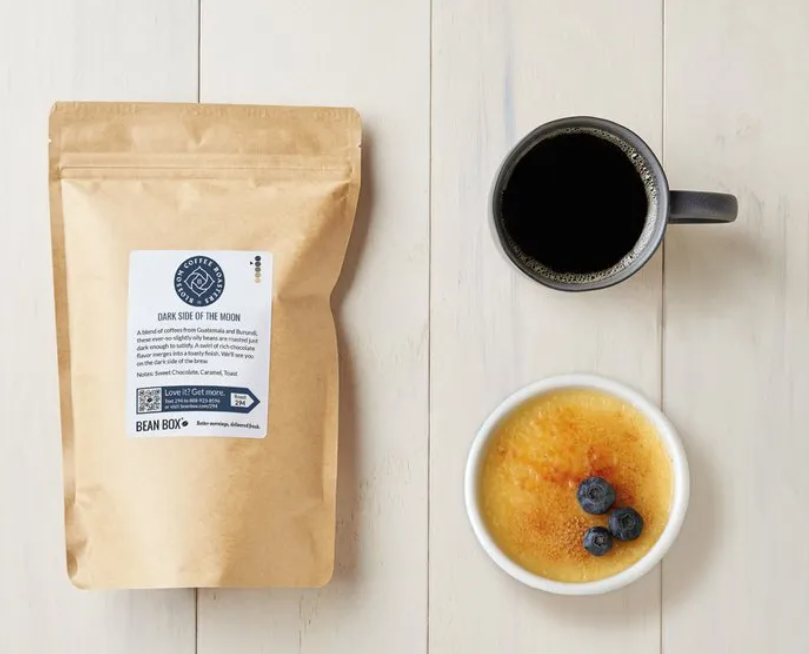 Many coffee fanatics have been asking themselves about the secrets behind this perennial top seller. Well, let us educate you. Bean Box Crème Brulee Coffee is a medium dark-roast and toasty premium coffee from Blossom Roasters' household brand.
Based on Bean Box Coffee reviews, customers love this coffee variant because it features sweet, bold notes of dark chocolate with a smoky caramel Brulee touch to crown the taste. One of the impressive mysteries about this coffee is its ability to disappear almost instantly when it meets your cup's contents.
The African and South American beans blend is always roasted just enough to give you a throat-soothing and satisfying cup that makes it a perfect companion with the breakfast pastry. The blend's Dark Side of the Moon is among the longest coffee blends in the market. Depending on your needs, you can get your box in whole-bean or freshly ground. It completes your mornings as you prepare for a busy day in the boardroom.
Bean Box Diner Coffee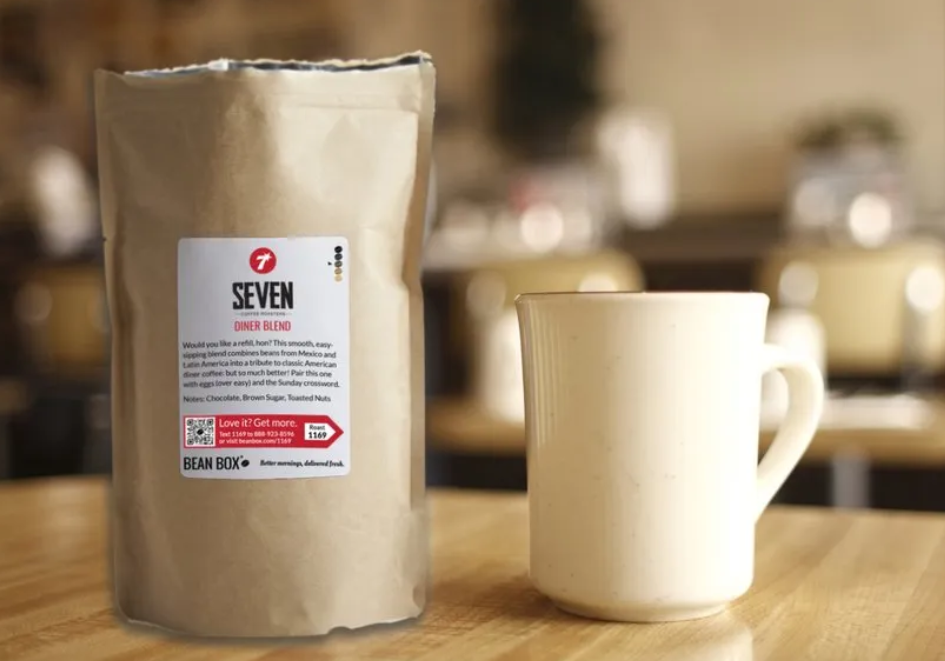 Are you searching for a tasty refill brew to complete your day? Bean Box Diner Coffee has you covered. This easy-sipping and throat-soothing blend bring you the best of Latin America and Mexico coffee combined to give the masterpiece of American diner coffee. To crown it all, this Bean Box coffee delivers the perfect diner coffee to the comfort of your kitchen 24/7.
Enjoy a familiar and ever inviting rich and delicious cup, thanks to the warm notes of toasted nuts and toffee. You are about to experience the magic world of coffee, this familiar and tasty blend.
What makes a dinner coffee so inviting and tasty is the ethereal blending of seasoned drip brewers or the bottomless refills poured into those cups? Or is it the re-heating elements or slow simmering of the coffee brew? Seven Coffee Roasters created an ode to Diner Coffee to answer these questions for you.
This robust coffee box features dark notes of toasted hazelnut and dark brown sugar to give a perfect blend that completes your refills. The Diner is an easy-drinking coffee that coffee fanatics will never get tired of gulping every morning, lunch hour, and in the evening. Seven's Diner Coffee is one of the best items you can stock in your breakfast pantry all year round. Happy Brewing!
Bean Box Cookie Dough Coffee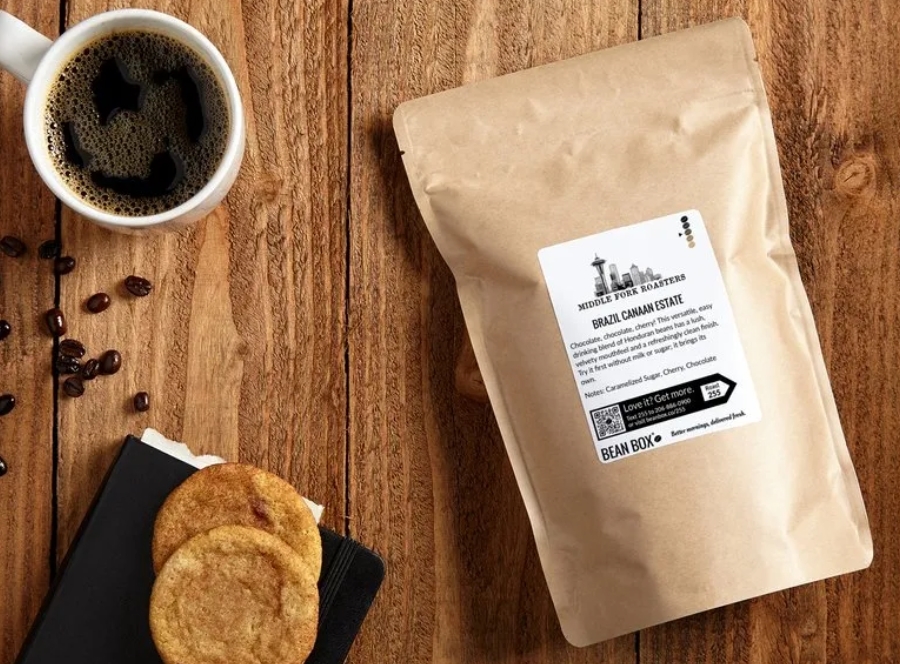 Are you one of those chocolate chip cookie die-hard fanatics? Brazil Canaan Estate #255 is out for grabs, and you will fall in love with it almost instantly. Is your roast preference for medium roast blends?  This tasty brew features notes of sugar cane and nuts and chocolate chip cookie dough. This combination is the reason behind the brew's perfect sweet profile.
The blend originally crafted by Middle Fork Roasters is ideal for French press, espresso, and Aeropress. You can choose to enjoy it warm or cold. The secret to getting the best out of the Brazil Canaan Estate #255 is going for the iced option completed with hazelnut creamer. This option offers you a tasty and summery alternative.
This Bean Box Coffee review found that the Brazil Canaan Estate #255 is available in freshly ground and whole bean options. Customers order the option that meets their needs, but the taste is the same. You can have a livelier day with the Brazil Canaan Estate #255!
Bean Box Waikiki Coffee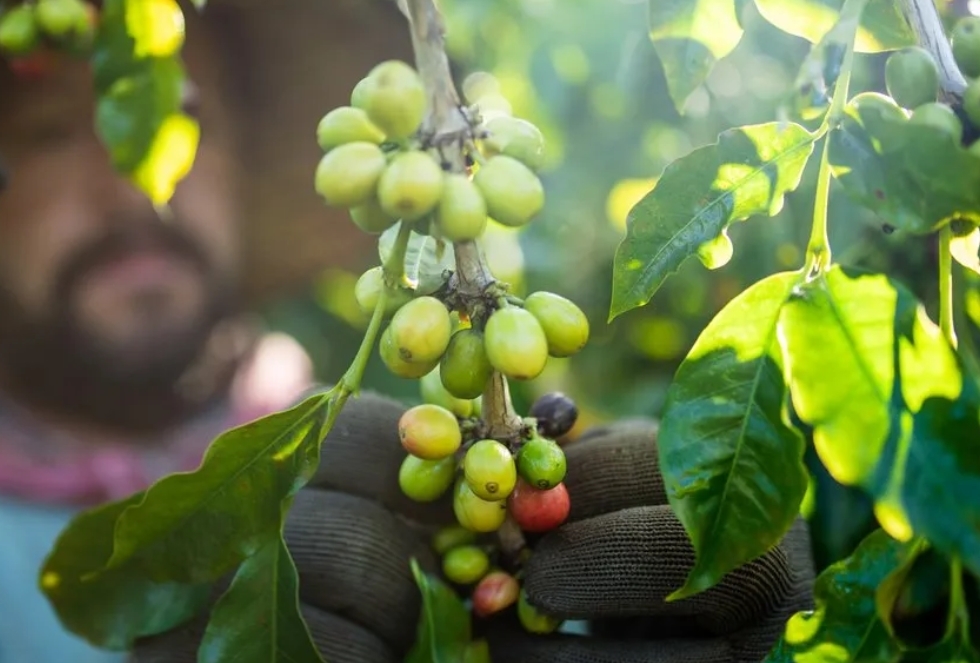 A tasty coffee brew must not always be dominated by household English flavorings, including nuts, herbs, and chocolate. Take a break from those traditional flavorings by trying the Bean Box Waikiki Coffee. The person that described this 100% Kona #233 as a smooth cup of paradise never went wrong.
This Hawaiian medium-roast blend features notes of passion fruit and coconut. The coffee is originally roasted by Keala Hawaiian Coffee, one of the fastest-growing regions. The smooth and bold with a syrupy body but rare brew is usable on a French Press. You can also pair this blend with guava or Hawaiian cake. The roast profile features a shiny finish with hints of mango, tropical, and passion fruit.
The brew is worth trying for coffee lovers that want something different. If you want to explore a new coffee brew, it is time to set your gears for this blend from Bean Box. Kona takes the day!
Coffee Bean Subscriptions Review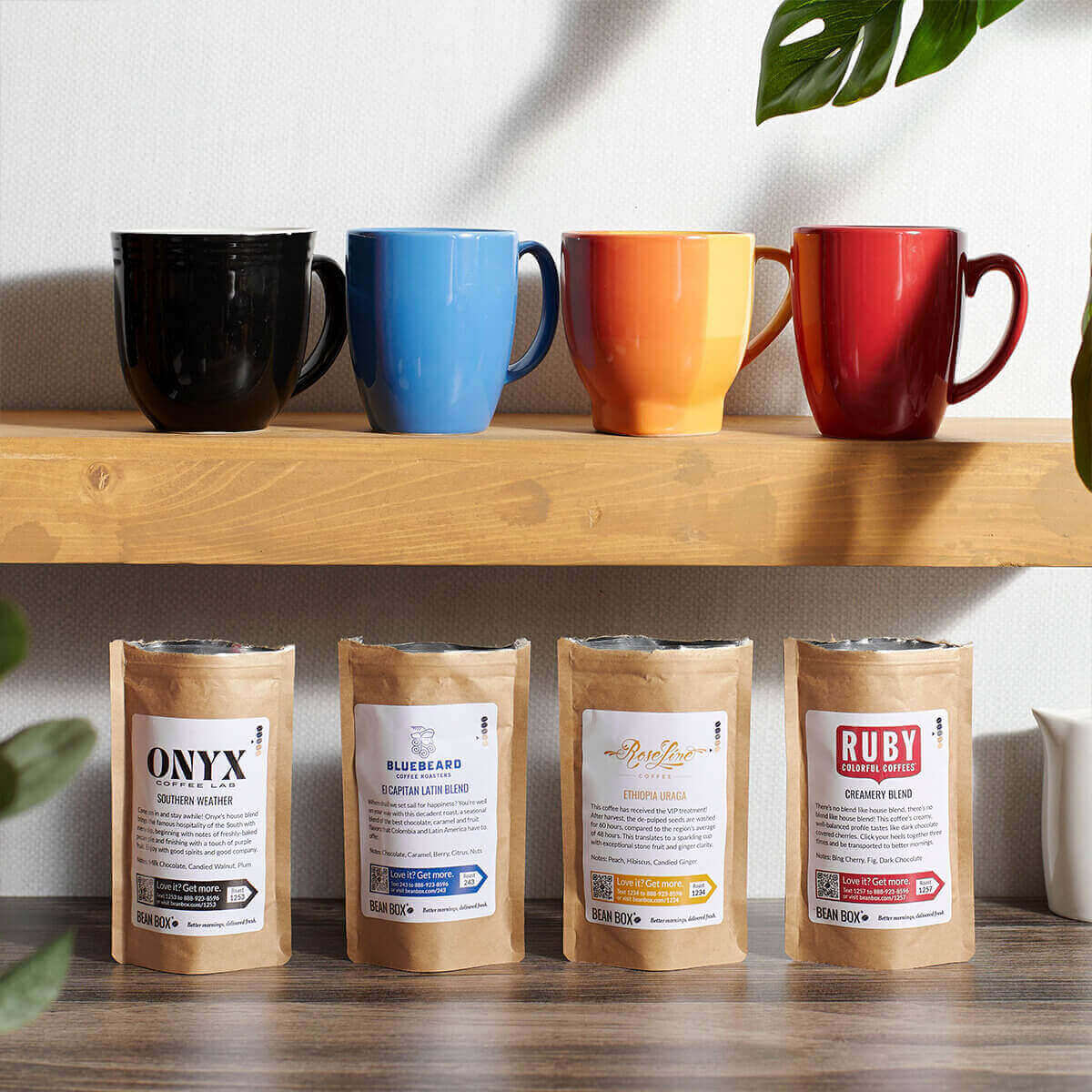 Bean Box boasts an impressively broad selection for customers looking for a sampler or full-size box. The company offers different coffee coffees from multiple coffee roasters. Subscribers can list their favorite coffee roasts and preferences to receive their best matches.
The company's pricing is rated at 4.5 stars. Clients considering Bean Box enjoy a one-month free trial with a generous $5 start-kit. Signing up for a Coffee Bean subscription allows you to enjoy a free sample to welcome you onboard.
You will need $16.50 for the Coffee Tasting Subscription; this Bean Box Gourmet Coffee sampler allows you to enjoy four expertly-curated coffees monthly with their 1.8-oz tasting format that can brew between 4 and 6 cups per coffee up to 24 cups.
Popular Alternatives to Bean Box Coffee
The Coffee Bag Subscription will give you access to expertly-curated coffee. You can choose your delivery frequency from the three available options: weekly at $20, bi-weekly at $22, and monthly at $24.
The brand also offers a Bean Box Coffee Sampler with a 16 piece variety set. Each bag contains 1.8oz of freshly-roasted ground coffee, brewing tips, tasting notes, and artisan treats.
Ever Bean Box World Coffee Tour gives you a chance to enjoy high-quality coffee sourced from the finest estates in the world and roasted to perfection by top-rated roasters. Check out our reviews of Bean Box vs Atlas Coffee Club to learn about the difference between the two brands.
Coffee Bean Box Reviews from Customers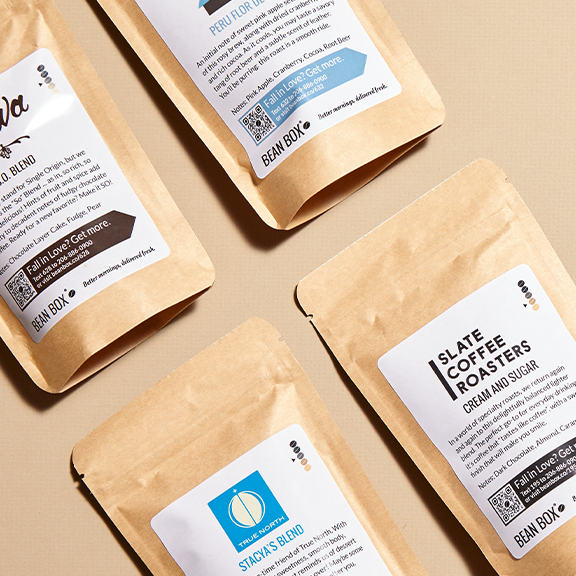 This Bean Box review wouldn't be complete without checking what customers think about this company, its subscriptions, and what they offer. We established that customers generally applaud the brand's coffee selection with only a handful of outside reviews available.
Thousands of reviews online rated the brand at 5/5 stars, with an overwhelming number of clients expressing their excitement over Bean Box's subscription.
One client noted that every mug was amazing, and she was never short-changed as she received what she expected. Another customer praised the company for unsurpassed packaging, wonderful experience, and high-quality beans.
The company was also rated 4.5/5 on Amazon from over one thousand reviews. Buyers were especially keen to praise the Seattle Bean Box Gourmet Coffee Sampler on Amazon, as they applauded the wonderful taste of the blend. Others praised the company for responding swiftly after they made wrong orders; the support team ensured they received a full refund.
Sign Up for Coffee Bean Box
Customers can manage their orders, gifts, and subscriptions by signing up for Coffee Bean Box. Navigate the company's sign-up page and hit the Join button, where you will be prompted to sign in using your email and order number before creating a password.
Where to Buy Coffee Bean Box
You can purchase Coffee Bean Box artisanal coffee on Amazon or BeanBox.com.
Bean Box Coffee Shipping and Return Policy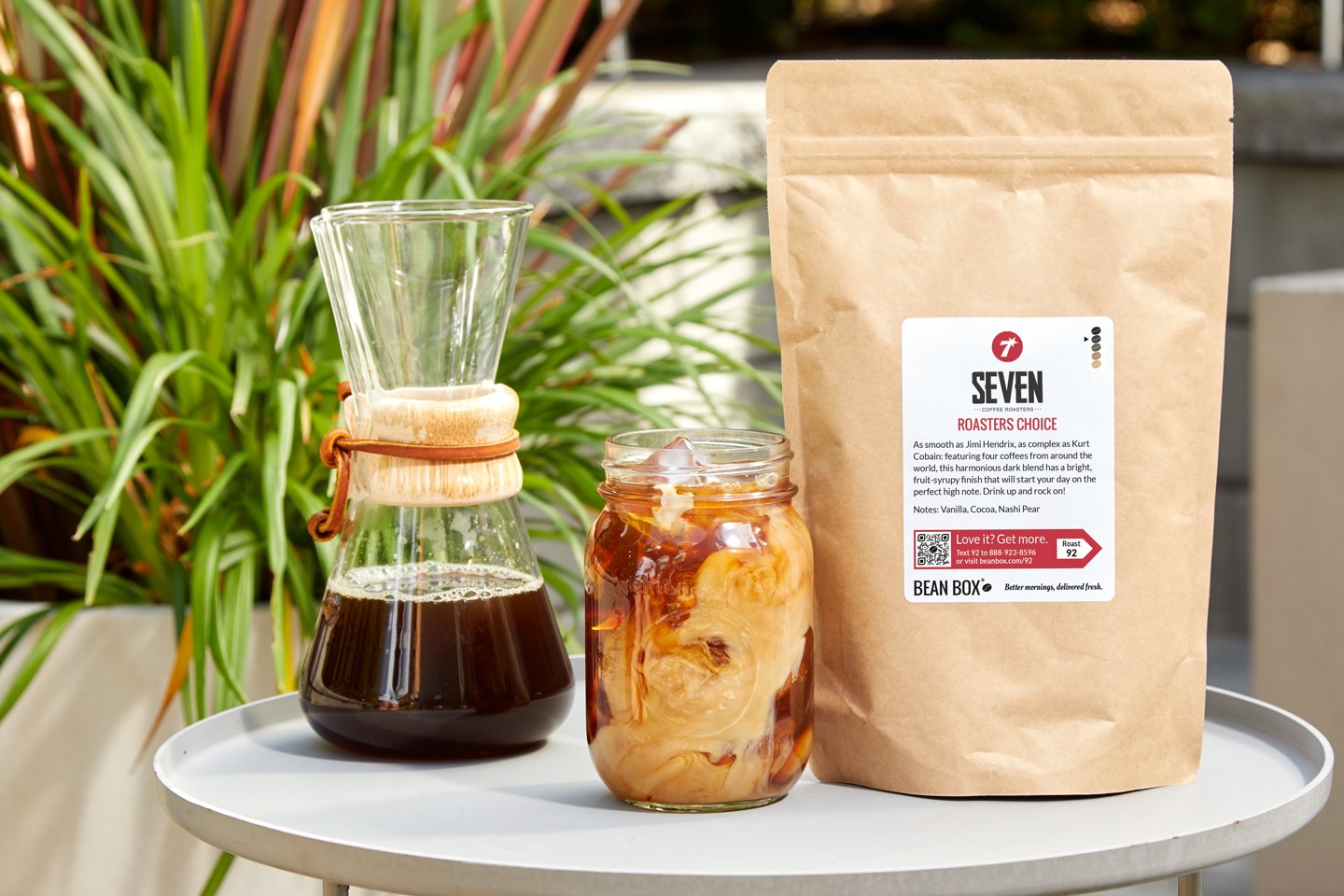 Shipping Policy
Bean Box offers free shipping for orders above $30. The company ships the ordered products to the customer's location within 48 hours after placing an order.
The company offers two expedited shipping options depending on the client's urgency and the terms and conditions. You must place your order before noon to receive it by noon the following day.
Return Policy
The brand's shipped products are not eligible for returns or exchange. Customers who place their orders through a third party can review the specific seller's return policies.
Bean Box Coffee Promotions & Discounts
You can earn up to 10% discounts on the original price by opting for the auto-ship save option. The company has a rewards program that allows you to enjoy 5% back in credits whenever you purchase their products. Referring a friend to this company will earn you five credits in bonuses, and the referred friend will get a discount of $5 when they make their first purchase.
Contact Bean Box
Would you like to contact the company? You can use the general information email [email protected] or reach the customer care desk through [email protected].
Bean Box also has a phone number that you can use to reach their support team: +1-888-923-8596. Alternatively, you can use the live chat function on their website to channel any queries.
Bean Box Review: Editor's Verdict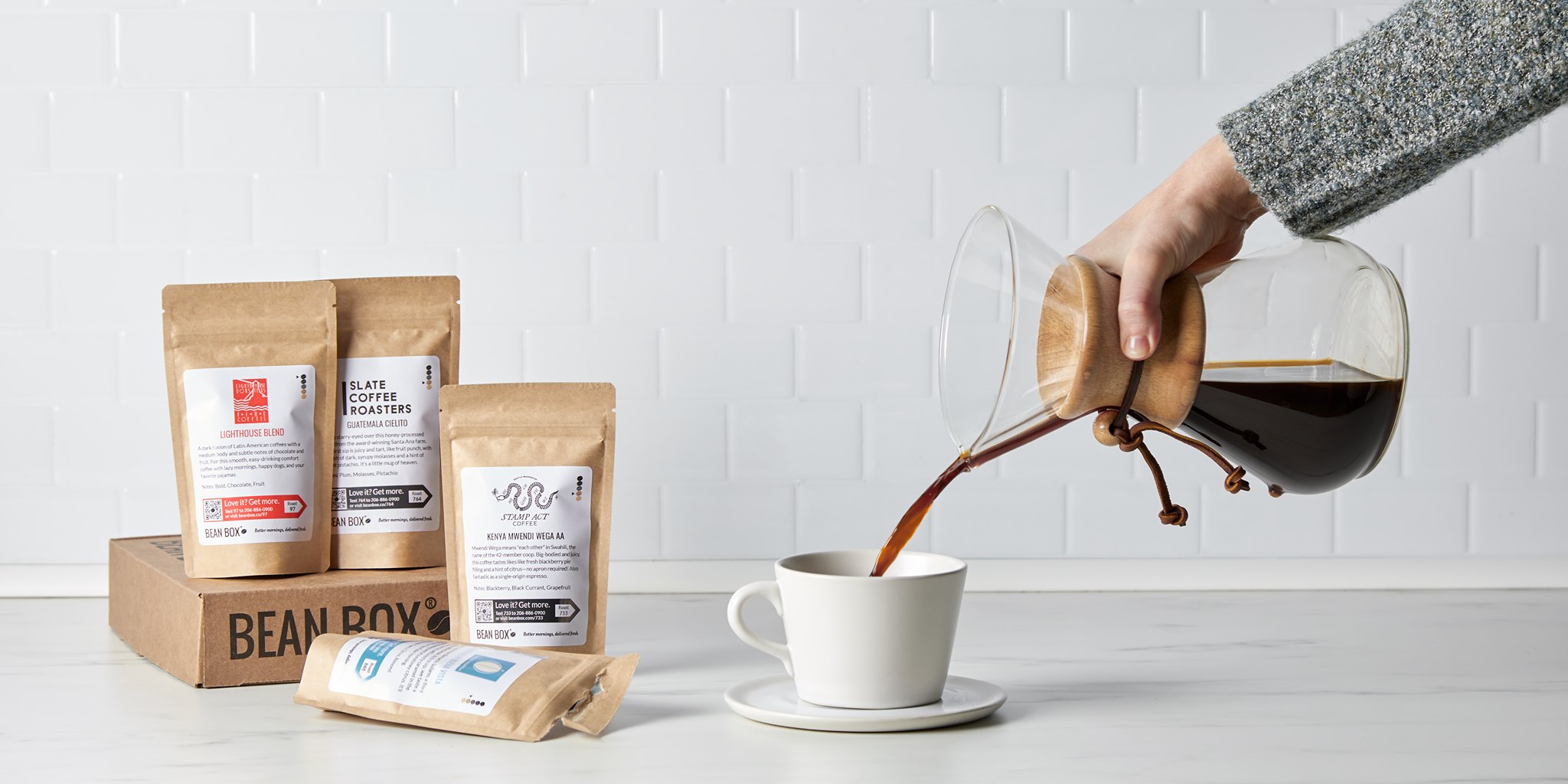 Our Bean Box review recommends this brand to coffee fanatics looking forward to enriching their cup. The company boasts high-quality coffee blends that meet diverse customer needs. Bean Box has your needs covered whether you want dark roasts, sweet blends, or non-sweeteners. Additionally, the subscription process allows you to enjoy free coffee. Coffee Bean Shadow Box and other artisanal coffee blends that this company offers are the perfect gifts for any occasion.
If you are a true coffee lover, consider reading our comprehensive reviews of Blue Bottle Coffee, Death Wish Coffee, Cardiology Coffee, and Maud's Coffe.
Bean Box FAQs
How does Bean Box compare to other coffee subscription services?
Bean Box is a great coffee subscription service that delivers fresh-roasted coffee beans to your door. You can choose from single origin, blends, decaf, and other flavored coffees. As for the way you receive your coffee, it can either be ground, pod or whole.
Are Bean Box coffees organic?
Yes, Bean Box has a range of organic products, including Sumatra Queen Kiara.
How many cups does each Bean Box bag make?
Single-serve bags commonly found in sample boxes can brew 4-5 six-ounce cups. Bean Box's 12-ounce bags can brew at least 32 cups.
How fresh is Bean Box 'Ready to Go' coffee?
Bean Box ships your order within 48 hours after roasting. For this reason, you will receive them while they are still fresh.