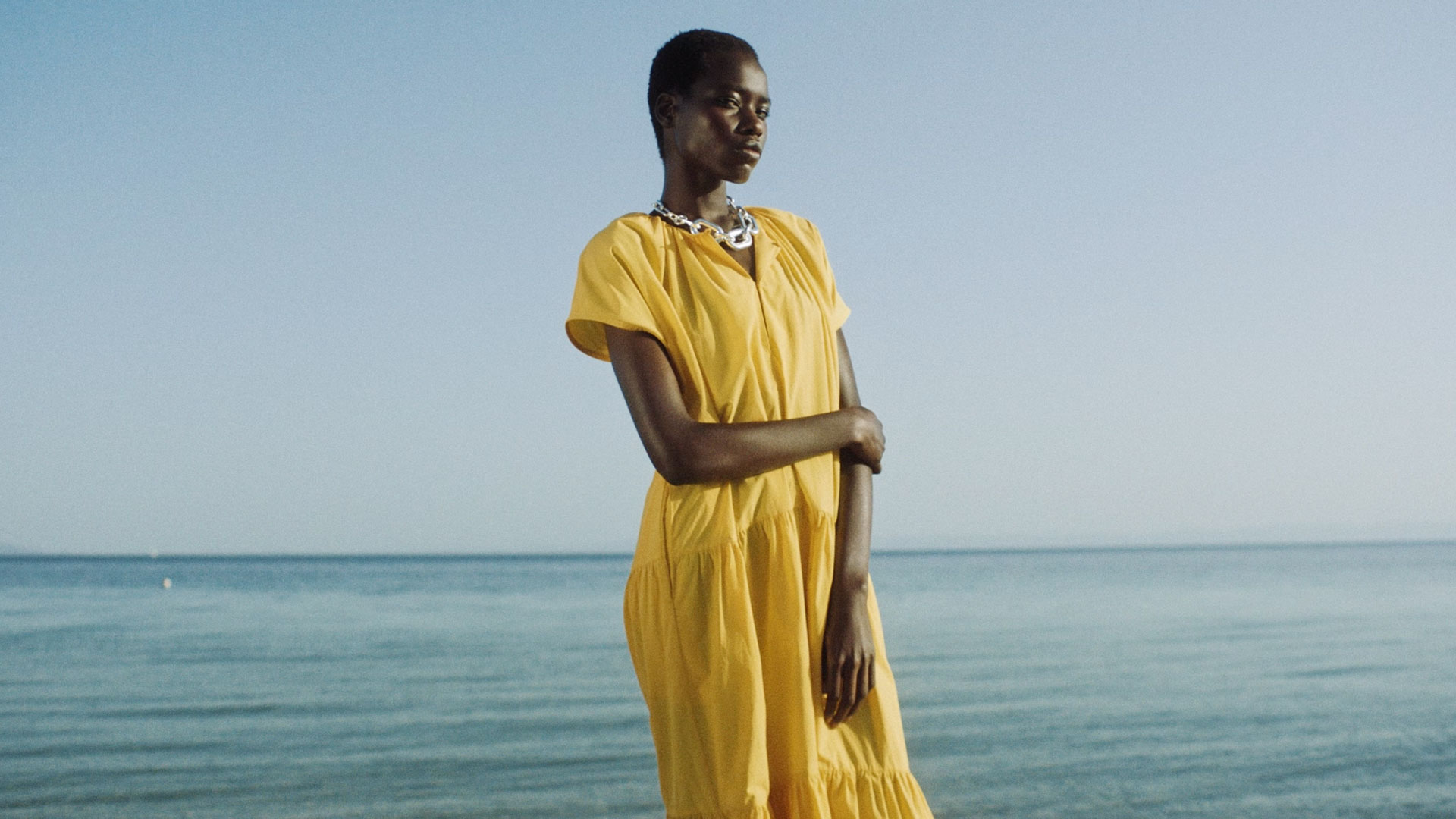 Collection of Styles, also known as Cos, is a clothing brand serving style and looks for the contemporary people looking to have timeless wear. The company is part of the H&M Group based in Stockholm, Sweden. It has 197 stores in about 34 countries in Asia, North America, the Middle East, Australia, and Europe. While it is not a very old brand, it has made a name in the fashion industry. This Cos review will look at the brand's best-sellers, customer ratings, policies, and more to help you decide if this clothing brand is worth checking out.
About COS Clothing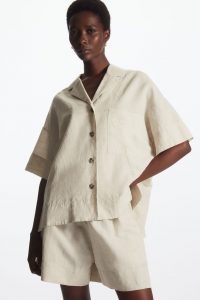 COS is a subsidiary of H&M, and it focuses on offering modern, functional and timeless designs. The company opened its flagship store in 2007 in London. It gained popularity due to its clean designs, quality materials, simple silhouettes, and muted color palette. 
Out of this fame, the company established an online store in 2011. Since then, it has grown to have stores worldwide and a loyal fan base of over 2.6 million followers on Instagram and over 644k Facebook followers.
This popularity hasn't gone unnoticed.: Several reputable media outlets have featured the brand, including Architect Magazine, Harper's Bazaar, and The Guardian.
It's not just the products that have gained popularity across the globe. It has a perfect aesthetic architectural building that houses its garments. It simply understands what the audience wants and what catches their eyes.
Karin Gustafsson is the current creative director behind the minimalistic designs that have created a cult-like following for the brand. She has an eye for fashion and details, which has made her successful in her work. 
They have also worked with other art institutions such as Snarkitecture studio based in New York-based and The Book Society publisher in Seoul. Artists in their creative teams include artist Michael Sailstorfer, photographer Nina Band, Belgian duo Fien Muller, and Hannes van. Read our COS Review to find out more about the brand.
Pros
The brand has traditional brick-and-mortar stores and an online platform, creating convenience shopping

They offer international shipping, giving many people access to the brand

The company provides clothes for men and women of all ages.

They offer various discounts, including student and new subscriber discounts

The brand has a generous return policy of 30 days

The company has many positive customer reviews concerning quality
Cons
Some customers complain about higher prices

Limited in-person retailers

No returns on garments bought in store
COS Clothing Reviews 
COS has managed to build a good reputation for itself in the few years it has been around. Thanks to its gorgeous outfits and designs that do not create too much fuss. 
But what do customers think about the brand and its products? Before we look at COS Clothing reviews, let's see some of its best-sellers.
COS Dresses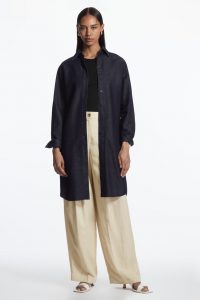 CoS has a great collection of dresses for women with different tastes and preferences. You can get a long sleeve, wrap, slip, and smock dress. The best thing about COS dresses is that they come in many colors, such as black, white, green, and red. 
This COS review found that one of the most popular dresses from their collection is the Denim Shirt Dress. It's one of the most versatile pieces of clothing you can own. You can wear it as a dress or layer it over other clothes to create a different look. 
It's the perfect go-to dress when you want to rock something real quick without much thought. The best thing is that it gives you a comfortable chick look with little to no effort. It's just perfect for everyday wear.
This knee-length dress shirt comes from an organic cotton blend, ensuring sustainability and comfort; it has a relaxed fit with a straight silhouette, square collar, and voluminous sleeve. 
Other features include an exposed placket with a curved hem and tonal buttons, long cuffed sleeves, longer back length, and hidden side pockets.
The dress comes in several sizes, starting from EU 32 up to 44. The brand also offers a size guide on the website to ensure you get the right fit. Unlike others, this one is only available in the Navy.
To get that unique and modern look, you can try wearing it over a pair of trousers or wide-leg jeans. You can also accessorize with earrings or a necklace to add more style. You will need $115 to add this piece to your collection.
COS Shirts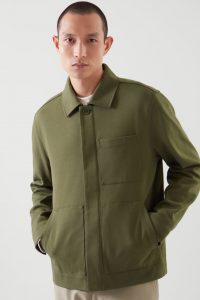 COS also caters to the needs of men with an impressive line of shirts. The brand has both formal and casual shirts to suit any occasion. You can rest assured there's the perfect shirt for work, a night out, or a formal event. 
COS shirts come in different fits to ensure you get the best look and comfort. You can choose from extra-slim fit, slim-fit, regular-fit, or relaxed-fit shirts. The brand also has a size guide to make it easier for you to find the right size. 
A popular choice in the shirt category is the Minimal Workwear Jacket. It's a versatile piece that works to keep you warm and stylish at the same time. The shirt is 100% cotton, ensuring durability and comfort. 
It has a relaxed fit with long sleeves, a button-down front, two front pockets, and one patch pocket on the chest. What makes it unique is the concealed button plackets that give it a minimal look.
The best part is that it's machine washable and available in multiple colors. You can choose to have a black, cream, or khaki. It's available in all sizes, starting from XS to XL, and it costs $125. 
COS Women's Sweater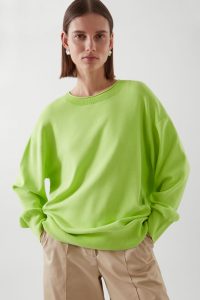 Another women's category that COS has is sweaters. The brand has a wide range of sweaters to ensure you find the perfect one for the cold season. You can get turtleneck sweaters, cardigans, pullovers, and more. 
The great thing about COS sweaters is that they come in many colors, designs, and fits. You can choose from a wide range of colors such as black, white, green, and blue. Like everything else, they too have a size guide to make it easier for you to find the best fit. 
A popular choice in sweaters is the Oversized Checked V-Neck Jumper. It's stylish to help you make a statement, not just a regular jacket meant to keep you warm. The sweater is 35% recycled polyester, 31% RWS Wool, 31% RMS Mohair, and 3% Elastane. 
Our COS review discovered that it has a loose fit with a deep v-neck with an insert panel for versatility, long sleeves, and an all-over-checked design. This diffused checked pattern adds just the right amount of texture to any outfit. 
It's also machine-washable for easy care. You can choose from small, medium, or large sizes. Other features include ribbed trims and long sleeves, side slits for added comfort, and dropped shoulders. The recyclable polyester also comes from excess fibers and plastic bottles, helping reduce pollution
Available at $190, this sweater comes in one color: black. 
COS Men's Pants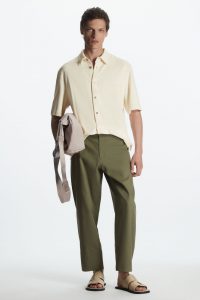 It's now time to get the pants, now that you have the shirts and the Jacket to complete the look. COS has a huge collection of trousers for men, perfect for any occasion. You can choose from formal trousers to relaxed-fit chinos and everything in between. 
The brand has a size guide to make it easier to find the right fit. Additionally, they have regular, regular, and slim-fit options to ensure you get the best look. 
A popular choice in pants is the Relaxed-Fit Barrel-Leg Tapered Chinos. They are your typical semi-formal trousers that can also get dressed down for a more casual look. The pants are 100% cotton for ultimate comfort.
They have a relaxed fit with a tapered leg, mid-rise waist, and barrel cuffs. The chinos also have slanted pockets, welt back pockets, and a button fastening. What makes these pants stand out is the shape that creates a subtle balloon effect. 
You can rock these pants with a simple shirt and sandals and look great. You can also have a t-shirt and sneakers for a more casual look. It has belt loops for added support and a zip fly and button fastening.
The Chinos are available in multiple colors like black, off-white, and khaki. You can choose from sizes 44 to 54.
COS Women's Jeans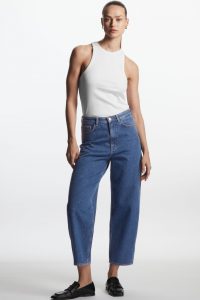 Ladies also have something in the jeans department. COS has a great selection of jeans in different styles, fits, and washes. You can choose from skinny, wide-leg, straight-leg, and more. 
A pair of jeans is always a good idea in women's wardrobes. Paired with a t-shirt and sneakers, they make the perfect outfit for a casual day out. You can also get dressed up by adding a blouse and heels. 
A popular choice in jeans is the Tapered-Leg High-Rise Jeans. They are your typical blue jeans with a relaxed fit and high waist. 
Also, they come from sustainable non-stretch organic cotton without metal rivets for easier recycling. The jeans are wider through the thighs and hips before tapering at the ankle. They have a classic five-pocket design, belt loops, and a button fastening. Additionally, they have full leg length to give you that rolled-up look. 
You can choose from sizes 24 to 32. The Tapered-Leg High-Rise Jeans are available in multiple colors like indigo blue, black, light blue, light blue, white, white-gray, and washed blue. Available at $115, these jeans are durable and long-lasting.
COS Men's Long-Sleeve T-Shirt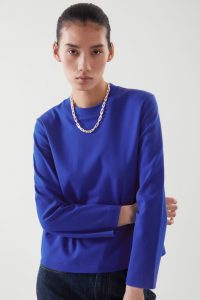 The brand has a variety of t-shirts in different colors, styles, and fits. You can choose from long-sleeved, short-sleeved, and more.
T-shirts are a staple in any man's wardrobe. They make the perfect outfit for a casual day out, adding a touch of style to your look. You can also layer them under a shirt or jacket for a more put-together look. 
A popular choice in t-shirts is the dark green Long-Sleeved T-Shirt. It is a classic long-sleeved t-shirt with a regular fit crafted from 100% pure Cotton.
The t-shirt has a round neckline, ribbed trims, and long sleeves. Additionally, it has a straight hem and logo embroidery on the tag mockup. The dark green color is perfect for Fall and Winter. You can wear it with jeans or chinos and still look great. 
Available at $39, the Long-Sleeved T-Shirt comes in multiple colors such as black, white, pastel green, and dark green. 
COS Review from Customers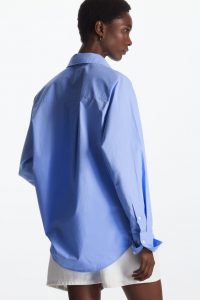 Our COS Review would not be the same without customers reviews. While the company does not offer much on customer reviews, we found a few on independent sites. For example, on Trustpilot, one reviewer said although she is an elderly woman, she enjoys fashionable and quality clothes. For that reason, she avoids fast-fashion brands. 
Although she couldn't tell how long her dress would last, it seemed high-quality just looking at it. She added that she had previously ordered a low-quality item from another brand but returned it immediately.
Popular Alternatives to COS
Another reviewer on the same site said he liked all the pieces he had ordered from COS, stating they are perfect. He added that the quality is excellent, and he would order from them again.
A reviewer on Reviews.io said she had a great experience shopping at COS. She added their customer service is excellent. 
A customer wrote on Sitejabber and said that COS is a very chic store. The reviewer added that the clothes are a bit pricey but worth it because they last longer.
Apart from positive reviews about the quality, we also saw some negative comments. Most customers complained that their clothing products are expensive. Others complained that they limited in-person retailers.
Most complaints were about customer service rather than the quality of the clothes. Overall, customers love COS fashion products because they are stylish and high quality. Although there are a few negative reviews, they seem to be in the minority. 
Sign Up for COS
To get started with COS, you can create an account on their website. Signing up is easy and only takes a few minutes. Fill out the registration form on COS' site by entering your email address and creating a password.
You can also subscribe to their newsletter to get the latest news, offers, and style inspiration. You will receive a 10% discount on your first order. Just scroll to the bottom of the page and enter your email address.
Where to Buy COS Clothing
You can get COS clothing on its official website COS.com. You can also find COS stores in selected cities across the globe. Be sure to visit the COS Store Locator page to find a store near you. 
COS Shipping and Return Policy
Shipping:
COS offers free delivery on all orders worth $200. Anything below that attracts a Standard flat rate of $20. The shipping takes about 3-5 business days but might take longer during the high season.
For international orders, customers need to filter the locations to match their country. The shipping charges and delivery time depend on the residence.
Return Policy:
If you are not satisfied with your purchase, the COS return policy allows you to return it within 30 days of receiving the order. The item should be in the original condition with proof of purchase. However, by law, they do not accept items dealing with personal hygiene, such as underwear and pierced jewelry.
COS Promotions & Discounts
COS offers various promotions and discounts throughout the year. For example, they offer a 15% student discount with a valid Student ID. There is also a permanent 10% subscription discount when you sign up for their newsletter.
Currently, the students offer runs in several countries such as Belgium, Austria, Denmark, Czech Republic, Finland, Germany, France, Ireland, Netherlands, Italy, Norway, Portugal, Poland, Spain, Slovakia, Slovenia, the United Kingdom, and Sweden. To qualify, visit the Student Beans, verify your student ID card and copy your discount code.
COS Clothing Sale also allows shoppers to enjoy up to 90% retail price.
Contact COS
For inquiries, you can reach out to COS via the methods below:
Phone: 1-855-842-1818

Live chat on their website

Send a message to the COS Instagram or Facebook page
COS Review: Editors' Verdict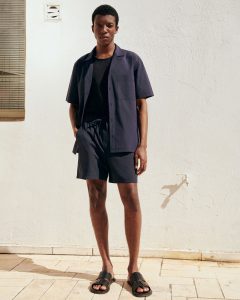 COS is a high-street fashion brand that offers quality clothes at reasonable prices. Although there are a few complaints about customer service, most customers are happy with their purchases. The clothes are stylish and seem to last long. 
COS also offers various discounts and promotions throughout the year. Overall, this COS review thinks it is a great place to shop for stylish and quality clothes for men and women.
Are you looking for other clothing brands? Check out our reviews of Faherty, Boohoo, Forever 21, and Chicwish.
COS Clothing FAQ
What does sustainability mean to COS?
The brand has a clear and concise vision of what they want to achieve in terms of sustainability. It ensures that all their materials get grown without depleting the natural resources and that the workers in their supply chain get treated fairly.
Are COS clothes good quality?
Yes. Most customers stated that they love their clothes because they are of good quality. The materials are high quality, and the stitching is done to perfection.
Does COS clothing run small?
The brand's clothes seem to run true to size. However, sometimes the cuts can be slightly different, so it is always best to check the size guide before making a purchase.
Is COS a good brand?
Yes, COS is a good brand. It provides quality clothes at reasonable prices. Reviews from customers also show that it's a legitimate brand.