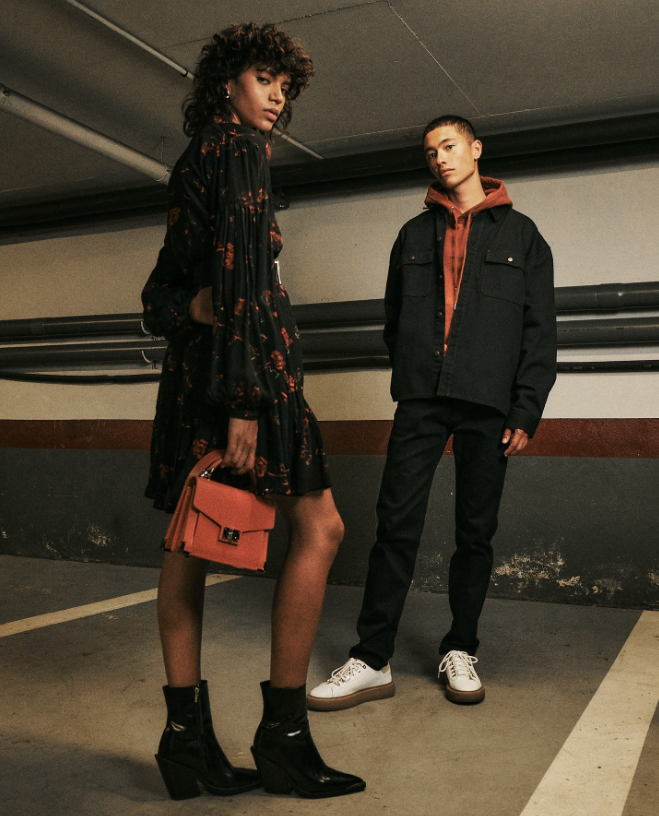 Shopping for clothes can be hectic sometimes, especially if you don't have time to spend hours browsing about what is trending. It is difficult to find reliable brands but it shouldn't stop you from keeping your fashion game up to the notch.  Whether you're looking for casual T-Shirts, jumpers, cardigans, or sneakers, The Kooples has your back. It has a lot more to offer you, whether it's accessories for women or knitwear for men. It is a brand that caters to all your fashion needs. Before we dive into The Kooples review, here's what they are all about.
About The Kooples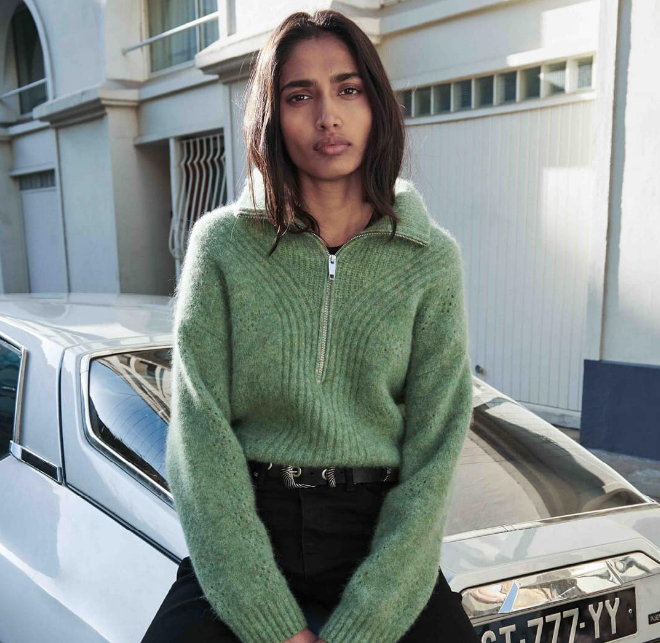 It is a France-based fashion company that belongs to the MFBrands Group and was founded by the brothers Laurent, Raphael, and Alexandre Elicha in 2008 providing couples having strong characters with affordable luxury products for both women and men, The Kooples philosophy offers a contemporary approach to sewing, accessories & ready-to-wear.  The company had 321 locations in Europe since about 2014. In the US, the company has 30 sites of sale, such as Bloomingdale's, and 5 standalone storefronts since about mid of 2017.
Most of the companies aren't big on endurance, but not The Kooples. One of the best things about this brand is that you can wear the clothes for years and they'd still sustain. You can now take your favorite pair of shoes out on a rainy day without fearing that it'd break.
Pros
These products are environment friendly

They are big on endurance. You wouldn't have to worry about them getting worn out after a few uses.

They have a huge collection to choose from

The Kooples is transparent about their reviews
Cons
Some of their products for example denim might not stretch a lot so you have to be very careful about picking the right size

You might get bored because their products last for a long while.
The Kooples Women Collection Review
If you're a woman trying to improve your wardrobe or add some panache to your looks, you've come to the correct place. There's an outstanding collection with a wide range of possibilities waiting for you. Let's have a look at the things they have to offer so you can make your own decision.
The Kooples Dress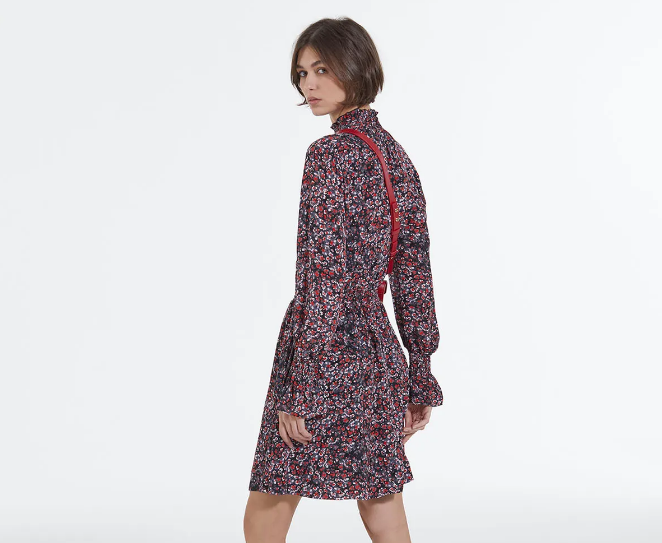 You have a special day set out for you every year, so why not make the most of it? It's the ideal time to come together with your friends, family, and anyone else you care about and have a good time! For whatever occasion, from a nightclub to a quiet breakfast with your closest friends, you must dress up. In addition, when it comes to attractive alternatives to dresses, jumpsuits are a must-have addition to every closet. 
The jumpsuit is a popular style that can be dressed up or down, and when styled correctly, seems smart and trendy. It may be challenging to come up with clothing ideas that will assist you in pulling off the look with so many various styles and sizes to pick from. There is a wide range of styles to choose from, from casual wide-leg jumpsuits to tight black and white pieces that look gorgeous when accessorized with heels and accessories. There is the Kooples Dress for every occasion. 
Short Fitted Dress with Floral Print is one of the customer favorites. This cute dress has a flower design and short length with a fitted waist and quasi viscose. With the gorgeous hues of red, white, and black this gorgeous dress has sleeves with puffed ends, a high neckline, collar smocked, and cuffs, which makes it perfect for any house party.  What's more, it goes well with both sandals and boots, making seasonal changes a breeze.
What Our Customers Love About It
Sabrina Pellegrino loved this dress saying, "Beautiful dress. Looks great on. Fits slightly small." With a 5 star review, she highly recommended it. Toni loved this dress too.
With a 5 star review, she said, " This dress is so cute. I got so many compliments on it. I ordered this dress last minute and wore it during my Santa Barbara weekend getaway. It is comfortable. The slip/lining is a bit cheap and cheesy looking but it's underneath the dress so you can't see it thankfully. I'm 5'6 and it is plenty long enough. I hate when dresses are too short. For the price, this dress is great. Perfect, cute yet modest dress to have in the closet for a baby shower, bridal party, weekend getaway, etc."
The Kooples Leather Jacket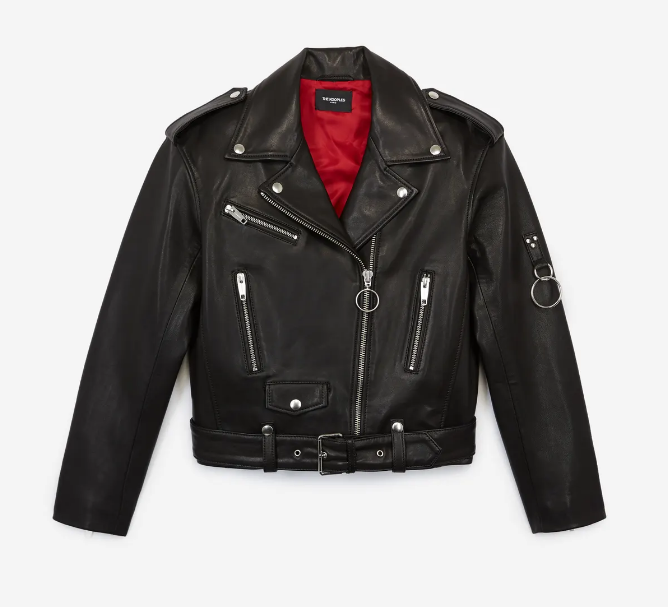 Trends change over time but the fine leather jackets for ladies seem to survive the test of time, regardless of style or weather. Choose properly, and you'll not only be donning it from fall to springtime every year, but you'll be just as attached to that in 5, 10, or even 20 years just as you were the very day you got it.
Only a handful of pieces are as ageless as the leather jacket, particularly as the temperature drops, the leaves begin to fall off the trees, & we prefer hot drinks to iced drinks. It is easy-to-wear, multifunctional, and a fashionable wardrobe staple that you'll reach for over and over again. The Kooples leather jacket is your best bet. 
The Kooples have brought back an iconic punk rock piece with this gorgeous leather biker jacket. This Black Leather Biker Jacket with Zips has distinctive biker-style elements, such as a wrapped neck and including a whole slew of zips. The western-styled clasp adds a classic touch, while round zip handles add a modern twist. Pair this black leather jacket with a silk shirt, with boots to update your wardrobe. The kooples leather jacket is worth your money. 
What The Customers Love About It
Christine Morrissey loved the jacket and with a 5-star review she said, "There was only one review for this jacket, so I took a risk when purchasing this. I'm so happy I did! It's a great jacket. I'm 5'8" and 130 pounds so I'm normally small, however, I got a medium to get a looser fit so I can layer my sweaters underneath it. It fits as expected in my opinion."
The Kooples Emily Bag Review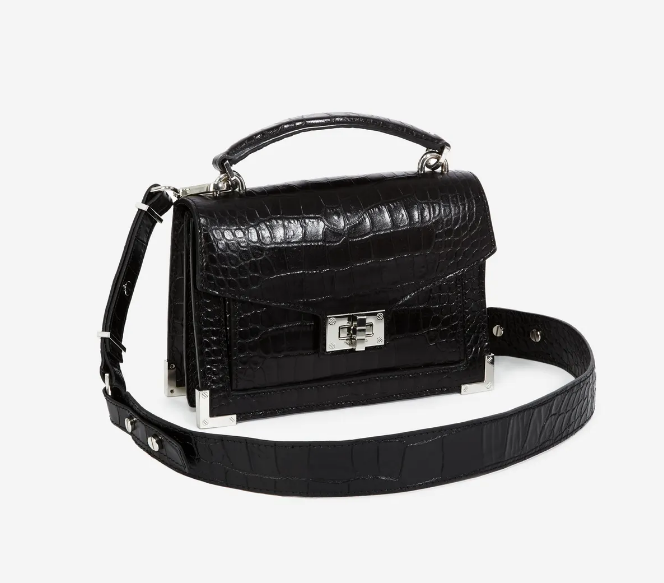 A quality purse is a great purchase you can spend on   Once you've found the perfect essential bag to compliment your collection, it'll instantly refresh everything from casual denim to more formal outfits, and it'll soon become your go-to accessory.
The appeal of a unique handbag is that it is naturally adaptable, so you'll never be stuck for outfit ideas. Now that's all the more incentive to invest in it. It's a perfect go-to item, regardless of your unique style. If you have no idea what to get,  the Kooples Emily bag is one of the bestsellers that you might want to look into.
Emily Ratajkowski devised this Small Croco-Effect Emily Bag by Kooples in a small style to be a vital item that will be there by your side night & day.  This limited-edition model is manufactured overseas with textured croco effect and calfskin material to add a stylish touch. The twin gusseted compartments, along with the back and the front pocket add to the precise lines.
The bag may be worn over the shoulders or cross-body thanks to an extendable, adjustable strap, as well as the curvy handle allowing an elegant hand-held alternative. 20cm in length, 15cm in height, and 8cm in width this gorgeous bag is fit for everyday use. 
What The Customers Love About It
Sara absolutely loved it. She said, "Really cute and in style, took a chance on it and it's now my go-to purse! I'm 5'2 and have a shorter torso and you can pull it over as a crossbody but just barely. Definitely recommend for anyone not wanting to spend tons on a purse that's really on-trend!" 
The Kooples Boots Review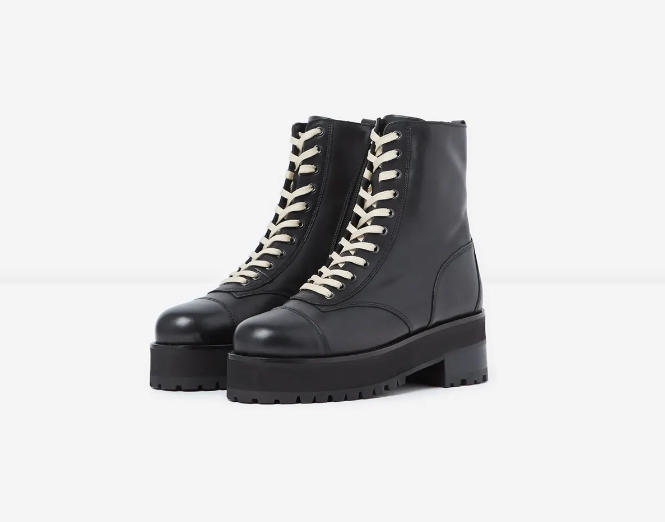 Boots come to mind when people think about fashion mainstays. They are the footwear we would like to be sporting regardless of what the weather is like. The best thing about boots is that they exist in various styles, hues, and fabrics and therefore they cannot get boring. While we appreciate a good t-shirt and a good pair of pants, there is just something about the boots that we can't get enough of.
We can help you identify a pair of boots that you'll wear all year long, regardless of your style. Be it traditional, daring, or trend forward. It's difficult work, but someone has to do it. The Kooples boots got your back. If you have no idea what to get, don't worry. Let's dive into the Kooples boots review so you can make a decision. 
The latest collection of Kooples has been given a fresh gritty edge with these gorgeous black leather boots. These Black Leather Ankle Boots with Notched Soles are a must-have pair for this season, equipped with notched soles, they are a must-have for any fashionista out there. These simple ankle boots are comfy and elegant, with white laces which offer a fashionable contrasting effect. These boots can be paired with characteristic army-style jeans for a scruffy military look that is sure to become a smash on the ramp as well as on social networking sites.
What The Customers Love About It
Laika absolutely loved it. With a perfect 5 star review, she said, "I use them a lot, they look like doc martins and they feel fine. They don't hurt my feet, they look cute and I'm glad I got them. I have docs in black and I love them but these are honestly no different and Much cheaper than docs"
The Kooples Men Collection Review
The Kooples isn't only about women, it has some really nice collections for men too. If you are a man, looking to up your fashion game, or just someone who's looking for something comfortable to wear while you attend the meeting, you have come to the right place. The kooples men collection got something for everybody. Here are some reviews to dive into if you are looking for some ideas. 
The Kooples Jacket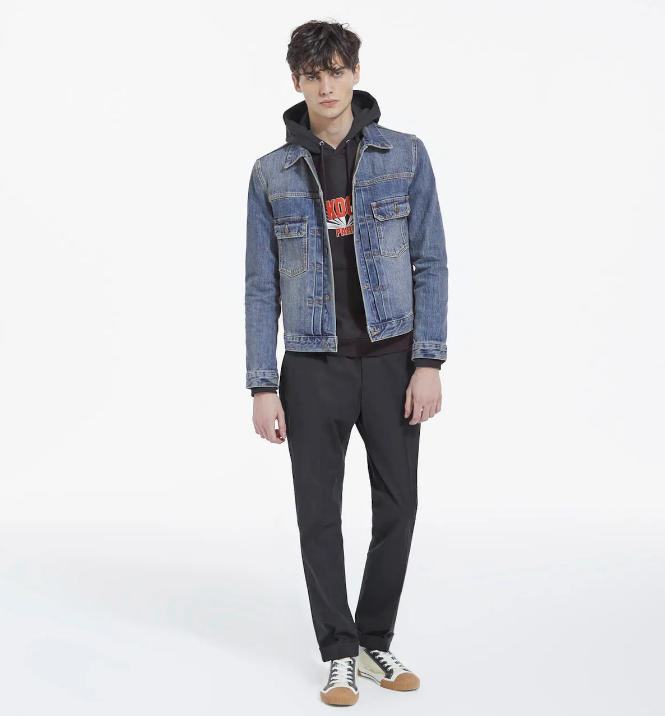 Even something as old and seemingly indestructible as denim jackets succumbs to the passage of time. Certain styles come in and out of favor as the years pass, and despite ever-changing trends, denim fashions continue to evolve. The trend is changing but don't worry! The Kooples jacket is what you need. 
This faded blue denim jacket with a straight cut is just what you need to up your fashion game. It comes with two flapped pockets on the chest and buttoned cuffs. It isn't one of the jackets that would rip easily so this is perfect for everyday use. Who doesn't love a nice denim jacket?
What The Customers Love About It
Alejandra Huggins absolutely loved the quality. With a 5-star review, she said, "I was looking for an oversized jacket to wear with certain outfits – this time to wear over a hockey jersey. Most "boyfriend" style clothes made for women aren't really that oversized so I've given up and this was my first attempt at ordering a men's jacket online and hoping it'd fit just right. Luckily it did! I'm 5'8, 150lbs and I purchased a medium. It had just the right amount of bagginess I wanted and it perfected the outfit I had envisioned. Very happy!"
The Kooples Sweatshirts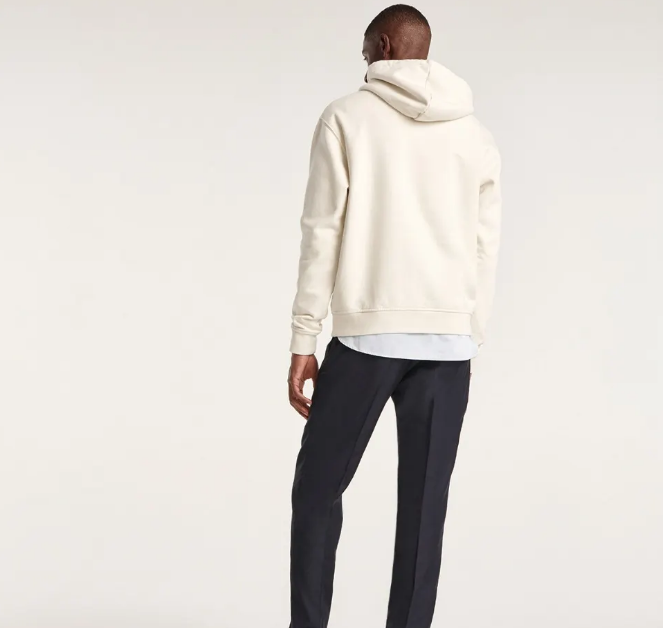 Whenever the temperature falls, a sweatshirt's unquestionably a good choice. They're so simple to slip on and wear because of their laid-back comfortable demeanor. Sweatshirts may be far more than just a casual item to wear whenever you want to unwind. There are so many ways to dress a sweatshirt, from donning it alone to combining it with the other garments, that it's a must-have.
This Ecru Hoodie with Pouch Pocket adds a unique delicate final touch to any man's ensemble on chilly summer nights. The silky, smooth, and comfy fleece material has been preserved, and just a small-sized logo of The Kooples has been added to the front. The piece has a pouch compartment and a big adjustable drawstring hood for a much more relaxed style. Pair your hoodie with trendy joggers & sneakers for a casual yet chic look.
What The Customers Love About It
Daniela Siqueira absolutely loved the quality. With a 5-star review, she said, "For me, this was a really good purchase. It's not a heavyweight sweatshirt but it also isn't lightweight. It's comfy, fits just right and the quality is just what you'd expect for the price."
The Kooples Sneakers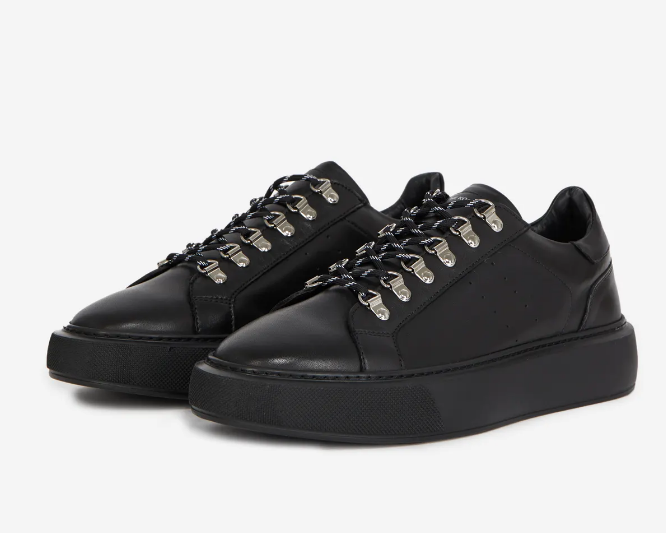 Jeans are a wardrobe staple for men since they are versatile pants that go with a variety of outfits. While wearing denim is usually a good idea, finding the correct shoes to go with them is crucial to putting together a stylish outfit. The Kooples sneakers are chic and elegant and comes in a large variety.
In a truly innovative material, an old-school staple is reintroduced. The ReLeather Tennis Shoe has a rounded toe, a classic lace-up style, a low-ankle height that is adaptable, and a durable contrast rubber outsole. It's also made of ReLeather, a unique, long-lasting material manufactured from recycled leather scraps that require no new tanning or dyeing and uses very little water. It's redesigned leather.
What The Customers Love About It
Carol with a 5-star review said, "Excellent trainers, great sizing, good comfortable fashionable style, and good wear. Would highly recommend these trainers, my partner won't wear anything else, since he found them, this would be the third pair."
The Kooples Size Chart
The most important thing about online shopping is checking out the sizing chart. That is the only way to make sure if a specific product will fit you perfectly. The good thing about the Kooples is that all products have a size chart so you can navigate without a problem.
The Kooples Reviews from Customers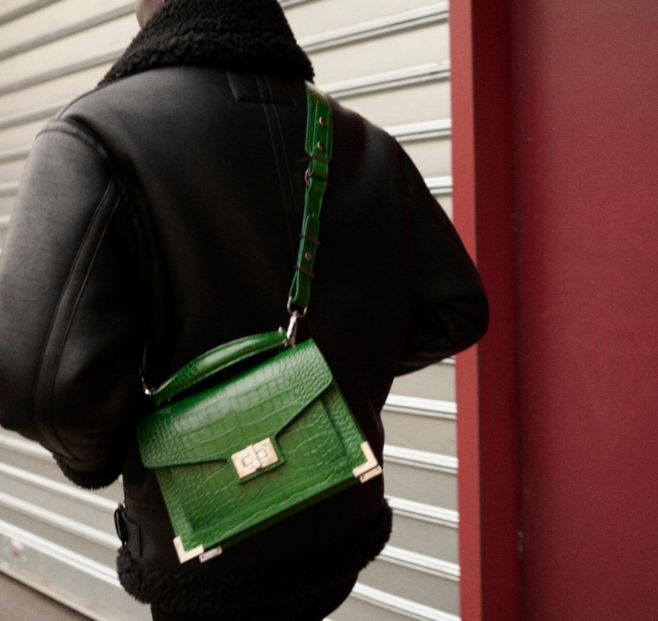 If there's any way to guarantee the integrity of a product, it's through what its existing customers have to say. Reviews are a big help, and The Kooples customer reviews are no different. However, many customers expressed their disappointment of the vendor on TrustPilot but not with the products themselves but the customer service shop provided.
Jamie found BLACK LONG FLOWING DRESS WITH LACE DETAILING super comfortable and cool saying, "I'm only writing a review with pictures because when I buy clothes on here I always go to the pictures to see how it fits real people. I bought this dress last minute and prayed it would fit as described.
Popular Alternatives to The Kooples
It looked pretty cute on the people who posted reviews but they also looked a lot skinnier than me so I wasn't so sure. This dress is awesome! The material is stretchy fancy…does that make sense? I'm a traditional size 14 with D/DD boobs and this dress really is flattering! I'll probably buy one of the darker colors when fall rolls around. The only thing is, if you're tall do not plan on wearing any kind of heel.
It's the perfect length for me barefoot and I'm 5'9. So also if you're short, plan on wearing heels 🙂 the underarms come up really high and when I first put it on felt funny, but because they come up so high it covers that fat that's between your arm and chest so WIN. After I've had it on though I don't even notice the arms anymore. Overall this is a great dress and worth the money!" 
More Customer Reviews
Gwendolyn bought THIN LEATHER BELT WITH SINGLE BLACK BUCKLE for her daughter and found it to be absolutely wonderful and that they will probably get another one for herself. She said, "Purchased for my teen daughter. I am so impressed with the quality of this belt, and may order one for myself. The sizing is spot on."
Sign Up for The Kooples
Signing up for The Kooples is pretty easy. All you have to do is to go to https://www.thekooples.com  and click the register/login option on the top right corner.
Where to Buy The Kooples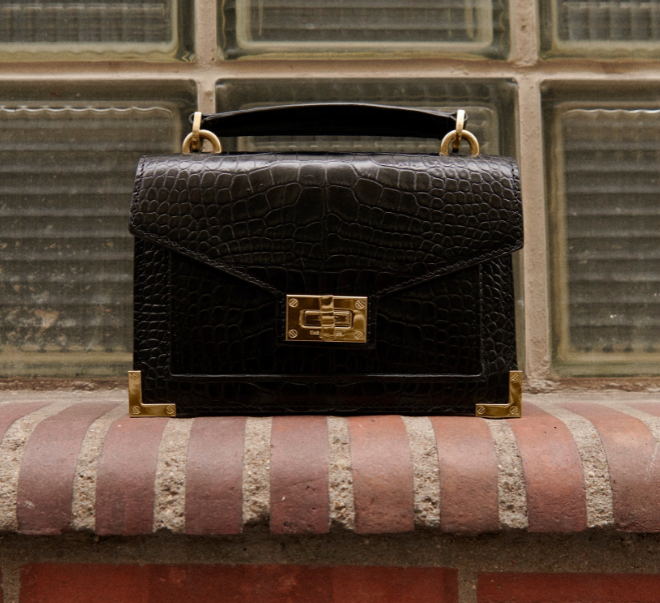 They have stores in various locations. All you have to do is to go to www.thekooples.com enter the country on the store locator and it will find you the nearest the Kooples USA store and others depending upon your country. 
The Kooples Shipping and Return Policy
They have a 30-day return policy but given the product hasn't been damaged. Their shipping details vary depending upon the country where you are getting it shipped, so make sure you check on the website their shipping and return policy for your specific country.
The Kooples Promotions & Discounts
Kooples is committed to providing honest pricing on all of its products. They have a points reward system where you can accumulate points for particular measures on the website through this program. The points are rewarded for purchases as well as customer behaviors such as writing reviews. 
Contact The Kooples
This brand, The Kooples is known for its amazing customer service. You can reach out to their help center. At Kooples they are always ready to help. You can reach out to their personal shoppers from between 9 am and 7 pm from Monday to Saturday (Paris time). Also you can call them on +33 (0)1 53 29 29 39 or write to them on their website. The Kooples have chat available on the website as well as you can fill the contact form under the 'Customer Service' page.
The Kooples Review: Editor's Verdict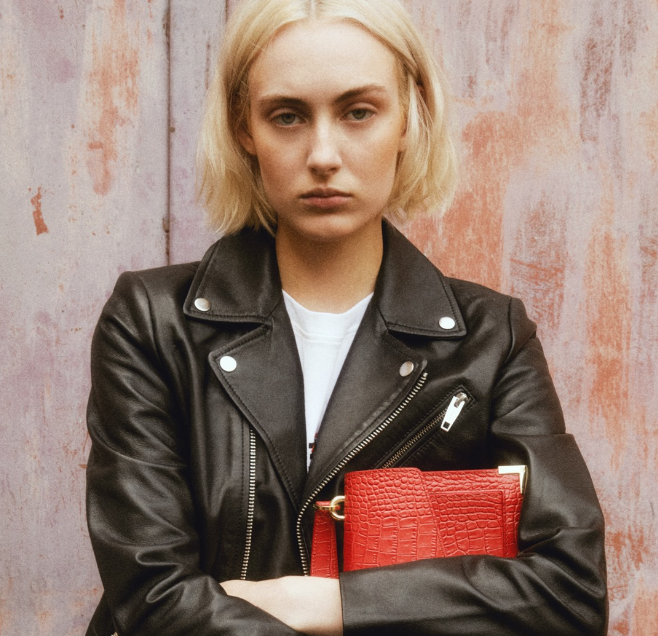 One thing that we absolutely love about their brand is that they are environment-friendly and committed to providing the best customer service. Their products last for a long time and you don't have to worry about taking your shoes out on a rainy day. They won't break that easy. This is a brand that would earn your trust.
Looking for other fashion options? Check out these top clothing brands reviews of Bugatchi, Romwe, The Frankie Shop, and Posse Clothing.