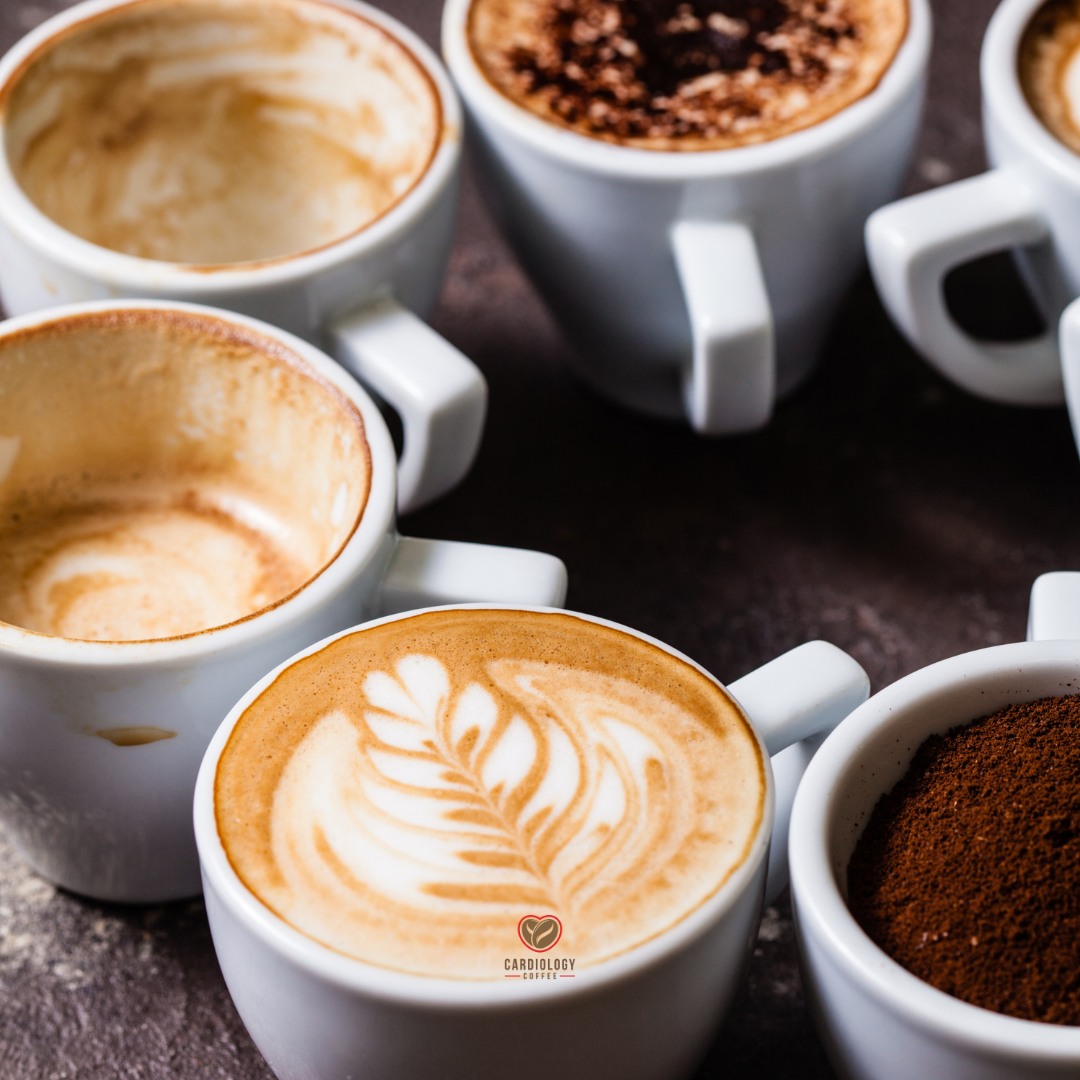 Coffee is a staple food in many American households and an age-long tradition for starting the day right. Coffee beans are sourced from across the globe, and the type of blend and roast technique can affect the flavor of your beverage. This article will examine the ten best coffee brands in the US. Whether for commercial or personal consumption, the quality of the coffee brand goes a long way in the brew's taste. It's best to shop from a proven brand to ensure a strong, long-lasting richness with every brew. You can also discover the best coffee variations that will allow you to create your favorite coffee beverages.
10 Best Coffee Brands In The US
For this list, we reviewed the most popular coffee brands in the country to find 10 notable names. Here, you'll find coffee brands that have been around for about a century and impressive new-age manufacturers. You can go through our objective list to find your best options for refreshing and good-aroma coffee in the United States.
1. Folgers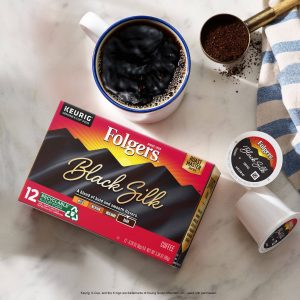 With over one and a half-century of experience making coffee, Folgers is undoubtedly one of the best instant coffee brands. Folgers started as a Family coffee business in the early 1900s and has gained tremendous success as one of the best instant coffee brands. And for many long decades since its inception, Folgers has earned its reputation as the number one coffee brand in America.
What sets Folgers apart? The brand was initially known as Pioneer Steam Coffee and Spice Mills. It was founded by William H. Bovee, who discovered the potential of pre-ground and roasted coffee that people could directly enjoy. Before this development, most people bought raw coffee beans and had to grind them by themselves.
Meanwhile, James A. Folger took over the mill in 1872 and set up the household coffee chain now widely known as Folgers. Apart from its rich and long history, Folgers coffee offers an intense, strong brew. The coffee is prepared from mountain-grown beans, which offer a flavorful, aromatic blend.
The brand also partners with coffee distributors worldwide to ensure the highest quality coffee blends. With major influences from Asia, the Caribbean, African and Oceanian mountains, Folgers offers a wide selection of coffee beans to appeal to the most superior taste buds.
Additionally, Folgers uses zero preservatives or additives in their products, which relieves health and environment-conscious consumers. It has also managed consistency in its production to ensure an unchanged formula. Overall, Folgers is a trusted bet for high-quality vintage coffee.
2. La Colombe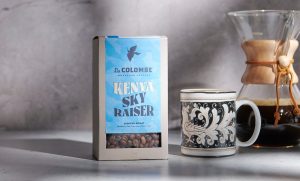 La Colombe has been operating since 1994, and the brand has surely earned its position among the best coffee brands in the world. It boasts of rich history and offers ethical yet delicious brews. What sets La Colombe apart? First, the company is dedicated to third-wave coffee roasts and ensuring sustainability in its production processes.
In addition, it is also known for its "culinary coffee" roasts created to enhance your coffee to meet the standards of an elevated gourmet meal. It serves the demand for high-end coffee roasts from around the globe. La Colombe also ensures ethical practices, and this brand works hard to serve local coffee communities and the world at large.,
In partnership with the Clinton Foundation, the group entered a $350k investment with Haitian Cofee Farmers and opened the Haiti Coffee Academy to benefit the locals. La Colombe also boasts a wide variety of roasts that any coffee connoisseur will appreciate. It specializes in canned coffee products like single-origin brews or draft lattes.
Some of La Colombe's bestseller coffee roasts include La Colombe's Fishtown, Frogtown, and Nizza coffee. The Fishtown coffee is a medium roast blend with delicious bergamot, stone fruit, and caramel notes. It combines coffee beans from Brazil, Colombia, and Ethiopia to provide an exotic, genuine burst of flavor.
Meanwhile, if you're an iced coffee or iced latte enthusiast, then La Colombe cold brew will appeal to you. It offers single-origin cold brews with extra bold options that offer a burst of energy to help you get started in the mornings. With this subscription service, you can treat yourself to a perfect cup of joe right in your home.
3. Stumptown Coffee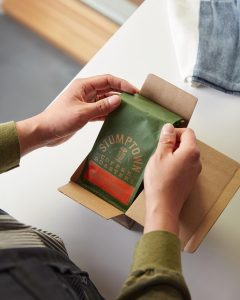 Cold brew coffee brands offer ready-to-drink bottled coffee that you can use to make your favorite coffee beverage. It is prepared by steeping the ground coffee beans in room-temperature water and filters. The brand keeps its coffee pure without adding any preservatives or additives to the brew.
Stumptown operates a Direct Trade process where it sources top-grade coffee beans directly from coffee producers within and outside the states. It is known for ensuring sustainable and fair systems of coffee farming to ensure top-quality products. The brand roasts its coffee beans in its independent cafe locations.
Additionally, Stumptown coffee is highly recognized by many coffee connoisseurs in America. In 2009, it was named "Roaster of the Year" by Roast Magazine. Stumptown coffee also prides itself in being B corporation certified to show that it follows ethical, social, and environmental standards.
Meanwhile, Stumptown seeks to provide a variety of fresh and flavorful coffee that will suit different coffee palettes. When you look through the brand's category of coffee, you'll find bestsellers such as the House Blend, Guatemala El Injerto Bourbon, and the Rwanda Huye Mountain coffee blends.
The House Blend is Stumptown'sn flagship blend with candied fruit, milk chocolate, and nougat flavor notes. It is directly sourced from coffee producers in East Africa and Latin America for its vibrant and smooth taste. You can buy one pack of Stumptown coffee or subscribe to ensure you never run out of fresh coffee blends.
4. Eight Ounce Coffee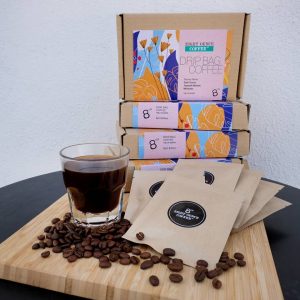 Eight Ounce Coffee is a Canada-based business offering high-quality coffee beans and machinery to meet your specialty coffee needs. While it started to serve the local community in Canada, it has since expanded to become one of the best coffee brands in the US.
It is run by a team of skilled tasters and coffee baristas who work to arrange all the products that you'll need for a perfect brew. Eight Ounce coffee supplies high-quality coffee gear such as press brewers, coffee glasses, electric grinders, and aroma kits. Its products are also used in cafes, baristas, and home coffee kitchens.
Meanwhile, Eight Ounce coffee has played a huge role in the coffee scene in Canada by providing easy access to high-end specialty coffee brands. It seeks to elevate the type of coffee blends and equipment used in local cafes and baristas. In addition, Eight Ounce Coffee sponsors coffee events like the barista and Aero press competitions to promote locally grown coffee in Canada.
It is also a co-founder of the Praire coffee collective and boasts the title of the biggest distributor of specialty coffee in Canada. More so, the brand offers a wide selection of coffee blends that will create a quality brew with every cup. The French Roast pack is a customer favorite with strong spicy, nutty and smoky notes.
Buying a reliable and knowledgeable brand is your first step to creating magic with your coffee. Luckily, Eight Ounce Coffee encourages customers to connect with its staff for expert tips on the best products to get. The website is accessible with all the information you'll need for a wholesome shopping experience.
5. Cardiology Coffee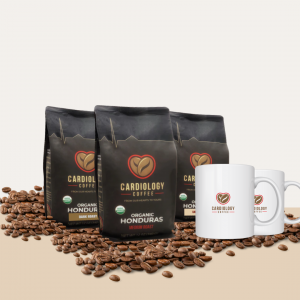 Cardiology coffee founder Dr. Jack Wolfson opened one of the best coffee brands in the world out of a deep passion for health and good coffee. He is also one of America's foremost cardiologists and a highly-recognized medical expert. Throughout his career, Wolfson has assisted his patients in leading healthier lifestyles through good nutrition and exercise.
Wolfson's influence spread into the coffee industry by providing healthy coffee blends that can help to protect heart health. Cardiology coffee focuses on the amazing health properties of Arabica coffee beans to boost heart health. It promotes antioxidant effects to reduce heart rate, lower blood pressure and cholesterol levels, and improve brain function.
Overall, the brand supplies coffee lovers with various coffee blends that can help regulate cardiovascular health. It provides organic blends that do not contain harmful chemicals in preservatives or additives. Cardiology coffee also operates its business to meet sustainable and ethical production standards.
In addition, Honduras women prepare Cardiology coffee where the brand ensures fair wages and ethical processes. The brand's main focus is to help coffee lovers worldwide lead healthier and longer lives. It has created many innovative products featured in publications like NBC, CNN, and The Wall Street Journal.
More so, the bestselling point of Cardiology Coffee is that you can drink as much coffee as you like without any adverse effects. It offers a variety of light, medium and dark roasts to suit individual tastes. Compared to other brands, Cardiology coffee provides high-quality coffee at affordable prices.
6. Bulletproof Coffee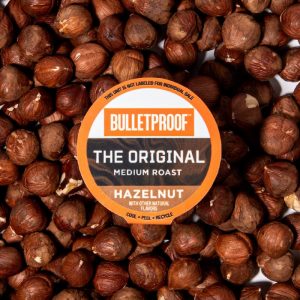 Bulletproof coffee is a health-forward business that provides a range of items like protein bars, MCT oils, and other natural supplements for longer, healthier life. Since its inception, Bulletproof has gained popularity among health-conscious consumers as one of the best coffee brands in the US.
It competes with top coffee brands in the industry to provide high-quality beans and healthy ingredients like MCT oil for a natural energy boost. Compared to others, Bulletproof coffee is suited to ketogenic diets, low-carb health, and paleo diets. It also enriches and offers fantastic benefits to fuel brain power and boost immune function.
Bulletproof coffee incorporates high-end coffee, medium-chain triglyceride (MCT) oil, and high-quality grass-fed butter for an uplifting glass of joe. The brand's mission is to offer "the right nutrients that can help you tap into your potential and feel your best every day." It opens the path to wellness and a more productive lifestyle.
In addition, the brand uses science-backed research to ensure product offerings that will aid body and mind health. Bulletproof coffee is non-GMO friendly and free from artificial fillers and soy ingredients. Ultimately, from this brand, you'll find high-quality coffee beans in various roasts to promote healthy function.
7. Maud's Coffee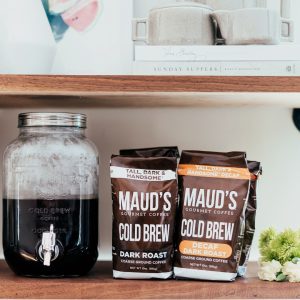 Maud's coffee deserves a feature among the best coffee brands in the world for its selection of high-note coffee blends. It is a family-owned business based in San Diego, California, known for its fantastic coffee blends. And it's one of the environmental-forward businesses on this coffee brand list.
Unlike conventional coffee brands, Maud uses 100% solar energy products to promote sustainability. The business incorporates intelligent blends to create high-quality coffee and tea beverages. It also uses recyclable pods made from biodegradable and recyclable materials to reduce plastic waste.
In addition, Maud's coffee has a variety of specialty coffee flavors and brew formats for the buyer's preference. It uses 100% Arabica coffee beans for bold, exceptional brews. And you can recreate different types of coffee beverages like iced latte, espresso, and more. Overall, Maud's Coffee gourmet pods give an elevated coffee drinking experience.
One of the top favorites in the dark roast collection is the Tall, Dark & Handsome textured coffee for a robust coffee brew. It has vibrant spicy, and nutty notes with a sweet aroma that spice up your mornings. The coffee contains antioxidants that can boost your immune system and impact your daily routine.
Likewise, you can also try Maud's coffee medium roast coffee pods selection for a rounded flavor profile. Perhaps, you're trying to lower your caffeine intake; then you can try Maud's decaf coffee pods. The brand also offers a straightforward subscription program where you can customize your order according to your coffee needs.
8. Death Wish Coffee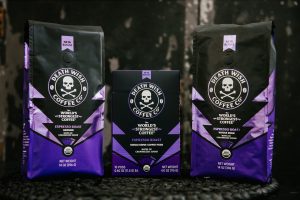 Death Wish Coffee is made from ethically-sourced organic Arabica beans. Since opening its doors in 2012, Death Wish has contributed to the scene of strong, dark roast coffee for a delicious, tasteful brew. While leading the strong coffee brands, Death Wish has stamped its status among the best coffee brands in the US.
Death Wish Coffee contains double the caffeine strength of an average cup of coffee. It creates strong, smooth blends that will appeal to everyone, including consumers with soft coffee stomachs. Death Wish Coffee is also available in over 20 countries and offers a wide selection of coffee that will appeal to different coffee preferences.
In addition, the brand ensures clinical trials and science-backed tests to ensure that consumers do not experience any negative side effects. Death Wish Coffee beans are ethically-sourced from fertile regions for a delicious, flavorful brew. It uses certified organic Arabica beans with gluten-free, vegan-friendly, and non-GMO ingredients.
Death Wish Coffee is certified kosher, Fair Trade Certified, and free from chemical additives or preservatives. It holds whole beans, pre-ground and K-cups product offerings to suit your needs. This bold, high-caffeine roast can take your coffee beverage to a whole level.
9. Angelino's Coffee
Angelinos Coffee is one of the most affordable on this coffee brands list. It is a foremost American coffee brand featured in top-rated media publications for its flavorful and refreshing coffee pods. In addition, Angelino's Coffee partners with high-end roasters like Keurig and Nespresso to provide the ultimate coffee experience.
Angelino's coffee is sourced from independent roasters worldwide, including Amazon, Indonesia, and some parts of Africa. The brand is dedicated to preparing sustainable, high-quality coffee that will appeal to novice and coffee connoisseurs alike. It is a family-oriented business that partners with independent family-owned coffee farms worldwide.
Angelino's sets itself apart from other brands with its team of skilled coffee tasters who work hard to ensure you get well-roasted coffee blends. It offers pure, organic blends with high-profile notes to ensure an assortment of flavors with every brew. Angelino's also provides a selection of coffee blends with health-conscious properties.
Angelino's Jamaican Me Crazy is said to lower the risk of type 2 diabetes and contains a range of antioxidants for better, restful sleep. It is high in minerals and vitamins that can aid anxiety relief with mood-boosting effects. Angelino's coffee may increase immune function and reduce the risk of blood pressure or a heart defect.
10. Driftaway Coffee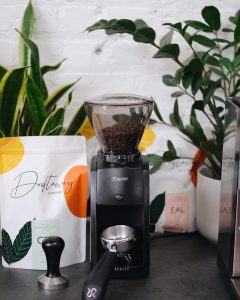 Driftaway Coffee sources sustainable coffee roasters from different parts of the world to provide a wholesome coffee drinking experience. It partners with family-owned farms in many regions to create flavorful and fantastic coffee blends. It is also one of the best coffee brands in the US, allowing you to connect with the farmers who grow your favorite roasts.
In addition, Driftaway Coffee has gained a raving reputation with media features in top publications like Vogue, GMA, and more. It sets itself apart from other brands as a solely online business and self-roast process. Driftaway is a coffee subscription service offering nine specialty beans and coffee gear like droppers or grinders.
More so, you can also get Driftaway single coffee bags if you'd like to tour coffee blends across the globe. The brand directly works with coffee growers in African regions like Burundi, Guinea, and southern Ecuador. Driftaway cold brew is also available for coffee fanatics who want a delicious and mess-free brew. Don't forget to check out our review of Atlas Coffee Club vs Driftaway.
10 Best Coffee Brands in the US: Editor's Verdict
Every coffee fanatic is looking for specialty coffee brands to stock up on their favorite coffee products. Whether you're a lover of the traditional hot coffee in the morning or you're a fan of latte or iced mocha, the coffee beans make all the difference. Fortunately, this list of the best coffee brands in the US will give you a good start.
For this list, we focused on ethical and sustainable brands that will provide a wholesome, guilt-free experience. You can also enjoy health-conscious coffee producers like Cardiology and Angelino's coffee for wellbeing. Overall, with this list, you can make an informed decision on the best places to get your favorite roasts.
But if you're still searching for different coffee brands, consider reading our reviews of Atlas Coffee Club and Bean Box Coffee.