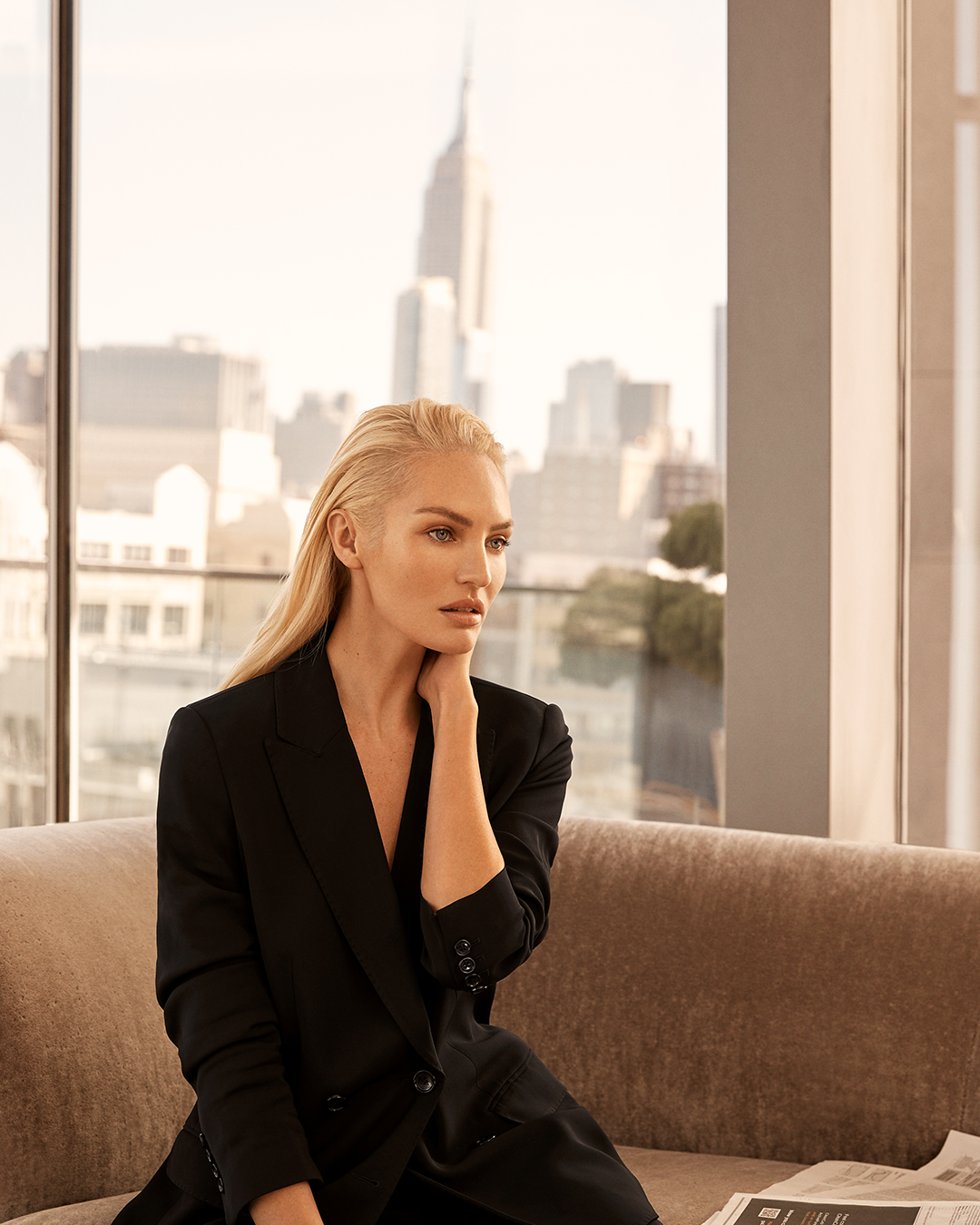 In this Donna Karan review, we'll take a deep dive into this well-known brand and look at the products and people behind the famous DKNY logo. What started as seven simple items that could be recombined for any situation has grown to include everything from Donna Karan duvet covers to Donna Karan deodorant. But now, we're here to find out if you're really getting the high-fashion brand's signature quality throughout the range or just paying for a name.
About Donna Karan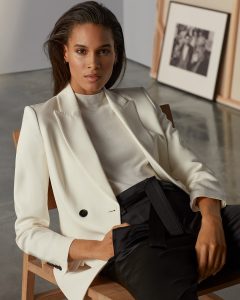 Donna Karan has been a household name since the 80s and the company was shot to even greater fame when Barbara Streisand chose a stunning custom Donna Karan wedding dress for her 1998 wedding to James Brolin.
Donna Karan clothing erupted into the fashion scene with the 'Seven Easy Pieces' collection in 1984 which revolutionized women's fashion with the concept of a simple wardrobe in which the pieces could be reimagined into hundreds of unique looks.
The brand combined this concept of high-quality, easy-to-wear (and match!) fashion with the slick city style of New York when DKNY was founded in 1989. Since then, the combined brands have grown into a global fashion phenomenon.
Donna Karan perfume is as famous as its fashions and the classic scent, 'Cashmere Mist' joined the lineup in 1994, with its recognizable bottle representing the curve of a woman's back. The classic fragrance has stood the test of time and is now available in a range of cosmetic and beauty products including the popular Donna Karan cashmere mist deodorant.
Donna Karan reviews are a mixed bag with many individual products receiving rave reviews. However, the overall customer service and responsiveness seem to be of more variable quality. In many cases, poor reviews for lower-quality items traded under the 'DKNY' brand overwhelm the positives for some higher-quality 'Donna Karan' branded products.
Dona Karan was featured in Forbes, Vogue, Grazia, HypeBae, Glamour, and is very popular on Instagram, Facebook, and TikTok. Let's dive into our unbiased Donna Karan review of products.
Pros
Household name.
Simple designs which are easy to combine for fresh looks.
Bring luxury into the bedroom with branded bedding.
Simple, versatile designs can be combined in multiple ways.
Cons
Customer services can be slow to respond.
The company is very slow to issue refunds.
Lower quality, mass-produced products under the DKNY name have damaged Donna Karan's reputation.
Limited selection is available online.
Donna Karan Clothing Review
While Donna Karan clothing began with just seven fashion staples, the range has now expanded to include stylish accessories such as the Donna Karan cashmere infinity scarf and the Donna Karan eyewear range.
Despite the increase in available items, the same philosophy of mix-and-match is carried through the entire collection with the same range of colors available for nearly everything and many items used in different ways throughout the photography on the Donna Karan website.
But no Donna Karan review would be complete without looking at the quality and design of the clothing itself… So, we're going to take a closer look at some best-selling items available from the Donna Karan website and selected stores.
Donna Karan Dresses Sleeveless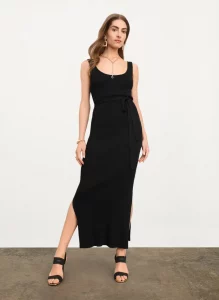 Donna Karan dresses are available in a range of timeless designs as well as some modern twists and reimagining's of classic lines and cuts.
The Sleeveless boatneck midi dress is a great example of the versatility customers have come to expect from Donna Karan lines. This flattering take on the "little black dress" can be paired with a tailored jacket for a professional office look while just as easily letting a dressy wrap take center stage for a cocktail party.
If you're a fan of color in your wardrobe, Donna Karan has you covered with the halter floral maxi dress for sophisticated garden-party chic in bold summer shades.
Donna Karan Sleepwear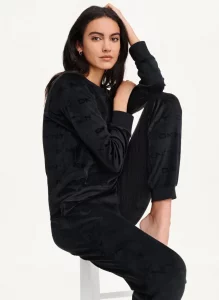 Show off your favorite brand and relax in the comfort of high-quality tailoring even when lounging around at home with Donna Karan sleepwear and loungewear.
The long sleeve top and jogger plush lounge set are cut for maximum comfort with a drawstring fastening and low-hanging hems to keep you toasty warm. The DKNY logo is displayed on every item in the set and the convenient hip pockets mean you can carry your phone and other items without using up a hand that could be put to better use for a bar of chocolate or a cheeky glass of wine.
And while you're at it, why not create a full relaxing nighttime routine with Donna Karan duvet covers, pillowcases, and sheets? The Donna Karan bedding collection is the pinnacle of luxury… Think "silk indulgence" in gold, silver, and charcoal that will instantly transform your bedroom into the nicest 5-star hotel you've ever experienced. And if that's not enough, a few Donna Karan decorative pillows are sure to push any bedroom, lounge, or pretty much any room in the house to the next level of sophistication and glamor.
Donna Karan Shoes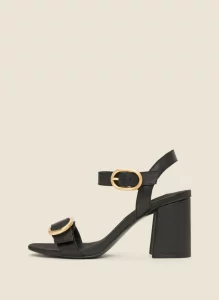 Donna Karan shoes include several examples of their classic wedge and block heels as well as slingback sandals and casual ruched flats.
Each of these simple and versatile styles is available in black with some offering white or cream versions for a lighter alternative.
We absolutely love the Donna Karan block heal sandal. Perfect for strutting your stuff on the sidewalk, in the boardroom, or on the dancefloor, this is a truly versatile shoe perfect for any occasion. And the colors suit the flexible style, as it's available in black or sand. You might not be making a statement with bold and bright colors here, but you'll certainly be making a statement in other ways.
If you don't live on the coast, you might also want a shoe that keeps your toes a little less exposed (and a lot warmer). In that case, the Donna Karan wedged bootie is perfect for every occasion. The website describes these shoes as "sleek and refined" with "a walkable wedge that promises all-day comfort and an elongated stride for timeless polish." We couldn't describe them better ourselves!
And if you're not a heal girl, Donna Karan has you covered, too! The Donna Karan ruched slide looks comfortable enough to wear around the house with your favorite set of Donna Karan pajamas, yet stylish enough to wear on the town for drinks, shopping, or even to the office.
Donna Karan Hand Bags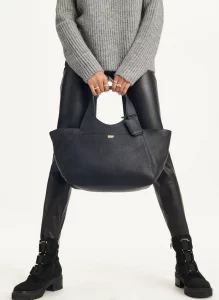 Donna Karan hand bags are a mark of good taste everywhere and the 'Effortless Tote' – available in three sizes and a range of colors and finishes – is no exception.
This versatile bag can be carried as a purse on a night out or converted into an over-the-shoulder bag with an adjustable strap for shopping or the office.
Whether you choose one of the bold logo designs or the more subtle quilts or pebbled leather, it will be clear you care as much about style as functionality when you add this bag to any outfit.
Donna Karan Men's Long Sleeve Shirt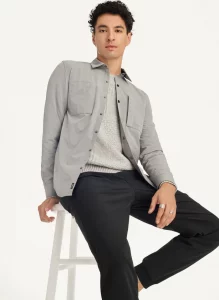 Donna Karan may have started as a brand for the discerning woman but that's not the full story… Rather than just catering to women, Donna Karan offers a wide range of fashion-forward men's clothing and accessories. One of the brand's most popular menswear is the long sleeve tech shirt.
With large pockets, a classic collar line, and a long hem, the Donna Karan long-sleeve shirt for men is equally at home in a fast-paced tech environment or relaxing in the new city hotspot after work.
Donna Karan Reviews from Customers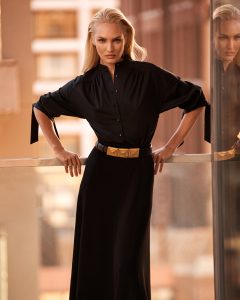 Customer reviews of Donna Karan are a mixed bag with many individual products eliciting rave reviews and others clearly not hitting the mark or meeting the standards customers have come to expect.
Products scented with the classic Donna Karan 'cashmere mist' fragrance, unchanged since 1994, continue to receive five-star reviews from new customers. A testament to the quality of a timeless scent.
When it comes to clothing, there's a clear divide between the quality of products sold as high fashion 'Donna Karan' designer items and some of those sold to the mass market under the DKNY brand.
Many of the negative Donna Karan reviews involved DKNY branded products purchased at high street chains and in big box stores. These usually involved poor quality stitching and materials. Problems ranged from patches and plaques coming away from products too easily to detail washing off or material degrading even when washing instructions were followed.
High-end Donna Karan clothing such as cocktail dresses and vintage fashion staples receive much higher reviews in general with customers commenting on the versatility and durability of items they have been wearing for many years.
Further customer reviews
When it comes to customer experience, however, Donna Karan doesn't seem to have hit its stride, even after more than 30 years! Multiple negative reviews and most of the complaints we saw on sites like Better Business Bureau and the Complaints Board involved what should have been simple-to-resolve issues like returns, incorrect items, and cancellations.
Customers, it seems, often have to wait weeks or even months to receive a response from customer service agents and, even if a refund is agreed to, they are not credited to the original payment method efficiently.
It's easy for a company to lose a hard-won reputation quickly in the modern world of internet reviews and international shipping. But simple steps such as claiming Trustpilot, BBB, and other profiles and responding to complaints in a timely fashion could make all the difference to maintaining a following.
Sign Up for Donna Karan
You can join the DKNY insider community on the Donna Karan website and sign up to receive the latest news, early access to new lines, exclusive VIP events and store openings, and much more.
At the same time, you will receive one point for every dollar spent, earning you $15 in rewards for every $150 spent. You can also earn extra points by taking part in special bonus point events throughout the year.
Where to Buy
Donna Karan and DKNY branded products are available at a wide range of high street stores and through third parties such as online marketplaces as well as their own website.
You can find your nearest dedicated Donna Karan clothing outlet by entering your ZIP code into the online store finder where you can also check if virtual styling is available at that location.
Donna Karan Shipping and Return Policy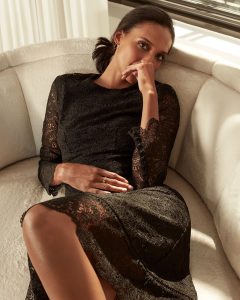 Standard shipping on all website orders costs $8 and takes 5-9 business days from the time your payment clears. This shipping option is free for orders of $50 and over.
Various express shipping options are available for an increased cost, up to next-day shipping for $35. For all express options, if the order is received and payment clears before noon EST then they will be processed and dispatched the same day. Orders that clear later than noon will be processed the following day.
Shipping is available to US territories, military addresses, and internationally for additional fees and details can be found online for most locations.
Popular Alternatives to DKNY
To return an item, simply fill in the return form included with your order and re-pack the items to be returned, remembering to include the form. In the continental United States, Hawaii, and Alaska a prepaid shipping label is also included for any returns.
Returns must be received within 30 days of the receipt of your order and arrive in original, unused condition. Refunds will then be applied to the original method of payment.
Promotions & Discounts
Sales and promotions will appear on the Donna Karan website when they go live and you may be able to find additional discount codes by following Donna Karan and DKNY on social media. It's also a good idea to keep an eye on your favorite Donna Karan stockists, as they may have their own sales and promotions to take advantage of!
Joining the DKNY insider community is the best way to make sure you're the first to hear about special events and promotions. You'll also be able to earn points towards discounts with every dollar you spend online.
Contact Donna Karan
Is there anything we have not covered in our Donna Karan review? You can contact their customer service team. Phone numbers to contact regarding either online or in-store orders are available on the Donna Karan website as well as a live chat service and a web form that will send an email outside of office hours.
Donna Karan Review: Editors' Verdict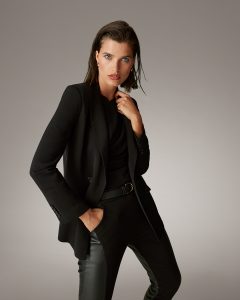 In researching for this Donna Karan review we've come across a lot of extremes of the customer experience with very little in-between.
Many customers are happy enough with their orders to take the time to post reviews on independent and third-party websites. In many cases, these reviewers mention they have been loyal customers for many years. It seems that when the system runs smoothly, the majority of customers receive what they are expecting, especially when shopping under the high-fashion Donna Karan brand.
On the other side of the coin, Donna Karan has failed to claim profiles on well-known and highly reputable independent review sites such as Trustpilot and the Better Business Bureau. Leaving them teeming with unresolved complaints and negative reviews which have received no response or explanation from the brand.
We've seen with other brands that a little responsiveness to complaints and issues raised publicly can do a lot to retain customers who might otherwise walk away. We can't help but be suspicious when we see only positive reviews on the Donna Karan website, but almost all reviews on independent sites tell a different story.
Nearly all the negative Donna Karan reviews we found reference either painfully slow refunds or low-quality materials and manufacture on DKNY branded products bought from big-box retailers. This tells us that far less effort is being put into the customer experience and product quality on the cheaper and more mass-produced items in these collections.
Final verdict
While it's understandable to some extent that cheaper items will be of lower quality, there is still a minimum of customer service that we expect from any brand – particularly one with a longstanding and otherwise positive reputation. It certainly feels as though some lines may exist only to cash in on the recognizability of the DKNY brand, without investing in the quality of design and build that we have come to expect from the Donna Karan designer label.
Our editor's verdict is that Donna Karan still has the ability to deliver on the promise of simple, versatile, and long-lasting fashion. But there are many more low-quality items to sift through before you can achieve that signature style.
Are you still looking for other fashion brands? Check out our reviews of COS, Stitch Golf, Gorman, and Faherty.
Donna Karan FAQ
Is Donna Karan a luxury brand?
Many blogs, articles, and papers much longer than this Donna Karan review have been written attempting to define the concept of a 'luxury brand' and pin down what makes a brand 'luxury' or 'premium'.
The short answer is that it depends on who you ask and it depends on which range you look at over the Donna Karan fashion and lifestyle empire.
Most definitions of a 'luxury brand' include scarcity and high prices alongside the quality you would expect to be a condition of earning this label. A true luxury brand would produce only a limited number of each item, often to the bespoke specifications of individual buyers.
Under this definition, Donna Karan and DKNY would not be considered luxury brands because they are producing items for the mass market in pre-defined sizes and colors. However, if a high price tag and high-quality are your qualifiers for luxury, then some items in the Donna Karan collection may hit the mark.
Is Donna Karan American?
Donna Karan herself is American-born and raised and the brand, founded in the USA, is proud of its American roots.
The DKNY, or Donna Karan New York, brand is American right to the core of its apple-shaped signature perfume bottles!
Who is Donna Karan?
Donna Karan is a modern and successful woman, a busy mother, and a businessperson who revolutionized the fashion industry in the 80s and 90s with a collection of simple and versatile pieces.
She has built and expanded her fashion empire for over 30 years to create one of the most successful brand families in the fashion and lifestyle industry.
What makes Donna Karan unique?
Some of the iconic Donna Karan styles and silhouettes, as well as the flexible mix-and-match attitude, are still widely praised and recognized today and Donna Karan represents the home of high street fashion for many women throughout America.
Donna Karan paved the way for women to design clothing for women and to do so from a position of understanding how busy and demanding a typical woman's life can be.