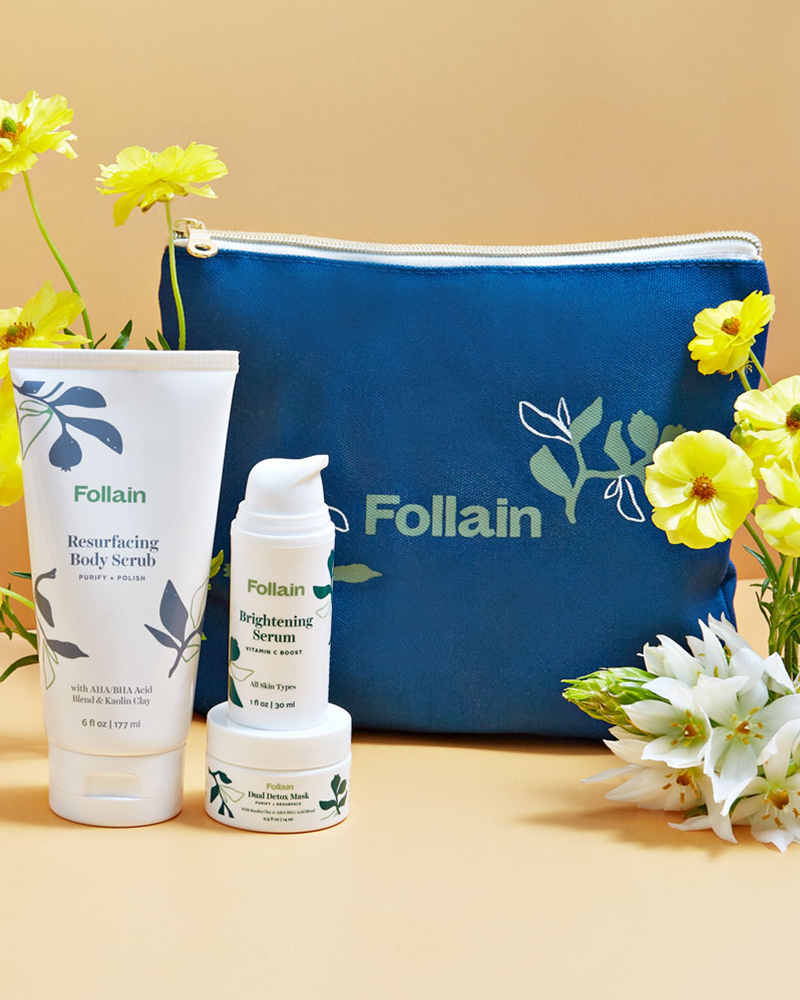 The skincare market is flooded with numerous products, and knowing which ones are right for your skin can be challenging. If you are looking for holistic skin care products, then Follain may be just what you are looking for. The company produces high-quality skincare products because they are committed to creating safe products. This Follain review will examine the company's bestsellers, customer ratings, discounts, and much more to help you determine if their products are worth adding to your daily skincare routine. 
About Follain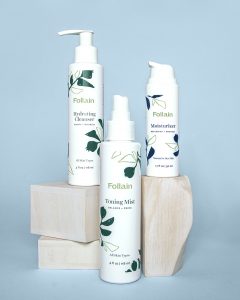 Follain is a US-based company founded in 2013 by Tara Foley. Tara was looking for safe skincare products, and she made it her mission to create what she was yearning for.
In 2009, Tara was a leading advocate for transparency in the beauty industry. She was in a different career, which made her work for long hours. The long working hours translated into her neglecting her body.  
Her skincare journey started when she realized she was not taking care of her outside body the way she was treating her inside. Tara started looking for good skincare products that were holistic and non-toxic. 
She realized that the market is flooded with products made from harsh chemicals. Many manufacturers did not care about consumers' health and were out to make profits. Tara started blogging her skincare routine on her blog called Naturalchemyst. The blog received numerous positive feedback. The massive feedback motivated her to start her own skincare company.
Tara quit her job because she was inspired by people who followed her blog and were eager to have non-toxic skincare products. She did her research and learned everything possible about beauty and skin products. Tara interacted with leaders in Green Chemistry and Environmental Health in France, who inspired her to use the same technology to manufacture safe and clean products. 
More about the brand
Follain considers its skincare products different from the rest because they are made following the principles of Green chemistry and using a holistic approach. Their products are not made from any toxic ingredients. All the products manufactured by Follain are dermatologically tested and approved by environmental health experts. 
Follain is a holistic skincare company that produces some of the safest skin care products on the market today. The company believes that no one should compromise their health for beauty. They have made it their mission to eradicate toxins in personal care. 
Pros
It is easy to return products and get a refund

The company offers a wide variety of products from skincare, bath, body, hair, and makeup products

The products are environmentally friendly, and they use recyclable containers and bottles

They offer non-toxic products approved by the Health Advisory Board.

Safe and healthy products

The company offers redeemable loyalty points
Cons
The company only ships within the U.S.

Some products are expensive compared to others in the market

They do not offer round-the-clock customer support

Sometimes their products are out of stock
Follain Products Reviews
Follain is a skincare company committed to helping you reach your goal using high-performance, clean, and easy-to-use products. Our Follain review will now look at some of its best-selling products. 
Follain Moisturizer Review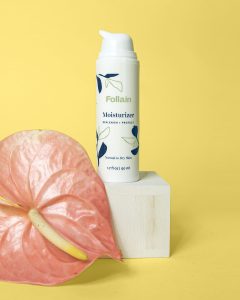 Hydrating and moisturizing your skin should be part of your everyday skincare routine. A good moisturizer hydrates your skin leaving the skin moist but not oily. 
Follain moisturizer is one of the best moisturizers on the market. Our Follain Moisturizer review found that this product will help you reveal your best skin. It is silky, hydrating, and clinically proven to reduce wrinkles and smoothen fine lines. 
The moisturizer can be used on a combination of dry and normal skin. It acts as an anti-aging, hydrating, and moisturizing product. 
This Follain review found that the main ingredients used in this product are jojoba seed oil which soothes and moisturizes the skin. Another active ingredient is glycerin, a humectant that moisturizes the skin by pulling water to the outer layer of the skin. It also contains shea butter, an emollient that smoothens dry skin. 
To use the moisturizer, clean your face and neck and massage two or three pumps. It works well on dewy skin after using a toner. Give it a few minutes to be absorbed by the skin. The moisturizer is perfect to use every day. You can also wear it under makeup.  
Our Follain moisturizer review also found out that the moisturizer helps to improve the appearance of fine lines and wrinkles, and you can get it for $32.00
Follain Eye Cream Review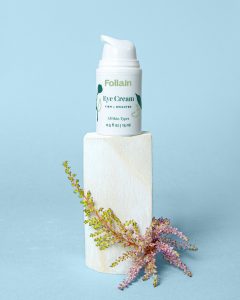 If you notice dark circles, fine lines, and wrinkles around the eye it's time to use an eye cream. The best eye cream is one that is oilier than normal facial oil. The Follain Eye Cream is effective in brightening, and it is made from a special formula to firm, de-puff, and smoothen fine lines. 
The ingredients used are Bakuchiol which helps with firmness, elasticity, and pigmentation preventing fine lines and wrinkles. Peptide is another ingredient that assists in maintaining youthful skin. Additionally, it has vitamin C, which reduces wrinkles.  
To use this product, use your ring or middle finger to apply one or two pumps around the eye. For effective results use day and night. Avoid direct contact with eyes during application. The cream absorbs into your skin fast, and you can use it under makeup. You can get one for $36. 
Follain Ocean Lotion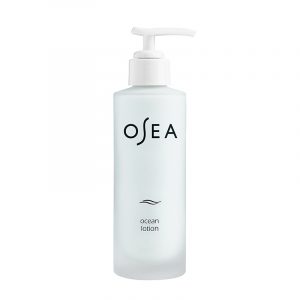 Formulated to quickly absorb while hydrating and nourishing the skin, the Follain Ocean lotion is a silky lotion that works effectively to improve skin elasticity. It's time to wrap your body using lightweight, moisturizing, and fragrance-free moisture.
Follain Everywhere Lotion contains kukui oils, which improve skin elasticity. The powerful ingredients used in this lotion are algae extract, an antioxidant that fights free radicals and protects collagen from damage. 
Aleurites moluccana seed is also used to nourish the skin. The product also features Parkii butter for deep moisturization and restoration of hydration.
For effective results, apply a generous amount on dry or damp skin. You can use the lotion for after-sun care. It is safe to use this product because it does not contain toxins, and it's suitable for people with dry and normal skin. If you want healthy moisturized skin, grab one for $38.
Follain Candles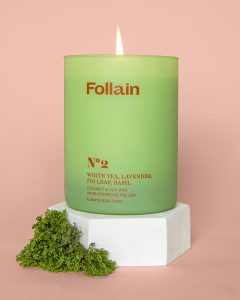 Candles are effective in reducing stress and improving mental health. Follain candles play a crucial role in scent therapy, which is an art used to stimulate emotional balance in the body.
The scent of Follain candles will instantly calm your senses. The lavender, creamy vanilla, sandalwood, and bergamot candle are good examples. The candle has a soothing scent that calms the body's senses. It comes in elegant packaging and can be used for home décor or as part of your bathtime routine. It's crafted using vegetable wax and cotton woven wick. 
If you want to escape the everyday stresses of life, buy the lavender, vanilla, and bergamot candle. The candle is custom-crafted, which can also serve as a great gift to a loved one.
This Follain review discovered that the candle is made from hydrogenated soy oil, which makes it durable because soy wax has a lower melting point than paraffin wax. It also contains Cocos Nucifera (coconut oil), which makes the candle smokeless and soot-free. 
Essential oils like vanilla, lavender, and bergamot are used to give the candle a breathtaking smell that will melt away your worries. 
You can get Follain candles for $38.00. Available at the same price, you can also try the calming, uplifting blend of white tea, fresh fig leaf, basil & lavender candle from Follain.
Follain Clean Essentials Kits Review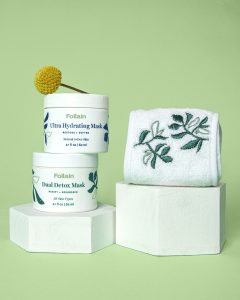 If you are looking for a perfect gift for your loved ones, Follain has got you covered. You can treat your loved ones to the best clean beauty products by Follain. 
This Follain Clean Essentials Kit review discovered the brand has a range of products you can buy for yourself or gift your loved ones. The at-home facial is a perfect combo from Follain. This package brings the spa to your home, and it is a three-piece set that contains a dual detox mask, ultra-hydrating mask, and spa headband. These are the best-selling masks that detoxify, nourish, resurface, soften, and smoothen the skin. 
The dual detox mask is used to purify and soften the skin. Apply the mask for twenty minutes and leave it on the skin for smoother and even-toned skin. 
The ultra-hydrating mask acts as a moisturizer for deeper hydration. It contains rosehip oil to exfoliate and brighten the skin. 
The spa headband is a terry cloth headband that keeps your hair strands at bay during the skincare routine. Available at $64.00, this combo is vegan, 100% clean, cruelty-free, and dermatologically tested. 
Follain Skincare Reviews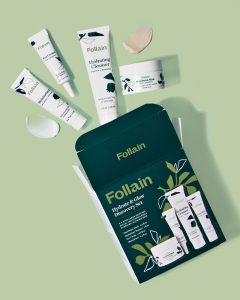 The brand offers a variety of products you can use to reach your skincare goals. Based on Follain skincare reviews, the Summer Glow Essentials set is one of the most popular products because it helps users attain unimaginable radiance.
The summer collection is a four-piece set that contains a Follain mini dual detox mask, Follain resurfacing body scrub, Follain brightening serum, and a Follain travel pouch. You can get the whole package for $55.00.
The resurfacing body scrub contains grape seed oil which softens the skin and has anti-aging properties. Orange peel extract is another active ingredient that prevents oxidative stress in skin cells.
Other products you can buy from Follain are the Hydrate & Glow Discovery Set, Hand Cream, Hydrating, and Firming serum.
Follain Reviews from Customers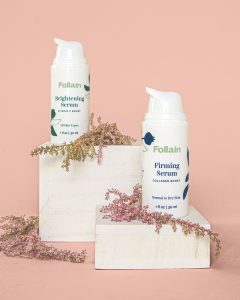 We checked Follain reviews to see what users say about the brand's skincare products. Follain products have received many positive remarks from consumers, who are impressed with the products.
According to the reviews our team went through, many customers love the products because they are vegan and cruelty-free. Users also said that they love their skincare products because they are free from gluten, synthetic, and fragrance. They are also impressed with the products because they glide on the skin, leaving you feeling fresh.
One of the customers wrote a review about the Follain Moisturizer and praised the product because of its effectiveness in keeping their skin moisturized throughout the day. She also stated that she had a combination skin, which made it hard for her to find a good moisturizer that she could use on a hot day. The customer was happy because her search was over when she found the brand's moisturizer, which was perfect for her skin. 
The moisturizer is lightweight and blends well with makeup. The best part is she has not experienced any breakouts. She pairs the product with the detoxifying cleanser, and her skin looks brighter. 
Another customer praised the Follain Firming Face Serum. The loved how the serum is suitable for both normal and dry skin. They stated that the product is firming and has collagen-boosting properties. She highly recommended the product to anyone who wants to tackle signs of aging.
Popular Alternatives to Follain
Further customer reviews
She loved how the serum has no added fragrance, which makes it suitable to use on sensitive skin. Other customers said that they love this product because it is easy to use and disappears on the skin without stickiness. 
On Amazon, a customer said they were happy to discover Follain Eye Cream. They stated that they had used the eye cream for two weeks, and it helped her understand the meaning of hydration. Their eyes are now brighter than ever, and they did not experience frequent swelling.
Most reviews from customers are positive, and many are satisfied and content with the products they bought. Some customers wish that the company expands its shipping beyond US borders. Others complained that their skincare products are expensive.
Sign Up for Follain

 
To get started with Follain products, visit the company's official website and register an account. Provide your details and click on create an account. You will then receive 10% off your first order when you activate your account. 
Once you complete the registration, you will be able to receive quick reorders, faster access to what you want, and benefits like exclusive sales. 
Where to Buy Follain
You can purchase Follain products on the brand's official website Follain.com. You can also find a selection of their products on Amazon, Anthropologie, and Walmart.
Alternatively, visit their physical stores in any of the following regions:
Boston, MA

Seattle, WA

New York, NY

Bethesda, MD
Follain Shipping and Return Policy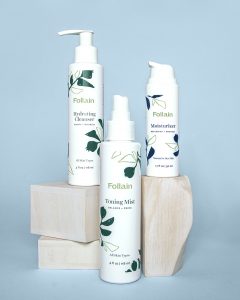 Shipping:
Follain products are shipped from Massachusetts. Allow the company three days to process and ship out your orders.
Standard shipping is done using DHL, and it takes between 3 and 7 days, depending on your location. Currently, the company is not offering international shipping.
Return Policy: 
Follain is committed to customer satisfaction. If you purchase any of their products and you are not satisfied or the purchase has not met your expectations, you can return the item.
Returns are processed if the product is undamaged and unused. You must provide proof of purchase to receive a full refund. It takes between 5 and 10 days to process refunds. 
Follain Promotions & Discounts

 
Our team discovered several promotions and discounts available to customers that will allow you to save money when shopping for skincare products on the brand's site. They include:
10% on your first order when you sign up on their website

Free 13-piece gift for orders of $150 and above

1% cash back for online purchases made on the website. 

Earn 200 points when you attend Follain events and redeem the points for $6.00
Customers can also use a Follain promo code or Follain discount code at checkout and save money.  
Contact Follain
To know more about Follain products, or if you have any questions, contact the company through their phone number (857)-214-2123. You can also send an email to [email protected], and they will respond within 24 hours. 
Alternatively, you can send them a message on their Facebook or Instagram page. Their customer service representatives are available from Monday to Friday from 9 a.m. to 5 p.m.  
Follain also provides virtual services where you can interact with one of their educators, ask questions, and receive personalized product recommendations.  
Follain Review: Editor's Verdict
To conclude this Follain review, we think this skincare brand is worth it and their products are worth purchasing. The company is popular among customers because its products are vegan and cruelty-free. 
Their skincare products are also effective in dealing with skin conditions like acne, uneven tone, and wrinkles; they do not irritate or dry your skin.
Many customers who have used Follain products are happy because they notice a difference after using them for a few days. Our team recommends the products because they don't contain any harsh chemicals that could potentially irritate sensitive skin. The products are also diverse and cater to all skincare needs. 
If you're a skincare enthusiast read our reviews of Espa Skincare, H2O Plus Skin Care, Leahlani, and bioClarity.
Follain FAQ
Can I refill soap in stores?
Yes, you can. Go with a clean, dry bottle to any of their stores, and one of their educators will assist you. You can also rinse your bottle in one of the company's sinks.
Is recycling available?
Yes. It is possible to recycle empty bottles. Follain works with Terracycle to offer responsible recycling services. Customers earn 100 points each time they recycle. You can recycle as many times as you can.
Is Follain vegan?
Most of the products produced by Follain are vegan, and they are represented by the symbol V on the product pages.
Who owns Follain?
Tara Foley is the CEO and founder of Follain. Tara is an entrepreneur passionate about creating clean beauty products.
Where does Follain ship from?
All orders in Follain are shipped from Massachusetts.