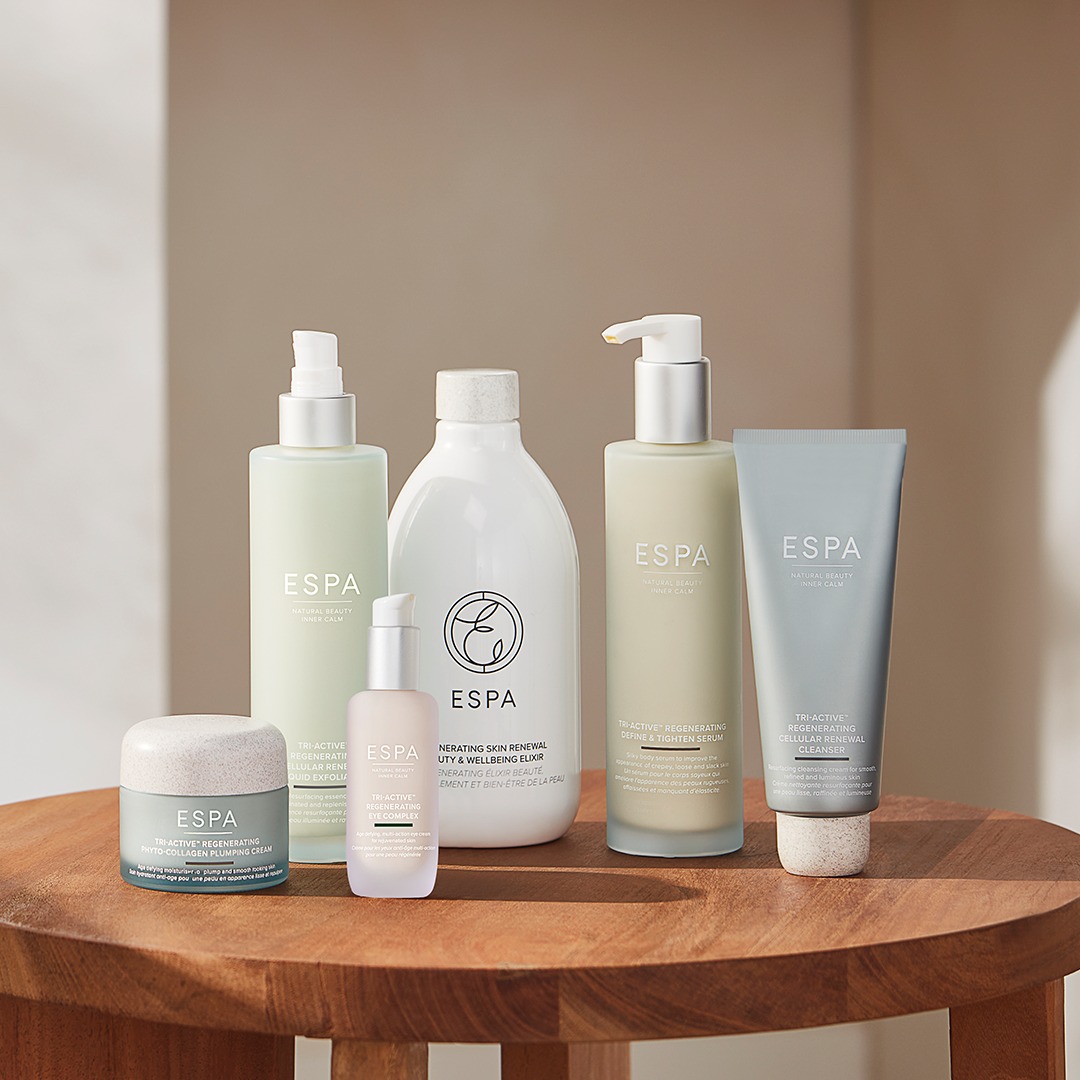 When it comes to luxury skincare, we're all looking for that spa-like experience. So, when companies like ESPA offer natural ingredients, sustainable practices, and thousands of positive reviews, we can't help but take note! In our ESPA Skincare review, we're going to look at this British skincare brand to find out if it's worth your attention.
From considering ESPA Skincare reviews from real customers to analyzing their policies and commitment to the environment (among other things), we intend to uncover whether ESPA lives up to its promises. And whether the premium price tags can be justified for the at-home spa experience many customers rave about.
About ESPA Skincare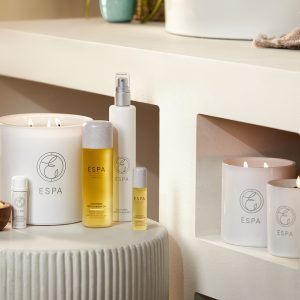 Sue Harmsworth founded ESPA Skincare in 1993. Her mission? To combine "health and beauty, the mind and body, the natural and the scientific" with a philosophy of "less is more."
In ESPA, Sue created a skincare and cosmetics brand dedicated to uplifting the well-being of its customers, inside and out. To achieve this, the brand uses natural ingredients and "beautiful aromatherapy blends" to improve your skin and mental health in one swift application.
In addition to a gorgeous range of skincare products, you can also find ESPA Spas worldwide. Each spa offers "personalized skincare and wellbeing recommendations," for a proper pampering session.
If the products and spas aren't enough, ESPA Skincare is also dedicated to sustainability. They constantly review ingredients, manufacturing, and packaging. And work with industry experts to ensure their collections are as sustainable as possible. The brand generates at least 40% of its own electricity with on-site solar panels. ESPA also switched tube packaging to 25% recycled PCR materials in 2020.
On the website, we found commitments to making all packaging recyclable, refillable, or reusable by 2021. Unfortunately, we couldn't find any confirmation of whether they achieved this goal or not. But it's still an excellent aspiration and evidence that this brand cares about more than just the bottom line.
More about ESPA
Looking at ESPA skincare reviews around the web, we found this brand often scores highly with customers. They've ranked an "excellent" 4.5-star rating on Trustpilot across 6,374 reviews. 5-stars across 13 reviews on Influenster. And there are thousands of positive reviews on the ESPA Skincare website itself.
But high scores don't always show the full picture. And there are definitely some premium prices to consider. So, in our thorough and unbiased ESPA Skincare review, we're going to analyze some of the brand's most popular collections. We'll also check ESPA Skincare reviews carefully. And will even look at the shipping and returns policies (among other aspects). All to ensure you're only spending your money on the very best premium skincare brand.
Espa skincare was featured in Glamour, Vogue, ELLE, Mother & Baby, and Good Housekeeping and has thousands of followers on Instagram, Facebook, and Twitter.
Pros
Loads of products and collections in the range - From skincare to aromatherapy candles and diffusers.
Always cruelty-free with a focus on natural ingredients and an extensive all-vegan line.
Commitment to sustainability and ethical practices with constant review.
Based in the UK with a global presence – international shipping and worldwide spas.
Good selection of payment options with Afterpay available.
Complimentary ESPA tool included with every order over $120. Two complimentary "deluxe samples" when you spend $70+.
Free shipping over $100.
Regular promotions, sales, and discounts are available.
Cons
Short 14-day returns policy.
Expensive compared to other skincare retailers.
No information on whether ESPA Skincare met its 2021 sustainability goals.
ESPA Skincare Products Review
ESPA offers a huge range of skincare and holistic products to pamper the mind, body, and soul. The brand focuses on "naturally effective skincare products which deliver results you can see and feel." Every formula promises to be "beautiful to use, with luxurious textures and sensorial mood-enhancing aromatics" while also protecting "the long term health and beauty of the skin."
With so many products to look at, we've limited our ESPA Skincare review to some of the brand's most popular ranges. This way, we can give you an overview of what to expect, so you can shop with confidence.
ESPA Face Skin Care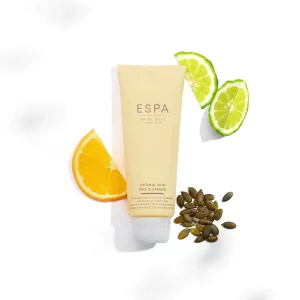 ESPA's Facial Skincare Products are "formulated with the purest, natural ingredients to cleanse, nourish, and rejuvenate for beautifully clear, radiant skin." The products often score 5-stars on the ESPA website. And there are plenty of rave reviews on independent review sites to back-up these reactions.
One of the most popular facial skincare products is the ESPA Optimal Skin Pro Serum. This serum seeks to maintain "the tone, suppleness, and smoothness of our complexion" by replenishing and strengthening the skin's natural moisture barrier.
ESPA Optimal Skin Pro Serum utilizes sunflower concentrate with a blend of Balloon Vine, Blackcurrant Seed Oil, and Sea Fennel to "soothe, nourish, and help support the skin's barrier function for a vibrant, healthy-looking complexion." The serum also features antioxidant-rich Turmeric to balance and improve your skin tone.
Another hugely popular facial treatment is the ESPA Clarifying Clay Mineral Mask. This mask scores an impressive 4.9-stars across 422 reviews on the ESPA website, with customers claiming it's "everything you would want.".
The ESPA Clarifying Clay Mineral Mask balances excess oils and leaves the skin "feeling purified and soothed with hydration." The mask features natural ingredients such as Kaolin Clay and Rose Geranium to relieve excess oil, impurities, and congestion in the skin. These are balanced with softening, calming, and nourishing ingredients like Rose Damascena, Marshmallow, and Benzoin.
ESPA Body Care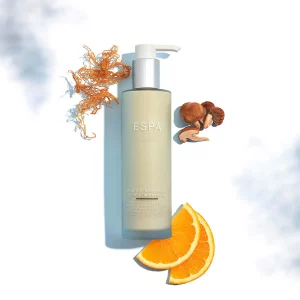 The next category up for evaluation in our ESPA Skincare review is the Body Care section. Here, you'll find "exceptionally natural full body products [to] help you look and feel your best every day."
Beauty bloggers have likened this collection to a "nature bath. Claiming the range is like taking a "scenic walk through a park or forest to help calm those frantic and panicked thoughts."
Enjoy energizing, vegan-friendly bath and shower gels featuring the stimulating scents of Peppermint, Eucalyptus, and Rosemary. Or try products infused with Bergamot and Jasmine for a relaxing and calming sensation.
One of the most popular body care products from this brand is the ESPA Exfoliating Body Polish. You can pick this up in a 100ml or 200ml bottle, or buy a 180ml glass tub for a sustainable, vegan-friendly exfoliation experience.
The ESPA Exfoliating Body Polish aims to "refine, smooth, and refresh skin, while helping to boost hydration." The exfoliating beads are made from Apricot Seed Kernels that gently scrape away dead, dry, or dull skin as well as other impurities and toxins. Spearmint cools and refreshes exfoliated skin, while Aloe Vera helps replenish moisture levels by adding a hydrating and conditioning element to this luxurious body polish.
If you're looking for a really luxurious full-body ESPA Spa experience, you might also want to check out the Charms of Happiness Box. This collection includes:
Positivity Bath & Body Oil,
Positivity Bath & Shower Gel,
A Skin Stimulating Brush,
Positivity Pulse Point Oil.
The ESPA Positivity collection is infused with fragrances from Jasmine, Gardenia, and Rose Geranium for a "burst of joy." These fragrances combine with Bergamot and Sweet Orange to give "confidence and vibrancy" and a "reminder to count your blessings."
ESPA Home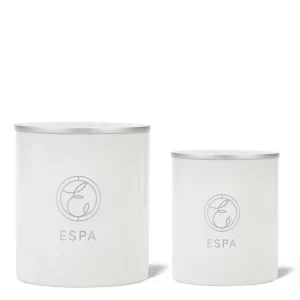 With a mission to help everyone experience the ultimate well-being, it should come as no surprise that this brand has an incredibly luxurious and enviable home collection.
ESPA Home features some gorgeous scented candles in various sizes, luxurious cotton embroidered bath robes, essential oil and reed diffusers in four signature blends, and "Atmosphere Mists". These products all aim to harness the power of aromatherapy. They create a relaxing, luxury environment in the comfort of your own home, and effortlessly elevate any space.
ESPA Beauty Supplements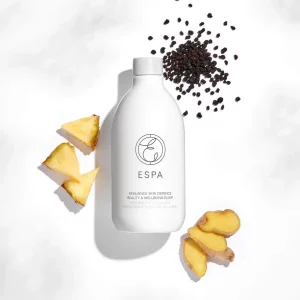 ESPA Skincare isn't the sort of brand to miss out on a skincare or well-being trend! Earlier this year ESPA released a natural nutritional supplement range to boost beauty and wellness from the inside out.
ESPA claims the Supplements range "the perfect taste of beauty" and utilizes a "holistic philosophy" to nourish "your whole wellbeing for natural beauty and inner calm."
Within this collection, customers will find a wide range of supplements with various skincare aims. Think: "Resilience Skin Defence," "Hydration Shot," and a glorious "Glow From Within" collection.
Popular Alternatives to ESPA
One of the biggest ESPA Beauty Supplements products is the ESPA Glow Beauty and Wellbeing Powder. This supplement is "expertly formulated to support the body, mind, and skin." It contains various Vegan Certified, GMO-free ingredients, including:
Copper to eradicate hyperpigmentation and encourage a more balanced, even skin tone.
Vitamin C (from Acerola Cherry) boosts collagen and immunity.
Beta-Carotene (a precursor for Vitamin A / Retinol, sourced from mushrooms) to help maintain normal, healthy skin.
Vitamin E protects cells from oxidative stress and promotes radiance.
Biotin (Vitamin B7, naturally sourced from yeast) to maintain healthy skin and hair.
Inulin and Bacillus Coagulans to support healthy digestion – a natural source of fibre.
At the moment, ESPA Beauty Supplements don't appear to be available for US customers and can only be purchased online. However, a representative stated they intend to roll out their collection of supplements in spas soon. So, hopefully, we won't have too long to wait to boost our beauty from the inside out!
ESPA Skincare Review from Customers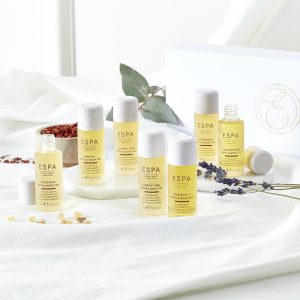 When completing our research for this ESPA Skincare review, we spent a considerable amount of time checking what real customers have to say about the brand.
Overall, we found ESPA Skincare reviews to be extremely positive. Most products on the brand's own website score 5-stars, with the lowest-rated product we uncovered scoring 3-stars.
But we never merely look at the ratings a brand receives on its own website! Although we hope otherwise, brands are able to filter reviews on their own website, and sometimes can offer a skewed appearance by only permitting the most positive reviews to be shown.
In light of this, we always check independent review sites to provide a more well-rounded view of the brand. For our ESPA Skincare review, this included checking customer reviews on Amazon, Trustpilot, Influenster, and a handful of beauty blogs.
Across all the sites we checked, ESPA reviews are overwhelmingly positive. On Trustpilot, the brand scores an "Excellent" 4.3-stars across 4,041 reviews – a fantastic result!
Here, reviewers rave about the great-smelling products and easy-to-use website. Many customers claim "ESPA products never disappoint." Others praise the website for having "everything I wanted." Some even comment on the "very good free gifts" and/or the fantastic range of ESPA Skincare voucher codes.
Although the full collection of ESPA Skincare isn't available on Amazon, the products we were able to find come highly rated.
On Influenster, the ESPA Optimal Skincare Collection scores 5-stars across 13 reviews. Here, many customers specifically compliment the ESPA hand creams and balms. One customer stated the ESPA Tea Tree Cleansing Hand Spray made them feel like they "put baby lotion on [their hands] because they are just so soft."
So, it looks like ESPA Skincare reviews are very impressive!
Sign Up for ESPA Skincare
You do need to register for an ESPA Skincare account before you can place an order via the website. But, this is quick and easy, and all you need is an email address to get started!
It's also a good idea to sign up for the ESPA mailing list. Once you've done this, you'll receive emails containing exclusive ESPA offers and discount codes, early access to new launches, plus early access to ESPA sales and promotions!
Where to Buy
The best way to shop the ESPA range (and take advantage of ESPA Skincare discount codes) is via espaskincare.com.
Some ESPA Skincare products are also available at selected retailers, including:
Amazon
Cult Beauty
Harvey Nichols
Skinstore
You can also pick up ESPA Skincare products or use your ESPA Skincare discount codes at an ESPA Spa. Use the Spa Finder tool on the website to find your nearest spa and treat yourself to the ultimate pamper session.
ESPA Skincare Shipping and Return Policy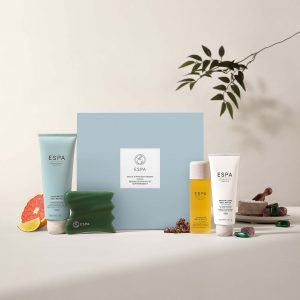 Shipping
Standard shipping within the US costs a flat rate of $3 for orders under $100. Spend $100 or more in a single order to qualify for free shipping.
Orders to the US will usually arrive within 3-6 business days. Orders to Hawaii or Alaska can take up to 14 days.
ESPA also offers Express Shipping ($15) and Premium Shipping ($20) if you can't wait for your order to arrive!
Returns
ESPA offers a 14-day returns policy (from the date you receive your order) for unopened items in their original packaging. Anyone looking to return an item should start by contacting customer support from their ESPA account.
Promotions & Discounts
ESPA Skincare discount codes are frequently sent to email subscribers. You might also be able to find ESPA Skincare voucher codes when following the brand on social media.
ESPA also frequently runs promotions and discounts online. So, it's a good idea to keep checking if you want to make this premium skincare brand a little more affordable.
Contact ESPA Skincare
ESPA offers a thorough FAQ section on its website. But for all other inquiries, you can contact the brand through one of the following channels:
Call ESPA Customer Support: 01606 336 349
Call an ESPA Trained Therapist: 844-433-5151
Email: [email protected]
Contact ESPA Support via your ESPA account page.
ESPA Skincare Review: Editors' Verdict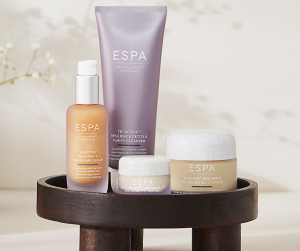 In this extensive ESPA Skincare review, we've considered all the aspects that tend to make the difference between true luxury and overpriced skincare. And we have to say, this brand has impressed us!
Almost all ESPA Skincare reviews we read – on the brand's own website and on independent sites – were incredibly positive, with reviewers agreeing the brand does meet its promises and claims.
The products sound incredibly luxurious. The aromatherapy blends do sound like they'll achieve their aims of relaxation or energizing, and we can practically smell the gorgeous scents just by reading the product descriptions!
In addition to aromatherapy, ESPA Skincare products utilize a fantastic range of natural and scientifically-proven ingredients that we know support beauty, health, and wellbeing. We love that so many of their products are Vegan-Certified, and we always have a soft spot for brands with a focus on sustainable practices.
We also can't close our ESPA Skincare review without highlighting the prevalence of ESPA Skincare voucher codes, and their generosity when it comes to free gifts. With 10% off when you subscribe to the newsletter, TWO free "deluxe" samples with all orders over $70, and a free ESPA Skincare tool when you spend over $120, there are a LOT of goodies on offer here!
In conclusion, ESPA Skincare has definitely become one of our recommended brands following this review. And we'll be keeping an eye out for one of these excellent ESPA Skincare discount codes in our inbox, ready for a big shopping spree!
Are you still looking for other skincare brands? Check out our reviews of COSRX Skincare, Clearstem Skincare, Dr Barbara Sturm, and Leahlani.
ESPA Skincare FAQ
Where are ESPA products manufactured?
ESPA products are manufactured in Somerset, England, with local-based chemists and beauty experts. This allows ESPA to control their own production facilities and ensure everything is up to their high standards.
Which are the ingredients excluded from ESPA products?
ESPA Skincare avoids certain ingredients in its formulas to ensure a premium skincare experience. Some ingredients are excluded due to their environmental impact or their likelihood to cause irritation. Excluded ingredients include:
Synthetic color and fragrance
Mineral oil
Silicone
Alcohol
Parabens
PEGs and PEG-derivatives
SLS and SLES
Is ESPA packaging sustainable?
ESPA Skincare is a brand dedicated to sustainability. Where possible, their packaging is fully recyclable and comes from sustainable sources.
Is ESPA vegan?
Many ESPA Skincare products are Certified Vegan and always Cruelty-Free.
Do ESPA products contain any allergens?
While ESPA does everything it can to reduce allergens and common irritating ingredients from its products, individual allergies and sensitivities can vary greatly and it's not always possible to cater to everyone. The company suggests consulting a doctor if you have a severe allergy and to discontinue use immediately if you experience any irritation when using ESPA products.