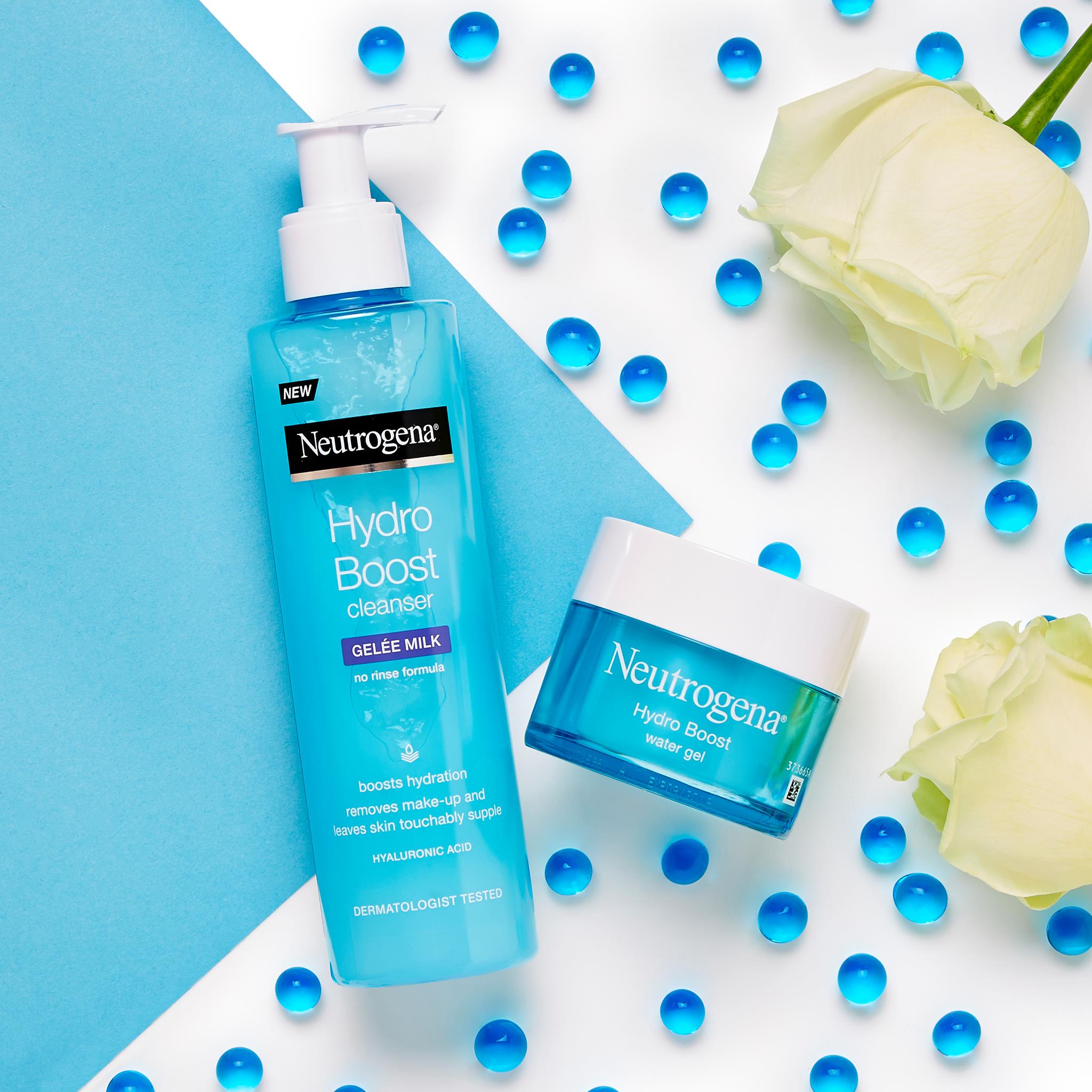 Based in Los Angeles, California, Neutrogena is one of the leading cosmetic companies, and it sells numerous popular formulas, including sunscreen serums, makeup wipes, and moisturizers. They distribute its products in over 70 countries, and many people in the skincare industry consider it a reputable brand. We'll examine Neutrogena reviews, promotions, collection, return policy, and more. Read on to decide if its cosmetic products are worth purchasing.
About Neutrogena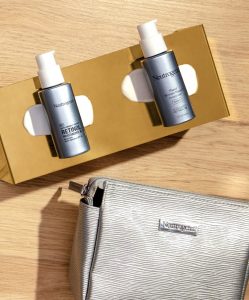 Neutrogena is an American cosmetics company owned by the parent brand Johnson & Johnson. Emanuel Stolaroff founded Neutrogena in 1930, and it used to be a cosmetics brand known as Natone. The company grew into a large business that he had to expand into retail markets.
In 1954, Emanuel met Belgian chemist Edmond Fromont and started distributing mild clear soap that offered a deep cleanse without drying your skin or leaving behind any unwanted residue. Women were flocking to their cosmetic stores to get the Natone soap bar. 
By then, Lloyd Cotsen had married Emanuel's daughter Joanne Stolaroff and entered his family. They changed the name of the company to Neutrogena Corporation in 1962, and in 1967, Cotsen became the president. 
In 1994, Johnson & Johnson acquired this independent company for $924 million, which was at $35.25 per share. It originally supplied its products to salons and department stores that catered to the Hollywood film industry.
Over the years, this brand has added other products to its inventory. The brand boasts 921k Instagram followers and more than 5 million followers on Facebook. Numerous notable media outlets have also featured Neutrogena, including Well+Good and InStyle.
Before we delve into Neutrogena reviews from customers, let's go over some pros and cons of this cosmetics company.
Pros
The company has an expansive collection of cosmetic products

Reasonable prices

They offer high-quality products

A reputable brand within the skincare industry

Tons of positive customer reviews

Klarna is available as an alternative payment option
Cons
They are not 100% vegan

The company doesn't cover return shipping fees

They do not ship internationally
Neutrogena Products Review
The Neutrogena collection has hundreds of products. In this section, we'll look at some of their most popular products that you might want to add to your cosmetic journey.
Neutrogena Cleansers
Your face skin is exposed to harmful pollution, wind, cold, makeup, dirt, and more. These pollutants damage your skin's structure. As such, it's crucial to cleanse your face. Neutrogena offers a range of facial cleansers you can add to your daily skincare routine.
The Oil-Free Acne Stress Control is a user-friendly, creamy acne face wash that helps you break the stressful acne cycle. The powerful MicroClear® Technology allows this Neutrogena face wash to treat acne before it emerges. It's also clinically proven to promote the delivery of acne treatment by helping you get rid of pimples and unclogging your congested pores.
The creamy lather clears oil immediately, reduces redness and irritation, and fights breakouts, leaving you with soft, clearer-looking skin. 
This dermatologist-tested, oil-free cleanser removes dirt, bacteria, impurities, grime, and oil. The Oil-Free Acne Stress Control retails for $9.49. 
The brand's Purifying Micellar Cleansing Towelettes deeply cleanse and revitalize the skin on the go. These oil and alcohol-free Neutrogena makeup wipes help you remove makeup and effectively cleanse and purify your skin.
These ultra-soft face wipes are effective at providing a deep clean, as they target 100% of impurities and leave your skin feeling refreshed and soft. Powered by the Triple Micellar Technology, the formula combines three gentle cleansers formulated to work together to remove the toughest makeup, impurities, grime, oil, dirt, and bacteria, while effectively purifying and cleansing your skin without being harsh.
The wipes are non-comedogenic and do not need rinsing. You can get 25 pre-moistened towelettes for $7.99.
You can use the Clear Pore Cleanser/Mask as a face mask and cleanser. This breakthrough acne-fighting formula contains Benzoyl Peroxide, an ingredient that treats existing breakouts and kills bacteria. The product rinses clean, leaving your skin feeling smooth. For only $9.99, the Clear Pore Cleanser/Mask could be yours.
Neutrogena Sun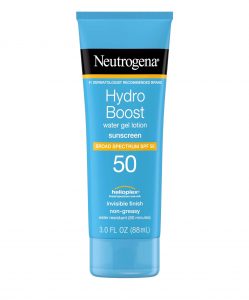 The brand offers sunscreens in different forms, including spray, lotion, sticks, mist, and serum. These products protect the skin from sun damage.
The brand's Hydro Boost Water Gel Lotion is an award-winning sunscreen lotion with SPF 50. This Neutrogena sunscreen is formulated to deliver powerful broad spectrum protection against UVA/UVB with a water-light, clean feel. That means it layers invisibly under makeup. 
The lotion quenches your skin with vital hydration, leaving it moisturized and looking healthy for eight hours without white marks or greasy residue. Because it is non-comedogenic and oil-free, it won't clog your pores.
Using this Neutrogena sunscreen can help reduce the probability of developing cancers like Squamous Cell Carcinoma and Melanoma. It also decreases the likelihood of developing sunspots, a precursor to skin cancers. 
The Invisible Daily Defense Face Serum has SPF 60+, and it's an innovative formula that takes protection from sun damage to the next level: It's invisible on all skin tones and leaves your skin feeling smooth and soft without leaving a white cast. 
The spray is formulated with antioxidants and broad spectrum UVA/UVB protection, allowing it to enhance your skin's natural radiance while fighting against environmental aggressors, such as pollution, ozone, cold, and sun. 
This sunscreen spray is non-comedogenic, and it does not contain oil, parabens, oxybenzone, or fragrances. That means it won't clog your pores. Because of its lightweight and non-greasy formula, the product glides seamlessly.  
This sunscreen spray can help you prevent premature aging caused by the sun. It helps maintain the texture of your skin while reducing the development of pimples and pigmented areas like freckling and fine lines. You can get this sunscreen spray for $17.49 and incorporate it into your daily beauty routine as a primer. 
Neutrogena Bath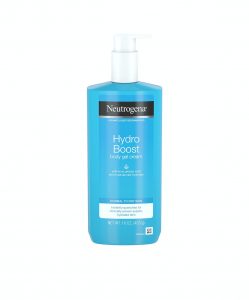 Neutrogena also offers liquid cleansing products for use on your hands and body. Ideal for dry to normal skin, the Hydro Boost Body Gel Cream contains hyaluronic acid, and it replenishes your skin to make it smooth while improving hydration. 
This non-greasy, lightweight Neutrogena body wash is free from parabens and absorbs instantly. The product also features glycerin, an ingredient that acts as a humectant and allows your skin to stay moisturized by increasing skin hydration. You can get this cream for $12.99. 
The Hydro Boost Hand Gel Cream quenches and replenishes your dry, thirsty hands immediately after use, leaving them hydrated, soft, and supple. Available at $7.49, this nourishing hand cream is suitable for daily use and moisturizes your skin for up to 24 hours. 
The moisturizing formula on this cream is powered by hyaluronic acid, which boosts skin cells' hydration and locks it in. This paraben-free, non-greasy cream absorbs instantly without leaving residue. 
The Hydro Boost Whipped Body Balm is suitable for extra-dry skin; it provides intense moisture while leaving your skin feeling replenished and soft. Powered with hyaluronic acid, this velvety whipped body balm is ultra-light, paraben-free, and non-greasy. 
This fast-absorbing body cream features isopropyl palmitate, which helps bind moisture to the skin. This ingredient is also an emollient, and it allows this Neutrogena body wash to spread smoothly. You can get the Hydro Boost Whipped Body Balm for only $7.99.
Neutrogena Body Lotions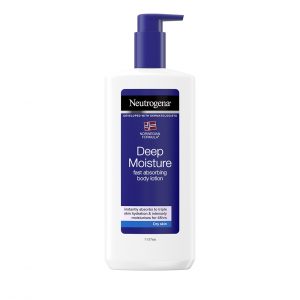 You can pamper yourself by applying Neutrogena body lotions. They provide a great way to rehydrate your dried skin while keeping it feeling and smelling good.
Ideal for dry skin, Neutrogena Deep Moisture Fast Absorbing 250ml/400ml Body Lotion with a unique Norwegian Formula provides your skin with moisture in just a single application. This Neutrogena body oil contains moisturizing glycerin, allowing it to triple the skin's hydration level and maintain moisture levels for 48 hours. The product also offers protection against skin-drying environmental aggressors.
The product also features hydrogenated palm glycerides, which moisturize your skin by forming a water-impermeable film on it. The film protects your skin from environmental damage while locking the moisture near it. It also contains potassium cetyl phosphate, which acts as a surfactant and emulsifier.
If you have dry, sensitive skin that needs special care and attention, try the brand's Deep Moisture Hypoallergenic Body Lotion with Norwegian Formula. Available in a 400ml bottle, this fast-absorbing body lotion is hypoallergenic and fragrance-free. 
This non-greasy formula delivers its active ingredient up to ten layers deep in your skin while moisturizing it. Once you apply this body lotion, your skin instantly gets protection against external, skin-drying aggressors, leaving it smooth, soft, and comforted for 48 hours. Using this product also leaves you with beautiful, healthy-looking skin.
Neutrogena Best Sellers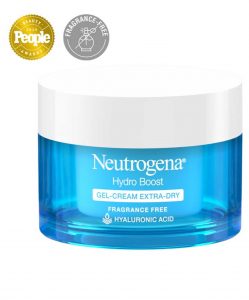 You'll find the best-selling Neutrogena products in the Best Sellers section. The company updates this list from time to time. 
The brand's Hydro Boost Hydrating Serum is a non-comedogenic serum that boosts hydration, leaving your skin smooth and supple throughout the day. It contains hyaluronic acid, which attracts moisture to your skin and locks it in, leading to supple and smooth skin. You can wear this oil-free product under your makeup. 
This fast-absorbing Neutrogena hydro boost quenches your skin while delivering higher hydration levels, leaving your skin hydrated and glowing. For best results, apply the product to your entire body in the morning and evening. Be sure to bathe on towel-dried skin or reapply after hitting the shower. 
The Hydro Boost Hydrating 100 Percent Hydrogel Mask is a moisturizing face mask that features hyaluronic acid. This Neutrogena moisturizer instantly quenches your dry skin while contouring your skin to ensure optimal absorption. In turn, it leaves your skin supple and hydrated.
This moisturizing face mask sheet is made from unique hydrogel material, and it can hold up to 50% more essence than a regular paper face mask. Apply this product after cleansing your face and before applying serum. Then, leave it on for 15 minutes to half an hour to give your skin an additional boost of hydration. This non-comedogenic and gentle face mask won't clog your pores, and it retails for $3.99.
Shower bath and gel
The Replenishing Shower & Bath Gel-Ocean Mist is one of Neutrogena's best-sellers. Available at $22.49, this product allows you to replenish the look of your skin every day, leaving it feeling renewed. The bath and shower gel wakes your senses while the creamy lather rinses clean. In turn, you'll have smooth, soft skin without heavy residue. 
The Rapid Tone Repair Retinol Plus Vitamin C Dark Spot Corrector is a dark spot corrector formulated with retinol and vitamin C. It improves the look of skin discoloration and dark spots, revealing even younger-looking skin with one week of use. This product does not feature dyes and mineral oil, and it provides noticeable, clinically proven results. You can get this dark spot corrector for $24.99.
Neutrogena Reviews from Customers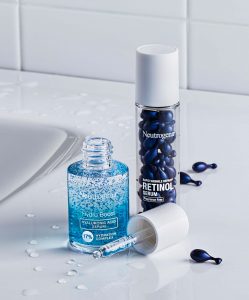 With a cosmetics company as reputable as Neutrogena, you should expect tons of reviews on the internet. We found loads of testimonials under each product on the brand's site. Let's look at the ratings of some of their bestsellers:
The Rapid Tone Repair Retinol Plus Vitamin C Dark Spot Corrector scored 3.5/5 from 464 reviews

The Replenishing Shower & Bath Gel-Ocean Mist had a rating of 4.7/5 stars out of 520 reviews

The Hydro Boost Hydrating 100 Percent Hydrogel Mask scored 4.1/5 stars from 306 reviews

The Hydro Boost Hydrating Serum received a rating of 4.5/5 stars from 580 reviews
It's evident that the numbers do not lie; many users seem to love Neutrogena products, and they stated that the brand's creams, moisturizers, and serums did a great job when it comes to revitalizing their skin. They loved how the products made the faces look refreshed and younger.  
Popular Alternatives to Neutrogena
On Trustpilot, Neutrogena scored an average rating of 3.2 from 57 reviews. More than 44% of the customers left an Excellent rating. One of the users stated that this brand has the best skin care products, and she was happy to add them to their daily beauty routine. She uses their toner, face wash, and face scrub. They removed all the spots on her face, leaving her skin smooth and younger-looking. 
We also saw some negative Neutrogena reviews from unsatisfied buyers. Some customers complained that the company doesn't cover return shipping fees. Additionally, fans of 100% vegan hair and skin care products complained that they had fewer options.
Sign Up for Neutrogena
To get the ball rolling with this cosmetic brand, you need to create your Neutrogena account. You'll have to fill out your basic details to set up your account. 
Once you create your Neutrogena account, you'll get access to your order history, enjoy faster checkouts, and join their Care Club loyalty rewards program. 
Where to Buy
You can purchase Neutrogena products on their site Neutrogena.com. Their products are also available at select retailers, including Walgreens, Ulta Beauty, Shoppers Drug Mart, Amazon, Walmart, and Rexall. Check out their Store Locator function to find the closest store.
Neutrogena Shipping and Return Policy
The company currently does not ship internationally. The UPS 2nd Day delivery needs $13, while the standard shipping option costs $8. Allows between 7 and 10 business days for your packages to arrive. 
The company offers a 30-day window period for buyers who want to return items. Neutrogena doesn't cover shipping fees, so you'll have to pay for any delivery charges. The company only takes care of the return shipping fees if you receive a damaged item or if the order had an error. 
Promotions & Discounts
We found various promotions and discounts on Neutrogena's site designed to help buyers save money. You will save 15% off your next purchase if you sign up for their newsletter. 
After setting up your account, you can link to their Care Club loyalty rewards program from the account dashboard. You'll then start to earn points by uploading receipts from your purchases, sharing them with your friends, answering polls, and writing reviews. You can redeem your points and get gift cards or the opportunity to walk away with exciting prizes.
Contact Neutrogena
You can contact the Neutrogena customer support team if you have inquiries. Use the following channels to reach out to the company. 
Fill out the request form

Call them at 1-888-984-2464 or 1-800-582-404

Send a direct message to the Neutrogena Twitter, Facebook, or Instagram page
Neutrogena Editors Verdict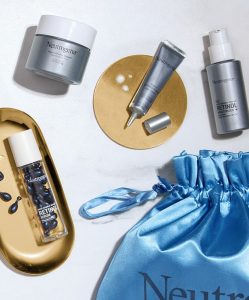 After checking Neutrogena reviews, we believe this company is worth considering when looking for high-quality cosmetic products. Their products are affordable, and most customers say they are effective. 
Neutrogena is commonly found in a range of department stores and pharmacies. It's often grouped with some of the big-name retailers in the industry, such as Estee Lauder, L'Oreal, and Shiseido. We recommend Neutrogena to those looking for a reputable cosmetic brand. 
Are you still looking for other skincare brands that are effective? Read our reviews of Ahava, COSRX, Averr Aglow, and EltaMD.
Neutrogena FAQ
Is Neutrogena cruelty-free?
The brand is not cruelty-free, as it has inherited this policy from Johnson & Johnson, its parent company. That means they conduct animal testing on their products.
Is Neutrogena a vegan brand?
The company does not claim to be vegan-friendly, and it uses ingredients like lanolin and beeswax in its products. However, some products do not feature animal-derived ingredients.
Do dermatologists recommend Neutrogena?
This brand is the number one dermatologist-recommended skincare brand. That means they are enriched with high concentrations of high-quality ingredients, and you'll notice results faster even when you use less of their products.
Does Neutrogena work for acne?
The brand has products formulated to treat acne. For instance, Stubborn Marks PM Acne Treatment contains retinol and benzoyl peroxide, which work together to fight stubborn acne and post-acne marks.