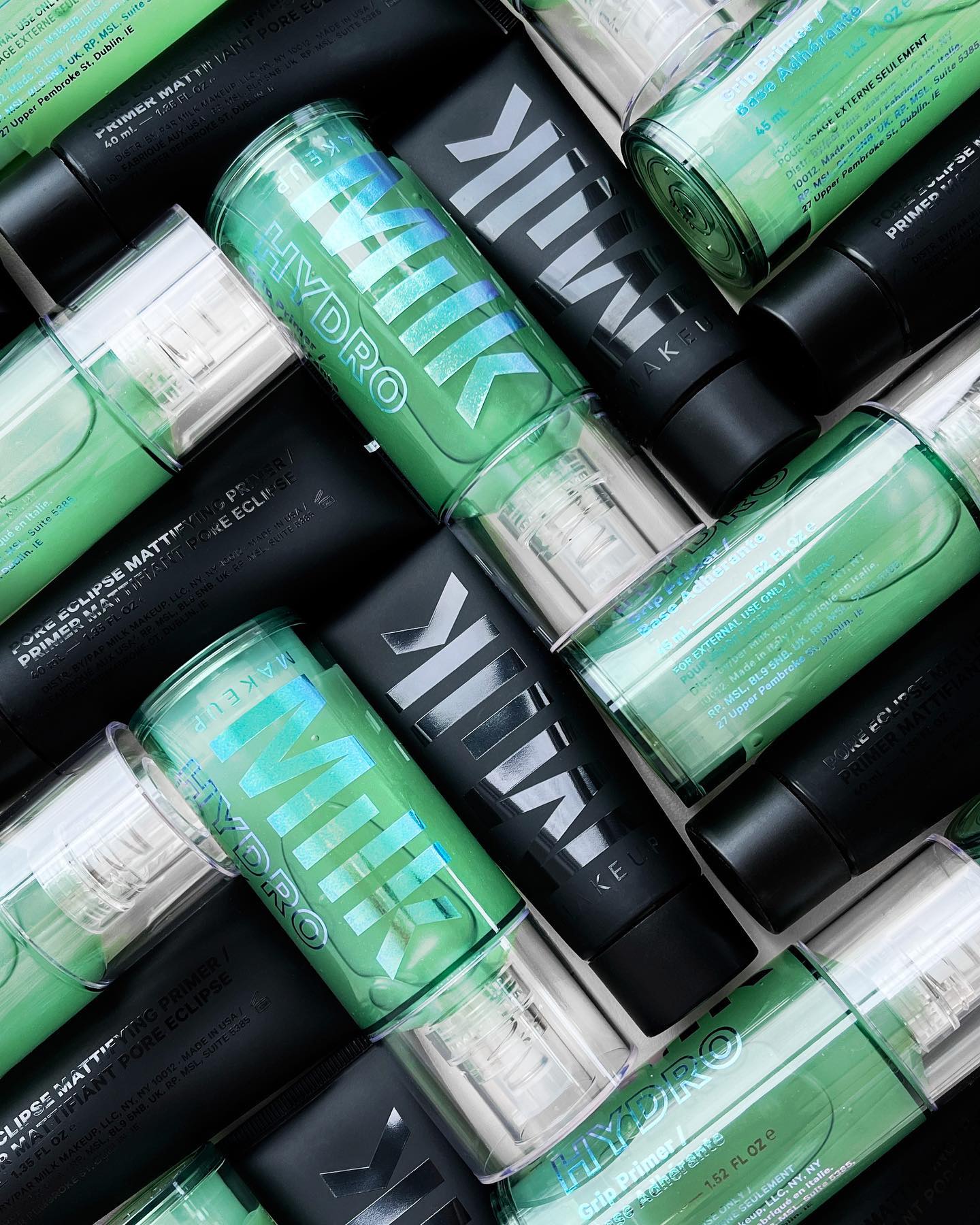 The beauty industry is flooded with thousands of makeup and skincare products. The more the products, the harder it is to know which products are safe and suitable for your skin. Milk Makeup offers products formulated to transform your look. This Milk Makeup review will examine the company's bestsellers, customer ratings, discounts, and much more to help you determine if their products are worth adding to your daily skincare and makeup routine.
About Milk Makeup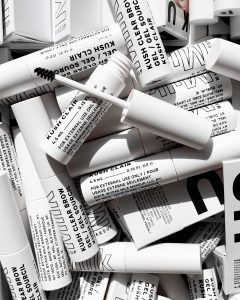 Milk Makeup is a creative studio in downtown New York. It is one of the leading makeup companies in the U.S., where beauty meets utility simplified to beautility.
The co-founder and owner of this makeup line is Zanna Roberts Rassi. She uses creamy butter and multi-functioning formulations to manufacture her beauty products. The products are perfected and made compatible with each other. It is easy to mix the products and achieve whatever look you desire.
The story of Milk Makeup dates back to Manchester, where Zanna grew up and studied evolutionary psychology. From her studies, she learned that our faces are the windows into our character. She also lives by the mantra 'look good, feel good, and do good.'
Several motivating factors from her upbringing and studies motivated her to start producing safe beauty products. According to her, Milk Makeup products help you be the best you can be. To be the best, you can start by using great makeup and skincare products. The feeling of greatness from within will project externally to help you achieve confidence.
Zanna believes that simple acts can make a big difference. Applying red lipstick before a major presentation will make people notice what is coming from your mouth. Using mascara on your lashes will help you appear more awake, especially if you are having a long day.
More about the brand
After studying psychology, Zanna worked as an editor for magazines in London. The skills she gained enabled her to craft Milk Makeup and make it presentable.
Zanna opted to manufacture clean makeup products, unlike her many competitors who use harsh chemicals in their products. Milk Makeup manufactures clean products using paraben-free formulations. The products are also vegan and 100% cruelty-free.
Today, Milk Makeup products have grown to be the leading beauty and cosmetic products in the U.S. The company enjoys an impressive social media following with 2.1 million followers on Instagram and over 117 Facebook followers.
Before we delve into this Milk Makeup review, here are the pros and cons of this beauty brand.
Milk Makeup Products Review
 Milk Makeup supplies makeup and skincare products that are vegan and cruelty-free. Here is an overview of some of the company's best-selling products.
Milk Makeup Complexion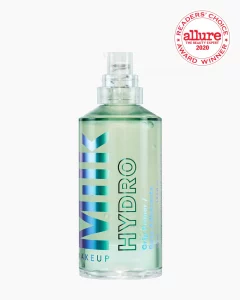 Every woman desires to have a fresh and full face. Milk Makeup complexion gives you endless options of products that will transform your face to exactly what you want.
Milk Makeup Hydro Grip Primer is an award-winning primer made with 94% natural gel formulation. The primer works effectively to smoothen skin, lock moisture for up to 12 hours, and act as a humectant for continuous skin hydration.
This primer is vegan, cruelty-free, and 100% safe to use on your skin. It does not contain ingredients like silicone and paraben. When you apply it, you will enjoy a fragrance-free, oil-free, and gluten-free primer.
Our Milk Makeup review also found that this primer is made from hyaluronic acid for hydration and smoothening the skin. Blue agave extract is another ingredient used to lock in moisture. It also contains Niacinamide and aloe water for moisture and a dewy glow.
You can use the primer together with the Hydro Grip Set Refresh Spray. This product is free from alcohol, and it is designed to hydrate your skin and lock in moisture for a maximum of twelve hours.
Milk Makeup Setting Spray contains vitamin B3, which acts as an antioxidant and refreshes the skin. It also contains moringa oil seeds for moisturized and breathable glowy skin, and you can get it for $20.
Milk Makeup Powders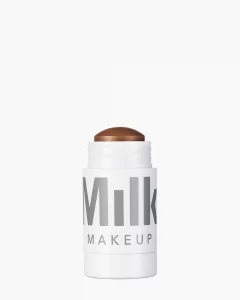 If you're looking for the perfect hydrating liquid bronzer, Milk Makeup has got you covered. Milk Makeup Bronzer is a 90% natural, lightweight liquid bronzer made from a special formulation to enhance skin care benefits.
It is an excellent bronzer that guarantees a soft diffused contour, and a warm, sunkissed finish on the skin. The product is vegan, fragrance-free, silicone-free, and paraben-free.
The main ingredients used to manufacture the bronzer are snow mushroom, which gives you smooth-looking skin and a plumper look. Vegan plant-derived collagen is another active ingredient that helps improve the firmness, elasticity, and texture of the skin.
The bronzer achieves a perfect finish when combined with the bionic blush. It is an award-winning liquid blush used as a blended sheer or build-up for a soft flush of color. The blush is formulated with ingredients to help improve skin texture and firmness.
For best results, shake the Milk Makeup Blush gently before use. Gently squeeze the tube and dispense a considerable amount on your palm. Use your fingertips, sponge, or brush to softly blend the formulation on your skin. You can use it alone or apply it over makeup.
The blush is made from reishi mushrooms for smooth and vibrant skin, and you can get it for $22.
Milk Makeup Eyes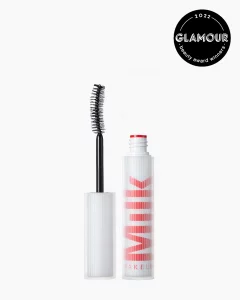 Those with dark, lengthy, and voluminous lashes should check out the Milk Makeup Kush Mascara. This award-winning mascara guarantees thick, high-volume lashes from the root to the tip.
It is 100% safe to use because the mascara is free from fragrance, alcohol, and coal tar. The active ingredients used in the mascara are hemp-derived cannabis seed oil to keep lashes soft and get rid of stiffness. Another ingredient is vegan beeswax, which prevents lashes fall out and keeps fibers locked onto lashes.
To use this mascara, wiggle the brush from the root to the tip of the lashes. Continue layering to achieve your desired intensity.
Compliment the dark, lengthy lashes by using the Kush Liquid Eyeliner. The product comprises a waterproof liquid pen eyeliner and a reversible felt-tip formulated to glide smoothly on the skin for an intense black pigment that stays throughout the day and night.
Before using this product, turn the tip upside-down for saturation. Carefully apply it to the lash line from the inner corner of the eye, and be extra cautious to avoid smudging. The eyeliner is ophthalmologist tested, making it easy to remove using your favorite oil-based makeup remover.
Available at $22, Kush Eyeliner is made from hydrogenated castor oil that helps grow thicker and longer lashes.
Milk Makeup Lips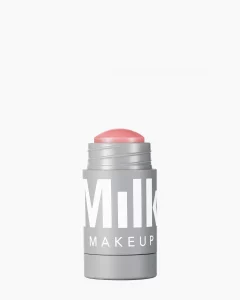 Milk Makeup offers a variety of hydrating matte lipsticks. They are available in different colors, including dusty rose, cool red wine, and warm saddle brown. The lipsticks are pigmented and matte made from a thoughtful formulation for a comfortable, long-wear color.
It is easy to use Milk Makeup lipsticks: they are designed for easier and quicker application. Apply one coat to the lips for full coverage. And, for extra moisture, you can align the base of your lips with the Kush lip balm.
The ingredients used in the lipsticks are bamboo powder that smoothens lips for a natural matte finish and soft-focus effect. Available at $24, this lipstick contains shea butter and coconut oil to hydrate and soften your lips.
The Lip Glaze Hydrating Lip Gloss is available in three colors; chronic clear, Nova-warm beige tint, and Rosebud-rose. It offers smooth, soft lips without stickiness. The product is also safe, as it is soy-free, paraben-free, and fragrance-free.
It is easy to use because you only have to glide directly on the lips using the cooling metal applicator. You can use it day and night for perfect hydration.
The gloss contains jojoba oil to ensure you have smooth, shiny lips. The ingredient acts as an antioxidant. It also contains sage and peppermint for natural flavors.
Milk Makeup Skincare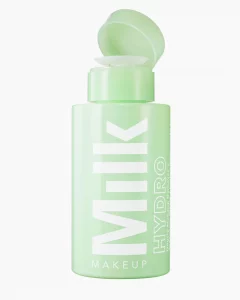 Milk Makeup skincare products are clean and cruelty-free. The products are safe to use and gentle on the skin.
The Hydro Ungrip Makeup Remover Plus Cleansing Water is refreshing and contains 92% micellar water. It gently removes makeup, while hydrating and cleansing the skin.
The makeup remover is a clean product because it is vegan, gluten-free, cruelty-free, and fragrance-free. It is advisable to use the product in the morning and at night. Use it together with the Hydro Ungrip reusable pad, which you can purchase separately. Apply the micellar water on the pad and gently swipe across the face and neck to remove makeup.
The active ingredients in this product include aloe leaf juice, which is rich in antioxidants and helps fight free radicals. It also contains potassium sorbate, a safe ingredient used in personal hygiene and cosmetic products to prevent the growth of microorganisms. Caffeine is also present, and it acts as an antioxidant and protects the skin from free radicals. You can get this makeup remover for $32.
Milk Makeup Review from Customers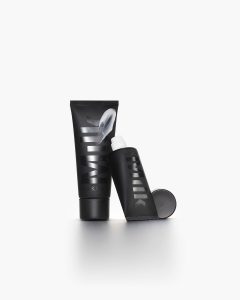 Our Milk Makeup review checked what customers say about the brand's products. The company has received many positive remarks from its users, who are impressed with the beauty and skincare products.
Many customers commended the company for producing a wide range of beauty products. Furthermore, buyers praised the Hydro Grip Primer and said it's an effective gripping primer that adds a beautiful dewy glow to their skin. They also love how the primer is not slippy and raved about how it did not leave a heavy layer on their skin.
One of the customers bought the Milk Makeup KUSH Volumizing Mascara from Sephora. They complimented and said that they loved how it does not wear off like most mascaras. She uses the mascara and seals it off with a spray makeup setter. The mascara can last for at least 9 hours despite having a day full of movements and temperature changes.
Another customer commented on the Milk Makeup Blur Liquid Matte Foundation, stating that she had bought the Golden light shade, which complements her skin tone. The customer praised the products for being simple and sleek. She liked how the foundation comes in a squeeze tube and said it has full coverage and smells good with a citrusy fragrance.
Popular Alternatives to Milk Makeup
Further customer reviews
A satisfied customer from Ulta said that she loves the Flex concealer. According to them, the concealer has aesthetically appealing packaging that comes with a little doe foot applicator. The concealer has a medium to full coverage that covers, calms, and flexes without creasing or cracking. It is also safe to use because it has no parabens and sulfates.
Most reviews we checked from customers are positive, and most users are satisfied and content with the products they bought. However, some customers complained that Milk Makeup does not offer returns or exchanges on opened products.
Sign Up for Milk Makeup
To join the Milk Makeup family, visit the company's official website and sign in to your account. If you are a first-time user, you will be required to set up an account. Click on the create account button and provide the required details.
Remember to provide a valid email address so that you will be among the first people to get notified when the company has active promotions and offers.
Where to Buy
You can purchase Milk Makeup products on the brand's official website MilkMakeup.com. You can also find a selection of their products on Milk Makeup Sephora, Amazon, and Milk Makeup Ulta.
Shipping and Return Policy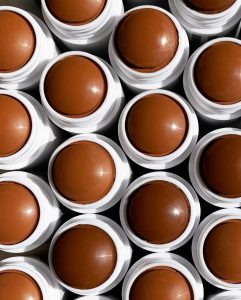 Shipping:
Milk Makeup offers free shipping and samples with a $45+ purchase. Orders are processed and shipped within 3 to 4 business days. The company only ships within the US.
Return Policy:
Milk Makeup is committed to selling high-quality products. For instance, if you are not happy with the products you just bought, contact the company, and they will exchange or return the item.
Returns should be made 90 days from the date of purchase. The returned product should be unused. Allow 7 to 10 business days to start processing returns.
Keep in mind that the KUSH Lash + Brow Serum is an exceptional product: it takes between 4 and 12 weeks to start seeing results. Therefore, be patient when using the product. If you don't like it, you can return it within 120 days from the date of purchase.
Milk Makeup Promotions and Discounts
Our team discovered several promotions and discounts available to customers that will help you save money when shopping for Milk Makeup products.
Free shipping and two free samples with $45 and above purchase
Get a free sample of RINSE Mascara with any $50 order when you use the code RINSE at checkout
Customers enjoy 25% off the best-selling sunshine collection when they use the code SUNSHINE at checkout
Unlock 10% Off Student Discount at Milk Makeup with Student Beans
Contact Milk Makeup
If you want to learn more about Milk Makeup products or have any questions, contact the company through their phone at 1-888-686-MILK. You can also shoot an email to [email protected], and their support team will respond within 24 hours.
Alternatively, you can send a direct message on their Instagram or Facebook page. Their customer support representatives are available from Monday to Friday from 9 A.M. to 5 P.M. EST.
Milk Makeup Review: Editor's Verdict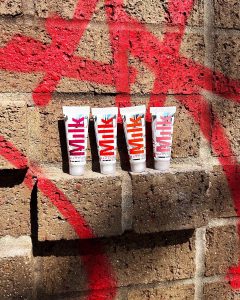 If you are looking for high-quality makeup and skincare products with an essential payoff, Milk Makeup is the ideal option. This Milk Makeup review thinks this brand is worth checking out because it produces 100% vegan and cruelty-free products.
There are also tons of positive and satisfactory reviews from customers who have used their products. We recommend Milk Makeup to anyone looking for lipstick, mascara, or lip balm free from harmful chemicals. So our final verdict? We do believe that Milk Makeup is a good and reliable company. Their awards have definitely proven that, but customers are also happy with using the products.
If you are one that loves complexion products such as liquid bronzers, blush, eyeshadow, and so on, then Milk Makeup is the one for you.
Are you searching for other quality beauty brands? Read our reviews of Go To Skincare, Be Naturals Organics, Blume Skincare, and Facetheory.
Milk Makeup FAQ
Is Milk Makeup cruelty-free?
Yes. All Milk Makeup products are cruelty-free and certified by Leaping Bunny because they do not test their products on animals.
Is Milk Makeup owned by a brand that tests on animals?
No. The company is not associated with any beauty company that tests products on animals.
Is Milk Makeup Vegan?
Yes. Milk Makeup products are 100% vegan. The ingredients used are derived from plants.
Do Milk Makeup products feature parabens?
No. Milk Makeup uses safe and non-toxic ingredients in its products. The products are made from a special formulation that contains minimal to no preservatives. Milk Makeup products contain natural oils, fruits, and vegetable butter.
Is Milk Makeup considered a clean beauty brand?
Yes. The company is determined to deliver safe and healthy products that give epic results. Their products are safe because they are 100% vegan and cruelty-free. As part of maintaining health standards, the products are made from a thoughtful formulation that strives to provide clean beauty products.