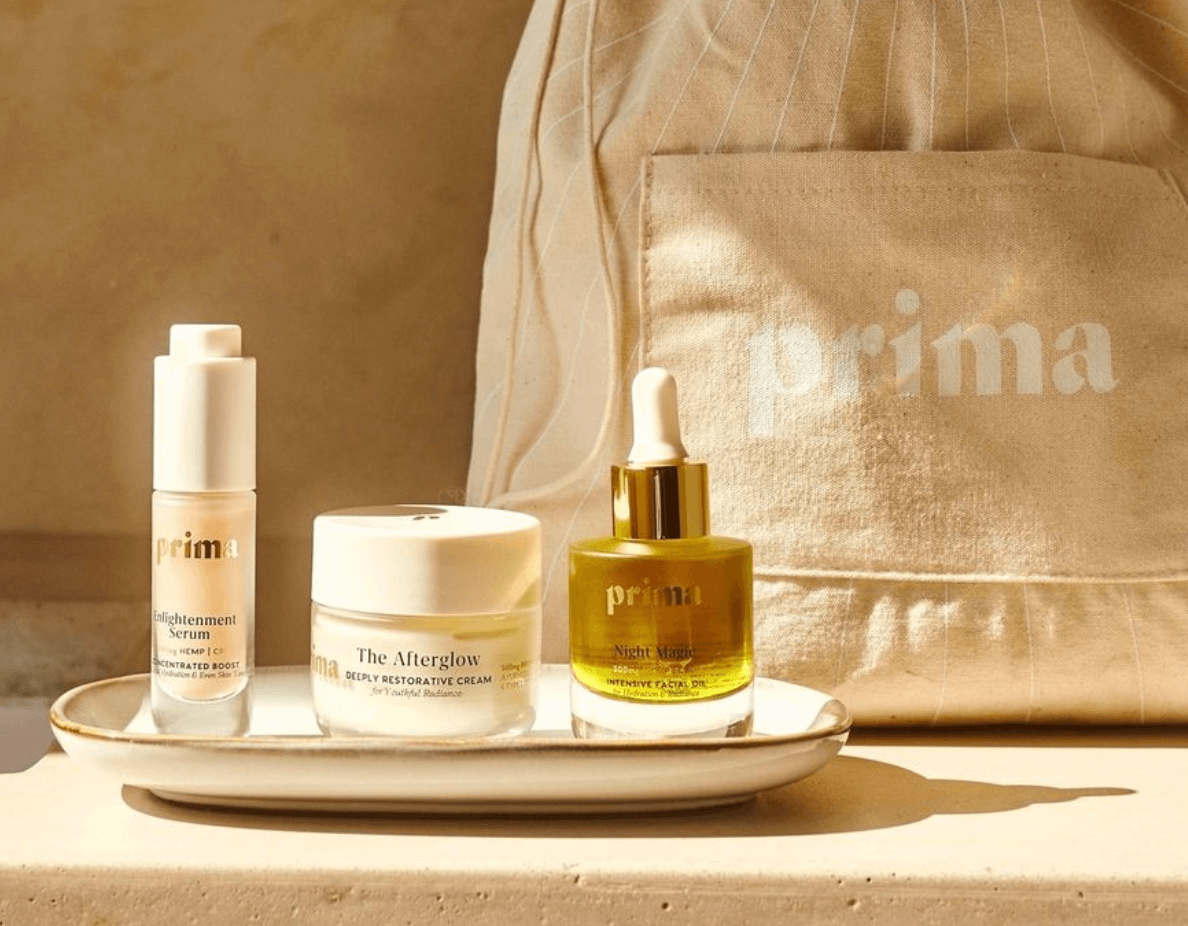 Are you feeling stressed and tired all the time? Is it reflecting on your skin and body? It's quite difficult to maintain a healthy lifestyle, and balance work while still looking and feeling the best. We tend to overlook our 'me' time and just focus on everything else but ourselves. That's where our Prima Skincare review comes in handy.
Prima is a clean beauty company offering all-natural skincare and body care products as well as supplements. They use CBD in all of their products. These top-notch plant products are designed to care for the skin, all while keeping in mind its fragile nature and need for long-lasting results. So, try out this unique range of CBD skincare – all non-toxically extracted, of course – and you'll soon be blessed with blemish-free, reenergized skin. If you wish to learn more, read on our Prima CBD Skincare reviews.
About Prima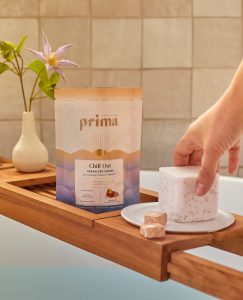 Prima CBD Skincare is a supporter of guiding our skin back to its original self. Prima was founded to help provide humans with the equipment, and information that will ultimately heal their skin with the best care products available.
The three founders of Prima are Christopher Gavigan, Laurel Angelica Myers, and Jessica Assaf. Its mission is to "Uplift science and nature to advance health and cultivate wellbeing."
What's the reason behind Prima products? Well, in today's world there are so many external factors that stress our bodies, minds, and skin that we cannot turn a blind eye anymore. Prima beauty products are created to make a significant difference in your skincare routine while also educating you on the science.
Prima's products are science-backed, made from hemp seed oil which is a potent ingredient known to relieve stress. So whether you have sensitive skin, acne scars, or you're just looking for vitamins to make you feel good from the inside out, Prima has all of that.
Prima was featured in The New Knew, Bloomberg, and The Good Trade and is very popular on Facebook. Just read our Prima Skincare review!
Pros
An abundance of hemp-based verified products
Prima CBD Skincare contains zero endocrine disruptors, carcinogens, and reproductive toxins
The products are formulated with 100% carbon neutral across all supply chains and their operations
Products are further formulated to be Climate Neutral Certified
Sustainable practices with workers
The company donates 1% of its profits to its beneficent partners
No harmful ingredients present
Research goes into every product before it's released
Clean beauty brand
Cons
Customers complained about the product sizes
Can be a bit pricy compared to other similar brands
Not available worldwide
Prima Supplements
The Prima Supplements provide you with results that are instantly felt. They use medically-formulated natural ingredients, such as CBD that are verified to help you feel, and sleep well.
The Daily 25mg CBD Softgel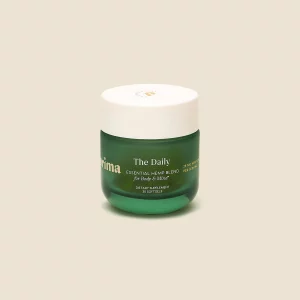 The Daily soft gel is a potent supplement formulated to help you focus, remain calm and manage stress as well as possible. What does Prima promise with this product?
Good for stress
Good for recovery
Gluten free
Non GMO
Lab verified
Non-intoxicating
You'll get 30 soft gels in one bottle and it retails for $35. The main ingredients are Organic Hemp seed oil, black pepper berry oil, turmeric oil, and clove bud oil.
One customer wrote about the gel and how it made her feel: "I'm shocked by how much better I feel…"
Prima No Worries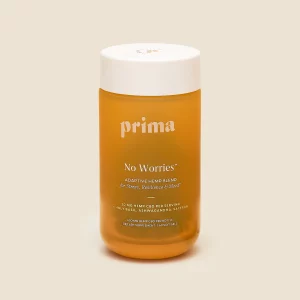 The next wellness products on our list are the famous No Worries vitamins. It's formulated with Prima's blend of CBD and Ashwagandha. The brand markets the product as a "happiness & energy" solution.
While taking these supplements, you'll feel less fatigue, as it boosts feelings of calmness, happiness, and serenity. The ingredients used in these softgels are clinically proven as well as a mix of botanicals, essential vitamins and nutrients to make you feel your best self.
The ingredients are:
20mg Organic Hemp CBD
Shoden Ashwagandha
SaffSerene™ Saffron Extract
Vitamin B Complex
Vitamin C
Holy Basil
If you wish to purchase the Prima CBD No Worries supplement, a bottle of 60 vitamins retails for $52. One of the happy customers said: "This is so much better than expected! Gives me energy, yet calms my anxiety and improves my overall mood."
Prima Bodycare
We continue our Prima Skincare review with some of the bodycare items. While we take care of our body from the inside with these supplements, it is also worth taking care of it from the outside. The brand offers a wide selection of body care products, such as body lotion or a bath soak.
Beyond Body Oil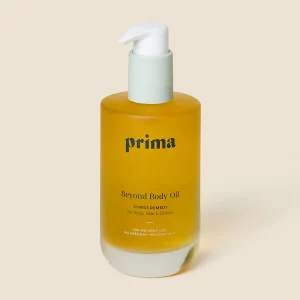 One of the bestselling body care products from the Prima catalog is Beyond Body Oil. This is a special body lotion in an oil form that has the most powerful botanical extracts and antioxidants.
It locks in moisture, improves the overall skin feeling, and gives you the best glowing skin you could ever fish for.
According to Prima, the body oil is:
Good for dry skin
Good for dullness
Great for texture
Moisturizing
Suitable for all skin types
Clinically tested
Hypoallergenic
Gluten Free
The ingredients list also looks promising. This, just like other Prima products, it's one of the 100% clean beauty products from the brand. The main one is hemp extract, 600mg in this case. Then there's a combination of magnesium, helichrysum, squalane, jojoba seed oil, and apricot kernel oil.
Squalane for example is very much loved due to its ability to mimic the skin's natural sebum. It keeps the skin moisturized, softens it, and improves the overall skin tone. Thankfully, this can be derived from sugarcane. Beyond Body Oil retails for $56 and you get 177 ml product. If you love skincare oils, then you might want to invest in this one.
Unwind Bath Gem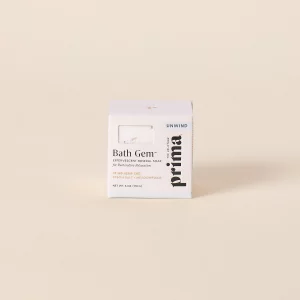 What better way to end your night than to unwind in your bathtub with hot water, candles, and some good music? Let's not forget the most important part, using a bath bomb that has calming effects. The Unwind Bath Gem is a bath soak with calming aromatherapy & Epsom salt.
It promises to ease tension and "melt away stress" while keeping your skin moisturized and soft. It is also cruelty-free, just like the rest of the brand.
Ingredients inside the bath soak are:
25mg Hemp CBD
Epsom salt
Meadowfoam Seed Oil
Eucalyptus
Lavender
Camphor
One bath bomb retails for $15, however, it is 170g which is bigger than most of the similar products.
Prima Skincare
Are you in love with skincare just as much as we are? Perhaps you're trying to balance greasy skin, reduce wrinkles, and help the aging process. With Prima skincare products you can do all that.
Prima Night Magic Oil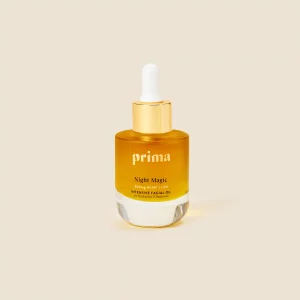 If there's one face oil you should purchase, it's the Prima Night Magic Face Oil. It's a great way to hydrate the skin even further, it's also a good addition to your nightly routine. Of course, using a cream is still recommended, however, oils can keep your skin tone balanced and make it less greasy.
This product promises to reduce the appearance of fine lines and wrinkles while improving your skin's radiance. It's full of fatty acids, antioxidants, and minerals.
Let's check the ingredients list:
300mg Organic Hemp CBD
Prickly Pear Oil
Moringa Oil
Hemp Seed Oil
Rose Hip Extract
Avocado Oil
Chia Seed Oil
Marula Oil
Kukui Oil
If you wish to see results and love the way your skin feels, then sometimes you need to pay the higher price point. 30 ml product retails for $82. With that being said, the brand recommends only 4-5 drops that cover your face and neck as well.
Enlightenment Serum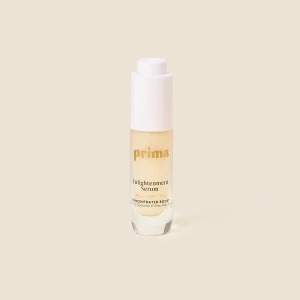 Using a serum can be beneficial for many reasons. However, using the Enlightenment Serum will brighten your skin, refine your pores, and even out your skin tone. As it has niacinamide besides the CBD it will provide you with lasting hydration. It's basically a rehab for your skin.
Using this serum with the Night Magic is a powerful duo. Let's check the ingredients list:
100mg Organic Hemp CBD
Niacinamide (Vitamin B3)
Saccharide Complex
Hyaluronic Acid
Coconut Fruit Juice
Well, this certainly looks promising. All you have to do is use 1-2 drops and apply it on a clean and dry face, neck, and chest. They recommend using it both morning and evening for the best results. $10 ml product retails for $18.
Prima Tools & Accessories
It's without a question that beauty tools are more and more popular these days. Do you really need them in your routine? Well, it's debatable. Considering how different is our world today, having beauty tools is definitely an add-on to our already great skincare routine.
Renewal Stone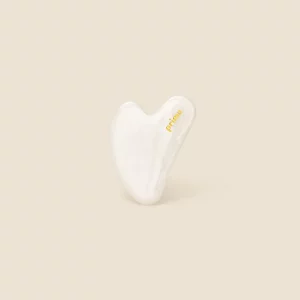 Prima's renewal stone is a Jade Gua Sha tool for both face and body. This is a great product to reduce stress, it has a calming and soothing effect. It is 100% made out of white Jade stone. The Gua Sha retails for $24.
This should not be used on its own. Prima recommends you cleanse and prep the skin and apply Night Magic on the stone before starting your face sculpting routine. You should use it in upward motions and repeat it a few times.
There are plenty of videos on the internet suggesting how to best use this stone and Prima itself has a video on the website with instructions.
In case you wish to use it on your body, the same applies. Just add some of the body lotion to the stone and massage away.
Holding Jar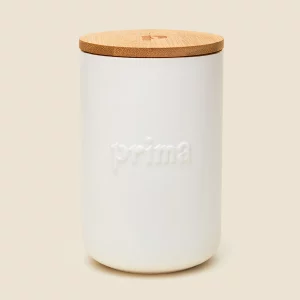 This next item is probably not that necessary, however, it looks beautiful. The Holding Jar is a ceramic canister made for your Prima products. It will help you organize the little things in your bathroom or on your vanity.
It should hold about two bags of Chill Out chews or two Bath Gems. Whether you use it for the brand's products or other stuff, it's a lovely addition to your home decor. The ceramic jar retails for $18.
Prima Bundles
Are you in need of gifts for a special occasion? Or you're just interested in purchasing some of the Prima products and getting the best value? Their bundles are amazing and you get to try out two products at the same time.
Bright & Radiant Duo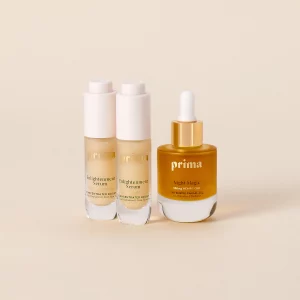 This is probably the best duo you could get for your sensitive skin. The Night Magic and Enlightenment Serum duo is offered at a special price of $110 (at the time of writing this.
Moreover, you get two bottles of the serum as they are only 10 ml each, plus the 30 ml Night Magic. If you've been wanting to try out the Night Magic oil, then now would be your time to do that.
The reason why Prima recommends mixing the oils with serum is due to their potent niacinamide and antioxidants. Bye wrinkles and hello glow! The scent of these is quite amazing and customers really love it. Out of nearly 1000 reviews, this bundle receives 4.6 stars.
One of them said:
"This is my first time…
This is my first time using this product. I like that it doesn't have a heavy feel when applied, it's very smooth and silky. I like the way my face feels in the morning, soft and smooth."
Day & Night Duo
The next thing you might want to purchase is the Day & Night Duo. Just like the Night Magic helps your skin from the outside, these two will help your body from the inside.
In this duo, you'll get a bottle of The Daily vitamins as well as Sleep Tight softgels. It retails for $75 instead of &83.
While taking them, the supplements should help with body stress and have an amazing sleep. Thanks to the Hemp extract, the benefits of these two will be lasting. After all, if our body doesn't get enough sleep, we'll soon see signs of aging.
Body Therapy Duo
If there's another bundle you should consider is the Body Therapy Duo. What you'll get is a Beyond Body Oil and a Renewal stone for $70.
Needless to say, the oil is nourishing and the stone can hydrate the body, even more, when you apply the product to it. Although it only received 136 reviews, customers rate it 4.9 stars. One of them even used it on her clients at a massage center:
"The perfect oil for morning…
The perfect oil for morning wellness routine as well as massage therapy sessions. The aroma is superb, my clients love the way their skin feels and how soothing it is for their muscles. Used along with the jade Gua Sha/Renewal Stone it helps smooth out adhesions along the forearms and legs."
Prima Skincare Review from Customers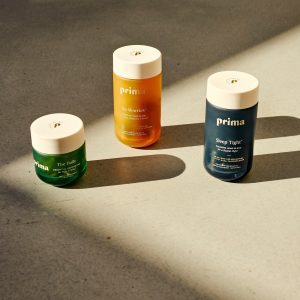 Customers who use CBD skincare products like the Night Magic Facial Oil mention using it for hydration purposes. This face oil breathes life into the skin in the morning.
On Influenster the Night Magic received 4.5 stars out of 850 reviews.
"I have been using the Night Magic oil for about three days and have noticed a significant difference in my skin. My skin feels much smoother and surprisingly my acne scars look slightly lighter. Although I'm not a fan of the scent, I will continue using this product. It's amazing!"
Popular Alternatives to Prima Skincare
Surprisingly, there are not too many reviews of Prima online besides their own website. On Influenster we couldn't find other customer reviews of different products, on Amazon, there were barely any and on Trustpilot, the company has 0 reviews.
We also checked it on Sephora and the reviews were pretty much the same. Prima seems to be having around 4.5-4.6 stars overall. The only complaint we've seen was about the size of the bottles. Some of them are too small and the price point is higher. With that being said, you do not need to use a lot of it and after all, they are great ingredients packed that make your skin feel rich and renewed.
Sign Up For Prima
Signing up for Prima gets you 15% off on your first order. You can sign up either by clicking on the small human icon on the right-hand side, or scrolling to the bottom of the page and entering your email address.
Where To Buy Prima CBD Skincare
You can find Prima CBD Skincare at over 950 retail locations such as Sephora, Nordstrom, Whole Foods Market, The Vitamin Shoppe, Thrive Market, and Pharmaca.
If you want to shop directly on the website then go to prima.co.
Prima Shipping And Return Policy
For orders costing under $75, the shipping is $8. Free shipping is available for orders over $75. Every order placed before 11 AM PST will ship the same day (except on weekends and holidays). Otherwise, the standard shipping time is around 2-7 business days. You can only cancel your order if it was not processed yet.
Prima's devoted to ensuring the best possible experience for our consumers. If you're not 100% satisfied with the products, you can return them within thirty days of delivery and get a full return of your money.
Prima Promotions & Discounts
You can subscribe to their email "[email protected]" for promotions and discounts. Keep a lookout for discount codes, however, remember that the brand only allows one discount code at a time. If the discount code has expired, Prima cannot honor it.
Contact Prima
On the website, the only way to contact Prima is by sending them an email at [email protected].
At the same time, there are options for Wholesale, Partnerships, Press & Media as well as Careers.
Prima Skincare Review: Editor's Verdict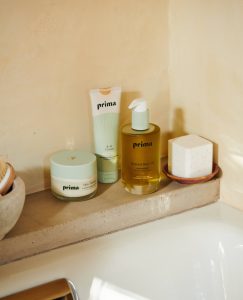 So are you curious about our verdict after reading this extensive Prima skincare review? The brand definitely seems like they have the right vision when it comes to its products and helping customers feel their best self. The benefits of using CBD have been praised for many years and more and more brands are incorporating this in their skincare lines.
Customers are also praising Prima and are happy with the serum, oil, and supplements. They feel like their life is a bit better when taking care of their bodies and mind as well.
We also have to give bonus points for having a sustainable company, which is cruelty-free, vegan, eco-conscious, and clean.
Furthermore, the testing of the products assures that the standard of safety is beyond and far from the requirement not just in the USA, but globally.
The brand uses verified methods so that no damage is done to the skin cells in the human body, DNA, and the environment. So yes, we do believe it's worth purchasing Prima products!
If you are still searching for the perfect solution to improve your wellbeing, take a look at our reviews of For Hims, HUM Nutrition, Blume Skincare, and Get Roman.
Prima CBD Skincare FAQ
Are Prima products FDA approved?
Nutritional supplements are not approved by the FDA. Hence, Prima's products don't have approval from the FDA. The products are not considered to identify, cure, prevent, or treat any medical ailments.
You should seek advice from your doctor before inhaling any supplements or using Prima's products.
Are Prima products vegan?
Prima prides itself on being the pioneer of purity, clean and organic products. They include no byproducts of animals. Prima is 100% vegan.
Do Prima products expire? 
Skincare products usually expire within 1 or 2 years of opening the product. Prima products tend to be fresh for the first 2 years, however, they recommend using them up in 6-12 months.

Does Prima source ingredients sustainably?
Yes, Prima's priority is to be sustainable. The ingredients picked are organic, cultivation is practiced with sustainable farming as well as being fair to laborers.
Do Prima products contain any common allergens such as dairy, soy, gluten, nuts, or eggs? 
Prima products are manufactured without any of these common allergens. You can always refer back to the ingredients list or their clean ingredient standards.