If you are into skincare, then you must have come across vegan skincare products in your quest for the right products for your skin. These products do not contain animal ingredients or by-products. They are becoming more and more popular because of the immense benefits they offer to the skin. bioClarity offers vegan skin care products that are kind to the skin, rich in vitamins and antioxidants, and don't harm the environment. Their products are dermatologically tested products and free of harmful toxins. We'll take an in-depth look at this brand, including bioClarity reviews from customers, promotions, and its best-selling products to help you determine if it's right for you.
About bioClarity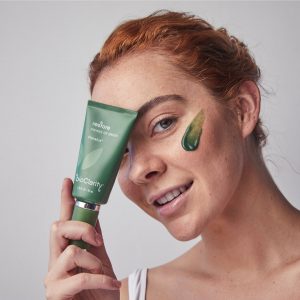 bioClarity is a relatively new brand in the beauty industry as it was launched in 2016. The company was founded by David Hale, Rick Sliter, and Cam Garner in San Diego, CA. The trio recognized that the market needed a natural acne solution that is gentle on the skin. Therefore, they formulated a natural solution that uses their patented Floralux active ingredients. 
Floralux is naturally derived from chlorophyll and is an antioxidant that improves the skin. It targets cellular issues and prevents them from occurring, and protects your skin from harmful bacteria.
bioClarity began as a simple acne solution and has grown into a remarkable skincare brand over the years. The brand provides a wide range of products for all skin types that target different skin conditions, including acne and skin blemish control, hydrating, sun control brightening, hyperpigmentation, and oil control.
bioClarity aim is to put good into their products and the world. Their products are 100% vegan, plant-based, dermatologist tested, cruelty-free, and toxins-free. The products are available in the following categories:
Body

Moisturizers

Masques

Routines

Serums & treatments 

Skincare tools

Cleansers

Sunscreens 
The brand has gained features in renowned media outlets like Cosmopolitan, Teen Vogue, and Byrdie. Before we look at the company's best-selling products and bioClarity reviews, let's first look at its pros and cons.
Pros
Their products are 100% vegan and cruelty-free, and all their products are dermatologist tested

Their products do not contain harmful toxins, and they are plant-based

The company has an auto-ship program that allows customers to save on every purchase.

They have a referral program and Glow getter reward program

Many positive reviews from customers, and they offer a 30-day satisfaction guarantee

The brand offers a skin quiz that helps its clients choose products suitable for their skin types and satisfy their needs
Cons
A couple of customers complained about their acne getting worse, drying, and burning skin after using the products

They do not provide 24/7 customer support

They do not ship internationally
bioClarity Skincare Products Review
Vegan skincare products have taken the beauty industry by storm in recent years. You probably already have a couple of vegan skincare products. There are very few companies that are 100% vegan. bioClarity is among the few brands available that offer vegan products. Furthermore, the brand offers an extensive product line, which means you can get everything you need to keep your skin healthy in one place. 
The products target different skin conditions, including hyperpigmentation, acne, and skin blemishes, among other complications. The brand is also very transparent and lists every ingredient used in creating its products. It also has a No list that shows what is not in its products. Let's look at the top-selling bioClarity skincare products.
BioClarity Cleanser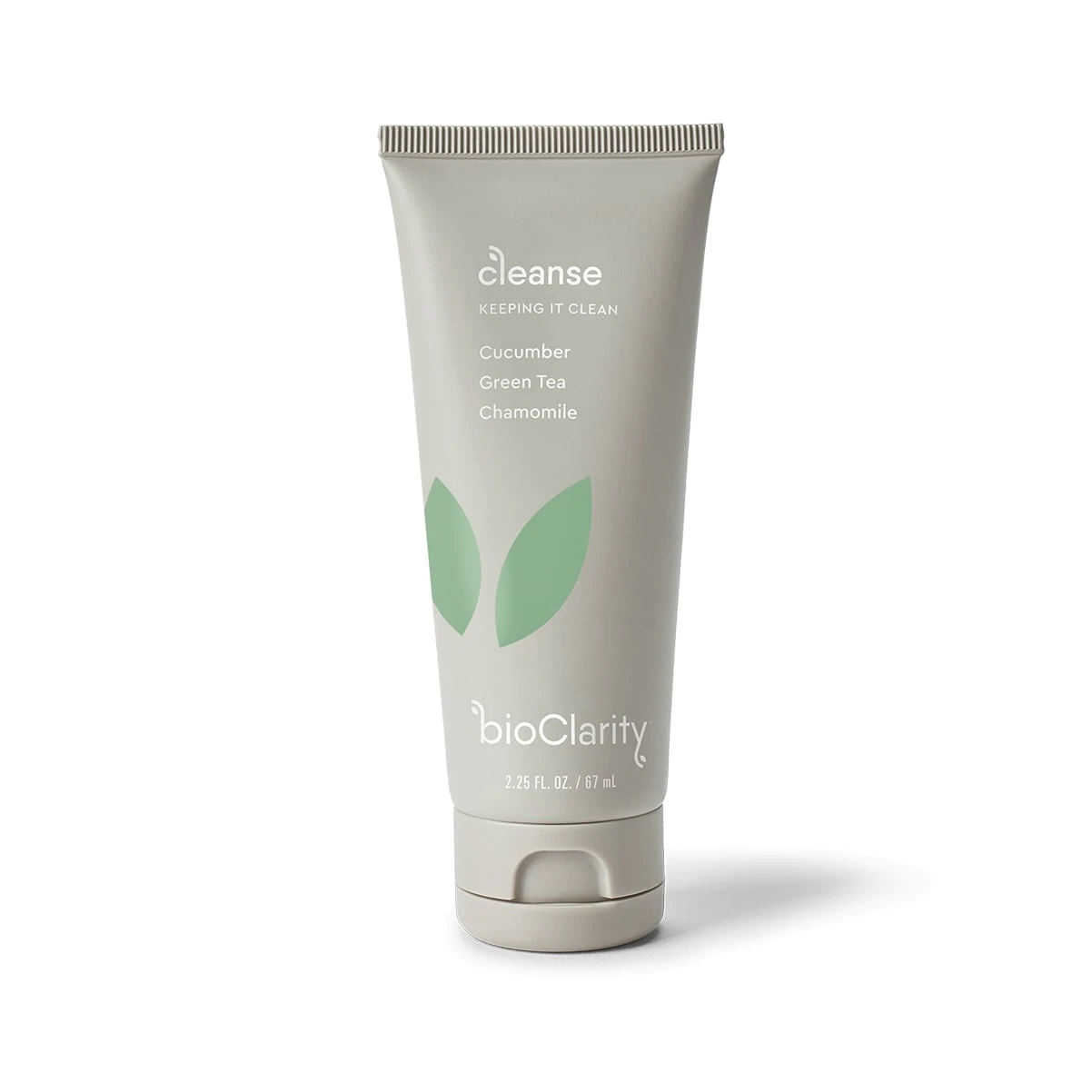 The first and essential routine in every skincare routine is cleansing. Natural and organic cleansers are great for eliminating excess oils and dirt from the skin without drying and irritating the skin. The bioClarity cleanser is great for sensitive, oily skin as it gives the skin a deep cleanse without drying it and leaving it tight.
The cleanser is formulated with cucumber, chamomile, and green tea. Green tea is an antioxidant that removes toxins from the skin. The chamomile deeply removes dirt and excess oils from the pores while calming the skin. The cucumber also calms and soothes the skin. The cleanser ensures that the skin is clean, soft, smooth, clear, and ready for the rest of your skincare products. You can get the bioClarity Cleanser for only $12.
BioClarity Moisturizer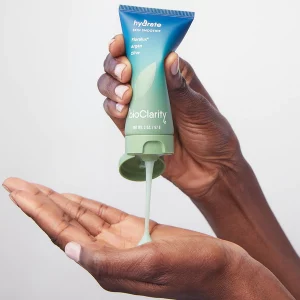 If you are looking for a moisturizer that hydrates and softens your face without clogging your pores, then the bioClarity moisturizer is ideal for you; this hydrating skin smoothie is a lightweight, non-sticky moisturizer that does not contain excess oils. It also does not cause blackheads, for it is non-comedogenic.
The bioClarity moisturizer contains floralux, which is copper, chlorophyll, and antioxidants that combat skin blemishes and reduce hyperpigmentation. It also contains olive that penetrates the skin to restore skin hydration. In turn, this restores the skin tone and elasticity. The last key ingredient of the moisturizer is argan, which hydrates and softens the skin without any excess oils.
The moisturizer is available in two sizes: the mini 1oz bottle neds $15, and the full 2oz bottle will cost you $20. 
BioClarity Face Wash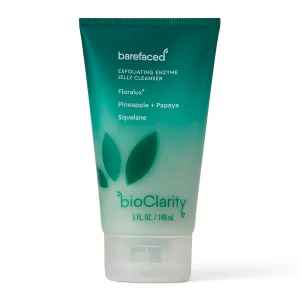 There are different cleansers in the market, but jelly cleansers stand out from the rest. They are formulated to condition the skin and eliminate makeup, dirt, and excess oils from the skin. Moreover, they unclog pores and leave your skin glowing and more radiant. The bioClarity face wash is a non-foaming jelly cleanser that gently exfoliates and deeply cleanses your skin, clearing and unclogging pores. It is great for all skin types, especially sensitive dry skin.
For best results, apply a nickel to a quarter-sized dab of the face wash to wet skin, then gently rub it into the skin in circular motions. Massage it for about 60 seconds, rinse well with lukewarm water, and dry your face using a clean towel. You can use face wash during your daily skincare routine because it is very gentle and does not contain harsh ingredients that can irritate the skin. Achieve a brighter, softer, smoother, and well-nourished skin with the bioClarity Face Wash for only $24. 
BioClarity Sun Filter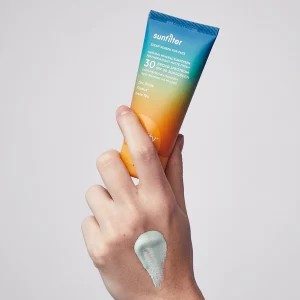 Protecting your skin from harmful elements, including environmental stressors, is very important. The bioClarity™ sun filter helps protect your skin from environmental elements and reduces the appearance of hyperpigmentation and melasma. Made using a patented sunscreen formula and applied daily, the sun filter helps repair damage caused by the sun, including uneven skin tone and discoloration, which is often caused by UV exposure. 
If you use bioClarity Sun Filter for one month twice a day, it can provide up to 87% skin lightening efficacy. By using it 2-3 times per week, it can help prevent further damage. 
If you apply the product as a simple topcoat over bioClarity™ Skin Brightening Serum, it will give you even better protection while improving your overall skin tone. For $35, this product could be yours.
bioClarity Acne 4 Piece Skincare Set bioClarity Pore Purifier Set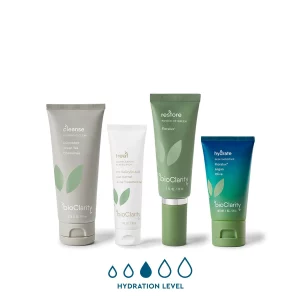 If you want to tackle acne, Pore Purifier is a product that can help you solve this problem. bioClarity acne reviews show that users praise this product because it cleans pores deeply and exfoliates the skin, which can help to prevent trouble-causing acne from forming in the first place. 
The Bioclarity Acne 4 Piece Skincare Set includes three products that can be used in synergy with a Pore Purifier to speed up getting rid of acne. These three products are:
Cleanser: A gentle, creamy cleanser designed to prevent acne pimple breakouts while unclogging pores and preventing blackheads. 

Toner: A gentle astringent toner that kills bacteria on the skin and helps to stimulate cell turnover. 

Daily Oil Control Antibacterial Moisturizer SPF 20: A non-greasy moisturizer containing sunscreen (SPF 20) and powerful antibacterial properties that help heal and prevent acne breakouts. You can get this set for only $60 for the mini version and $85 for the full version.
BioClarity Reviews from Customers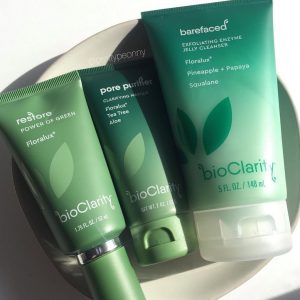 Our team checked different sites, including Amazon, Influenster, and the brand's website, to find out what customers think of this skincare brand. We focused on the Clear Skin Routine reviews from their website, and from 5770 reviews, bioClarity scored 4.81/5 stars.
On Amazon, we took note of acne treatment reviews, which had an average of 4/5 stars from 209 reviews. Of these, 65% of the reviews had 5 stars, and only 9% scored a 1 star. 
A 5-star review on the brand's website praised the products, stating how the solution has been found after several years of struggling with acne-prone skin and redness. bioClarity Acne 4 Piece Skincare SetbioClarity Pore Purifier also received lots of praises for its effectiveness.
On Influenster, we were also able to gather positive reviews. Customers left feedback on each product, and over 613 reviews were positive. The Clear Skin Routine was given a rating of 4.3/ 5 stars, with 60% scoring five stars.
Popular Alternatives to bioClarity
Some customers raved about how it reduces acne, lessens the redness, and eliminates scars, while only 2% of the reviews indicated it was a one-star product. Also, the negative bioClarity reviews on their site were due to the skin dryness, not absorbing in the skin, and leaving you with red patches.
On theDermReview.com, bioClarity had an average rating of 4.7 out of 5 stars from over 400 reviews. Many customers with build-ups in pores stated that the Pore Purifier was an answered prayer since it left their skin clear and smooth. Other customers praised the face mask, saying that the results were almost immediate after using the product for one week. 
Sign Up for bioClarity
Anyone who wants to join the brand's team should visit the company's website bioClarity.com and sign in and click on I don't have an account, which will lead you to create an account. You will be required to fill in your personal information, which you will remember for future use in accessing your account, and you will be good to go. Being a member will give you access to bioClarity's promotions and discounts, and in case they have new products, you will also be among the first people to be notified.
bioClarity: Where to Buy
If you are asking yourself: bioClarity where to buy? bioClarity products are available on their site bioClarity.com. Our bioClarity review discovered that it is better to get the products from the website for assurance of quality and discounts if any. The brand only gives coupons for the products from their site. Also, a few selected products can be found online at Walmart and Amazon.
bioClarity Shipping and Return Policy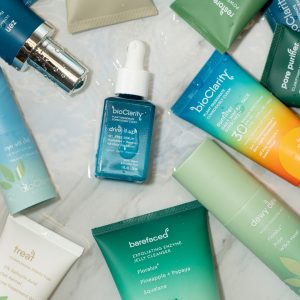 bioClarity only ships in the U.S.; for international shipping, you will have to go to Amazon. The brand offers free shipping, which will take 3-5 business days. For expedited shipping, one will be required to pay $10. Signing up for auto-ship, the brand will continually charge your credit card till your cancelation 
In case you are not satisfied with the product you have purchased, bioClarity offers its customers a 30-day satisfaction guarantee. If you return the items within this period, you will get a refund.
However, the shipping cost is not on the brand. After requesting a refund, you have to wait for 5- 10 days for the products to be examined; they should meet the required standard as the return policy states before you receive your refund. 
Furthermore, refunds are only offered on products bought from the brand's website, and for any products marked non-refundable on the website, there will be no refunds.
bioClarity Promotions & Discounts
In this bioClarity review, we found out that the company was among the few brands with exciting discounts and promotions one could ever come across. They include:
A 15% discount on your first purchase will be applied at your checkout.

10% off on bioClarity purchases after signing for auto-ship.

Free shipping after signing up for auto-ship

15 % off after successful referral on purchases over $50. The referred friend also gets a 15% off.

Reward programs- shopping with bioClarity often gives you a chance to be rewarded by the Glow Getter Rewards on the brand's website.
In case you need more information on how points are used to be redeemed for discounts or how to get bioClarity promo codes or a bioClarity coupon, visit their website at bioClarity.com or contact their support team.
Contact bioClarity
For any inquiries that this bioClarity review did not cover, one can contact the customer service team via the following contact methods:
Customer Service Department:1-844-6CLARITY /1-844-625-2748

Live chat on their website bioClarity.com

Email: [email protected] 

Filling their contact form on their website
bioClarity Reviews: Editors' Verdict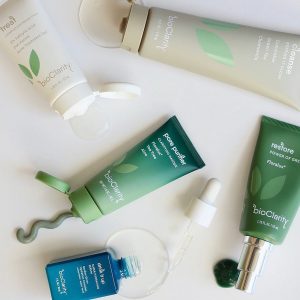 Based on the many bioClarity reviews we have come across, the brand's products work for most customers. The brand's website and theDermReview.com show that their products are a great success and a solution for many. So the products are worth it, and there is no harm in trying them out. 
However, a coin has two sides; despite the positive feedback from many, the product did not work for everyone. So if you are new to the brand, we would advise you to contact a physician to help you understand your skin type and what products you should use.  
If you already have used the products and notice some strange patches, stop using them immediately. But many people have used the product and liked them because they have seen good results and would recommend the products to their friends and family.
Are you looking for other natural skin and body care products? Read our reviews of Frank Body, Foria Wellness, Go To Skincare, and Glossier.
bioClarity FAQ
Does bioClarity work?
If you are asking yourself: Does bioClarity work? The answer is yes. Based on all the evidence from what the customers think and their feedback, their products work like a charm.
Is bioClarity cruelty-free?
If you are wondering: Is bioClarity cruelty-free? Yes, it is. bioClarity is cruelty-free and 100% vegan. They are certified by the golden standard for cruelty-free called Leaping Bunny certified, and they even own the Leaping Bunny logo.
Does bioClarity treat cystic or nodular acne?
bioClarity Clear Skin Routine is clinically proven. It contains ingredients to treat acne, whether mild, moderate, inflammatory, or non-inflammatory. This product is meant to clear any foreign objects on your skin.
However, the products do not treat nodular acne or cysts. To avoid misdiagnosis of the products to use on the skin, consult a physician to help you choose the correct product and help you know the type of acne you are working on.
What if I have an allergic reaction?
When using bioClarity products, you need to know what types of allergies you are suffering from. Since everyone's skin is different, the products that could work on others could cause an allergic reaction when you use them. For any inquiries about the ingredients used, you can reach their customer care desk at [email protected] or text the site's phone number at 1-844-625-2748.
How do I recycle my bioClarity products?
bioClarity products have labels showing how you can recycle the products. If you cannot easily see the instructions, remove the cap and excess products that it might contain and rinse it with water. The brand's pumps and sprayers are not recyclable. But the boxes are recyclable since they are made from 100% recycled board printed with water-based ink.