Girlfriend Collective sells women's activewear essentials and leisure apparel in flattering neutrals that are easy to combine and accessorize. The sustainable fashion approach and body positivity helped Girlfriend to fill a gap in the women's activewear market with size-inclusive, high-quality clothes. Our Girlfriend Collective review will take you through the history of the company and give you an insight into the production and operation of the brand.
We are going to take a close look at the values and mission of the company, analyze the products and see what previous customers have to say about their purchases. After sharing the information about the customer service, the shipping time, the return policy, and other important aspects you should know about, we are going to give you our 100% unbiased and honest opinion. If you're ready, let's get into it!
About Girlfriend Collective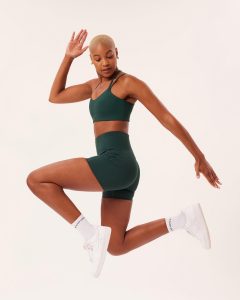 The history of Girlfriend Collective goes back to 2016 when the husband-wife duo, Guang and Ellie Dinh realized there is an urging gap to fill in the activewear fashion industry. They approached fashion differently, by using sustainable and recycled materials only with a serious focus on eco-friendly and ethical production.
The company collects recycled plastic bottles and fishing nets from Taiwan, the world's leading recycling country. The effort the Girlfriend Collective makes to create sustainable apparel without cutting corners is truly impressive. Just in 2020, they diverted over 9 million plastic bottles from oceans and landfills. So for women, who appreciate fashion that is not only flattering but eco-friendly as well, Girlfriend Collective might be the ultimate brand.
But now, before we dive deeper, let's see what are the most important pros and cons you have to know about before placing your Girlfriend Collective order:
Pros
Sustainable clothes made of high-quality fabrics and recycled materials

Size-inclusive garments with sizes ranging between XXS and 6XL

Affordable prices with bras starting from $18

Versatile, neutral style items that are easy to mix and match
Cons
No worldwide shipping, shipping only to the US, Canada, and Australia

You might need to size up or size down for some items, so make sure to check the company's sizing chart for specific measurements
Girlfriend Collective Products Review
As part of our Girlfriend Collective review, we picked some items sold by the brand and reviewed them. To give you the whole picture we analyzed their quality, the materials they are made from, the sizing, and obviously, the price tag. And as we always do, we also collected some customer reviews to share with you at the end.
Girlfriend Collective Leggings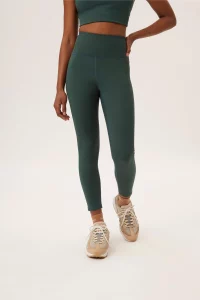 Girlfriend Collective Leggings are one of the most popular items on the company's website. If you are looking for squat-proof, sturdy leggings for workouts or leisure time, you should really take a look at these pieces. They are not only made to stand the squat test, but the brand promises that they will stand the test of time also. These are one of the best leggings brands made of sustainably sourced recycled materials such as recycled plastic bottles and spandex. The color scale is fantastic, from the basic black or white legging you will find a broad range of colorful ones too.
In terms of sizing, leggings range from XXS to 6XL, which, needless to say, allows women of all body types and shapes to find their favorite piece. When it comes to the price tags, the cheapest pair of leggings cost $78. The most expensive is the Luxe Legging which cost $92.
Girlfriend Collective Bike Shorts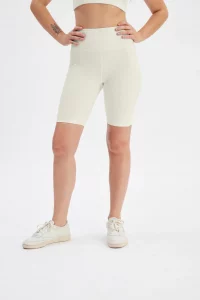 After leggings, let's take a closer look at Girlfriend Collective Bike Shorts. Bike shorts are trendy and we can totally see why. They are a comfortable, and versatile choice for both activewear and a lazy day. The truth is that with a compressive, high-rise bike short you really cannot go wrong, especially if the material is top-notch, too. Bike shorts by Girlfriend Collective are all made from recycled plastic bottles. The result is a ride-up resistant, compressive short that is comfortable to wear and soft at the touch.
Bike shorts are available in 2 categories of colors. The Essential category includes a more basic color palette such as black, moss, plum, ivory, etc. But in case you are ready to spice up your closet with some fun bike shorts, you can choose from the Limited category. Here you can choose from colors like matcha or snapdragon, which is a warm baby pink color, perfect for the summer season.
Price-wise, Girlfriend Collective bike shorts are quite reasonably priced with one pair costing you $48.
Cocoon V Neck Girlfriend Collective Bra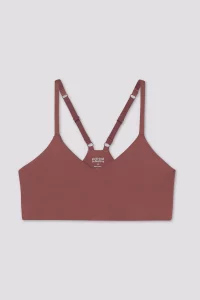 If you are looking for a good sports bra, the Girlfriend Collective bra collection is worth your attention. There are many designs to choose from, but what grabbed our attention is the V Neck Girlfriend Collective Bra. This delicate piece is one of the best sellers, available in 15 colors. To quote the brand, it is a bra for people who hate bras.
This bra has no cups, but to provide full coverage it is double-lined.  It features a thin adjustable strap, and a deep V neck, yet what makes it exceptional is its stretchiness. Looking at the materials, the V Neck bra is made from 80% recycled plastic bottles and 20% spandex. The result is a lightweight, breathable fabric that is extremely soft on the skin and ridiculously stretchy.
What's even better is the price point! The bra costs $28. Taking into consideration that it is sustainably made, this Girlfriend Collective bra is quite an affordable piece.
Lilac Gazelle Girlfriend Collective Shorts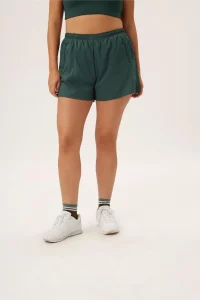 Another popular example of the Girlfriend Collective shorts category is the ethically made Gazelle shorts. Ideal for running, workouts, or a walk in the city, with these shorts you can never go wrong. They come with a built-in underwear liner which makes them a comfy option for running. They also feature zippable pockets, a drawstring waist, and a slightly loose fit. Oh, and what makes these lightweight shorts even better is that they are water-resistant!
The size range is very inclusive as well, with sizing ranging between XXS to 6XL. Available in multiple colors, the Gazelle shorts cost $55.
Tulip 50/50 Classic Sweatshirt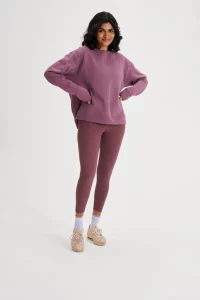 As the name suggests, this is a classic. Girlfriend Collective offers you the classic cozy sweatshirt you know with a sustainable take. Made of half recycled, half organic materials, this piece is a undoubtedly must-have in everyone's closet. It's a cute, simple sweatshirt made to keep you warm and make you feel cozy on cold and lazy days. Made from 50% Texloop™ RCOT™ Primo Recycled Cotton and 50% organic cotton, this garment is 100% biodegradable. Yet, the price tag is very appealing, as the 50/50 classic sweatshirt costs only $55.
Girlfriend Collective Size Chart
When it comes to Girlfriend Collective sizing, the company does its best to provide you with as much information as possible. If you are not sure which size would fit you the best, you can rely on the Girlfriend Collective Size Chart available on the brand's official website. This includes measurements for various items such as bras, tops, bottoms, dresses, shoes, hats, etc.
In case you still cannot decide about your size, you can always email the company at [email protected] and they will happily assist you.
Girlfriend Collective Reviews from Customers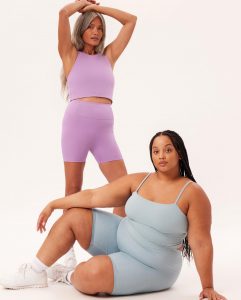 Now, let's continue our Girlfriend Collective review with the most burning questions of all: what do previous customers say about the brand?
On the brand's website, there is a 5/5 star system previous customers can use to rate their purchases. What we genuinely liked is that you can also upload pictures of the purchased item.
For example, the Compressive Pocket legging has a 5/5 rating and thousands of positive customer reviews. Brittany for example says: "When I opened this package I thought that there is no WAY that these leggings were going to fit over my booty. They looked super small. But to my surprise, they stretched and fit perfectly! I love how compressive they are without feeling uncomfortable. And they don't slide down while working out."
Popular Alternatives to Girlfriend Collective
Tops have the same success when it comes to customer reviews, too. One Girlfriend Collective review reads, "I am obsessed with my Zoe tanks! I bought 4 different colors because of how comfortable they are. The Float fabric is unmatched. The design of this tank is functional with the built-in bra and the length is perfect." says a happy shopper.
When it comes to customer service, most people seem to be satisfied with the responsiveness and helpfulness of the customer service. However, when it comes to sizing, some people are having issues. If you are not sure which size would fit you the best, we strongly recommend taking a look at the size chart or getting in touch with customer service for further advice.
Sign Up for Girlfriend
You can also sign up for Girlfriend Collective. To do this head to the registration page of the official website and fill in the boxes with your personal information. You will need to add your first name, last name, and email address, and create a password for your account. Once you create an account, you can access special features such as fast check-out. You can also earn points, save your order info, refer friends, etc.
On the same page, you can choose to subscribe to the company's newsletter which will allow you to enjoy up to 50% off at the Boxing Day Sale.
Where to Buy
If our Girlfriend Collective review convinced you to place an order, you must be curious about where to buy these items. First of all, you can place an order on the company's official website, at www.girlfriend.com. However, many retailers all over the world sell Girlfriend Collective apparel.
On the "Stockist" page of the website, you will find a long list of retailers where you can find the brand. If you prefer online shopping, you can look up online retailers such as Net-a-Porter, Nordstrom, Backcountry, Verishop, SSENSE, Selfridges, Holt Renfrew, MEC, Luisaviaroma, and Dance Central.
If you scroll further, you will see a list of retailers for every state and country outside the US where you can buy your favorite Girlfriend Collective pieces.
Girlfriend Collective Shipping and Return Policy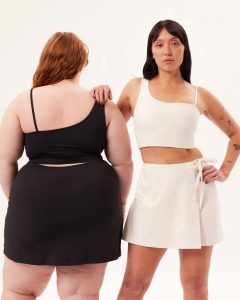 When it comes to the Girlfriend Collective return and shipping, we collected the most important things you need to know. The company currently offers shipping to the US, Canada, the UK, and Australia.
Shipping is free for all orders over $100. For US orders that do not reach this amount shipping costs $7. For every other country, the shipping fee is $12. If you order from the US, you can choose from 3 different carriers, such as USPS, UPS, and FedEx. According to the company's website, the processing time for US orders might take up to 4 business days. The estimated delivery time is 7 to 10 business days.
The Girlfriends Collective return policy says that you have 30 days starting from the ship date to return your order. All items must be unworn, and unwashed, with the original tags attached. In terms of refund, you have three options. You can ask for a full refund in the original form of payment, exchange the product or opt for store credit you can use in the future.
Promotions & Discounts
In case you are after a Girlfriend Collective promo code, the best way to get one is to refer a friend. This system allows you to give your friend a 30% Girlfriend Collective discount code that they can use on their first purchase of $95 or more. And you will receive a free pair of compressive leggings as a reward.
You can also join The Collective and earn points with each purchase you make. You can apply your point at the checkout page. The point system is quite straightforward: 100 points values $10, 250 points are $25, and 500 points equal $50. Upon signing up you will instantly receive 25 points.
Contact Girlfriend
If you want to contact the Girlfriend Collective customer service, you have quite a few options to choose from. To help you find the most convenient way to get ahold of the company,  we created a list with all the options listed on the website:
For general inquiries and customer issues, you can email them at [email protected].
You can also get in touch with them on TikTok, Instagram, and Facebook.
If you happen to use a screen reader while shopping on their website and you experience any difficulties you can reach the support at +1 888-291-2403.
Also, support is via online chat between 9 AM and 5 PM PST, from Monday to Friday.
Girlfriend Collective Review: Editors' Verdict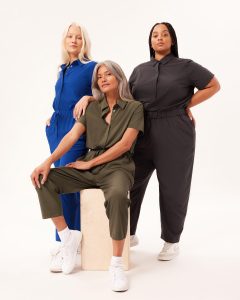 Now that we got to the end of our Girlfriend Collective review, it is time to answer the most burning questions. Is the Girlfriend Collective production really ethical and are the clothes sustainable? Should you trust this company? And most importantly, are the clothes worth your money?
We believe that Girlfriend Collective is a legit brand with legit values and an outstanding approach to the fashion industry. The effort they make to source recycled materials is truly impressive. Their clothes are high-quality, yet the designs are flattering for all body types and shapes. We genuinely liked their size-inclusive approach and the fact that all of their clothes are reasonably priced and affordable.
So, if you are looking for sustainable activewear essentials or comfortable clothes for lazy days, look no further, this brand is for you.
Are you looking for other amazing activewear brands? Check out our reviews of AYBL, Ellie Activewear, Lululemon, and Gymshark. 
Girlfriend Collective FAQ
Are Girlfriend Collective leggings sheer-proof?
All Girlfriend Collective leggings are opaque, with the majority of colors 100% sheer-proof. However, leggings that have lighter colors such as Ivory, Sand Dollar, Sherbert, or Citrine, are not 100% sheer-proof. The company's advice for this case is to wear underwear that matches your skin color to avoid uncomfortable situations.
How do I wash and take care of my Girlfriend Collective Pieces?
According to the brand's instructions, you should wash your Girlfriend Collective pieces in cold water, with like colors, and hang them to dry.
Is Girlfriend Collective recycled polyester BPA free?
Yes, all recycled polyester used by the Girfriend Collective is BPA free.
Where does Girlfriend Collective source all of your water bottles?
The company sources all of its post-consumer water bottles from Taiwan. The small island was once known as "Garbage Island". Today, thanks to the government's efforts, Taiwan is a world leader in recycling with 55% of the country's waste being recycled.
Is everything at Girlfriend Collective eco-friendly?
According to the Girlfriend Collective website, being eco-friendly is a top priority for the brand. They also communicate very openly about the materials they use to create their apparel.
For example, Girlfriend Collective leggings and bras are made from 79% recycled polyester and 21% spandex. The leggings are made from 25 recycled plastic bottles, while a Girlfriend Collective bra is made from 11 RPET bottles.
Similarly, to create LITE leggings, the brand uses recycled fishing nets and other waste. And when it comes to the packaging, it is 100% recycled and recyclable.