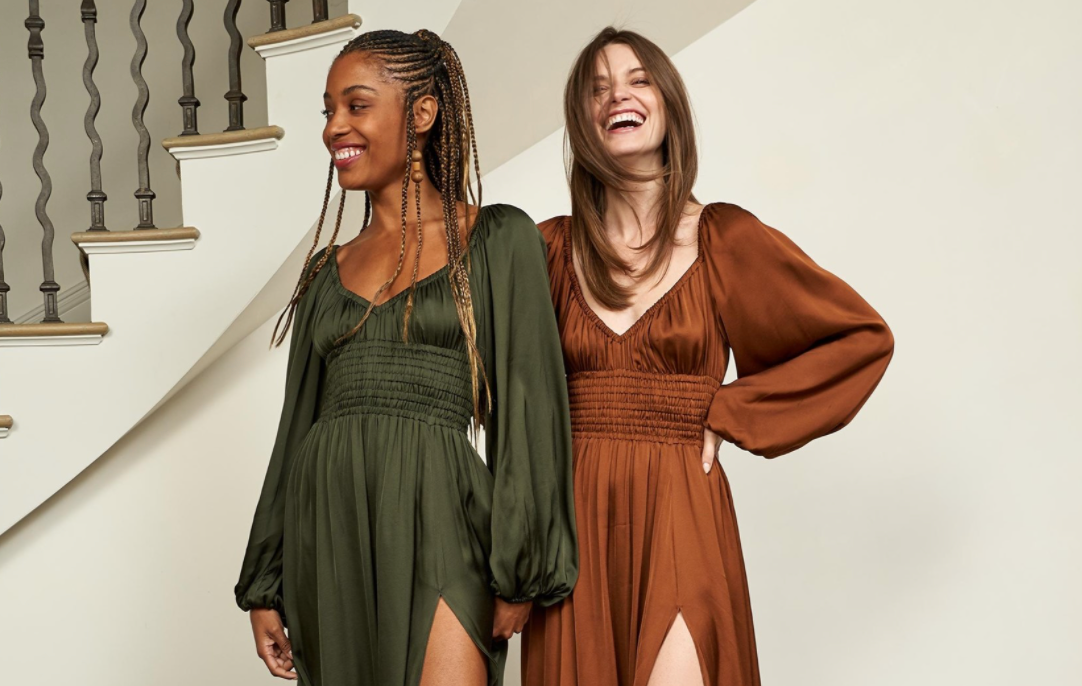 Women are sensitive when it comes to fashion, and it is understandable. The mushrooming of several clothing companies, especially in e-commerce, has made it even easier to order clothes from the comfort of your home or office. This ease, however, comes with challenges. The risk of getting substandard quality clothes or something you don't like is high. La Ligne offers high-quality, luxurious, and timeless striped and statement pieces. Our in-depth La Ligne review will look at some of their top-selling products, customer reviews, and shipping and return policy to help you decide if this clothing brand is worth the buy.
About La Ligne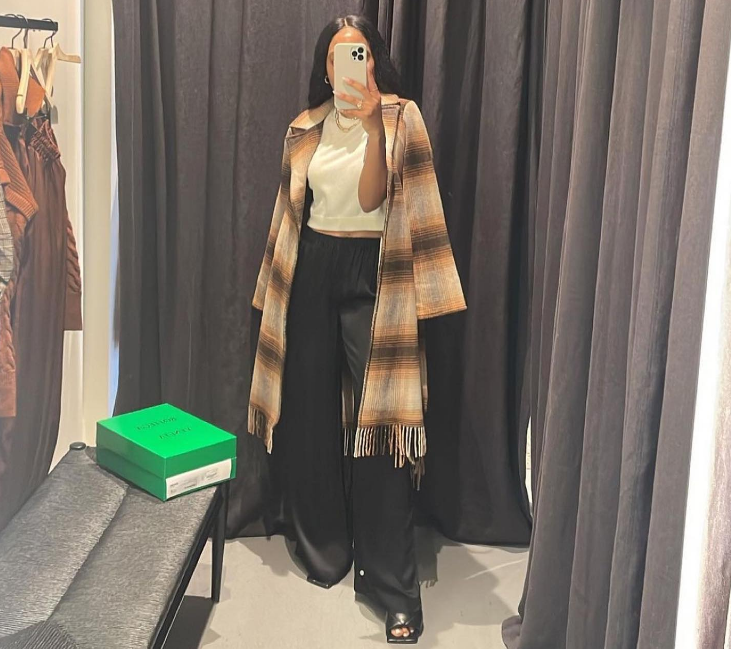 Valerie Boster and Meredith Melling exited their prominent editorial positions in the Vogue Magazines to pursue a mystery project.
Yes, the world was shocked when the two left their elite positions after serving in the popular magazine for a combined 26 years. Everyone wanted to know what the two were up to after Vogue.
In February 2014, the two launched La Marque (the Brand), a fashion consultancy firm. La Marque focused on helping fashion companies in branding, positioning, and messaging.
The services would help companies update their branding narrative while maintaining message consistency in the numerous marketing channels, especially on social media.
The stripes-based Brand La Ligne was officially founded in 2015 through the duo's collaboration with Molly Howard, a former head of business development, making the trio the Brand's official owner.
The company's primary goal was transforming striped designs and patterns into vast collections of effortless expressions. La Ligne embarked on the production of fancy wear and everyday necessities.
La Ligne's products are tailored to stripe's universal appeal, dope, and women-centric. The Brand also infuses a sense of fun into its stylish fashion, combining a rare sense of fashion and preciousness that meets every woman's taste.
A few years into its establishment, the company has grown fast, becoming a mid-range global brand. La Ligne goes beyond the iconic stripe to offer you essentials and other statement pieces. La Ligne has everything you need to do from dawn till dusk all year round.
The company offers you something that will stick around in your wardrobe despite the dynamic nature of fashion. You can order your favorite wear irrespective of your location because the clothing brand ships internationally.
Pros
A vast and stylish collection of striped and statement pieces
Fast delivery
Prices are lower than retail
Accepts multiple payment methods
Customers enjoy loyalty programs
Excellent website design
Cons
Few discounts and coupons
There is no live chat function
They don't accept exchanges and returns on final sale items
Customer support is not available 24/7
La Ligne Clothing Review
La Ligne prides itself on seasoned stylists offering advice and assistance on donning striped designs. The brand offers everyday essentials and statement pieces that are versatile. You can effortlessly style them together from dawn to dusk.
The company manufactures various striped clothes, including tops, dresses, knitwear, skirts, T-shirts, trousers, outwears, and sleeping wears, among other lines.
La Ligne's clothes come in multiple collections that determine the stripe's focus and the overall look of the cloth. That said, we'll now explore some of their best-selling pieces.
La Ligne Dress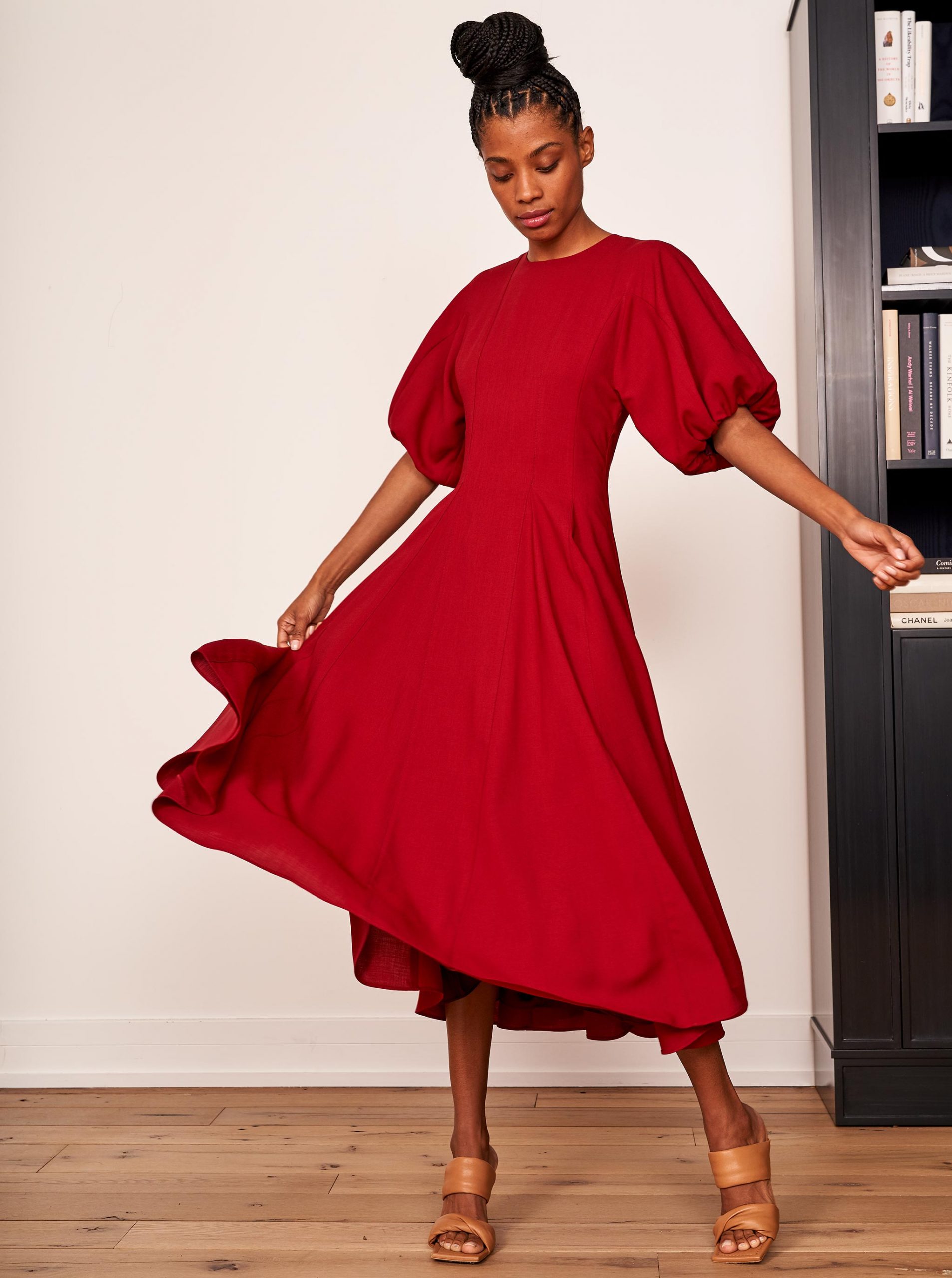 The brand offers an extensive selection of dresses attached to famous names, including the Selby dress, Grace Dress, Carey dress, daisy dress, Samantha dress, Aurora dress, Eve dress, and many more.
The La Ligne dress collection consists of pieces that come with different features, including color, size, and design. Your choice depends on the individual taste.
The Selby dress is inspired by Selby Drummond, a La Bande member. The sleeveless dress, which comes in different colors, including black and green, features a smocked-back for efficiency when donning it.
It also has a two-way zipper to redefine your comfort and show a little leg while keeping a top-notch fashion.
This luxury crafted dress comes in different sizes and fits ranging from extra-small, small, medium, large, and extra-large, giving you wide choice options.
The 75% virgin wool and 25% polyamide with 100% cotton bust-lining make the dress as comfortable as ever. Step out to the same style with your hands in the seam side pockets.
The dress's sport test makes it ideal for any feminine footwear. The Selby dress never disappoints, whether you want to run in a flat boot or march into an occasion in high heels.
The dress is ideal for those who love sleeveless but stylish dresses that give them that adoring look of a modern woman with a unique taste in fashion.
More details about the dresses
The Charlotte dress is made of silk, with the lining made from polyester. This color-blocked dress comes in emerald jewel tones and features adjustable ties and a smocked back.
The Eve Dress is a coat-sleeve-friendly, bra-friendly, midi dress made from satin-soft silk. Available in black and navy with floral prints, this dress is comfortable to wear and allows you to cover up the rest of your body while showing off your broad shoulders.
The Daphne Dress is their most romantic dress, and it is available in ivory and black. This versatile La Ligne dress has trapunto stitching that creates a corset-like bodice that's smocked in the back, making it comfortable to wear.
It also features a fully lined skirt, balloon sleeves, and elasticated cuffs.
La Ligne Striped Sweater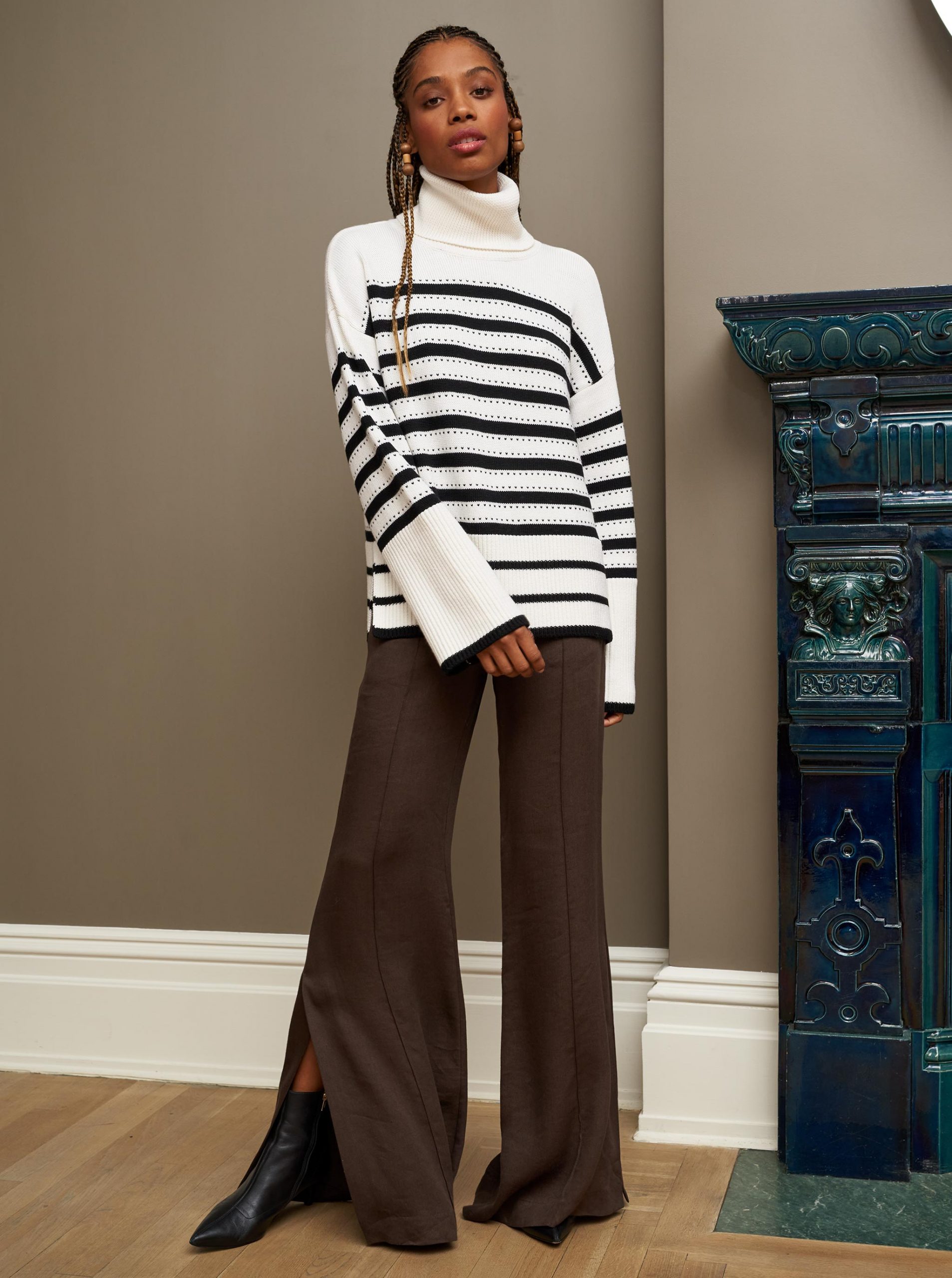 Check out the expansive range of striped La Ligne sweaters. The La Ligne sweater collection consists of pieces designed to keep you warm and stylish at the same time.
The Shadow Stripe is a deluxe perfect oversized cashmere sweater that will make you forget that it is cold out there. The 100% merino wool La Ligne striped sweater is all you need to keep warm.
Enjoy the magnificent precision and superior craftsmanship that combines fashion, style, and taste.
The La Ligne sweaters come with navy and cream stripes, and an oversized fit with drop shoulders. It also features a loose-fit turtleneck and a side seam slit.
The brand also offers a variety of Marin sweaters. There is a multi-color La Ligne Marin sweater crafted with luxury fabrics, and it features cream with navy stripes on the body with burgundy, green, and yellow stripes on the sleeves.
This seven-ply wool-cashmere sweater provides comfort and style.
La Ligne Skirts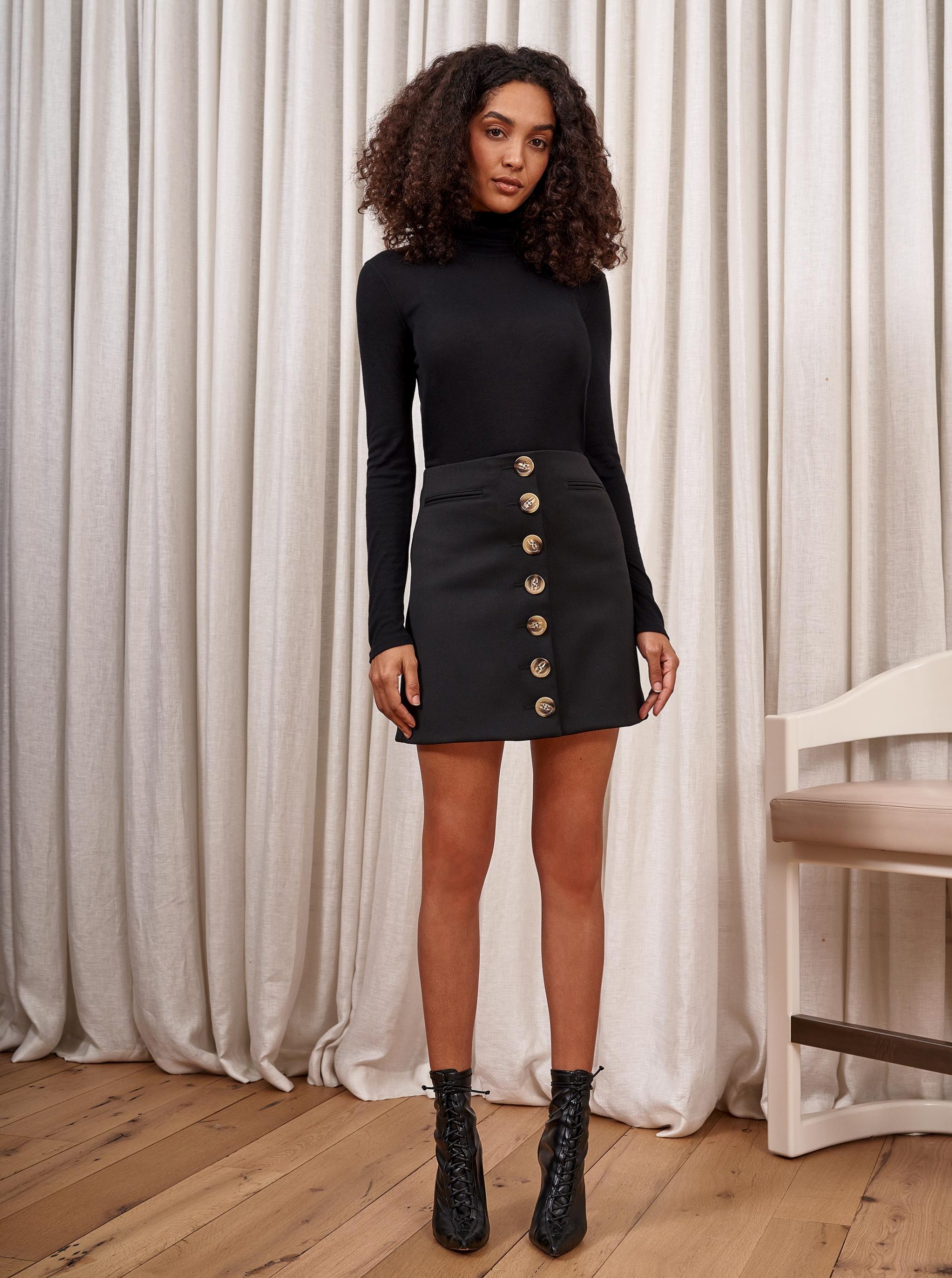 A skirt is one of the clothes that different societies have almost universally reserved for women. Nothing has come close to replacing skirts in women's fashion despite the emergence of pop culture, which has significantly seen more women donning pants.
Skirts continue to evolve, with new designs coming up to meet the needs of the changing fashion trend. La Ligne skirts line prides itself on a collection of skirts to meet a modern woman's needs. The button-up skirt is one of the top-selling fashion skirts in La Ligne.
Meet La Ligne's bottom-up rib-knit skirt that will leave you looking as sexy as ever. The functional buttons on the front left have been specially designed to allow you to show as much leg as you want and leave everyone admiring your sporty legs.
Enjoy the luxury fabric crafted with precision with 83% viscose and 17% polyester giving you a complete look as ever. The skirt comes in different sizes and lengths, ranging from extra-small to extra-large to ensure that everyone gets their size here.
Fall in love with this black elastic pull-on skirt and become a fashion role model among your peers and workmates.
La Ligne Pants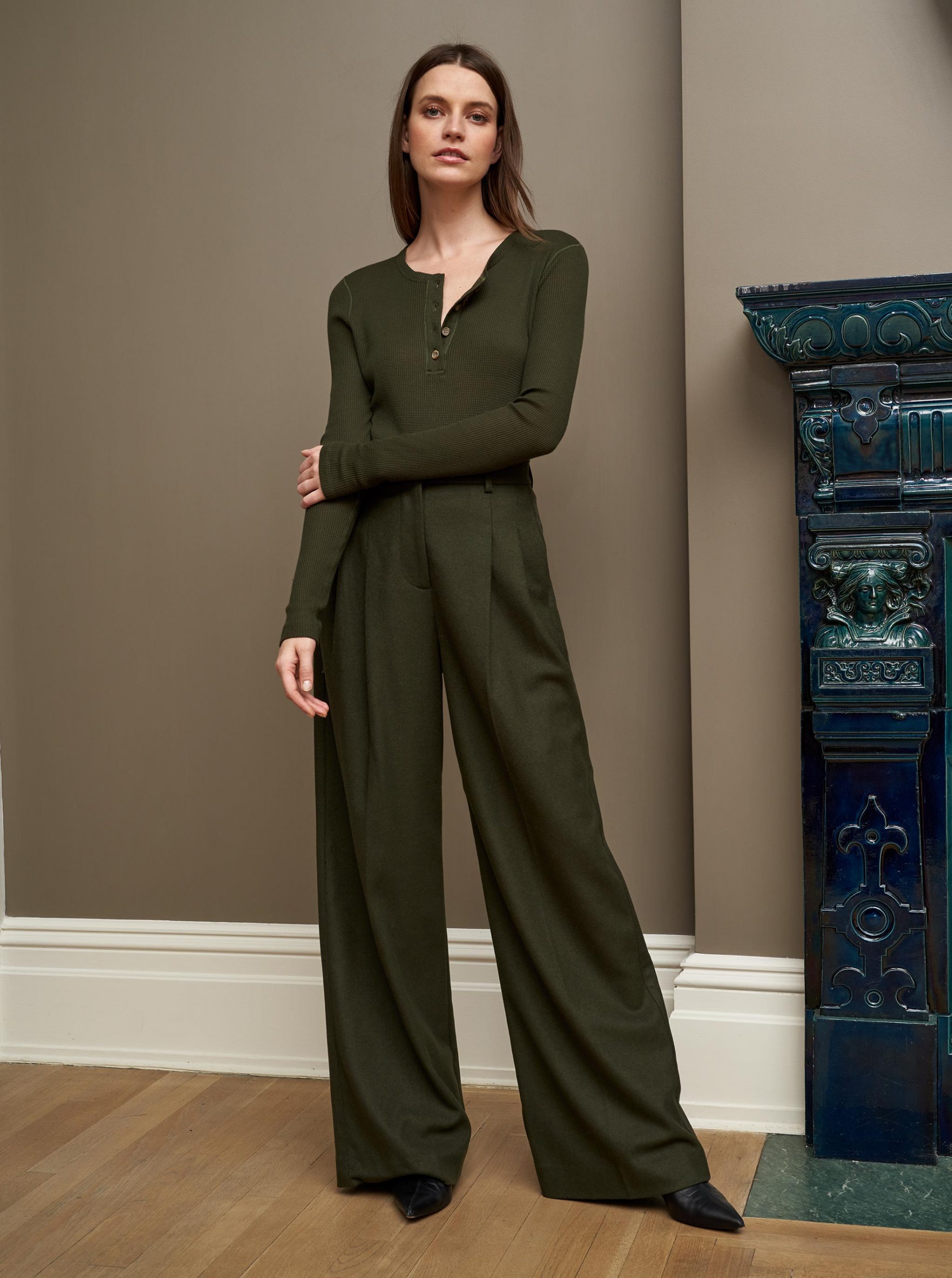 While many shops are selling women's pants, only a few can match what La Ligne offers. Their pants will make you stand out and turn heads.
La Bande's Selby Drummond inspires the Selby pants. The high-waist pleated pants come in two main color options: black and hunter. It is woven from 75% virgin wool and 25% polyamide with a 100% polyester lining.
The pressed crease and side seam with back welt pockets for carrying small items are some of the features that have made these pants highly- favored. The belt loops allow you to complement your fashion with the belt of your choice and walk into the office feeling on top of the world.
The Selby pant is available in different sizes and fits for height. You will find the exact size you have been searching for in stock at La Ligne.
Whether you are looking for an extra-small 40½" length and 26½" waist or a size 14 with a length of 44¼" and 34½" waist, La Ligne has got you covered.
The Miranda Pant is a pajama that is too good to sleep in; this 100% viscose pant comes with an elastic waistband, side seam pockets, and wide legs.
The Apres Jogger is a plush and feathery soft jogger that you can wear any time. It is crafted with 82% cotton and18% polyester and comes with a side stripe. These pants also feature an elastic waistband with a drawstring.
The Super Sweatpant is made from 100% cotton french terry and is available in pale blue. It features a ribbed waistband with a drawcord that has metal tips. This sweatpant also comes with a back patch pocket.
You can mix and match these sweatpants with La Ligne sweatshirts, hoodies, or super tees.
La Ligne Tops
This review cannot be complete without mentioning La Ligne tops. The brand offers sleek sweatshirts to see you through different seasons all year long.
The Après sweatshirt is a feathery plush that redefines sweatshirt fashion. This luxury-crafted combination of precision and superior craftsmanship is the perfect definition of modern attire that any clothes you don can wear.
The comfort is enhanced by the 82% cotton and 18% polyester fabric in addition to the ultra-soft brushed tone and oversize style. Attract attention and admiration as you walk down the street.
This color-block top is complemented by a stripe going down the shoulders and arms. Another jaw-dropping feature of the Apres sweatshirt that makes it many women's darling is the long back and short front.
The design goes handy with pop culture, giving you a highly modernized look.
The Terry Sweatshirt is a comfortable-to-wear sweatshirt crafted with 82% cotton and 18% polyester. This oversized-style black ultra-soft brushed terry sweatshirt comes with blouson sleeves and ribbed cuffs. It also features side pockets for keeping you warm during cold weather.
The Avant Hoodie is a feathery soft hoodie made of 95% viscose and 5% elastane. This oversize style hoodie features black and gray color blocks. It comes with adjustable drawstrings on the hood and a kangaroo pocket in front.
The black short-sleeved Luxe Top comes in a crinkled viscose and features gathered detail at the shoulder with raw edge chiffon. It also features a center back zipper and side seam slits.
La Ligne Reviews from Customers Reviews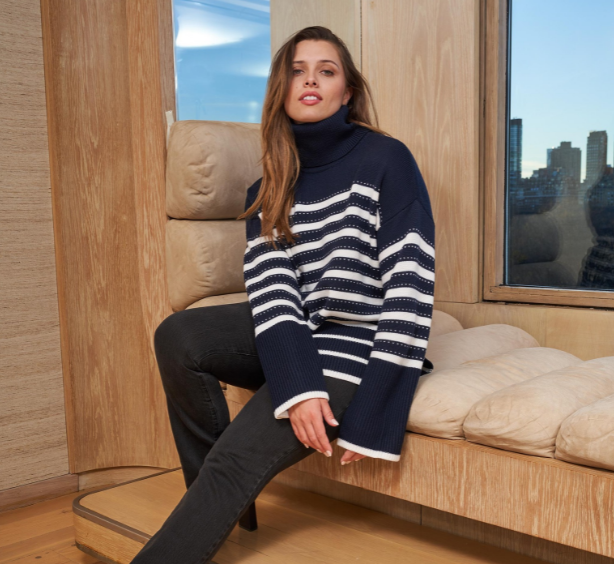 Our reviewers checked La Ligne reviews from buyers. We found that most of the customers have left positive independent reviews, with most of them stating that their fashion products are worthwhile.
Many customers also rated the brand 4 or 4.5 because of the multiple payment options it provides. Other customers praised La Ligne for its consistency in offering quality statements and essential products over the years.
One client who has shopped with the brand for two years said she was happy and at home with La Ligne. She recalled how she received her shipment of Apres Sweatshirt, but there was a mistake with the packaging because she received the wrong size.
The company offered her a free and quick return and exchange.
Most customers gave their customer service an average of a 4.5-star rating, indicating that they are satisfied with their support team and the services they offer.
However, some customers left negative reviews, complaining that the company does not have a live chat feature, and they couldn't return or exchange monogram items.
Sign Up for La Ligne
To start shopping at La Ligne, you need to visit its official website and create an account. You need to provide your first and last name, a working email address, and password, and you are ready to go.
Where to Buy La Ligne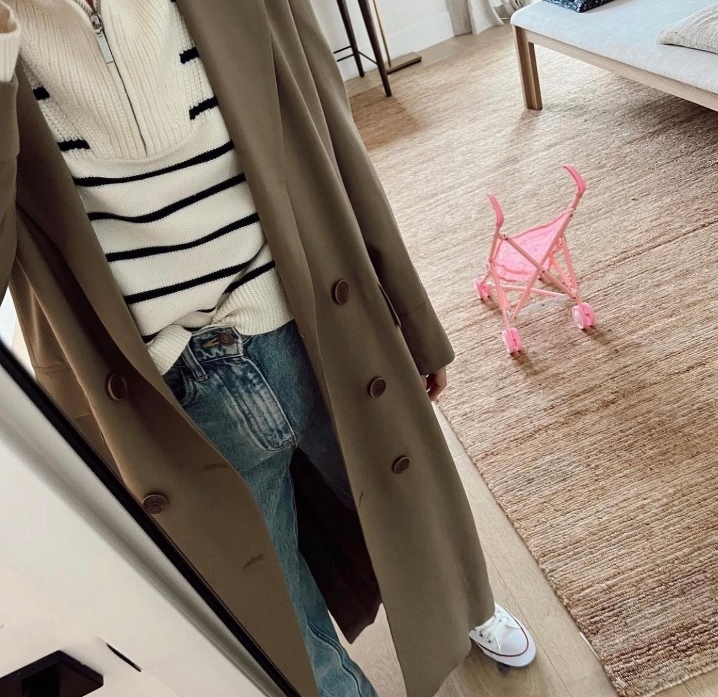 You can Buy La Ligne fashion products on their site LaLigneNYC.com. After creating your account, you can order items, make payments, and give your location details, and the company will deliver the item to your doorstep.
Popular Alternatives to La Ligne
You can also visit La Ligne NYC located at La Ligne Madison Avenue, 996 Madison Ave New York City. If you live within or near Dallas, you can buy your products from 26C Highland Park Village, Dallas, TX 75205.
Palm Beach clients can also buy their clothes and other La Ligne essentials from 340 Royal Poinciana Way, Suite M325C, Palm Beach, FL 33480.
Contact La Ligne
You can reach the company for inquiries and assistance through the official email address [email protected]. Also, you can call and talk to one of their customer service representatives by using this phone number +1 (917) 979-2680 during off-office hours.
You can leave a voice message if no one picks up your call, and a customer care member will later contact you during working hours.
La Ligne Shipping and Return Policy
Shipping
Our La Ligne review found that this clothing brand ships internationally and offers $5.00 for ground shipping within the conterminous United States, with an option of $30.00 for overnight delivery.
NYC residents may choose same-day delivery, which comes with a shipping fee of $35.00. You might want to place your orders before noon for same-day delivery. Shipping rates for international shipping depend on your location.
The company ships via UPS and FedEx to provide its customers with speedy deliveries. Unless otherwise specified, all orders will be shipped via ground service.
Return Policy
La Ligne offers free returns and exchanges for eligible items. However, you have to return the items within 14 days after delivery. All La Ligne returns must be undamaged and in good condition with original tags attached.
La Ligne Promotions & Discounts
La Ligne offers different promotions and coupons that can help you to save money when purchasing a fashion product on their site. The company regularly releases coupons and discount codes.
You can use the promo codes when checking out to get discounts. Currently, the brand has 16 active coupons. You can get La Ligne coupons on the internet.
La Ligne Review: Editor's Verdict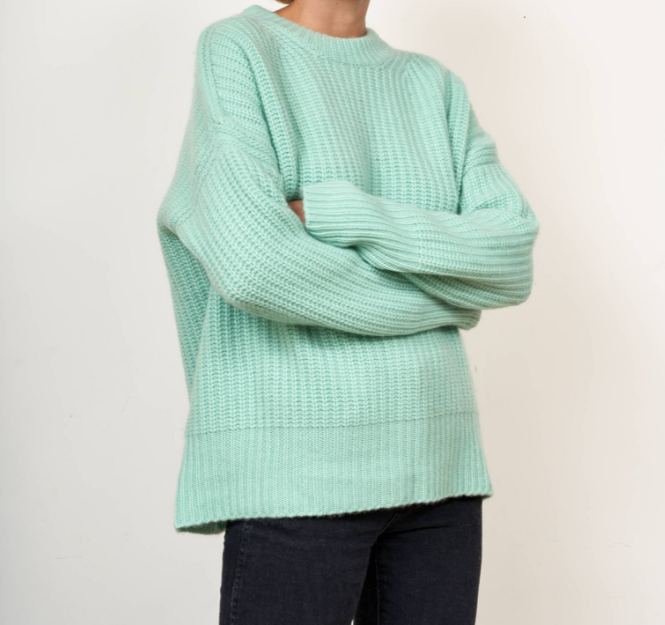 This La Ligne review has given a detailed analysis of the company and some of the products it sells. One thing clear is that La Ligne offers products worth checking out.
The positive customer reviews from customers indicate this clothing brand is legitimate and offers high-quality products. The site is also easy to navigate and provides a good user experience.
Looking for high-quality and luxury apparel to feel like a fashionista? Make sure to read these popular clothing brand reviews of Everlane, Wantable, Musier Paris and Net a Porter.
La Ligne FAQ
Is La Ligne good quality?
Our La Ligne review found that this brand offers high-quality and durable fashion products, that are comfortable and stylish. Considering that Vogue featured them on their website, we do believe they are good quality products and worth the hype.
Where is La Ligne made?
As they are striving to offer high-quality products, La Ligne confirmed that most of their pieces are produced in New York City.
Who owns La Ligne NYC?
La Ligne is owned by Molly Howard, Meredith Melling, and Valerie Macaulay. Molly used to be head of business development at Rag & Bone, Meredith was working as Senior Market Editor at Vogue, and Valerie is the founder of La Marque.
Can I return or exchange a monogrammed item?  
As all monogram items are final sale, they cannot be exchanged or returned.