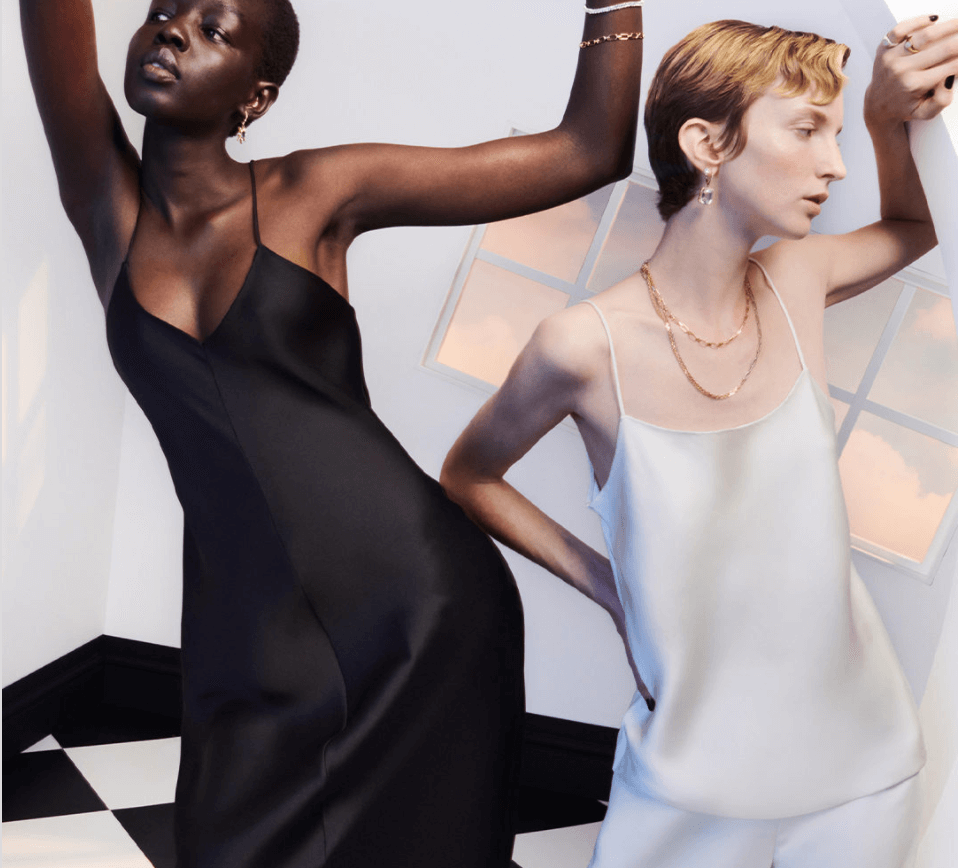 Headquartered in London, England, Net a Porter is one of the leading luxury fashion retailers; it offers apparel, sportswear, footwear, gifts, bags, and jewelry from the most coveted designer brands in the world. We'll look at Net a Porter reviews to help you determine if this company is worth checking out.
Since its inception in June 2000, the company has delivered incredible fashion for women who want to look great. Shopping with Net a Porter is a seamless process, whether you are reading through the world of PORTER, using its shopping apps, or sifting through its websites.
Keep reading to learn more about Net a Porter and decide if it's what you have been seeking.
About Net a Porter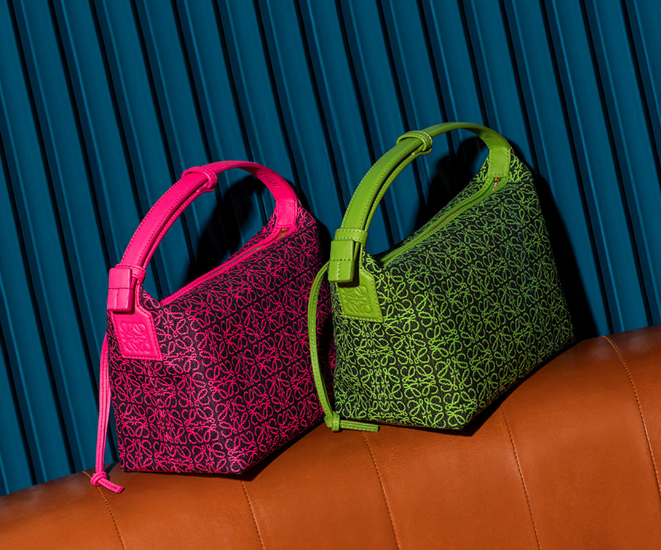 If you are wondering: What is Net a Porter? It's the premier online luxury fashion destination, with over 800 most coveted designers, including Stella McCartney, Isabel Marant, Saint Laurent, Balenciaga, Chloe, Gucci, and 200 specialist beauty brands.
This award-winning site in magazine format offers style-savvy buyers what they want.
Founded by Natalie Massenet in London, Net a Porter is part of the Italian online fashion retailer YOOX Net-a-Porter Group, which was launched on 5 October 2015 after the company merged with Yoox Group.
The idea of starting Net a Porter came to Natalie when she was trying to source products on the internet for a fashion shoot.
She launched the business from her flat in Chelsea and raised the 1.2-million pound start-up costs with the support of her spouse. The concept behind the website was to allow customers to click on images of outfits within a magazine format and then make a purchase.
Net a Porter has a firm, clear understanding of what luxury is, evident in the selection of its offerings for its monthly audience of more than 6 million.
In 2009, Net a Porter launched a fashion discount website The Outnet. In 2010, Natalie sold Net-a-Porter to Richemont, a Swiss luxury goods holding company, for about £50 million.
More about the brand
However, she remained involved with the brand as an investor and executive chairman until the merger between Net a Porter and Yoox Group, when she stepped down.
The company has employed more than 2,600 people in Hongkong, the United States, and the United Kingdom, with additional offices in Shanghai. The company launched the print magazine, Porter, with a digital version of the magazine and an associated mobile app.
Net a Porter is undoubtedly the go-to place for people looking for lingerie, accessories, beauty products, bags, footwear, and clothing.
Additionally, the company champions unmatched customer service with express international shipping to over 170 countries, including next-day delivery to the United States, Singapore, Australia, France, Germany, and the UK and same-day delivery to Hong Kong SAR, London, and Manhattan.
Because there was no Net a Porter men, the company launched the menswear website MrPorter.com in 2011.
With a healthy Instagram following of 4.7 million, Net a Porter also offers easy returns, luxurious packaging, personal shopping teams, and multi-lingual support available 24/7. Carry on reading our Net a Porter reviews to find out more about the brand.
Pros
Offers easy returns
They ship internationally
Multi-lingual customer care is available around the clock
Speedy delivery
Has a selection of more than 800 designer brands
Accepts a plethora of payment methods
Cons
International orders may experience delays
Clothing and shoes are not available in full range sizes
Refunds take up to ten days
Net a Porter Products Review
Net a Porter carries a wide range of stylish staples for women and kids. We will cover some of their best-selling products that will make a great addition to your wardrobe.
Net a Porter Dresses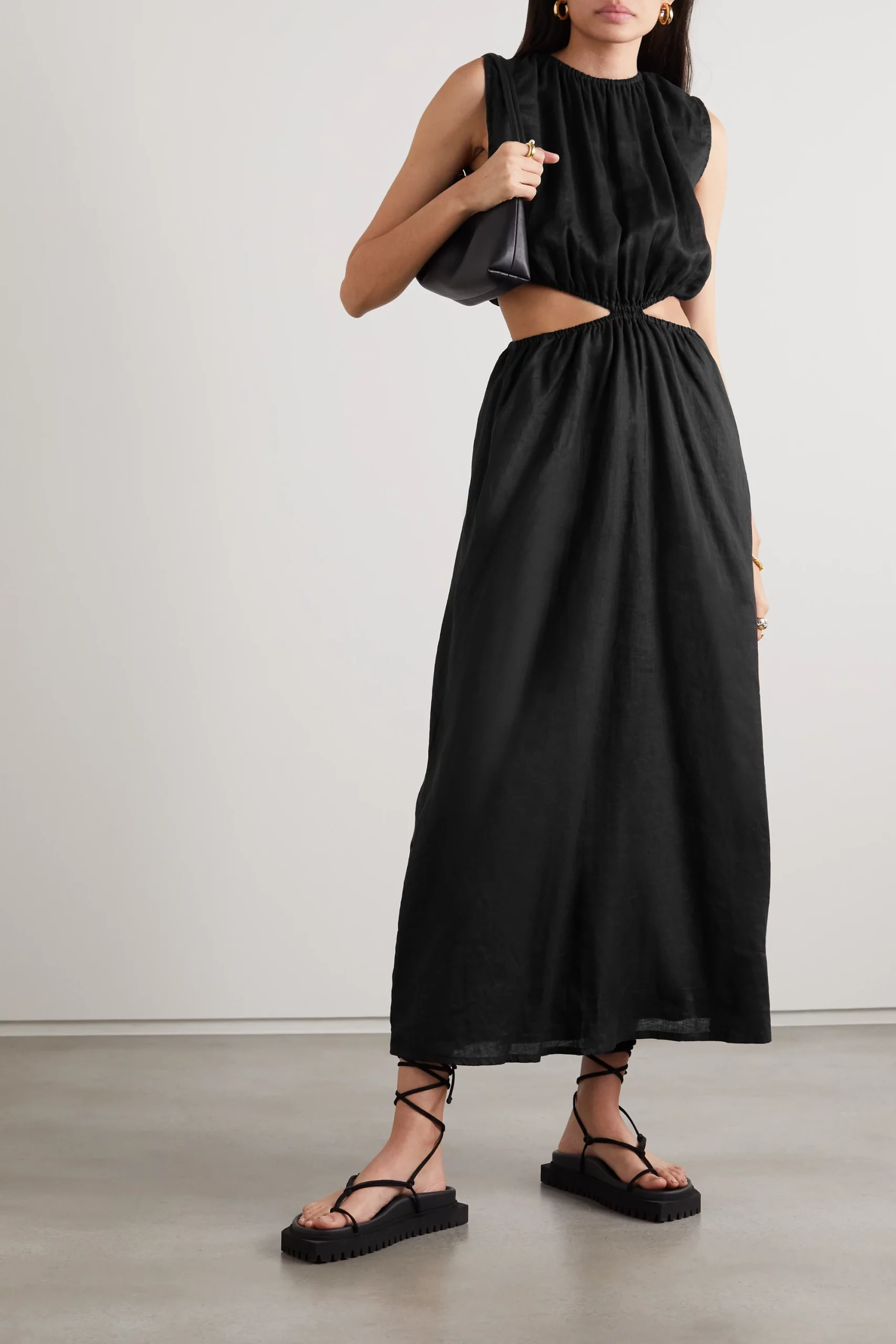 If you are looking for a stylish dress to wear, Net a Porter has got you covered. The brand has loads of options suitable for different occasions, weather, and body types.
Net a Porter dresses are stylish and made from high-quality material to ensure they are comfortable to wear and long-lasting.
Net a Porter has a range of maxi dresses from different designers, including Zimmerman, Faithful the Brand, and Chloé. These maxi dresses are light, breathable, and made from soft material, so they feel great on the skin. 
Some of the Net a Porter maxi dresses come with v or scoop necks, making them flattering since they draw the eye vertically instead of horizontally. Adding a high belt to these dresses will help you create an empire waist and make your legs appear longer. 
Wearing one of these maxi dresses also means you do not have to shave your legs or worry about matching. Because they are loose and breezy, throwing one of these dresses over your bathing suit is a great way to get ready for the beach.
The price of maxi dresses ranges between $140 and $1395. 
You can make a style statement with Net a Porter mini dresses. These dresses come with high, exciting hemlines that can add drama, polish, and flair to your wardrobe. You will need between $194 and $1995 to get one of the mini dresses on this site. 
In addition to midi dresses, Net a Porter also offers a variety of stylish gowns, including open-back satin, cut-out crepe, strapless, and embroidered velvet gown. The price of gowns starts at low as $299and goes as high as $7690, while midi dresses cost between $15 and $4700.
Net a Porter Sneakers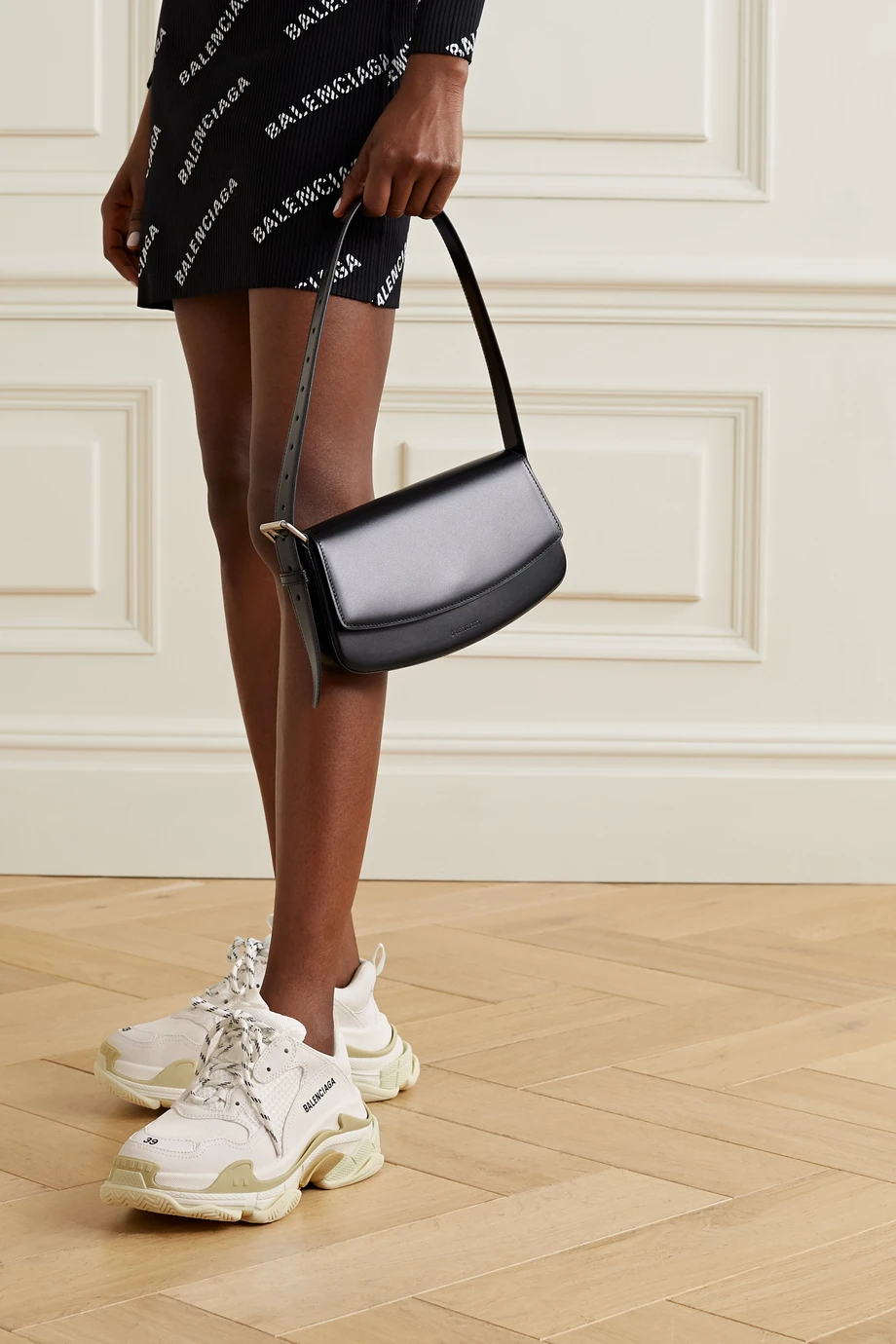 A good pair of sneakers is the perfect fashion item you can own. The brand offers a range of premium quality sneakers that make you stand out from others.
Net a Porter Sneakers allow you to express yourself, and you can choose from all-black, understated, flair, and bold colors. The sneakers are also from different brands, including Nike, Gucci, Adidas, Balenciaga, and Converse.   
Available in different sizes, the sneakers that this site offers are made from various materials, such as faux leather, suede, and neoprene. Whether you prefer slip-on, mesh, or high-top wedge sneakers, Net a Porter has got you covered with its impressive sneaker collection. 
Based on Net a Porter reviews, customers love their sneakers because they are breathable and provide your body with extra support, maximum comfort, and stability. Net a Porter Sneakers are available in different colors and sizes, with their prices ranging from $110 to $1150. 
The Row Net a Porter Kids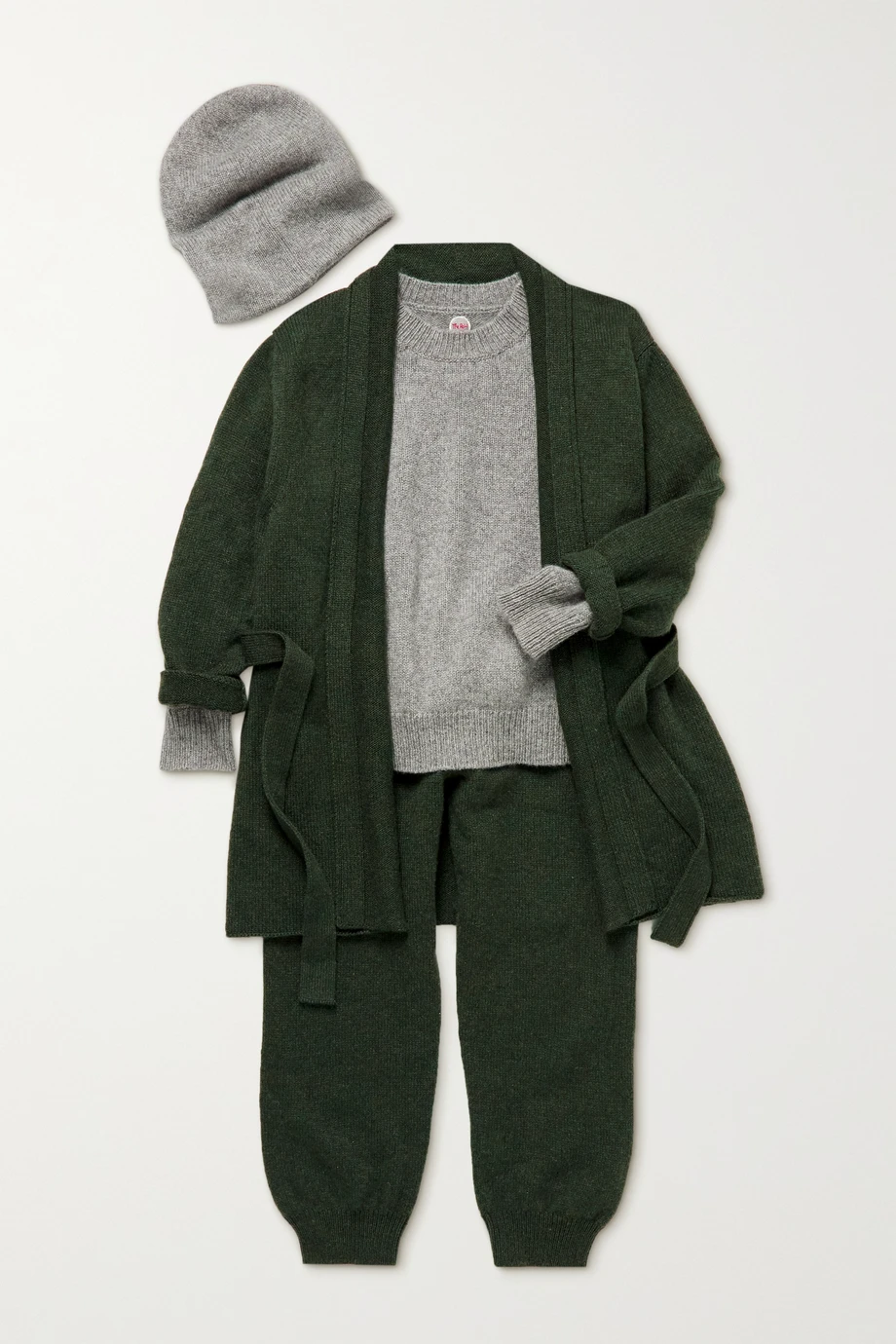 Being stylish is also an essential element for kids, and that's is why Net a Porter has a category for trendy kidswear collection by The Throw. You'll find a range of coordinating cashmere sets for kids aged between 2 and 10 years in playful shades of forest green, Klein blue, and Fuchsia. 
Net a Porter kids category offers track pants, cardigans, beanies, and sweaters all made from cashmere derived from the soft fleecy cashmere goat underlayer.
These fibers are of fine diameter, and that's why they have a soft feel. As a result, your kids won't experience any scratchy feeling against their skin. 
Cashmere is an excellent choice for insulation because it's eight times more insulating than usual wool; this makes Net a Porter kidswear ideal for protecting your little ones from cold weather.
Because cashmere has high moisture content and its insulation changes with the humidity, it is comfortable to wear these clothes in all climates, including warm weather. The breathability of this fabric means that it helps the body to regulate temperature.
While the fibers feature water repellent exteriors, the interior attracts water. That means the clothes attract moisture like sweat away from your kid's body. 
Their kids' clothing and headwear are lightweight, wrinkle-resistant, and feature natural stretch to allow your children to move with ease while wearing them. 
Moreover, these clothes are hypoallergenic, making them suitable for kids with allergies. Beanies are available for $290 and come in a range of colors. Track pants cost $590, while you'll need $520 for sweaters and $650 for cardigans. 
Net a Porter also offers blue and red flat-heeled Friulane velvet slippers with a flexible sole made from rubber. You can get these slippers for your kid for $390.
Net a Porter Tote Bags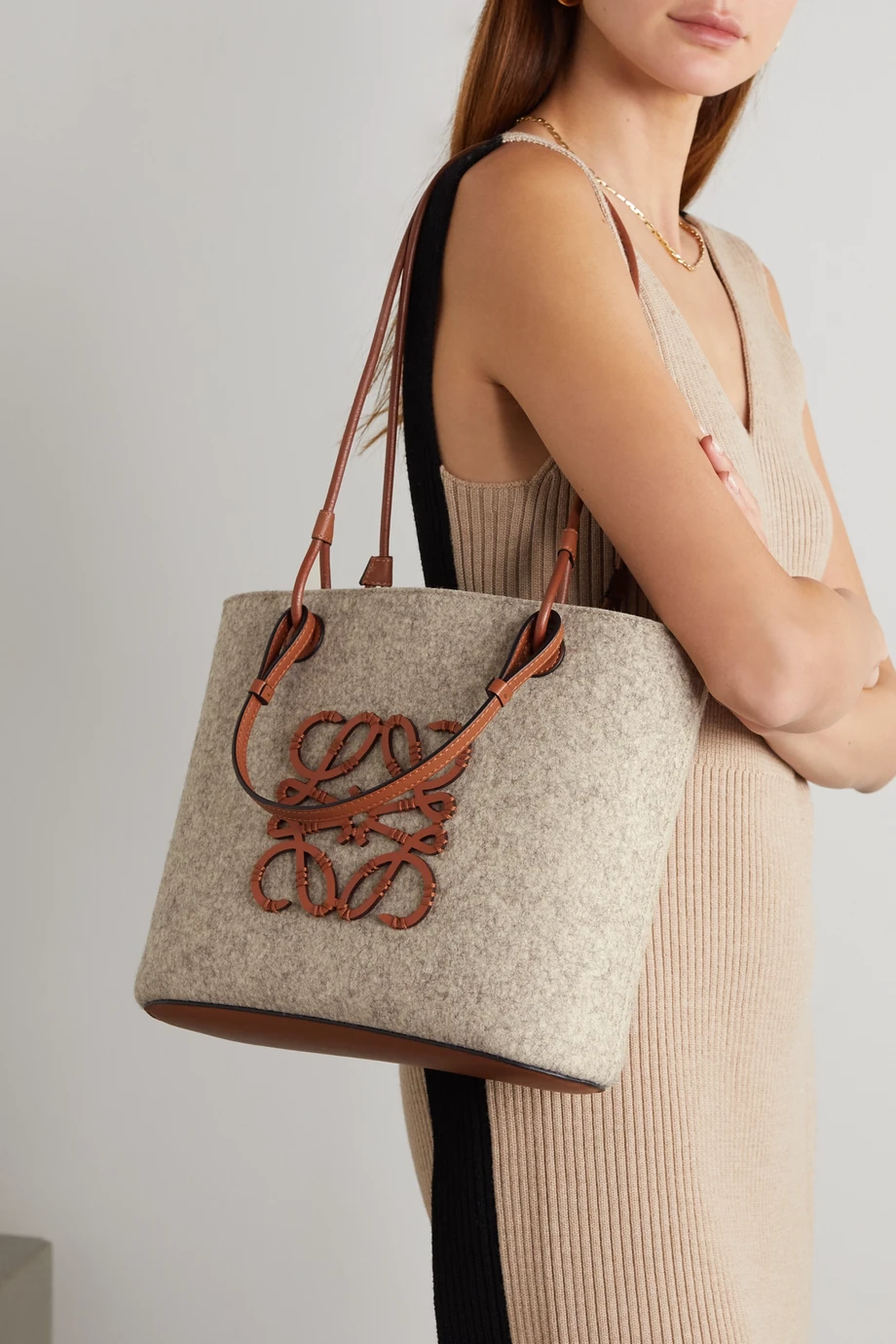 Net a Porter offers chic and versatile designer tote bags suitable for all occasions from various designers, including Marni, Balenciaga,  Bottega Veneta, Loewe, Fendi, Burberry, Gucci, and Chloé.
Ideal for women looking for stylish and durable bags, Net a Porter Tote Bags will add an air of quality and class to your ensemble. 
You can use them to make a statement, as they add a glamorous touch to any outfit. The bags are made of high-quality materials, including leather, canvas, textured leather, and linen-and-cotton-blend canvas. The prices of Net a Porter Tote Bags range from $420 to $4600.
Net a Porter Jewelry & Watches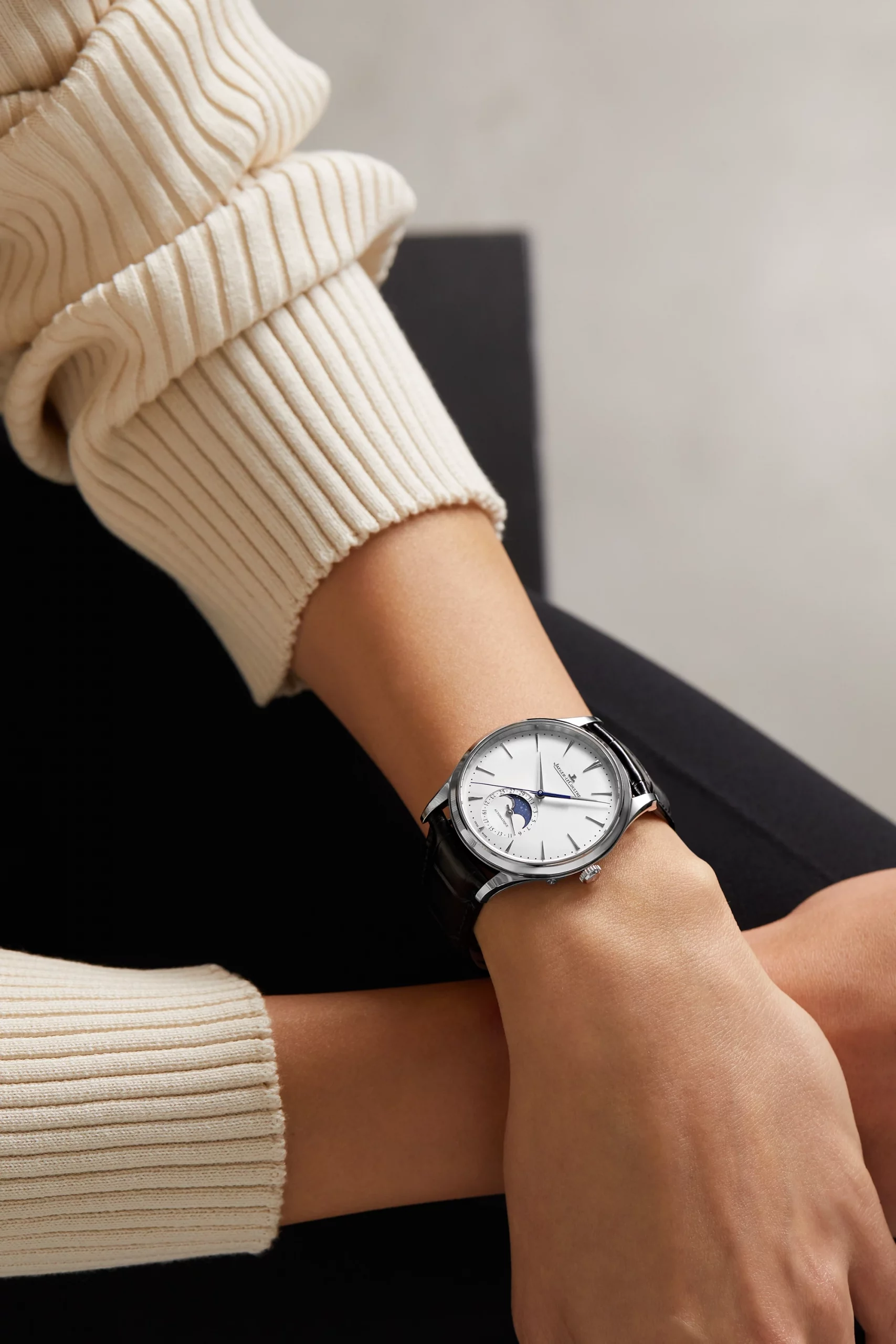 Jewelry and watches allow you to showcase your personality and enhance your look. Net a Porter has a range of timeless jewelry and watches that will undoubtedly dazzle anyone who passes by.
The company has a variety of elegant rose gold watches with classic designs. Ideal for any occasion, Net a Porter gold watches maintain a timeless style and are made from high-quality materials that make them long-lasting.
The site also has a great collection of stainless steel watches with a modern design. These watches are corrosion-resistant, non-allergic, built to be long-lasting, and easy to maintain.
You'll also find gold diamond watches, stainless steel and diamond watches, white gold diamond watches, and much more. The price of watches starts from $1,350 to $81,525.
Additionally, the company offers earrings, necklaces, and bracelets made from different materials, including rose gold, white gold, diamond, and emerald. Net a Porter jewelry retails from $80 to $4125.
Net a Porter Reviews from Customers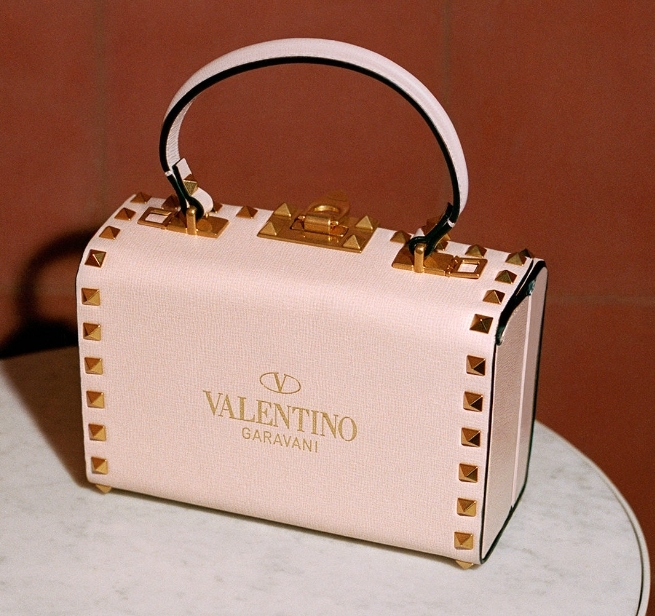 We checked Net a Porter reviews and found that most customers were impressed by the quality of their products and excellent customer service of this online retailer. 
A significant number of buyers left positive reviews on Trustpilot, with the brand getting an overall score of 3.4/ out of 3,034 reviews. Most customers stated that they had an exhilarating shopping experience and praised their speedy delivery times. 
Many buyers also liked their collection of apparel, jewelry, and watches, and they loved their durability. Several buyers left negative reviews, complaining that international orders experienced delays.
Popular Alternatives to Net a Porter
Overall, most customers were happy with this brand and its products because they left positive feedback. There were not too many bad reviews and since there are so many good ones, a few of the negatives can be forgotten. 
Sign Up for Net a Porter
To get the ball rolling with Net a Porter, you need to visit their site and sign up. You will have to provide basic information during the registration process. The website will ask for your email address, first and last name, and date of birth.
You'll be granted 10% off on the first order you make after signing up.
Where to Buy Net a Porter
You can purchase the products on the Net a Porter website which is Net-a-Porter.com.
Net a Porter Shipping and Return Policy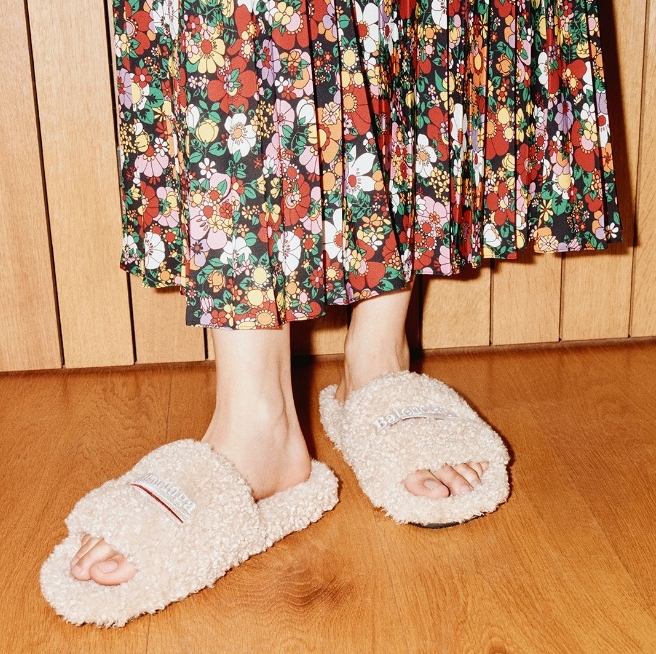 Shipping
Net a Porter ships internationally, with the cost of express shipping being £20. The delivery time for express is within 2 to 4 business days once they accept your order.
Their shipping partner is DHL, and it allows you to make changes to deliveries before they reach their destination. That means you can remove the signature requirement or reschedule the delivery to another day, thanks to ODD. 
The company will send you a message via email or SMS when DHL receives your order and inform you about the delivery date; this message will come with a link to the ODD site if DHL Express On-Demand Delivery is available in your location.
Return Policy
Net a Porter return policy allows you to try your purchase and tell the company if you want a refund or would like to exchange the item. You can receive a refund through the original payment method or as store credit to your account.
Refunds take a maximum of ten working days to appear on your account because of varying processing times with payment providers.
You can request returns within 28 after receiving your order. While it's free to exchange your purchase, duties and taxes are applicable if you reside outside the EU. Of course, you can return the item request a store credit refund, and buy the new item separately. 
Sales taxes and customs duties are non-refundable through the site if you are not an EU customer. You can hire a customs broker or contact your local customs bureau to recover these. 
You can only return unused items that have designer labels and tags still attached. Net a Porter returns that don't meet the company's policy will not be accepted, and they will send them back to you.
If you want Net a Porter to cover your return by their free returns policy and reach them on time, you have to return the items from the destination they were delivered. 
If you send an order from a different country, customs might delay it, or the item could incur additional charges.  While you can return items using any secure means, we will not accept liability.
Net a Porter Promotions & Discounts
Net a Porter currently offers a sale that grants you up to 70% off, including free shipping worldwide on orders more than £200. You can also get a Net a Porter coupon online and use it during check out to save money. 
The Net A Porter EIP Loyalty Program allows you to enjoy exclusive benefits and rewards that will elevate your shopping experience. You'll get to enjoy unlimited free shipping worldwide and same-day service in Hong Kong, New York, and London. 
Additionally, you'll get an invitation to their bi-annual Sale before others. In turn, this allows you to prepare a wish list in advance to get ahead of the crowd. You will also see and shop new items 36 hours before other customers.
Net a Porter Customer Service
You can reach out to Net a Porter customer service representative through their [email protected] or phone 44 330 022 5700. There is also a live chat function that you can use to talk to the support team if you need assistance.
Net a Porter Reviews: Editors' Verdict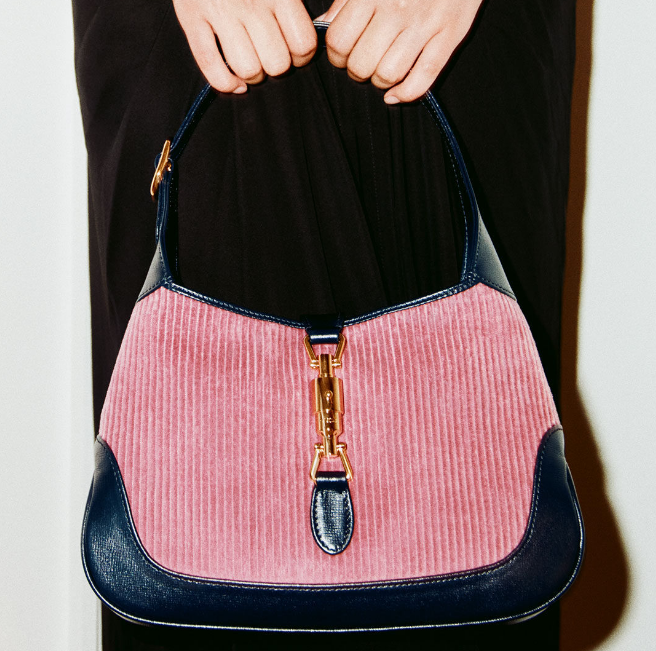 Our reviewers recommend this site to shoppers looking for high-quality apparel, sportswear, footwear, gifts, jewelry, and bags. The site provides value for the money and delivers outstanding customer service.
**Net a Porter also received the best fashion shop award in 2004 at the British Fashion Awards, meaning they are worthwhile.
According to Net a Porter reviews, the site has thousands of loyal customers who love their products. Also, they praised the website for being navigationally friendly and having an extensive collection of designer brands.
Lastly, the company offers multiple payment methods that are safe and reliable. These include American Express cards, Klarna, PayPal, Visa Card, MasterCard, and Apple Pay.
Still looking for more luxury high-fashion brands, check out our reviews of The RealReal, Moda Operandi, Musier Paris, and Shopbop.
Net a Porter FAQ
Is Net a Porter legit?
If you are asking yourself: Is Net a Porter legit? The answer is yes. The site has a good reputation, and most of its customers are satisfied with their products and customer service.
Is Net a Porter sustainable brand?
Infinity is the 2030 sustainability strategy for YOOX NET‑A‑PORTER GROUP; its goal is to deliver lasting luxury fashion while working towards a more sustainable and all-inclusive circular fashion system ideal for the industry.
What do I do if I think an item that I purchased from the site is faulty?
If you think you have purchased a faulty item, then all you have to do is email [email protected] and they will look into the issue. You will have to provide them with your order number and photographs. Net-A-Porter does not refund in case the clothing got damaged during normal wear.
Does Net-A-Porter charge duties?
Net-A-Porter ships on a Delivery Duty Paid basis, so all of the import taxes and duties are included in the final purchase price. You should also select your location to view the correct market pricing as delivery and shipping costs will be calculated based on that.
Does Net-A-Porter sell used items?
Net-A-Porter partnered with Reflaunt to resell your previously owned clothing. You can arrange home collection or use a drop-off service. Their team will take care of the photos, so you do not need to worry about that.
You can even choose your payment method, either receive the money via bank transfer or as store credit with a 10% bonus. You clear out your closet and you get to shop for new items!