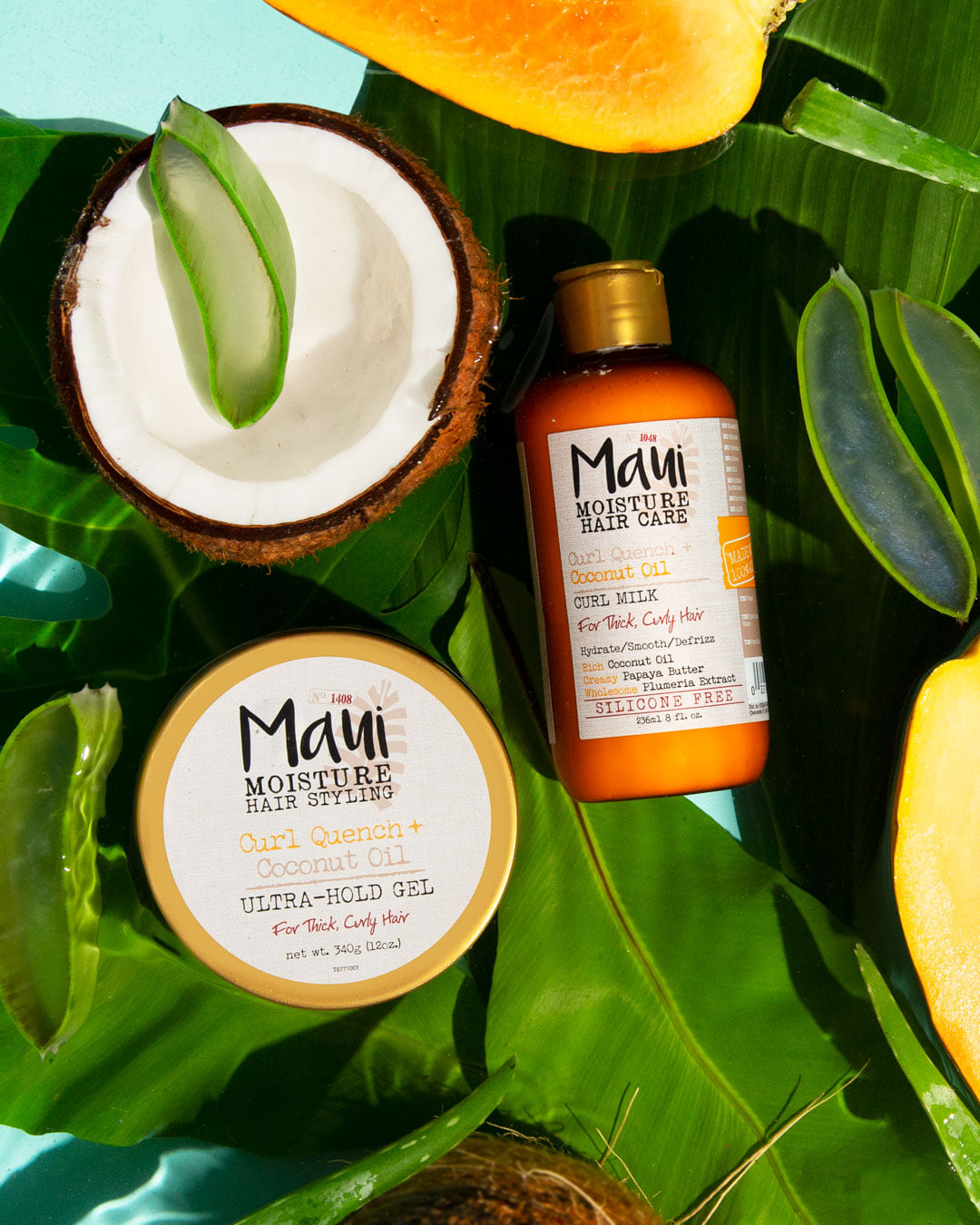 There are thousands of hair products on the market. With so many options, selecting the right hair products for your hair might be challenging. Maui Moisture is a brand that specifically caters to the needs of people with wavy, curly, and coily hair. They also manufacture lotions and body washes. We will highlight Maui Moisture reviews from customers, its best-selling hair and body care products, shipping policy, promotions, discounts, and more to help you determine if it's worthwhile.
About Maui Moisture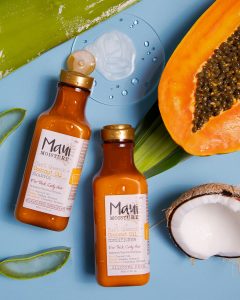 Maui Moisture is a company that produces vegan hair care products. The company was founded in 1987 by Todd Christopher. The brand's main goal was to cater to women with curly hair.
Initially, the company was grouped into a conglomerate with other brands like Proganix and FX Styling. In 2016, the founder decided to sell the company to Johnson & Johnson. 
Maui Moisture focuses on producing products that do not feature harsh chemicals like parabens and silicone. The company believes that different hair types require different products. For this reason, the brand has focused its attention on manufacturing hair products for wavy, curly, and coily hair.
When it comes to packaging and branding, the company has developed a specific vibe that they use on all their products. Their branding resembles the sunny Hawaiian Beach setup. The ingredients they use are also found in the tropical islands of Hawaii. The company has its headquarters in New Brunswick, New Jersey.
Maui Moisture's popularity is evident from the numerous features by notable media outlets like Nylon, People, Refinery 29, Parents, and Readers Digest. They also have an impressive social media following of 123k followers on Instagram and over 83k followers on Facebook.
Before we get to Maui Moisture reviews from customers and its bestsellers, here is a brief outline of the pros and cons of this body and hair care brand.
Pros
The company offers a variety of products to choose from

Their prices are reasonable

Numerous positive reviews from customers

All their products are vegan

Their products do not contain chemicals like parabens, sulfates, surfactants, and silicones

The brand has a curl guide that helps customers purchase the right products
Cons
Different shipping and return policies because the company sells through selected retailers

They offer products limited to wavy, curly, and coily hair

Some of their products, such as hair masks, have limited choices
Maui Moisture Products Review
Maui Moisture offers an expansive selection of hair and body care products. The brand sells a range of shampoos and treatments. We'll look at Maui moisture shampoo reviews from customers and some of their top-selling products. 
Maui Moisture Shampoo Reviews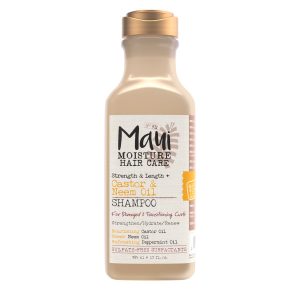 After spending a long day on the beach or you spent the day hiking with friends, a good warm shower is essential to clean your hair from sand, sweat, and oil. Maui Moisture shampoo is categorized according to the hair type, such as curly, wavy, and coils. 
Heal & Hydrate Shea Butter Shampoo is a blend of creamy shea butter and hydrating shampoo. This shampoo is designed to repair split ends and hydrate brittle strands. 
It is infused with special ingredients such as macadamia oil to reduce hair dullness and frizz. The product also contains aloe vera Juice, which moisturizes hair and strengthens hair strands. Additionally, Maui Moisture Shampoo reviews show that customers love this product because it has whipped shea butter to stimulate hair growth, seal moisture, and tame frizz. It also helps to reduce scalp irritation. A 13-oz bottle retails for $6.97.
If you love the smell of pina colada, the Coconut Milk Shampoo should be on top of your list. This Maui Moisture shampoo contains a luxurious cocktail of ingredients, such as sheer guava oil, an antioxidant that fights free radicals and prevents hair damage. 
Final thoughts of the shampoo
Mango butter is another active ingredient rich in vitamin A and E for deep moisturization and nourishing hair strands and the scalp. According to Maui Moisture reviews, customers love this shampoo because it is lightweight in texture and designed to clean hair effectively. If you want to pamper your hair, get this shampoo for $6.97. 
Maui Moisture Curl Quench Coconut Shampoo is used to hydrate, smoothen and defrizz hair. It is rich in coconut oil, which helps to moisturize and seal your hair. Papaya butter is another ingredient used to nourish the scalp and protect hair from damage. Furthermore, it contains plumeria extract for hydration to repair damaged hair. You can get this shampoo for $6.97. 
Maui Moisture Conditioner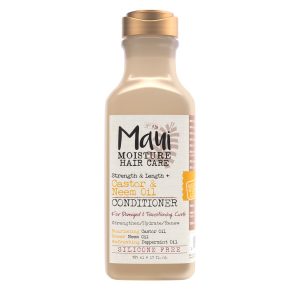 Conditioners are used to make hair softer and manageable. Shampoos and conditioners go hand in hand in maintaining healthy hair. 
Heal & Hydrate Shea Butter Conditioner is designed to complement the shea butter shampoo. It has a creamy whipped formula, which is the icing on the cake. 
This Maui Moisture conditioner is infused with natural ingredients, such as coconut, shea butter, and macadamia oil. This combination works effectively to hydrate sullen hair. Macadamia oil is another ingredient in this product, and it detangles hair and reduces hair dullness. If you want to achieve strong, healthy, and shiny hair, get this conditioner for $6.97.
Hibiscus Water Conditioner is another classic conditioner used for lightweight hydration. This Maui Moisture conditioner is made from premium ingredients such as exotic hibiscus water rich in amino acids for nourishing and strengthening hair. Passion fruit for maintaining a healthy scalp and healthy hair. Available at $6.97, the product features watermelon juice to promote healthy hair.
If you are struggling with dull and dry hair, try using Awapuhi Conditioner; it is formulated to transform your hair to a radiant shine. This Maui Moisture hair care product works effectively to nourish and hydrate hair. It has a lightweight formula that detangles hair strands. This vegan conditioner does not contain parabens, silicones, sulfates, or surfactants, and a 13-oz bottle retails for $7.09. 
Maui Moisture Hair Mask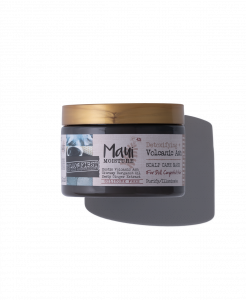 Maui Moisture has two types of hair masks: Shea Butter Mask and Volcanic Ash Mask. If you are suffering from brittle roots and ends, revive your hair with Heal & Hydrate Shea Butter Mask. It acts as a leave-in treatment to hydrate and deeply nourish hair. 
Whipped into creamy shea butter, this hydrating mask is rich in coconut and macadamia oil to nourish hair and soften strands. After showering, apply a small amount of Maui Moisture Hair Mask to dampen hair and distribute evenly using the palm of your hands. Leave the mask for 5 minutes and rinse off. You can also use it as a leave-in treatment and style your hair as usual. 
If your hair is dull and dehydrated, the Exotic Volcanic Ash Mask is the ideal option for you. If your curls are not coiling as they should, allow them to shine with the help of a detoxifying volcanic hair mask. 
This Maui Moisture Hair Mask contains bergamot, an ingredient that detangles hair strands and smoothens hair cuticles. It also features zesty ginger extract to promote hair growth. Additionally, this product has exotic volcanic ash, an antioxidant that exfoliates hair. 
Maui Moisture Body Lotion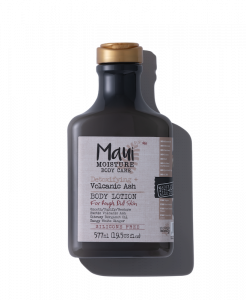 If you are looking for a silicone-free body lotion, Maui Moisture offers an immense range of creamy and vitalizing body lotions. Unlike other body lotions, Maui Moisture lotions contain coconut water and aloe vera for beautiful glowing skin. 
Volcanic Ash Lotion is the perfect solution for rough and dull skin. It is formulated with natural ingredients to purify, smoothen, and restore dry skin. 
The lotion is a blend of volcanic ash, an excellent exfoliator that removes dust and toxins from the skin. It also contains bergamot oil that balances sebum levels and unclogs pores for perfectly glowing skin. 
Ginger extract is infused into the formula to reduce the appearance of wrinkles and fine lines; this tangy formula is a perfect blend for hydrating and moisturizing the skin. Massage this lotion generously on your body day and night for excellent results. You can get the volcanic ash lotion for $9.79. 
Use their silicone-free Shea Butter Body Lotion to deeply quench, renew and soften your skin. The product features a blend of coconut oil, macadamia oil, and creamy shea butter.
Coconut oil hydrates and protects the skin, while macadamia oil is a rich antioxidant that prevents premature wrinkles and is a great moisturizer. Shea butter, on the other hand, has anti-inflammatory properties and is also a moisturizer. 
This unique formula works well to deeply moisturize and soften the skin, and you can get this shea butter lotion for $7.99. 
Maui Moisture Body Wash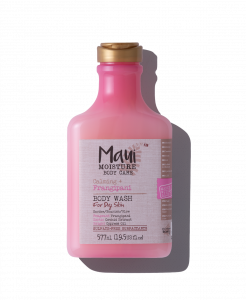 Maui Moisture has a vast collection of vegan body washes. They are also free from silicone, sulfates, surfactants, and parabens. 
You can use the Shea Butter Body Wash to complement the shampoo and conditioner; this Maui Moisture body wash is made from a creamy formula and is extra luxurious for beautiful glowing skin. 
It is designed to soften, renew, and quench the skin. Shea butter body wash is a cleanser enriched with a hydrating formula of coconut water, aloe vera, and macadamia oil; this formula is perfect for those who want to achieve glowing skin.
The ingredients infused in the formula are a pure vegan, which provides medium moisture. If you are looking for an essential body wash that smells like a tropical oasis, get this extra hydrating formula for $7.
Papaya and Pineapple Body Wash has a relaxing fruity smell. If you love fruity scents, this body wash will captivate your smell buds. It is infused with sweet pineapple extract to fight free radicals and calm inflammation. 
It also contains papaya butter to moisturize skin, clear pigmentation, and reduce wrinkles. Mango butter is another active ingredient that reduces wrinkles and fine lines. For well-hydrated and balanced skin, go for this body wash for $6.79.
Maui Moisture Reviews from Customers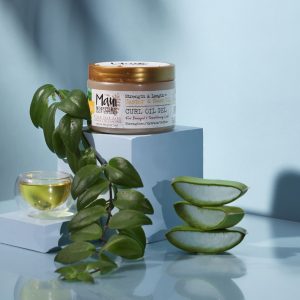 We checked the web for Maui Moisture reviews and found that users love their hair and body care products because they are effective. For example, the Shea Butter Shampoo has over 401 reviews with an average five-star rating. Many customers commented that the shampoo works well to defrizz wild hair and moisturize dry hair.
One of the buyers says she switched from regular shampoos that would leave her hair dry and with split ends. Since she started using Maui Moisture Shampoo, her hair is always hydrated, and she does not experience split ends. 
Another buyer said their shea butter collection helped her recover soft hair. She uses the shea butter shampoo and conditioner, which has helped her maintain healthy hair.
The Shea Butter Hair Mask is also a favorite among many buyers. It has over 586 reviews with a five-star rating. The high rating shows the product is effective in moisturizing and nourishing hair.
One happy customer said she ran out of conditioner and ended up buying this mask by mistake. It turned out it was the best mistake because for the six months she has used the product, her hair is always smelling amazing, detangled, and soft. This hair mask has also made it easy for the customer to style her hair. 
Popular Alternatives to Maui Moisture
Further customer reviews
Another satisfied customer says her hair is softer and less frizzy after using it. She cautions other users not to use much of it because it makes hair heavy after rinsing out. 
Customers also praised the Maui Moisture treatment and said the product helped to revitalize their unhealthy hair. They also love that it is affordable compared to other products in the market.
Users also love their top-selling Hydration Water Shampoo and Conditioner. Many customers are satisfied with the hibiscus combination because it quenches, nourishes, and softens hair strands. 
We found one or two negative Maui Moisture reviews; a few customers complained that some of their products have limited choices. Others felt that the brand offers products limited to curly, wavy, and coily hair.
Overall, customers left overwhelmingly positive reviews after using Maui Moisture products. 
Sign Up for Maui Moisture
If you want to be part of the Maui Moisture family, visit the company's website and click on the Home Page. Next, click on the sign-up page and provide your first name, email address, and your type of hair.  
Once you sign up for Maui Moisture, you can navigate the website and view their products. You can also update your account information. Visit similar hair brands such as Kerastase.
Where to Buy
The brand does not sell its products on its site. But you can find their products from authorized retailers like Amazon, Walmart, Target, CVS, and Walgreens. 
Maui Moisture Shipping and Return Policy
Shipping:
Because Maui Moisture products are only sold through authorized retailers, refer to their shipping policies. 
Return Policy:
Since their products are sold through associated retailers, kindly check each retailer's website for their return policy. 
Promotions & Discounts
Currently, the company does not seem to have active promotions and discounts on its website. You can sign up on their website or follow their Instagram and Facebook pages, and you will receive a notification when the company has deals.
Contact Maui Moisture
Maui Moisture is a company that is customer orientated, and they would love to hear your feedback. If you have any questions about their products, you can reach out to them by filling out the contact form online. 
You can also send a direct message to the Maui Moisture Instagram or Facebook page.
Maui Moisture Reviews: Editor's Verdict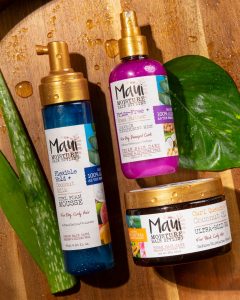 Based on Maui Moisture reviews from customers, this brand is worth it. Its products are affordable and are made from natural ingredients. The company seems to produce products that focus on specific hair types. 
Maui Moisture products work perfectly for those with wavy, curly, and coily hair. Comparing Maui Moisture to other companies that manufacture products for all hair types, it is evident that Maui Moisture has mastered its craft.
Most of their products are below $10. If you are looking for a budget-friendly hair product that delivers results, this review recommends Maui Moisture. 
Still looking for other haircare brands? Have a look at our reviews of Kerastase, Vegamour, Aquis, and Giovanni Cosmetics.
Maui Moisture FAQ
Is Maui Moisture good?
If you are wondering: Is Maui Moisture good? Yes. If you are looking for a formula to moisturize and hydrate your skin and hair, Maui Moisture offers a wide range of products designed for hydration. The brand has thousands of positive reviews online, which shows users love its collection.
Does Maui Moisture cause hair loss?
If you are asking yourself: Does Maui Moisture cause hair loss? The answer is no. Maui Moisture is a famous brand that offers hair care products that do not cause hair loss. Their products are formulated to be kind to your hair.
Is Maui Moisture Cruelty-free?
If you are wondering: Is Maui Moisture cruelty free? Yes. Maui Moisture and its parent company are cruelty-free. Both companies agree it is harmful to test cosmetic and personal products on animals. Its parent company has partnered with other research and advocacy organizations to look for alternative means of testing cosmetic products.
Is Maui Moisture black owned?
Many people keep asking: Is Maui Moisture black owned? The answer is no. The founder of this company is a white American named Todd Christopher, who sold it to Johnson & Johnson.
Does Maui Moisture products contain silicones?
Maui Moisture products are silicone-free. Silicone clogs pores and does not support skin health. It also prevents other ingredients from absorbing into your skin and dehydrates it.