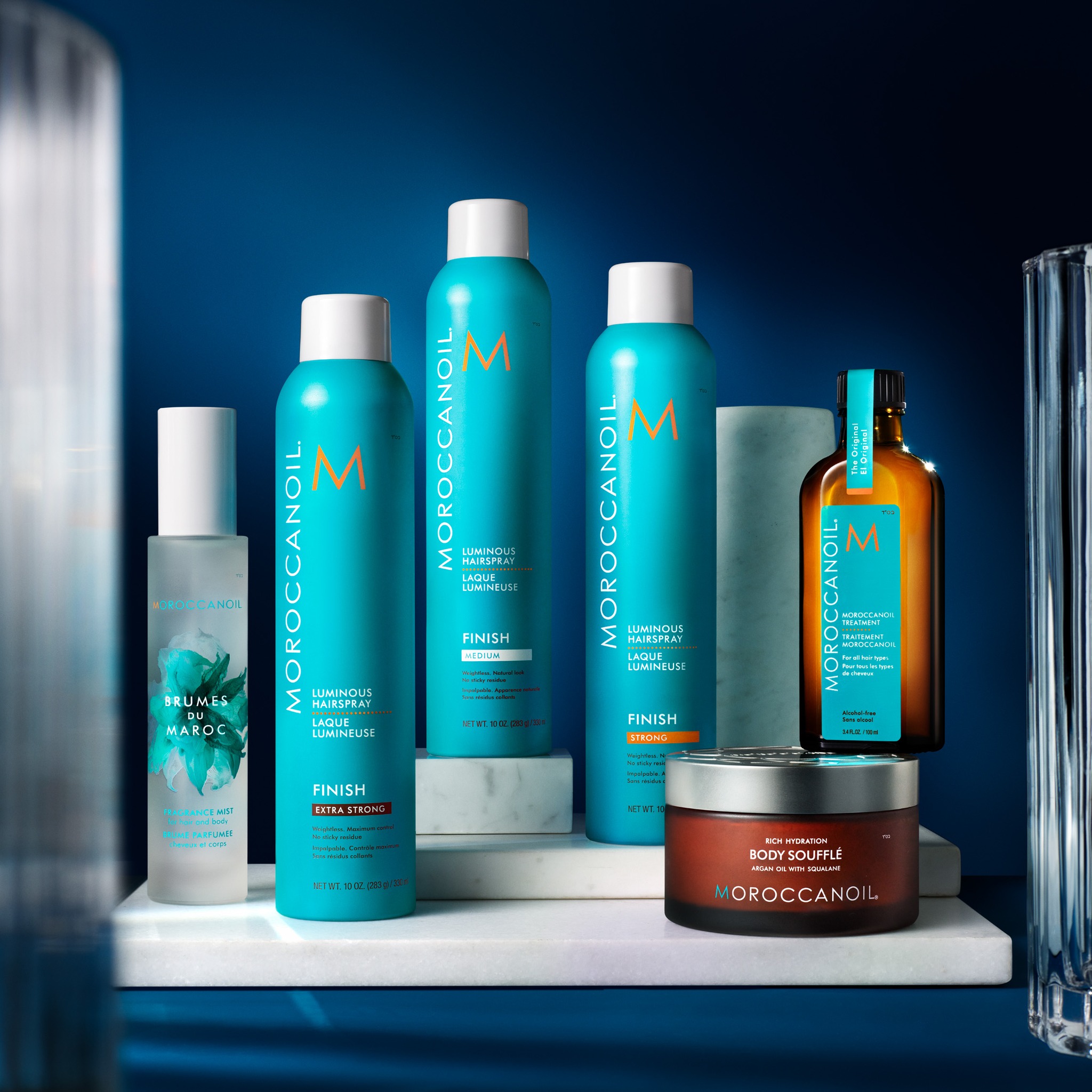 Hair and body care products contribute to your overall health and wellbeing. You should, therefore, ensure they contain high-quality ingredients that cannot damage your hair and skin. MoroccanOil has an expansive collection of products that you can use to improve your hair's health. We'll take an in-depth look at this beauty brand, including MoroccanOil reviews from customers, its bestsellers, history, shipping and return policies, and more to help you determine if its products are worthwhile.
About MoroccanOil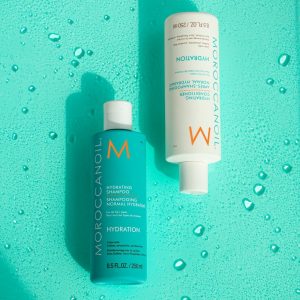 MoroccanOil is a company that has been operating for more than a decade. The brand celebrated its 10th anniversary in 2018, and it offers oil-infused hair products. They believe that the glory of a woman is in her hair. The main goal of MoroccanOil is to bring confidence to all women. 
MoroccanOil was founded in 2008 by Carmen Tal. The company is proof that sometimes all you need is a magical ingredient to launch a business; this brand is centered on Argan Oil, an ingredient it uses to manufacture all its products.
The story of MoroccanOil started when the founder experienced a hair color mishap that severely damaged her hair. At that time, Carmen happened to go on vacation to Tel Aviv, where she visited one of the salons. The hairstylist applied Argan Oil treatment on her hair, and she witnessed instant results. 
After using the Argan Oil treatment, Carmen knew she had found a transformative product she wanted to share with the world. After some time, she teamed up with a group of professionals with a similar vision. They perfected the formula and made MoroccanOil Argan Oil infused treatment, which became their signature brand.
Carmen describes her success in the hair industry as a result of living her products. She uses MoroccanOil products daily and attributes her success to having the right partners who have helped her produce the right products that meet consumer needs.
More about the brand
MoroccanOil continues to be one of the leading hair care companies. The company has won over 120 awards internationally. Notable media sources have featured the brand, including Vogue, ELLE, and InStyle. 
Many celebrities also use their products, such as Anna Kendrick, Jennifer Lopez, and Charlize Theron. The brand has a large following on social media, with 633k followers on Instagram and over 890k likes on Facebook.
MoroccanOil has been featured in Allure, AllBeauty and The Mirror.
Before we dive into MoroccanOil reviews from customers, here is an overview of the company's pros and cons. 
Pros
They offer an extensive collection of products that cater to different hair types and needs needs

The brand's products contain pure Argan oil

Their products are made from high-quality ingredients sourced from Morocco

A recurring auto-delivery option is available

Free shipping for orders above $45

Their rewards program includes special offers and gifts
Cons
The brand is not 100% vegan

Their products are not all-natural

Some of their products are not fully hydrating
MoroccanOil Products Review
MoroccanOil offers an immense range of hair and body care products for your everyday use. These hair care products are one of the best on the market. Below is an overview of their bestsellers. 
MoroccanOil Shampoo & Conditioner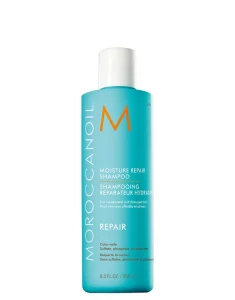 MoroccanOil has a diverse set of sulfate-free shampoos and nourishing conditioners for moisture, hydration, repair, extra volume, smoothing, and curl defining. Purple Shampoo is the go-to shampoo for every colored-hair girl that wants to maintain that sassy look. 
This MoroccanOil shampoo is enriched with a special formula containing deep purple pigments that prevent hair discoloration. It also features professional-strength toner to keep hair color intact. The product does not contain sulfate or phosphate and is paraben-free, making it safe to use on blonde, light brunette, gray and silver hair. 
Purple Shampoo features argan oil to moisturize hair and scalp and protect skin from sun damage. It also contains coconut acid to provide moisture and heal hair breakage. Additionally, it has violet pigments for a natural-looking sheen. It is available in a full-size bottle of 6.7 FL.OZ. / 200ml and retails for $26.
MoroccanOil Hydrating Shampoo is perfect for all types of hair, including dry hair. It contains vitamin A to moisturize the scalp and keep hair healthy. Vitamin E is also present, and it ensures you have a healthy scalp and Red Algae for deep hydration. You can use the brand's Hydrating Shampoo on color-treated hair because it does not contain sulfate, phosphates, and parabens.  
Other products you can sample are Extra Volume Shampoo & Conditioner, Smoothing Shampoo, and MoroccanOil Clarifying Shampoo. 
MoroccanOil Treatment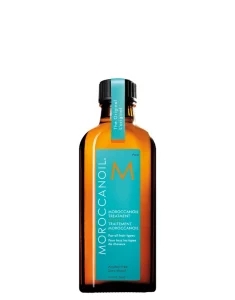 Formulated to condition and style your hair, MoroccanOil Treatment is the brand's longtime bestseller. When you apply this treatment, it leaves your hair soft, smooth, and full of shine. 
If you are looking for shiny, silky, and healthy hair, consider buying the Treatment Original. Use the original formula for hairstyling and conditioning your hair. 
This treatment is infused with ingredients that transform hair, detangle, speed up drying, and boost shine. When used on hair, it nourishes, smoothens, and makes hair manageable. After one application, your hair shine will increase by 118%.
The main ingredients used are argan oil to nourish and hydrate hair. It also contains linseed extract, an essential fatty acid from flaxseed to improve hair health. You can get this treatment for $16.
MoroccanOil Treatment Light is perfect for anyone with thick or wavy hair. Applying a small amount of this treatment helps to smooth out frizzy loose ends. You can also use it for extra shiner, fuller and nourished hair. 
The active ingredients in this product are argan oil and linseed extract. For best results, pair it with MoroccanOil Dry Scalp Treatment, a 5-minute pre-cleansing treatment that soothes, exfoliates, and moisturizes your dry scalp. 
MoroccanOil Masks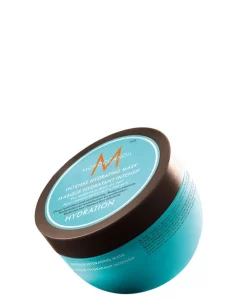 MoroccanOil Masks are enriched with argan oil and other active ingredients to restore dry hair and repair damaged hair. The brand has a wide range of hair masks for hydration, restoring, and smoothing hair.
Hibiscus Color Depositing Mask is a color treatment for those who want to experience a brilliant floral pink tone. You can use it on light blonde or medium blonde hair; this color lasts longer than other shades in this set because it has exceptional vibrancy. The final results may differ amongst individuals because it depends on hair color and the starting condition. 
The Hibiscus Color Depositing Mask refreshes existing hair color, enhances tones, and customizes hair color. It also instantly increases softness, deep conditions your hair, imparts radiant shine, and helps restore hair health. 
This product is available in nine colors, including Platinum, Aquamarine, Rose Gold, Champagne, Cocoa, Copper, Lilac, and Bordeaux. The full-size bottle retails for $28.
Revive your damaged hair with the Restorative Hair Mask. It is formulated to repair damaged hair caused by strong treatments, heat styling, and excess bleaching; this hair mask contains active ingredients such as shea butter to moisturize and soften hair.
The product also features Keratin proteins, which straighten your hair, reduce frizz on curly hair, and make it easier to style your hair. The full-size bottle costs $42. 
If your hair is damaged beyond repair, try using the Intense Hydrating Mask. It is a rich, creamy conditioner enriched with argan oil and other nourishing ingredients to hydrate and condition hair. The product also improves hair shine as it magically transforms hair texture. 
MoroccanOil Dry Shampoo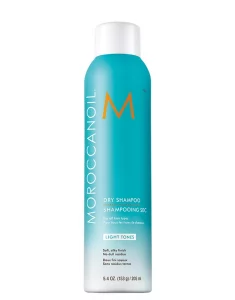 It is advisable to wash your hair every 5 to 7 days to allow retention of natural oils in the scalp. MoroccanOil Dry Shampoo is formulated to absorb dirt, grease, and oil from the scalp without washing hair.
MoroccanOil has two types of dry shampoos: light tone and dark tone dry shampoo. These award-winning dry shampoos are suitable for colored hair, and they prevent oil build-up and eliminate odor, leaving your hair fresh and clean.
The Dry Shampoo Light Tones contains rice starch to remove oil build-up, absorb grease, and eliminate odor and retail for $26. It is rich in antioxidants, essential fatty acids, and tocopherols (Vitamin E), which allows the shampoo to nourish your hair. 
The Dark Tones Dry Shampoo, on the other hand, is ideal for dark hair. It has a pleasant smell and does not weigh down hair; this shampoo features oil-absorbing, ultra-fine rice starch that removes odor and buildup, leaving your hair refreshed and clean. Its argan oil-infused and UV-protecting formula breaks down instantly and leaves no dull residue while maintaining the natural richness of people with dark, brunette tones.
MoroccanOil Styling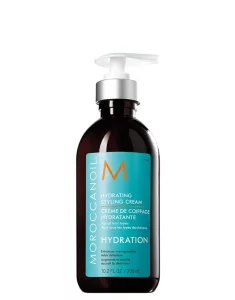 MoroccanOil has a wide variety of styling and finishing products that you can explore. You can use these products for fullness, volume, achieve hold, shine, and heat protection.
MoroccanOil Curl Defining Cream hydrates hair and defines curls. It is considered an intense curl cream. Apply one or two drops to damp hair, massage on the hair, and allow it to dry naturally.
Hydrating Style Cream is another lightweight product that gives you extra shine and smooth hair. You can use it as a leave-in styling cream, and it's suitable for all hair types. 
This styling cream contains vitamin E, an antioxidant that maintains hair growth. Behentrimonium Chloride is another active ingredient that makes your hair soft and manageable while keeping your locks frizz-free. You can get the full-size cream for $36. 
For a long-lasting hold, use Dry Texture Spray; this finishing spray is ideal for all hair types, and you can use it to add volume and as a foundational grip before styling hair.
Use Glimmer Shine as the final step to a glamorous style; this product gives your hair a gorgeous gloss; it contains antioxidants, vitamins, and argan oil to give hair a luminous shine. This alcohol-free product enhances hair color 
and highlights it. 
MoroccanOil Reviews from Customers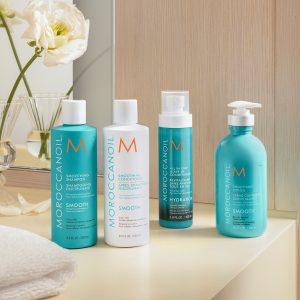 We looked at MoroccanOil reviews to check what customers had to say about this multi-award-winning company and its products. We found that the company has loads of positive testimonials from buyers.
Most of their products have an average 4.8-star rating. Customers loved the effectiveness of their products, as they nourish hair and restore damaged hair.  
MoroccanOil Clarifying Shampoo is one of their highly-rated products, with 4.6/5 stars from 201 reviews. Users praised this deep-cleansing formula because it removed everyday buildup and restored their hair to a weightless, healthy balance.
The Blonde Perfecting Purple Shampoo had a 4.7-star rating from 3029 reviews. Most customers praised this product for its effectiveness. One customer was impressed with the product and described it as terrific. She started using the purple shampoo, which brought back the original color shade she had approximately three weeks ago. Their hair became soft and manageable afterward. 
Popular Alternatives to MoroccanOil
The Weightless Hydrating Mask had an average rating of 4.8-star from 1795 reviews. One reviewer recommends the product to his fellow men. He describes it as the perfect product for men who don't want the greasy effect of pomade on hair.
Protect and Prevent Spray is the most reviewed product, with 6184 reviews from customers. Most users love the spray because it protects hair and offers maximum shine. They also said the product is light and smells nice. One customer described the product as pure awesomeness; she stated it makes her hair super fine. It acts as both a detangler and nourishes hair.
Despite the many positive reviews, some customers felt their products were not hydrating enough. Others complained that their hair care products are not all-natural.
Sign Up for MoroccanOil
Want to sign up for MoroccanOil, visit their official website to set up your account. Fill out the required details and click on the Submit button. 
Subscribing to their newsletter will allow you to be among the first people to get notified when the company has active promotions and discounts. You will also receive 10 points if you are a Beauty Circle Member. 
You can also sign-up and join the Beauty Circle. You'll get 15 points when you create an account and become a member. Don't forget to check out our reviews of Function of Beauty, which is a well-known brand too.
Where to Buy
If you are interested in purchasing MoroccanOil products, you can find them on their website MoroccanOil.com. You can also use the Store Locator function on their website to find a nearby salon retailer. Additionally, their products are available on Sephora and Amazon.
MoroccanOil Shipping and Return Policy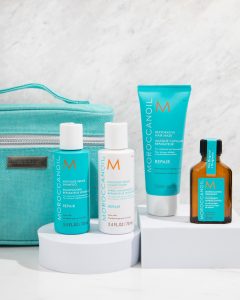 Shipping:
MoroccanOil offers free shipping to all Beauty Circle members. If you're not a member, they will charge you a standard fee of $5.95. They also offer free shipping for orders above $45; this excludes Hawaii and Alaska, which are charged an additional shipping fee of $35. Allow 1 or 2 days to process your orders and another 5 to 10 days to ship your order.
Return Policy:
MoroccanOil advocates for quality in all its products, and the company believes in collaborating with its customers to ensure they have an exhilarating shopping experience. If you are unsatisfied with your MoroccanOil order, reach out to the MoroccanOil customer support team within 30 days from the date of purchase. 
Promotions & Discounts
MoroccanOil has several promotions and discounts on its website. They include:
Get 15 reward points when you become a member of Beauty Circle, and redeem these points for money or exclusive gifts

Refer a friend and give them $10 toward their first purchase of $80 or more and receive $10 in points for each successful referral

Earn 20 extra points when you buy items worth $125

Free shipping for all Beauty Circle members for all orders

Free shipping for orders above $45 

Get 10 points when you follow them on Facebook or Instagram
Contact MoroccanOil
To know more about MoroccanOil products, or if you have any questions, contact the company through their phone number 1-888-700-1817. You can also shoot an email to [email protected], and they will respond as soon as possible. 
MoroccanOil has a Live chat function on their website where you can connect with one of their customer service representatives. 
MoroccanOil Reviews: Editor's Verdict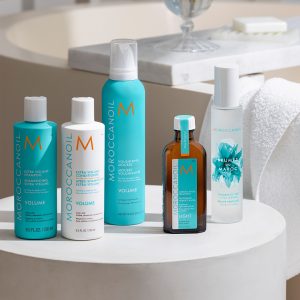 Based on the numerous positive MoroccanOil reviews from customers, we can confidently conclude that this is a reputable and worthwhile brand. The company offers a wide assortment of hair products infused with the famous Moroccan Argan oil. 
The company's prices are slightly higher than other brands, but customers attest the cost is worth it. Consistent use of the products makes a difference in hair.
When it comes to hair products, different customers experience different results; however, MoroccanOil is famous for its consistency. We recommend their products because they are worth the buy. 
Are you interested in other hair care brands? Read our extensive reviews of the Better Not Younger, Kerastase, Hairburst, and DS Laboratories. 
MoroccanOil FAQ
Is MoroccanOil vegan?
No. MoroccanOil products are not 100% vegan because some products feature animal-derived ingredients.
Is MoroccanOil cruelty-free?
Yes. The company has confirmed on its website that its products are cruelty-free. MoroccanOil does not test its finished products or ingredients on animals. They also don't sell their products where animal testing is needed.
Does MoroccanOil products contain silicone?
Some of their products contain silicone. Products like MoroccanOil Treatment have silicone polymers, which help to enhance shine, fight frizz, and make your hair smooth.
Is MoroccanOil good for hair growth?
Yes. MoroccanOil contains nutrients that help nourish hair and promote hair growth. It's also effective against flaky scalps and dandruff. The sheer range of natural ingredients helps your hair shafts and scalp retain moisture. In turn, this promotes healthy hair growth while benefiting your hair follicles.