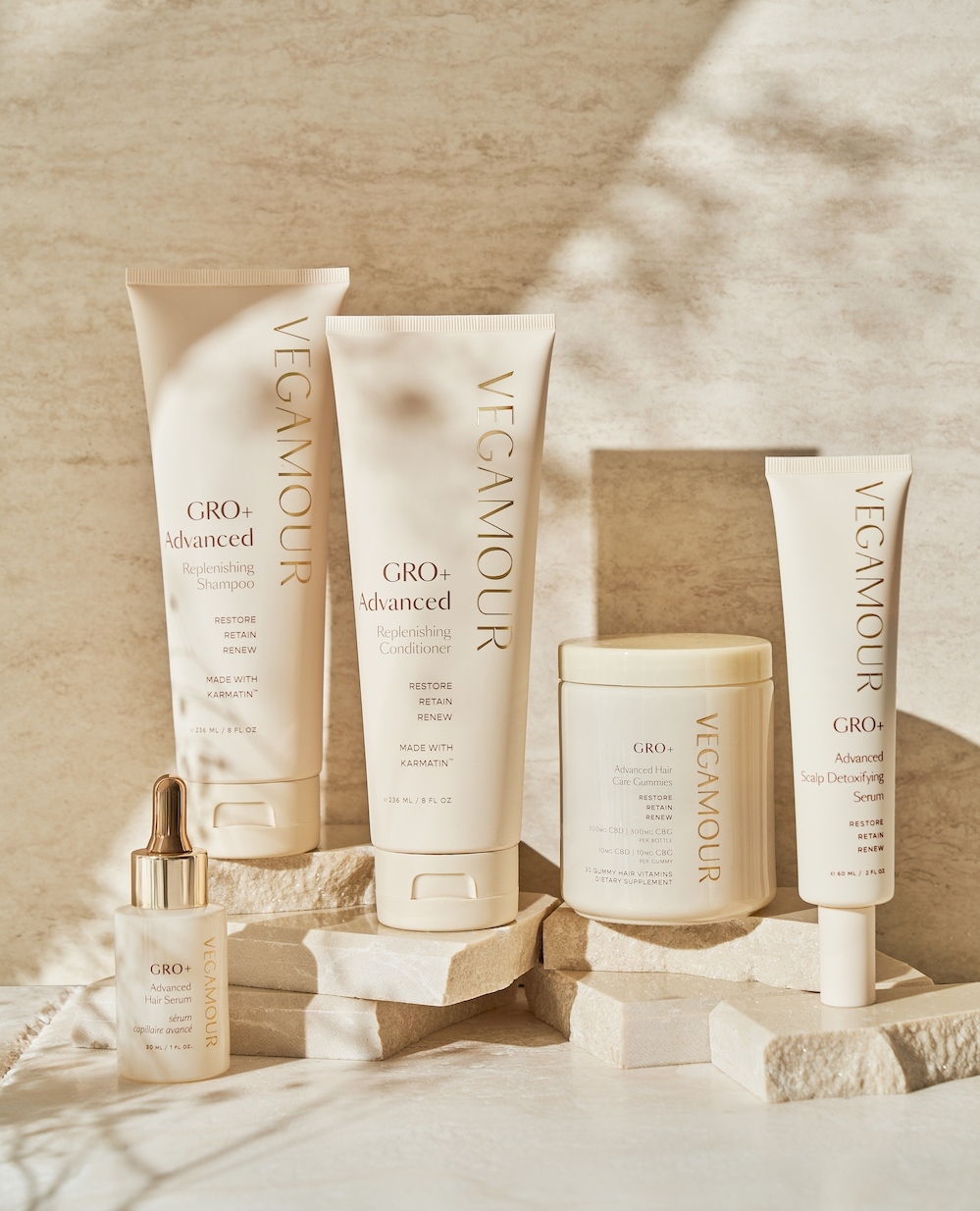 Everyday habits on hair have a great impact on its health. Using sulfate shampoos, hair dyes, or other hair products containing artificial additives can cause hair fallouts. Vegamour has the solution to your hair problems. The products will make your hair beautiful, thick, and voluminous and restores its general health with its vegan keratin. The brand focuses on not only hair care but also hair wellness solutions. This Vegamour review will provide you with insight into the company, its bestsellers, customer ratings, return policy, and much more to help customers decide if their cosmetic products are worth purchasing.
About Vegamour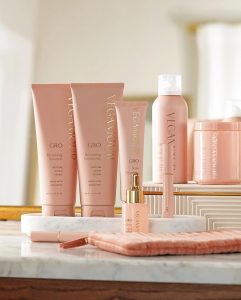 If you are asking yourself: What is Vegamour? It's a beauty brand that sells clean and vegan hair wellness products. The founder of this company, Dan Hodgdon, found peace in nature. He had spent many years around New England dairy farmers from his father's family. 
Hodgdon worked on his uncle's farm in Vermont, where he realized that life on the farm depends on the interaction between the plants and the environment. He also learned that organisms flourish when everything in nature is balanced well. 
Besides his interest in the farm, Dan was passionate about beauty. He realized that the plants' philosophy was more or less the same regarding hair and wellness. Hair thrives perfectly when its surrounding is also healthy, contributing to its volume, shine, and smoothness. 
In 2016, Dan decided to transform his passion into a business opportunity. It is through the combination of his 2 passions that Vegamour was born. He incorporated various bioavailable plant-based actives, proteins in a 360, enzymes, and more to create a conducive environment for hair.
To ensure quality and efficacy, the vegan company uses the finest, hand-crafted, and natural ingredients. These ingredients in every product are clinically tested for purity and optimal efficacy.
The brand has 293 followers on Instagram and more than 85k Facebook followers.
Pros
The brand offers a variety of hair care products, including hair, brows, and lashes serums

The company's products are 100% vegan and crafted with ingredients that are ethically and sustainably sourced

The ingredients used are natural and free from artificial additives and preservatives

The brand provides products that both men and women can use

Their products have been clinically tested for purity and optimal efficacy

They offer a subscription plan for each formula
Cons
Results are noticeable between 30 and 90 days, which is a long period

Their hair growth serum comes in a 30-ml bottle

It's not FDA approved
Vegamour Products Review
Vegamour uses the world's finest ingredients in all its products, including scalp treatments, serums, and brow fillers. We'll now look at the best-selling Vegamour products.
GRO Hair Serum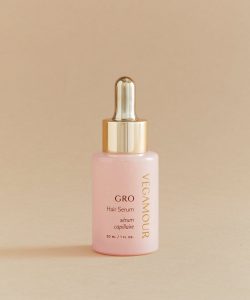 It is time to stop hoping that your hair will get better with time with the products you are using and try the Vegamour hair serum. The plant-based multitasking product combines the vegan Phyto-actives that are clinically approved to help achieve a balanced hair ecosystem that soothes the scalp and revitalizes the roots. These ingredients increase the hair volume reducing fall-out signs to give you thicker and voluminous hair. 
The product is 100% vegan and cruelty-free containing zero contents of hormones and toxins. This Vegamour review found that the product contains Butylene Glycol, a conditioning agent and moisturizer that improves hair texture by making it smooth. This ingredient coats the surface of the hair cells preventing moisture loss and bringing shine and smoothness to the hair. The ingredient also acts as a solvent that holds the other ingredients together.
The product also contains Alcohol Denat, an ingredient with moisturizing and smoothing properties. Your hair will glide and slide smoothly, and become tangle-free, hydrated, softer, and stronger.
Gro hair serums results are visible within 90 days, with peak results around 120 days of use. 
GRO Revitalizing Shampoo and Conditioner Kit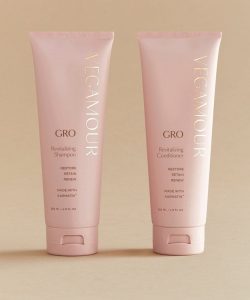 The kit comes with a revitalizing shampoo and revitalizing conditioner for your hair. It is crafted using clinically approved plant actives and vegan keratin (Karmatin). 
The combination is clean and color-safe designed to provide shine and health to your hair. The microencapsulated vegan b-SILK™ protein attaches to the hair follicles and strands and doesn't come off even after rinsing. 
The wild-harvested organic murumuru butter, marula oil, and Ximena oil conditions hydrate and fight the harmful free radicals without leaving g pore-blocking residue behind. GRO Revitalizing Shampoo and Conditioner are clean, 100% vegan, color-safe, and cruelty-free. 
To obtain optimal results, use the shampoo alongside hair serums or foams. The shampoo contains Cocamidopropyl Betaine, which moisturizes the hair cells and follicles, impacting the scalp's health and positively improving the hair's general health. 
The shampoo also contains Heptyl Glucoside derived from plant-based fatty alcohols and glucose; this ingredient creates a foamy lather keeping the scalp clean of build-up and oil, hence improving the health of the scalp. 
The GRO conditioner, on the other hand, contains Cetearyl Alcohol responsible for moisturizing and softening the hair. The ingredient smoothens and detangles the hair making it soft and slippery. 
The Gro revitalizing kit is suitable for all hair types, including the color-treated ones. They work perfectly with hair foams and serums for exceptional results.
GRO Scalp Detoxifying Serum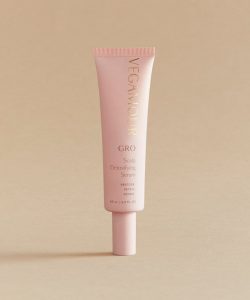 A healthy scalp translates to healthy hair, and the GRO Scalp Detoxifying Serum is the magic behind good scalp health; this product uses vegan proteins, proprietary Phyto-actives, enzymes, and minerals. 
The scalp's detoxifier also contains a proprietary vegan silk protein that clears away the scalp buildups, soothes the scalp, and provides a semi-permeable barrier. The product also provides hair moisturizing benefits and protects it from the harmful pollutants from the surrounding. 
The product contains zinc PCA that absorbs the excess oil from the hair, reduces irritations, and gives room for the natural skin moisturizing properties. The ingredient is known for its purifying and rebalancing properties on hair and scalp that leave the hair feeling light and fresh. Zinc also offers antibacterial benefits that make hair clean and bacterial-free. 
GRO scalp detoxifying serum also contains marula oil that helps to reduce dandruff, split ends, and dryness. Marula oil protects hair from damage and moisture loss to promote hair growth. The ingredient also provides antioxidant advantages to the scalp in the form of omega-6-and-9 fatty acids, which moisturize, balance, and protect the hair. 
GRO Hair Foam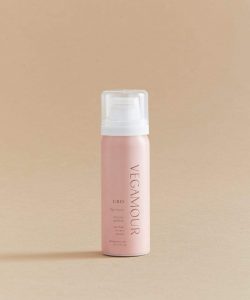 This product is also created using the brand's Phyto-actives found in the hair serum. The hair foam penetrates deep into the scalp to make the hair appear thicker and fuller. The GRO hair foam applies effortlessly to towel-dried hair and covers the scalp easily. 
The product contains Isobutane which offers hair foaming and solvent properties. The GRO hair foam contains Limonene which is an antioxidant and soothing ingredient.
Our Vegamour review discovered that this product is safe to use, and it does not have toxins or hormones. It is clean, vegan, and cruelty-free featuring the fresh bergamot scent found in the GRO hair serums. Similar to their serums, hair foam's results are visible within 90 days, with peak results around 120 days of use.
vegaLASH Volumizing Serum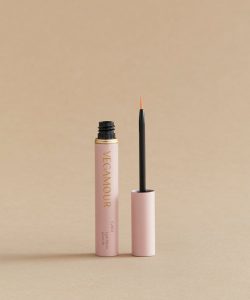 Women love voluminous lashes because they are beautiful. The vegaLASH Volumizing Serum helps you to achieve the lashes of your dream within a short time. 
The serum is formulated with a powerful combination of amino acids, vitamins, and peptides that nourishes and give life back to the lashes. The product is created using plant actives that are clinically proven to give you fuller, thicker, and voluminous lashes. vegaLASH Volumizing Serum guarantees you elegant and longer-looking lashes in 30 days. 
The product features amino acids, which are the building blocks of protein. These ingredients protect the damaged gaps of the lashes in the outer cuticle by forming a protective layer. They also boost keratin, a protein that makes the most of hair; this ingredient adds strength to the lashes, resulting in stronger strands that hold more moisture. 
Additionally, amino acids coat the lashes adding texture that bulk them up for thicker strands. The amino acids also add shine to the lashes through the silk protein contents. 
Peptides, on the other hand, help restructure cuticles, thereby improving the general condition of the lashes for faster growth and a shinier look. Peptides also reduce lash breakage, increase moisture, and make them thicker.
The vitamins found in these products promote the rate of lash growth. Vitamin E supports a healthy lash follicle, increases shine, and prevents massive lash loss.
GRO+ Advanced Lash & Brow Kit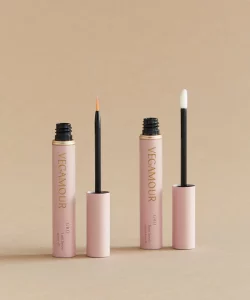 This kit includes 1 GRO Lash Serum & 1 GRO Brow Serum. When used consistently, the combo gives you denser, fuller, and thicker-looking brows and lashes in 30 days or less. We have already looked at the benefits of lash serum under the vegaLASH Volumizing Serum review. 
Looking at the brow serum, this product helps you achieve a full-browed look filling out the thinning areas without using brow pencils and powder. The brow serum is created using Phyto-actives and full-spectrum CBD to promote growth and density as time goes by. 
Reviews on the GRO+ advanced lash and brow kit show that 94% of the customers who have used it enjoyed having thicker lashes and brows. More than 34% of users say their lashes appear longer and more beautiful. Results vary with an individual but expect to see a difference on the lashes and brows within 4-8 weeks.
Vegamour Reviews from Customers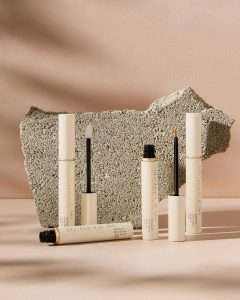 If you are asking yourself: Does Vegamour work? We sifted through the reviews of Vegamour to find out what other people say about the skincare brand and the products it offers to answer this question. The brand has received many positive remarks from its consumers, who are impressed by the effectiveness of the products. 
On the company's website, their products have worked on 91% of the users. Customers say that most of their products apply efficiently and flawlessly to improve the general health of the hair. They love how their products prevent hair loss and promote the growth of new hairs that fills in the almost bald spots.
On Trustpilot, customers trust this brand and its products. Most customers rave about the high-quality and consistent results they have experienced from the products. The brand's reviewers on this site have showered praises on the GRO hair, lash, brow serum, shampoo, conditioner, detoxifying serum, and foam. 
People say they love how the products are clean, 100% vegan, and cruelty-free, making them safe for all hair types. Customers are also happy about the Vegamour results, with the majority saying they are the best you can ever find on the market.
We came across a few negative remarks where some customers were not impressed by the time it took for results to show, which is between 30 and 90 days. Others complained about the size of the hair growth serum, as it's available in a 30ml-bottle.
Sign Up for Vegamour
To start shopping at Vegamour and get access to their entire collection, you need to create an account. Sign up for their email list to be the first to know about new products, restocks, special offers, and more.
Where to Buy Vegamour
To access Vegamour products, visit the company's official website Vegamour.com. You can also find their products at select retailers, including The Vegamour Amazon store, Walmart, and Sephora.
Vegamour Shipping and Return Policy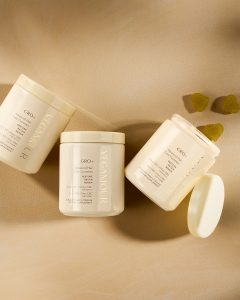 Shipping:
Vegamour offers free shipping for orders above $50, and anything below this attracts a 5-dollar fee. International shipping is available to selected countries. The company offers free international shipping for orders above $150 and a flat rate of $20 for orders below $150. It may take days or weeks for orders to arrive, depending on the destination of the order. 
Return Policy:
If you are not satisfied with the Vegamour products you have bought, or they arrive faulty or damaged, the brand allows a 90 days window period for returns. The products must reach the company in good condition to be considered eligible. To start the return process, use the return portal available on their website. Shipping costs for returns are the customer's responsibility. 
Vegamour Promotions & Discounts
SMS Exclusive Offers allows customers to enjoy 20% off on select items when they use the code EGCFB721T at checkout. You'll get a discount of up to 25% when you pay for a subscription plan. 
Vegamour reward programs allow you to earn points every time you shop and redeem them for exclusive discounts. You'll earn 50 points for creating your Vegamour account, 100 points when you leave a review and on your birthday, 50 points on your first subscription purchase, and 10 points when you follow them on their social media page.
Contact Vegamour
Should you have any questions that this Vegamour review did not cover, get in touch with their support team by filling out the contact form on their site. You can also contact them via email at [email protected] or phone at 213-325-5112. 
Their customer support team is available from 6 a.m.-6 p.m. Monday to Friday, and 9 a.m. – 2 p.m. on Saturdays and Sundays (PST). They also remain closed during major U.S. holidays.
Vegamour Review: Editors' Verdict
To sum up this Vegamour review, we recommend men and women to use their hair care products and serums for a healthy scalp and faster hair growth. The brand formulates products using clean, 100% vegan, and cruelty-free ingredients that are sustainable and ethically sourced. These products contain plant-based Phyto-actives that are clinically proven, making them safe to use for all hair types. 
Customer reviews have also shown that their products are effective. We encourage you to grab a collection of products from Vegamour if you want thicker, fuller, and stronger hair, brows, and lashes.
Looking for other beauty brands? Check out our reviews of Covergirl Review, Apostrophe Review, Innersense Review, and BareMinerals Review.
Vegamour FAQ
Is Vegamour effective?
If you are wondering: Is Vegamour effective or does Vegamour actually work? The answer is yes. Many women and men have given their testimonies about their success with the products.
Is VEGAMOUR FDA Approved?
No, Vegamour is not FDA approved. The company uses natural ingredients to create its products and supplements, including Nicotiana Benthamiana, Curcumin, Red Clover, and Mung Bean that promise to achieve certain great results. However, the FDA has not evaluated these statements.
Does VEGAMOUR cause weight gain?
No. Don't worry about becoming weighty after using Vegamour products. Vegamour products are natural and do not include synthetic hormones. Customers have not reported any side effects when using these products, meaning they are safe to use.
How do I apply VEGAMOUR brow serums?
Apply the Vegamour brow serum alongside your natural brow. Be sure to apply the serum directly to your skin and brow hair. For best results, apply consistently every morning and evening. Always apply to clean skin, and make sure the serum is absorbed before applying makeup.
What happens if I stop using Vegamour?
The Vegamour products' results last as long as you continue using them. If you discontinue the use of hair serums, such as GRO Hair Serum or GRO+ Advanced Hair Serum, you will see your hair returning to its natural state within a few months since the growth cycle is longer.
For brow and lash serum, things will return to their natural state within a month since that's the length of a growth cycle. The serum works on your existing lashes and brows, and since all hair grows in cycles, once the hairs are naturally shed, you'll start to see your results fade.