Inspired by Japanese skincare, Boscia is a skincare line that specializes in plant-to-bottle formulas. The company produces vegan and cruelty-free products. Its plant-based products are gentle on the skin and effective at cleansing, exfoliating, and hydrating. In this Boscia skincare review, we'll look at the company's return policy, its philosophy, customer ratings, and a rundown of some of its most popular products; this will help you decide if Boscia is the right skincare brand for you.
About Boscia Skincare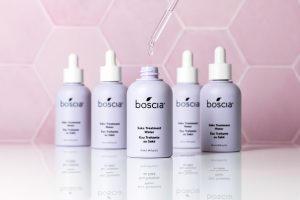 Gen Inomata founded Boscia in 2002, and he had long dreamed of introducing Japanese-style skincare to the world. In 1996, he moved his family from Japan to the U.S. with his vision in mind. While in the United States, he worked hard together with his daughter to establish themselves while still maintaining their Japanese roots. 
Inomata eventually launched Boscia with the help of his daughter. The company's mission was to showcase that good-for-you ingredients can be effective on your skin. Indeed, all Boscia's products are plant-based and free of harsh chemicals. 
Currently, the brand operates from its headquarters in Irvine, CA. It believes in environmental conservation and sustainability as its philosophy. For example, it has a recycling program to help keep its products out of landfills. Clients can mail back empty packaging, and the company will recycle them using TerraCycle's Zero Waste Box platform.
Boscia sends each customer a free hand sanitizer as a token of appreciation. This makes them feel good about using their products and doing their part to help the environment. 
Pros
The brand's products are chemical-free, colorants, synthetic fragrances, preservatives, and mineral oils
All its formulas are EU standards compliant, meaning they do not have any of the 1,600 banned ingredients
All their products are 100% vegan and cruelty-free
The company has a recycling program that rewards customers with a free hand sanitizer
They offer free shipping on all its orders
Customers get free samples that come with every order
Cons
They do not offer international shipping
Some of their products are expensive compared to other brands but worth every penny
Some customers complain of experiencing allergic reactions to some of their products
Boscia Skincare Products Review
Boscia's product range is diverse, with something for every skin type and concern. Their collection includes skincare staples like cleansers, moisturizers, toners, and masks for men and women. Below are a few of their most popular Boscia skincare products:
Boscia Cactus Water Moisturizer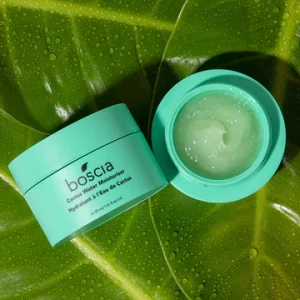 Ideal for priming and perfecting your skin before makeup application, Boscia Cactus Water Moisturizer is an ultra-lightweight, water-based gel cream. It contains cactus fruit extract and citric acid that hydrate and plump the skin. The formula also has added niacinamide to help brighten and even out the complexion.
While the main ingredient is the Queen of the Night Cactus succulent, it also has other extracts. They include the Aloe Barbadensis flower extract, South African Resurrection plant extract, and Jojoba seed extract.
Cactus is an arid plant adapted to harsh and drastic climate conditions. It can survive in arid climates with little water. The plant helps to condition, soothe, hydrate, nourish, and rebound dry skin while also evening out the complexion.
Aloe Vera is a succulent commonly known for its healing properties, and it has antibacterial benefits that can help cleanse and soothe your skin. It also serves as a water binding agent in this product. Additionally, the plant is an anti-inflammatory, making it a perfect ingredient for a skincare product.
The Resurrection Plant can withstand extreme drought conditions; this ingredient helps reduce redness, acts as a barrier reinforcement, and improves texture and revitalization.
Jojoba seed oil is also one of the ingredients found in this product, and it closely resembles human sebum, making it an excellent natural moisturizer for your skin. It is also non-comedogenic, so it will not clog pores.
It's a fast-absorbing, non-greasy cream that leaves the skin feeling hydrated and refreshed without the weight of heavy cream. It's also oil-free, hence ideal for those with oily or combination skin types.
Boscia Exfoliating Peel Gel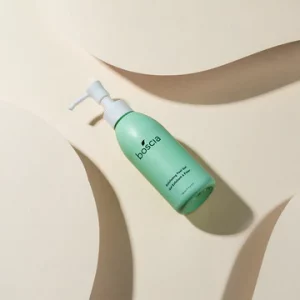 Designed to exfoliate, brighten, and smooth the skin, Boscia Exfoliating Peel Gel is a lightweight peeling gel that gives thorough smoothing results. The formula contains fruit enzymes to dissolve dead skin cells and help unclog pores.
This Boscia skincare review discovered that the product contains multi-fruit AHAs, exfoliating molecules, antioxidant enzymes, and Boscia's signature botanical blend. The ingredients work together to physically peel and sweep away the top dead skin, leaving behind a more radiant and smooth complexion.
The multi-fruit AHAs come from various fruits such as Lemon, sugar maple, orange, and more. This antioxidant-rich blend gently dissolves oil, bacteria, and toxins. It also penetrates deep into the new skin layer to help collagen production and skin cell turnover.
The exfoliating molecules help loosen the bond between dead skin cells and new skin cells. It allows easy removal of the top layer of dead skin, revealing a brighter and more radiant complexion.
The antioxidant or pomegranate enzymes work to protect the skin from free radical damage. They also help to brighten the skin and even out the complexion.
Lastly, the Boscia signature botanical blend is a mix of different plant extracts such as jojoba and willowherb. It helps prevent free radical damage, soothe, and nourish the skin. It also reduces inflammation, irritation, and visible redness.
This product is perfect for dull, congested, or uneven skin. It's also ideal for anyone looking for a gentle physical exfoliator.
Boscia Resurfacing Treatment Toner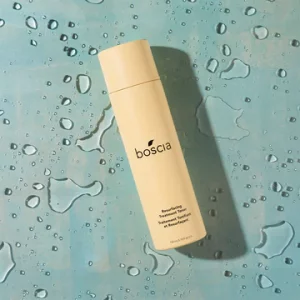 Toner is a crucial step in any skincare routine, yet it often gets overlooked. Boscia Resurfacing Treatment Toner works to invigorate, exfoliate, and reawaken your skin.
The toner contains a mix of glycolic(AHAs), Salicylic Acids (BHA), and Apple Cider Vinegar. These ingredients work together to sweep away dead skin cells, brighten the complexion, and even out the skin tone.
The glycolic and Salicylic acids are both Alpha Hydroxy Acids (AHAs). They work to slough off the lipids bond between dead skin cells and new skin cells. That allows easy removal of the top layer of dead skin, revealing a brighter and more radiant complexion.
They also help reduce fine lines, age spots, irregular pigmentation, and enlarged pores. With those gone, your skin remains blemish-free, brightens, and has an even tone.
The BHAs in the toner are beta hydroxy acids that come from the bark of the willow tree. They help to unclog pores, dissolve sebum, and remove bacteria. In turn, this prevents breakouts, blackheads, and whiteheads.
The Apple Cider Vinegar is a natural astringent that helps to tighten pores, brighten the complexion, and regulate pH levels. It contains alpha-hydroxy acids that slough off dead skin cells, improving your overall appearance.
Moreover, it contains Vitamin C, which stimulates your skin's natural ability to produce collagen. Collagen reduces the appearance of wrinkles, making you look younger.
This product is perfect for dull, uneven, or sensitive skin. It's also ideal for anyone looking to exfoliate and brighten the complexion.
Boscia Chia Seed Moisture Cream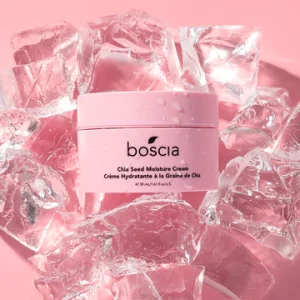 Dry skin can be a problem, especially during the winter months. Boscia Chia Seed Moisture Cream offers a great solution to help your skin.
This moisture cream comes with hydration powerhouses, such as chia seed oil, swiss glacier water, and elderberry extract. They work together to replenish the skin's natural moisture barrier. While results are instant, they also help the skin to retain moisture over time.
The chia seeds are a superfood rich in precious omega-3 fatty acids. These fatty acids are intensely anti-inflammatory and help lock in moisture and protect the skin from environmental stressors. The plant also has antioxidants and high phytonutrients, which protect the skin from free radical damage.
Clinical tests have proven that chia seeds are super hydrants. They increase your skin's hydrating ability by minimizing trans-epidermal water loss; this helps your skin to stay plump, hydrated, and youthful.
The Swiss Glacier Water is a natural source of minerals that help to soothe and calm the skin. It penetrates the skin, delivering long-lasting hydration. Furthermore, it protects cells and provides in-depth comfort for dry skin.
The elderberry extract is a natural source of Vitamins A, B6, C, and E. It helps promote long-term skin radiance and elasticity. Additionally, it provides antioxidant protection against environmental damage.
This product is perfect for dry, sensitive, or dehydrated skin, and it's also great for those looking for a long-lasting hydration solution.
Boscia Makeup Breakup Cool Cleansing Oil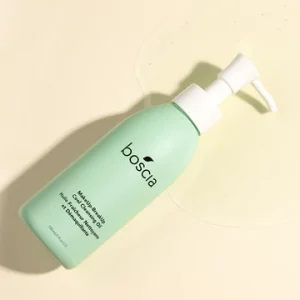 Makeup can sometimes be stubborn, hard to remove and leave your skin feeling dry. It also contains impurities that clog your skin pores and cause breakouts. Boscia's Makeup Breakup Cool Cleansing Oil is a game-changer in makeup removal.
It can easily and effectively remove all traces of makeup without stripping your skin of its natural oils. It's also gentle enough for all skins, including sensitive ones.
Boscia Makeup Breakup Cool Cleansing Oil contains a unique blend of organic oils like olive fruit and avocado. In addition to oils, it has anti-aging properties such as Green Tea and hydrating nutrients like Rosehip. It also features hydrangea leaf, botanical amino acids, and Boscia's signature botanical blend.
These ingredients work together to remove makeup, dirt, and impurities. They also help to hydrate and nourish the skin.
The oil blend contains tocotrienols (Vitamin E) that refine the appearance of pores, detoxifies the skin, protects the skin against free-radical damage, and nourishes the skin. The blend uses nanotechnology that helps water resize the oil phase into microparticles. It easily and quickly rinses all the surface debris, even if you have waterproof makeup.
Botanical amino acids are known to gently remove sebum and other impurities from the skin's surface. After successful makeup removal, they leave the skin conditioned and maintain a protective moisture barrier.
The hydrangea leaf extract purifies and minimizes the appearance of pores. This Boscia cleanser is perfect for anyone looking for a gentle yet effective makeup remover.
Boscia Indigo Eye Cream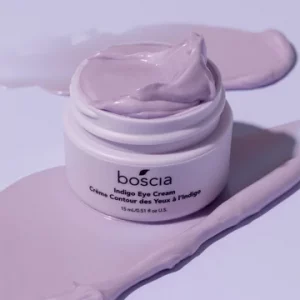 After a long day at work or early in the morning, the last thing you want is for your eyes to look tired. Unfortunately, that's often the case since the skin around our eyes is thin and delicate. It also lacks sebaceous glands that produce natural oils to keep the skin hydrated. As a result, it's prone to dryness, puffiness, fine lines, and wrinkles.
Boscia Indigo Eye Cream is a product that can help you reduce the appearance of tired eyes. It contains wild indigo root extract, hyaluronic acid, and hand-harvested fucus algae. Together, they work to correct color, hydrate, and brighten the under-eye area.
The indigo root extract is a natural anti-inflammatory agent. It helps to reduce the appearance of puffiness and dark circles. The ingredient also provides antioxidant protection against environmental damage.
Hyaluronic acid is a powerful moisture-binding ingredient that helps to keep the skin hydrated. It plumps the skin and reduces the appearance of fine lines and wrinkles. Also, it strengthens the protective barrier of the skin.
The hand-harvested fucus algae is a natural source of iodine. It helps to brighten the skin and reduce the appearance of dark circles. That's not all. As an inflammatory and antioxidant agent, it stimulates collagen production.
Our Boscia skincare review found that this product is perfect for those with dry, dull, or tired-looking eyes.
Boscia Reviews from Customers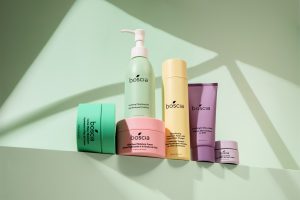 We set out to find what customers had to say about Boscia products. After scouring the internet, we found that most customers were happy with their purchase. For example, the brand has an overall 3.7/5-stars rating from over 2500 client reviews on MakeupAlley.
Since the brand has so many comments, we narrowed our review to individual products. On sites like Influenster, the Luminizing Black Charcoal Mask has 4/5- stars from more than 15,000 reviews. The MakeUp-BreakUp Cool Cleansing Oil has over 4.2/5-stars from around 4,000 users.
Sephora gave the Cactus Water Moisturizer an impressive 4.2/5-stars rating based on more than 3,000 reviews. Overall, most customers are happy with their purchase and would recommend Boscia products to others.
Popular Alternatives to Boscia
Another customer on Sephora praised Boscia cleanser, saying that she has been using it for two weeks and can already see a difference in her skin. She added that even her husband had noticed how soft her skin had become.
We also saw a few complaints about Boscia products. For example, one customer on MakeupAlley complained about their products being pricey; however, she praised the brand for offering vegan and cruelty-free skincare products.
Sign Up for Boscia's Email List
If you want to get Boscia product updates, we suggest creating an account on their site and signing up for their email list. You'll be the first to know about their latest launches, deals, and promotions.
Where to Buy Boscia Skincare
You might be wondering where to buy Boscia Black Mask and other products that this brand offers? Visit their official website Boscia.com, where you'll find their entire collection. Customers can also visit one of their 4,500 retail shops located worldwide. Additionally, the brand works with authorized dealers such as Sephora, Revolve, and Amazon.
Boscia Shipping and Return Policy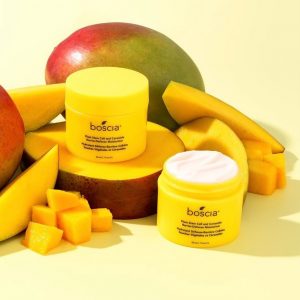 Shipping:
Boscia offers standard shipping on all US and UK orders. Alaska, Puerto Rico, and Hawaii also get free standard shipping for orders above $50. All UPS shipping takes between 5 and 10 working days.
Return Policy:
If you're not happy with your purchase, Boscia offers a full refund within 30 days of the delivery date. The company also provides exchanges if you have received a damaged or defective item.
Boscia Promotions & Discounts
At the time of this publication, Boscia had several promotions going on. They include:
Free shipping and samples on all orders
15% off if you sign up for their email list
20% off select items using the promo code WBEST20
Contact Boscia
For any inquiries, you can reach out to the Boscia customer support team by sending them an email at [email protected] or calling them at 1-888-635-8884.
Boscia Skincare Review: Editor's Verdict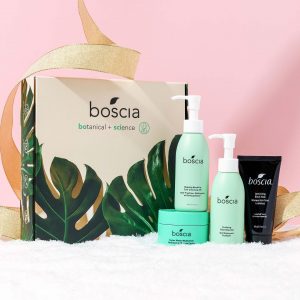 After looking at what customers had to say, this Boscia skincare review believes this brand is a good choice for anyone looking for quality skincare products. Because you can find their products in stores like Sephora and Revolve, this shows other companies are willing to vouch for Boscia's products. We, therefore, recommend Boscia products to anyone looking for chemical-free, vegan, and cruelty-free skincare products.
If you're interested in other amazing skincare products, check out our reviews of Dermalogica, Maya Chia, Glamglow, and Gladskin.
Boscia FAQ
Is Boscia a good brand?
If you are asking yourself: Is Boscia a good brand? The answer is yes, it is. The company's products are of high quality, and that's why there are lots of positive reviews from satisfied customers.
How to use Boscia black mask?
Wondering how to use Boscia Black Mask? It's simple, as you only need to apply the mask evenly to your face, avoiding the eye area. Leave on for 30 minutes, and then gently peel it off.
Are Boscia products safe to use while pregnant?
Yes. All Boscia products are safe to use while pregnant. They are preservative-free and do not contain any harmful chemicals.
How long can I use Boscia products after they've been opened?
You can use Boscia products for up to 12 months after opening. After that, they may begin to lose potency.
Is Boscia Cactus Water Moisturizer scented?
No. The Cactus Water Moisturizer has no artificial fragrances. As a result, this makes it perfect for combination-to-oily skin types.