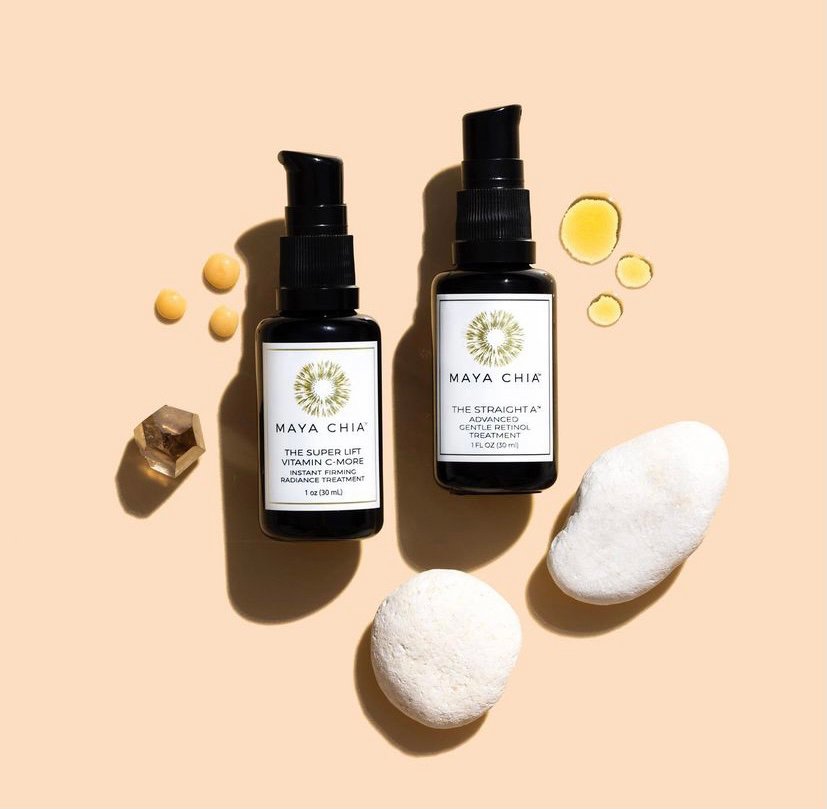 Maya Chia has distinguished itself from other skincare providers with its quality products. But while the chia oil has been central to their success, their business is about more than just one ingredient. As the brand's website implies, you can copy their major ingredient, but that doesn't assure you of their success. The reason for this is their commitment to quality. They have a patented extraction process to ensure the quality of their chia oil extracts. If you still doubt them, keep reading our Maya Chia review to learn more about this quality skincare provider and the products that are renewing skins.
About Maya Chia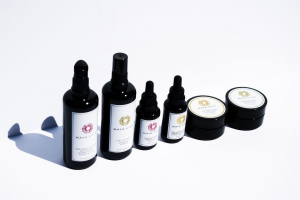 There's a lot to unwrap about this brand, but the first thing that comes to mind is respect. Respect for the skins of people they hope to freshen up. They also respect the environment. Respect for the purity of the ingredient they use. Most importantly, though, respect for the source of said ingredient. It all seems, on the outside, like a brand you'd love to entrust with the health of your skin. They back that all up by proudly proclaiming, "we are formulating the future."
The company was founded by Susanne Norwitz, a beauty enthusiast who set out with a mission to back up skincare marketing with the necessary efficacy. She had always had a passion for skincare, but a lack of effective products spurred her to create something new. That something new was spawned from chia seeds. Hence, the reference in the company name.
The seeds are sourced from Guatemala, home to the Maya people that have used these seeds as a food source for centuries. Her connection to Maya goes beyond business, though. She has two adopted kids from Guatemala and spent a childhood listening to a father that shared the rich culture of the people with her.
More about Maya Chia
So far, so good, the stories of her plastic surgeon father have come good for the world. Here we have a brand that's one of the most respected in the clean beauty space. Before she struck out in business, she was a speechwriter with a master's degree from Harvard. Now she has a business catering to skincare needs in a way few others have attempted.
Maya Chia uses the patented supercritical extraction to attain their chia oil extract. The process requires no solvent or oxygen, and, as such, the products lack any residues or impurities. This means that users get a chia oil product that is natural, pure, effective, and has a shelf life of 18 months.
The rest of their ingredients are sourced with the same level of conscientiousness. The company claims that no parabens, synthetic fragrances, and other harmful chemicals are present in their products. These products are then formulated and produced in the United States.
At the moment of writing, Maya Chia has more than 40k followers on Instagram, and 4k on Facebook. It was also positively reviewed in bigger online publications such as InStyle, Gurl Gone Green, Vogue, and many more.
Curious to find out more? Carry on reading our Maya Chia review.
Pros
Their products are very effective
The brand is eco-friendly
Their products are natural and organic
They give back to the community through the Adopt-A-Village initiative
Cons
Their products can be considered pricey
Maya Chia Products Review
Everything about this brand (except the prices) seems too good to be true, but surfing online doesn't burst the truth bubble. If anything, people apparently only have good things to say about Maya Chia products. That sort of trend and bias merits a closer look.
As a result, we would be taking a closer look at Maya Chia products. We will summarize what some of these products are made from, what they claim to do, and what they seem to have going for them in terms of recognition.
Maya Chia Face Oil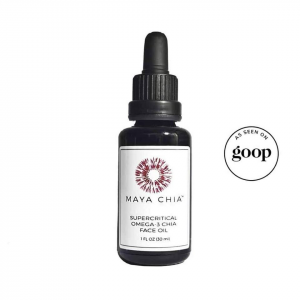 They actually call this the "supercritical omega-3 chia face oil". If Maya Chia face oil doesn't appear on your online search results, try that. The company's website categorizes it as the go-to product for people looking to naturally moisturize their skin. And Gwyneth Paltrow's goop brand seems to agree with them because they named it "a best face oil."
The product does a lot by itself to merit the number of words in its name. The website claims that it's capable of making all skin types smooth and radiant. Surprisingly, it leaves behind no grease and it absorbs quickly for an oil. Something, right?
Maya Chia Power Fol Multi-Correctional Treatment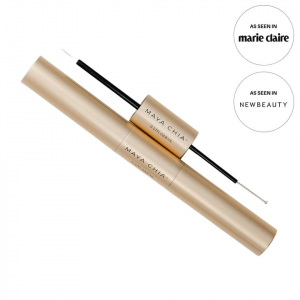 The treatment is for eyelashes and eyebrows, and pun in the name aside (Maya Chia Power Fol — 'Powerful'), it seems to be something special. If you are using this, you might no longer need to bother about eyelash extensions. This product claims to use clean ingredients to facilitate the growth of longer and fuller lashes and brows.
In addition, there's a lash and brow gel to help accentuate the denser lashes and brows. Before you balk at the price tag, a tube of this product is more than most lash/brow treatments around. It also contains the company's own Quadruple Peptide Complex.
Maya Chia Hair Growth Serum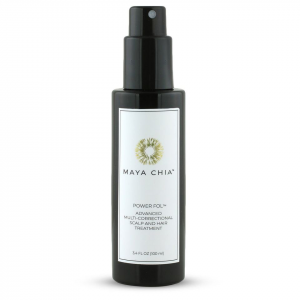 Innovativeness is at the center of this brand's activities, which is obvious in their Power Fol, Advanced Multi-Correctional Lightweight Scalp, and Hair Treatment. The "scalp skincare" present in this product increases the hair's fullness and strength while minimizing hair loss.
Apparently, the company is in the process of acquiring a patent on Maya Chia Hair Growth Serum. However, the content of the hair solution includes a clinically proven blend of collagen, amino acids, antioxidants, peptides, adaptogens, fermented materials, and Phyto-actives.
Maya Chia Retinol Treatment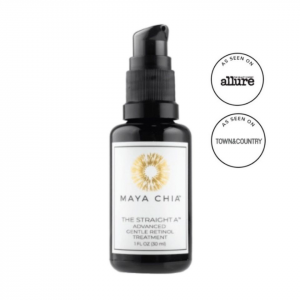 Fully named the Straight A Serum, Advanced Gentle Retinol Treatment, this product is made from encapsulated retinol (considered a safe derivative of vitamin A) and two botanical retinols (Moth Bean extract and Bakuchiol). These reduce lines and smoothen the skin.
The chia oil and Buriti oil in the product help to nourish and moisturize while hyperpigmentation issues are solved by Vitamins E and C. The product is intended to perform various functions, thus, providing users with top-quality (straight A) Maya Chia Retinol treatment.
Highlight of the Day Serum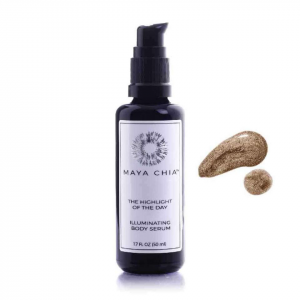 This face serum makeup comes in multiple shades, depending on the effect you hope to achieve. There's the afternoon delight, happy hour, golden hour, and after-hours' shades. All four shades enhance your radiance, but the color of the glow they provide differs.
The efficacy of the Maya Chia Highlight of the Day face serum is well noted, with Mind Body Green naming it one of the best natural products of all time. Allure magazine chipped in with their own recognition, awarding it the "Best of Beauty" 2019.
Maya Chia Review from Customers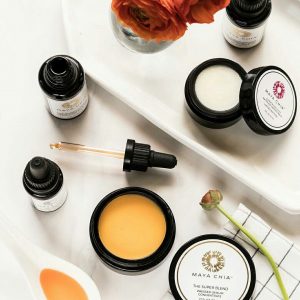 In the spirit of transparency, the company website publishes the Maya Chia review from customers. However, skincare products are best judged in terms of their effectiveness on specific skin types. To give a general review would be to give an incomplete assessment. So, the website publishes age, skin concern, and skin type, with every review to give potential customers a sense of perspective.
Despite all of these parameters (or as a result), the reviews are still largely positive. The supercritical face oil racked up 113 five-star reviews from 117 published reviews. The remaining four were four-star reviews. In fact, none of the products under review in this piece had below four-star assessments.
Popular Alternatives to Maya Chia
Further customer reviews
The trend continued with the influencer testimonials. Yes, these are expected to be positive, and they proceeded to back up the story that the reviews had to tell. People don't have many complaints about the products of Maya Chia. The most common complaints from the Four-star reviewers had to do with delayed observed results and slight itchiness. Beyond those, Maya Chia seems to be satisfying its customer base. To get an idea, you should check out some of the testimonials on their website.
One such testimonial goes on and on about the straight-A serum, its quality, and its efficacy. The testimonial has a lot of details and it emphasises the ingredients of the products, and how it makes her skin bright and alive. In fact, this particular entry goes on to speak about the safety of the ingredients, pointing out the biology behind their use as well as the reasoning behind them.
On Influenster, none of the products have less than 4.5/5 score.
We are not as surprised by the level of detail as we might pretend. As we stated earlier, no product on our list had less than a four-star review. It's not hard to comprehend such a glowing testimonial in that light.
Sign Up for Maya Chia
Creating an account with Maya Chia is as straightforward as they come. All you need to do is provide your first and last name, email address, and password. Join us to receive VIP access and 15% off your first purchase.
Where to Buy
As with most ambitious brands, retail outlets are plentiful. Though attempts may have been made to reach the shores of many more countries, Maya Chia products are currently physically sold in only 8 countries, including the United States. About 24 states within the US have such a physical presence. The state with the most outlets, though, seems to be New York. The brand website also indicates that their products are also available online via certain approved retailers.
Shipping and Return policy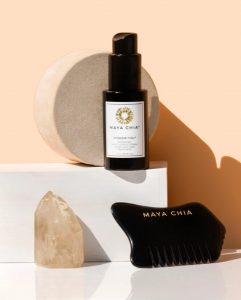 After payment has been made, the orders would be processed during business hours with 24 – 48 hour windows for processing. All purchase orders are shipped and delivered through the United States Postal Service (USPS), and the company indicates that it is currently shipping at a discounted price.
Shipping services are now also available in Canada, with the company shipping via USPS and the Canada Post. The caveat to this extension is a lack of guarantees on shipping times for orders delivered to Canada. In addition, Value Added Tax (VAT) and customs fees incurred during such a delivery would be covered by the buyer. The company also doesn't take responsibility for lost or stolen products during shipping.
On the other hand, returns must be made within 30 days of purchase, and the product must be full-sized upon such returns. Monetary refunds would not include shipping and handling fees. There is no return/exchange policy on colored products, and outside of the 30-day window, returns would no longer be accepted.
Before you return a product, you must notify the company via email. If you do not notify them, the returns will not be eligible for refund. The company doesn't issue return postage, and, as such, return shipping fees are the buyer's responsibility. Upon confirmation of the return, the article(s) should be sent to Maya Chia, LLC 2450 Ashley River Rd, Charleston, SC 29414.
Note: Large/heavy domestic or international deliveries shall incur additional shipping fees. Cancellation of orders would also incur a non-negotiable fee as well.
Promotions and Discounts
On the company website, there is some information regarding promotions. The information goes thus:
Promos are limited to one claim per household unless otherwise stated
Promotions are limited to one transaction unless otherwise stated
Promotions last only within the indicated time window and for as long as the product is in stock
The company reserves the right to rescind a promotion at any time
Exclusive promotional offerings are to buyers who like or follow the company on social media platforms (Facebook, Twitter, and Pinterest)
Contact Maya Chia
You can contact Maya Chia customer services in a few different ways. Such as:
Call at 843.575.9954 for quick responses. Available from 10AM – 5PM EST Monday – Friday
Contact via email at [email protected]. Response time within 24 – 48 hours
Contact via website would be answered promptly, and records of such exchanges would be kept
Wholesalers willing to carry the brand's products can fill out the wholesale inquiry form on the website or address an email [email protected]. Such an email should preferably contain the store's website, physical location, photos of the retail space, and reasons for wanting to carry the brand's products.
There was a notification informing all buyers that they have subscribed to the company's newsletter by making a purchase. By extension, they are eligible to receive updates, promotions, and info on the brand. The brand emphasizes that the information from buyers is not public to any third party, and customers can unsubscribe from the newsletter as they may wish.
Maya Chia review: Editor's Verdict
As revealed earlier, there was very little in the way of negative reviews online. Maya chia seems to inspire the highest of praise if anything. We are happy to see how they carefully source raw materials, their devotion to natural products, and the need to give back to the community with deep ties to their products. Nevertheless, this Maya Chia review has assessed the brand and its products regarding safety, price, quality, and performance.
Safety                    4.9
Quality                  4.9
Price                      4.5
Performance        4.9
Editor's Verdict    4.8
Check out these other amazing skincare brands like First Aid Beauty, Augustinus Bader, Sacheu, and Dr Dennis Gross.
Maya Chia FAQs
Are Maya Chia seeds organic?
In line with Company policy, chia seeds, like other ingredients, are sourced with care. The seeds are all organically grown in regions that generate the highest possible quality of seeds. According to the company, the growers' reputation is important to their business. In return, supporting these growers is of utmost importance to them.
However, the certifications ascertaining the organic nature of the seeds may be hard for small growers to acquire. Due to this, Maya Chia works directly with the growers rather than companies issuing certifications. To ensure that the seeds are completely organic, the company encourages its growers not to use pesticides. Rather than take their word for it, though, they screen for pesticides as well.
Does Maya Chia test on animals?
No. The company doesn't conduct any tests on animals. The company also doesn't use animal ingredients in the majority of its products. In fact, only three products contain ingredients obtained from animals.
Where are Maya Chia seeds grown?
Maya Chia seeds are obtained from company-linked growers located 5 – 10 degrees north or south of the equator. Farms located in this region have the best quality of nutrient-dense chia seeds.
Can vegans use Maya Chia products?
Only three products within the Maya Chia catalog contain ingredients sourced from animals. The Waterless Wonder Balm and The Super Blend contain Beeswax, while the Afternoon Delight shade of The Highlight of the Day contains carmine. Other than these, all other Maya Chia products are free from animal ingredients and appropriate for vegan use.
Can pregnant women use Maya Chia products?
Maya Chia produces gentle but potent products. As such, their products apply to people of all skin types. That said, pregnant women are advised to see their doctors before changing their skincare routine during pregnancy. Even after that, the company advises such women to attempt a patch test on their inner wrists before using any of their products.