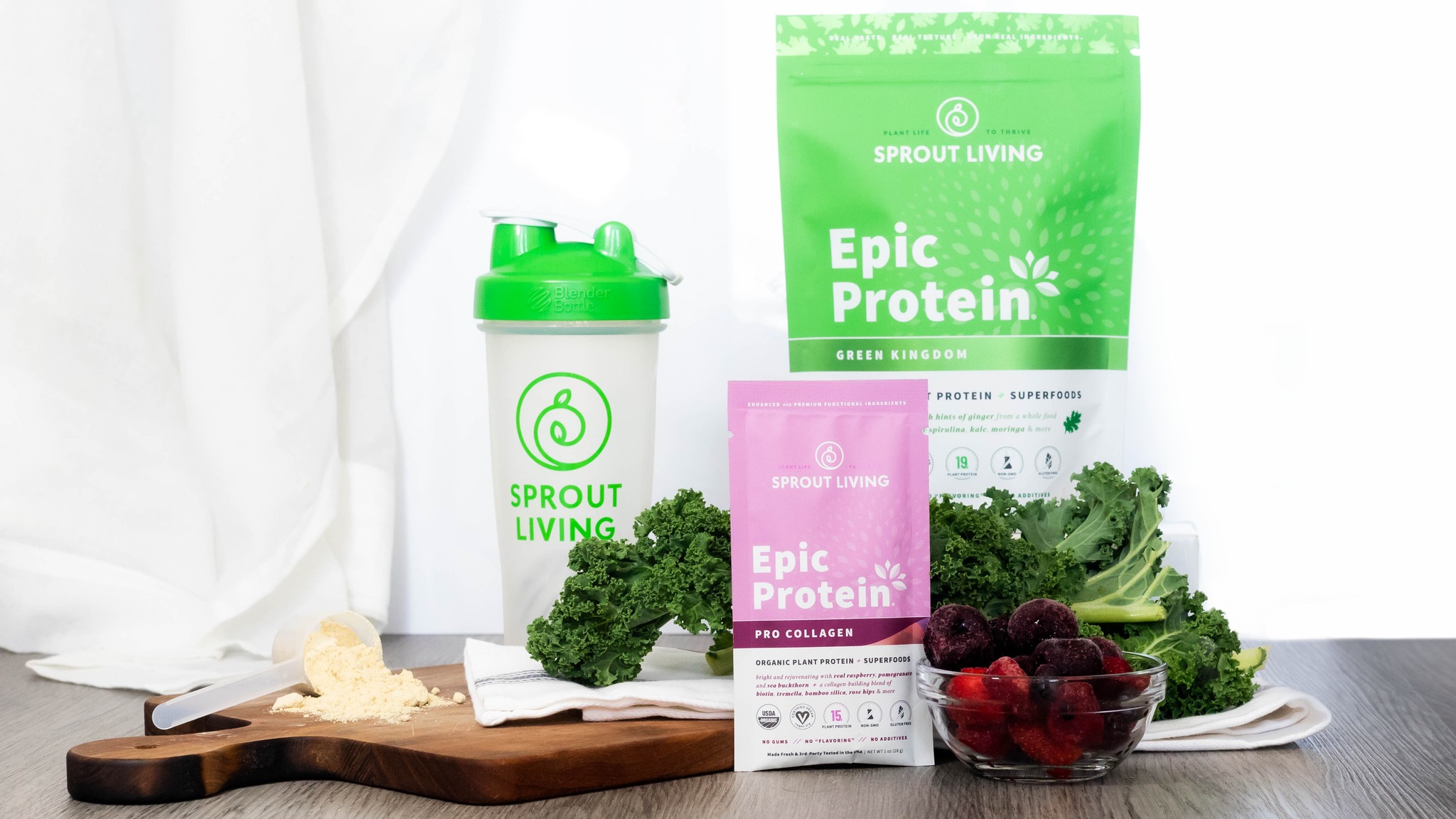 Located in Chicago, Illinois, Sprout Living sells clean organic plant protein, drink mixes, meal replacements, and other functional foods. Their products are made from organic, raw, vegan, and kosher superfoods sourced from farms in different parts of the world. They are also hypoallergenic and free from soy, nuts, and gluten. We'll examine Sprout Living reviews and the most frequently asked questions about this company to help you decide if it is right for you.
About Sprout Living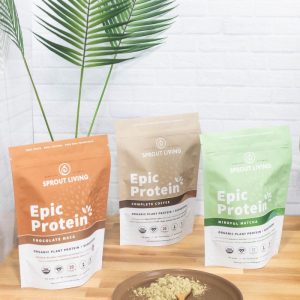 Sprout Living was founded in 2010 by Mark Malinsky, and the company is committed to inspiring happiness, health, and balance in everyone by formulating and sharing the purest health initiatives and products. They craft innovative products of high quality and are made with thoughtful formulas from clean, wholesome ingredients. 
Their roots come from the understanding and appreciation that plants provide pure, potent sources of fuel that living organisms use. The brand focuses on sprouted foods because they believe it's the secret behind the enzymatic activity and unparalleled nutrition. Sprout Living uses whole superfoods as ingredients in its products, which are rich in antioxidants, vitamins, minerals, and other phytochemicals. 
Their products do not contain preservatives, stabilizers, thickeners, colorings, flavors, artificial or "natural" sweeteners, or other deceptive additives. The company does not harm animals at any production stage, which makes Sprout Living a brand dedicated to producing healthy and cruelty-free supplements. Before we jump into Sprout Living reviews from shoppers, here are its pros and cons. 
Pros
They offer a range of pure supplements and functional foods

Their products are gluten-free, non-GMO, nut-free, soy-free, and kosher

Free shipping on domestic orders over $50

They accept returns and exchanges

Cruelty-free and 100% vegan brand
Cons
The company doesn't provide complimentary samples

They do not ship internationally

Returns are charged a restocking fee of 15%
Sprout Living Reviews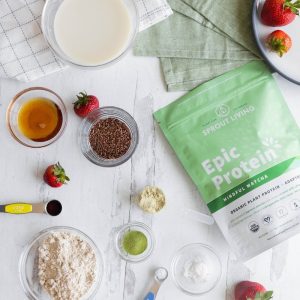 We checked Sprout Living reviews on the internet to see if this company lives up to the hype. We visited Amazon and the brand's official website to see what customers think of its functional foods and protein powders. They also have great quality plant based protein powders. 
Populat Alternatives to Sprout Living
Sprout Living reviews from Amazon show that shoppers are in love with their protein powders and functional foods. Most products had an average rating of between 4.4 and 5 stars. Customers praised the brand for using pure, organic, and plant-based ingredients in their products. Buyers also stated they love their products because they are non-GMO and free from soy, gluten, and nuts. 
Sprout Living reviews from the brand's website also show that most buyers were happy with their purchases. A high percentage of people who have tried their products said they love them because they have simple ingredients and a natural vanilla flavor, and they could easily fit them into their diet.
Sprout Living FAQ
1. Which are the best Sprout Protein products?
Delicious, functional, and thoughtful, Sprout Living Epic Protein is one of the best sprout protein products. Available in different flavors, this organic plant-based protein is made from nutrient-dense whole foods. It does not have additives, gums, and artificial or "natural" flavoring. There is also an unflavored option.
Most customers say the Organic Pumpkin Seed Protein is the best single-source plant protein they have ever bought. This Sprout Living Protein is rich in essential fatty acids and nutrients. It also has a slightly sweet, nutty flavor.
2. Is Sprout Living collagen good?
Yes. Sprout Living collagen reduces the appearance of wrinkles and improves skin elasticity and hydration. The supplement works by stimulating the body to produce collagen. This product also promotes the production of other proteins like fibrillin and elastin, which are known to help structure your skin.
Additionally, Sprout Living collagen helps lower the risk of heart conditions. Moreover, this collagen supplement can make your nails healthier and your hair thicker. Combining this product with strength training can help increase strength and muscle mass.
3. Which are the best brands like Sprout Living?
Based on the Sprout Living reviews online, some of the best brands similar to this company include Your Super, Kuli Kuli Foods, Navitas Organics, Rawnice, Aloha, and Misfits Health. These brands are alternatives to Sprout Living when it comes to the protein powder and superfood product space.
4. How to contact Sprout Living?
If you've questions regarding Sprout Living or its products, contact the company by sending an email to [email protected]. You can also use the contact form or Live chat function on their website.
Alternatively, you can send a direct message to the Sprout Living Facebook, Twitter, or Instagram page. If you want to talk to one of their customer service representatives, call them at (888) 633.5984.
5. Is Sprout Protein shipping worldwide? What to know about Sprout Protein returns?
Our Sprout Living Epic Protein review found that this company does not ship its products internationally. The company only delivers to the continental US, Puerto Rico, and Hawaii.
You can return or exchange unopened products if you are not happy with your purchase. To initiate the return process, contact them via their general line at 1.888.633.5984. They will provide you with a free return without handling or shipping fee. But you will have to pay a 15% restocking fee
6. What are the Sprout Living review scores?
Most Sprout Living reviews received a score of 4.5/5 stars. This shows that many customers are satisfied with their purchases and that their products are effective.
We give the brand an 8.5/10 rating because it offers high-quality plant-based functional foods and protein powders with pure ingredients.
7. What to know about Sprout Living vanilla protein?
This 20-gram multi-source, plant-based protein has a creamy, rich vanilla bean flavor and hints of spice and sweet graham cracker. Sprout Living Vanilla Protein contains vanilla bean, which offers antioxidant effects and anti-inflammatory properties.
Additionally, it features sacha inchi protein, which improves gut health and cholesterol levels while increasing weight loss. Because it contains Jerusalem artichoke root, the brand's Vanilla Protein is packed with potassium and vitamin B1 to support your muscles and nerves. Also, this ingredient is enriched with iron to give you energy.
8. What to know about Sprout Protein pea protein powder?
The Organic Pea Protein is a plant-based protein powder from North American peas. You can use Sprout Living Protein Powder to increase the amount of protein in your shakes and smoothies. It is enriched with an immense range of essential amino acids; this includes a particular concentration of lysine.
This high-quality protein is an excellent source of iron, and it aids heart health, weight loss, and muscle growth. This pea protein powder is ideal for people who want to replace whey protein with a plant-based unflavored protein powder. It is also a perfect fit for almost all diets, as it is naturally vegan and hypoallergenic.
9. What are the Sprout Living protein heavy metals?
Sprout Living reviews show that the brand claims their Sprout Living protein has been tested for heavy metals: mercury, cadmium, lead, and arsenic. Their finished goods and raw materials have a threshold of 1.5 PPM.
10. Is Sprout Living pumpkin protein good?
Yes. This Sprout Living Protein is slightly sweet with a creamy texture and neutral flavor. Made from cold-pressed seeds, it is rich in sleep-aiding iron, plant-powered protein, and disease-fighting antioxidants that protect your cells from dangerous free radicals.
It does not contain gums, fillers, flavoring, or additives. The brand's pumpkin seed protein powder also has a positive influence on hair growth and reproductive health benefits. Additionally, it contains heart-healthy fiber and can fit any diet.
11. Where to buy sprout living epic protein
This Sprout Living Epic Protein review found that you can purchase their products directly from their website SproutLiving.com. You can also find their products on select online retailers, including Instacart, Amazon, and iHerb.
12. Are there Sprout Living protein products?
Yes. Sprout Living offers a range of protein products, including Sprout Living Vanilla Protein, Chocolate Protein, and Unflavored Protein. All these protein powders can fit into any diet and contain pure, organic ingredients.
13. Are there any Sprout Living recipes?
Yes. Sprout Living reviews show that the brand has a page with an expansive collection of vegan recipes. These recipes are created by chefs focusing on plant-based and clean diets.
All desserts, snacks, smoothies, and meals they share are vegan, organic, raw, and free from GMOs, dairy, soy, and gluten. Most recipes on their site, especially the smoothie recipes, use the brand's products to increase protein and nutrients.
14. Where to find Sprout Living coupon code?
If you register an account with Sprout Living, you'll receive an email with a code that you can use to get five in-store credits. This is a great way to save money when buying Sprout Living products on their site.
15. Who owns Sprout Living
Mark Malinsky is the owner of Sprout Living. He is also the founder and CEO of this company. Malinsky launched Sprout Living because he had a strong interest in entrepreneurship and believed in healthy living.
Curious about other brands similar to this? Check out our reviews of Pure Food Company, Herbaly, Revive Superfoods, and Rhythm.