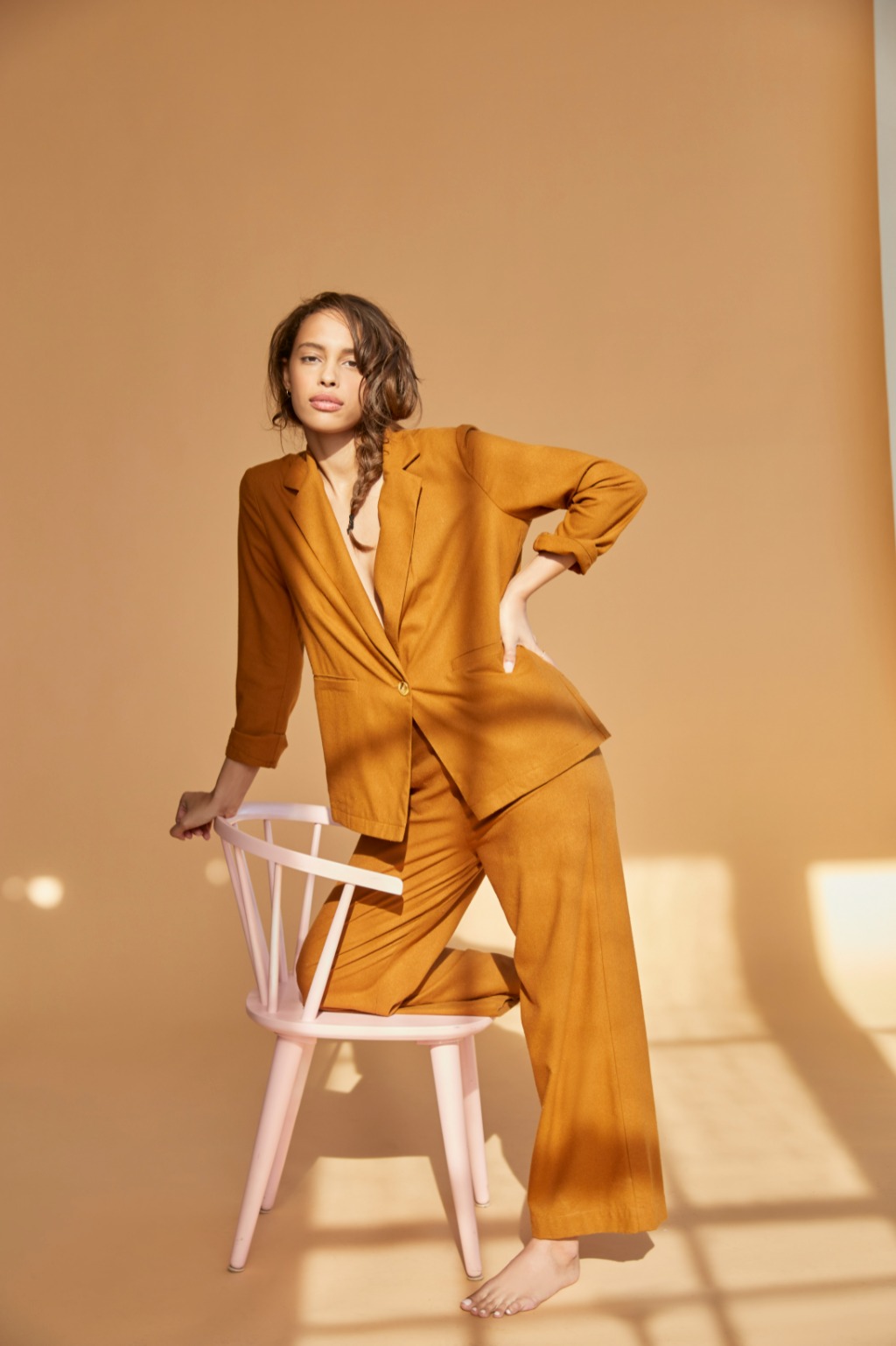 If you are looking for a sustainable alternative to fast fashion clothes, Amour Vert has got you covered. According to the official website, the company offers a decent selection of ethically-made quality clothing, created from traceable and eco-friendly fibers and materials. But what about the Amour Vert reviews from customers? How do actual shoppers see the brand? We are going to look into all of that.
In today's review, we are going to get behind the brand's history, values and mission and we are also going to take a close look at the products and the production process itself. We will see what exactly Amour Vert sustainability means and what previous customers have got to say about the brand. So if you want to find out whether or not Amour Vert is worth your money, keep reading our unbiased review. Ready? Let's get into it.
About Amour Vert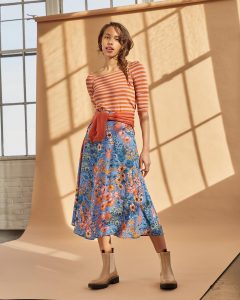 Amour Vert was inspired by the love for the environment of the two co-founders, Cristoph Frehsee and Linda Balti. Back in 2010, the husband and wife decided to create their own fashion brand that is not only sustainable but affordable, too. According to the official website, the company sources materials and fabrics from like-minded partners and suppliers. They partner up with mills that develop high-quality, eco-friendly raw fabrics and materials. This way the brand can reduce their waste and work with fabrics that are durable and stand the test of time.
The company maintains this ethical approach throughout the whole lifecycle of the operation, from sourcing the raw materials to creating the packaging for your order. Amour Vert primarily uses compostable protective bags to ship their items. They also use packaging made strictly only from recycled materials printed with soy-based inks.
But what about the clothes? In the next section, we are going to get behind the brand and see what sustainable fashion means when it comes to the garments themselves. We are going to take a close look at some of the most popular products and analyze Amour Vert reviews from customers. But first, let's take a quick look at the most important pros and cons you should consider before placing your first order.
Amour Vert was featured in Forbes, Women's Wear Daily, CNN, and Fashion Network. It also has significant amount of followers on Instagram, Facebook, Twitter, and TikTok.
Pros
A decent selection of sustainable clothes made of ethically sourced, eco-friendly fabrics and materials

The fabrics used in the production are high-quality, so the clothes are comfortable to wear and long-lasting

Chic and elegant designs with a feminine vibe

Very positive customer feedback on the customer service

Free shipping on all US orders with a straightforward return policy

Affordable, budget-friendly prices and frequent sales
Cons
Some items, especially blouses and tops run small

No possibility for an in-store exchange

Not all clothes are budget-friendly, some items are priced between $200-$300
Amour Vert Clothing Review
Looking at the products, Amour Vert offers a broad range of sustainable garments from chic dresses to loungewear. Now we will dig into the company's collection and cover some of the most popular Amour Vert clothing options that can make a great addition to your wardrobe.
Amour Vert Dresses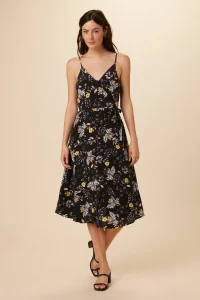 If you filter Amour Vert dresses based on the fabrics they are made of, you will find 10 different categories: Cottonseed Cupro, Dream Rib, Ecovero Viscose, Fleece, Linen, Organic Cotton, Paris Rib, Reverie, Upcycled, and Washable Silk. The sizing ranges from XXS to 3X, so a wide range of customers with different sizes and fits can find options they like.
Thanks to the fabrics, the dresses are not only chic and stylish but breathable and lightweight, too. In the collection, you can find elegant real gems, like silky soft dresses that are perfect for special occasions, such as the Josie Cottonseed Cupro Dress. But if you are looking for something more casual, the Jade Lux Terry Dress or the Betsy Sweater Dress can be great options for you to consider.
Price-wise, the Amour Vert dresses usually range between $120 and $300. But the good news is that promotions and sales are frequent, so you should always look out for deals. At the time of writing, there are several dresses on sale. For example, the Tinsley Luxe Fleece Dress costs $51 and the Cali Reverie Knit Dress is on sale for $59, both perfect spring-summer outfit options. And the best thing is that these dresses are not one-season pieces that you buy because they are on-trend, then throw out after a few wears. Both the design and the fabrics make these dresses wearable in the long term. They are made of durable fabrics and thanks to the versatile and timeless design you can easily combine them with other pieces of your wardrobe.
Amour Vert Skirt
No matter the season, if you want to refresh your wardrobe with a stylish skirt, Amour Vert has got you covered. The brand sells 4 different types of skirts: midi, maxi, high waist, and above-the-knee. Looking at the collection, our very first impression is that these skirts are easy to match with any simple shirt, blouse, or cardigan, and they can really elevate your outfit. Alongside the large scale of mono-color skirts that look perfectly with something as simple as a white T-shirt, you can find beautiful, more elegant prints, too.
Similar to the dress section, you can find special prices and promotions here too. The cheapest Amour Vert skirt costs $20 on sale. Yes, you really should look out for sales, because when the founders said they wanted to sell affordable sustainable clothing, they were not joking. Obviously, not all clothes are budget-friendly, as some items cost hundreds of dollars. But if you are lucky to catch a deal like that you can purchase quality and durable garments that will last you years on a budget. The most expensive skirt on the website is the Deadwood Lara skirt made of recycled leather and detailed with a lining made of 100% recycled PET bottles. This skirt costs $300.
Amour Vert Tops
When it comes to tops, there is a broad range of different categories you can choose from. If you want to buy an elegant piece to elevate your outfit on a special occasion, you will most likely find what you are looking for. There are many stylish prints that you can wear in the office or hang out with friends. The collection includes a short sleeve, long sleeve, ¾ sleeve, and sleeveless designs, available in different sizes from XXS to M/L.
The Amour Vert tops are made of breathable, quality fabrics and materials such as ethically sourced wool, washable silk, cottonseed cupro, etc. In terms of pricing, the most expensive tops are the Bixby Chiffon Blouse and the Kaya Washable Silk Blouses available in different prints. These long-sleeved button-down blouses cost $178, but you can find more affordable versions for less than $100. The cheapest items in the tops category on sale can be purchased for under $20.
Amour Vert Denim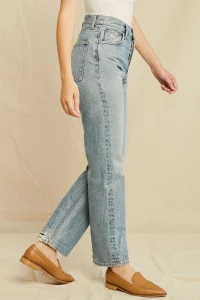 Amour Vert eco-friendly and sustainable denim is an important material used in the brand's collection. Using denim of such high quality makes the garments more durable. So even if the final product you buy costs more than a cheaper pair of denim jeans, you can be sure that your denim will last you and most likely won't have to buy a new pair soon. Looking at the styles, Amour Vert makes cropped, high-waisted, midi, relaxed, skinny, slim, and straight jeans. The pricing ranges between $178 and $198. You can also find recycled leather jeans available in 3 different washes for $208 to $298.
The brand creates not only jeans from denim but jackets and skirts, too. The AGOLDE Charlie Jacket is a slightly oversized piece made of a combination of organic and recycled cotton, and it costs $198.
Amour Vert Jackets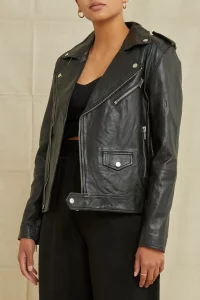 Before we wrap up our Amour Vert clothing review, let's take a look at another popular product category, the jackets. Looking at the fabric categories, you can choose from such interesting materials as cactus leather which is one of the most innovative eco-friendly vegan leather alternatives to animal leather. There are fleece, organic cotton, ethical wool, cottonseed cupro, recycled leather jackets, just to mention some. Price-wise, the cheapest jacket is the Meadow Nouveau Fleece Jacket which costs $118, but at the moment of writing, the discounted price is $58. The most expensive piece is the Deadwood River Cactus Leather Jacket, with the original price tag of $815, but now it is on sale for $570.
Amour Vert Reviews from Customers
Now let's take a look at Amour Vert reviews from previous customers. As we started our research, the very first impression was that the company is very open and encourages customers to share their shopping experience with others. On the official website, you can read verified customer reviews under items. Looking at these, the overall opinion about the brand is very positive. People describe the Amour Vert clothes as flattering and elegant.
Popular Alternatives to Amour Vert
Many comments are saying that the fabrics and stitching are high quality and the garments are well-made and comfortable to wear. Buyers appreciate the sustainable packaging too, saying that their orders arrived in recycled, eco-friendly packaging. In terms of fit and sizing, most customers say that the clothes are true to size. Only a few report that certain pieces run small. This feedback usually occurs in the case of blouses and tops. These shoppers advise others to size up, especially if they like baggier clothes with a loose fit.
Regarding the customer service, the Amour Vert reviews are also positive. On Trustpilot, a previous customer describes the customer service as "polite, helpful and responsive" during multiple returns and exchanges.
Sign Up for Amour Vert
When you sign up for Amour Vert, you are greeted with the following message: SAVE 15% on your first order when you join us! Undoubtedly, quite a good reason to sign in, especially if you want to save some money on your very first order. The sign-up process is simple and straightforward, and it requires only a few minutes. All you need to do is to create an account on the Amour Vert website by filling the lines with your first name, last name, e-mail address, and password. On the same page, you can sign up for the newsletter, too, to receive notifications about collection launches, promotions, sales, and other updates about the company.
Where to Buy Amour Vert
If you prefer in-store shopping to purchase your chosen items online, you can visit one of the Amour Vert boutiques in the US. There are three stores in California open for the public, such as:
Hayes Valley: ​​437 Hayes St, San Francisco, CA 94102, open Sunday-Saturday from 11 AM to 6 PM
Store contact number: 415-800-8576
Stanford Shopping Center: 660 Stanford Shopping Center Palo Alto, CA, 94304, open Wednesday-Sunday from 11 AM to 6 PM; closed on Mondays and Tuesdays
Store contact number: 650-847-4023
Berkeley: 1844 Fourth St, Berkeley, CA 94710, open Monday-Saturday from 10 AM to 6 PM, Sundays 11 AM-6 PM
Store contact number: 510-898-1870
Amour Vert Shipping and Return Policy
When it comes to shipping, Amour Vert communicates openly about the issues that caused frequent delays in the shipping process in the past. To address the situation effectively and solve the issues, the company decided to move to a new distribution center.
But let's see how fast Amour Vert can ship your orders and how much it will cost you. All US orders ship via ground service and they are free of charge. You can expect your order to arrive within 5 to 10 business days. The company also offers express shipping options that allow you to receive your order within a maximum of 2 business days.
Internationally, the company ships to 3 European countries such as the UK, France, and Germany. If you order from these countries, right at check out a shipping carrier fee will be added to your payment. Depending on your country, you can also expect to be required to pay special duties and taxes on your order.
The Amour Vert returns policy is straightforward and simple to follow. In case you decide to return an item you purchased online, you have 30 days from the purchase date to do it. The item must be unwashed and unworn and must have all its tags attached. To start your return process you are instructed to use the Return Portal on the website which was specially developed for order returns. You also have the chance to exchange particular items you bought, such as items from the Sale category. According to the exchange policy, you need to return the purchased item within 30 days following the Online Return Policy listed on the website.
Amour Vert Promotions & Discounts
As you can see, it is very likely to find an Amour Vert discount code right on the website. At sign up, you will receive a 15% off Amour Vert discount coupon that you can use for your first order. Once you sign up for the newsletter, you will be notified of new collection launches, sales, and special promotions that you can use to save money on your next purchases.
Contact Amour Vert
If you want to contact the Amour Vert customer services, you have 2 options to choose from:
Submit a request by filling out the contact form. This allows you to write a short message and attach files.
Call the company at 855-326-6233
Looking at Amour Vert reviews from customers, people seem to be happy with the responsiveness and helping attitude of the customer service.
Amour Vert Reviews: Editor's Verdict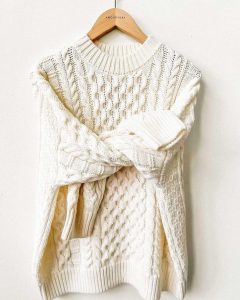 Now that we have almost finished our Amour Vert review, it is time to give you our unbiased, honest opinion about the brand. After looking behind the company's values and approach towards sustainable operation, we have to say that Amour Vert is an excellent place to go if you are looking for stylish and quality clothing made ethically with minimal impact on the environment.
Amour Vert reviews tell us the same, people are truly satisfied with the garments in terms of design, fit, and quality. The company's shipping and return policy is straightforward and simple, which makes shopping at Amour Vert stress-free and enjoyable. And last, but not least, the company sells great products at affordable prices which is quite rare when it comes to sustainable fashion brands.
So if you are looking for some chic and sustainable clothes to add to your wardrobe, this company is an absolute go-to. Based on all the information we gather in our review, we can assure you that Amour Vert is a legit brand that is worth your trust and money.
Still on the hunt for trendy clothing? Consider reading our similar brand reviews of Revolve, Anine Bing, Forever 21, and D'iyanu.
Amour Vert FAQ
What is "Plant a Tree"?
"Plant a Tree" is the initiative of Amour Vert that allows the company to plant 1 tree with every eligible T-shirt purchase. For this cause, they partnered up with American Forests, a non-profit organization that plants a tree in forests all across North America. You can also purchase tree donations for $1 which allows the company to plant a tree for every $1 donated.
Where does Amour Vert ship from?
According to the Amour Vert website, all orders are shipped from the stores and distribution center located in California.
Who owns Amour Vert?
Amour Vert is owned by the two co-founders, husband and wife Cristoph Frehsee and Linda Balti who founded the company in 2010.
Does Amour Vert run big or small?
After analyzing Amour Vert reviews from multiple sources, we can confidently say that Amour Vert clothing is true to size. However, if you like a loose fit, you might want to consider sizing up.