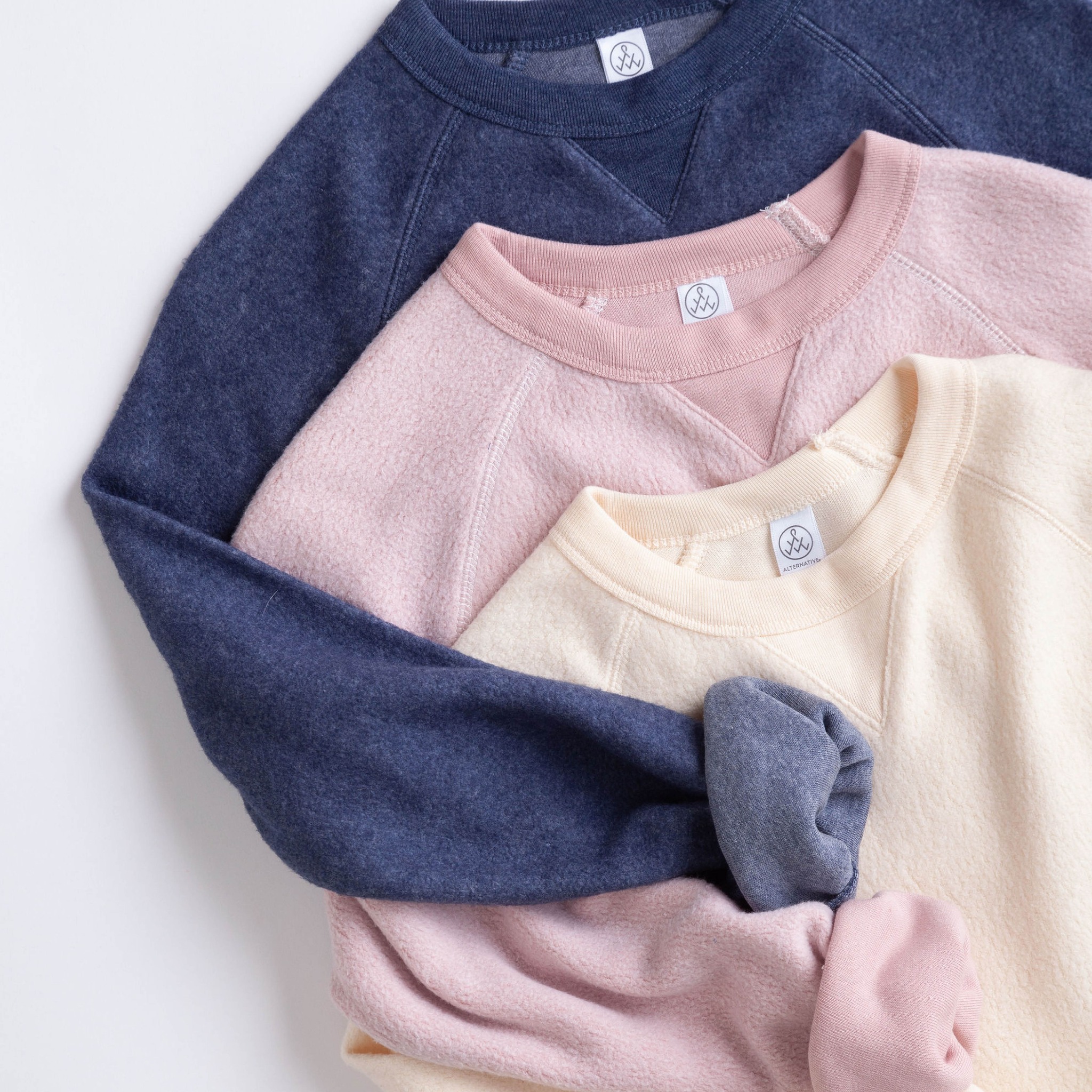 Promising "softness and style that fits any occasion," Alternative Apparel is dedicated to simple, comfortable clothing that's as kind to your wallet as it is to the planet. But is this brand everything it claims? In our Alternative Apparel review, we'll be checking out the company's history, clothing, and ethos – plus as many Alternative Apparel reviews from real customers as can find! – to provide a thorough and unbiased overview of the brand. So you can find the perfect apparel store for your needs, style, budget, and morals.
About Alternative Apparel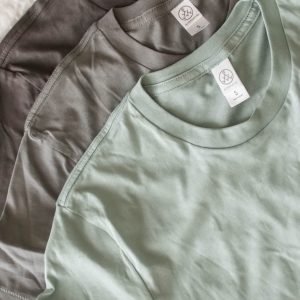 Alternative Apparel was founded in Atlanta, Georgia, in 1995 by Greg Alterman. The company has a simple aim: to provide affordable, stylish fashion with a focus on sustainability and eco-friendly practices.
Although Alternative Apparel is still headquartered in Atlanta, the brand's clothing is now made all over the world, including the US, Peru, the Dominican Republic, Indonesia, China, Vietnam, Nicaragua, and Egypt.
Alternative Apparel takes a sustainability-first approach to fashion, claiming to be "committed to eco-materials and responsible manufacturing" and offers "casual, comfortable clothing that you and the planet can be proud of."
HanesBrands acquired Alternative Apparel in 2017 with the intention of helping to further the brand's reach. If you noticed the company's clothing is no longer available at alternativeapparel.com, you might be wondering where to buy Alternative Apparel items… Well, according to the brand's website, all items are available in the "newly designed Amazon brand store."
Alternative Apparel reviews are generally positive, with customers loving the casual yet stylish range of clothing and accessories. The vintage-inspired collection is perfect for every occasion from popping to the store or pairing with a pair of heels for any smart-casual event.
Pros
Great variety of apparel for men and women from Alternative Apparel shorts to tank tops. You can even keep your head safe from the sun with an Alternative Apparel hat!
Inclusive range of sizes to suit every body.
Reasonable prices that won't break the bank.
Focus on sustainability and eco-friendly practices.
Incredibly soft and comfortable clothing.
Reliable Alternative Apparel size charts available for every item.
Cons
Because the AlternativeApparel.com store has now shut down, all orders, returns, etc. are exclusively dealt with via Amazon or other third-party Alternative Apparel stores.
No international shipping.
Some questions have been asked about Alternative Apparel's sustainable practices in recent years.
Alternative Apparel Products Review
Now that we know a little about the background of the company, it's time for our Alternative Apparel review to dive a little deeper into what matters: the clothing!
In this section, we'll analyze a selection of the best-selling and most popular Alternative Apparel items across the range, including as many Alternative Apparel reviews from real customers as we can find, so you know precisely what to expect when shopping at Alternative Apparel stores online or offline.
Alternative Apparel Sweatpants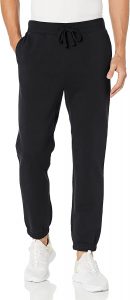 Alternative Apparel sweatpants are a huge part of the Alternative Apparel range. Although all sweatpants by Alternative Apparel seem to be well-loved by customers, the Eco-Cozy Fleece Sweatpant has been a consistent best-seller.
These pants are made from 77% cotton and 23% recycled polyester, creating the perfect balance of environmental friendliness and that super-soft feeling you can only get from the perfect pair of sweats. Plus, with an elastic waistband and ribbed ankle cuffs, you can be sure your Alternative Apparel sweatpants stay in place without uncomfortable zippers or buttons. Ultimate comfort whether you're hitting the gym or lounging on the couch.
On Amazon, these pants score a respectable 4-out-of-5-stars across 53 reviews. Commenters claim they're "good for lounging around in," while others state they've been "wearing them every day."
A couple of less positive reviews claim these sweats are "baggy, droopy, and basically… classic 'old guy' sweats." Another review stated the "cut below the knee is super baggy." It's a good idea to check the Alternative Apparel size chart before shopping to ensure you get the right fit.
Alternative Apparel Tank Tops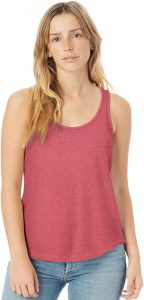 Alternative Apparel tank tops are another incredibly popular category in the brand's collection. Always super comfy, Alternative Apparel tanks are available in a range of muted colors perfect for your daily workout of just kicking back and relaxing.
One of the most popular items in the range is the Backstage Tank. This top is available in an impressive 15 different colors to suit your outfit and has a loose fit that ensures comfort without compromising on style.
The Backstage Tank, like most of the Alternative Apparel range, is made from fabrics that combine super-soft comfort with sustainability. This top is made from 50% ring-spun cotton and 50% polyester. With no closures, zippers, or other irritations to worry about, you can workout (or lounge) in premium comfort. The label even tears away, so there's absolutely nothing on this tank to distract you from whatever you're doing!
On Amazon, this Alternative Apparel tank scores 4.1 out of 5-stars across 77 reviews. Reviews state it's "a nice tank for summer" and note that the tops are "true to color." A particularly glowing review (and one that certainly persuaded us that this is a great tank) noted that it "hides that core on those days you can't just 'suck it in' and also looks cute." Others mention "the material is soft and flattering and so far it has held its shape and color nicely after multiple washes."
The less positive reviews of this tank mostly appear to be from customers who ignored the Alternative Apparel size chart, as they often state it "runs very loose and big." Others claimed it's "very short on the torso" and a few mentioned the hem isn't quite what they expected.
Alternative Apparel Joggers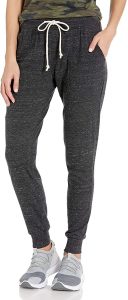 Like most items in this brand's collection, Alternative Apparel joggers are incredibly versatile and hugely popular with fitness maniacs and couch potatoes alike. The combination of ultra-soft, sustainable, and comfortable materials that allow plenty of movement make items in this collection a must-have!
One of the brand's innovations can be found in this collection: the eco-fleece. Alternative Apparel often uses this sustainable yet comfortable blend of fabrics to create active/casual wear beloved by men and women alike, and the Alternative Apparel Eco Classic Jogger is definitely one of our favorite items!
Designed for women, the Eco Classic Alternative Apparel joggers are made from 50% polyester, 38% ring spun cotton, and 12% rayon for long-lasting yet sustainable comfort, no matter what you're doing in them! These pants are made in the USA and can be machine washed for convenience.
Looking at Alternative Apparel reviews, customers love these pants as much as we do, with these joggers scoring 4.1 out of 5-stars across 124 reviews on Amazon. Here, customers state they're "super cute," "a must-have" and that you "get what you expect" with these pants.
Multiple reviews note that the Alternative Apparel eco-fleece is super warm and perfect for a colder climate or for traveling. It's important to double-check the style of joggers you're looking at, however, as some can be very thin and better for warmer climates.
Eco-Fleece Alternative Apparel Hoodies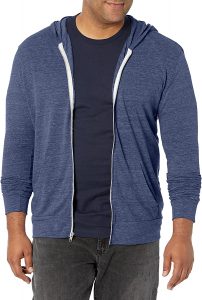 Where would any clothing brand be without a great selection of comfy and cozy hoodies? Alternative Apparel hoodies are incredibly popular with men and women alike and come in a range of sizes and fits to suit everyone.
Whether you prefer a pullover or zippered hoodie, Alternative Apparel has the sweater for you! From lightweight and sustainable eco-jersey to soft, warm, and cozy eco-fleece, Alternative Apparel hoodies are perfect for any season or occasion and are sure to keep you warm and comfy in the gym, on the beach, or relaxing at home.
One of the most popular offerings in this collection is the Alternative Men's Eco Zip Hoodie. Although marketed for men, this hoodie would look just as stylish for women and comes in a wide range of slightly muted colors and patterns for that comfy yet stylish look we all love.
This particular hoodie is made from 50% polyester, 38% ring spun cotton, and 12% rayon, with organic and recycled materials taking center stage. The sweater scores 4.3 out of 5-stars across 4,088 reviews, and claims to fit "true to size," so be sure to check the Alternative Apparel size chart when shopping! Reviewers call this the "best lightweight hoodie" and state it's perfect to "wear around the house."
If you're looking for a warmer option, the Rocky Eco-Fleece Zip Hoodie might be the one for you! Scoring 4.2-stars across 1,411 reviews on Amazon, customers state it's a "really nice jacket," a "great sweater," and that it's "my new favorite comfy kick-around hoodie." One reviewer even went so far as to say this hoodie "made me a better person!"
Alternative Apparel Youth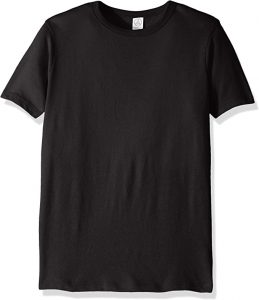 Not leaving the kids out, Alternative Apparel stores boast a generous collection of children's clothing from sweats to hoodies and everything in between! We absolutely love the Alternative Apparel Youth Challenger Hoodie, which is made from 58% cotton, 32% polyester, and 10% rayon for a super comfortable sweater that lets kids be their authentic selves!
The Alternative Apparel Youth selection is all wonderfully unisex, so boys and girls can enjoy the entire range without worrying about stereotypes and reviewers consistently praise the collection for being "sooo soft and comfortable!"
Alternative Apparel Reviews from Customers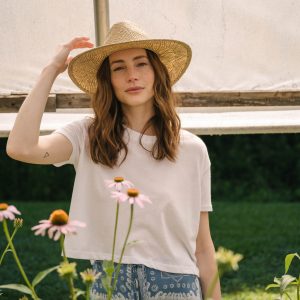 Now we've taken a closer look at some of the items available in Alternative Apparel stores, it's time for this Alternative Apparel review to look at real customers to find out what the user experience really is, and whether the clothing stands up.
All the items we've looked at in detail for our Alternative Apparel review are overwhelmingly positive. Almost every item scores at least 4-stars on Amazon – and we love to see a strong Amazon rating, as we know this site doesn't filter or obscure reviews! In fact, one Alternative Apparel dress we looked at featured over 200 5-star reviews and an overall rating of 4.2, which seems to be the norm for this clothing line.
Reviewers consistently comment on how soft the clothing is, although some do note that a few of the Alternative Apparel hoodies and sweatpants are a little thinner than expected, so it's worth taking some time to figure out whether the items you're shopping for are suitable for a warm or cold climate before buying.
Popular Alternatives to Alternative Apparel
On Influenster, we also see a relatively positive overview of the brand. Here, Alternative Apparel reviews score 3.7-stars across 22 reviews. Like Amazon, Influenster reviews tend to note the "fabric is nice and soft," and that they "would buy more." The less positive reviews seem to mention problems with customer services, with a couple of the most recent reviews mentioning items that were never delivered and no refund was offered. Not great!
But while that would put us off most brands, it is worth noting that Alternative Apparel no longer sells items on its own website, so shoppers are better looking to Amazon and other Alternative Apparel retailers.
Sign Up for Alternative Apparel
On March 22nd, 2021, Alternative Apparel deactivated its loyalty program, so it's no longer possible to earn or spend points at alternativeapparel.com.
Alternative Wholesale Direct
Wholesalers can apply for an account via Brandwear United, a referral site that allows you to purchase from Alternative Apparel and other stores' wholesaler or direct accounts. You will need to provide details of your business and wait for approval before shopping.
Where to Buy Alternative Apparel
Since Alternative Apparel stopped selling items from its own website, many customers have been wondering where they can buy Alternative Apparel. At AlternativeApparel.com, the FAQ section directs customers to the company's "newly designed Amazon brand store." Wholesalers can access Alternative Apparel Wholesale via the company's partner, Brandwear United.
If you prefer an in-person shopping experience, you can also use the handy store finder on the Brandwear United website to find Alternative Apparel stores and stockists.
Alternative Apparel Shipping and Return Policy
Because Alternative Apparel no longer sells items directly, the shipping and returns process will vary depending on where you purchase your items from.
On Amazon, most items have free shipping and seem to take around a week, although your delivery address may affect the price and timescales available.
Alternative Apparel Promotions & Discounts
On March 22nd, 2021, the Alternative Apparel Loyalty Program was deactivated and all remaining points were canceled.
As of April 21st, 2021, outstanding Alternative Apparel gift cards were transferred to Champion gift cards, which can be used on the Champion.com website.
Contact Alternative Apparel
Although Alternative Apparel's live chat and phone support options have been deactivated, you can still contact the brand via email at [email protected]. If you have a question regarding a recent order, shipping, returns policies, etc. it's probably better to contact the retailer directly.
Alternative Apparel Reviews: Editors' Verdict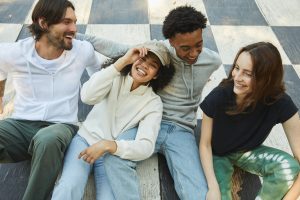 After scrutinizing all the Alternative Apparel reviews, background, and policies we could find, we must conclude that this brand is a great option for anyone looking for super comfortable lounge or exercise wear with a sustainable ethos.
Although the company seems to have slipped since Hanes purchased Alternative Apparel in 2017, the original CEO, Evan Toporek, is clearly still motivated by sustainable and ethical practices. Many items are made from organic and/or recycled materials. So, even if the brand isn't quite as high on the sustainability rankings as it used to be, it's still a decent choice for people who want to look good and do good at the same time!
We were also impressed by the price point on Alternative Apparel clothing. Often, when a brand puts the planet first, this can cause a massive drain on the wallet. But Alternative Apparel doesn't seem to have done that, with a huge selection of reasonably priced and high-quality items that will suit most budgets.
Are you still looking for other fashion brands that sell quality clothing items? Check out our reviews of For Love and Lemons, For Days Clothing, Fashion Nova, and Andrew Marc.
Alternative Apparel FAQ
Did Alternative Apparel go out of business?
Alternative Apparel was purchased by Hanes (a multibillion corporation) in 2017, although they did decide to keep the original CEO, Evan Toporek. On March 22nd, 2021, the online store – alternativeapparel.com – closed down. However, Alternative Apparel clothing can still be found in the Amazon brand store or via selected retailers.
How is Alternative Apparel clothing sustainable?
Alternative Apparel seeks to use environmentally-conscious materials and practices to create a sustainable clothing brand that's as kind to the planet as it is to your wallet. To do this, the brand utilizes organic fabrics (including GOTS-certified organic cotton, hemp, and linen) and recycled fabrics (including recycled cotton and polyester) in most of its items. The brand also uses synthetic materials and semi-synthetic fabrics made from renewable resources to help the planet heal.
The company is also proud to advocate fair, safe, and clean workplace conditions in its global factories, with most Alternative Apparel factories being WRAP-certified. The brand also requires all partners to adhere to the Workplace Code of Conduct and Fair Labor Association guidelines.
However, Alternative Apparel has been criticized since 2017 for not being as transparent as we would generally like a "sustainable" company to be. And doesn't always provide evidence that it adheres to its promises. So, while there's plenty of evidence Alternative Apparel is sustainable, the brand still has a way to go.
How do Alternative Apparel shirts fit?
Based on Alternative Apparel reviews, most items fit true to size, and the brand includes a size chart on every product page. Some items will run a little large/small, so it's worth checking what other customers have to say before making a purchase.
Where is Alternative Apparel made?
Alternative Apparel has sites all over the world. Some items are made right here in the US, while others come from Peru, Peru, the Dominican Republic, Indonesia, China, Vietnam, Nicaragua, and Egypt. It's not always clear where Alternative Apparel items have been made, and this is a big part of why the brand has been deemed less transparent than we would like.
Who owns Alternative Apparel?
The multibillion-dollar corporation Hanesbrands purchased Alternative Apparel in 2017.