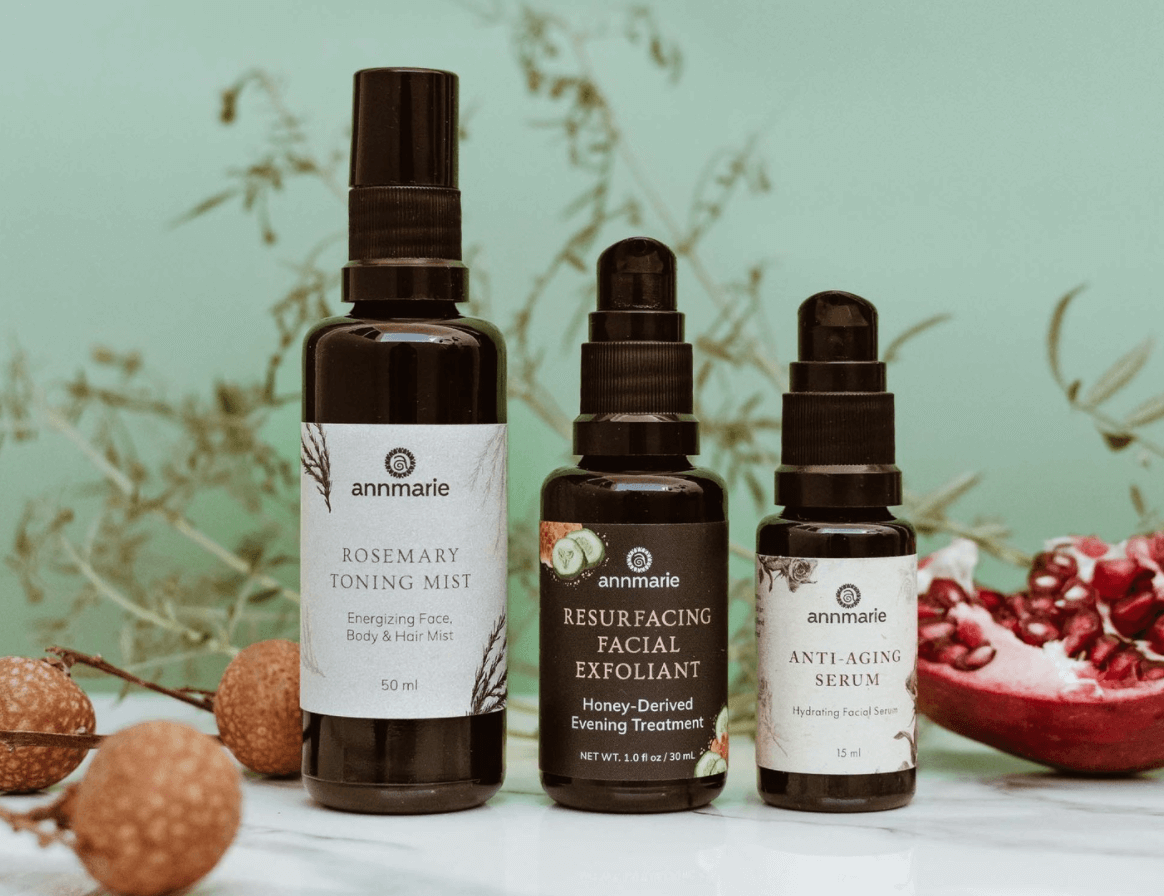 Annmarie is a top-rated skincare brand that offers natural and organic cosmetics and skincare products. It is well-respected for its commitment to sustainable and eco-friendly sustainable practices and social contributions. They offer organic skin care products with special and effective benefits such as acne removal and anti-aging. If you check online, you'll find various Annmarie Skin Care review. In addition, the brand has been featured in multiple blogs and online publications. This article will provide you with our honest opinion about the brand's products with actual reviews from customers. Our review also contains important details about the brand and other services they offer.
About Annmarie Skin Care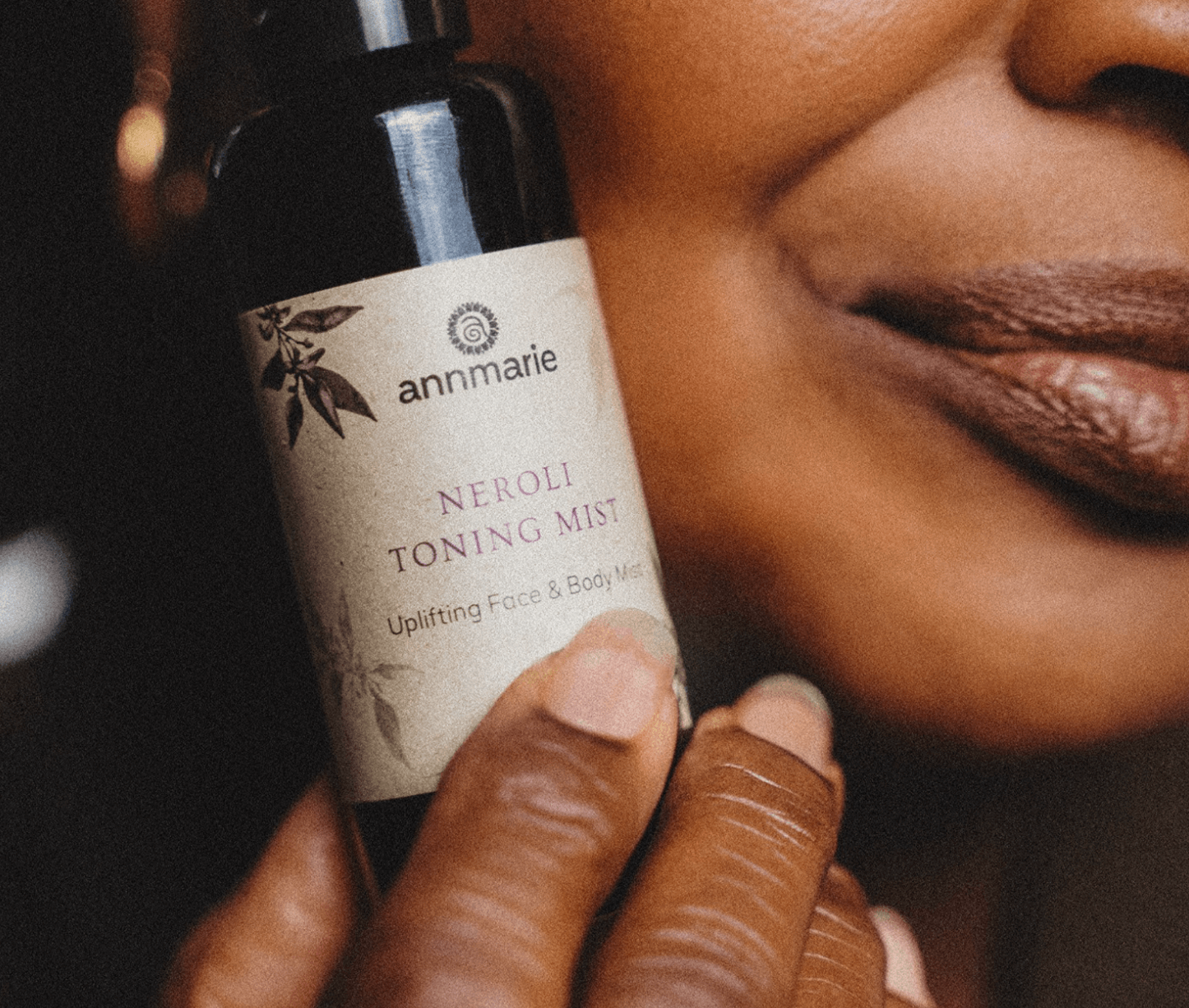 The brief history of Annmarie started with two bloggers and owners of The Renegade Health Show, a popular YouTube channel.
Annmarie and Kevin were famously known for driving their vegetable oil-powered RV trucks across states while on a mission to find out top natural care products for their viewers.
However, even though they practiced healthy and natural living, they still used beauty products from labels containing toxic chemical ingredients.
Upon realizing this, they sought to find a completely all-natural and effective skincare formula. In 2009, after a year-long search, Annmarie and Kevin launched Annmarie.
The brand was established to provide all-natural skincare products from pure, natural ingredients. It uses herbs, extracts and other raw materials that are gotten directly from nature without any filters or synthetic substances.
They use hand-picked ingredients refined with base oils and other ingredients to create an effective formula for clear, glowing skin.
Annmarie is different from many labels since it doesn't focus on beauty alone. Still, it also seeks to promote the natural and organic lifestyle through its product line.
They also conduct research and investigations into industry practices to maintain their ethical practices. Overall, the brand is dedicated to helping people build healthy glowing skin with all-natural, organic ingredients.
The brand was featured in The Minimalist Vegan, Starter Story, Green With Less, Inspire Beauty, and Peaches and Blush among all others.
Pros
The wide product line of effective organic and botanical-infused skincare products
Full transparency on all the ingredients in the product
Aromatherapy experience
Hand-picked selection of natural essential oils and herb extracts with zero artificial ingredients
Sustainable packaging with the use of Miron glass
Customer rewards program
Suitable for all skin types
Cons
High priced products compared to other labels
Complaints from customers on poor customer service
Annmarie Skincare Products Review
Annmarie's skincare product line consists of organic oils and herbs specially designed to restore your skin. The company works with Bunnie, a long experienced skincare expert who uses hand-selected organic materials for her product line.
Annmarie also claims that their skincare products are completely free of toxic chemical ingredients.
The company has been in operation since 2009, and it has since gathered a large customer base with a huge following on Instagram and Facebook. It has also been featured in Sheen Magazine, Marie Claire and other beauty publications.
We shall now review some bestseller products below to give you a taste of what the brand offers.
Annmarie Aloe Herb Cleanser Review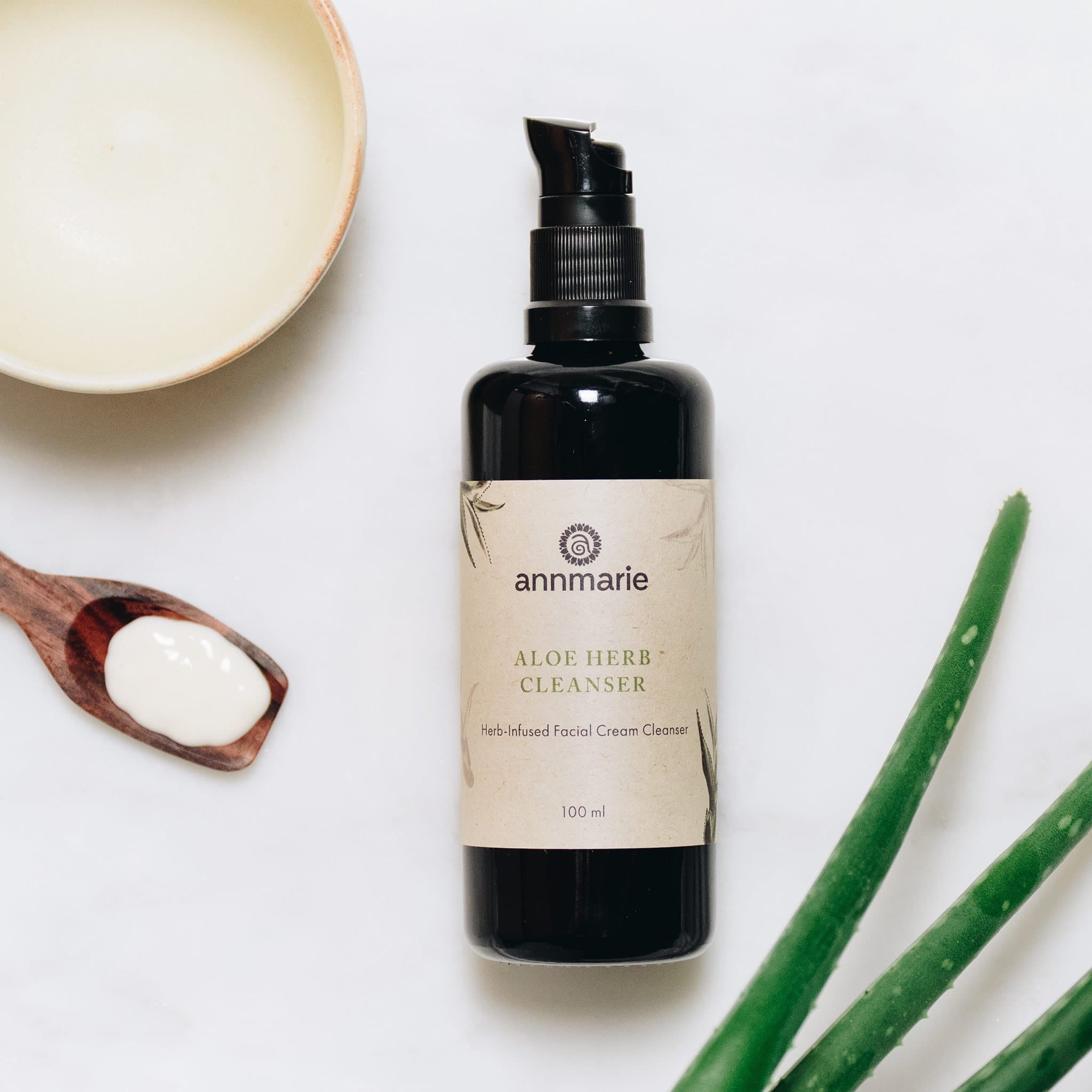 If you have oily and acne-prone skin, you need a proper cleanser that you can rely upon that won't worsen the condition.
Annmarie offers the aloe herb cleanser as an effective cleansing solution for your skin. It is pH balanced, which makes it gentle on this skin, as it removes excess oil buildup, freeing your pores. It also moisturizes and offers effective nourishment for your skin.
They obtained their aloe vera juice from pure organic aloe vera leaf that contains all the essential vitamins, minerals and enzymes. The cleanser also contains lemon essential oil, which helps to brighten your complexion and restore your skin's natural glow.
It also contains coconut oil, a natural moisturizer that helps to hydrate the skin.
Our Annmarie Aloe Herb Cleanser review concludes that the cleanser is one of the top-rated products in Annmarie's product line. It is suitable for all skin types, including extra sensitive skin types and the 100ML bottle costs $51.30.
Many positive reviews from customers who got positive results after using the product.
Annmarie Anti-Aging Serum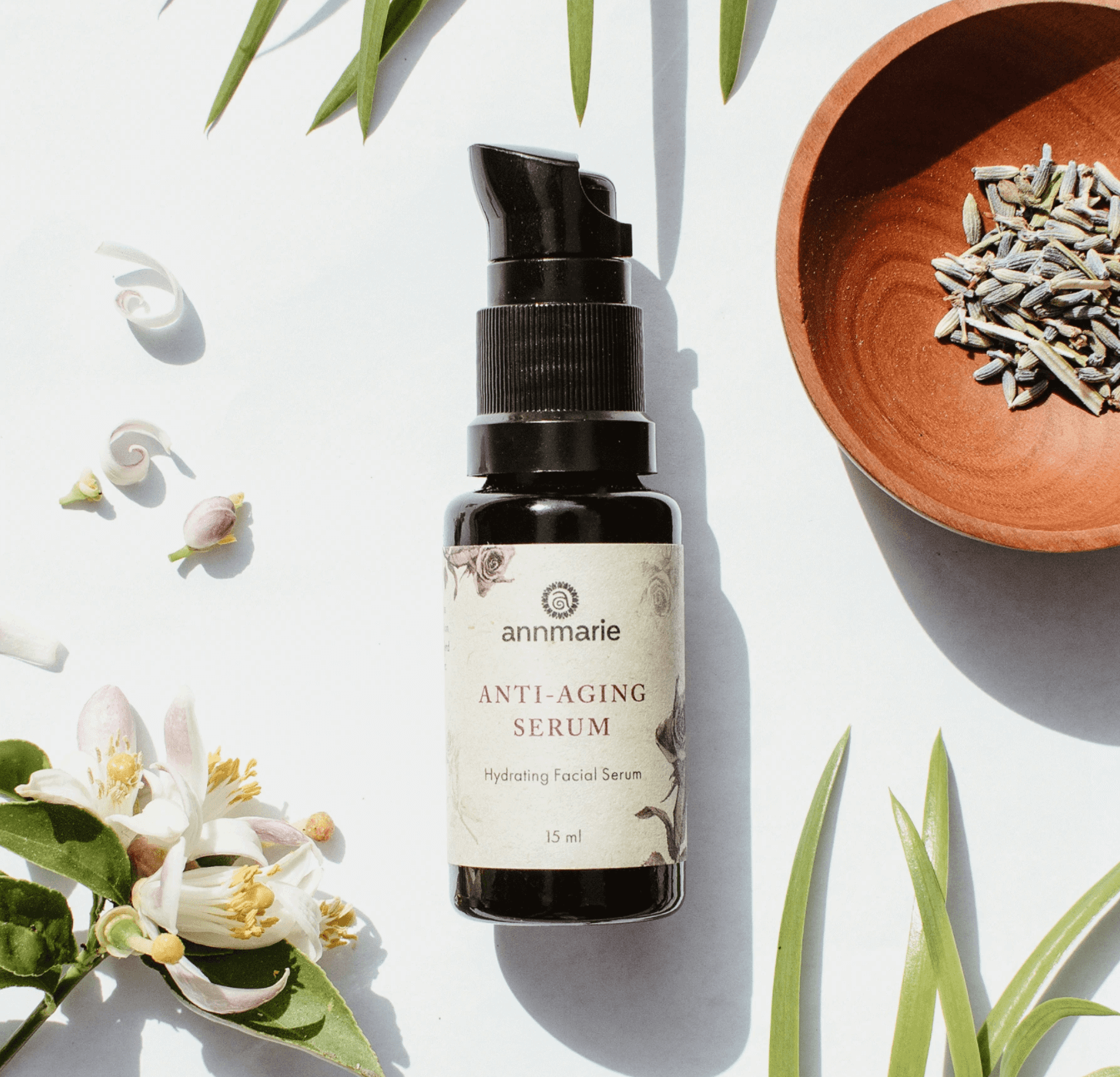 The serum is made with an aloe-vera-based formula, and it helps to firm and tighten the look of aging skin. In addition, it contains Hyaluronic acid, which moisturizes while herbal extracts such as edelweiss and buddleja davidii protect environmental aggressors.
The brand also recently included some traces of Vetiver essential oil to improve the scent.
The serum also comes with a guide for properly applying the products and the recommended use before the facial moisturizer.
You can also check the package to see the full list of ingredients, but it does not contain any allergens or toxins that can harm your health. The serum comes in a 15ML bottle, and it costs $54.
Annmarie Neroli Toning Mist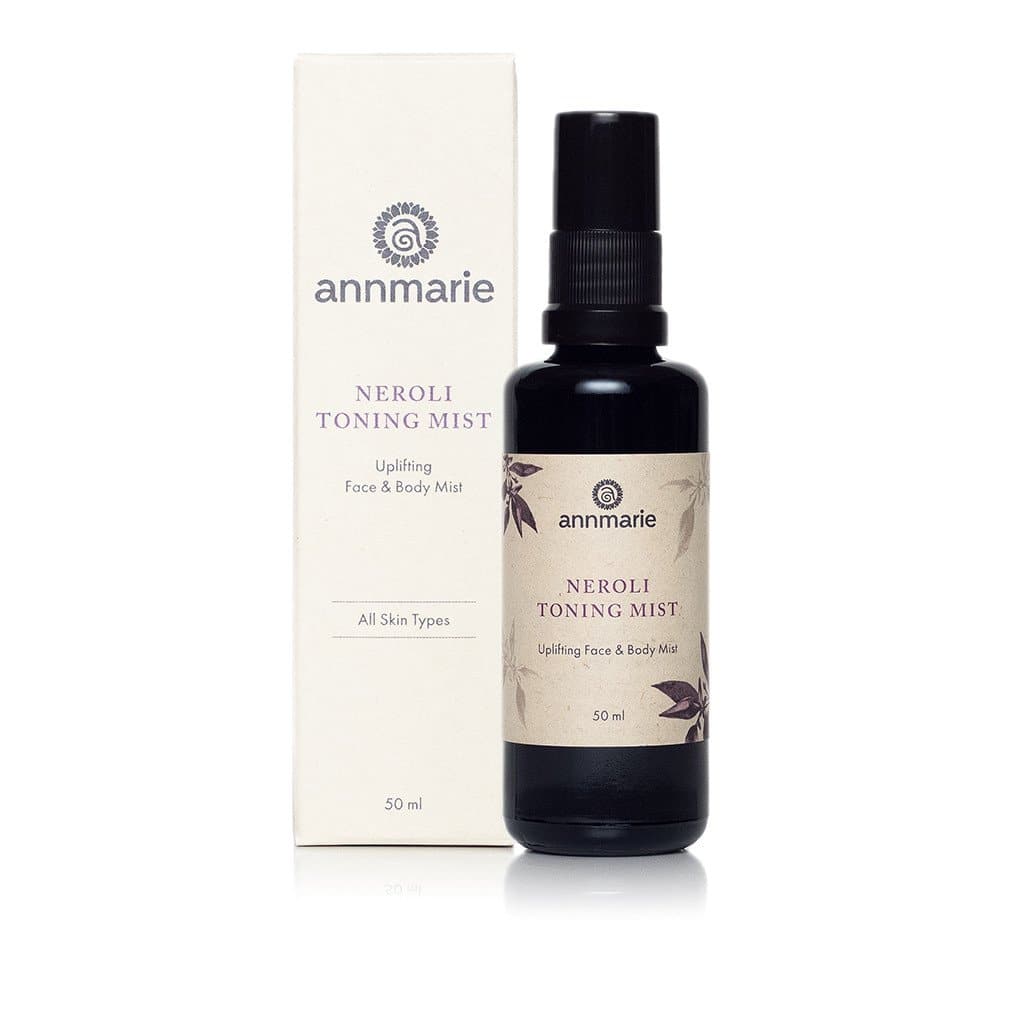 The Neroli toning mist is a soft aloe-vera-based hydrant that opens up your pores to encourage the absorption of serums and oils. It consists of a balanced mix of aloe vera, aspen bark extract and the key ingredient, which is the Neroli essential oil.
Neroli oil is obtained from fresh orange blossoms, ideal for sensitive skin types.
In addition to being an effective beauty product for vibrant, glowing skin, Neroli oil also benefits your spiritual health. It aids spiritual awakening, and it helps to invigorate the body, mind and soul.
The key function of the Neroli toning mist is that it helps to even out the complexing and remove dark spots.
It has a refreshing and flavorful aroma obtained from the sweet-smelling orange blossoms, which leaves an overall calming effect on your body. You can also spray the toning mist multiple times a day to maintain freshness.
If you want to purchase this product, you can get a 50ML bottle for $27.90.
Divine Woods – Luxurious Body Oil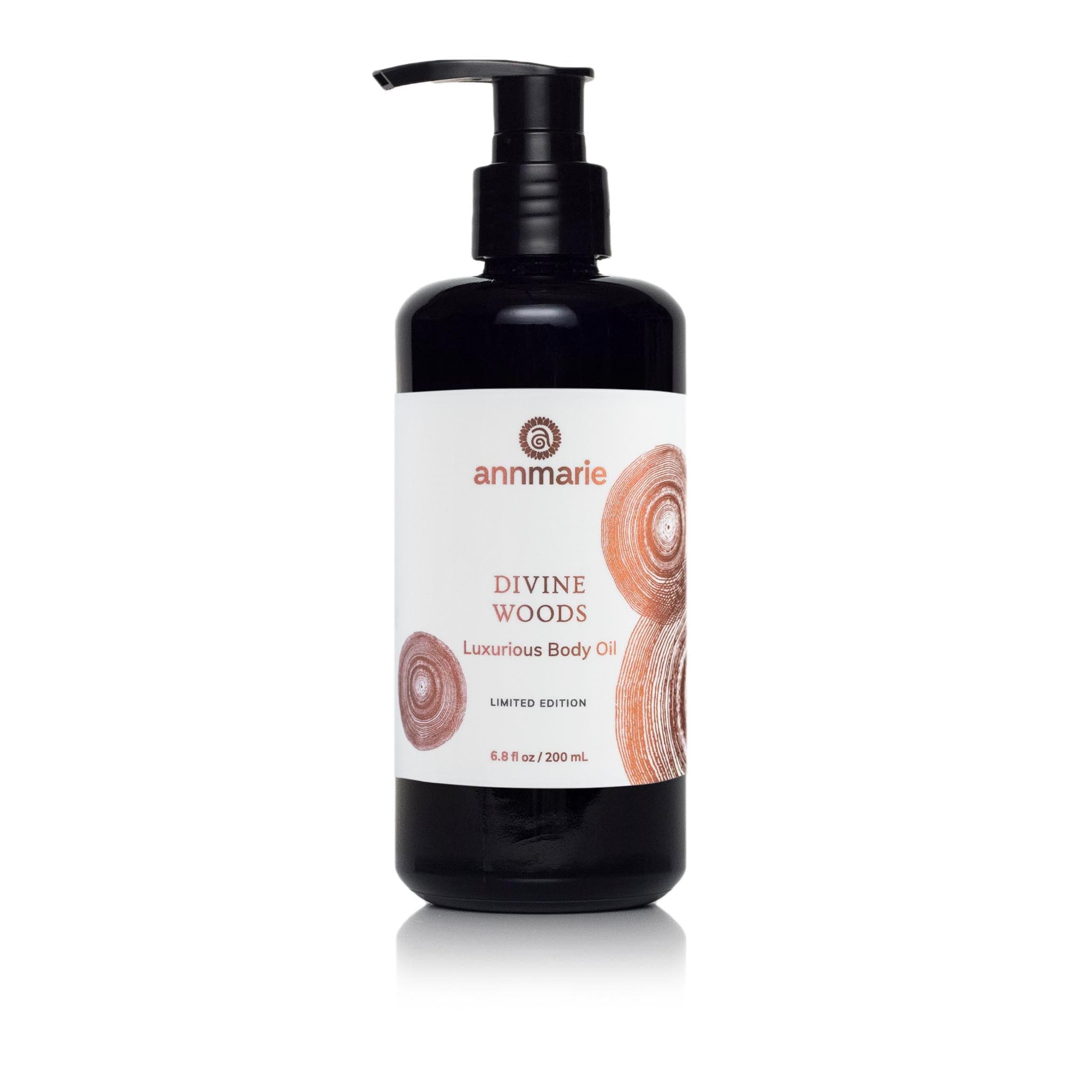 Annmarie offers a complete aromatherapy experience with the Divine Woods luxurious body oil. The oil serves as a body moisturizer that helps to nourish and moisturize your skin, leaving a warm, bright after-glow.
It consists of fifteen essential body oils like jojoba, coconut and olive to protect and effectively nourish the skin.
In addition, the body oil contains avocado alongside traces of sandalwood, Amyris, sweet myrrh, amber and Peru balsam accents to offer a musky, earthy fragrance.
Offering a combination of spiritual and beauty benefits, body oil is well-known for its grounding effects. It is also suitable for all skin types and oily and sensitive skin. A 200 ML pack also costs $60.
Oud Revele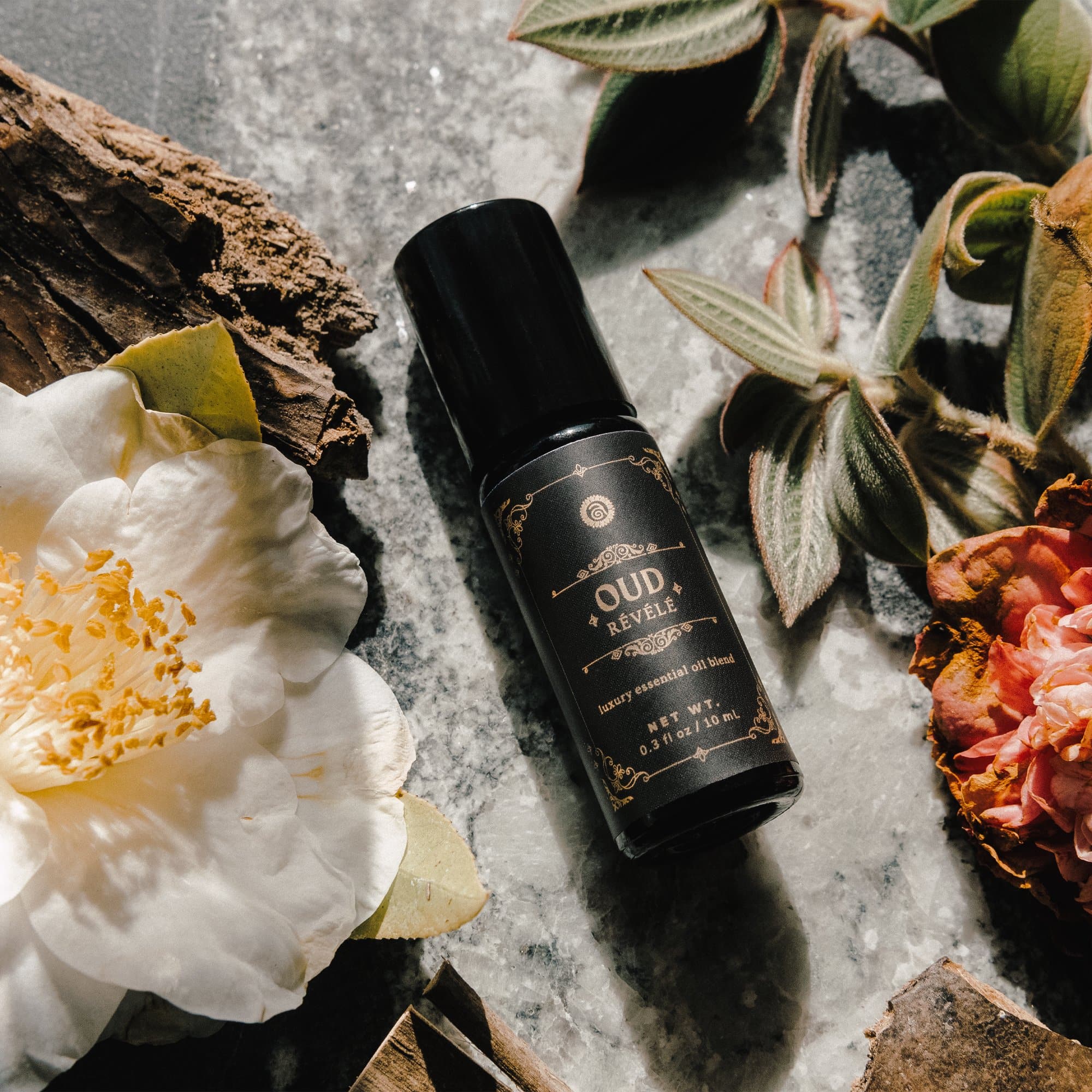 Besides providing natural skin care products, Annmarie offers an all-natural body perfume in its product line. The perfume is made from pure and organic natural ingredients to create a rich and luxurious fragrance.
In addition, it incorporates a blend of woody scents such as sandalwood and vetiver essential oils with floral accents from rose and jasmine petals.
The all-natural oud comes directly from a forest in Vietnam. It comes certified to show that it was legally imported. The oud and floral mix create a strong-lasting scent that remains even after a long wear duration.
It offers an intoxicating, heady musk that awakens the wearer's sense of freedom and excitement.
Oud Revele from Annmarie provides an adventure in a bottle and empowering grounding magic. It is perfect for all seasons and can be used as a statement perfume since it's suitable for various occasions.
The perfume is also suitable for all skin types, and it won't cause any allergies or skin reactions.
Annmarie Skincare Reviews From Customers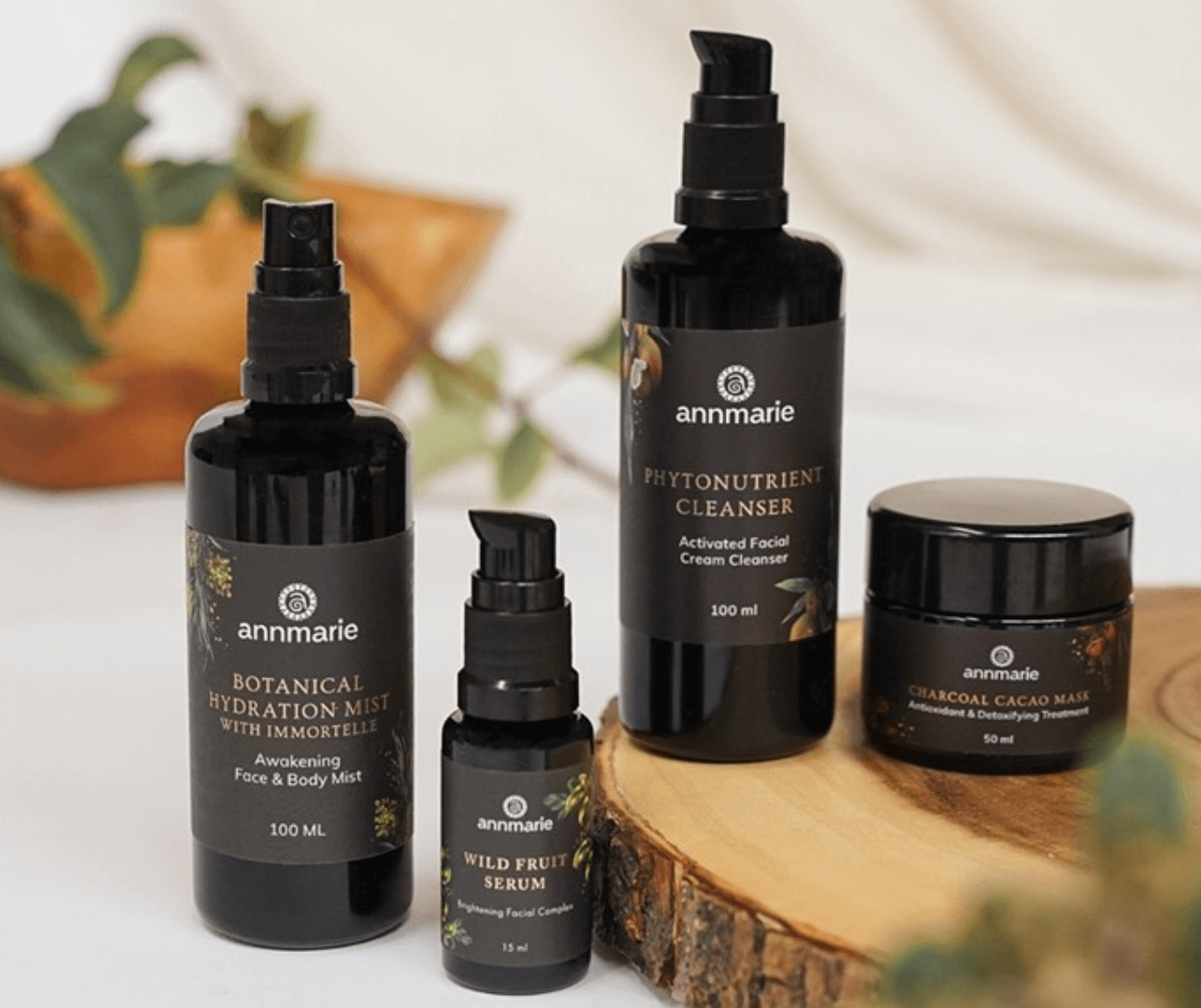 There are a lot of Annmarie skincare reviews from longtime customers and first-time users of the product lines. Review sites also have opinions about the quality of the brand's skincare collection and its effectiveness.
However, we will first examine the customer reviews available on the brand's website.
The brand's entire product line has 4.7/5 stars from 32,232 customer reviews, and 91% of reviewers vote that they would recommend it to other people. It also shows customers' comments on particular items from the skincare collection.
For the aloe herb cleanser, a customer stated:
"I tried this cleanser after using the citrus mint cleanser for a while. It takes off makeup with ease, but it doesn't leave your skin dry or stripped."
Another user's comment is, "This little bit? It really spreads easily and how it makes my skin feel clean and soft and moist is Fantastic." The reviewer also graded it excellent for the brand's effectiveness and scent.
On the anti-aging serum, most of the customers appreciate the effectiveness and quality of the product. The customers also left images to show the results of the serum after use, and they also appreciated the lovely scents of the product.
Most of the anti-aging serum users are individuals at ages 65 and above.
Popular Alternatives to Annmarie Skincare
More Customer Review
On Facebook reviews, Annmarie has 4.5/5 based on the feedback from 107 users. More than half commented that they would recommend the product to other people.
However, a few negative comments from customers who were not satisfied with the purchase and would not recommend it.
One customer had a bad allergic reaction to the Aloe Herb Cleanser and Kaolin Micro Exfoliant and had to visit the dermatologist as a result. Another user stated that even though they appreciated their products, its customer service was appealing.
And some users were charged but didn't receive their orders or refunds.
Overall, Annmarie has mostly positive reviews all over the internet, and the brand also has 4.5/5 ratings on Amazon. And out of all the customer reviews, only a couple of customers were not satisfied with the results.
You can, however, purchase a sample product to help you decide whether or not Annmarie is a good fit.
Surprisingly, there are no reviews on Sitejabber or TrustPilot.
Sign Up for Annmarie Skincare
Sign up for a personal shopping account to make your shopping experience effortless. You can also sign up for an Annmarie skincare subscription to get renewals at stated intervals so you can maintain a consistent skincare routine.
They also send newsletters with skincare tips and offers to help you save money.
Where to buy Annmarie Skin Care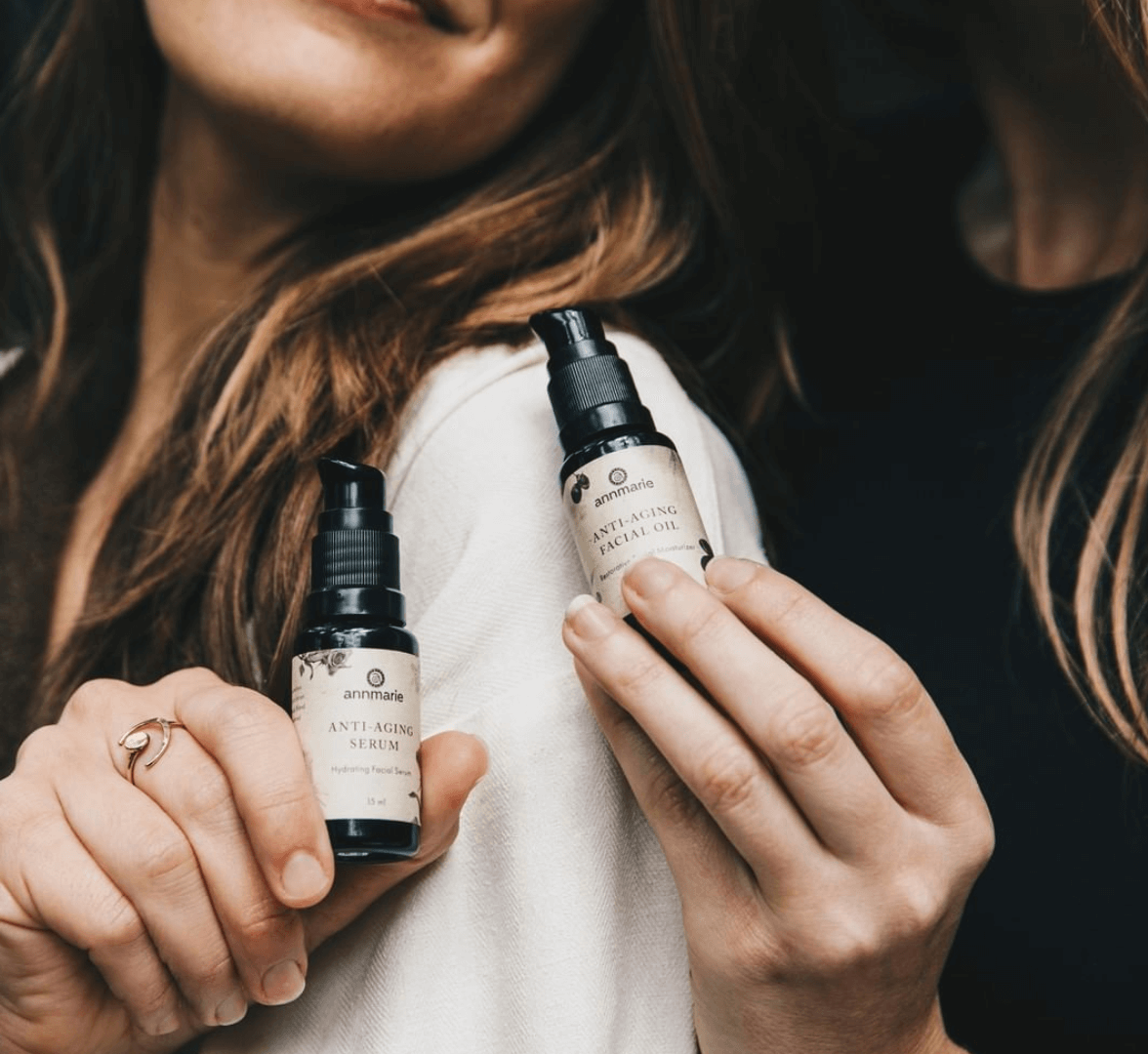 Annmarie Skincare products are available on the brand's website, where you can directly place an order with the company. They sell their products in batches and limited quantities, so you join the waiting list for the next batch when a product runs out.
You can also purchase from online retailers like Amazon, Allure, Be good organics and beauty habit.
Annmarie Skincare Shipping and Return Policy
Annmarie offers shipping for domestic US and international orders from their warehouse locations. They ship their products directly from the warehouse close to your location to ensure quick shipping.
For instance, US orders are shipped from their warehouses in Connecticut and Nevada. Here are more details about their shipping times:
Standard domestic shipping – Delivery takes 5-8 business days, and the cost of shipping is $5.99.
Priority US shipping – takes 3-5 business days, and it costs $11.95 for all orders.
Express shipping for US orders costs $21.95, and the order arrives after a maximum of 3 business days after shipping.
The shipping costs for international orders vary depending on the import and customs duties in a particular location.
Annmarie also offers a 30-day return policy that is valid when you receive your order. All orders come with a 100% guarantee.
You must also send back the products in the original or similar packaging to protect the item. All exchanges or returns take 5 business days to process, and they do not offer refunds for the original shipping cost.
Annmarie Skincare Promotions and Discounts
The company has a rewards program called the Wild and Beautiful Collective. Membership comes with many exclusive benefits with redeemable rewards and points. For instance, 2,000 points can be redeemed for a 20% discount.
Customers can also earn points by leaving reviews, third-party referrals, and birthday bonuses.
Contact Annmarie's Skincare
If you have further inquiries outside this review, then you can contact the Annmarie customer care representatives for support. The contact points include:
A phone call or text – 866.729.9434
Online Chatbox
Email – You can send them a mail stating your request directly from the brand's website.
Annmarie Skincare Reviews: Editor's Verdict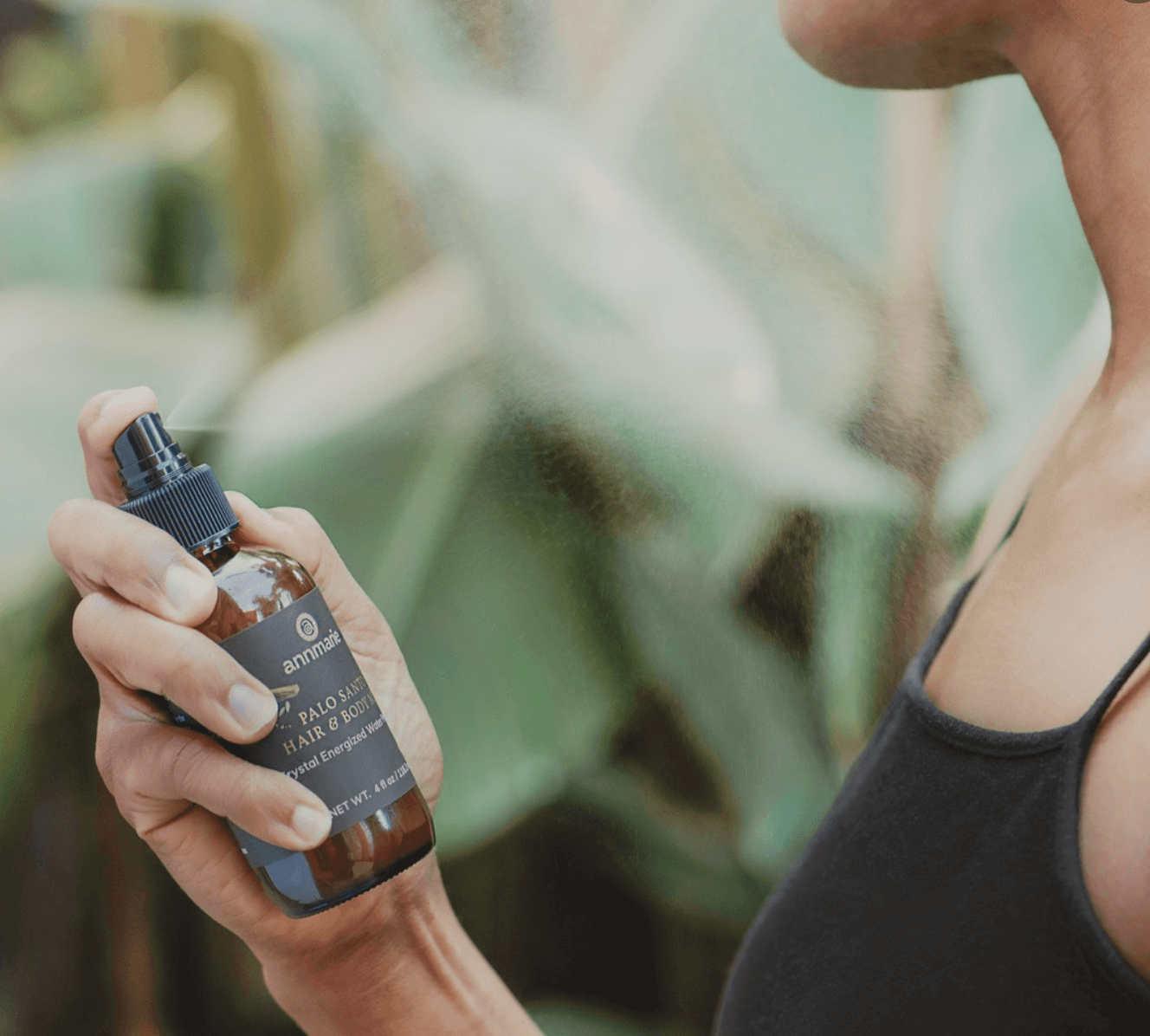 While many beauty brands focus only on your appearance, Annmarie offers skincare products for your spiritual and physical well-being. They use special hand-picked natural ingredients to create natural and botanically-infused skincare products.
In addition, their product line contains zero artificial fragrances, chemicals or any toxins.
They make anti-aging serum, cleansers, mists that moisturize, nourish and are suitable for all skin types. The brand has gained recognition as a mindful skincare line that creates beauty products from nature's finest herbs and essential oils.
Not only do they help you look good, but they also want you to feel good about yourself.
Based on all the annual Annmarie skincare reviews, we give the brand 4.5/5 stars for its effective products and top-notch service. We appreciate that they encourage people to switch from unethical labels to cruelty-free and eco-friendly beauty lines.
However, the brand's products are pricey, which discourages multiple users.
Still looking for an effective skincare brand to look healthy and attractive? Consider reading our top-rated skincare brand reviews of Beverly Hills MD, SolaWave, Prima Skincare, and Elemis.
Annmarie Skincare FAQ
Are Annmarie Skin Care Products Certified USDA Organic?
Annmarie skincare is not USDA organic certified because its goal is not to fit in but to ensure that they provide better and truly sustainable products.
They also spend their resources obtaining high-end organic ingredients rather than purchasing certification labels. And, they guarantee that their products are at least 95% organic.
Are Annmarie Skincare products on EWG?
Annmarie's skincare products are listed on EWG's Skin Deep Cosmetic Database. The company has a low hazard rating ranging from 1-2 on the EWG website.
They pride themselves in natural, wild-crafted, organic cruelty-free products. They also practice a non-GMO, fair trade production policy.
Do Annmarie products contain coconut oil?
Many of Annmarie's products are infused with coconut oil, such as:
Aloe Herb Cleanser
Citrus Mint Cleanser
Anti-Aging Eye Cream
Coconut Body Oil
Phytonutrient Cleanser
Kaolin Micro Exfoliant
Palo Santo Body Butter
Herbal Facial Oil for Oily Skin
Love Essential Oil Blend
Coconut Honey Mask
The brand also offers oils derived from coconut, including the Citrus Mint Cleanser and the Rosemary Peppermint Body Wash.
They provide a full list of ingredients on all their products so you can ensure that you're getting what is right and safe for your skin.
Does Annmarie have samples of their products?
Annmarie offers limited samples for some of their products that you can try out to see if it's a good fit for you. In addition, you can request samples at [email protected], where you'll also get advice on which products are best for your skin.
Unfortunately, however, they do not offer samples for all their products. Still, you can opt for available travel sizes as a sample.
Are Annmarie products vegan? Do they test on animals?
Annmarie offers vegan skincare products apart from the Illuminating Pearl Mask, Coconut Honey Mask, Anti-aging Eye Cream, Sun Love, & Antioxidant Lip Balm, which contain beeswax and honey.
The brand also has a low tolerance policy on animal testing, and it comes 100% cruelty-free. They are also Leaping Bunny certified to confirm the zero-cruelty standards.