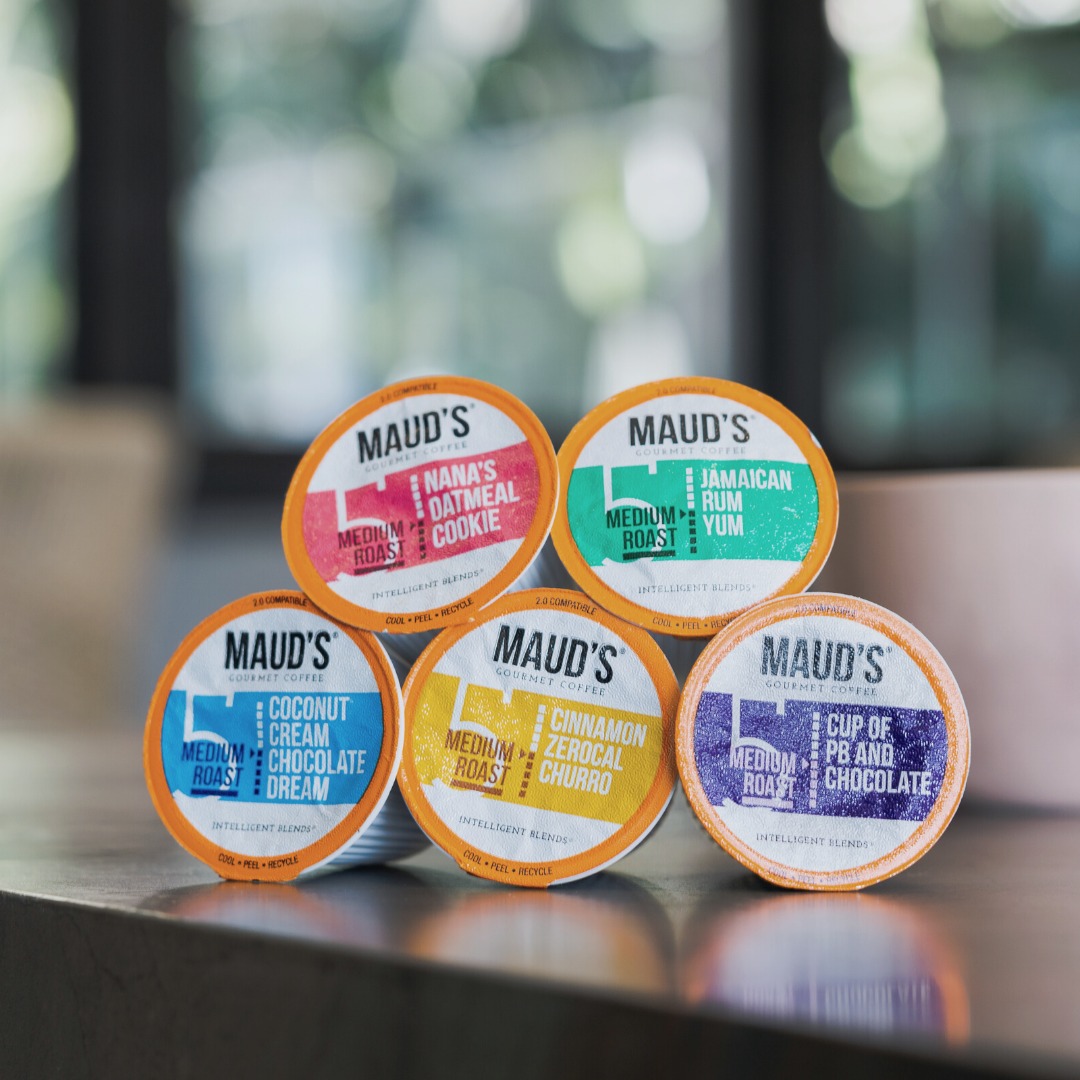 Nothing beats the feeling of waking up to a warm cup of tasty and quality coffee. There are numerous coffee brands in the market, making you wonder: Which is the best brand? Maud's coffee speaks quality because it is brewed from 100% Arabica beans. The following is a highlight of Maud's Coffee reviews from customers, its top-selling products such as Maud's coffee pods, subscription plan, return policy, and more to help you determine if you will add their coffee to your pantry.
About Maud's Coffee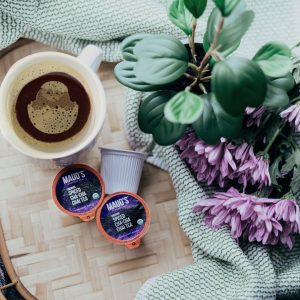 Coffee is an essential beverage in our current world. It is a blessing to get a coffee brand that connects with your palette; it will be a double blessing if this coffee is available at an affordable price.
Maud's coffee is an environmentally friendly coffee made from recyclable pods. Their pods are made from biodegradable and recyclable materials. 
Maud's Coffee is a family-owned business located in San Diego, California. The name of the business is derived from the owner's two daughters' names: Maddie and Audrey. These names are combined to form Maud. 
The company started as a family business, and over the years, it has grown into a reliable brand recognized in the coffee market. They have the best quality coffee in the US. 
A simple dinner conversation resulted in the birth of one of the best coffee brands. Michael, his wife, and their two daughters were having dinner, and they were discussing their new business of producing coffee pods. Michael's wife suggested they start a family business. The family was inspired to combine their daughters' names and come up with a unique name for their coffee brand. 
Today, Maud's Coffee brews and blends the finest coffee; a cup of Maud's Coffee is not like other conventional coffee brands. A sip of this coffee will make your world stand still, and you can enjoy every second sip by sip. 
More about the brand
All their products are made from 100% solar energy. They manufacture their coffee with Intelligent Blends to create the highest quality coffee and tea. 
The company uses recyclable pods, and its goal is to be carbon neutral by 2024. Numerous popular media platforms have featured the brand, such as Business Wire, CNN, and BuzzFeed. The brand has more than 110k followers on Facebook and 10.9k on Instagram. 
Before we jump into Maud's Coffee reviews from its customers we'll fill you in on the brand's pros and cons.
Pros
Free shipping for orders above $30

The company offers a wide variety of flavors and brew formats

Their pods are recyclable

All-year-round promotions and discounts are available to help you save money

Organic, gluten-free, and allergen-free products

They have a good reputation for quality customer service and shipping
Cons
No returns and exchanges because all sales are final

There are a few issues with the compatibility of the pods with Keurig machines

The company does not offer expedited or overnight shipping
Maud's Coffee Products Review
Maud's Coffee is of exceptional taste because it is made from 100% Arabica coffee beans. They offer coffee subscription services so you never have to worry about running out of coffee. We will analyze some of the best-selling coffee brands the company offers. These are the gourmet coffee pods you need in your life!
Maud's Coffee Dark Roast Coffee Pods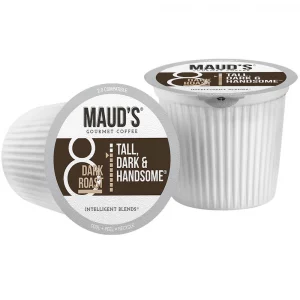 Maud's dark roast coffee pods are dark brown with an oily surface. Dark roast coffee pods have lower acidity, deep flavors, and a heavy body. They make a robust and bold coffee blend. 
The Tall, Dark, & Handsome is a heavy body, gently and smooth textured coffee; it is the most popular dark coffee blend. Furthermore, the coffee has a distinctive sweet aroma and is rich in flavor. It is toasted with nuts to spice up the flavor. You can get this coffee for $29.54.
The French Roast From The Coast is a bold coffee with an incredible taste. French Roast Maud's Coffee pods are roasted to an enticing dark brown blend coupled with a delicious burnt undertone. For instance, this dark coffee is flavorful, shiny, and low on acidity.  
If you love espresso, Maud's Espresso Dark Roast Coffee Pods have an incredible taste. The coffee is roasted to perfection, and this particular coffee has antioxidants that will boost your immune system. You can drink it every day as long as you don't overindulge. We'll talk about more of the Maud's coffee pods in case the dark one is not for you. 
Maud's Coffee Medium Roast Coffee Pods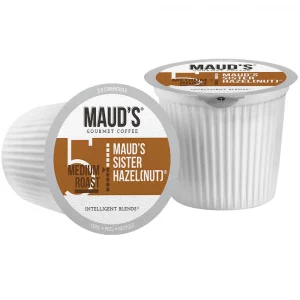 Next up in our Maud's Coffee reviews is the medium roast. Medium roast coffee pods are brown and are rarely oily on the surface, it's one of the best quality coffee the brand has to offer. This coffee has a rounded flavor profile. They also have a medium body and acidity. You'll be wanting to look for the Sister Hazelnut flavor which is one of the best sellers. Another great flavor is the Dreamy Creamy Salted Caramel taste.
Furthermore, the Kona Coast is a top seller, and it is a rich medium roast coffee embedded with a smooth body. Kona Coast coffee is rich and low in acidity. Moreover, the coffee beans have been roasted to dark brown beans covered in chocolate-nutty undertones. 
Do you love brands that have the best decaf coffee? The company has a series of Maud's Decaf Coffee; a classic example is the brand's Decaf Medium Roast Coffee pods – the Mellow Mood option. As the name suggests, a cup of this coffee will put you in a mellow mood. 
Decaf medium roast is one of the highly favored Maud's decaf coffees. A cup of this coffee is characterized by a full syrupy sweet berry acidity that ends in a chocolaty body. It's every coffee lovers dream. 
The In the House Blend – Maud's Medium Dark Roast Coffee Pods is another top seller. It is a classic American coffee, and it's a blend of South American richness and medium-bodied coffee. A cup of this coffee will jump-start your day in the right direction. 
Maud's Coffee Light Roast Coffee Pods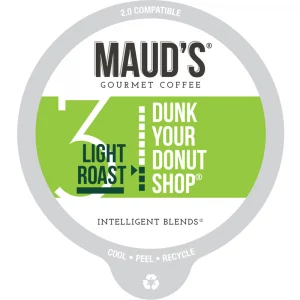 Light roast coffee pods are light brown and have no oil on the surface of the coffee beans. They often have a mellow body, crispy acidity, and bright flavors. 
The Dunk Your Donut Shop is a unique coffee blend. The coffee beans have been lightly roasted for a perfect mellow taste. A cup of this coffee will leave you with a clean and crispy aftertaste. 
Maud's Breakfast Blend Light Roast Coffee Pods, the Bubbies Breakfast Blend option, is another top seller. It is a delightful coffee made from blends of caramel sweetness and citrus top notes. This coffee is a rich beverage, meaning you can drink it any time of the day. If you are having a slow day, Bubbies Breakfast Blend K-Cup∞ is your go-to coffee. 
You can also try Maud's Coffee K Cups; a premium choice would be Maud's Decaf Flavored Coffee K-Cup. This coffee is an assortment of six delicious gourmet flavors. It is made from 100% Arabica coffee beans and decaf using the Swiss Water Process. The coffee beans are roasted in California using solar energy. 
Maud's Coffee Ground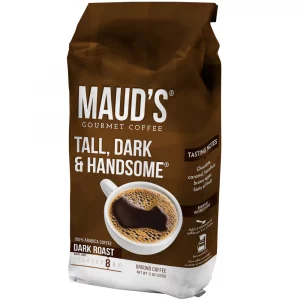 Ground coffee is brewed coffee derived from roasted green coffee beans. The whole coffee beans here are ground into smaller particles, ready for brewing at home. The brand has a wide collection of your favorite Maud's Gourmet Coffee packaged and ready for brewing at home. This ground coffee is rich in flavor and full of aroma, and you can prepare it in different ways depending on your preference.
Whether you are a cold-brew carafe, a French presser, a pour-over pro, or a coffee pot purist don't worry, Maud's Coffee has got you covered. Your brewer shouldn't face any issues with this delicious coffee. 
Maud's Dark Roast Ground Coffee (Tall Dark and Handsome). It is the most popular ground coffee blend. This coffee is gentle, heavy-bodied with a smooth texture. A cup of this coffee is full of flavors and sweet aroma. To add the flavor, it has added notes of toasted nuts. You can get it for $10.99.
Maud's Half Caff Medium Roast Ground Coffee (World's Best Half Caff) is a half caffeinated blend. This ground coffee is a blended mixture between Tall Dark & Handsome and Mellow Mood Decaf. The two coffees are blended to produce gentle and heavy-bodied coffee. If you sip this coffee, it will leave you with hints of toasted nuts, sweet berry, and a chocolaty feel. 
You might be even wondering "How does the brewing process affect the flavor of Maud's Coffee?" That's a great question. The brewing process does have a significant impact on the flavor of Maud's Coffee.
The following play a role and affect the flavor of the coffee:
type of beans used
the grind of the beans
water temperature
brewing time
type of filter
Although out of the 5 probably the most important is the type of beans used to make the coffee. Thankfully, Maud's coffee uses a wide variety of beans, therefore your coffee will have a unique flavor.
Maud's Coffee Subscription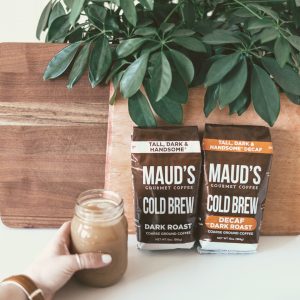 Have you heard about Maud's Coffee and tea subscription program? You can join the Very Important Brewers (V.I.B.) and get your Maud's Coffee delivered to your home every month. Maud's coffee is considered to be one of the best brands in the USA. 
Your work will be to select your favorite coffee and tea, and the company will handle the other details that pertain to shipping and delivery. First, you select your preferred coffee and tea brand plus the size. Next, select your V.I.B. subscription and the frequency. Add it to the cart. Finalize by checking out, and the company will do the rest. 
Does this sound like something you would want to try out? Don't hesitate. The V.I.B. program has loads of benefits. They include:
 V.I.B. subscribers enjoy 25% off in their first month and 15% off in the subsequent month.

Customers enjoy convenience: You can never run out of your favorite tea or coffee, as the company will deliver your orders to your doorstep every month.

V.I.B. subscribers get discounts which they enjoy every single day.

The program is flexible: You can change the flavors and frequency of delivery whenever you want. If you want to skip delivery in a certain month, just inform the company -the customer sets all the rules.

Exclusive offers: All teas are on exclusive offers for V.I.B. subscribers. You will also be the first to be updated on special deals, new products, and other sweet surprises the company has for you.
Maud's Coffee Reviews from Customers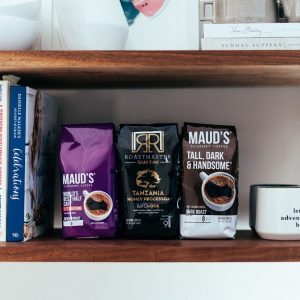 We checked Maud's Coffee reviews to see what buyers had to say about their flavored coffees and the brand itself. Our team found numerous positive comments on the company's website and on Amazon.
We noted that the coffee brand is popular among coffee enthusiasts because it is high-quality coffee. Everyone who desires to wake up to a refreshing cup of hot coffee prefers Maud's Coffee. Whether that's a medium dark roast, or tall dark or even the decaf coffee, they seem to love it. 
Most of the reviews appreciate the company for using recyclable pods. Maud's Coffee pods are made from biodegradable and recyclable materials. The company also makes organic coffee loved by many. They have great pricing making it affordable and easy to access. 
One customer left feedback on the company's website and admitted they are addicted to Maud's Coffee because it is full of flavor. The customer stated that Maud's coffee has the best decaf coffee full of flavors. She ordered the variety pack flavored decaf, which she sips any time of the day the body feels like taking coffee. They also appreciated their shipping policy, which has made it easy for them to access their favorite coffee.  Another favorite brand of customers is Bulletproof Coffee. 
Popular Alternatives to Maud's Coffee
Further customer reviews
On Amazon, customers are generally satisfied and happy with the coffee brand. Many customers have left a five-star rating on the top-selling coffee collections. One buyer described the product as a single-serve coffee. They loved how it has a strong flavor and a great taste.  
The customer prefers flavored coffee like hazelnut and vanilla roasts, and they said they were content with the products the brand offers. They also promised to come back for more. 
Another customer bought the Variety Pack with different flavors. They were concerned because they thought the money they paid would be worth it. They described a situation where one of the pods burst in the Keurig coffee machine and left the kitchen in a messy state. The customer advised the company to check the compatibility of the pods with Keurig machines. 
Sign Up for Maud's Coffee
If you want to be part of Maud's family, visit the company's website and click on the Login button. If you are a new customer, hit the Create Account button and fill out the registration form. You'll have to provide your first and last name and email address. 
Do not forget to join Maud's club; subscribe to the club using your email address and be among the first customers to receive discounts and news of new products. You will get a 25-percent discount on your next purchase when you subscribe.  
Where to Buy
You can purchase Maud's products directly from their official website ShopBlends.com. You can also buy some of their products on Amazon.
Maud's Coffee Shipping and Return Policy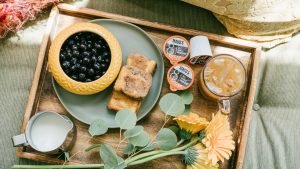 Shipping:
The company ships to Canada and the United States using Priority Mail and USPS First Class. Allow 5 to 10 business days to receive your order. Duration depends on the shipping option you choose. 
Keep in mind that shipping may take between 10 and 15 business days during high peak seasons or holidays. Currently, the company does not offer expedited or overnight shipping. 
Return Policy:
All beverages are not eligible for returns and exchanges. Sales on all beverages and other consumable products are final. 
Brewers are also not eligible for returns and exchanges. They may be replaced if there is a manufacturer's defect. If there is any defect, contact the company within 60 days of purchase. 
If you receive a damaged order, contact the company within five business days from the time you receive your order. The company will assist you and replace the damaged item.
Promotions & Discounts
The company offers several promotions and discounts to customers who want to enjoy coffee and save money. They include:
Subscribe and save 25% off your first order today

 Enjoy a 20.4% off site-wide sale

 Get 20% Off Storewide at Maud's Coffee & Tea when you use a code at checkout

Customers enjoy free shipping on orders worth $30 and above
You can also get Maud's Coffee coupon codes online and use them at checkout to buy their products at a discounted price. 
Contact Maud's Coffee
In case you still have any questions after reading our Maud's coffee reviews, it's easy to contact the company. Maud's is a customer-oriented company, and they would love to hear your feedback. If you have any concerns about their coffee brand, you can reach out to them via the chat feature on their website or call them on their phone number 833-4BLENDS (833-425-3637). 
You can also send them an email at [email protected] or use the contact form on their site. Alternatively, you can send Maud's Coffee support team a message via their Instagram or Facebook page.
Maud's Coffee Reviews: Editor's Verdict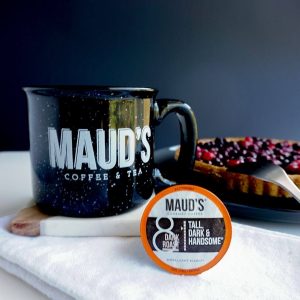 If you are a coffee enthusiast looking for tasty and quality coffee, head over to Maud's Coffee. From the many positive Maud's Coffee reviews our team found, we can conclude that this company is worth checking out.
They have a wide variety of 100% Arabica coffee offered in grind, pods, and instant forms. The company follows ethical and sustainable practices and offers loads of discounts. This review highly recommends their products to anyone who loves tea and coffee. 
Are you a coffee lover? Check out other brands that produce amazing coffee such as Eight Ounce Coffee, Cardiology Coffee, Angelinos Coffee, and Death Wish Coffee.
Maud's Coffee FAQ
What is the caffeine content of Maud's Coffee?
Maud's coffee is a dark roast coffee with a caffeine content of approximately 2.3% by weight.
Are Maud's coffee pods recyclable?
Yes. Maud's is big on promoting sustainability: the company uses its award-winning innovative recyclable pods. Their filters, lids, and pods are made from biodegradable and recyclable materials.
What process does Maud's use for decaf coffee?
Maud's uses the Swiss Water Process to decaf all their coffee blends; Swiss Water Process is a non-solvent method used to decaf unroasted coffee beans. The company uses the CO2 Decaffeination Process for its Roastmaster Reserve Organic Decaf.
How should I store Maud's Coffee?
When it comes to storing your coffee beans, you should always store them in an airtight, opaque container at room temperature. You do not want them to absorb any flavors, which is why it's crucial to have it placed where there's no smell from other foods. A great place to store them is if you have a cabinet above your stove. In case you do not have anywhere cool enough to store the coffee beans, just put them in the freezer in a sealed bag. Must be used within a month!
What are the different types of coffee offered by Maud's Coffee?
There are a few different types of coffee offered by the company:
drip coffee
espresso
cappucino
latte
iced coffee
Each of these has a unique flavor and brewing method. Drip coffee is made by pouring hot water over the coffee beans and it is the most common.
Where is Maud's coffee made?
Maud's confirms that its dedicated factory locations are in San Diego and New York. They skip the wholesalers and retailers and deliver the coffee directly to you from the factory.