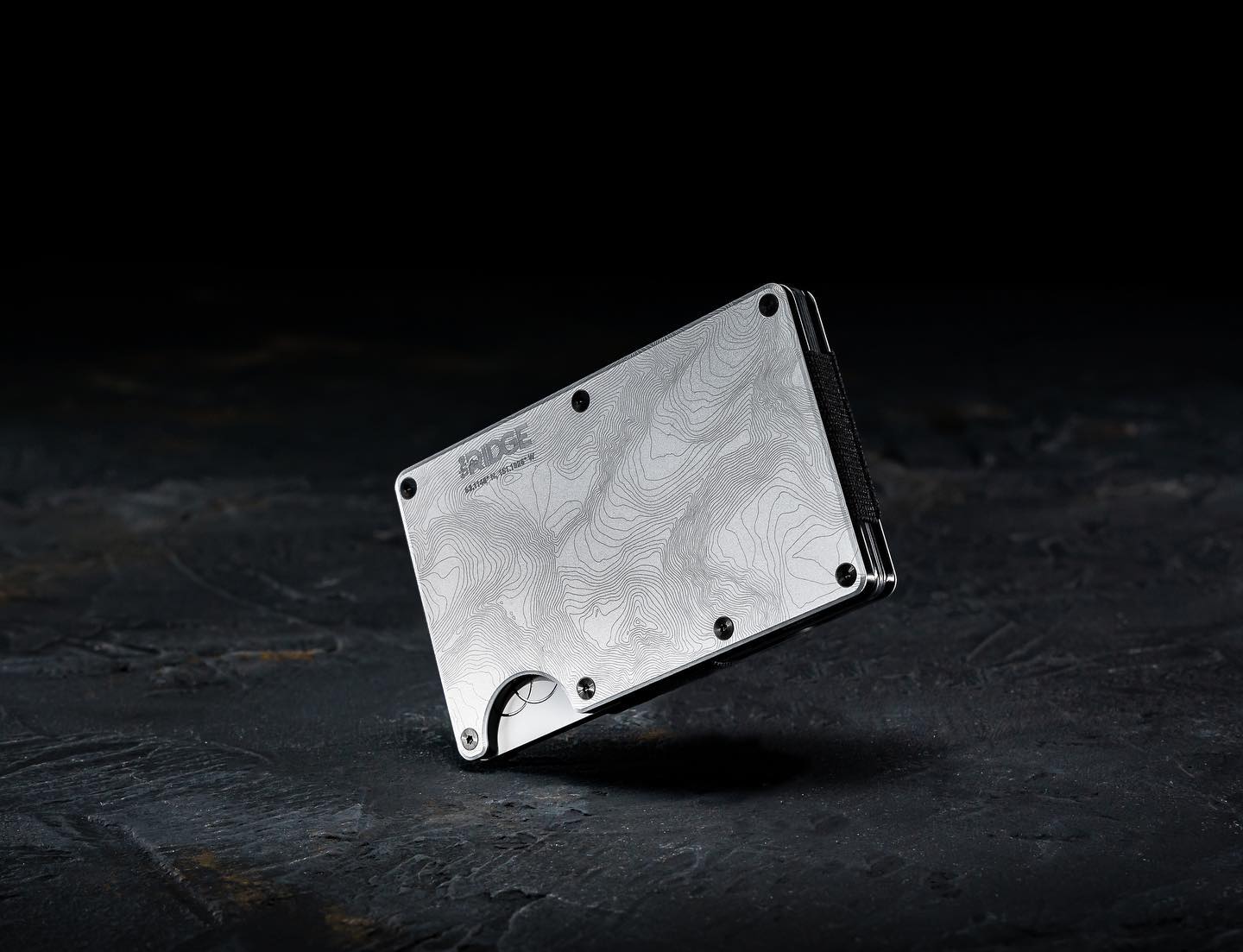 Being a modern-day style icon involves prioritizing comfort and allowing your accessories to stand for more than just functionality. Your clothing and accessories express your personality and speak on your behalf. Hence, it's important to choose the best wallet brands that can help to spruce up your look and allow you to stand out on any occasion.
Finding a brand that offers functionality, quality, and style in one product may be hard when buying wallets. However, our list of the best wallet brands will match you with premium-quality brands that are sophisticated and affordable. You'll also discover a wide range of options, from luxury designer wallets to minimalist trend options.
10 Trending Wallet Brands
In addition, we'll also explain what to look out for when you're buying a wallet for yourself or a loved one. It's time to start investing in high-end pieces that keep you from looking average at a business lunch or date. Keep reading to find out more below!
1. Ridge Wallet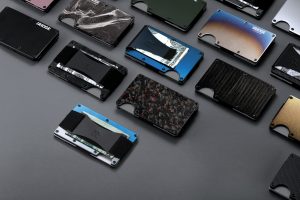 If you're searching for the best wallet brands for men, the Ridge Wallet is one of our top picks. The company was founded by father and son duo Paul and Daniel Kane through a Kickstarter campaign in 2013. They exceeded the initial goal, and the company has since grown into one of the top wallet brands for men.
Ridge wallets are well-known for their space-saving, sleek, and stylish designs that set them apart from other products in the market. The brand is known for its modern, one-of-a-kind wallet made from metal instead of traditional leather. It also offers an in-built RFID-blocking feature to prevent theft through a card reader.
The brand values quality and provides a functional wallet that can hold all your necessary items. The Ridge wallet is available in aluminum, titanium, and carbon finishes. It also features designs in premium materials such as stainless steel or 18ct gold plating. Boasting a classy, minimalist design, it comes in 8.6cm width x 5.4cm height dimensions.
Additionally, the Ridge wallet features a patented dual-track design where you can push out the cards through the side-cut opening. The wallets are strong, durable, and scratch resistant with a fantastic metal finish. You can also get a money clip or elastic cash strap for extra safekeeping, and the brand also designs a cavity tray for their wallets.
2. Ekster
Ekster is among the most reputable men's wallet brands that create reliable and sustainable staple pieces in the accessories industry. Its premium and sleek designs for wallets, phone cases, and other accessories are known. The brand is part of the luxury wallet brands that pioneered the smart wallet revolution.
The founders' Rick Scharnigg and Oliver Momma, were not satisfied with the substandard EDC wallet space in the industry. They launched Ekster in 2015, taking inspiration from magpies. Ekster boasts slimmer and sleek weather wallets with high-end features and innovations that stand out from other brands.
It caters to busy, on-the-go individuals who seek simple but sleek wallets that help to make your daily transactions easier. The brand boasts reliable and sustainable craftsmanship that is the perfect alternative to large purses and laptop cases. Ekster's bi-fold collection features limited edition, aluminum, recycled and classic versions.
The Ekster Parliament and Senate wallets are among their best seller products. It features a built-in aluminum cardholder with RFID blocking technology to prevent skimming. You can also use the wallet tracker, which means you can always find your wallet whenever it goes missing. Ekster wallets also come in various colors and design options to suit individual needs.
3. Vaultskin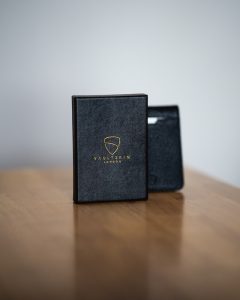 Vaultskin has established itself as one of the best wallet brands for women with its stylish and functional designs. It is among Britain's finest luxury wallet brands that offer a simple, elegant, and sophisticated design. The company comprises a team of young creatives pursuing excellence with usable and trendy designs.
In addition, Vaultskin is known for maintaining high-quality standards in all its wallets and phone accessories. The latest product is the Vaultcard option, which offers RFID protection to prevent identity or financial theft. Vaultskin has also been featured in Vogue, Trendhunter, Wired, and YD for its stylish functionality and simple designs.
Vaultskin's smart wallet product features various designs and color options. The Notting Hill Zipper wallet is a bestseller item and makes up an excellent gift option for mother's day. It comes in a sleek, compact form that can efficiently fit into any trouser or jacket pocket with black, brown, cognac, and alpine green color features.
The Vaultskin leather release strap is a signature feature that ensures quick access to cards and retracts automatically back into place. It is a multi-purpose wallet that can hold up to 10 cards with a secure compartment for a sim card, memory stick, and other small items. Overall Vaultskin wallets prioritize keeping your personal information safe from tampering.
4. Bankr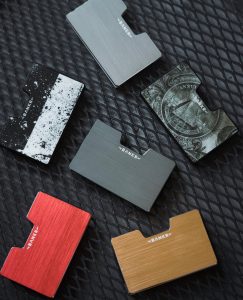 Since Bankr launched its first product range, including the Stack Wallet, it has established itself as one of the best wallet brands for men. Bankr wallet's eye-catching designs are perfect for a stylish modern man who wants to stand out from the norm. The brand utilizes high-quality materials and offers a wide range of stylish colors.
Bankr provides a sleek design instead of the bulky traditional wallets that bulge out of your trouser and jacket pockets. It strips off unnecessary features such as pouches, zips, and other extra packs in favor of the minimalist trend. The brand seeks to create evolving, innovative, groundbreaking designs, to suit a modern lifestyle.
The Bankr Stack wallet is made from two metal plates connected by an elastic material on each side. It offers flexibility and helps you to avoid elasticated bands. This all-metal design also comes with a brushed finish, and it's available in a wide variety of colors, including grey, black, silver, gold, red & blue.
If you're looking for a functional, sleek wallet that can hold all your essentials, then the Bankr Stack is for you. It doesn't allow you to carry many items aside from the regular cash and cards. And, you can hold up to 15 cards with a capacity to expand to hold more cards than you wish and a free attachable cash clip to secure your money.
5. Aviator Wallet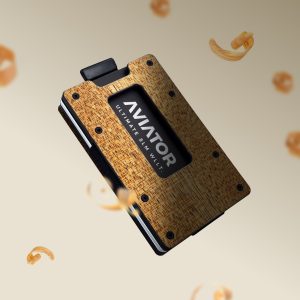 Aviator Wallet ranks high on the list of the top wallet brands for men. It is aesthetically pleasing, with strong innovation and high-quality standards that set it apart from other brands. The brand encourages you to take only what you need when you go out, swapping out the bulging wallets for a sleek, compact, slim wallet.
Aviator's products are manufactured in the company's factory in Germany, from where it ships the wallets to warehouses worldwide. The Aviator slim wallet is made from high-end aluminum, carbon fiber, or pure titanium fabrics. You can also customize the individual settings based on the accessories you select.
In addition, Aviator wallets are handmade and assembled by a team of young designers with innovation and modern ideas. The slim wallet can hold at least 20 cards that you can easily access with the pull strap. There is also a coin holder compartment to hold small change, and your wallet can hold a single key.
The brand prioritizes durability, functionality, and elegance in all its designs. It encourages you to adopt a modern wallet design instead of the old-fashioned thick leather wallets. Aviator wallets are suitable for both men and women. It also comes in various colors and designs to suit specific preferences.
6. Groove Life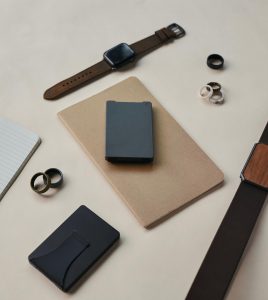 When it comes to accessories, Groove Life is among the top brands ruling the game in this industry. The company creates stylish and functional accessories to accompany you on your outdoor adventures. Following its Kickstarter success, Groove Life prides itself on being among the best wallet brands in the industry.
Groove Life is a straightforward brand that is transparent about the materials they use, and the reliable customer service team can clean up any questions you might have. The Groove wallet is marketed as "The Last Wallet You'll Ever Need." It utilizes premium materials made with precision and a defined metal mechanism.
The Groove wallet features a slide handle so you can easily grab the cards you need and slide them back in. Many customers also appreciate the money clip feature with the black anodized, high-strength 6063 aluminum alloy spring clip. And it comes with a detachable leather sleeve for holding cash and two extra cards.
7. Grip6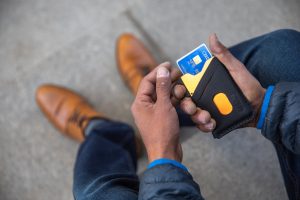 Grip6 deserves mention on our list of the best wallet brands for men with its collection of minimalist, durable and stylish pieces. The brand is dedicated to sourcing its materials and resources from local US markets. Though the brand's headquarters are in Utah, it ships its products worldwide to reach international markets.
The Grip6 wallet series is famous for its contemporary style, intricate craftsmanship, and high-quality materials. It embraces a robustly modern look with slim innovation and careful stitch detailing along the cover. In addition, the wallet uses a trigger mechanism that helps to pop out cards for quick and easy access.
It has a lightweight build with leather covering that serves as a protective sleeve and is easily replaceable. Inside the wallet is a metal form for extra protection and to suit the modern-day, contemporary aesthetic. You can also choose from various metal designs, including gunmetal, blue steel, ninja, foxtail, ember, and bronze.
There are also more adventurous patterns such as the Walnut Woodgrain, Copper Antique, and the American flag. You'll also love the protruding metal loop so you can attach your wallet to your carabiner or any handle. In addition, the Grip6 can efficiently hold 6-8 cards, but it has a total card capacity of 13-16.
8. Madewell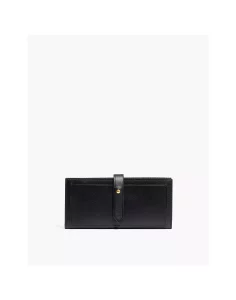 Madewell is a US-based clothing line well-known for its unique, ethically-sourced creations. It offers elegant, minimalist wear that is affordable and appeals to a contemporary modern lifestyle. In addition, it is widely recognized as one of the best wallet brands for women, with a wide range of wallet designs.
One of the bestsellers is the Madewell leather post wallet. It incorporates a streamlined, functional, well-crafted innovation discarding unnecessary features to prevent bulkiness. The Leather Post wallet is sleek and comes with 8 card slots, including 2 interior slip pockets where you can hide your cash or any item for safekeeping.
The leather is derived from a sustainable tannery Gold Rated by the Leather Working Group (LWG). It also has a softly worn waxed finish, tab, and collar stud closure. This wallet is stylish and perfectly suited for a sophisticated look. You can also choose black and brown color options to match your preference.
9. Kaai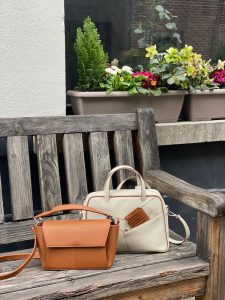 Kaai is a luxurious household name in US fashion publications and is often mentioned on the list of the best wallet brands for women. The California-based company was founded in 2017 by Ine Verhaert and Helga Meersmans. The duo opened Kaai to meet the needs of the modern-day working woman.
It is a high-end fashion outlet that creates stylish and trendy work bags that can complement an active lifestyle. The brand draws inspiration from the successful modern woman and provides function bags that empower women to follow their ambitions. The Kaai wallet collection also features the most high-end and groundbreaking innovations.
You can choose from the large wallet pieces or the small wallet series with a wide range of color options. The large wallet can hold all your essentials and more without bulging or getting too heavy. Meanwhile, the small wallet will carry all your cash and essential cards, but it won't carry many keys or much change without any bulkiness.
10. Bellroy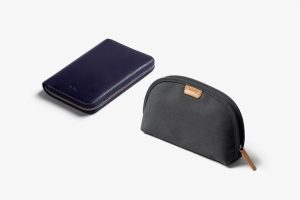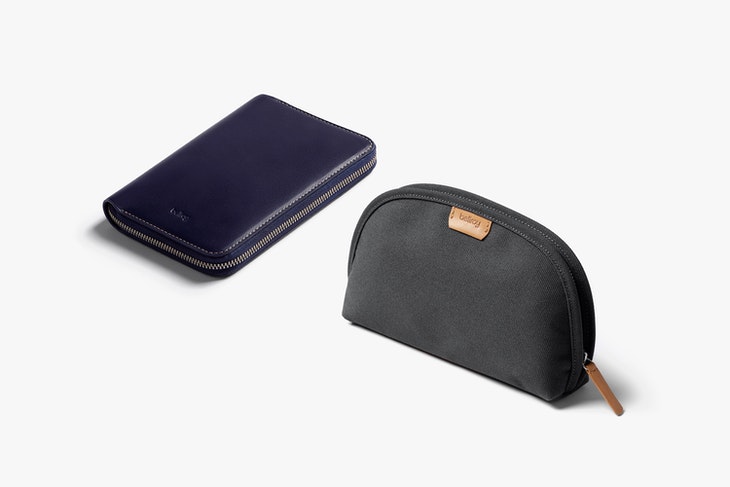 Bellroy is one of the few luxury wallet brands with sustainable manufacturing approaches. This stylish Australian brand is known for producing eco-friendly pieces made from recycled and plant-based materials. The brand offers a streamlined, durable, lightweight design range that appeals to the minimalist look with many stylish features.
It offers a classic three-fold design with eco-tanned premium leather to reduce waste and ensure functionality. The Bellroy billfold wallet series can easily hold cash and store up to 12 cards. We also appreciate the key wallet and coin pocket features to carry these extra items without causing bulkiness. It is a timeless design with RFID technology for extra protection.
Top Wallet Brands: Editor's Verdict
You need to catch up if you're still looking at the traditional, bulky leather wallets that bulge out of your pants and jacket pockets. Fortunately, you now know what to look out for in the best wallet brands. Therefore, you can switch to trendy, minimalist options that offer a classic robust look with a more contemporary style.