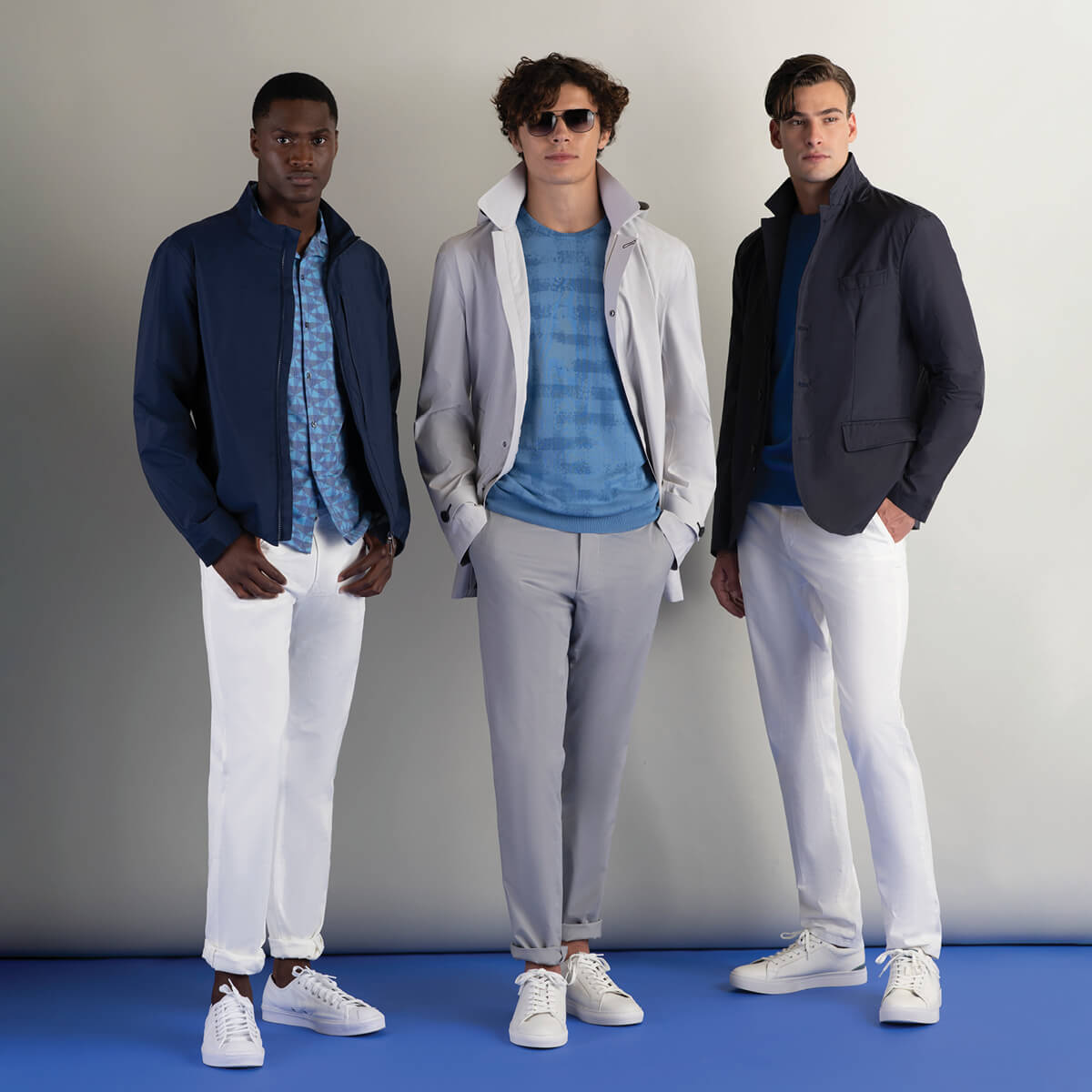 Since its inception, Bugatchi has been creating luxury menswear with a meticulous eye for detail and an emphasis on comfort.  This is what we're going to inspect in detail in our Bugatchi Review. The brand caters to fashion-conscious men who prefer understated elegance and timeless style motifs appropriate for every occasion and personality. Its designs are unique and suitable for men who value satisfaction and yearn for comfort, fit, and style. We will highlight Bugatchi reviews from customers, its design philosophy, and fashion collections to help you determine if you will add their fashion products to your wardrobe.
About Bugatchi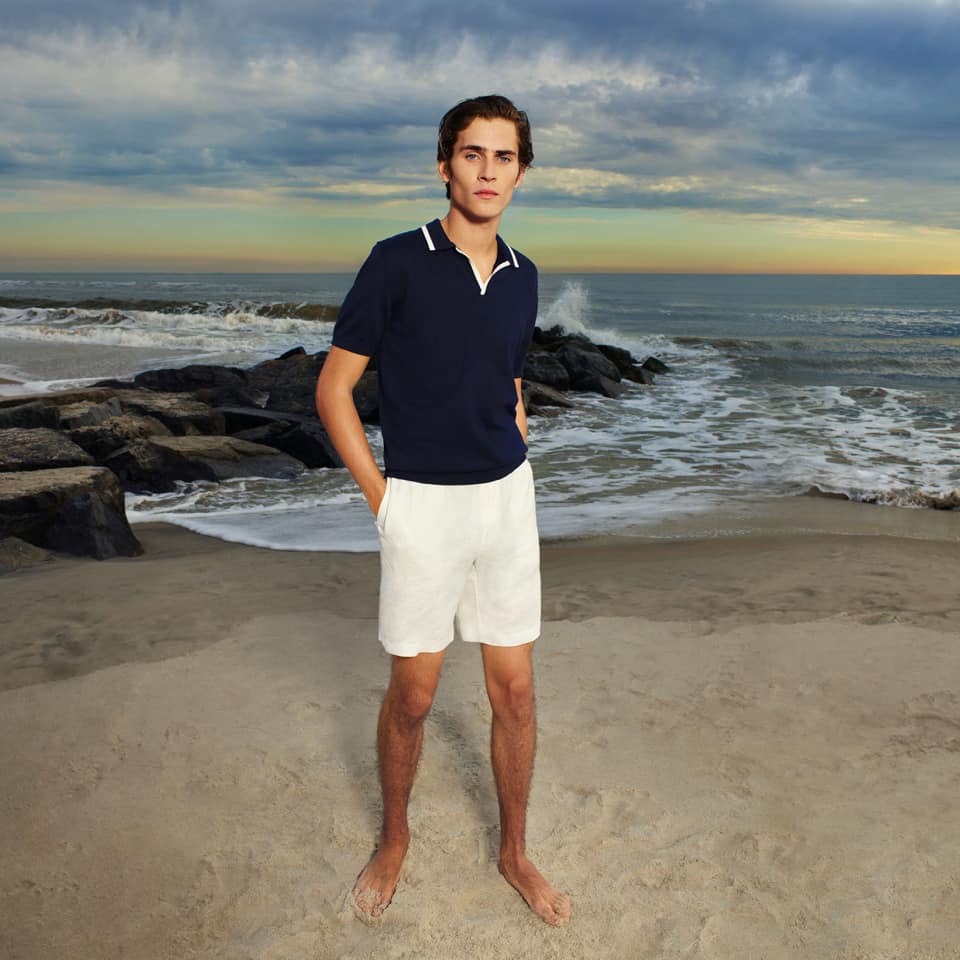 Located in Boca Raton, Florida, Bugatchi is a high-end brand offering mens' accessories, clothing, swimwear, outwear, and shoes. Its originators, Cecile, Annie, and Daniel Revah, are family members who shared a passion for fashion that led to the creation of Bugatchi. Before founding the brand in 1981, the family had previously operated retail shops, selling essential men's and women's clothing for years.
After gaining an in-depth understanding of customer desires and the competitive fashion business, the family decided to start a brand. They began their journey to become an esteemed luxury brand by selling quality shirts to existing customers. Despite their humble beginnings, the Revahs remained determined to make their high-end business a success, and they did just that.
Since its foundation, Bugatchi has grown tremendously and expanded to include accessories, clothing, swimwear, outwear, and shoes. It has also opened many stores in major cities in North America and offers shipping services to over 40 countries worldwide. The family-run enterprise operates through tradition, passion, and keeping up with current modern trends.
Their mission remains to create luxury and exquisite fashion, together with wardrobe necessities that celebrate and embrace the modern man. The brand continues to expand, with its products available in various retail stores and online. People who appreciate durable, well-crafted, flawlessly designed clothes can rely on Bugatchi to fulfill their fashion needs.
Pros
The brand offers extensive designs, sizes, and styling options
They have a clear brand mission and target audience
Their website is simple and easy to navigate
They offer numerous promotions and discount options
US customers enjoy free shipping on all their orders
They ship to more than 40 countries worldwide
Cons
Not everyone can afford their high-end premium pricing
You cannot return Fina Sale items
Being a male-focused brand, it lacks female fashion products
Customer support is not available around the clock
Bugatchi Products Review
Bugatchi offers men luxurious designs that combine comfort and style. With its premium fabrics, timeless detailing, meticulous fitting, and superior customer service, the brand offers its customers one-of-a-kind products. Below is a look at some of their best-selling products in their vast collection.
Bugatchi Shirts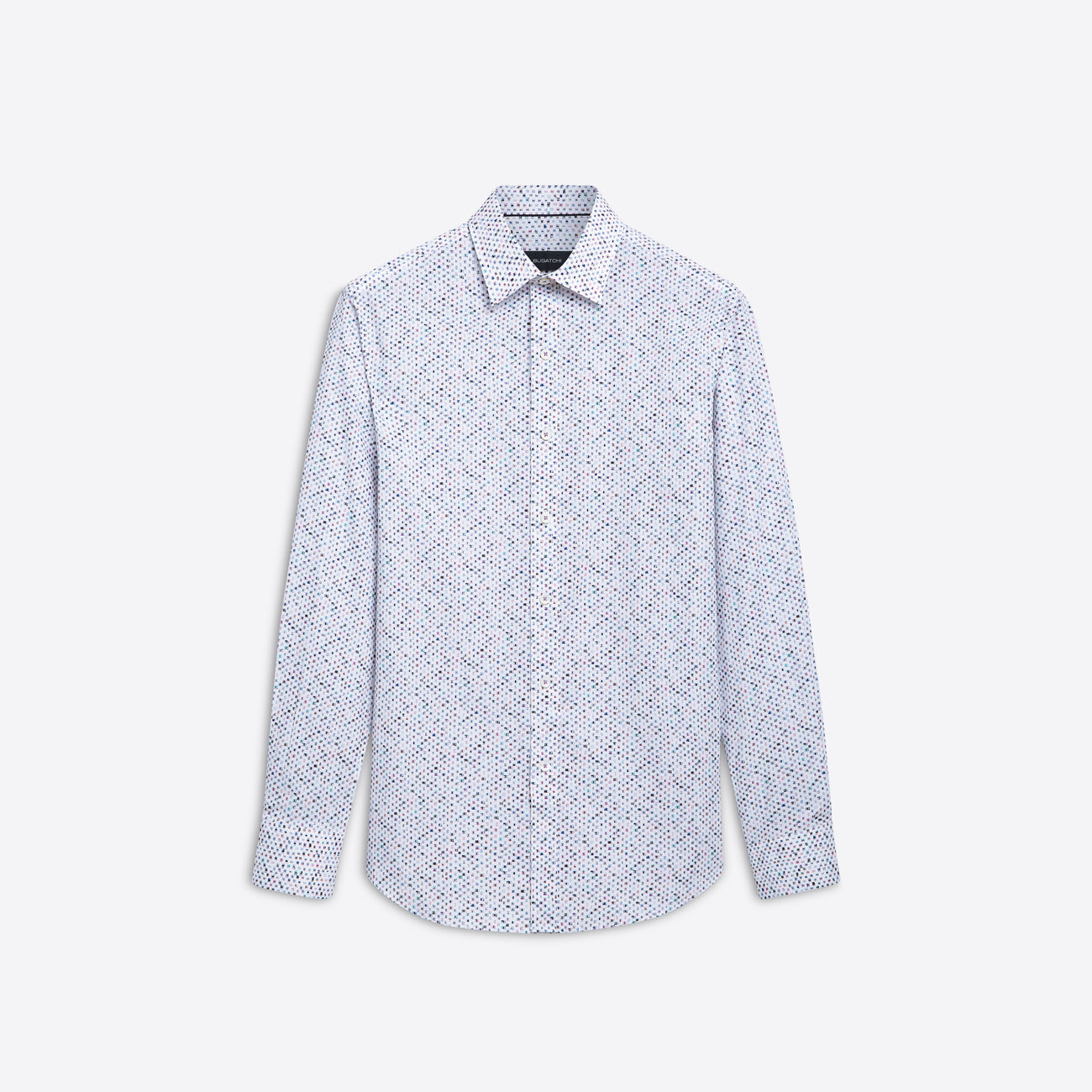 Made from hard-wearing, easy-to-wash fabrics, Bugatchi shirts are some of the brand's best-selling items. These shirts feature unique and stylish designs that serve as wardrobe essentials. They work well with formal and casual looks and give you maximum comfort.
If you are looking for something simple yet stylish, Bugatchi casual shirts are a perfect choice. Bugatchi reviews from satisfied customers show that they love their shirts because their range offers a variety of styles and patterns, from plain casual shirts to patterned prints. They come in different color combinations to guarantee your style always matches your personality.
With different patterns and prints, they are perfect for everyday wear. These high-quality designs come in breathable and comfortable cotton blend fabrics that allow you to look stylish without feeling stuffy. The sizes available are S, M, L, XL, and XXL to guarantee a perfect fit.
The cotton and cotton blend materials used offer stretch and machine washable features. Made in Italy, these shirts come with original Bugatchi tags that guarantee authenticity and price points that fall within the reasonable range. You can get a country club look by pairing Bugatchi's shirts with chinos or jeans for a modern yet classy ensemble.
Bugatchi Short Sleeve Shirt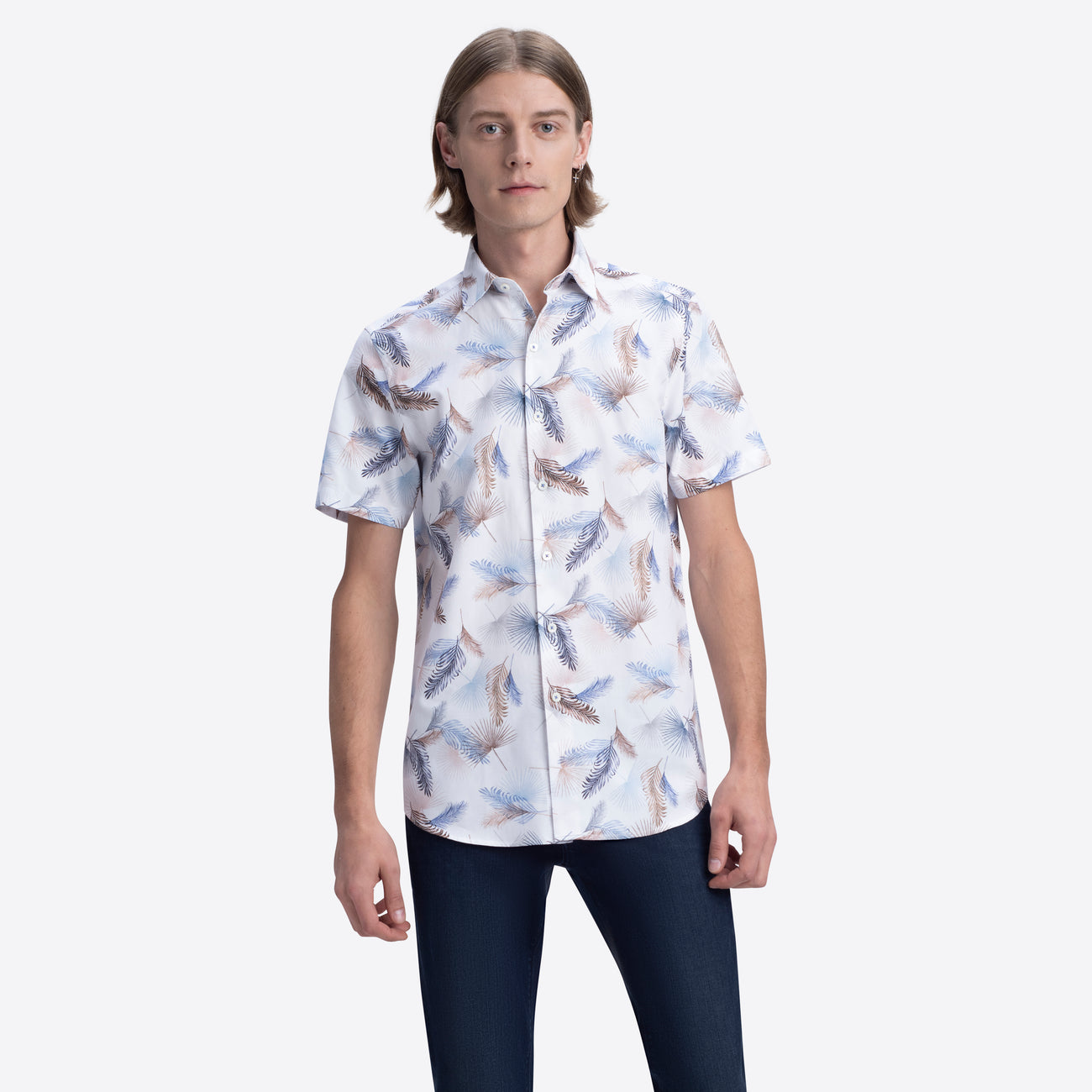 Best suited for relaxed, casual wear, the Bugatchi Short Sleeve Shirt collection consists of comfortable and stylish pieces with distinct styles and color combinations. These cotton broadcloth shirts are another wardrobe staple that adds personality to a man's look.
With a wide array of prints, customers can choose from polka dots, plaid, stripe, solid colors with contrasting detailing, denim, micro-check pattern, and more. Aside from imprints, these shirts also offer camp and point necklines for a more relaxed feel. Similarly, they come in different sizes (S, M, L, XL, XXL) and contain easy-to-care materials.
Made of either 100% cotton, 100% linen, or blend material, Bugatchi short-sleeved shirts come in three categories of fit (classic and shaped fit). Other notable features include an 8-way stretch and antimicrobial, meaning your Bugatchi shirt will keep you dry and comfortable throughout a hot day.
The materials used also offer unparalleled breathability, softness, and durability. With an affordable price range of $95 to $145, the shirts allow machine washing and quick-dry capabilities.
Bugatchi Polo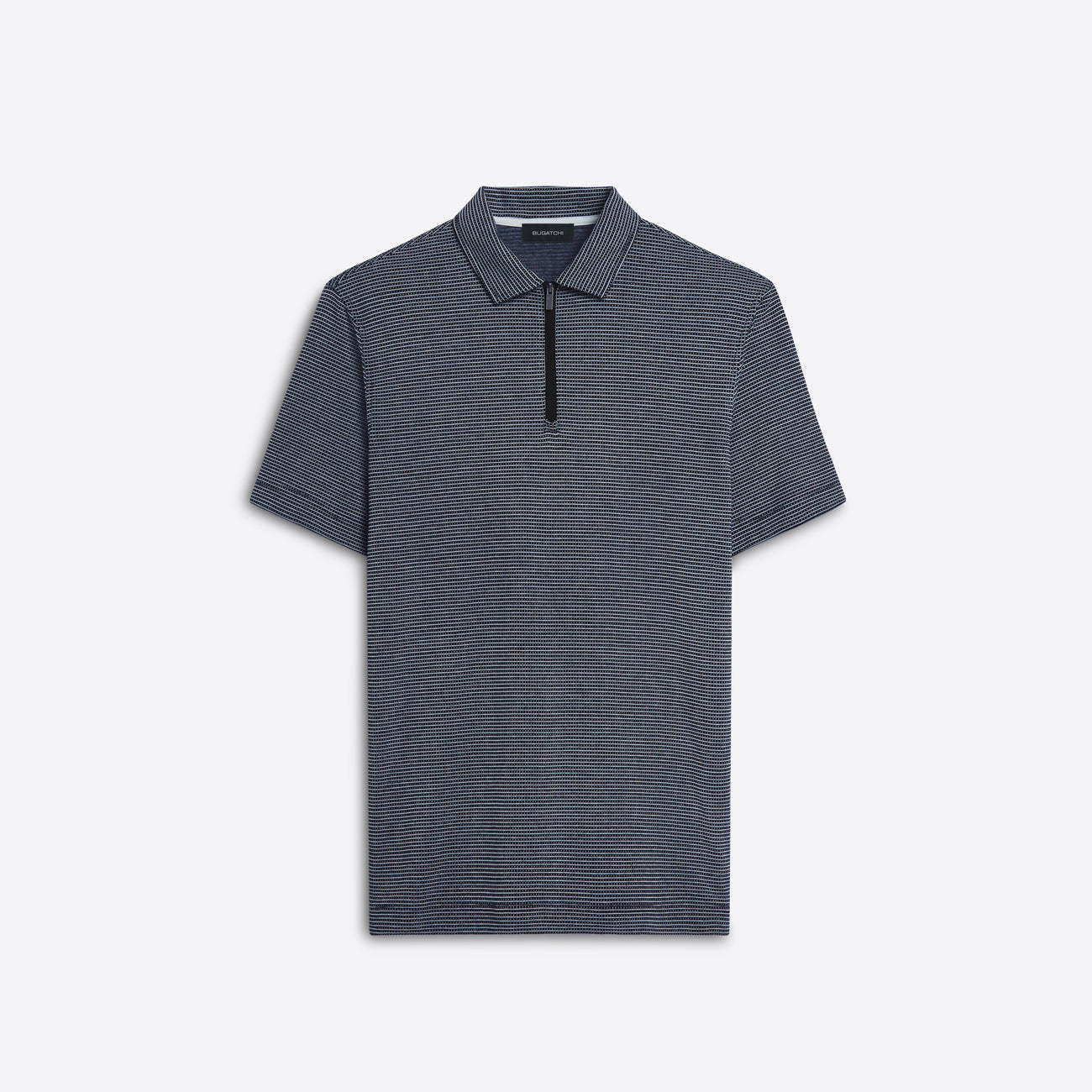 Nothing looks better on any man than a perfectly fitting polo shirt featuring a unique design. The Bugatchi polo collection is great for casual and formal wear. The make focuses on a great cut and a comfortable feel so that with a wide range of colorful designs, you can wear polos during any season.
Customers can choose from an impressive range of designs and colors, with the different available styles. Typical patterns include knitted solids, stripes, and printed, while colors include black, brown, gray, purple, red, green, white, blue, and orange. Offering a fitted yet comfortable option for men of all sizes (S, M, L, XL, XXL), these polos are perfect for everyday wear.
As with their other products, Bugatchi polo shirts consist of 100% cotton material. The brand also avails three different fits ( abstract, solid, and stripes) with features such as machine wash capability, mercerized cotton, and a pocket.
Polos are the ideal choice for a casual day out as they focus on providing maximum stretch and breathability. Attain an easy-going style by pairing your polo shirt with shorts, chinos, jeans, or slacks and accent it with loafers, sneakers, or high tops.
Bugatchi Sweater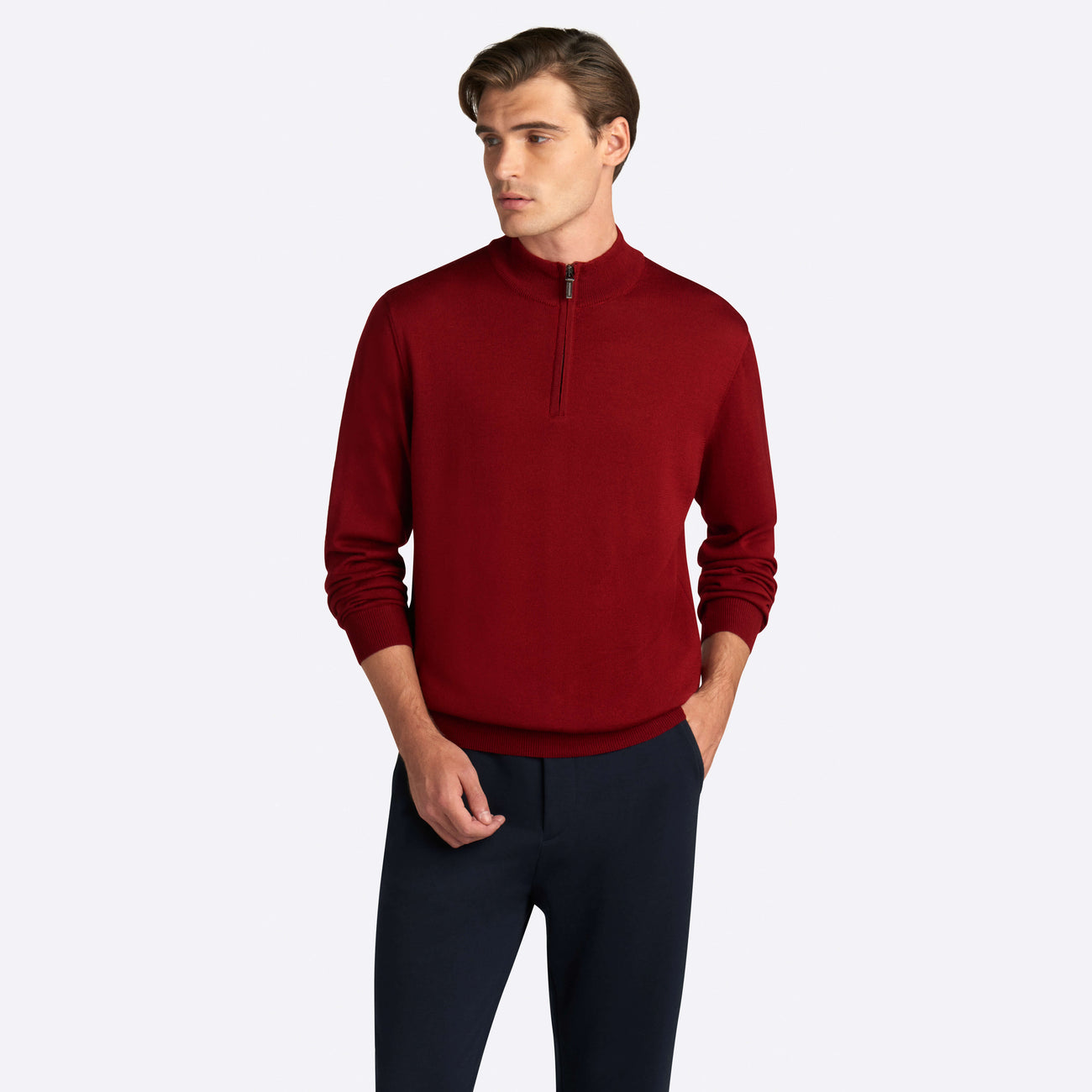 Don't you hate when it's cold outside, so you have to wear heavy, styleless sweaters that do not even match your look? Bugatchi has the answer with its collection of stylish, lightweight sweaters. Available in different colors and designs, shoppers will be spoilt for choice.
With colors like black, brown, gray, beige, red, blue, and white, the Bugatchi Sweater collection is chock full of pieces that come in chunky knit patterns like stripes, knitted, intarsia, and solid. The brand also offers a wide range of sweater styles, from jumpers and zip-ups to pullovers. Knit from lightweight materials such as cotton and wool, customers will enjoy colder seasons in style.
These sweaters feature hoods, machine wash materials, and water-repellant, meaning users can wear them in the rain without getting drenched. Fitted with various neckline designs such as crew, mock, polo, v-neck, turtle neck, and quarter-zip neck, you will find the ideal style that fits your needs. The sweaters also have short and long sleeve options.
A perfect choice for both younger and older men, a Bugatchi jumper offers a casual yet stylish look. Pair it with chinos, jeans, or pants. To add a finishing touch, match it with shoes, such as loafers, sneakers, and high tops.
Bugatchi Pants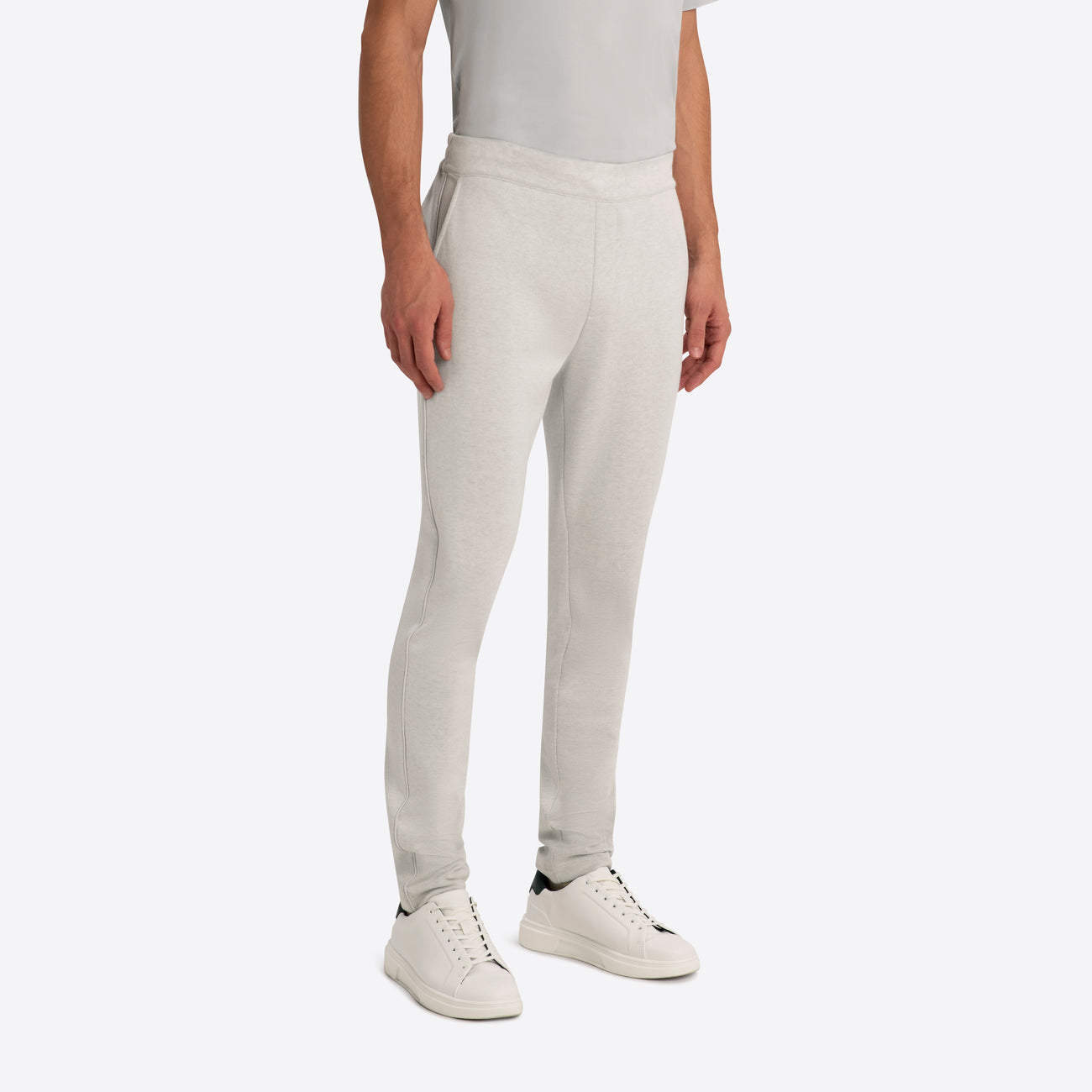 What's better than a pair of stylish pants? You guessed it, a stylish pair of pants worn for various occasions. Bugatchi offers pants made from quality materials in different colors, styles, and patterns. Specially designed for comfort and elegance, shoppers can wear these pants for work, parties, casual outings, and even hangouts.
Their pants collection consists of two patterns, solid and printed. Customers can choose from a range of colors, white, brown, red, green, blue, gray, black, and purple. You also have the option of a slim, straight, and relaxed fit. Bugatchi pants also feature lightweight materials that are easy on the skin and machine washable.
Based on Bugatchi reviews, buyers love how the brand avails their pants in multiple sizes to ensure that everyone chooses their most suitable waist size. The brand boasts a broad collection of pants with varieties such as five-pocket pants, chinos, joggers, and denim jeans. Additionally, the products come with extra features such as a fly zipper and belt loops.
With casual and formal styles available, shoppers will not be disappointed. To complete your look, match your pants with loafers or sneakers.
Bugatchi Sneaker
Shoes, especially sneakers, play an essential role in every man's wardrobe. Apart from adding style to your attire, they are perfect for everyday use and work and casual outings. Without a pair of classy shoes in the closet, you can never pull off an elegant look. Bugatchi understands this, and that is why they offer classy yet casual sneakers to complete every look.
Their Art Basel Sneaker is a perfect example of what the brand has in store. This slip-on Bugatchi Sneaker features a rubber sole, a patent leather back, and a padded insole to provide maximum comfort by arching the ankle.
The fabric used in its production contains 45% printed nubuck and 55% rubberized caf leather. It is lightweight and breathable, so the wearer remains comfortable throughout. Handcrafted in Italy, it is the perfect choice for formal and casual occasions, making it ideal for everyday wear.
Bugatchi Reviews from Customers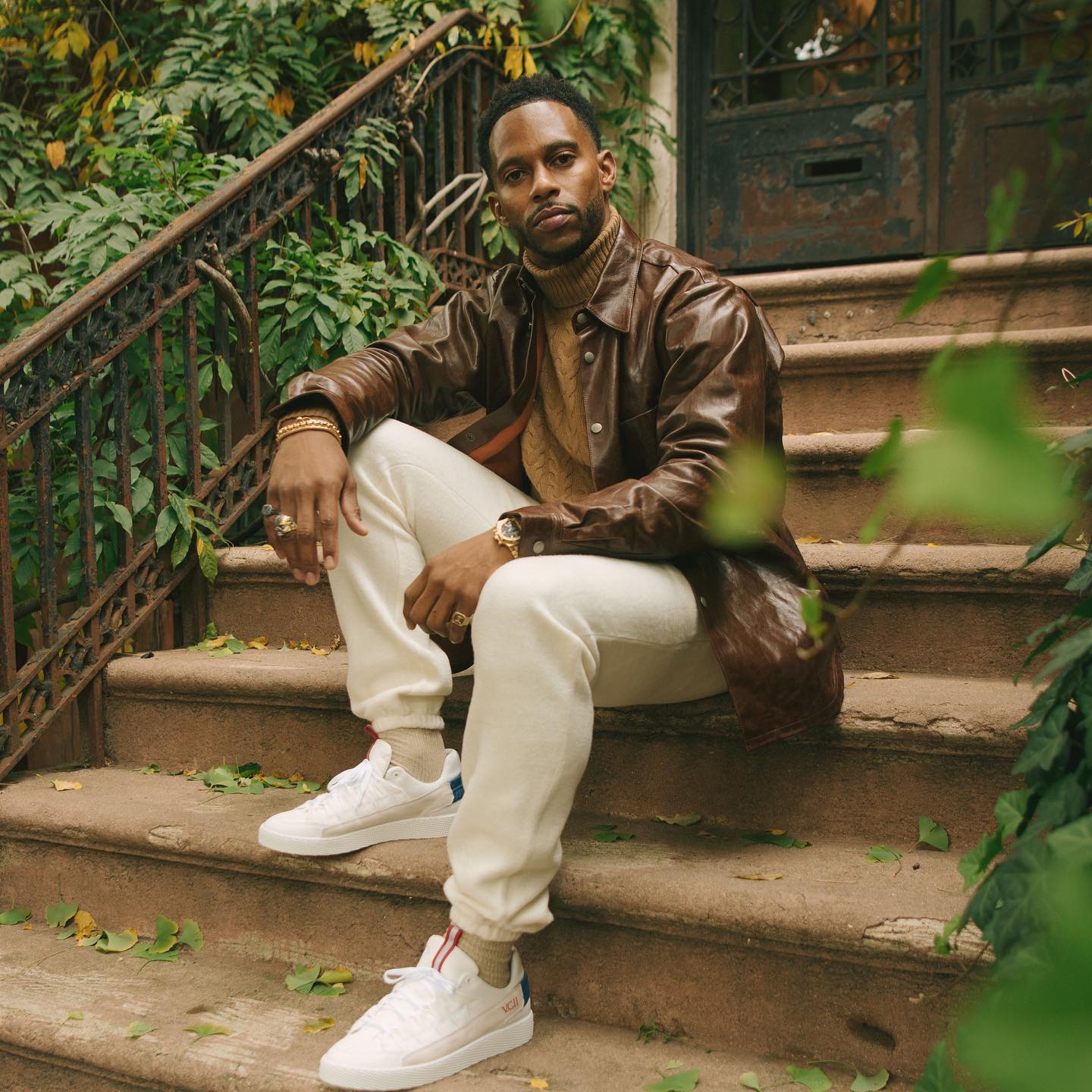 Previous customers have left rave Bugatchi reviews commending the brand on all sorts of things. From quality products to responsive customer service, customers are happy with the brand. Most shoppers who left their feedback on Trustpilot and Amazon appreciate the variety of products seeing that it gives them more options.
Other customers commend the quality of the clothes and the materials used in manufacturing. The brand's exceptional customer service has also received tremendous praise, with customers commending their efforts in ensuring that each item arrives on time. One customer pointed this aspect out, complementing the customer care team for their courtesy and swift resolution of his return issue.
Another customer said that Bugatchi stands out among other brands because of its quality, value for money, uniqueness to cater to all tastes, and the ability to make men look good. He went on to say that to him, Bugatchi will always be the brand of choice.
Popular Alternatives to Bugatchi
What Other Said
A woman who had bought a sweater for her husband as a gift praised the brand for the quality of the shirt and agreed with other customers that their unparalleled customer service deserves commendation. She went on to say that her husband loves the sweater, and it looks great on him.
Overall, customers have been satisfied with the clothes and services they receive. However, few complaints have risen, with some shoppers feeling that the brand is too expensive. One customer suggested that the brand offer more discounts off their premium prices to encourage more people to buy their clothes.
However, with most reviews being positive and customers expressing satisfaction with the brand, it is safe to say that Bugatchi meets its customer's expectations.
Sign Up for Bugatchi
Sign up for a Bugatchi account and receive exclusive offers and discounts. All you need to do is enter your first and last name, email address, and password on their sign-up page. Once you have your account, subscribe to their newsletter to receive exclusive updates and alerts of new arrivals.
Where to Buy Bugatchi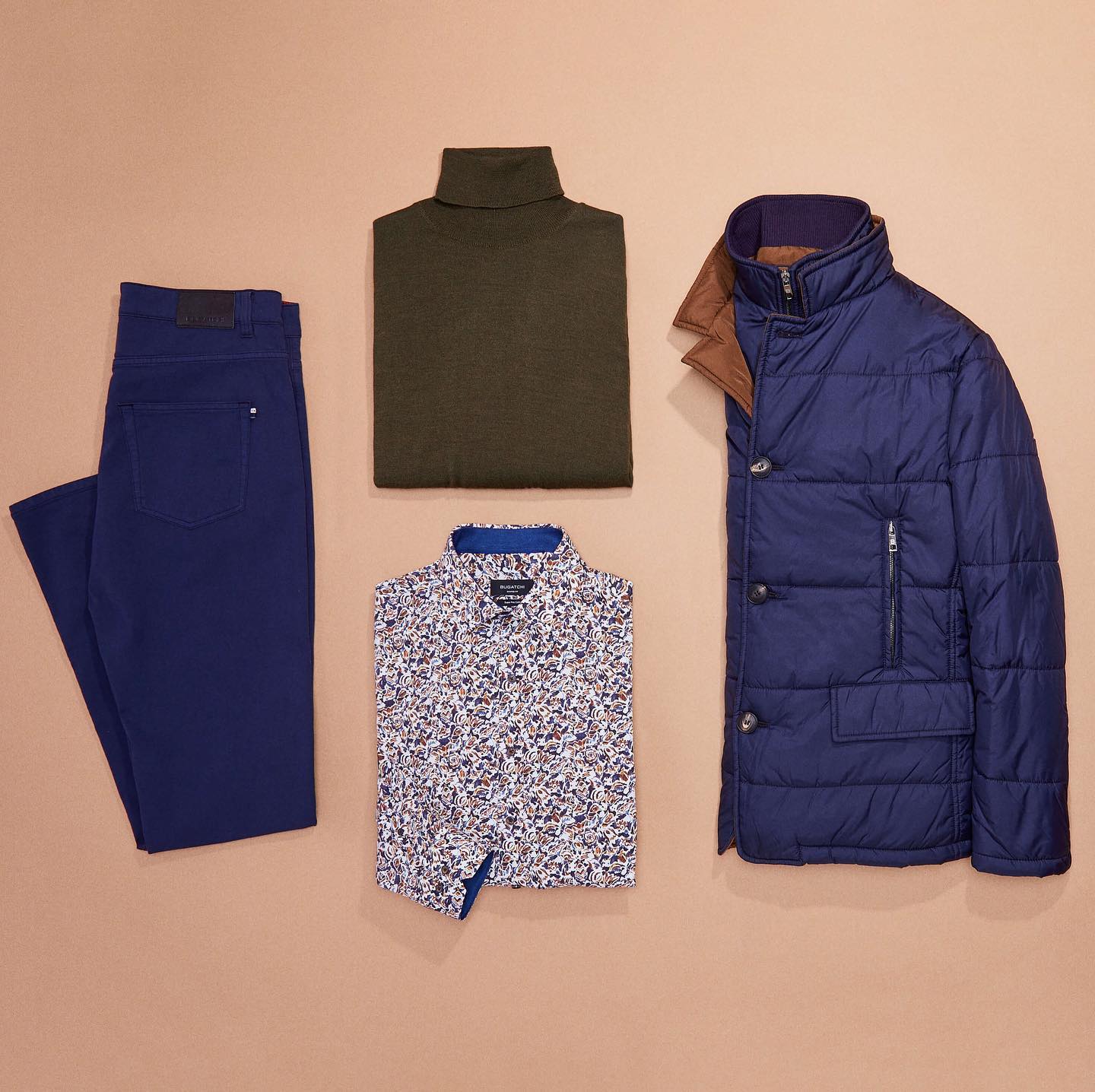 Bugatchi has numerous stores across several cities in the US. Head to the Store Locator page on their website to find a store near you. Alternatively, you can make your purchase from a Bugatchi online store Bugatchi.com. You can also buy their fashion products on Amazon.
Bugatchi Shipping and Return Policy
Shipping
Once you have placed your order and given the delivery address, you will view the shipping fee and an estimated delivery period at the checkout. Remember, Bugatchi calculated delivery time from the shipping date to the arrival date and not the day you made the order. Once your shipment ships Bugatchi will send you an email with tracking details to track your order.
There is an option on the checkout page if you wish to extend or shorten your shipping date. If you choose the US-3 day shipping, you will pay a flat $25.00 fee. International clients are responsible for paying duties and taxes.
Return Policy
Bugatchi offers a 14-day return and exchange policy, which applies to all their items. However, the returned item must appear in a new and unused condition with its original packaging, shipping container, labels, tags, and seals attached. Items considered as final sales are not viable for return or exchange.
Bugatchi Promotions & Discounts
Bugatchi offers a one-time promotion to first-time customers with an account. To access and apply the promo code, you have to log in to your Bugatchi account. Afterward, initiate the code by clicking (the apply button) and entering the promo code at checkout to complete the order.
Contact Bugatchi
Customers can reach Bugatchi through their email at [email protected]. Alternatively, they can call (561)893-0555 during business hours Monday to Friday from 8:30 a.m. to 5:00 p.m. EST.
Is Bugatchi a Good Brand: Editor's Verdict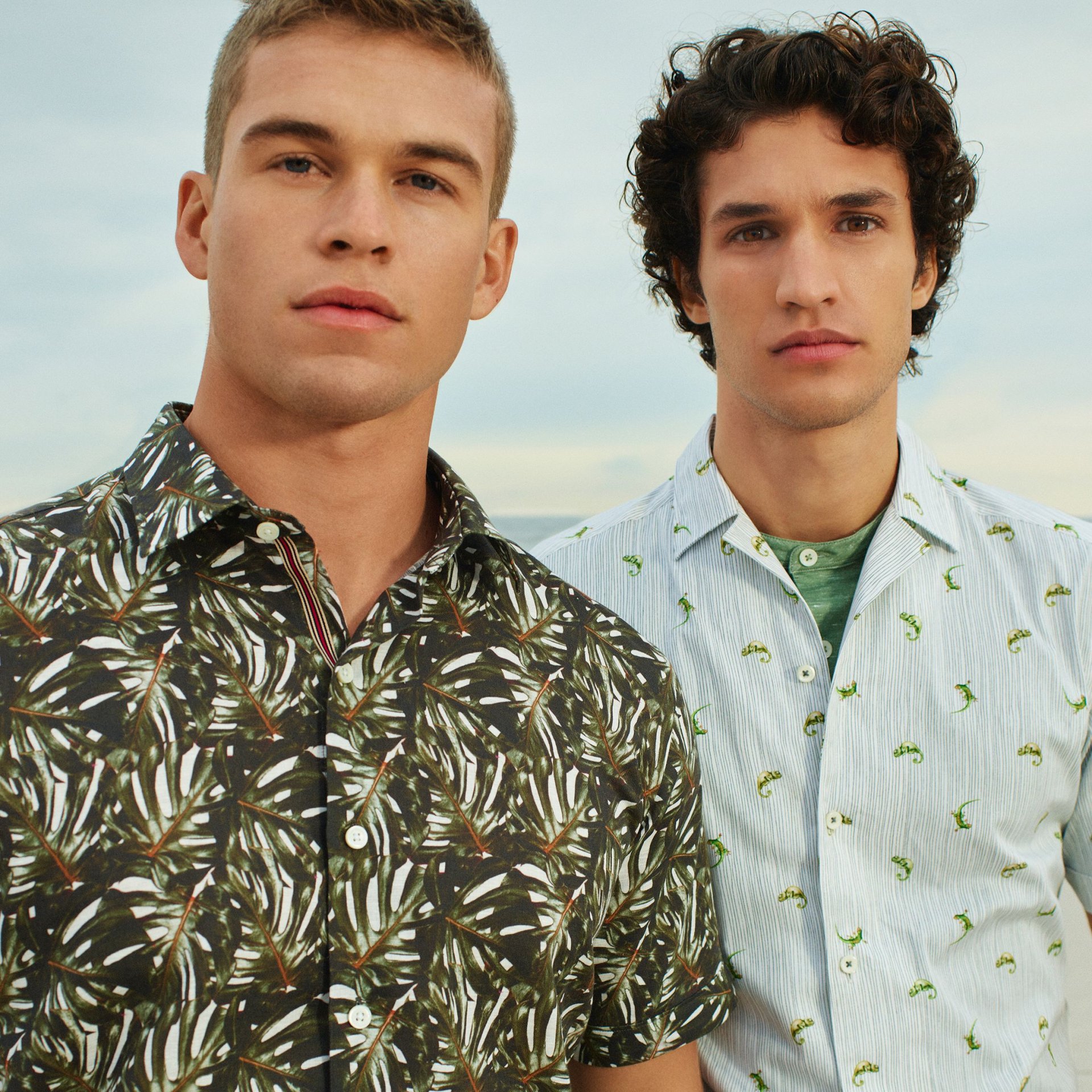 If you are asking yourself: Is Bugatchi a good brand? The answer is yes. The numerous Bugatchi reviews from previous customers give a good impression about the kind of brand it is. Most customers praise the quality and the style of their clothes. They have experienced good customer service from the Bugatchi staff, which they credit for a smooth buying process.
All indicators suggest that Bugatchi is a good and reputable brand with clothes and services to match the market's expectations. We find this to be true considering the reviews from customers and that the brand has reached a significant level of success and growth. Therefore, we recommend Bugatchi to all men for comfortable and stylish clothes that meet their preferences.
Still on the hunt for other outfit options? Check out these men's clothing brands reviews of Mr Porter, Alain Dupetit, Rhone, and Cuts Clothing.
Bugatchi FAQ
Where is Bugatchi located?
Although it was founded in Montreals, Boca Raton in Florida now houses Bugatchi headquarters. However, you can still find their products in luxury stalls and fashion shops across the U.S. and parts of the Caribbean.
Is Bugatchi made in China?
No, Bugatchi production and manufacturing takes place in Italy. Their sneakers and most shirts are handmade in Italy with materials sourced from top European mills.
Do Bugatchi shirts shrink?
If you take care of each garment as instructed on the tags, it is unlikely that your Bugatchi shirt will shrink.
Note that the instructions might vary depending on factors like the material used on the shirt. Be sure to check the instructions on tags each time before laundering and drying.
Who is Bugatchi designer?
Annie, Cecile, and Daniel Revah are the founders, owners, and designers of Bugatchi. With their extensive knowledge and experience in the fashion industry, they built Bugatchi from the bottom.
Is Bugatchi true to size?
Most customers report that Bugatchi sizes remain consistent with their regular garment sizes. This aspect means that the Bugatchi size chart is true to size.