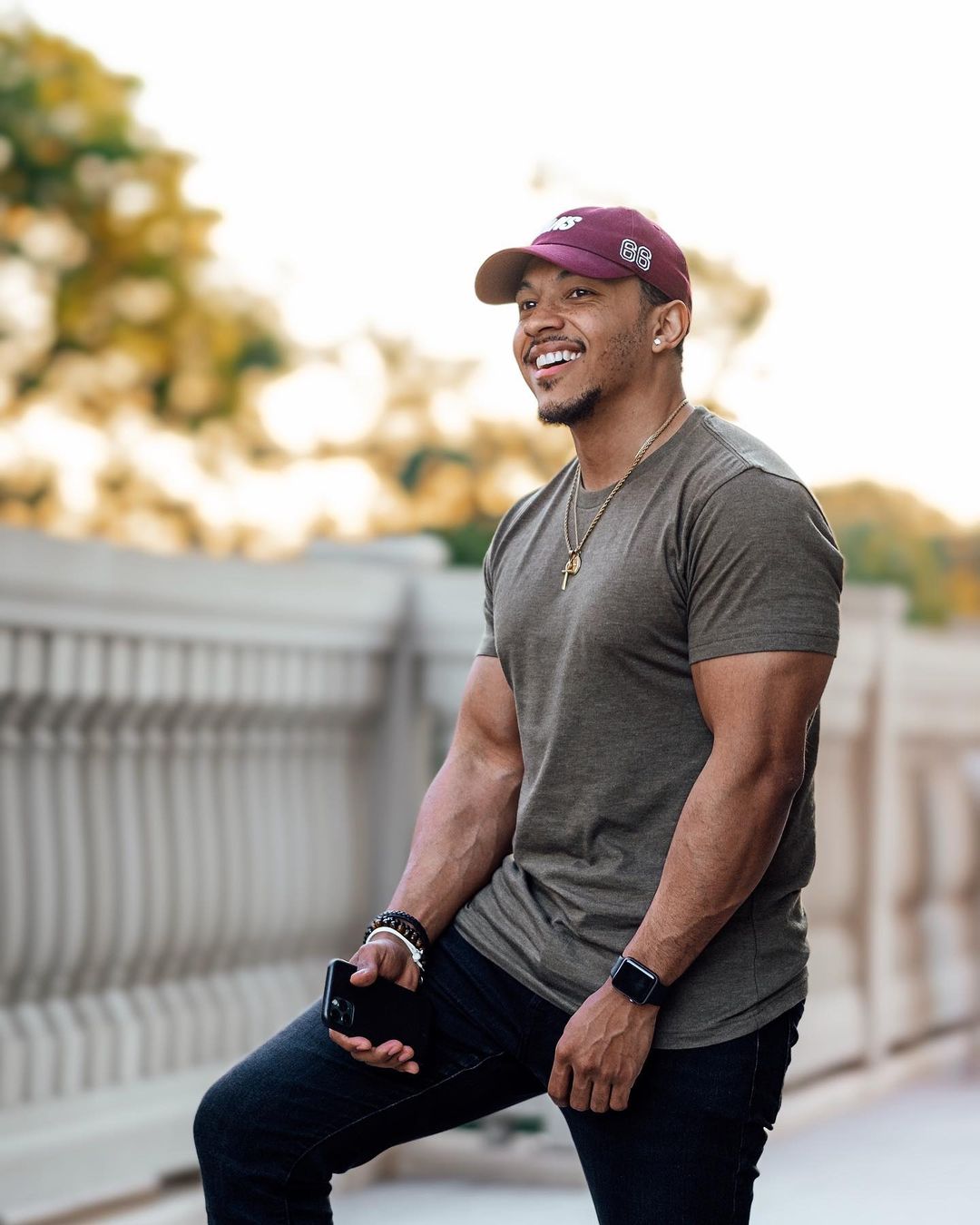 Fresh Clean Tees is a new t-shirt company shaking up the industry with its innovative designs and unique approach to quality and affordability. What makes Fresh Clean Tees stand out from the crowd is its use of cutting-edge printing techniques and luxurious materials. The results are t-shirts that look and feel amazing, with vibrant colors and intricate details you cannot find elsewhere. Our Fresh Clean Tees review will examine the brands' origin, top-selling products, customer ratings, shipping and return policies, promotions, and more. Read on to decide if their tees are worth purchasing.
About Fresh Clean Tees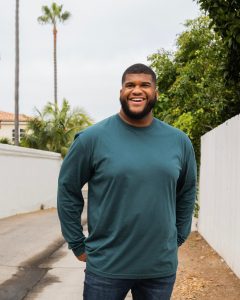 Melissa and Matthew Parvis decided to open Fresh Clean Tees after recognizing a need for a more high-quality T-shirt for men. The wife and husband team launched the company in 2015 and ran it from their San Diego home garage. Their aim was not just to fill the gap in the market but to create quality t-shirts and basics that would have men looking and feeling good without breaking the bank.
Since then, the company has grown leaps and bounds. From its humble beginnings in a garage to a fully-fledged online store, Fresh Clean Tees today is loved by men across America. It now employs a team of dedicated professionals who share the same vision and passion for quality clothing.
The company also has an impressive online presence, with a well-designed website and active social media channels. In almost eight years of operation, it has amassed an overwhelming following, with over 202K Instagram followers and more than 57k followers on Facebook. Its founders have also made appearances on renowned shows such as the Self-Made Mansions on HGTV, hosted by Clinton Kelly.
What makes Fresh Clean Tees special is its bulk options guaranteed by an extensive selection of colors, sizes, and styles. This wide variety of premium standard men's basics allows each man to stock up each season with their perfect tee. You no longer have to rummage through your wardrobe looking for that one favorite shirt that is comfortable, looks good, and washes well. 
More about the brand
Aside from producing t-shirts, Fresh Clean Tees also engages in sustainable practices. By eliminating single-use plastics and using 100% recyclable packaging, the brand remains committed to decreasing pollution and the amount of waste produced by the fashion industry. Additionally, the company donates a percentage of each sale proceeds to the Surfrider Foundation for efforts to help preserve the ocean ecosystem and protect the US coastline.
Before going any further into our in-depth Fresh Clean Tees review, let us look at the pros and cons of the company. These will help you decide if Fresh Clean Tees is the right t-shirt brand for you.
Pros
They offer a wide variety of colors, sizes, and styles

The company uses cutting-edge printing techniques

Customers have the option to subscribe to bundles or purchase individual products

They use high-quality, luxurious materials and have innovative designs

They offer free shipping to the US and Puerto Rico for orders totaling $75 and above and $130 and over orders to Canada

They have affordable prices compared to competitors
Cons
No physical stores (only available online)

Relatively new brand (as compared to other well-established brands)

The company delivers to Canada, the United States, and Puerto Rico
Fresh Clean Tees Products Review
Fresh Clean Tees offers a wide range of t-shirts for men in various colors, sizes, and styles. The company aims to provide quality t-shirt basics that would have men looking and feeling good without breaking the bank. Here are some of the most popular products in their collection:
Fresh Clean Tees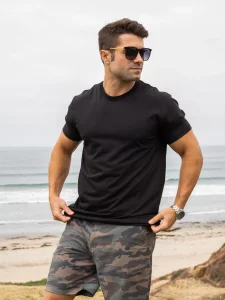 Nothing beats a good, old-fashioned, classic T-shirt. Fresh Clean Tee Shirts use 100% cotton and poly blend and are available in numerous colors and a machine-wash durable construction. These tees are the perfect addition to any man's wardrobe since you can wear them to any occasion.
Fresh Clean Tees has about nine varieties of t-shirts available on their site. These varieties differ in terms of colors, styles, and necklines. The prices of the t-shirts also vary depending on the design but remain relatively affordable compared to other brands.
The Fresh Clean Tee Shirt collection includes:
Crew-necks

V-necks

Elevated tees

Eco fresh teas

Pocket teas

Tall tees

Henleys

Polos 

Tanks
The crew neck tee is the most popular design and is available in a wide range of colors such as black, white, navy blue, and heather gray. This tee uses the proprietary Stratusoft blend and is machine-washable. It has a relaxed fit and would look great on any man. 
This Fresh Clean Tees review found that the V-neck tee is also popular among buyers. This design is available in colors such as black, white, and heather gray. It also uses the proprietary Stratusoft blend and has a relaxed fit. The V-neck tee is perfect for men who want to add a bit of style to their outfits without going over the top. 
The third most popular design offered is the Henleys tee. This design closely resembles the polos but lacks the classic polo colors that give it a more rugged and casual look. 
Fresh Clean Tees Polos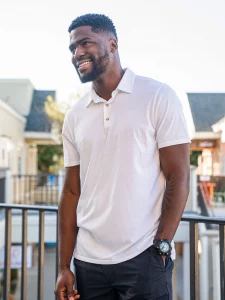 Any man looking to add a touch of class and sophistication to his wardrobe should consider purchasing a polo t-shirt. The ideal thing about a polo t-shirt is that you can dress it up or down depending on the occasion. Also, it serves well in formal or informal settings. 
The Fresh Clean Tees polo is available in more than ten colors, including white, black, navy blue, heather gray, and more. These polos have a slim-fit design and feature StratuSoft, a super-soft easy-to-clean proprietary cotton-poly fabric exclusive to Fresh Clean Tees. They have a ladder stitching at the waist and sleeve hems to maintain the integrity of the t-shirt while also providing a luxurious feel. 
Other than comfort and a luxurious feel, these polos also have several other features that make them stand out. These include a classic three-button placket, side vents, and tagless collar.
The typical price for a polo tee is $25. However, Fresh Clean Tees also offers packs that allow you to buy up to three tees at a discount. The foundation polo 3-pack is one such offer where you can buy three polo tees for $69 instead of $75. The polo tees in this pack come in three colors: black, heather gray, and navy.
You can also opt for an all-black polo 3-pack that allows you to buy three black color polo tees for $69. 
Fresh Clean Tees Long Sleeve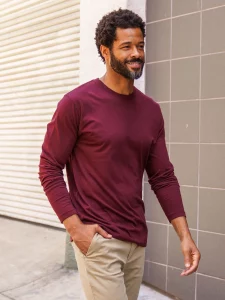 One of the most common challenges when shopping for t-shirts is finding long-sleeved options. Most t-shirt companies only offer short-sleeved options, which can be a problem for men who prefer long-sleeved t-shirts. Fortunately, Fresh Clean Tees has a wide selection of long-sleeved t-shirts ideal for casual everyday wear. 
The long-sleeved options by Fresh Clean Tees come in various colors such as Emerald, Garnet, Oatmeal, Wedgewood, and Heather grey. They have a slim-fit design and feature a warm, classic, and comfortable look. The sleeves have double-needle stitching that makes them durable and provides a luxurious feel. 
The long-sleeved t-shirts from Fresh Clean Tees are perfect for men who want to add a touch of style to their outfits without going over the top. You can wear them alone or layer them under a sweater or jacket. 
The remarkable thing about the long-sleeved t-shirts from Fresh Clean Tees is that they are available in various designs. Therefore, if you want a long-sleeved v-neck tee, you will find one. The same applies to the Henley and crew-neck t-shirts. 
The price of a long-sleeved t-shirt from Fresh Clean Tees depends on your preferred design. Long Sleeve Crews will cost you $24 on average. Long-Sleeve Henley costs $28, and the Long-Sleeve Cali Sweatshirt is slightly pricier at $32. 
Fresh Clean Tees Hoodies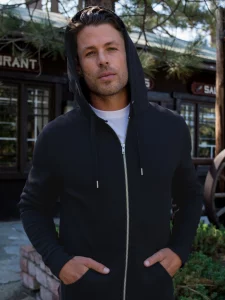 A hoodie is a must-have for any man who wants to add some edge and style to his wardrobe. Hoodies are trendy, comfortable, and versatile. You can wear them alone or layer them under a jacket. They are perfect for casual settings and also ideal for working out. 
The hoodies from Fresh Clean Tees are available in various colors such as black, heather grey, and navy. They come in three distinct designs: the zip-up, the Loma hooded long sleeve, and the pullover hoodie. Each style has unique features that make it stand out. 
The zip-up hoodie, for instance, has a full-zip design that makes it easy to put on and take off. It has a kangaroo pocket you can use to store your phone, keys, or wallet when you are on the go. Additionally, it has an adjustable drawstring hood that provides extra warmth and coverage. 
The Loma hooded long sleeve, on the other hand, has a chic and modern design that makes it ideal for layering. The long sleeves make it perfect for chilly days. Unlike the zip-up, this design does not have a kangaroo pocket or an adjustable drawstring hood. 
The pullover hoodie is one of the most exquisite Fresh Clean Tees model designs. It does not have a full zip or buttons. Just pull it over your head, and you are good to go. The kangaroo pocket and adjustable drawstring hood make it practical and functional. 
Fresh Clean Tees hoodies range between $32 to $39, depending on your preferred design and color. 
Fresh Clean Tees Review from Customers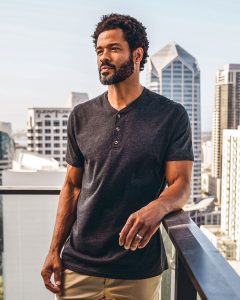 The brand has received numerous positive reviews from shoppers who have purchased and loved their products. Most customers love the quality of the fabrics used and the stylish designs. They also commend the company for its excellent customer service, high-quality products, and great prices. 
In terms of ratings, the brand has an average of 4.6 out of 5 stars, which is impressive. Customers have also commended their promotions accessible by entering a Fresh Clean Tees discount code at checkout. They feel that the discounts have helped them save money on already affordable items.
One customer left a review saying he found the fit excellent and the material ideally soft. It was his first order, but he liked the t-shirts so much that he vowed to outfit his entire wardrobe with them. 
Popular Alternatives to Fresh Clean Tees
Another buyer stated that he has been a customer for years and loves the quality of their clothes. He noted that their clothes are comfortable and have never had any issues with the fit. 
One of the customers bought Fresh Clean Tees for her 22-year-old son and stated that she was impressed by the quality of the clothes. She added that her son loves them and has been wearing them non-stop since he got them. 
However, a few customers on TrustPilot were not satisfied with their purchase. Some customers complained that they do not have a physical store. 
Overall, most customers were happy with their purchase from Fresh Clean Tees. 
Sign Up for Fresh Clean Tees
Subscribe to Fresh Clean Tees today and get discounts on your next purchase. Get exclusive access to new arrivals, sales, and more when you become a member. By subscribing to your favorites, you can select from their members-only 5-packs, 3-packs, or single tee. You will also enjoy free shipping if you purchase items worth more than $50.
Where to Buy
You can get Fresh Clean Tees products from their website FreshCleanTees.com. You can choose between a subscription pack or buying individual items.
Fresh Clean Tees Shipping and Return Policy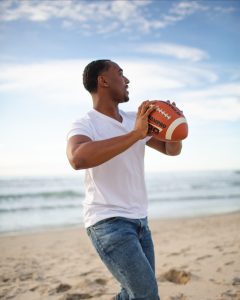 Shipping Policy
Fresh Clean Tees provides delivery services to the U.S., Canada, and Puerto Rico. Also, the brand offers free shipping to Puerto Rico and the U.S. for orders amounting to $75 or more. In Canada, they offer free shipping for orders amounting to $130 and above. 
Once you place your order, the company will process it in 1 business day. After clearance, your order will take about seven business days to arrive on Standard delivery. It will take up to 3 business days on maximum On expedited delivery. 
Return Policy
The company offers a 100% satisfaction guarantee, meaning that if any item does not satisfy your expectations, you can return it for a refund or exchange it for another product. However, you must reach out to the customer service team within 100 days of receiving your order to initiate a Fresh Clean Tees return. 
Promotions & Discounts
Fresh Clean Tees offers various promotions and discounts from time to time. You can stay updated on their latest deals by subscribing to their newsletter or following them on social media. Currently, they have numerous items on sale on their website. You can also get discounts when shopping by using a Fresh Clean Tees coupon at checkout.
Contact Fresh Clean Tees
In case of any inquiries, you can contact their customer service through their email address at [email protected]. Alternatively, you can fill in the contact form on their website, and they will get back to you as soon as possible.
Fresh Clean Tees Review: Editors' Verdict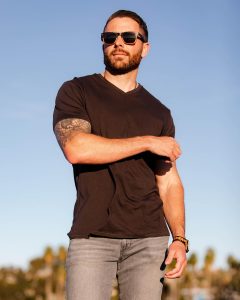 This Fresh Clean Tees review clearly shows that the brand is an ideal choice for stylish, high-quality, and affordable t-shirts. According to the customer reviews, the clothes are comfortable, well-made, and almost fit true to size. The company also has an excellent return policy, which allows you to return or exchange any item that you do not like.
With suck perks, we can confidently say that Fresh Clean Tees is an outstanding choice for t-shirts. We recommend their products to anyone looking for stylish and affordable t-shirts.
Are you still looking for clothing brands made for men? Check out our reviews of Unbound Merino, Alton Lane, and Ten Thousand Shorts. Alternatively, read our reviews of 686 Clothing.
Fresh Clean Tees FAQ
Is Fresh Clean Tees legit?
If you are wondering: Is Fresh Clean Tees legit? The answer is yes. Fresh Clean Tees is a legit brand selling t-shirts dedicated to men looking for a stylish variety. The company is based in the United States and ships its products to the US, Canada, and Puerto Rico. It has many positive reviews online from satisfied men who have bought their tees.
Do Fresh Clean Tees Shrink?
If you are asking yourself: Do Fresh Clean Tees shrink? The Stratusoft material blend used in the t-shirts comes preshrunk. However, you may still experience a little shrinking due to your washing technique. To avoid the shrinkage wash the tees using cold water and air dry or low tumble dry for the first initial washes.
Where Are The Tees Made?
Fresh Clean basics and tees are a product of a development team of designers in San Diego. The team works with various manufacturers in the Philippines and Latin America (Honduras and Guatemala).
How Are The Tees Made?
Fresh Clean Tees designs their basics with their proprietary Stratusoft blend and intricate attention to detail, making them super comfortable, soft, and durable. Their Statusoft fabric blends cotton and poly with a softening approach that creates a unique buttery soft feel.
How Should I Wash The Tees?
You should wash your tees with cold water and tumble dry them on low. However, If they are 100% cotton or you want to avoid shrinkage, use minimal heat. You can also air-dry the shirts to reduce shrinking.