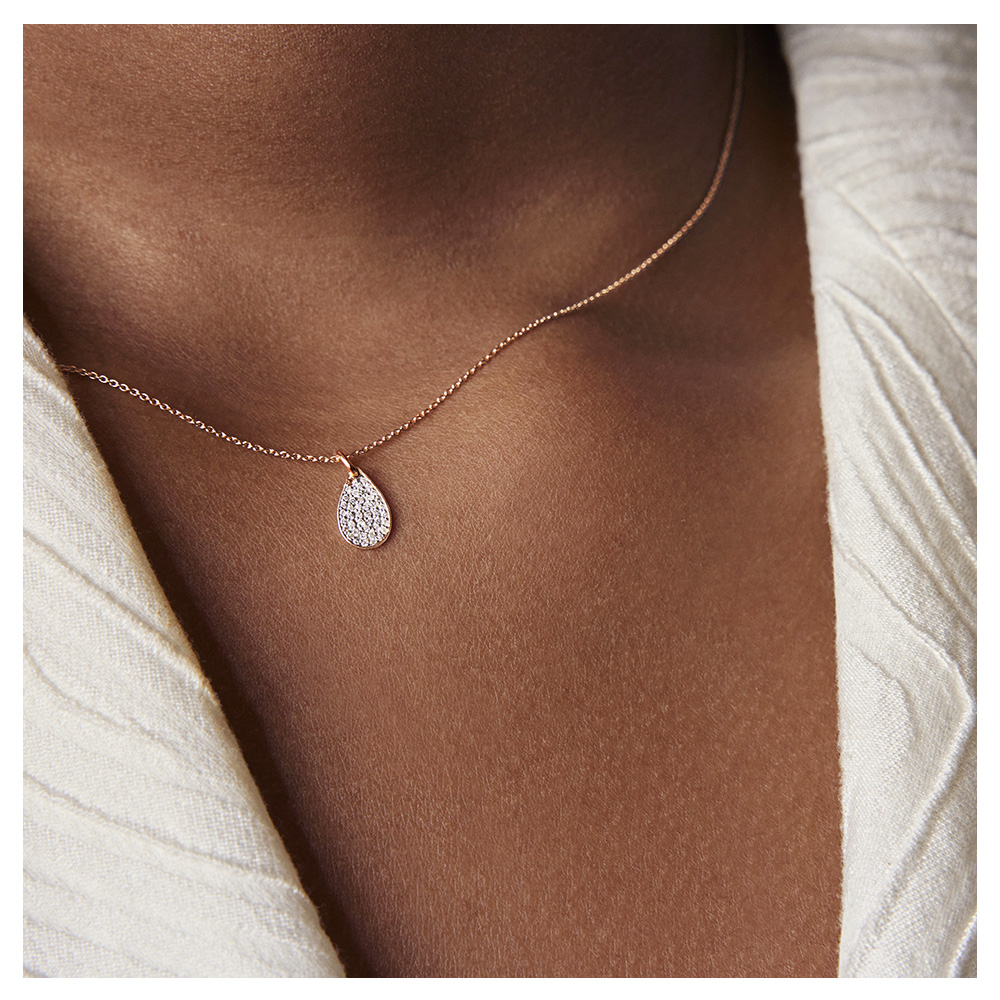 With jewelry inspired by architecture, this New York/French brand has made a name for its simple, beautiful fashion pieces, gathering many glowing Ginette NY reviews.
With the likes of Elle magazine and Vogue all praising its stunning jewelry, Ginette NY is fast becoming the brand to wear. And when you look at the high quality of its accessible pieces, it is easy to see why. Using 18k rose gold, the beauty of their jewelry collection seems to be its simplicity, with designs that are, says the brand, 'dedicated to strong women, aware of their own power and uniqueness.'
But is Ginette NY wearable for everyone, and is it worth the premium-end price tag? We take their collection out of its jewelry box and listen to the opinions of its customers to discover whether Ginette NY is worth the hype.
About Ginette NY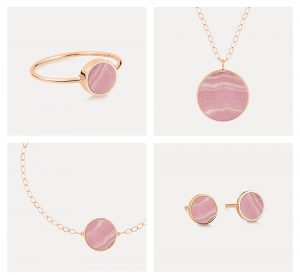 The creative brain behind the Ginette NY brand is Marseille-born Frédérique Dessemond. Dessemond has long been inspired by minimalist architecture and geographical lines in her designs. She originally studied art history in France before moving to the Big Apple on a green card in 1999.
Dessemond founded Ginette NY in 2002, starting out designing fashion-forward jewelry using repurposed tags, clasps, and chains to give them a new, designer lease of life. From this beginning, Dessemond's designs evolved to a mix of styles that resonated with her growing customer base and garnered growing numbers of positive Ginette NY reviews.
All Ginette NY jewelry is made from champagne-tinted 18k rose gold to give a laid-back luxury look that creates a beautiful vibe without the wearer looking as if they are trying too hard.
The brand is committed to using high-quality materials and natural stones and is inspired by architectural lines and Parisian/NYC chic, coupled with a simplicity that makes Ginette NY jewelry a delight to wear.
Inspired by the world around her, Dessemond describes Ginette NY as creating "A connection between jewels and skin, like an extension of oneself, an opportunity to show your unique personality. A unique DNA in the world of contemporary jewelry."
Predominately a jewelry range of necklaces, bracelets, and earrings designed for women, Ginette NY recently launched its Ginette Loves Men brand, as well as a smaller range for children called Little Ginette.
Before we peek at the core Ginette NY range, here are the main highlights of the brand and a few points to be aware of.
Pros
Ginette NY only use high-quality materials
Pieces can be worn alone or easily paired with others
You get a Certificate of Authenticity with each piece you order
You also get free shipping in the US
The company uses Affirm, so you can opt to pay in monthly instalments
The women's range is wide and varied, with 500+pieces to choose from
You also get a choice of chain lengths
There's a one-year warranty on any manufacturing faults
Ginette NY also offer a repair service, although it is not free
As well as ordering via their website, you can also obtain Ginette NY in a good number of physical retail stores
Cons
This is a mid-premium brand, so it is on the expensive side. But the quality does make its jewelry good investment pieces
The return period of 14 days is not the longest, so you need to be swift to get your refund
Returns are not free as you will need to pay for the return shipping
Ginette NY Products Reviews
Whether it's a Ginette NY necklace, bracelet, earrings, or ring you have your heart set on, this stylish and distinct jewelry brand has plenty of gorgeousness for you to choose from.
We consider the brand's approach to design by looking at each Ginette NY range, in turn, to help you decide if they are worth the investment.
Ginette NY Rings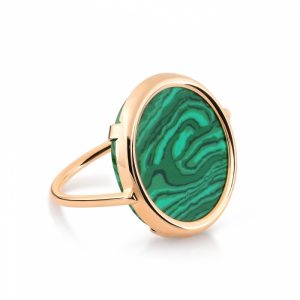 Whether it is a gift, a special event, or simply a treat for yourself, you can't go wrong with a ring. And the Ginette NY rings collection has something for every occasion. If you have a good idea of what you are looking for, the search function on the website works quite well, segmented by color, stone, range, or material. The filters could be a little more in-depth – you only get the price, product, and 'new-in', but it's enough to roughly get you where you want to go.
We found the pleasure of shopping with Ginette NY online is to browse each page, as each department is not too excessive. And with their gorgeous ranges of rings, you have around 170 to choose from.
Their ring prices start at around $200, so in a good ballpark for a special treat. But for the bigger budget, Ginette NY excels, topping £2,500 for stunning multi-diamond pieces.
While they don't have the full range of ring sizes for every piece, they do have a good selection, and with a handy online sizing guide, you can easily switch between EU and US sizes to get the perfect fit.
Ginette NY Earrings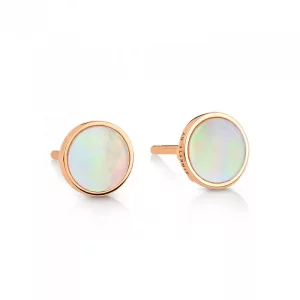 The Ginette NY earrings collection is a lovely introduction to the designs of this lux-look-and-feel jewelry brand. And starting at $160 for a cute gold strip stud, earrings are a good way to wear Ginette NY without hitting the bank account too hard!
There are more than 140 earring designs, ranging from subtle daytime and cute and kitsch to full-on multi-stone hoop glamor. And as every piece of Ginette NY jewelry comes complete with its own gift box, their earrings are a gorgeous way to treat a special person in your life.
We liked the sheer diversity of designs in this earrings collection, from rich stone colors, and vibrant jewel brights to crisp, clean lines and warm rose gold simplicity. Another good move by Ginette NY is that you can buy single earrings for selected designs too so that you can create your own individual or multi-stud look.
Ginette NY Bracelets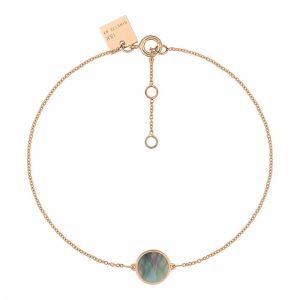 We all know that wearing a bracelet is good for low-key yet sophisticated styling. And the beauty of the Ginette NY bracelet range is that each can be worn alone or layered with other items for an eclectic or of-the-now boho look.
We liked the materials used in the Ginette NY bracelet collection, ranging from natural wood to pearl, stones and of course, the signature 18k rose gold. These bracelets are also easy to wear and drape beautifully on the wrist, whether worn on their own or as part of a collection. And for a real statement piece, the Ginette NY cuff bracelets will add a touch of architectural style to any outfit. The top-end bracelets are going to set you back $4k or more. But with prices starting at around $110 for a wooden bead and rose gold bangle, you can afford to add a touch of Ginette NY to your wardrobe.
Ginette NY Necklaces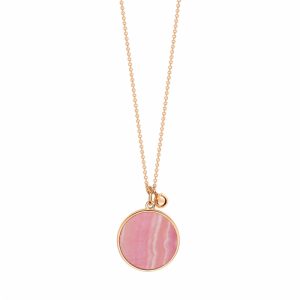 Ginette NY collier (or necklace in English) range is quite sublime, with their signature rose gold fashioned into delicate yet ultra-modern styles. With more than 200 designs in their necklace collection, you are spoilt for choice browsing through the nine pages of products on the website.  In short, there is something for everyone.
So, how easy is it to find your perfect piece? As with all the other collections, you can search the Ginette NY necklace range by color, stone, and material, as well as new designs, product type, and price. And the price range is wide, starting at around $150 for a beautifully fragile-looking butterfly on a silk ribbon chain to over $9,000 for a statement-making diamond purity collier on a chain.
One of their bestsellers is the Ginette NY lace monogram necklace, which features the GNY initials in an intricate medallion style design. The whole shopping process is, once again, made bespoke by the well-thought-out recommendations of other items to pair with your chosen necklace. Yes, it may push up your budget, but doesn't a girl deserve a treat now and again?
Ginette NY Reviews from Customers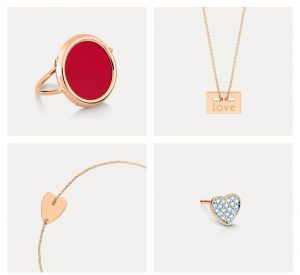 Moving on from our thoughts on the brand, what do others think about Ginette NY?
At first look, there's an overwhelmingly positive vibe about this stylish jewelry brand from the Ginette NY reviews we can find.
The company's website doesn't actually give shoppers the chance to leave product reviews. But they have a healthy press section on the site, showing the wide range of national and international coverage they have gained. This includes glowing reports from the likes of Elle, Madam, and Grazia magazines.
Popular Alternatives to Ginette NY
However, testimonials from actual customers are currently a little harder to find. Customer reviews on yelp.com cover the company's New York store and scores them 3.5/5. But this less than expected score doesn't seem to reflect most of the comments, which covered service, shopping experience, and the jewelry designs' quality. Top.Rated.com sees a higher customer score of 4.9/5, with shoppers describing the customer service as 'amazing!', with the help they received to get the right sizes also jumping out.
While there are very few customer testimonies for Ginette NY to be found online, what does strike you is that finding any negative comments is even more difficult. And this has led us to conclude that there isn't anything significant from a negative perspective to report.
Sign Up for Ginette NY
You can sign up for all the latest Ginette-NY news and offers by signing up for their e-newsletter. If you are a Ginette-NY online shopper, creating an account on their website will make your next purchase a breeze and ensure you get 100% payment security, free shipping, and parcel tracking.
Where to Buy
You can buy the full Ginette NY from its website, Ginette-NY.com, or from its own retail store on New York's Madison Avenue. If you live outside of the States, then the brand has concept stores within Europe.
Alternatively, the Ginette-NY brand is stocked in a wide range of department stores and jewelers, in the US, Australia, and Europe – to find your nearest stockist check out the Ginette-NW store locator on its website. Ginette-NY jewelry is also sold in numerous online stores, including Lyst, Far Fetch, and Saks Fifth Avenue.
Shipping and Return Policy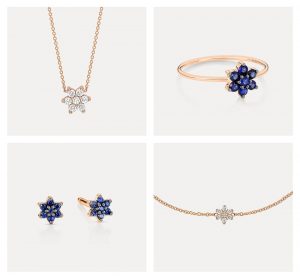 With offices in New York and France, Ginette NY offers international shipping, although deliveries to Puerto Rico and Hawaii will be subject to special pricing. And the company is currently unable to ship to APO/FPO or PO boxes.
If you live in the States, France, or the EU, you also qualify for free standard shipping on every order. You will be given an estimated delivery time if you opt for the standard shipping at the checkout.
Alternatively, you can opt for FedEx shipping for an additional fee if you want your items quicker, with next-day delivery costing up to $50.
When it comes to returning your jewelry, Ginette NY doesn't have the longest return window, as you only get 14 days from receiving your order to send it back. But you can send it back for any reason and as long as you send it back unworn with its 'certificate of authenticity' and the original receipt, you'll get a refund. But you will be charged for the return shipping.
Another thing to note is that all sales items or items purchased using a discount code greater than 15% are considered 'final sale' and so non-refundable.
Promotions & Discounts
If you are looking for a Ginette-NY discount code, there are currently no offers promoted on their own website, other than free standard shipping on all orders. But use your search engine, and it is possible to find a selection of discount codes, starting from 10% off.
The brand does, however, run regular sales, where you can get 30% off selected items, although the sales range is not extensive.
Contact Ginette NY
There are numerous ways you can contact the Ginette NY customer service team, which is based in France.
The direct telephone number for the company is +33 1 69 86 58 36 and their opening hours for the company are Monday to Friday, 9.30 am to 5.30 pm, Paris time.
Alternatively, you can use the online contact form at Ginette-NY.com or email [email protected]. You could also direct message via their social media.
Ginette NY Reviews: Editors' Verdict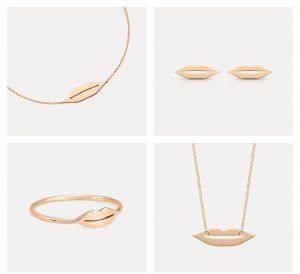 There's no denying there is something special about the pieces that Ginette NY designs. And their strength is that all their jewelry is very wearable and can be embraced by women and men of all ages.
The consistent use of skin-flattering rose gold, enhanced by other materials, including wood, ceramic and precious stone also creates a vibe that is distinctly Ginette NY. And the influence of clean, architectural lines means Ginette NY jewelry makes a modern statement without overpowering. And this combination of high-quality materials and clever, understated design makes a piece from Ginette NY an investment piece you will love to wear for years to come.
Yes, it is a brand that's on the pricier end of the mid-range, but there is no denying the quality of desirability of its jewelry. And the mostly positive Ginette NY reviews are a testament that Ginette NY know just what they are doing. This is why we are happy to recommend this luscious jewelry range if you are looking for a timeless piece that can be dressed up or down to reflect your own personality.
Check out our reviews of other amazing jewelry brands such as Girls Crew, Miansai, Allurez and James Allen.
Ginette NY FAQ
Are the items delivered in a gift box?
Yes, your jewelry will be sent to you complete with its own signature Ginette NY gift box.
Are the ceramic jewels breakable?
Ginette NY state that their ceramic jewels are high quality and have high resistance levels. To ensure this quality, all the ceramic jewels have also been 'crash-tested' to ensure they can withstand scratches, discoloration, and everyday wear and tear.
For extra peace of mind, Ginette NY also offers a repair service for any items bought via their online shop. However, there could be a cost for this service so always ask when reporting an issue.
Is Ginette NY jewelry guaranteed?
Yes, you get a one-year warranty – from the date of purchase - on the Ginette NY jewelry range which covers manufacturing default only. To be eligible for a claim, the jewelry should have been worn under normal circumstances, and 'not altered, accidentally broken or damaged, nor exposed to any chemicals.' You will also need your original receipt and packaging to make a claim.
Is the jewelry extendable and adjustable?
With a range of chain lengths, you can adjust most of the Ginette NY necklace and chain bracelets. With their necklaces, you get the option of a sizing ring for their 17-inch and 19-inch chains so they can be extended. The chain bracelets are also adjustable, or you can opt for an extra sizing ring to take the total length up to seven inches. Please note, that their ceramic pieces cannot be adjusted.
According to the Ginette NY website, requests for bespoke lengths are treated on a 'case-by-case' basis – email your request to [email protected].