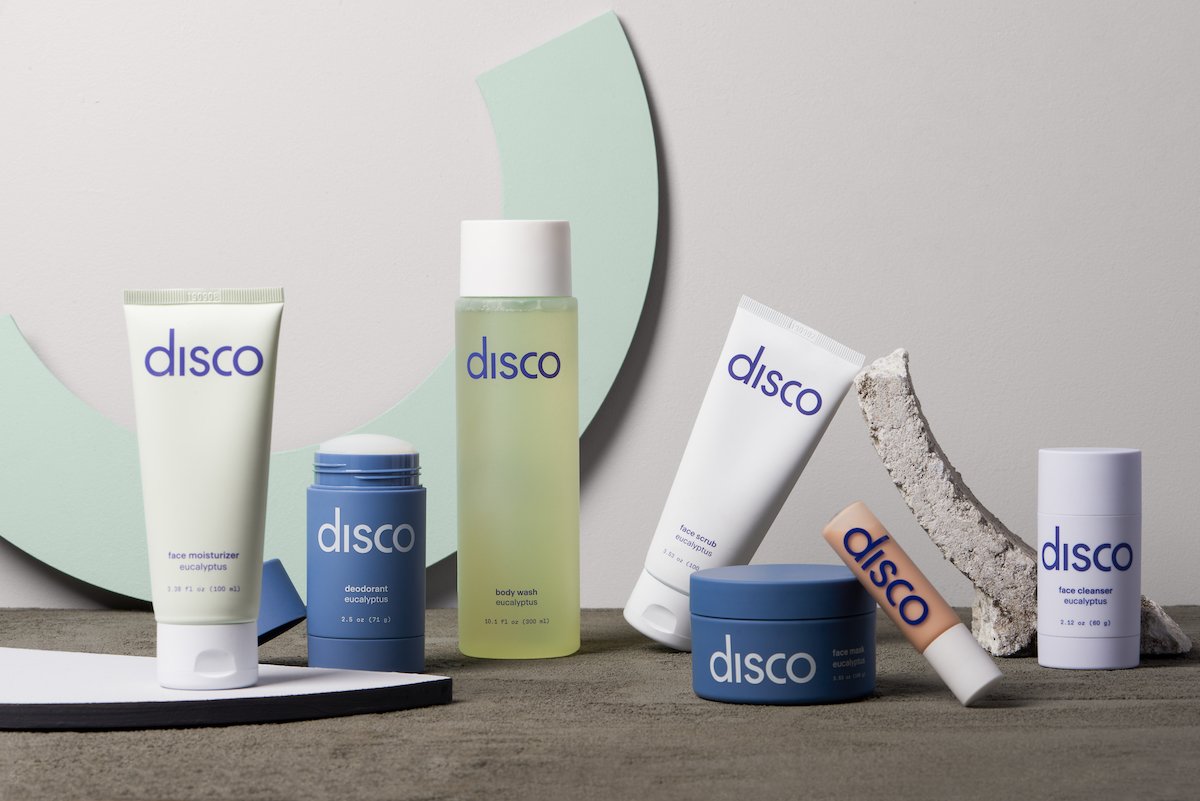 Are you a man looking for a fun, new way to add some pizzazz to your eye makeup? Look no further than the Disco Eye Stick! While the cosmetic industry focuses on women, Disco specializes in men's skincare products that feature clean and natural ingredients. This online brand seeks to redefine masculinity by promoting self-grooming to bring out the most confident side of every man. We'll take a look at Disco Eye Stick reviews from customers, the company's bestsellers, promotions, discounts, and more. In turn, you'll get all the information you need to decide if this brand and its cosmetics are worth your time and money.
About Disco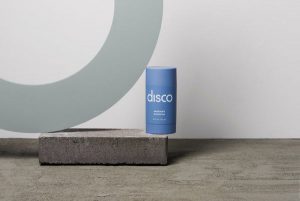 Until he created Disco, Benjamin Smith always struggled to find high-quality male cosmetics. With the mainstream brands geared towards women, he found no choice but to use their products. To him, this seemed like an endless journey of trial and error.
Although there weren't male-oriented skincare products back then, he still took good care of his skin. His mother and the family dermatologist ensured that he used products, such as sunscreen, moisturizer, and cleansers. The simple routine eventually developed into a regular skincare regimen. Over time, he integrated eye creams, scrub and face masks into his daily routine. That's how he became adept at the cosmetic game. However, despite knowing what worked for his skin, he couldn't find a product that suited his needs as a man.
How the brand came to life
Eventually, frustrated with this limitation, Benjamin took it into his own hands and established Disco in 2018. He brought medical advisor Dr. Eva Simmons-O'Brien to join the team to help develop the Disco's line of products. The Texas-based company developed a wide array of cosmetics with an effective formula to suit male customers. They only use natural ingredients, such as eucalyptus, apricot oil, horsetail, and aloe vera. These products include Face Scrub, Eye Stick, and Purifying Mask.
Disco Eye Stick reviews show that customers love their products because they prioritize ingredient transparency and ethical practices like cruelty-free and vegan. They are also against using toxic fragrances in their products. For this reason, the brand has previously won several awards throughout its lifetime, with the most recent one being the Best Brand of 2020 from Askmen.
The Disco team wants to encourage men to groom and take care of themselves without imitating women. Benjamin and his team hope to create a more inclusive space for men who want to experiment with their looks in an industry that largely caters to women. Their brand's mission is to de-stigmatize male skincare, encourage experimentation and create a collaborative environment.
Pros
The brand offers plenty of cosmetic formulas to choose from; their products include the Disco deodorant, Disco face mask, Disco face scrub, and many more
The ingredients used in their products are natural and effective
They offer vegan and cruelty-free products
The brand does not use toxic fragrances in their products
They offer subscription services on all products
Free shipping for orders worth $60 and above
Cons
The brand does not have a wide international presence, as it does not offer shipping outside of Canada and the United States
Their products are pricey, but buyers say they are worth every dime
No phone support
Disco Products Review
Disco offers various types of skincare products for men. These products not only improve skin appearance but also revamp health. Each of them provides a unique set of benefits that cater to different needs. If you are asking yourself: Does Disco Eye Stick work? Keep reading to find out.
Disco Eye Stick Repairing Eye Stick
Designed to help you fight puffy and dark circles under those eye bags, Disco Eye Stick Repairing Eye Stick also awakens dull-looking eye bags by tightening and refining the skin lines and wrinkles. That way, you can conceal any fatigue and look more alert.
Its primary ingredients include niacinamide, pycnogenol, and caffeine. Pycnogenol is a French pine tree extract antioxidant that combines with Vitamin B3 to neutralize oxidation stress. That way, it brightens the skin complexion without using harsh chemicals.
On the other hand, caffeine provides antioxidants that reduce skin puffiness. While caffeine boosts energy when ingested, it also has a vasoconstriction effect when applied. This effect removes excess fluids from the lymphatic drainage system and tightens and firms the skin.
Lastly, the Niacinamide ingredient helps to improve the skin's elasticity and barrier function. It has anti-inflammatory effects that diminish the appearance of wrinkles, hyperpigmentation, and blemishes.
The Disco Caffeinated Eye Stick comes in a convenient twist-up format that makes it easy to apply on the go. It's also an excellent choice for those who have sensitive eyes.
Another aspect that most people like is the pricing options. Customers can buy the 0.4 Disco Eye Stick at a one-time purchase of $40. They could also opt for the subscription model that costs $26, saving them 20%.
Disco Hydrating Face Moisturizer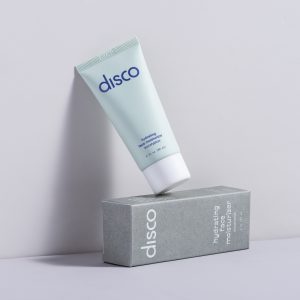 The Disco Hydrating Face Moisturizer is a lightweight cream that hydrates and protects the skin from the sun. It is an essential product in all skincare routines, especially for people with dry skin. It also contains anti-aging properties that help reduce the signs of aging.
Based on Disco Eye Stick reviews, buyers praised this moisturizer saying they like how it has a gel-like consistency that feels refreshing on the skin. It contains Vitamin C, an effective antioxidant that helps brighten and protect the skin from sun damage. The moisturizer boosts collagen production, evening out skin tone, and enhances skin appearance.
It also contains Vitamin E, which helps fight free radicals and repairs the skin. That's not all. It has eucalyptus oil, which gives it a pleasant manly fragrance.
Macadamia oil is one of the moisturizer's main ingredients. It is a natural oil that is high in fatty acids and antioxidants. It helps prevent wrinkles and fine lines hence slowing down the aging process.
The moisturizer has a creamy texture that makes it easy to apply and leaves no residue. Users find that the cream quickly absorbs inside the skin and does not feel greasy. Unlike traditional creams that give a heavy feeling, this face moisturizer is super lightweight.
Lastly, a 3.4 oz container of Disco Hydrating Face Moisturizer retails at $30.
Disco Charcoal Face Cleanser Stick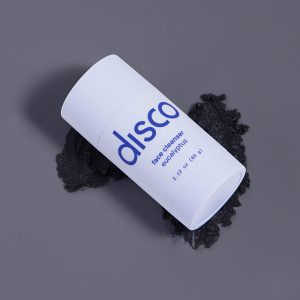 The Disco Charcoal Face Cleanser Stick is a deep-cleansing facial scrub that removes dirt and oil from the pores. It flashes out impurities from your skin without using harsh chemicals. Essentially, it's an evening skincare routine that helps you get back into the groove.
That makes it the perfect choice for people with oily and sensitive skin. Thanks to the combination of natural ingredients, it's also good for preventing painful acne breakouts.
The key ingredients in this face scrub include coconut oil, charcoal, phytic acid eucalyptus leaf oil, and aloe vera leaf extract. Activated Binchotan charcoal can detoxify the skin by absorbing debris, dirt, and excess oils. That way, it cleanses and clarifies the skin without leaving any residue behind.
Phytic acid supports the removal of pollutants and helps speed up skin cell turnover. It also has anti-inflammatory and antioxidant properties. Aloe Vera leaf extract has soothing and healing properties, and it also soothes and moisturizes the skin.
The Disco Charcoal Face Cleanser Stick is a gentle but effective facial scrub that can get used every day. It comes in a convenient stick form that is easy to apply and carry. Plus, it's affordable and lasts a long time. A 2.1 oz container costs $20 for a one-time purchase.
Disco Natural Deodorant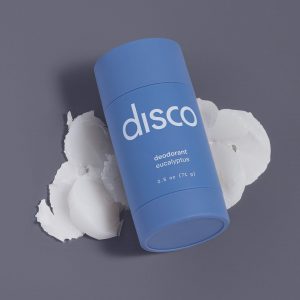 Everyone gets sweaty during the day, but with the Disco Natural Deodorant, you can put an end to embarrassing body odor. It's an all-natural deodorant that keeps Perspiration and odor at bay.
The deodorant is free from aluminum, parabens, sulfates, and phthalates. If you are wondering: Does Disco Eye Stick work? The answer is yes! The deodorant comes with a blend of tea tree oil, eucalyptus, and aloe vera that work together to neutralize musty smells.
The tea tree oil has antimicrobial and antifungal properties that help rid odor-causing bacteria. Eucalyptus oil has a refreshing and cleansing scent. It helps diminish the foul odor generating microorganisms.
Aloe vera leaf extract contains antioxidant properties that help kill bacteria and keep the skin healthy. It also has hydrating properties that keep your skin feeling smooth and soft.
The product is undoubtedly a far cry from the regular chemical-ridden deodorants that come loaded with harmful toxins. It works best after taking a shower.
Overall, the Disco Natural Deodorant lets you feel confident that you smell great all day long. It also comes in a convenient packaging that is easy to carry around and apply from anywhere. That means you can toss it in your gym bag for after-workout refreshment.
In terms of pricing, a 2.6 oz stick is available for $15.
Disco Anti-Fatigue Kit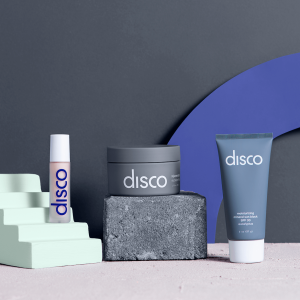 Formulated to help you achieve well-rested eyes, the Disco Eye Stick Anti-Fatigue Kit is a three-piece set that fights off fatigue, scars/acne, and other harmful sun effects on the skin. This Disco Caffeinated Eye Stick includes a Rejuvenating Face Mask, Repairing Eye Stick, and SPF 30 mineral Sun Block.
The Rejuvenating Face Mask is a deep-cleansing and hydrating mask that helps to unblock pores, reduce inflammation, and remove oil. It contains organic, earthly ingredients, such as Charcoal, Willow Bark Extract, and Bentonite Clay.
The Bentonite Clay works to restore minerals. The Willow Bark Extract is high in salicylic acid, which helps rid all dead skin cells and debris. On the other hand, charcoal helps to deep-cleanse the pores and remove any built-up impurities.
The Repairing Eye Stick is an eye cream that nourishes the delicate eye area. It contains several natural ingredients such as caffeine, Pycnogenol, and Niacinamide. But how does this Disco caffeinated eye stick work?
The product uses caffeine to reduce puffiness, dark circles, and any signs of fatigue. Pycnogenol is an antioxidant that helps to improve microcirculation and brighten up the skin.
The Disco Anti-Fatigue kit is perfect for people who want to achieve a youthful look. The product is affordable, as you only need $70 for the subscription model.
Disco Eye Stick Reviews from Customers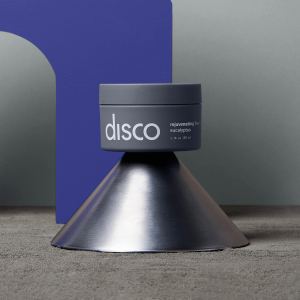 This Disco Eye Stick review wouldn't be complete without examining customers' feedback. The reviews we found on the internet are overwhelmingly positive. Users love the convenience and ease of use it provides. They also appreciate the all-natural ingredients, unlike most other cosmetics on the market.
From the brand's official website, most products have an average rating of 4.9 stars out of 5. From the comments, most users gave positive testimonials about the products.
One customer said that after testing the product for a month, they felt it was a superior formula to what he was using. Another one recommends the product as a must-have for people looking for a natural skin care product.
Popular Alternatives to Disco
The product received favorable reviews on independent sites such as The Quality Edit and The Fascination. Other reputable media sites, such as PopSugar and Men's Journal, liked how the brand specialized in male cosmetics.
Our review did not come across many complaints. That is not to mean that people did not have any criticisms. Some thought that the price was a little too high, especially on the brand's Facebook page. Generally, the negative reviews were not about the product itself.
Sign Up for Disco
You can subscribe to Disco for a chance to receive a 10% Discount on your first purchase, skincare tips, and other exclusive deals. All you have to do is provide your email address and be the first to know about new arrivals, promos, and more!
Where to Buy
Interested customers can buy Disco products from the brand's website LetsDisco.com. Alternatively, shoppers can get the products from authorized sites such as Amazon, Nordstrom, and Urban Outfitters.
Disco Shipping and Return Policy
Shopping Policy
Disco offers free shipping on all U.S. and Canada orders $60 and above. Orders below that amount attract a flat-rate fee of $7. The brand takes between 2 to 4 working days to deliver packages.
They provide a tracking number on all purchases via the confirmation email to help monitor the shipment. Keep in mind all deliveries are limited to Canada and the United States.
Return Policy
Customers can return products within 30 days of receipt. The brand does not accept purchases that contain several of the same product. Buyers must contact the customer service team to initiate the return process.
They also do not accept returns on gift cards. Additionally, customers can only return first purchases for subscription orders. That means you cannot return consecutive purchases.
Promotions & Discounts
Customers can subscribe to their website for a chance to receive a 10% Discount on the first purchase. Currently, they have gifts for orders worth $75 and free shipping for orders worth $50.
Contact Disco
For all inquiries related to any Disco product, customers can reach out to their support team via the contact methods below:
Alternatively, they can mail through the physical address:
823 Congress Ave Suite 150
Austin TX, 78701
Disco Eye Stick Reviews: Editors Verdict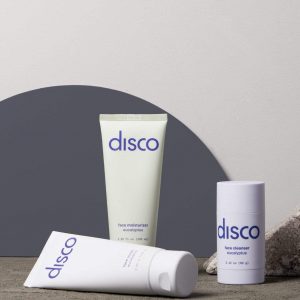 After careful examination of many Disco Eye Stick reviews, we found that this cosmetics brand offers some of the best products in the market. And their line of skincare products is prevalent for a good reason. Their products are an excellent addition to any man's grooming routine.
It is easy to use, makes your eyes look brighter, and offers a healthy glow. Furthermore, the products maintain the recommended pH balance to ensure it doesn't irritate the skin.
We found out that all the products are straightforward with their ingredients, which is great for transparency. As a testimony to its effectiveness, several notable magazines and online publications like Forbes have featured this cosmetics brand in their reviews.
While the brand is relatively young, it has over 27K followers on Instagram. For these reasons, we recommend Disco to any man looking for cruelty-free and vegan skincare products.
Are you interested in other skincare brands for men? Check out our reviews of Bravo Sierra, Cardon, Lumin, and Bulldog.
Disco Eye Stick FAQ
What is Disco?
Disco is a skincare brand that provides quality and healthy products for men. They have a range of products that cater to all skin types.
Where to buy Disco Eye Stick
If you are wondering where to buy Disco Eye Stick, visit their official site LetsDisco.com, where you'll find all their skincare products. Their products are also available at select retailers, including Urban Outfitters, Amazon, and Nordstrom.
Are all Disco Eye Stick products natural?
All the brand products come from natural ingredients, carefully chosen for their quality and effectiveness. Examples of those are eucalyptus, apricot oil, horsetail, and aloe vera.
Are Disco Eye Stick products appropriate for men with all skin types?
Yes, Disco Eye Stick products are appropriate for all skin types. They do not irritate the skin and have little to no side effects.
Where are Disco Eye Stick products made?
Disco manufactures its products in the United States. The brand makes all its products at the Austin, TX facility.
Are any of the products tested on animals?
No, Disco does not test any of its products with animals. It strictly adheres to cruelty-free practices throughout the production process. The products are also 100% vegan.