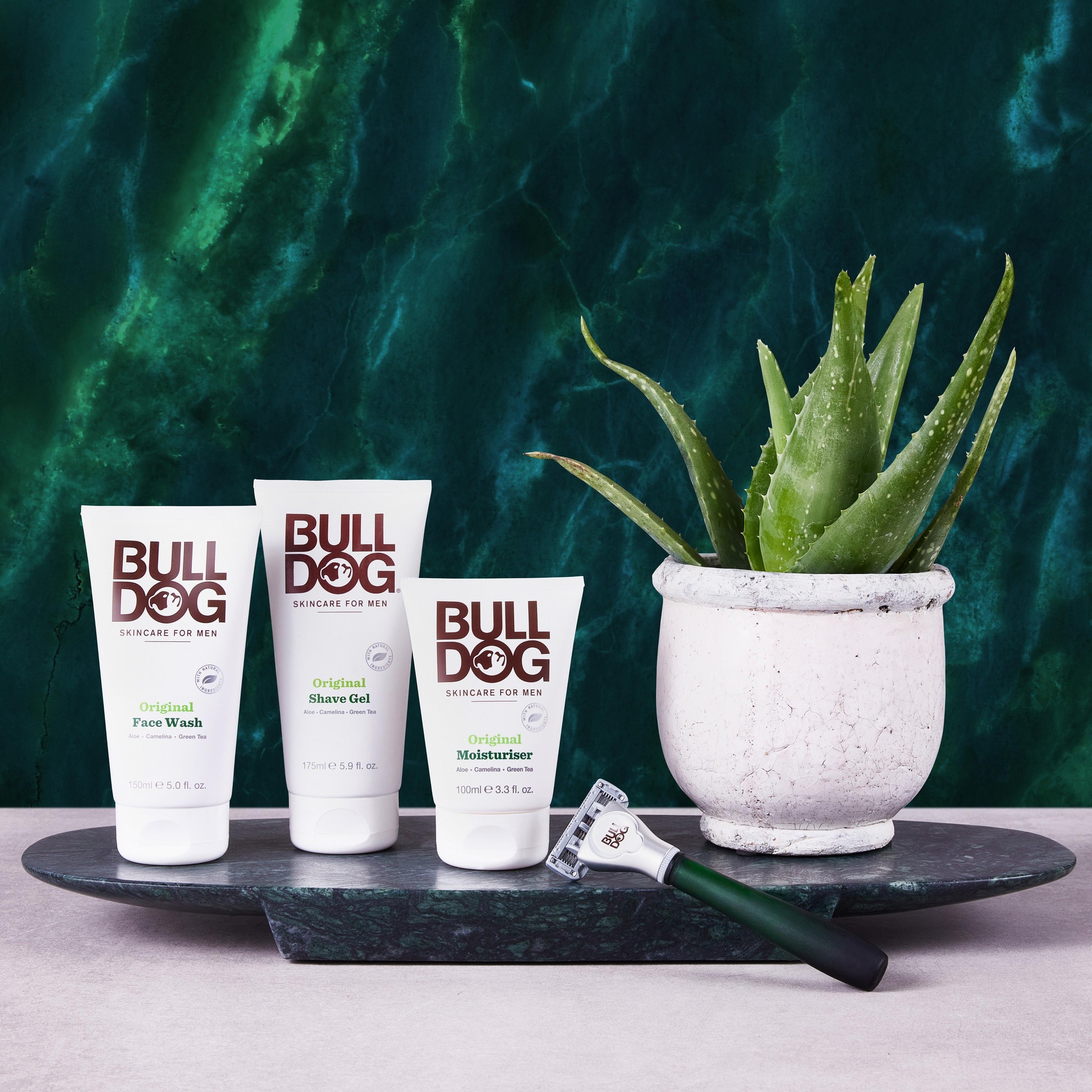 The skincare industry is a big business – with new brands launching all the time. Innovation is now very much the focus and at the core of this innovation is a need to offer more for individual skincare needs. The only problem with much of this innovation and personalization is that the majority of it is both designed and marketed to women. The 'for men' skincare market has seen some real growth over the years, but nowhere near the leaps and bounds of our booming women's skincare market. We've made it our mission to write a Bulldog skincare review to find out if this brand is one man should invest in.
If you can't already tell by the name, this is one of the few skincare brands that was designed and launched with male skincare needs very much in mind. Offering something for all skin types 'whether you have the face of an angle or the skin of a rhino' the Bull Dog skincare range has everything you would find in a 'women's' skincare cosmetics line,  but with the addition of some well thought out male essentials too. Read on to find out about our unbiased Bulldog Skincare review.
About Bulldog Skincare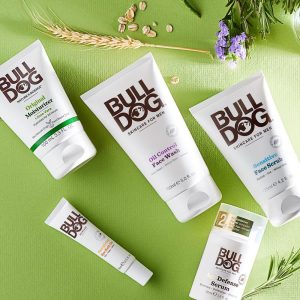 If you live in the UK, then Bulldog is a familiar brand as it was founded by Simon Duffy in 2006. They first started off producing moisturizers, wash and shave gels for men.
Simon explained that he saw how many options there are for women, when he went shopping for his wife and how much the industry lacks men's personal care products. He was not wrong, as even today the beauty industry for men's personal care is not as wide as for women's. Sometimes we even joke about how men can use one product for many different things, when in reality for a long time nobody thought about creating specific products for the body, just like they would for women.
Thankfully, Simon was ahead of everyone back in 2006. He sat down with his business partner Rhodri and created Bulldog. Why does Bulldog work? Well, it was created by men to men. The formulas are lightweight and they rub in quickly. So if any man wants an excuse as to why they don't have time to put on moisturizer because it sinks in late, now they don't have an excuse.
Fast forward to today, Bulldog is widely recognized over the world. The products are affordable and have good ingredients. If you're a man in need of skincare, read our Bulldog skincare review to find out even more.
Pros
Designed specifically to cater to the male consumer
Suitable for vegans and vegetarians
Products do not contain plastic microbeads, artificial colors or synthetic fragrances
Products for both skin and beard care
Leaping Bunny Ceritifed by Cruelty Free International
They offer a virtual skincare analyser
Cons
Smaller packaging than some other brands on the market
Bulldog Skincare Review of Products
One of the best things about the Bulldog skincare line is their attention to detail. They really have thought about the specific needs of the average man and they have delivered big time. Along with an offering of quality facial washes, cleansers, and masks, there are also beard care options too.
This includes a beard balm, beard shampoo, and conditioner. The simple 'one size fits all' approach that some other brands have offered men in the past, is definitely not the approach taken by Bulldog. It's pretty much impossible to launch a successful skincare brand without considering sustainability these days.
Bulldog has done just that, with packaging sourced from renewable materials, products that are never tested on animals, and a line that does not contain either artificial colors or synthetic fragrances.
There really is a lot to like about this brand. In fact, from the packaging to the line of product options to the ingredients and even the fragrances, Bulldog has done their homework and it shows. Let's take a look at what this brand has to offer.
Bulldog Moisturizers
No patch of skin is the same, so it stands to reason that no moisturizer can really do it ALL.  Well,  when it comes to keeping those different areas of the skin healthy and supple, Bulldog offers nothing if not a wide range of options.
No area of skin will remain untreated, whether it is the tougher stubble area, the delicate eye zone, or tackling sensitive skin and providing age defense…and the list goes on. What's more, they really do vary the ingredients in each product.
While one Bulldog moisturizer may have been inspired by K-beauty  – containing rice, algae and maize. Another will contain a concentrated antioxidant complex of Rosemary, Echinacea, and Vitamin E. For Bulldog, the difference isn't just in the name, it's in the choice of ingredients too.
Face Wash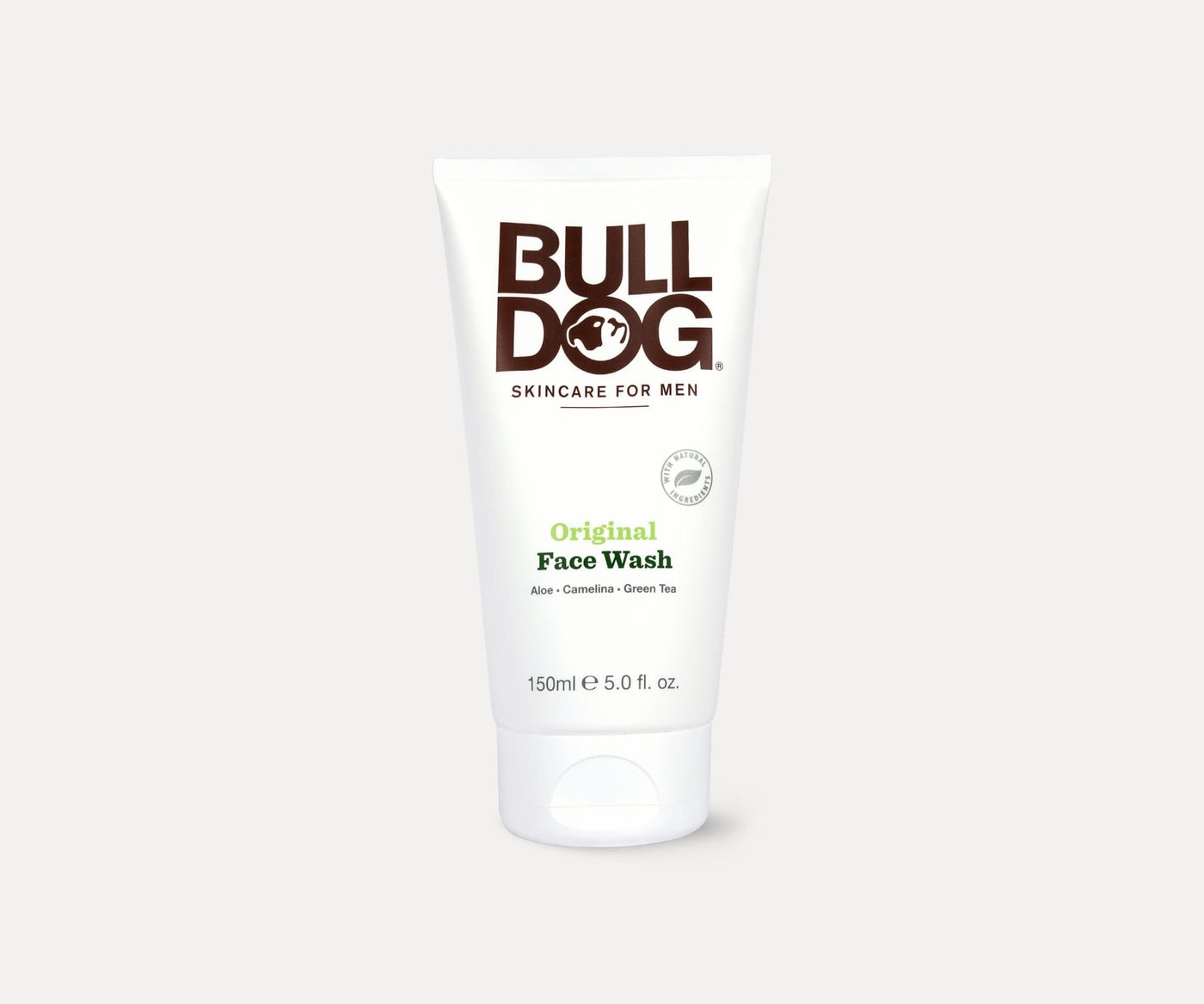 The Original Facial Wash from the Bull Dog range is very popular and it's easy to see why. It contains all of those essential ingredients that are great for removing dirt without drying out the skin.
Aloe vera, camelina oil and green tea combine to create just the right balance of skin cleansing WITHOUT skin stripping. The Bulldog face wash is great for those who often forget to follow up with a moisturizer or who have dry skin from shaving.
The consistency of this face wash is luxurious without the overpowering fragrance that often comes with that. Unsurprisingly, the scent of this face wash could be described as 'masculine'- it has a whiff of the oud about it, with woody accents and a fair bit of citrus too.
Bulldog Face Scrub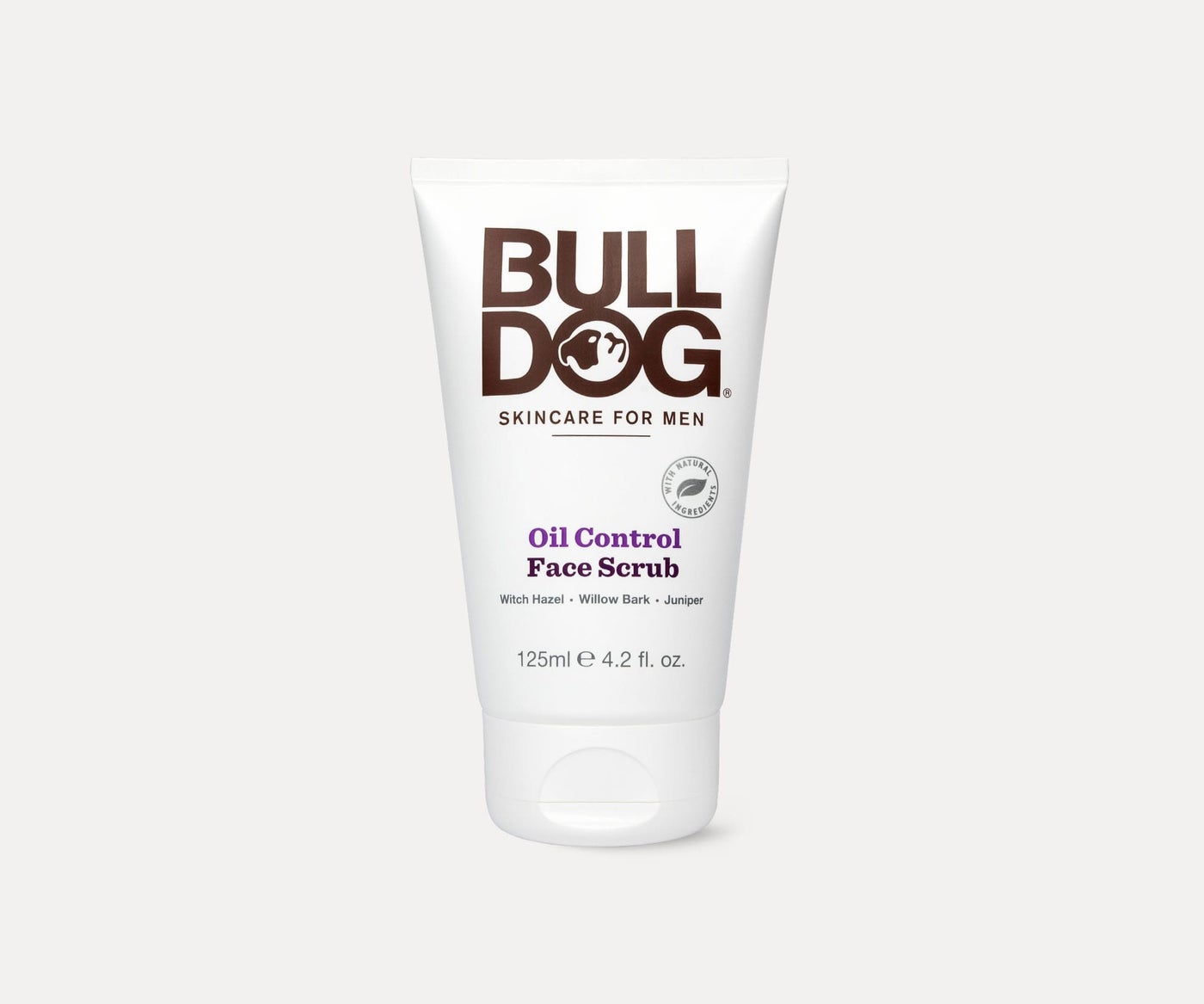 As their range of moisturizers, Bulldog offers a little extra when it comes to facial scrubs too. Gone are the days of those scrubs which contain harmful microbeads. Gone also are the days of using one type of facial scrub and mercilessly scouring the skin – ultimately doing more harm than good.
Oh no, the Bulldog range of scrubs includes a pretty good option for almost every skin type. They each contain their own specifically selected range of ingredients too. Need oil control?
The Oil Control Face Scrub contains witch hazel, willow bark and juniper. Need a scrub, but have sensitive skin?
Grab yourself the Sensitive Face Scrub, which contains quinoa, baobab oil, oat oil and willowherb. The Bulldog range has 4 facial scrubs to choose from, with something for almost everyone. 
Bulldog Shave Review
It's a brand for men, so of course, when it comes to taking care of facial hair they have you covered. Whether you are a daily shaver or are growing out a Viking beard, Bulldog has not held back… 
Original Beard Shampoo and Conditioner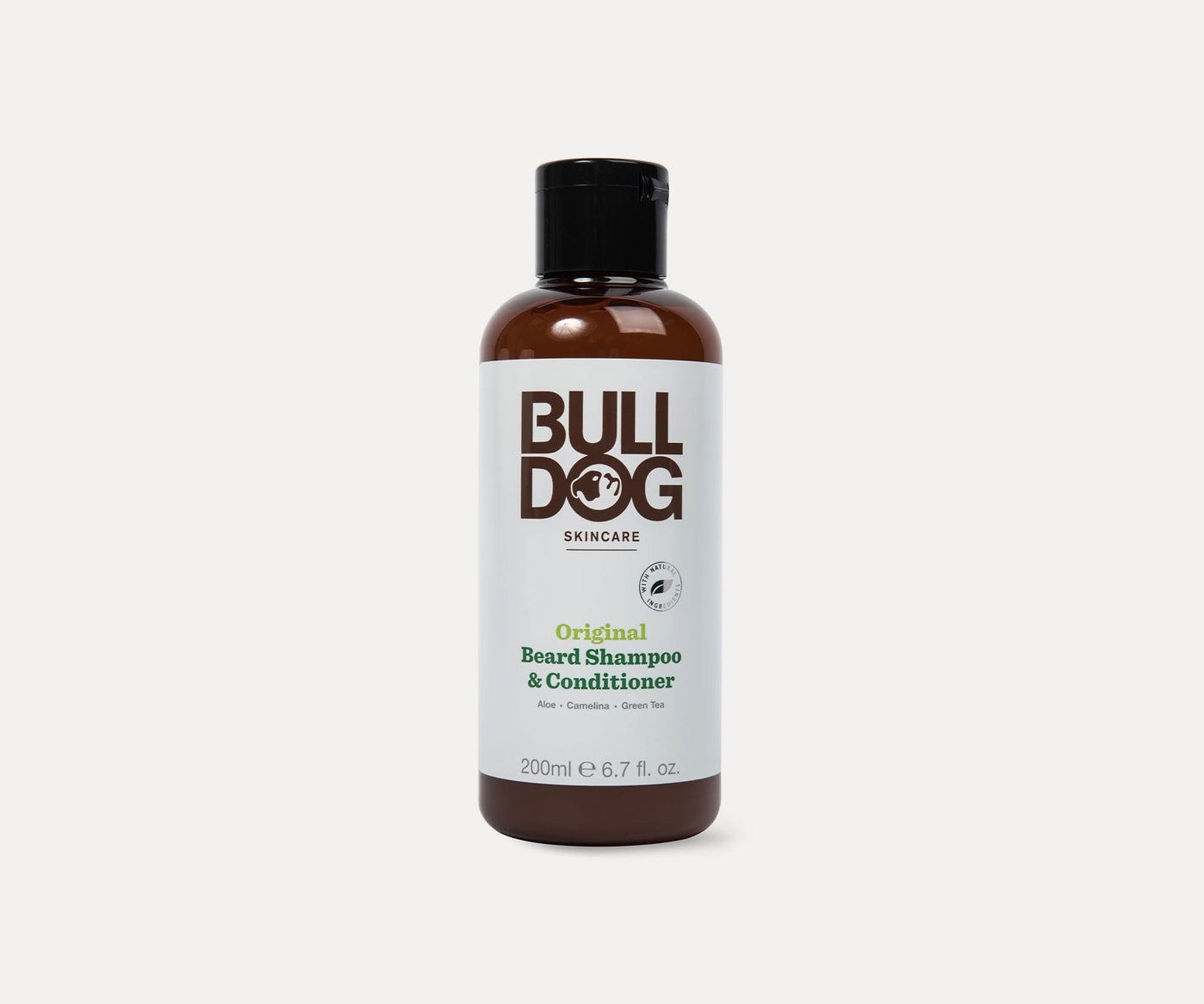 For those with beards, there are some who prefer to use a facial wash, there are some who use standard shampoo, and there are some who use nothing at all. Then there are those who truly love their beards.
For those people, only shampoo and conditioner containing aloe vera, camelina oil and green tea should do.
This level of beard care may feel a bit too much for some men who like to keep things very simple with just a few steps in their body wash routine, but there are some real benefits of opting for a product like this including preventing chin-itch.
This selection of products works by softening the hairs and leaving them feeling nourished and conditioned. 
Original Beard Oil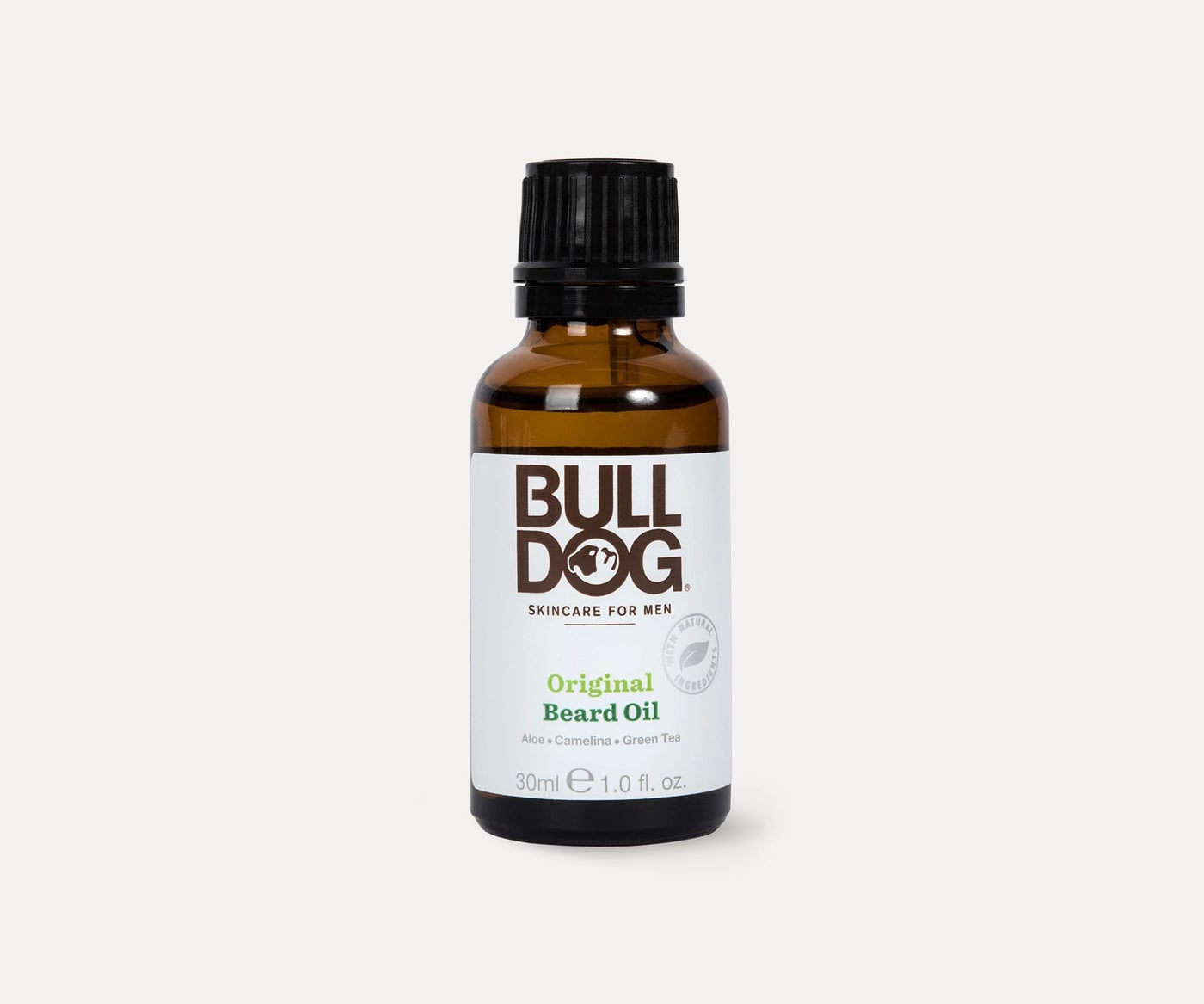 Keeping a beard under control can be tricky, especially when it beings to grow out. Beard hair is generally coarser and can get unruly faster, but weighing it down with heavy products can also mean that it gets dirty and greasy.
This can lead to bacteria and acne in and around the surrounding areas of the skin.The Bulldog Original Beard Oil is light and has an easily absorbing formula that improves the shine of the beard without making it look greasy.
This product will help to control your beard without causing too much buildup between washes. 
Original Bamboo Razor + 4 Refill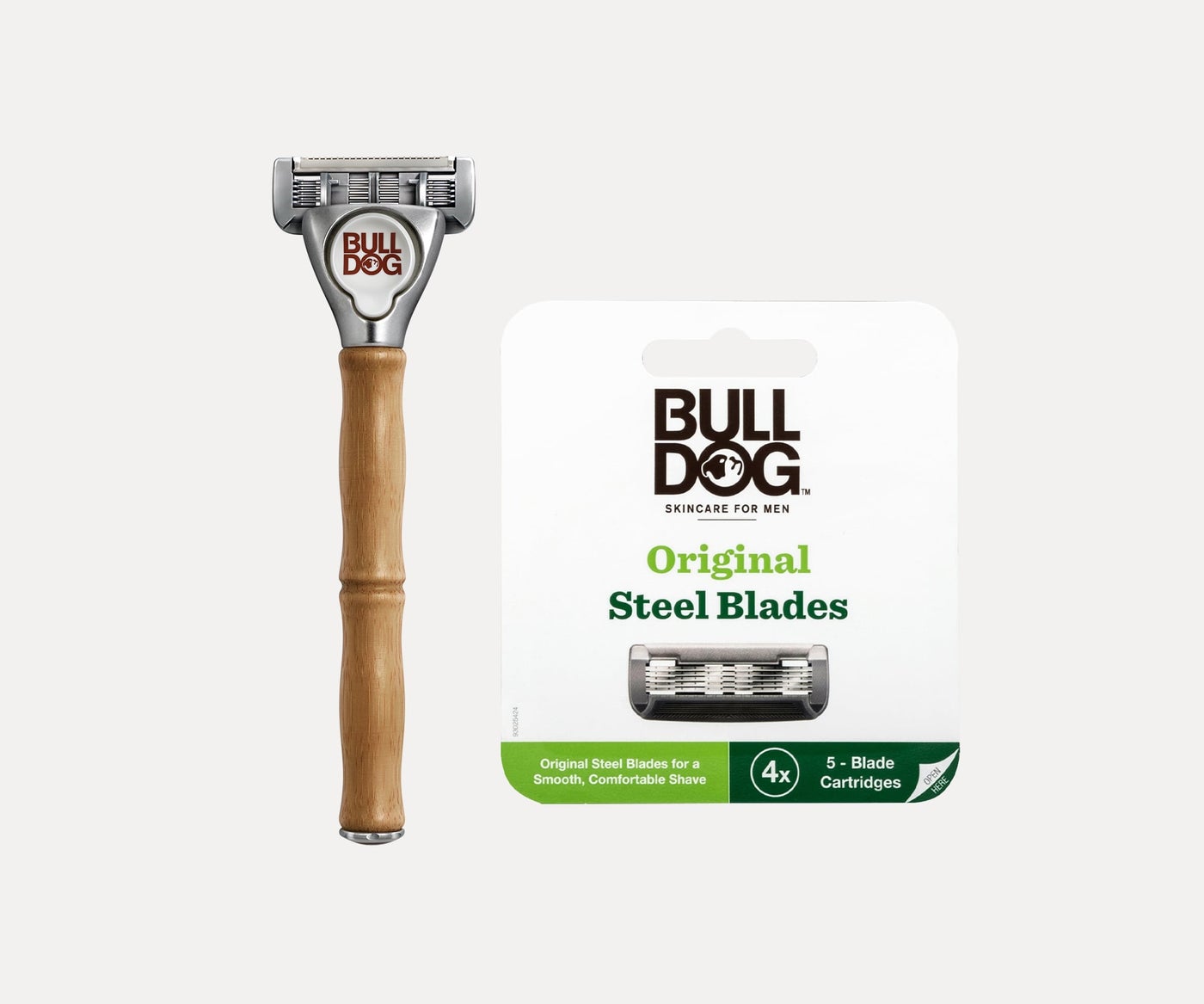 These razors are made from bamboo rather than plastic so that's a good start. The bamboo gives great grip and the shaver has everything you might require for a precise shave without the huge cost. The un-chromed metal components and use of bamboo over plastic for the handle are great selling points.
But most importantly they mean that this particular razor should not negatively impact the environment in the way that other razors do. 
Original Steel Blades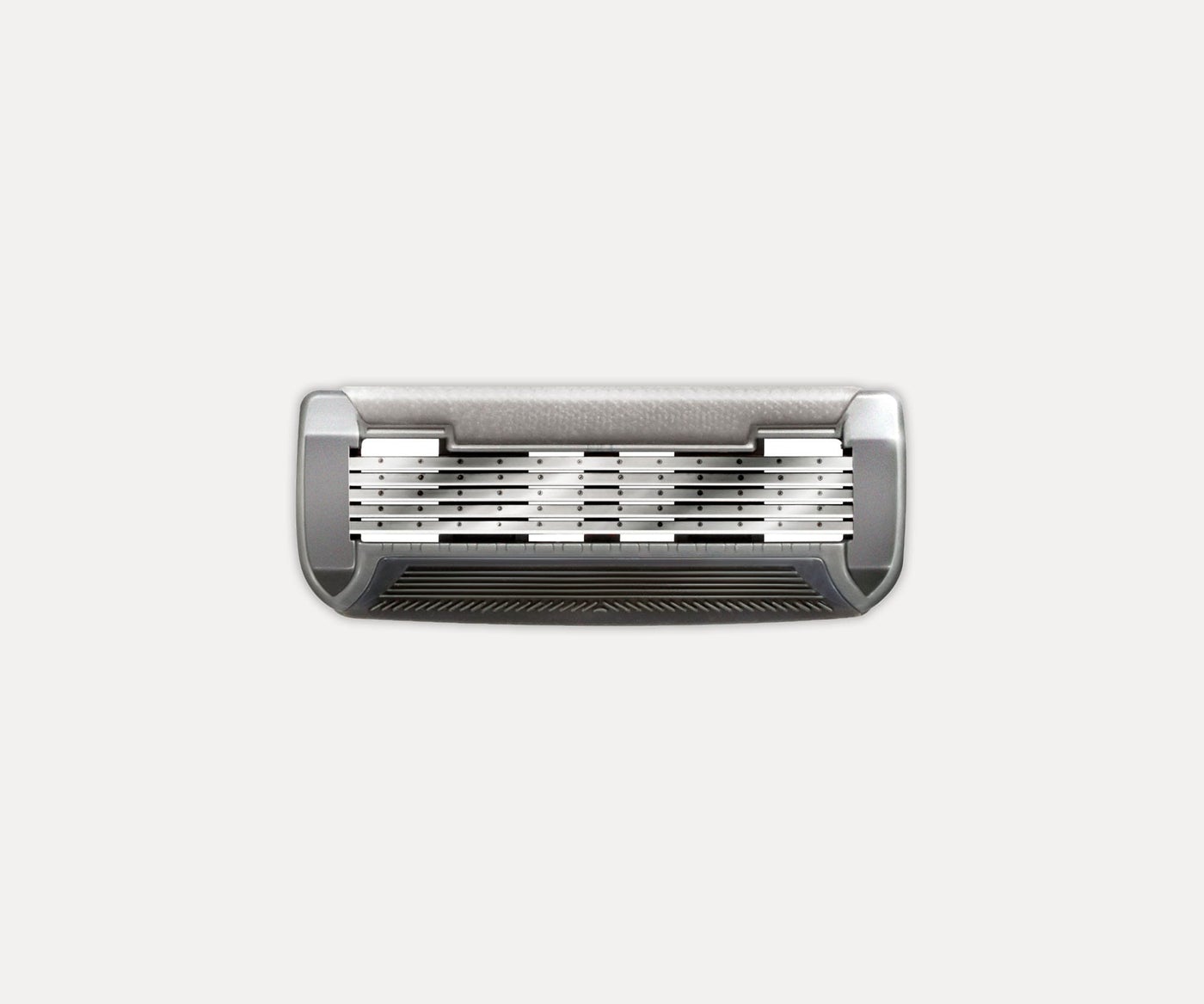 Original Steel Blades are made from tempered steel. There is also a lubricating strip with aloe, and a precision trimmer and pivoting design. This all adds to the close and precise shave that you get from this shaver.
What's more, for those who opt for design and efficiency AND sustainability, as mentioned above you can rest assured that you can have the best of both worlds with this handy little tool. From the handle to the blade, your daily shaving routine can be quick, easy, AND ethical.
Bulldog Bodycare Review
This is a popular brand, and although you don't get a huge amount of product – the Bulldog for men packaging is smaller than some other brands on the market – a little does go a long way.
The packaging size also makes it easier to carry your skincare around when traveling or going to the gym. For those who want quality over quantity, Bulldog skincare products are a must.
Original Body Lotion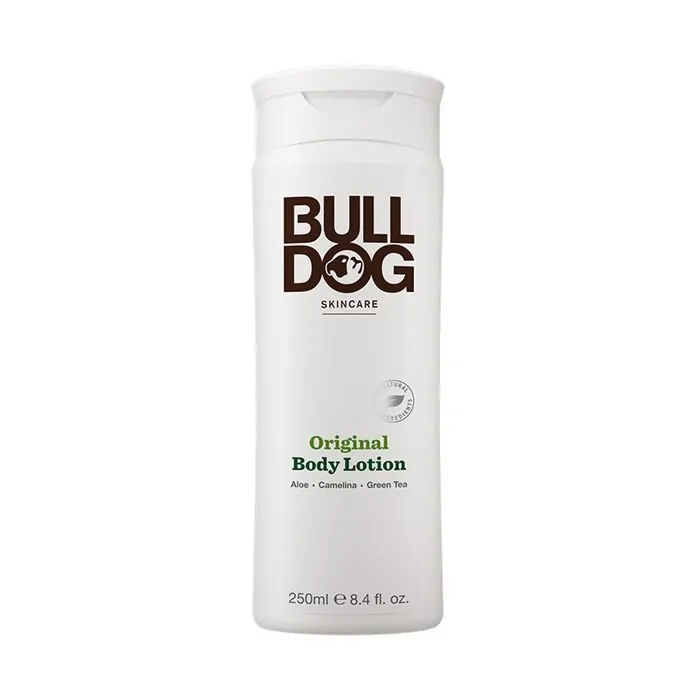 The consistency of the Bulldog Original Body Lotion whilst thick is fast absorbing. Like many of the other products from their range, it contains aloe vera, camelina oil, and green tea. It's also non-sticky which means that you can use this product either just before getting dressed or just before going to bed without messing up your clothes or sheets.
Original Hand Cream
With us all washing our hands more than ever before, not to mention using drying sanitizers – it is important to keep hands moisturized to avoid cracked and damaged skin. The Bulldog Original Hand Cream is light but deeply nourishing, keeping the hands supple and healthy.
It is not thick or gloopy and has no overpowering scent to contend with, so for those who like to moisturize on the go, it's an ideal choice. The only drawback for those who like to slap on lots of creams or moisturize often, the packaging is not very big so you may find yourself running out quickly. 
Bulldog Skincare Review from Customers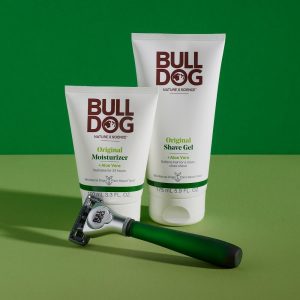 Being a popular product there were lots of reviews to be found online of the Bulldog range of skincare. Reviews can be found both on their website and across shopping platforms like Amazon too.
One of the biggest issues which appear to come up quite often is the size of packaging which some found to be small compared to the price. One such Bulldog skincare for men review was found on their site. The comment was about the Original Hand Cream:
'I'm all in for other Bulldog products so bought the hand cream. I was surprised how small a tube this is, relative to the price. I thought I got a travel size instead. It works well, smells great, but the tube will not last very long.'
That said, there seem to be very few negative reviews regarding the quality, fragrance and consistency of the products from the Bulldog skincare range. A firm favorite appears to be the Beard Oil which is also a Best Seller on Amazon.
Popular Atlernatives to Bulldog
The glowing reviews all seemed to be around the consistency of the products and how effective it is at softening coarse beard hair:
'A few drops on the fingertips go a long way. Nice soft beard and soothed skin and within an hour or so everything was absorbed.'
'As far as beard oils go this one is pretty decent – Definitely worth what you 'pay for it.'
'At last – a beard oil that doesn't smell of sandalwood, cedar, or any other tree!'
'I didn't have high expectations I have used bulldog products before and they are great, but this is beard oil expected to shine, etc but didn't expect the results so fast like 2 uses and my beard (previously rough despite conditioning) is so much softer! 
Where to Buy Bulldog Skincare
Bulldog natural skin care products can be purchased internationally – you can have the range delivered easily by ordering from the website: www.bulldog.com – or by buying on Amazon.
Alternatively, for those based in the UK, you can also pop into your local Boots or Superdrug to find items from the range on shelves. The benefits of buying in-store include being able to actually hold the product in your hand and checking the size and weight before making a decision.
Do keep in mind that although the packaging of the Bulldog range may appear smaller than others on offer, the quality really does speak for itself and a little will go a long way.
Bulldog Skincare Shipping and Return Policy
When you arrive on the Bulldog website you will be asked to select the country in which you are based.  Shipping is free on all orders on us.bulldogskincare.com. The only thing to remember is to be sure before you make a purchase, as Bulldog does not accept returns.
If you're unsatisfied for any reason, you can contact the head office within 30 days of your purchase to discuss any issues. Once you have made your purchase, delivery should take about  3-7 business days with standard shipping. 
If you want your order at a specific time/day, be aware that orders placed Friday (after 12 p.m.), Saturday or Sunday will be processed the next business day. You can also track your orders from your Bulldog account at any point. 
Contact Bulldog Skincare
No brand is perfect and there may be times when you need to contact them to ask a question or make a complaint. If you need to contact the Bulldog Head Office, you can do so by using the handy contact form on their Contact Us page or by using the following details for US-based customers:
Available Monday to Friday from 9 am to 5 pm EST. Call 1-888-724-6342 or write to them at:
Edgewell Consumer Affairs
5901 West Side Avenue
Suite 400
North Bergen, NJ 07047
Bulldog Skincare Review: Editors' Verdict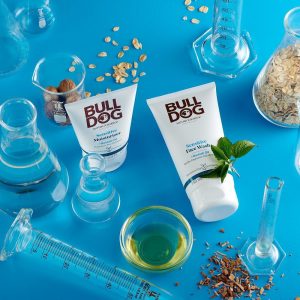 After all, is said and done, the question is – when it comes to men's skincare, where do Bulldog sit in the hierarchy? And ultimately, is it worth spending your money on their range of men's skincare products? The truth is, this is a brand that has filled a gap in the market.
Bulldog offers a range of skincare products, specifically designed with men in mind – offering a wider range and therefore more choice than others have in the past. So, is Bulldog Skincare good?
Based on reviews found across the internet, the wide range of quality ingredients, and of course their commitment to being a cruelty-free AND sustainable brand, we would say yes! The only thing the brand is yet to launch is a Bulldog aftershave – we will watch this space!
Looking for more men's personal care brands? Consider reading our comprehensive reviews of Bevel, Manscaped, Cardon, and Lumin Skin.
Bulldog Skincare FAQ
Are Bulldog Skincare products vegan?
Bulldog products are never derived from animal sources and are certified by Cruelty-Free International. All of the Bulldog products are suitable for vegetarians and vegans.
Are Bulldog Skincare your products gluten free?
All Bulldog skincare products are indeed gluten-free.
How often should you use Bulldog face wash?
You can use the Bulldog face washes either once or twice a day - morning and evening. Remember, you will need to use a moisturizer after cleansing your skin to prevent it from becoming tight and dry.
If you find that you are getting buildup on your skin or need something a little more intensive, you can try the Bulldog range of face scrubs for occasional use.
Is bulldog face wash good for acne?
The Bulldog men's skincare range offers a variety of skincare options for anything from sensitive skin to age defense. If you are suffering from acne, it is important to ensure that you are using the right product for your skin type.
The Bulldog skincare range is a good option as they contain natural ingredients. That said, if you find that your acne becomes worse when you are using any new product, we recommend discontinuing use and seeking advice from a dermatologist.
Do Bulldog products test on animals?
Bulldog does not test any of its products on animals. All of the products are certified by Cruelty-Free International. What does this mean?
None of the ingredients used is animal-derived, furthermore, their suppliers also comply with Bulldog policy on animal testing.
Do Bulldog products contain nuts?
They do not guarantee that none of the customers will suffer from an allergic reaction from Bulldog formulations.
All of the ingredients are specified on the products and it is common for certain materials used in cosmetics to contain nuts.