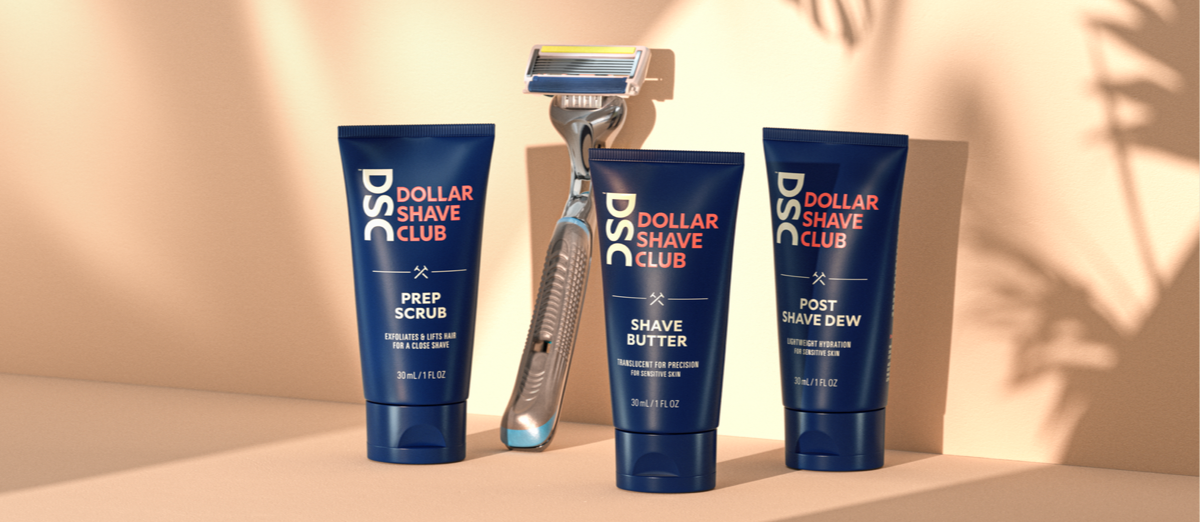 Dollar Shave Club takes the hassle out of regular shaving by providing everything you need, from blades to after-shave skincare, by mail order. Their flexible subscription service aims to analyze your shaving habits and send only what you need when you need it. The theory being this saves you money, reduces waste, and makes sure you never run out of razors right before that crucial meeting or date. In our expert, unbiased analysis, we'll be looking at everything to do with this brand, from real-life Dollar Shave Club reviews from satisfied and dissatisfied customers to the entire user experience. All to find out whether this Club truly offers the hassle-free shaving system it promises.
About Dollar Shave Club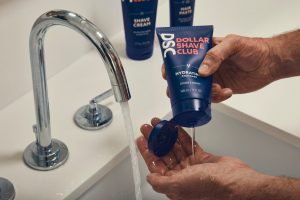 Dollar Shave Club started with a great idea and a viral video. But it has since grown into an international company serving subscription razors and a wealth of additional products through its webstore. There's no doubt that Dollar Shave Club struck a chord with consumers when they offered an alternative to expensive drugstore razors.
Customers receive a Dollar Shave Club razor handle in their first box and replaceable blades through the mail. All delivered on a basis tailored to their personal shaving routine.
This simple system hasn't changed much since the founding of the company. It has expanded its range to include a wider variety of blade styles. These include the Dollar Shave Club executive handle and system, and a range of skincare products.
When it was founded, Dollar Shave Club was one of the only companies providing razors by mail order. Their subscription box model was considered truly innovative. Customer reviews of the simple system raved about the savings in both time and money versus buying cheap disposable razors or hunting for the right blades at local drugstores.
Unfortunately, more recent Dollar Shave Club reviews tell a different story. They perhaps even suggest a company that failed to keep up as the market changed or made some poor business choices. We'll evaluate further.
Many customers complain of long wait times for delivery, difficulties contacting customer services, and cheaper and higher quality items found elsewhere. Possibly as a result of subscription services, in general, becoming easier and more widespread.
Pros
Hassle-free subscription service for all your shaving needs.
One-stop shop for personal grooming.
Less waste than disposable razors.
Cons
More expensive than many mail-order alternatives.
Handle and blade compatibility can prove confusing.
Packages sometimes experience significant shipping delays accompanied by difficulty contacting customer service.
The customer service experience has become poorer in recent years.
Changes to ownership, packaging and manufacture have led to widespread customer disappointment.
Dollar Shave Club Products Reviews
Dollar shave club is a subscription service, bringing razors and shaving supplies to your door at the frequency you need them. Users can take a quiz on the homepage to help identify the subscription, products, or Dollar Shave Club Starter Kit that's right for them.
But before you start taking quizzes and ordering shaving supplies, let's take a look at some of the best-selling Dollar Shave Club products that are available as part of a subscription or on their own.
We'll find out how each product fits into the system, and check out plenty of Dollar Shave Club reviews from real customers to test the user experience.
Dollar Shave Club Shave Butter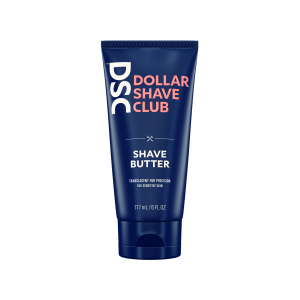 An alternative to shaving creams and foams, the Dollar Shave Club shave butter is formulated to gently soften hair for a super smooth shave.
The translucent formula makes it easier to guide the razor for a perfect shave and the moisturizing ingredients help to tackle ingrown hair and razor bumps.
All you need to do is apply a small amount of Dollar Shave Club butter over the area you intend to shave and wait 15 seconds for it to work its way into your skin for the ultimate buttery-soft smooth shave.
Looking at Dollar Shave Club shave butter reviews, we found that the majority of customers seem to like this product and find it provides much more moisturization than conventional shaving foams and creams. Some were particularly impressed by its ability to prevent razor burn and other dry skin issues associated with frequent shaving.
On the other hand, a few customers found that the shave butter clogged their razor faster than alternative products, or that they needed to use more than expected to achieve a smooth shaving surface.
Dollar Shave Club Ultimate Shave Trial Kit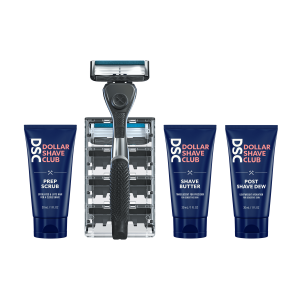 This is a great choice for your Dollar Shave Club starter kit as it contains everything you need to use a blade subscription plus some trial-size tubes of the most popular Dollar Shave Club skincare products.
As part of the Trial Kit, you'll receive one Dollar Shave Club handle which is compatible with both six and four-blade razor cartridges, two six-blade cartridges, and trial-size tubes of Dollar Shave Club shave butter, post-shave dew, and prep scrub.
Of course, you could build your own Dollar Shave Club Starter Kit by buying the items individually… But picking up this particular set promises to save you 21% vs buying the products separately. What's more, by picking up the Dollar Shave Club Starter Kit, you can rest assured that you'll have everything you need for your smoothest shave ever. All in one handy package, with no subscription and no risk until you know how good it feels.
Reviews for the Dollar Shave Club handle and blades included in this kit have remained positive for the most part. However, in recent months there has been a flood of critical reviews unhappy with changes to the style of handle and blade.
Customers complain of the blades popping off during a shave or being difficult to clip on in the first place. We also found a series of complaints about razor burn or otherwise irritated skin when switching to the new style of blade.
Dollar Shave Club Ball Spray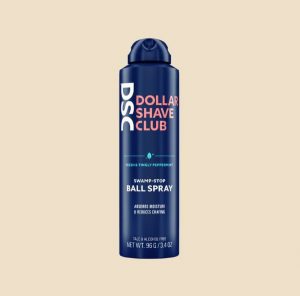 The Dollar Shave Club Ball Spray is an incredibly popular product with users of all genders to reduce chafing and keep sweat-prone areas dry and smell-free.
Simply apply the no-mess spray to problem areas after showering or before heavy exercise for a cool minty scent and hours of protection against sweat and chafing.
Once again the highly positive reviews for Dollar Shave Club ball spray drop off a cliff in recent months as customers respond to a change in the style of spray-head followed by extended out-of-stock periods. Something doesn't weigh up?
We hope to see this product return soon with an improved spray head (or a return to the old design) as it has gained quite an impressive following of people who have come to rely on it for a chafe-free summer.
Dollar Shave Club Shave Essentials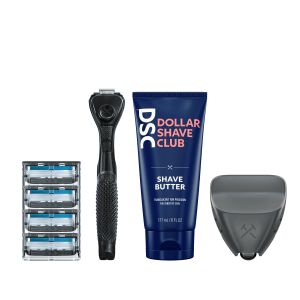 The Dollar Shave Club shave essentials kit is a great choice if you need a Dollar Shave Club replacement handle for your ongoing subscription when you've lost the original or it's just looking a little worse for wear.
As well as a Dollar Shave Club razor handle, you'll receive a pack of six-blade refills, a tube of Dollar Shave Club shave butter, and a handy razor cover to clip over the blade of your razor for on-the-go protection.
We've talked about the other products in this kit above and the protective clip seems like a useful accessory until you look at some of the customer reviews for the standalone product – it's received only 2.3 out of 5 stars!
Almost all the negative reviews are from customers disappointed to find that the clip regularly comes undone or that it's awkward or difficult to close snugly in the first place. A good idea poorly executed, sadly.
Dollar Shave Club Skincare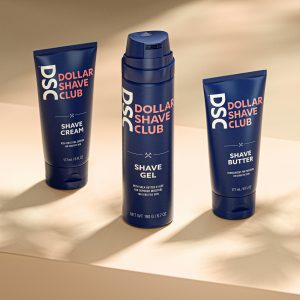 Dollar Shave Club offers a wide range of skincare products with a mostly positive reception from customers. These items are perfect for adding to your subscription order to try out a new step in your skincare routine.
One of our favorite products in this skincare range is the Dollar Shave Club eye savior – designed to help fight dark circles under your eyes and reduce the appearance of wrinkles and fine lines. Customers love the cooling ceramic applicator and find the product soothing and refreshing on tired eyes.
The skincare range also features a popular spray sunscreen product and an SPF-30 moisturizer to help protect your skin at work or play in the hot sun.
Dollar Shave Club skincare reviews feature many compliments from customers on the unisex styling and versatility of these products in a busy household. They work well on a variety of skin types and the rugged styling isn't offputting to men who prefer a masculine appearance but still want to take care of their skin.
Dollar Shave Club Reviews From Customers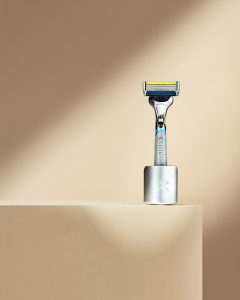 Dollar Shave Club reviews are historically very positive but several recent changes have resulted in a massive drop in the number of positive reviews and a slew of angry complaints.
We've looked at profiles for Dollar Shave Club on several popular review amalgamation sites including TrustPilot, ConsumerAffairs.com, and the Better Business Bureau. The BBB profile is the only one claimed by Dollar Shave Club and they proudly show the logo on their website with an explanation of what it means to be a member.
Unfortunately, the BBB profile is one of the worst for reviews! The company has received an atrocious 1.3 stars out of 5 over 186 customer reviews at the time of writing on this platform. Dollar Shave Club customer services have responded to the majority of reviews here, but many of them seem to represent last-ditch attempts by customers to get in touch after weeks of unanswered emails or missing items.
Popular Alternatives to Dollar Shave Club
Further customer reviews
Dollar Shave Club hasn't claimed a profile anywhere else and is not responding to reviews through TrustPilot or ConsumerAffairs. This hasn't stopped customers from sharing their thoughts, however, and the overall picture is not a reassuring one.
Even on Consumer Affairs, where years of positive reviews mean the overall score is as high as 3.8 out of 5, the most recent five-star review we found was from 2019, and the most recent 3-star from 2020.
When it comes to reviews for skincare products, they're generally much more positive than for the company itself or for the Dollar Shave Club handle and razor cartridges. Most of the skincare products have had a great reception and the Dollar Shave Club ball spray in particular seems to have achieved quite a following!
Unfortunately, even where products have positive reviews, they're often let down by changes to packaging, stocking problems, or delivery issues. Nearly all the positive reviews are peppered with negative ones complaining the product is out of stock too often or that the packaging change has made it harder to use.
Sign Up for Dollar Shave Club
You can sign up for Dollar Shave Club on their website by completing a simple quiz to analyze your shaving needs and customize your first box.
Any items you purchase from the website can be added to future boxes on a subscription basis or added to the cart as a one-time purchase.
Where to Buy
Dollar shave club products are available in selected stores and on selected online marketplaces but the subscription service is only available through the Dollar Shave Club website.
Shipping and Return Policy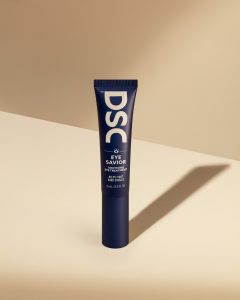 With Dollar Shave Club you only pay for the products you receive and your subscription box will always ship free so long as it contains blade refills.
One-time orders under $18 and items not added to your regular subscription may incur an additional shipping fee of $4.
You will receive tracking information by email once your order has shipped, and you can follow your box's progress through your account page, though tracking may be limited for smaller parcels such as those only containing blade refills.
Dollar Shave Club does not accept returns but advises you to get in touch via the 'contact us' section of its webpage about its 30-day money-back guarantee if there are any issues with your order.
Promotions & Discounts
Dollar Shave Club will occasionally offer promotions, sales, or discounts on the website or across its social media platforms.
The best way to keep up to date is to sign up for regular email updates through your Dollar Shave Club account.
You can give Dollar Shave Club starter kits and subscriptions as gifts or purchase a gift card with DSC credits that can be spent on subscription boxes or one-off items.
If you have received a gift card it can be redeemed online for credits to be spent on any items or subscriptions in the store.
Contact Dollar Shave Club
Getting in touch with Dollar Shave Club is a notoriously difficult process and their website doesn't provide a phone number, postal address, or even email.
There is a contact form on the website where you can type a request and a webchat facility which is manned by either a bot or a customer service representative during business hours.
Dollar Shave Club Reviews: Editor's Verdict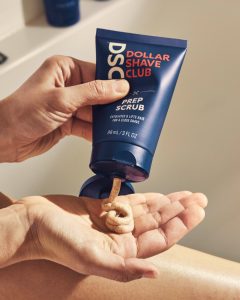 Dollar Shave Club was among the first companies to provide a successful subscription box and quickly became a household name as it grew.
While skincare and other lines have been welcome additions, the shave subscription service itself and the Dollar Shave Club handle and blades have failed to move with the times.
Poor customer service and a recent takeover by an international conglomerate have compounded what might have been simple problems to fix, had Dollar Shave Club reviews and customer complaints been listened to.
For us, this makes it one to watch as the change in management could lead to improved customer service and a reduction in stocking and quality control problems. Fingers crossed!
Are you in need of other self-care products for men? Consider reading our reviews of Bravo Sierra, Fur You, Black Wolf Nation, and Bulldog Skincare.
Dollar Shave Club FAQ
Can I customize my subscription box frequency?
You can change your subscription frequency or alter your shipment date from your account page at any time.
Does Dollar Shave Club offer any beard grooming products?
Dollar Shave Club offers a range of products for keeping your beard in tip-top condition… Even the parts of your face that you don't shave can be well cared for by this brand!
Products such as beard oil can be found in the 'shave' section of the website.
Are Dollar Shave Club products organic?
Dollar Shave Club states all its products are made from high-quality ingredients but they are not certified as organic.
Are Dollar Shave Club products for all skin types?
Some products are specifically designed for oily or dry skin types. If this is the case it will say so on the product page and packaging.
If you have any kind of skin condition or an unusual skin type, then you should consult a medical practitioner before using any new skincare products
How to cancel Dollar Shave Club?
Many of the negative reviews we saw featured customers asking how to cancel Dollar Shave Club memberships after struggling to get in touch through the website.
In many cases, the answer was that there is nothing to cancel if you have selected a one-off order and paid through the webshop shopping basket.
For members, you can cancel your subscription, pause it, or change the delivery date at any time from your account page.
Can women use Dollar Shave Club products?
All dollar shave club products are designed for use by both men and women.