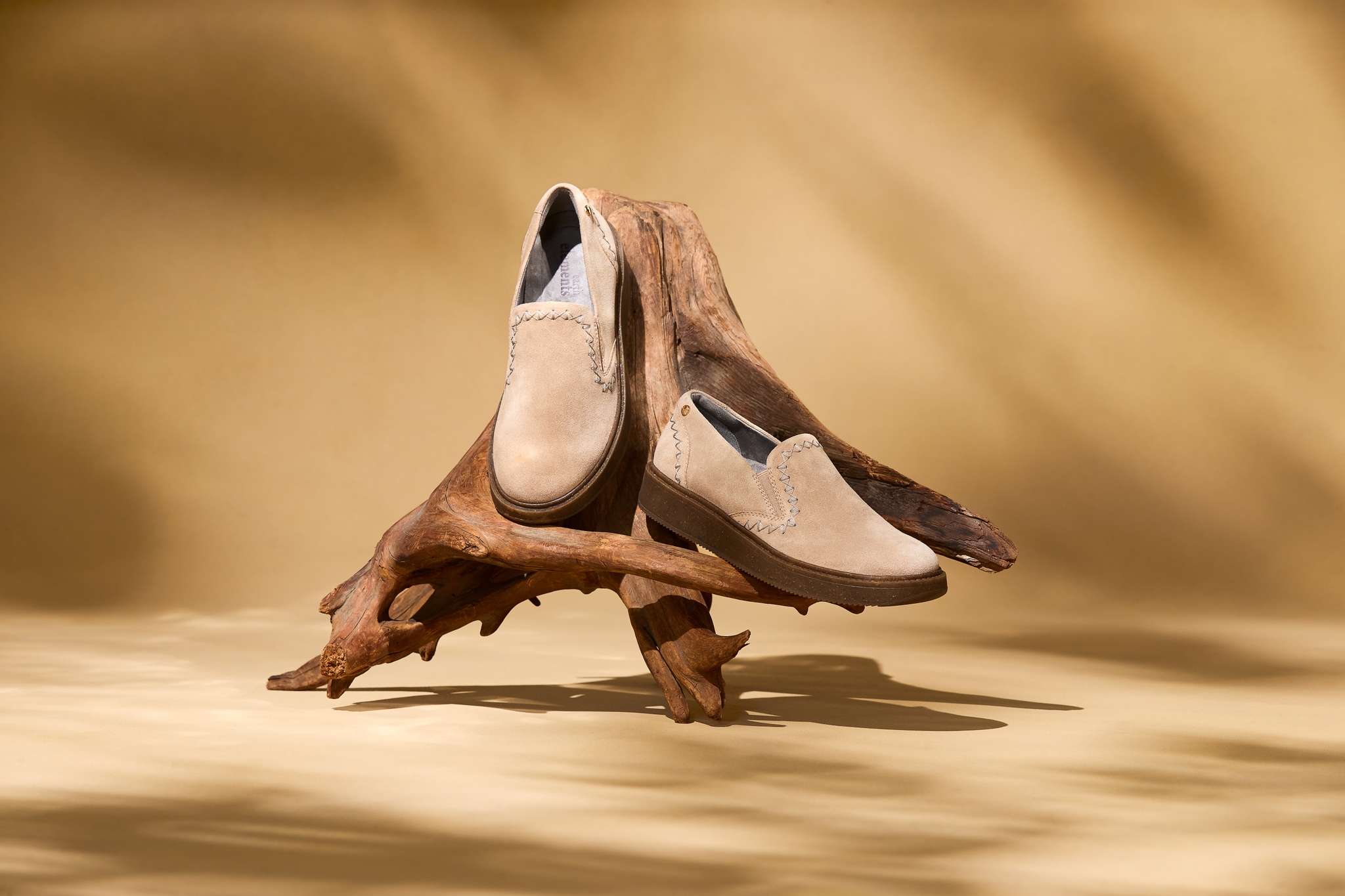 Aesthetically appealing shoes that are versatile, stylish, comfortable, and eco-friendly. There is a bewildering array of options when it comes to footwear, but finding shoes worth investing in is crucial. Earth Shoes is a US-based online shoe brand that offers a range of footwear brands. Our experts will review Earth shoes to help you find out if they exude wellness and comfort as they claim.
With decades of experience, Earth offers shoe products crafted while keeping in mind the health of our planet. The brand believes that wellness starts with making Earth a healthier and happier place for everyone. They already have over 21k followers on Instagram.
Let's take a deep dive into Earth and its products to help you with the decision-making process.
About Earth Shoes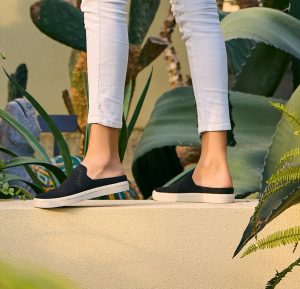 The shoe brand identifies itself with fashion for modern wellness, and its vision is to help you look, feel, and do good. Earth Shoes is an environmentally conscious brand, and it holds itself responsible for leaving a mark on Earth. They care about our planet, which is our home, and believe that making quality, long-lasting shoes is the path to wellness.
The brand was featured in many publications such as  Footwear news, Yahoo!, Women Wear Daily, and many more.
Since 2015, the company has partnered with the award-winning Maryland-based tree-planting nonprofit organization Trees For The Future, and they have planted more than 1.8 million trees to date.
Each sale allows them to plant trees in developing countries across Haiti and Africa to help provide families with education, leadership, income, and food.
By purchasing shoes that this brand offers and helping them plant trees, Earth Shoes enables families from Haiti and Africa to transition from damaging farming practices to a Forest Garden system, which sustains and empowers them, changing their lives completely.
One of their brands is Earth Origins, which are shoes designed to fit you and your lifestyle. Earth Elements is also their brand, and these shoes are made from recycled materials and sustainable processes to ensure they keep your body and feet comfortable.
Lastly, Earth Kalso shoes are grounded heel footwear inspired by yoga and have encouraged wellness and wellbeing worldwide for almost five decades.
Pros
Comfortable shoes that come with arch support
Free shipping and returns for customers from the United States
High quality, sustainably sourced women
Affordable shoes
Unique Seventies and retro-inspired designs in various styles
They accept returns and offer refunds
Cons
Offers limited formal footwear
They don't offer live chat support
Online orders are only available for Canadian and customers from the United States
They don't offer direct exchanges on merchandise
Earth Shoes for Women
The brand offers a variety of shoes to match the taste and preferences of women from different backgrounds, including boots, heels, wedges, flats, casual shoes, sandals, and sneakers. We'll take a close look at some of their top-selling Earth Shoes for women.
Earth Shoes 70s Kalso Lokah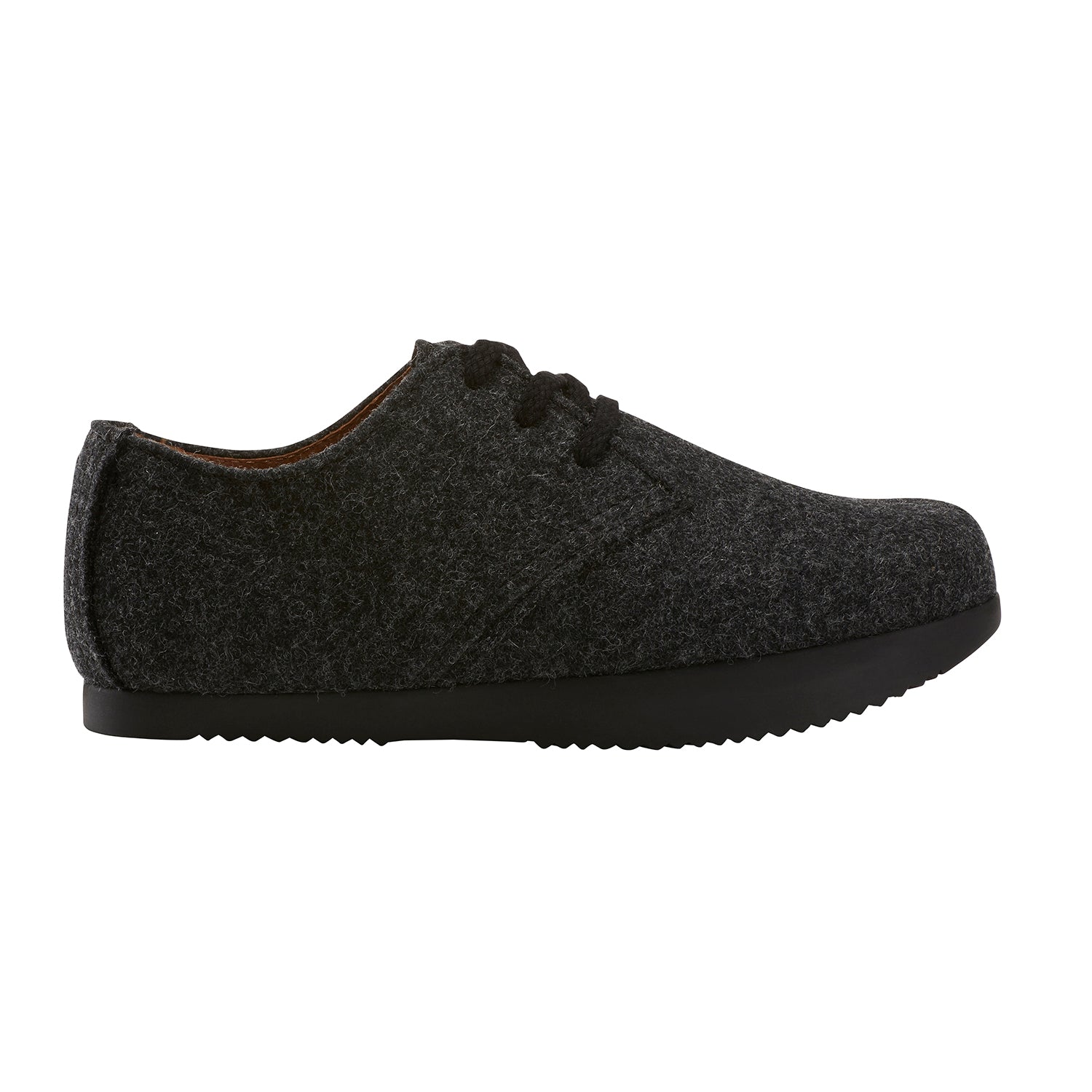 Kalsø was invented in 1957 by Danish shoe designer and yoga instructor Anna Kalso. The Earth Shoes 70s is an iconic shoe from the original collection of Kalso, ideal for both women and men. The manufacturers did not use chromium on the lining inside.
The shoes come with a wide toe box, which helps to reduce and avoid hammertoes and bunions, deformities that result from toes being too close together for long. It also helps to improve balance and agility by allowing your toes to spread out more for comfort and increasing the surface area you cover when moving.
Because your toes will spread and grasp the ground, you will get additional strength that improves your athletic performance and overall movement due to the control and strength that comes from the extra traction. The wide toe box also improves circulation and lowers the risk of injury by enabling your feet to get stronger and retain flexibility.
That means you will avoid common injuries, such as rolling your ankles.
Additionally, when doing this review Earth Shoes, we found that the shoes feature a Negative Heel design that positions your toes at a unique incline position that relieves pressure on your back and encourages proper posture.
The Negative Heel also allows your calf muscles to stretch gently, and you exert more energy when walking, making them an excellent way of boosting your metabolism.
Available in black, natural, and dark taupe, the carefully constructed Powerpath creates a unique shoe-wearing experience. The Earth Shoes 70s Kalso Lokah are available in sizes 6 to 10.
Earth Shoes Sandals Corie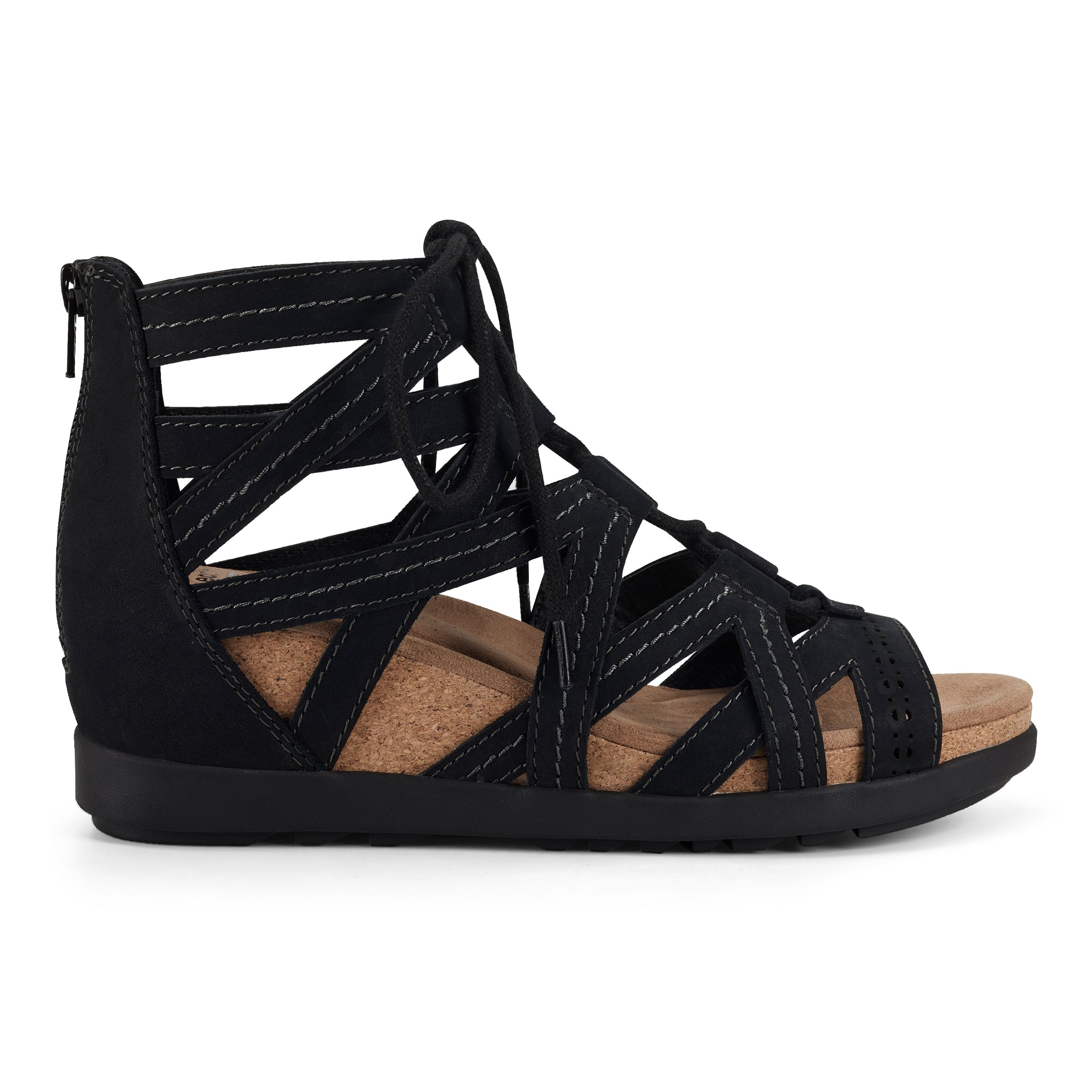 This iconic gladiator sandal comes in various colors, including amber yellow, black, pearl blue, and coco. Inside Earth Shoes sandals, you'll find a subtle wedge crafted from cork, which provides elevation to keep sand, dirt, and other irritants away from the feet. The soft, moisture-wicking footbed cover is made from 82% recycled plastic bottles.
Wearing these ultra-cushioned shoes with a memory foam arch-supporting footbed will keep your ankles and feet aligned and supported, which helps you avoid pain from your feet, hips, back, and knees.
Because cork is a sustainable material, you will be buying the perfect pair of gladiator sandals while helping protect the environment.
The upper part of these sandals is made from premium leather obtained from a tannery that has received a Gold Rating from LWG, meaning that it adheres to sustainable and appropriate environmental practices.
The sandals also feature vegetable-tanned leathers, allowing them to be long-lasting and have a great natural smell.
Vegetable-tanned leathers are also aesthetically appealing and retain original features. While it's rare for the upper leather to fail, you can repair these sandals with ease and make them look new again.
You can adjust the laces for the right fit, and the side zipper allows you to wear the shoes and remove them with ease.
Made from partially recycled TPR, the outer sole is light, flexible, and durable. It is also high friction coefficient, breathable, and has a strong grasping force, making it slip-resistant.
The shoes are available in sizes 6 to 11, and the height of the heels is 2.25 inches, making the sandals comfortable enough to wear the whole day.
Earth Shoes Arrowhead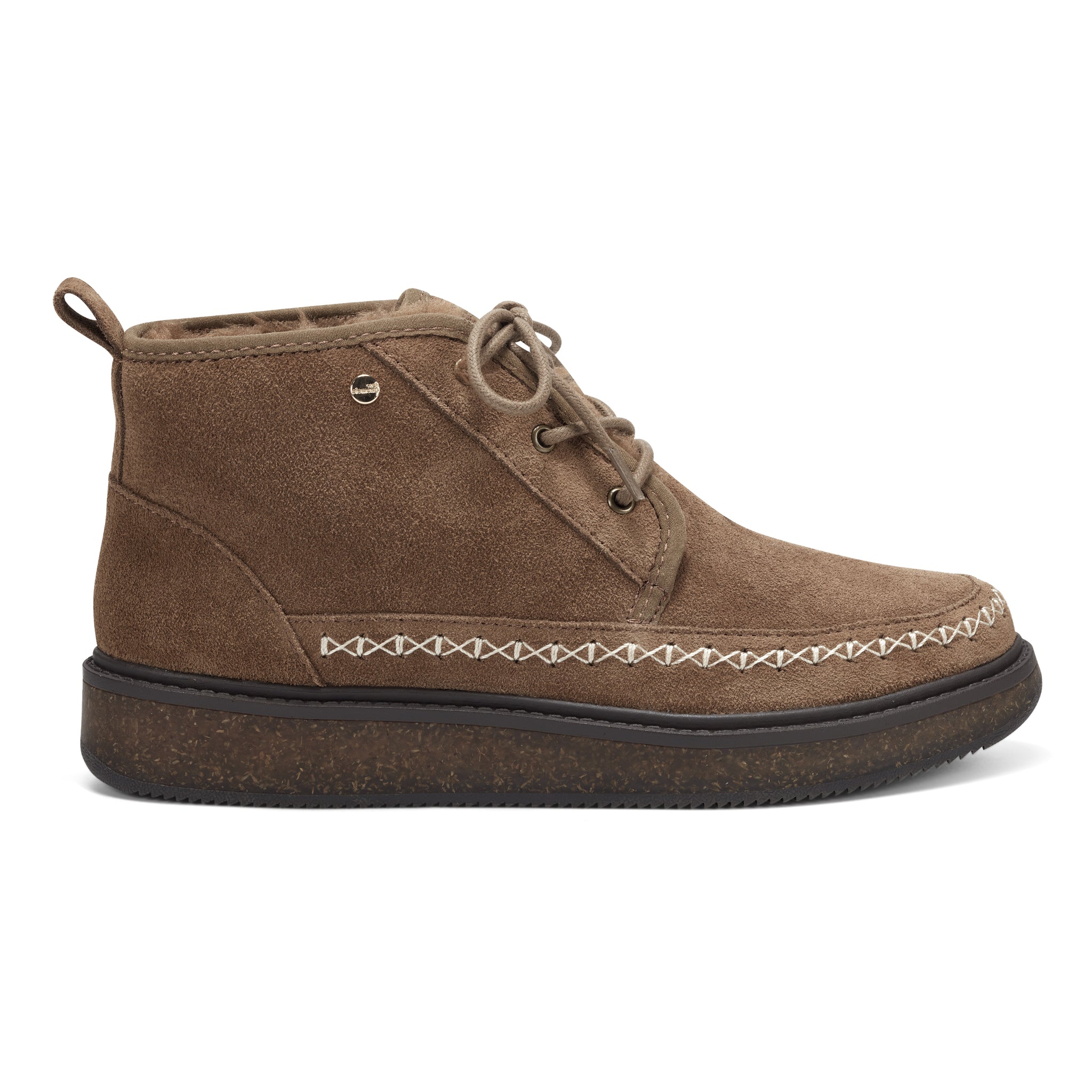 Built for comfort, Earth Shoes Arrowhead was created by fusing a sneaker and a shoe. These shoes are also pleasing to the eye, and you can wear them to the office or around town.
The upper part of these shoes is made from full-grain leather or premium suede sourced from a tannery with Gold Rating from LWG, which guarantees sustainability. The suede is a tough fabric that makes the shoe durable, and its thin nature gives it a nice, soft drape.
They also feature adjustable alpine lacing to help you dial in that perfect fit. Additionally, it has a plush, faux-fur lining, making the shoes warm and comfortable to wear.
The wicking, fast-drying, and removable footbed cover is made from recycled material. The shoes come with an OrthoLite foam footbed, which is eco-friendly, made to be sustainable, and offers all-day support.
The outer sole offers excellent grip on treacherous surfaces to prevent falls and slips, and it is water and oil-resistant. That means you can safely work in slippery, muddy, and wet environments when wearing Earth Shoes Arrowhead.
The rubber outsole also provides a strong barrier against dangerous chemicals, acids, and cement, hence eliminating the risk of burns. The shoes come in black, camel, and leopard print, and they are available in different sizes.
Earth Shoes for Men
The brand also offers a range of Earth Shoes for men in different styles, sizes, and colors.
Earth Origins Davidson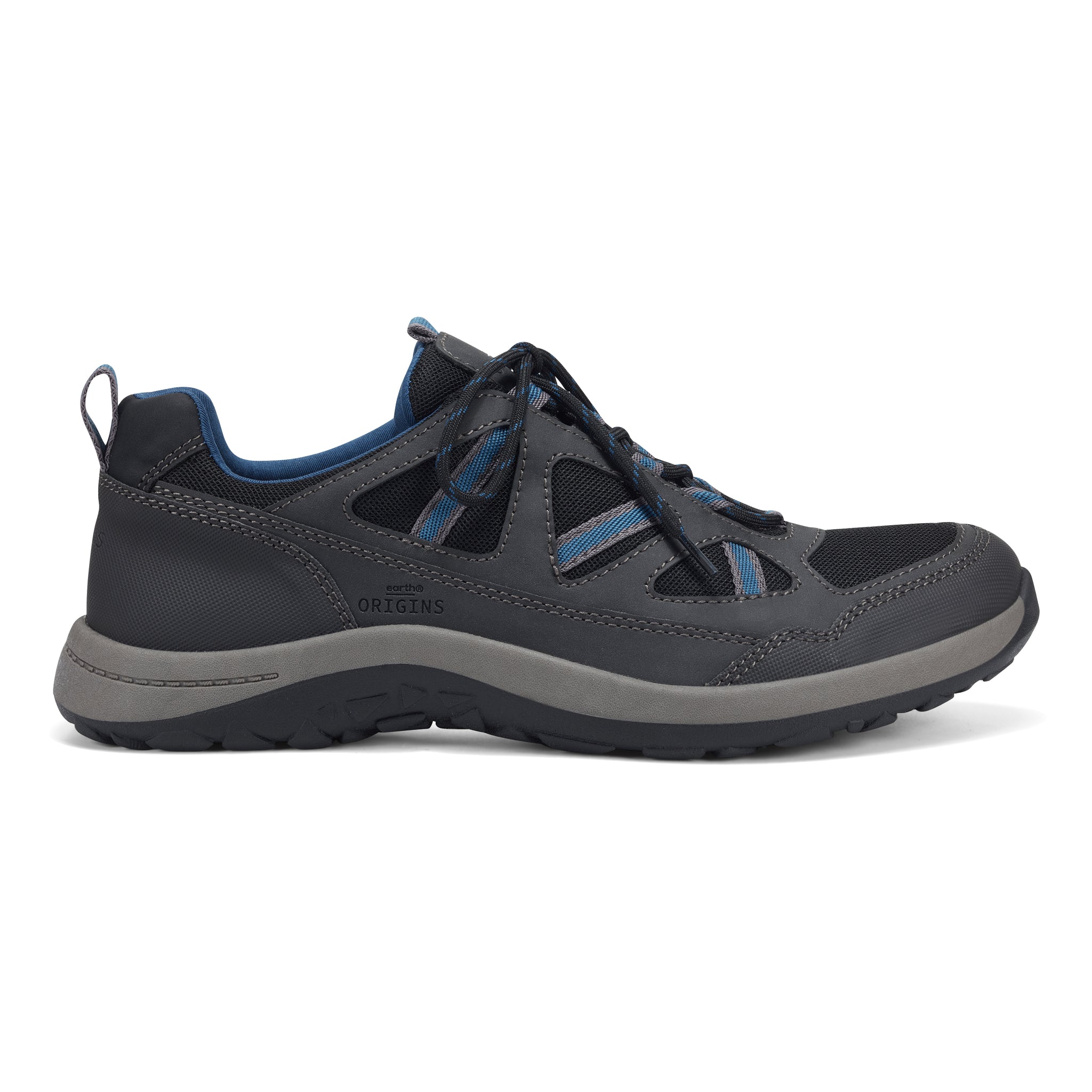 These shoes offer rugged, sporty vibes mixed with Earth's integrated comfort systems, allowing you to wear them when going off the beaten path and around town. The shoes are stylish and comfortable, with the upper crafted with 100% vegan materials without using animal materials or by-products.
The breathable panels do a great job of keeping your feet cool and dry. The heel pull-tab at the back of the shoes allows you to pull them on with ease.
The adjustable lacing enables you to customize your fit. Additionally, the shoes feature a Powerpath footbed, memory foam footbed, and reinforced arch support designed to energize and uplift your steps.
You can recycle the whole shoe at the end of its life via the Earth RecycleMe Program. The outsole is designed for outdoor and indoor traction. Earth Origins Davidson is available in sizes 8 to 13, and it comes in three different colors: Bison Multi, New Khaki, and Black.
Earth Elements Abound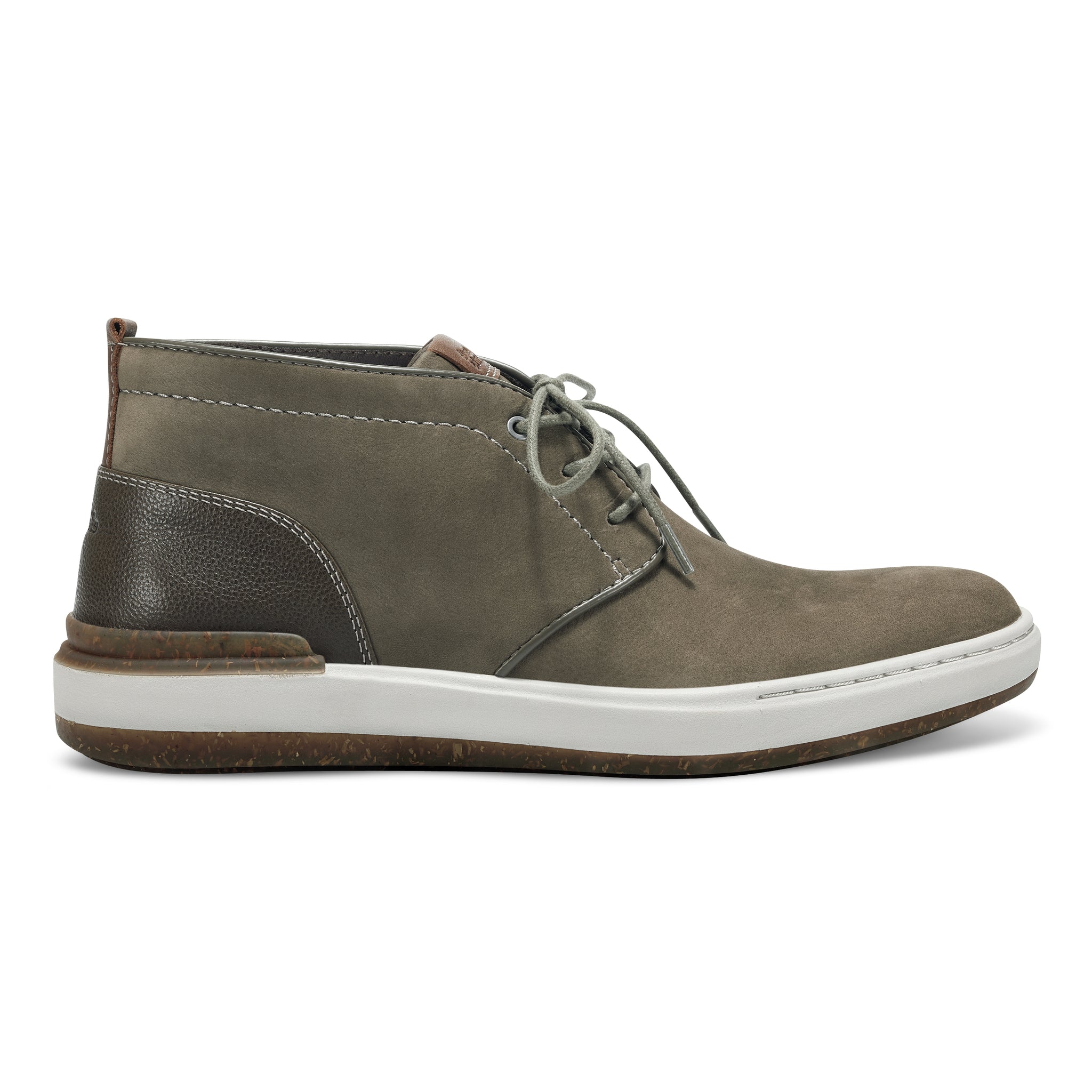 This shoe picked up where the desert boot left off, and it features premium materials and clean lines along with the crucial addition of sneaker-like comfort. They are visually appealing and suitable for any occasion, as you can dress them up or down.
The shoes are also great for in-between weather, and they can keep your feet warm if the mercury drops down farther than you had expected. Furthermore, they are light on the feet, meaning they will not weigh you down.
Earth Elements Abound comes with a durable outsole made from recycled rubber. The upper is made with premium, nubuck/full-grain leather, making the shoe attractive to look at and comfortable to the touch.
Nubuck leather also allows for breathability, as it can absorb and release water droplets or sweat. The shoes come in medium width and feature a leather heel pull-tab for easy-on convenience.
The OrthoLite fast-drying foam footbed is made with recycled materials and offers all-day support. The shoes are available in sizes 8 to 13, and they are available in four colors — cognac, taupe, black, and dark brown.
Earth Elements Abound shoes look great when you pair them with pants or jeans with a rolled-up bottom if you're going for a casual appearance, or you can wear them with chino trousers for a smart-casual look. 
Earth Kalso Deron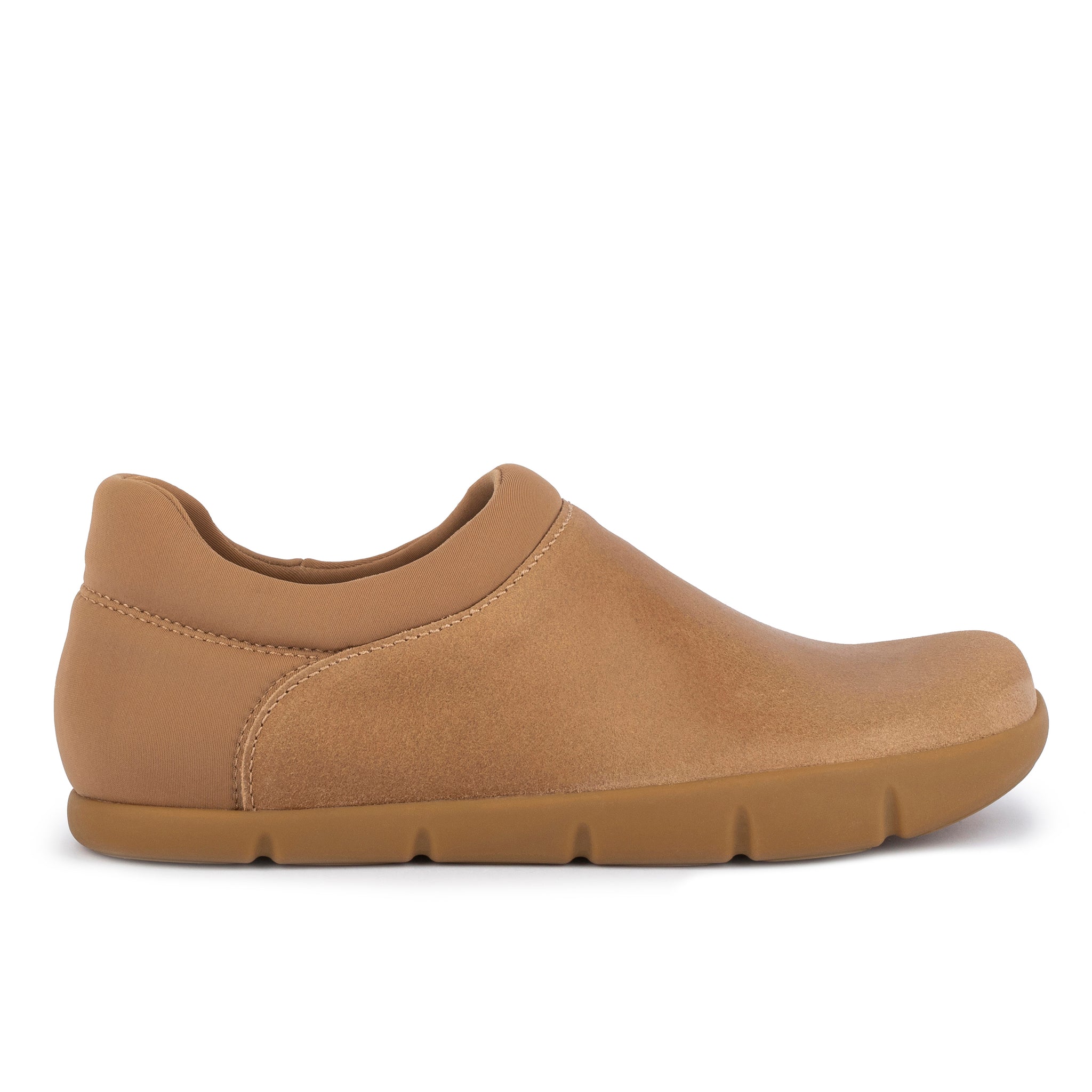 Ideal for business meetings or brunches, these sleek leather slip-on shoes do not come with fastenings, allowing you to put them on and take them off swiftly. They are built for comfort, as they feature a silky-smooth lining to keep you comfortable and cool while walking.
The upper is made from high-quality, sustainable leather that breaks in fast to form a custom fit. The shoes use chrome-free leathers, which means cleaner waste streams, less pollution, and improved biodegradability.
These shoes are made for movement, as they are lightweight and put less strain on your feet. Because you will carry less weight with each step you make, you can walk further than ever.
Popular Alternatives to Earth Shoes
Inspired by the 70s Kalso shoes, Earth Kalso Deron comes in muted, vintage colors, and it is available in light brown, black, and grey.
Our review Earth Shoes also discovered that these slip-on shoes continue the theme of keeping your feet dry and comfortable with a removable Powerpath® footbed foam footbed that offers support from heel to toe.
The slip-resistant, partially recycled TPR rubber outsole features a negative heel design that keeps your toes higher than other parts of your feet. The shoes come in medium width and are available in sizes 8, 9, 10, 10.5, 11, 11.5, and 12.
Earth Shoes Reviews from Customers
Almost all online Earth Shoes reviews are positive on their site, with the average rating being 5 out of 5600 reviews. The majority of the customers say the shoes are stylish, durable, and comfortable.
Some customers praised the brand for creating wide shoes, while others commended their outstanding customer service. A significant number of people love how their shoes are perfect for arch support and the premium materials they use.
On Amazon, most of their shoes have 4.5 stars, with some having a 5-star rating. There were a few negative reviews, with one customer complaining that Earth delayed in notifying them on order status after they canceled it due to lack of inventory.
Sign Up for Earth Shoes
To start shopping at Earth Shoes, you'll need to head to their official site and register an account. Signing up is a speedy and straightforward process, as they only ask you to provide your email address and password. When you sign up for their newsletter, they will take 15% off the first order you make on their site.
Where to Buy Earth Shoes
You can purchase Earth Brand shoes on their website EarthShoes.com and other places online, including QVC, Zappos, and Amazon. You can find numerous retail stores that sell their shoes, and their Store Locator allows you to find nearby stores.
Earth Shoes Shipping and Return Policy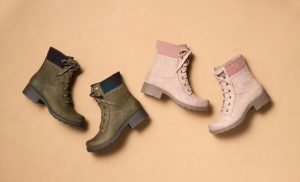 Shipping
The brand ships its shoes to Canada and the U.S., and it's working on expanding its international delivery capabilities. Earth offers ground shipping free of charge in the Lower 48 on orders of at least $75.
To receive free shipping, you need to make an order worth $75 or more, before taxes and after discounts. If the order value before taxes and after discounts is less than $75, Earth will add a 6.95-dollar shipping fee.
They ship orders via FedEx, USPS, or UPS, within 5-10 business days, depending upon the distance to destination. Additionally, two-day Expedited shipping in the United States is available, and the packages will arrive between 4:30 p.m. and 8 p.m. for those in rural areas in the conterminous United States.
UPS/FedEx transit days begin the day after they have shipped your order and don't include holidays and weekends.
Orders worth more than CA$120 enjoy automatic free standard shipping. However, this excludes the 3 Northern Territories: Nunavut, Northwest Territories, and Yukon. Orders are often shipped within 1 to 2 business days from Monday to Friday, except during holidays.
The estimated delivery in Canada is between 8 and 10 business days, depending upon the location, and business days don't include holidays, Saturdays, and Sundays.
Return Policy
The brand wants its customers to be happy with their orders, and that is why they accept returns and refunds, except for Final Sale items. You can return unworn merchandise within 90 days from the shipping date, but you need to pay a $5 return fee.
Earth doesn't offer direct exchanges on merchandise. So, before wearing the shoes outside, you might want to try them indoors to see if they fit. They only accept replacements and refunds for items bought on their official site.
Earth Shoes Promotions & Discounts
New customers get 15% off their first purchase. The brand currently has an End of Season Sale, where you will enjoy 50% on selected items. When you refer a friend, you will receive a 20% off code, and your friend will get 20% off their first order.
Contact Earth Shoes
If you have more questions about Earth, you can contact the support team via their email at [email protected] or call them using their phone number at 1-877-372-2814. Alternatively, you can use the contact form on their website to drop them a line.
Review Earth Shoes: Editor's Verdict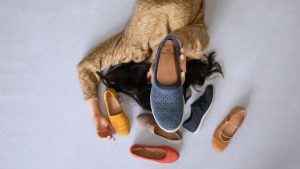 To conclude this review Earth Shoes, we found their shoes have original retro-inspired designs, meaning that you'll turn heads and get compliments on your style when you wear them. Their shoes are comfortable, lightweight, and breathable, with a moisture-wicking design.
Earth Spirit Shoes also offer premium comfort at an affordable price. Moreover, the brand has a courteous and highly-skilled customer support team, and it offers three payment methods: Shop Pay, PayPal, and G Pay.
Because many customers praise this company for selling high-quality shoes and helping the environment and people in developing countries, it is worth investing in their shoes.
If you are still looking for the original pair of shoes, сheck out other footwear reviews of Vessi, AllBirds, Jack Erwin, and Indestructible Shoes.
Earth Shoes FAQ
How do I care for my Earth Shoes?
You can wipe your Earth shoes using a clean damp cloth, then treat them with an eco-friendly cream conditioner. If you have suede shoes, you can treat them with a dry clean cloth, then use a brush to remove dirt deposits.
Do Earth Shoes run wide?
Yes. Earth shoes take the perfect shape of your feet, and the brand also offers wide-width shoes.
Do Earth Shoes price-match?
Earthshoes do not price match with other retailers. You can get a discount on a purchased item in case it goes on sale within 14 days of your order date.
How do Earth Shoes fit?
Earth Shoes seem to be fitting well for the majority of the customers. Many have bought multiple pairs and love them. In case you have any issues with them, you can just contact the Customer Service team and they will sort it for you.
Do Earth Shoes have arch support?
Yes, Earth Shoes have moderate arch support. Some of the pairs are rated for excellent support for high arches.