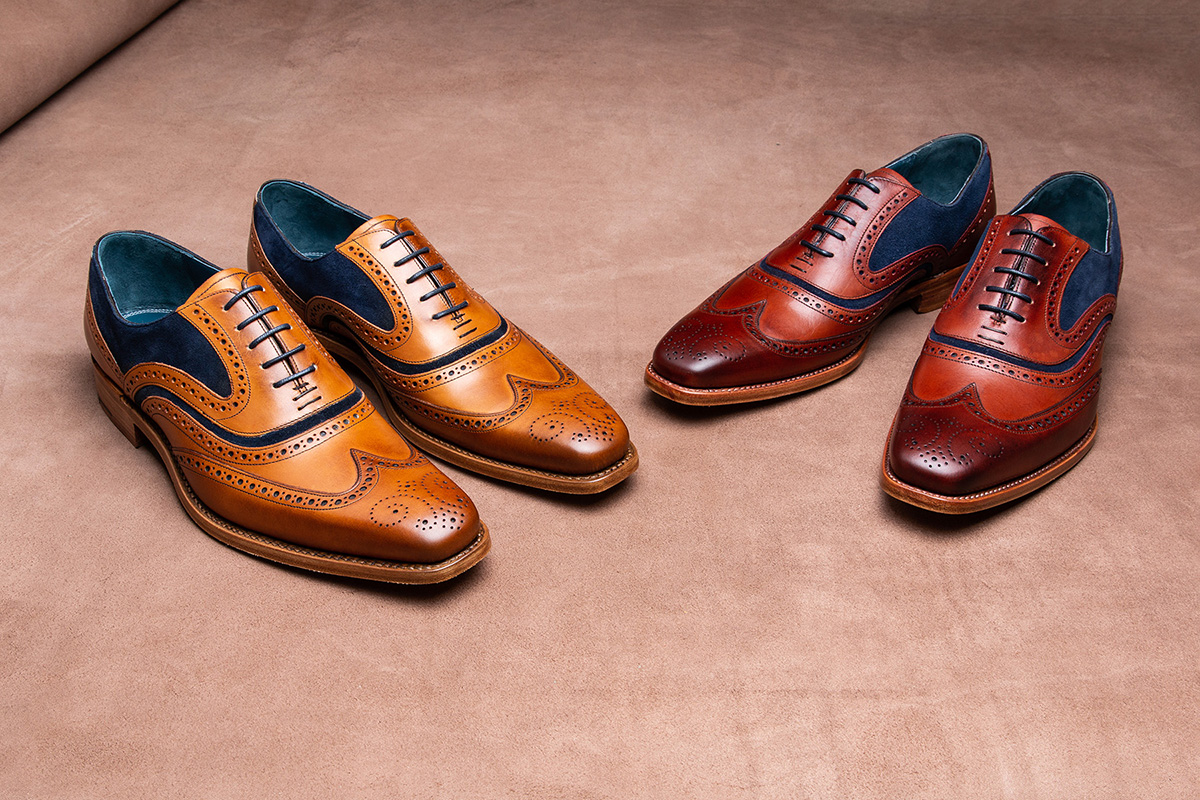 Barker Shoes is a footwear brand that specializes in traditional women's and men's footwear. The company crafts some of the most iconic and stylish shoes available today. Some of its collections include boots, oxfords, loafers, and many other classic styles. With over 140 years of experience, it's no surprise that it is one of the most trusted brands in terms of high-quality products. Here, we'll look at the ins and outs of this footwear brand, including Barker Shoes reviews from customers, their bestsellers, and promotions to help you decide if it lives up to the hype.
About Barker Shoes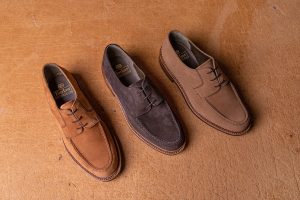 Barker is a British brand founded in 1880 by Arthur Barker. Arthurs was a boot enthusiast and created the boot game using his waterproof peg soles early in his career. The demand for his soles grew so high that he decided to employ more shoemakers to fulfill the need. 
The brand grew from a small family business to become a global footwear empire. Its products have remained high-quality despite the company's mass production. In fact, by WW2, it was already a trusted brand and was responsible for British army shoes.
The company gained the innovation to craft the current collection of classic shoes from its early success. Today, all of the shoes in the Barker collection still rely on the same attention to detail that made the company great all those years ago. 
They were featured in LuxuryLaunches and Permanent Style, and currently have over 2k Instagram and  28k Facebook followers.
Its headquarters are at Earls Barton, Northamptonshire, close to where it all started. The factory has some of the most skillful shoemakers who design and craft shoes. 
The company is currently under the leadership of CEO Alan Pringle. Under his guidance, Barker has continued its commitment to quality while also adopting to times with innovation. Its craftsmen and women have maintained the tradition of doing everything by hand, inspecting each shoe for possible imperfection. 
Barker Shoes have a reputation for their incredible comfort, long-lasting durability, and stylish designs, thanks to their adherence to standards. 
Pros
The brand has a wide variety of shoes in various classic styles for both men and women
It provides a size and shoe guide
International shipping is available
The brand offers accessories and other additional resources to help care for your shoes
It accepts various payment methods like PayPal and Amazon Pay
It offers refurbishment services to help you keep your shoes in excellent condition
Cons
International customers have to pay custom fee
Their products attract a $40 flat-rate fee on standard shipping orders
They don't offer 24/7 customer service
Barker Footwear Products Review
This review will look at five of the most popular Barker Footwear for men and women. We'll highlight materials, customizable options, and smart features that you can expect from each pair. And these are some of the best men's dress shoes.
Winsford Barker Black Shoes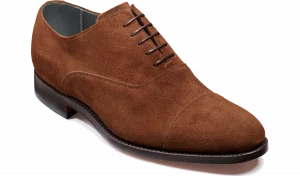 One of the most popular Barker men's shoes is the Black Winsford Barker. The Oxford-style shoe comes from high-grade, full-grain polished leather that's smooth on touch. It also features a hand-stitched apron. 
The Winsford Barker Black is a sleek and stylish shoe perfect for any formal occasion. This Hi-shine shoe will make you look your best whether you're at a wedding or job interview. Its leather insole comes padded for extra comfort, ensuring that you can dance the night away or stand for long hours without worry.
Barker Shoes reviews show that customers praise the shoe's outsole because it is durable and slip-resistant. You'll be able to walk with ease, whether you're on wet or dry surfaces. The shoe is also Goodyear Welted, which makes it durable. 
The Barker Black Winsford is available in sizes 40 to 46. Customers can enter their size when adding the product to their cart. The company also offers a size guide available on their website to help you with sizing.
These Hi-shine Barker Black shoes also come in various colors. They include black, burgundy, castagnia Suede, and walnut calf.
The Barker Black Winsford is a good choice for anyone looking for a classic and stylish shoe that will last them for years. It's made of high-quality materials and comes with a Goodyear Welted outsole for extra durability. Its hand-stitched detailing will give you an elegant look with timeless appeal. 
Calder Barker Boots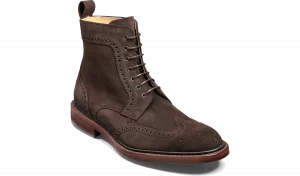 Ideal for those who need a durable shoe for work or play, the Calder Barker Boot is a tough, rugged boot. It can withstand all kinds of weather and terrain, and its slip-resistant outsole will keep you safe on wet or dry surfaces. 
The Barker Calder is a classic Country wing-cap boot that now got updated with modern details. It's built on the 460 last and has a vertical welt. The boot also features a Goodyear Welted construction. 
The boots come with an elasticated pull tab at the back for easy on and off. They also have a round toe and low heel for a comfortable fit. 
Like all other Barker boots, it comes from premium leather carefully selected for strength and beauty. The leather is also treated with a water-resistant coating to help keep your feet dry in wet weather. 
The unique design details set the Barker Calder apart from other Brogue boots. The boot has a stitching detail all around and contrasting color panels. These give the boot a modern twist while still maintaining its classic appeal. 
The Calder Barker Boot is available in various sizes, from 40 to 46. These tough and rugged boots also come in several colors. These include suede black calf, cedar calf, cherry grain, chocolate burnish suede, dark brown grain, and gray suede.
The Calder Barker Boot is a good choice for anyone looking for a durable and stylish boot. Its unique design details will give you a modern twist on a classic style
Barker Shoes Slip On Loafers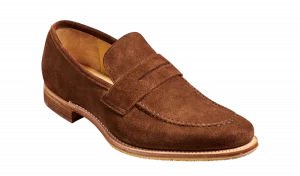 Barker Shoes are not all about boots. The Barker Shoes Slip-On Loafer is a good choice for those looking for a more casual shoe. This shoe is perfect for those who want something they can wear both to work and on the weekends. 
Customers can opt for the castagnia suede loafers for summer and spring weekend outings. The color also makes it easier for fashion enthusiasts to combine it with other colors in their wardrobe. 
The top saddle across the vamp and the tonal stitching of this shoe make it unique. These 493 last Slip-On shoes can also add some elegance to your formal look.
The Barker Shoes Slip On Loafer comes from high-quality calf leather. It features a classic penny loafer design with hand-stitched detailing. The shoe also has a leather insole integrated with a rubber forepart for extra comfort. 
You also don't want a show that lasts a single summer. The good news is that the Slip-On Loafer also comes with a Goodyear Welted outsole. That means that the shoe can be re-soled and last you for years. 
The Barker Shoes Slip-On Loafer is available in sizes 40 to 46. These slip-on loafers also come in two colors: black calf and castagnia suede.
These two colors are perfect for those who want a versatile shoe they can wear with both formal and casual looks. Its classic design and hand-stitched detailing will give you a timeless look. 
Barker Fearne Women's Oxfords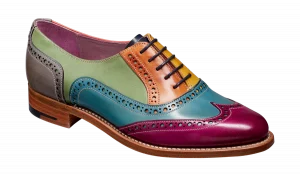 Women can also enjoy quality by investing in a pair of Barker Fearne Women's Oxfords. While the style is classic, the brand has this with the modern woman in mind. It comes from a long-standing brogue Fraya last, perfect for those with a high instep. 
The Fearnes have an almond-shaped toe and a Goodyear Welted leather sole. The shoe will last you for years and can be re-soled when needed. The upper gets the finest unfinished crust leather with hand-painted dyes. 
Our Barker Shoes review found that this multi-colored shoe is perfect for those who want to add a pop of color to their outfit. While it incorporates traditional shoe styles, its color scheme is an attention-grabber and will leave you feeling confident. Despite the many colors, it still has a subtle Valiant.
The colors featured include green, yellow, fairly muted magenta, orange, and patchwork-style blue. The Fearne has the right amount of pop to turn heads while still maintaining an official outlook.
Moreover, it features a classic brogue oxford design with hand-stitched detailing that acts as a color border. These stitches help ease into the different colors featured on the shoe. It also has a leather insole for that extra comfort. 
Like all other shoes from Barker, this one too has the Goodyear Welted construction. Therefore, customers get comfortable, stylish shoes that will last them for years. 
These oxfords are available in various sizes and come in several colors. They include brown calf, purple hand-painted, red hand-painted, and rosewood hand-painted.
A formal look doesn't always have to be boring. With the Barker Fearne Women's Oxfords, you can add a pop of color to your look without compromising on style. 
Imogen Women's Loafers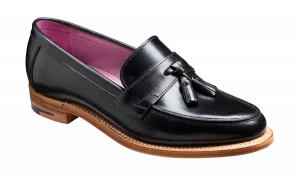 Perfect for women who want quality Barker Shoes, The Imogen Women's Loafers come in a classic tassel design and from the finest calfskin leather. They are excellent footwear for those who want to add a touch of elegance to their summer look. 
Unlike other shoes on this list, these pairs come only in black. However, they have a natural sole edge coupled with white stitches that add a touch of contrast.
The two knotted or frayed laces hanging from the vamp also add a touch of fun and playfulness to the shoe. They also make them appropriate for both outdoor fun and formal occasions. No one wants a dull outlook, especially when rocking a Slip-On loafer. 
While it doesn't come with bold stitches, the Barker Imogen Women's loafers are still beautiful and timeless shoes. The inside comes in purple leather with the Barker logo on the insole. It has a full leather lining and insole for extra comfort. 
The Imogen loafers have a Goodyear Welted sole to keep them in top shape for a long time. These loafers are available in sizes 35.5 to 40.5, and they come with a Goodyear Welted outsole. 
Barker Shoes Reviews from Customers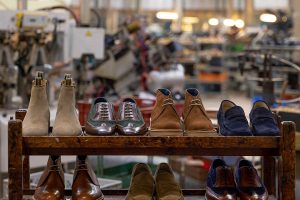 While the company offers an impressive collection of shoes for both men and women, it wouldn't make sense without looking at feedback from customers. We set out to see what people who've purchased shoes from Barker say about the brand.
The brand doesn't include customer testimonials on its website. However, there are many other platforms where people have shared their experiences with the brand. 
The brand has a solid rating of 4.1/5-stars from about 50 reviews on Trustpilot. Most customers praised the quality of Barker's shoes. One customer stated that they liked the shoe quality and the refurbishment program.
Another customer pointed out they had their Mcclean pair for the last eight months, and they were still in excellent condition. They also mentioned the top-notch customer service they received. Most customers said they would recommend Barker Shoes to a friend. 
Popular Alternatives to Barker Shoes
We also looked at Facebook comments and found that most customers had positive things to say about the brand. However, we also found some negative reviews. A few people had issues with the company's services. 
Most customers pointed out they were disappointed with the online customer service since it's not available around the clock. As such, they waited too long to get a response from the company when they tried to contact them.
The negative Barker Shoes reviews were about customer service and not the quality of the shoes. We also appreciated that the company made an effort to respond to all the negative comments, promising to resolve their complaints.
Overall, most customers agree Barker is a great brand that offers high-quality, comfortable, trendy, and stylish shoes. If you want a new pair of shoes to supplement your outlook, most customers believe that Barker Shoes is the right brand.
Sign Up for Barker Shoes
If you want to be among the first people to know about Barker's latest arrivals and new collections and receive exclusive deals, you need to visit their website and create an account. All you need is to fill out a short form with your name, email address, and password. 
Where to Buy Barker Shoes
You can get your hands on Barker's footwear through their website BarkerShoes.com. If you prefer to shop in person, the company has four shops in London: Regent Street, Old Broad Street, Cheapside, and Jermyn. Additionally, they have one physical store in Crocus City Mall, Moscow.
Barker Shipping and Return Policy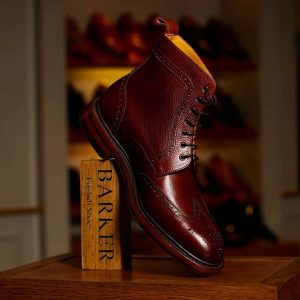 Shipping:
Free shipping is available for all orders over €300. For orders below that amount, there's a €20 delivery fee. It also takes about 7-14 working days to receive your orders. 
Barker ships orders to customers in most countries around the world. However, duty tax applies to countries outside the European Union.
Return Policy:
If you're not happy with your purchase, do not fret. You can return it within 28 days of receiving the order. You may also opt for an exchange for another item of the same value. However, the items must be in their original condition.
You will return goods at your own expense. Once you return an item, you'll receive an email notification, and the company will process your refund within 14 days.
Barker Promotions & Discounts
Barker has a dedicated sales page for promotions and discounts on their website. Check out the Sales page to find out which pair of shoes are available at a discounted price.
Contact Barker Shoes
We haven't answered a question in our Barker shoes reviews? You can reach out to Barker's support team through the contact form on the brand's site or email them at [email protected]. You can also call them at +441604810387 from Monday to Thursday, 8:30 a.m. to 5:00 p.m. GMT.
Barker Shoes Reviews: Editors' Verdict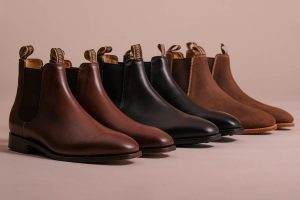 Based on the number of positive Barker Shoes reviews our team came across, we think the brand is undoubtedly worth it. Most customers do not doubt the product's quality, and that's always a good sign. 
The company also seems to put lots of effort into production, as they have a bespoke range of shoes. Barker also has an extended size range suitable for different types of feet. 
While we found a couple of negative feedback from unsatisfied customers, most reviews we read were positive. We recommend this footwear brand to men and women looking for high-quality, stylish shoes.
 Are you looking for other footwear brands? Read our reviews of AllBirds, Vessi Shoes, M. Gemi, and Orthofeet. 
Barker Shoes FAQ
Where are Barker Shoes made?
Barker Shoes are products of England. The company has a factory in Northampton, where all their shoes are handmade.
Are Barker Shoes true to size?
The size of a shoe depends on several factors such as style, intentions behind it, and material. That means not every shoe fits the same. For this reason, the brand provides a Last guide and an in-depth size chart to ease the process.
Does Barker use real leather?
Yes. The company only uses the finest quality leather to make their shoes. In turn, this ensures their shoes are durable and long-lasting.