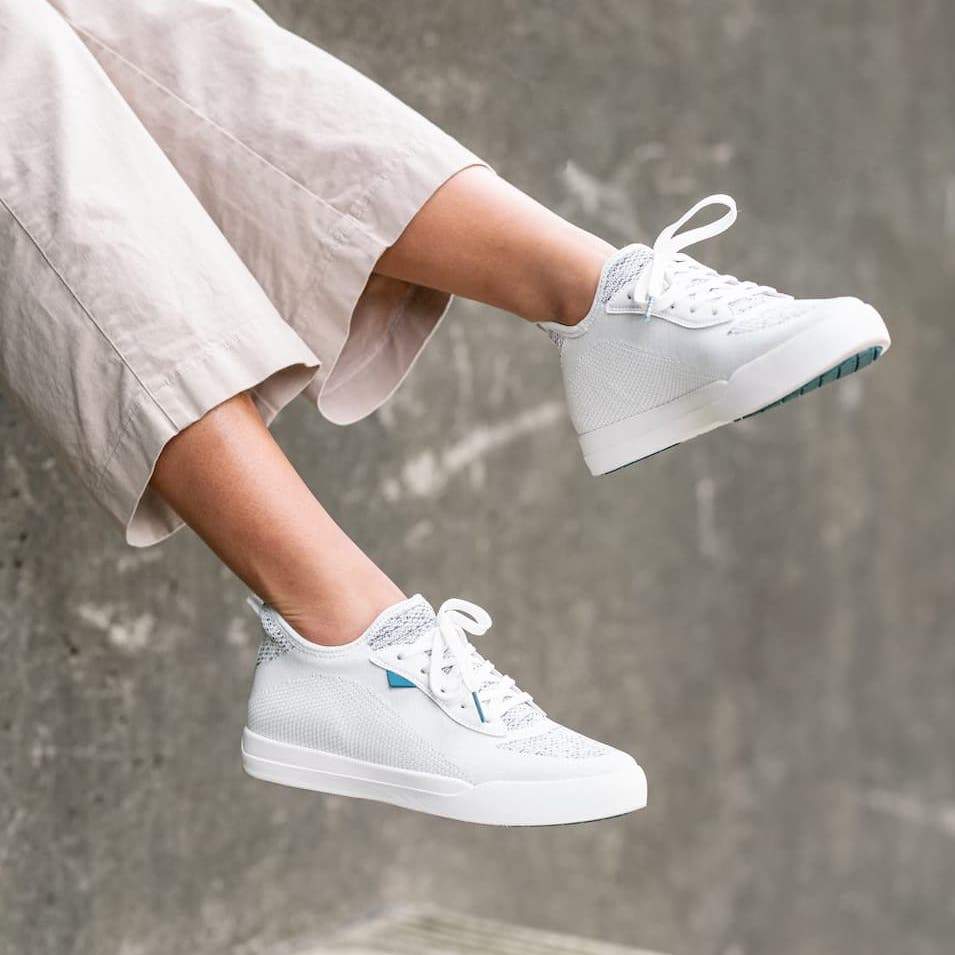 Shoes that repel water, mud, and sand sound pretty great, right? Well, here comes Vessi in, a Canadian sneakers brand. We've all had that unpleasant experience when our shoes got wet to the core in the pouring rain. Vessi shoes are the promise of 100% waterproof shoes, with unisex designs crafted for every occasion. But is this actually true? Let's find out within our Vessi shoes review!
If you've ever felt the pressure of choosing the perfect shoe to match style and weather, then this Vessi sneakers review is for you. Vessi seems to answer every shoe-related need we can have: aesthetically pleasing, high-quality, and durable. However, since the brand does not exactly offer the cheapest shoes on the market, it is understandable to wonder whether their price is worth it. To help you understand whether the Vessi shoe brand is worth your time and money, we'll answer any questions you might have about the designs, prices, customer experiences, and more.
About Vessi Shoes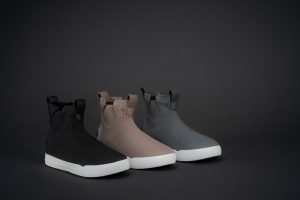 An everyday, anywhere kind of sneaker – the Vessi brand aims at creating products that move you forward, get you out there, and let you live your best life. Many sneaker brands today offer moisture-wicking shoes, and Vessi was crafted as a shoe that would keep our socks dry, our feet sweat-free. These shoes would not only be comfortable and stylish, but environmentally friendly.
Created in 2018 by Andy Wang, Tony Yu, and Mikaella Go, the Vancouver-born waterproof sneaker brand was designed as the puddle-perfect shoe. Three years and thousands of kilometers later, Vessi and its patented waterproofing Dyma-Tex technology were born.
"Wear them in the snow, wear them in the rain, wear them in the sun, even wear them in the shower because sneakers that can do it all are a thing now." 
With its specific knit made of tiny holes, the Dyma-Tex fabric patented by Vessi is meant to keep you completely dry and stylish all year round. With more than a million dollars raised and backed by almost 10.000 investors, the Vessi company has set out to change the way we think shoewear.
So, are the Vessis really 100% waterproof, sand proof, snow, slush, and windproof? Judging from the brand's customer reviews on several review websites, such as TrustPilot, it seems like they are. More than that, the Vessis might very well surpass and moisture-wicking shoes invented until then. Before we dive deeper into this Vessi shoes review, let us highlight the pros and cons of the brand:
Pros
Available in five stylish designs adapted to any occasion
Breathable, stretchy, and supportive shoes
Patented Dyma-Tex technology is 100% element proof
Environmentally friendly shoes and production process
Quick and hassle-free cleaning
Free exchanges and return for US customers
Cons
Shipping is available only to selected countries
Vessis do not come in high arch-support designs, wider or half sizes
Not suitable for customers with latex allergy
Payment plans only available to US customers
Vessi Waterproof Shoes Review
Vessi shoes come in five fashionable designs created for specific areas of our lives:
Cityscape: a minimalist, lightweight design with a three-zone rubber tread for lightness and grip,
Everyday: an everyday shoe designed with a two-zone rubber herringbone tread, a chunkier midsole, and a higher lace cage for extended foot support,
Everyday Move: the most breathable Vessi shoes design, a sporty middle ground between the regular Everyday line and the Weekend line with improved arch support,
Slip-on: a super lightweight, no-lace design that makes it perfect for travel,
Weekend: a relaxed fit shoe with moderate compression and a slip-resistant design that you can even wear at the gym and boating.
Women's Everyday Sneakers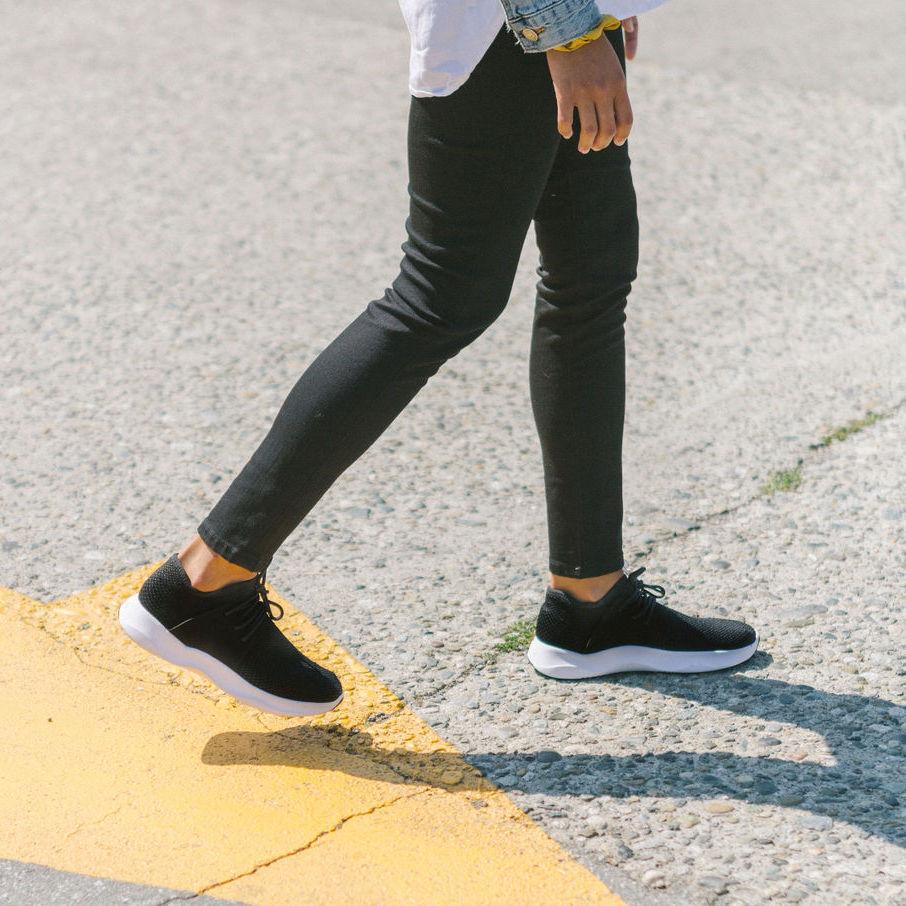 The Everyday Sneakers, with their tapered silhouette, set themselves as the ultimate shoe for any occasion. This women's waterproof design has raised over $1M on Kickstarter and allowed Vessis to attract the public's attention. These are also environmentally friendly shoes.
Designed with comfort and style in mind, the Everyday sneakers feature added cushion and support that make dressing for any weather a no-brainer. This style seems to be the perfect blend of style and function, focusing on allowing women to take their exploring activities up a notch. With enhanced breathability, all-day comfort, and added support, this style is perfect for the days when you're feeling adventurous and looking for a sportier look.
What's more, it's important to note that the Everyday sneakers run true to size, which makes shopping for them even more hassle-free. All that's left to do is choose your favorite color among the originals (Midnight Black, Pearl White, Marine Blue, Mist Grey) or find your favorite limited edition color.
Women's Weekend Sneakers
To make your weekdays look like weekends, Women's Weekend 100% waterproof sneakers make it easy to live your best life every day of the week. Waterproof, breathable, stretchy, comfortable, and lightweight all at once! The completely vegan materials are one more reason to fall in love with the Weekend design.
If you love choosing between shoe colors, the Vessi Weekend design will be a game for you. Available in five classic colors, what makes these waterproof sneakers even more interesting is the wide array of limited edition colors: there's even a Pride limited edition design!
Customers highlight the comfort and fashionable design of the Weekend sneakers that some even wear all week round:
"Living on the "wet coast" I love that these runners are totally waterproof!!! They feel like slippers on my feet and yet have enough support to handle long walks."
Men's Cityscape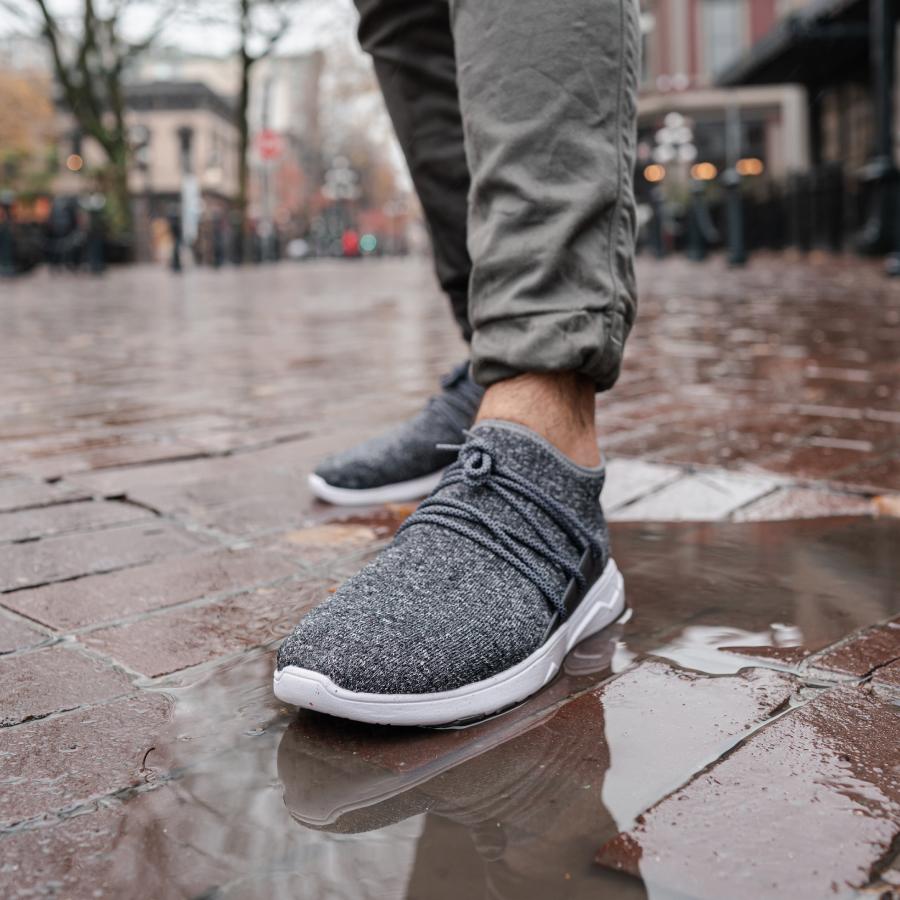 Walk the city or escape to your adventure. The Cityscape shoe is the lightest sneaker of the whole Vessi collection. They offer the best of shoe technology with a minimalist design that seamlessly transitions you from work to play. Indeed, with their tapered and slim silhouette, the Cityscape sneakers blend a three-zone rubber tread designed for lightness and grip. Seems like the perfect shoe for all occasions, right?
Crafted only from vegan materials in a breathable, lightweight knit, the Cityscape is much appreciated among the brand's customers:
"The shoes, you basically slide into a slipper, they're that comfy. They feel great on my feet, so breathable and lightweight, just like advertised. I recommend these shoes 110%."
"I work on a pool deck as a swim coach, and these make my time at work so much more enjoyable. No more peeling off wet socks when I get home. The shoes absorb the water, and they look just as good after practice as they did before."
These knit Vessis come in three minimalistic colors; grey, black, and white. Predictable? Maybe. Timeless? For sure. If you're wondering what the difference between Cityscape vs Everyday designs would be, we would focus on the tapered design of the Cityscape shoes.
Just like the Everydays, the Cityscapes are 100% waterproof to keep you dry without that ugly water repellent look. However, the shape is slimmer, giving the leg a cleaner and sportier look.
Men's Everyday Move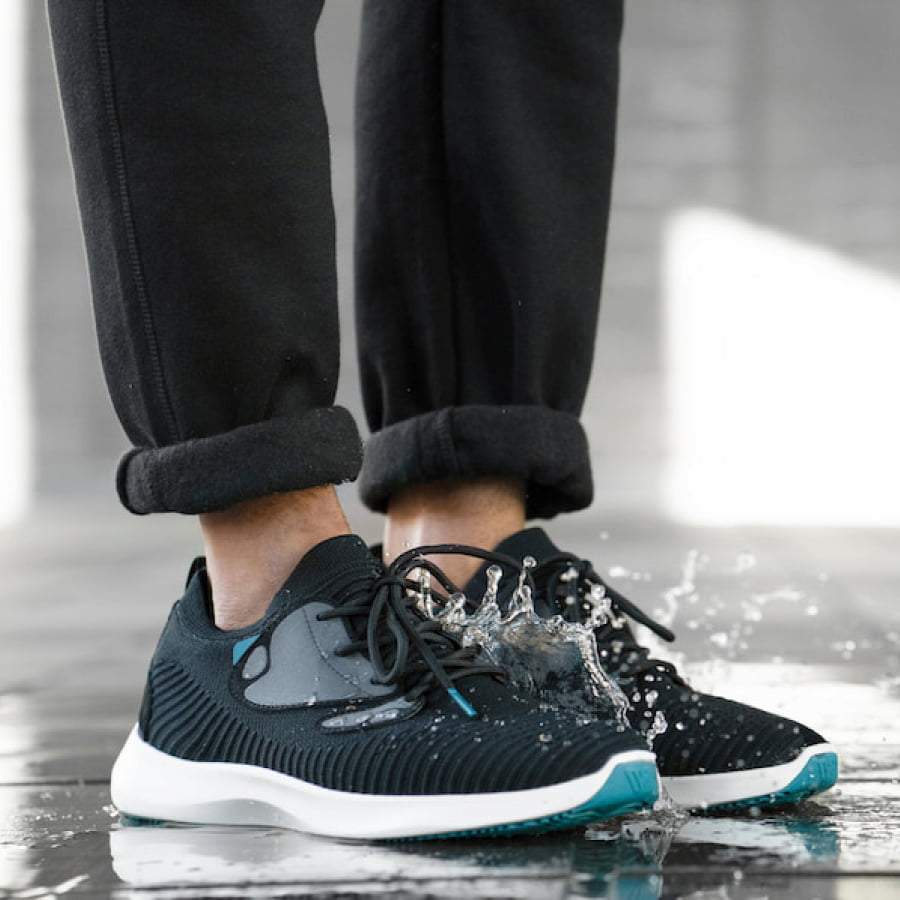 Men's Everyday Move – Onyx Black is a must-buy. These shoes don't even look dirty after a splash of mud. Still, what's more interesting, when it comes to the Everyday Move design is the ease with which we can clean the shoes. A splash of warm water, a toothbrush, and a sponge, and you're good to go.
Much like the female design, comfort and style are the core qualities of the Men's Everyday Move. If you're looking for utterly breathable shoes with added support, that's the design you'll want to go for. When writing this Vessi shoes review, we took a look at the customer reviews and found out that the comfort of the Everyday Move design was very much highlighted throughout the reviews:
"As a woman with wider feet, I've learned to instead get men's shoes in one size down from women's. The shoes fit great right out of the box and I have no issues after wearing them while getting my 10k steps in for today."
"True to their words. Very comfy. Not afraid of getting wet socks while walking in Raincouver…"
Men's Weekend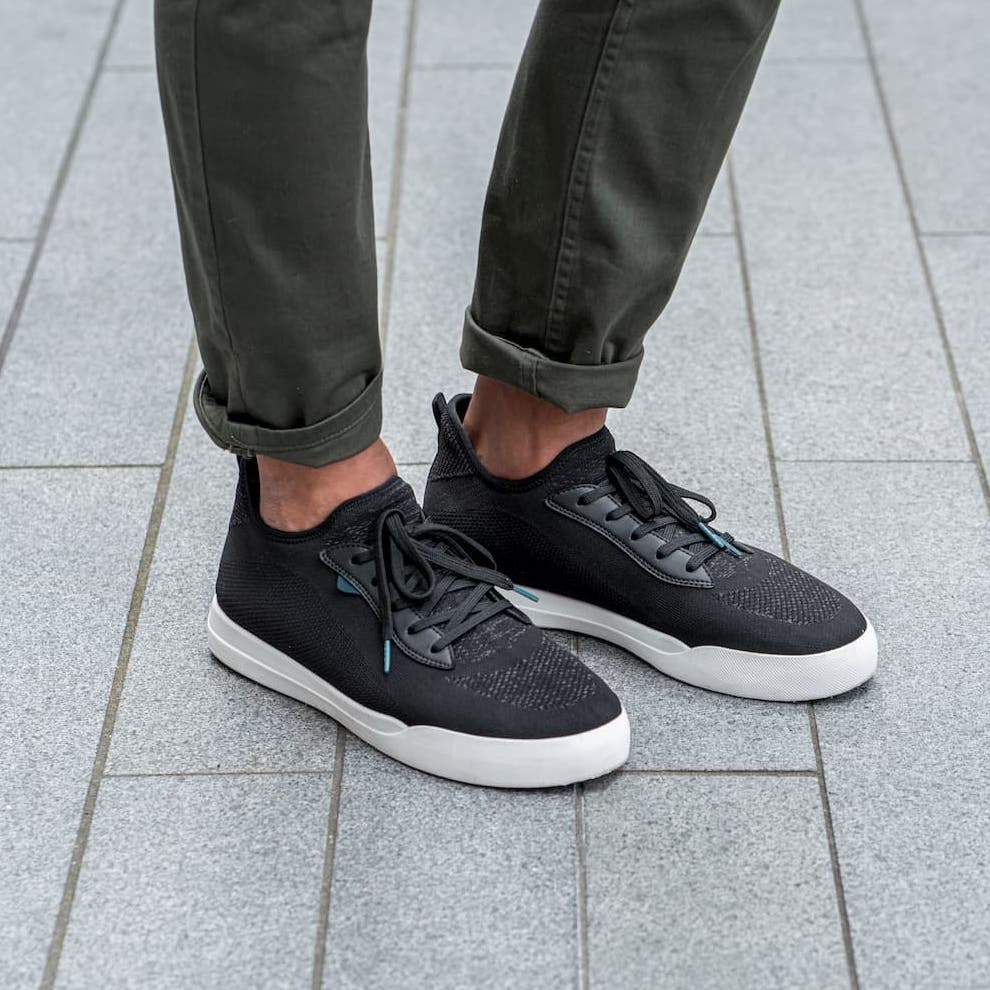 Men's Weekend shoes enjoy a 4.8 rating out of 5 in their customer reviews. As such, it's quite understandable why this is a Vessi bestseller. Available in more colors than we can count, including Citrus Yellow, Palm Green, and other classics such as Midnight Black, the Weekend design can complement any of your outfits.
Bear in mind that all models are unisex – if you're a female looking for a specific color, you can purchase the Weekend shoes from the men's section. Don't forget to size down! With their 100% waterproof sneakers, and lightweight knit, the Weekend shoe and its grippy soles set themselves as the perfect shoe for city or nature walk. They're also completely machine washable design – pop them in the machine when you're back from exploring, air dry them, and they'll be good to go in no time!
Vessi Footwear Sizes
Because of the very adaptable upper knit that stretches to the shape of your feet, this Vessi shoes review has found that half sizes often find that Vessis work for them anyway!
If you like a looser fit, size up. For a more snug feel, size down. The styles are unisex, with the men's sizes being wider with a bigger opening. So, if you're a female and would like a wider fit, just go one size down from your women's size when you pick from the men's Vessi range.
Do I Need To Wear Socks?
Vessi shoes are very breathable, so you can choose to wear them with or without socks. If your feet need some moisture-wicking for odors and comfort, do wear socks. If you'd like to find some amazing no-show socks that go with the Vessi shoes, do check out the Vessi socks range – they're designed to go with any of the models.
Vessi Shoes Customers Reviews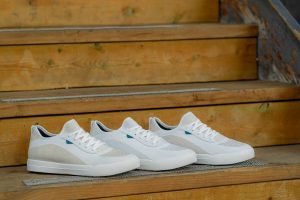 Showtime for some word of the street! Let's explore what Vessi customers have to say:
"Got my first pair of Vessi's and LOVE them! They are extremely comfortable and so easy to slip on and off. I walk the dogs every morning through the dewy grass and my feet stay warm and dry."
"Perfect after breaking them in. I love the weekend shoes. I have small but wide feet and these were a great fit. One issue I had was the back rubbing against my heel and breaking skin. After about two or three wears with thick long socks, they were good to go! I was glad it was temporary because I wanted to wear them with ankle socks. I wear them daily and am on my feet for 10 to 12 hours a day. Highly recommend them and would purchase another pair in the future."
Popular Alternatives to Vessi Shoes
Out of all the customer recommendations I have come across, the highlight of the Vessi shoes really seemed to be the perfect fit even for wide-feet people. The comfort and dryness of the shoes were also two qualities that stood out once you've broken in the shoe – wear them with thick socks the first time and you'll be good to go in no time.
Sign Up for Vessi Shoes
To join the Vessifam, sign up with your email and you will be first to know about deals, discounts, and news about the Vessi shoes brand.
Where to Buy Vessi Shoes
At the moment, you can buy Vessi products through their online store as the brand doesn't have brick-and-mortar stores. This allows you to browse through all their great products easily, enjoy website sales, and use potential discount codes as well.
Vessi Shipping and Return Policy
Vessi Shipping Policy
This Vessi shoes review has found the brand ships to select countries such as Canada, the US, Australia, New Zealand, Japan, Taiwan, South Korea, and Singapore.
Standard shipping for US customers is free. Tracking numbers are available within 72 hours of placing your order, and delivery generally takes 2-8 days.
International deliveries outside of North America can take between 7-14 days. Tracking numbers are available within 5 business days for International orders. All requests, fees, and processes are subject to change depending on the location, value, and condition of purchase orders.
Vessi Return Policy
Vessi offers a flexible exchange and returns policy. All requests, fees, and processes are subject to change depending on the location, value, and condition of purchase orders.
Here's a breakdown of their policy:
Returns are free within North America within 60 days of delivery
Final sale items are non-refundable; eligible for store credit if returned or exchanged within 60 days
Undamaged orders are valid for exchanges and returns; eligible for refunds or store credit if returned or exchanged within 60 days
Exchanges can take between 7-10 business days in North America
There is a 6-month warranty on defects
Vessi Promotions & Discounts
For this Vessi sneakers review, we have found that aside from offering a discount when you sign up for the newsletter, the brand also offers various coupons and deals. These can vary from free shipping to 15% or 20% off your order. There are also a few designs on sale and these deals are subject to availability.
Contact Vessi
If you need any more information that we have not covered in this Vessi shoes review, you can contact the team via:
Telephone: 929-470-1667 Monday to Friday, from 9:00 AM to 5:00 PM PT.
Email ID: [email protected]
Vessi Shoes: Editor's Verdict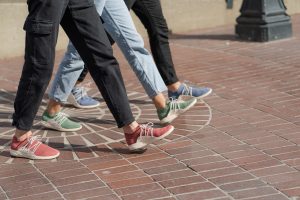 After days spent researching, we can confidently say that the Vessi stylish designs are worth it! From the overall waterproof Dyma-Tex patented technology to designs crafted for every type of day and activity, it seems like the Vessi shoe brand is here to stay. No matter where you're walking, from mud puddles to sand, a few minutes and a quick wash are all you need to bring your shoes back to perfect condition.
Who hasn't dreamed of owning shoes that go with everything, that let our feet breathe, and that prevent our socks from dripping with water? We've dreamed it; Vessi shoes did it. All you need to do is see how loved and acclaimed the brand is by customers:
"So far these shoes have been very comfortable to walk in, and even more importantly have kept my feet completely dry even after being in a wet field for almost an hour!"
"Suitable for plus-size people with wide feet!! We ordered three pairs, one for my wife, one for my mum, and one for myself! I was a little wary of ordering for myself because I have very wide feet, but they fit so well and are so comfortable!"
Curious about other shoe brands? Check out our reviews of Oliver Cabell, Earth Shoes, AllBirds, and APL.
Vessi Shoes FAQs
Are Vessis eco-friendly?
With its 100% waterproof shoes, Vessi stays true to its goal of eliminating waste and making sustainable practices as effortless as possible. The company is really committed to minimizing the impact left on the environment. From completely vegan source materials to their unique manufacturing processes, Vessi lives up to that commitment and only carries eco-friendly shoes.
Additionally, Vessi also gives clean water and builds sustainable water solutions that keep the environment clean. With their Vessi Community Fund, the company takes initiatives to fund and donate, all to give back to the community. To this date, Vessi has given more than $500.000 and more than 93.000 meals to charity, has planted more than 5465 trees, and they're still going strong.
Is there a difference between Men's and women's sizes?
The Vessi shoes designs are unisex. However, the men's fit is slightly wider - if you're a female, choose a size down from the men's Vessi waterproof shoes range.
How do I clean my Vessis?
All you need to clean the Slip-On, Everyday, and Cityscape lines is a clear detergent (no bleach), a soft sponge, a soft bristle toothbrush, and some warm water. Run your shoes under warm water, gently scrub the sole using the toothbrush and the knit using the sponge. Then, rinse and air dry your Vessis away from direct heat.
The Weekend range is completely machine washable. So, to clean them, remove the insoles first and wash them in cold water under a gentle cycle, and air dry.
Is Vessi good for running?
Vessi shoes maintain that ultra-lightweight feel (they only weigh 6.7 ounces), making them comfortable, completely waterproof, functional running shoes. However, keep in mind that the Vessis are created for a casual lifestyle and lightly active use - think short jogs rather than daylong hikes.
Are Vessi shoes worth it?
Are Vessi shoes worth the hype? Vessi has received so many rave reviews that they've hit cult status. The thing is, each pair lives up to the hype. Between a comfortable yet fashion-friendly design and a solid technological structure, Vessis are perfect for the city walker and the traveler.
The promise of 100% waterproof shoes that blend in style is one that Vessi keeps with every new design. If you're looking for an innovative shoe brand that bears in mind the environmentally-conscious explorer, then Vessi is the one for you.