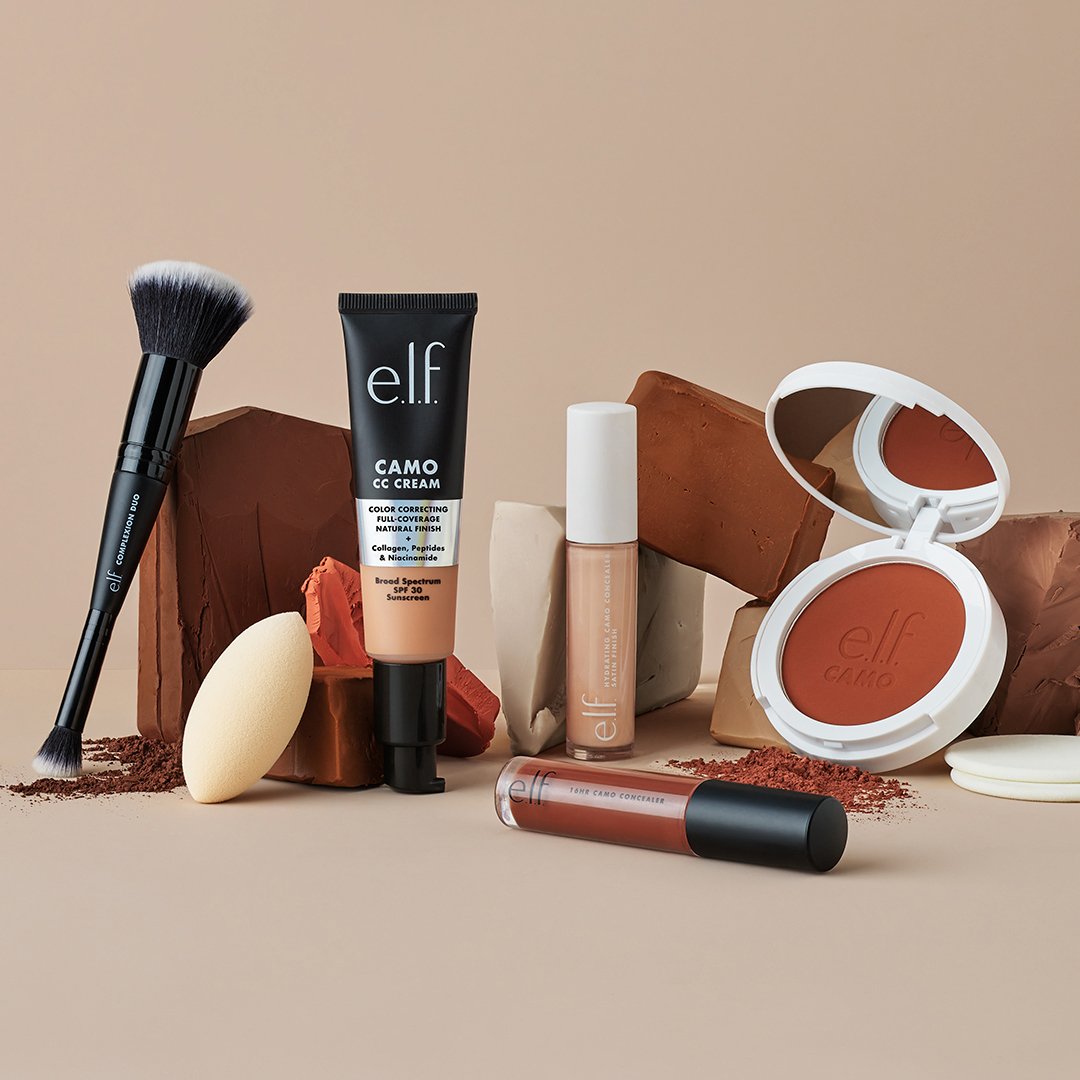 Have you ever fallen in love with the look and feel of a beauty product but cringed at the sight of the price tag? We have all been there. But we are here to tell you that makeup and skincare don't have to break the bank to deliver the effects you desire. More expensive is not always better as has been proven by many a test and comparison.
You'll see in our Elf skincare review why it's a brand of game-changing formulas at affordable prices without compromising on the quality of its ingredients or its ethics. The company is 100% vegan, cruelty-free, and free from some undesirable compounds such as phthalates, parabens, and sulfates. But even if you don't spend that much on this brand, we don't want any of your money going to waste. And we're pretty certain you don't either.
That's why in this Elf skincare review, we are going to have a close look at Elf Cosmetics, its skincare, and makeup products to determine whether they are worth investing in. We are going to do this by looking at the brand philosophy and values, its background, ingredients, and, perhaps most importantly, the telling customer reviews already circling the internet. Read to the end to learn what is our verdict.
About Elf Cosmetics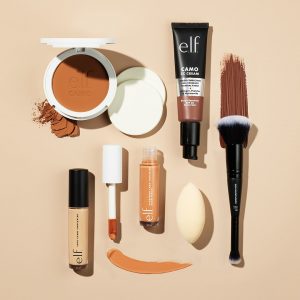 Elf Cosmetics is an inclusive brand of makeup and skincare. Its low price point between $3 and $28 and available in most drugstores make this label available to pretty much everyone, which is exactly what Elf strives for. However, while the brand can be encountered in so many physical stores, it is its e-commerce site that helped the brand take off and still accounts for 50% of overall sales.
But how can Elf be so high-quality and afford to sell at such a low price point? You ask. The brand claims it is due to a small-scale, independent approach to working and testing, combined with its close relationships with some of the best manufacturers in the world and listening to feedback and reviews. In short, it is a vague answer and doesn't clear up all that much.
The American brand is the brainchild of Scott Vincent Borba, a licensed aesthetician with previous experience in launching a beauty brand, and Joseph Shamah, then a business student who also helped to get the necessary financial backing from his father. Named after the acronym for 'eyes, lips, face', Elf Cosmetics was inspired by LA women with expensive cars buying their makeup for a few dollars in drugstores. The founders wanted to offer a high-quality alternative with a competitive price point. And that's how in 2004 Elf Cosmetics was born.
More about Elf Cosmetics
Apart from the brand's very attractive pricing and good quality products, another reason why Elf is so sought-after and boasts nearly 6 million followers on Instagram is the fact that it is 100% vegan and cruelty-free. To an extent, some might even class it as "clean" since the brand doesn't use phthalates, parabens, nonylphenol ethoxylates, triclosan, triclocarban, hydroquinone, and sulfates, all of which have been suspected from a certain level of toxicity and being "bad for you and your skin". However, it is difficult to label a brand clean as this term has not been given a definition or a set of requirements by any official body.
Launching with only 13 products, the range has since grown considerably to include everything from foundations, lipsticks, and eyeshadows to makeup brushes and skincare products like moisturizers and face masks. And we are going to have a look at some of it in just a moment. But before we get to the nitty-gritty of this Elf skincare review, let's have a look at some general pros and cons.
Pros
Affordable pricing - prices range from $3 to the absolute maximum of $28 for a body oil
Vegan
Cruelty-free
Free from phthalates, parabens, nonylphenol ethoxylates, triclosan, triclocarban, hydroquinone, and sulfates
Available nationwide in Target, Walmart, Ulta Beauty and more, as well as drugstores worldwide
Available online
A wide range of products - over 300 products to choose from
Partners and donates to charitable organisations such as It Gets Better Project and Black Lives Matter
Offers international shipping
Free shipping on all US orders over $30
Offers a loyalty program called Elf Beauty Squad providing members with large rewards
Cons
Does not offer exchanges or returns
Elf Cosmetics Products Review
As previously mentioned, the range of Elf Cosmetics boasts over 300 products, which include:
Eye makeup
Lip makeup
Face makeup
Makeup brushes and tools
Skincare
It is this broad range of products that has made Elf popular among all demographics – from teenagers to those in their 40s or 50s. Everybody can find something for themselves. So we are going to try to navigate this massive offering and focus on some of the most popular and debated products from the California-based brand.
This should answer questions such as – is Elf foundation good? Are its primers worth investing in and which one might be the best for you? So let's have a look and see if there is a place for any of them in your beauty regimen.
Elf Cosmetics Skincare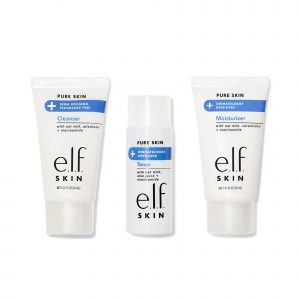 The brand started with makeup products but an Elf skin care line was launched soon after. Because there is no better prep for your makeup than good skincare, making sure your skin is smooth and hydrated so that makeup products, starting with an Elf Cosmetics primer, can just glide on. And this range includes some holy grails that even skincare enthusiasts swear by. One of such products is the Happy Hydration Cream.
Retailing at a humble price point of $12, this moisturizer comes with an impressive ingredient list including the rather expensive cannabis sativa seed oil (listed as the second ingredient), which is known to be excellent for hydrating the skin (hence the product's apt name) and calming redness.
Why is it so great?
The product is truly great at hydrating and moisturizing without being too heavy on the skin. The formula is extremely lightweight so it's suitable not only for those with dry skin but also for combination and oily skin. I'd know because this has been my moisturizer of choice for the past year or so.
But don't take it from me, go over to skincare YouTube channels such as Hyram, Mixed Makeup, or even dermatologist Dr. Dray, each with millions of subscribers. They all swear by this cream.
Elf Cosmetics is clearly focused on hydration a lot (perhaps it is due to LA's dry climate) and the Holy Hydration! the range has earned it a cult following. This range, marked as 'holy grail' on the Elf website, is a safe bet in our books and includes everything from face cream and eye cream to a cleansing balm. The brand even released a fragrance-free version of this bestselling moisturizer.
Retailing for $13, the formula is loaded with hyaluronic acid, a well-known hydrating ingredient, squalane for moisture, and niacinamide, which evens out skin tone and minimizes the appearance of pores. And it's an award-winning one at that, earning the Best Face Moisturizer of 2020 honors by Healthline.com.
Elf Cosmetics Face Makeup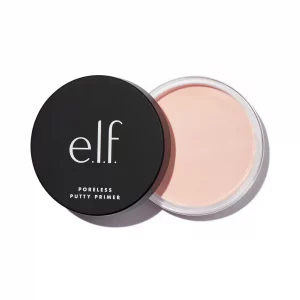 When it comes to face makeup, arguably the most important step is the foundation. When done right, it smooths your skin, evens out skin tone, and covers any blemishes or imperfections. Fear not, because Elf has got a selection of foundation options for you to choose from, depending on your needs and skin type.
The best foundations are:
the brand's signature bestselling Flawless Satin Foundation – available in 40 shades and retails at $6, this is a lightweight buildable formula with a semi-matte finish that improves skin tone and texture and hydrates the skin thanks to the power of glycerin.
the Acne Fighting Foundation for acne-prone skin – this product is filled with salicylic acid and witch hazel to fight acne, while aloe vera soothes the skin and fights blemishes. The formula retails for $6, and is full coverage but sadly comes only in five shades.
the new Camo Powder Foundation – the recently launched foundation comes with a built-in primer (so that you don't have to use one) and is available in 30 shades for $11. It's perfect for an air-brushed finish but might not be the greatest choice for those with dry skin.
the Camo CC Cream for a natural finish. Infused with SPF 30, the $15 color-correcting formula provides medium to full coverage and comes in 30 shades. This is a great option to help protect your skin from sun damage (even though you should still use a separate sunscreen) and help with hydration and anti-aging, which in turn improves skin tone and texture.
and the $6 BB Cream SPF 20 if you're after a supernatural, color-correcting coverage. A cross between a tinted moisturizer, a foundation, and a sunscreen, this product is hydrating and rich in soothing and nourishing ingredients such as vitamin E, aloe vera, and cucumber extract. Sadly, it is available only in three shades.
Primers
However, others could argue that a primer is even more important. And while we are used to being given a single primer option from most brands, Elf Cosmetics has 22. A bit of an overkill? Maybe. But let's have a look at some of its most popular, including a certain Elf dew primer that has been on everyone's lips as of late.
the very popular Elf Jelly Pop primer ensures you will end up with a glowing and dewy complexion
Mint Melt cooling face primer is a great dupe for Milk Makeup's Hydro Grip primer. It's a gel consistency that will keep your makeup in place while providing a cooling and hydrating effect thanks to hyaluronic acid and the boost of antioxidants.
Poreless Putty Primer – a holy grail formula, which has been voted the Best Mass Primer by Influenster. It reduces the appearance of pores and smooths skin's texture for a flawless finish.
Matte Putty Primer is a velvety, oil-free formula creating a (surprise, surprise) completely matte finish. So if you like a bit of a healthy glow, then this is not for you.
rather the Luminous Putty Primer might be your jam with its radiant finish. Charged with hyaluronic acid and vegan collagen, this formula plumps and hydrates the skin.
Elf Cosmetics Eyes and Lips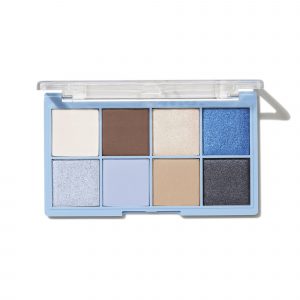 As the website states, the eye looks you can create with Elf's products are endless. We particularly love the brand's Liquid Glitter Eyeshadow available in 11 shades, each priced at $6. The gel formula is quick-drying, long-lasting, and luminous, featuring classic tones like gold and silver, but also some more unexpected ones like glittery electric blue called Ocean Eyes or an aqua green named Mermaid Shimmy. The love is also reflected in the Elf eye shadow reviews as over 1000 customers have given this product a 5/5 rating.
However, one eye product that is a slight miss in my opinion is the Lash It Loud mascara. It promises fuller, bolder, and longer lashes with intensely rich pigments. And while I can attest to the long lashes, I wouldn't say it makes them any fuller and perhaps the pigment is a bit too strong as it transfers constantly throughout the day onto my bottom and top lips.
As far as lip products go, again the brand boasts a large offering, largely focusing on hydrating formulas with a glossy or shiny finish, rather than a bold matte look.
Elf Cosmetics Brushes and Tools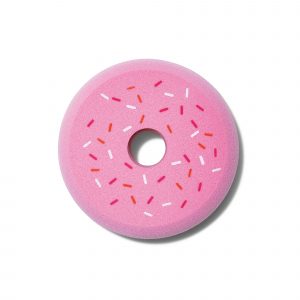 Elf offers a full range of professional-grade makeup brushes for pretty much any and every purpose. However, its bestselling one is the Putty Primer Brush and Applicator. As the brand's putty primers come in a pot, this tool helps with an easier and more hygienic application. The dual-ended tool retails for $7 and features a scoop on one side and a primer face brush on the other, which blends the primer into the skin flawlessly.
Elf Cosmetics reviews from customers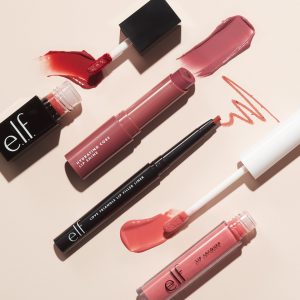 Often, the existing customer reviews of a product or a brand are the most important piece of information when making a purchase decision. And for a good reason, after all these people have a first-hand experience with what you're about to buy into.
But bear in mind that even a cult favorite like the Elf Jelly Pop primer can encounter some negative feedback. Because no product from any brand will work for absolutely everyone. Beauty is personal and that's exactly the kind of message Elf Cosmetics is trying to bring home, as previously outlined in the Elf skincare review. Be you and be true to yourself. However, the majority of the feedback on the brand's website (we are talking hundreds per product, which comes to several tens of thousands site-wide) is incredibly positive as customers repeatedly sing its praises.
Popular Alternatives to Elf Cosmetics
Further customer reviews
In order for you to be able to make an informed decision regarding your potential purchase, here are a few examples of Elf customer reviews about some of the brand's bestselling products for you to have a look at:
'I didn't care for this at all. 1st, very sticky. It didn't hide any pores. My nose just looked like it had some shiny sticky stuff on it. Same with my face, I didn't even apply much to start. I don't care for the fruity smell either. Vit. C serum is 1 thing, but not this smell in my makeup!! Almost felt like it clashed with my perfume.'
'I love this stuff! it doesn't matter how much makeup I have on it literally melts of off my face within seconds. even waterproof mascara is no match to this stuff. it also leaves my face feeling so soft and hydrated. I love this makeup remover and it's definitely a must-have in my skincare routine now!!'
'Purchased shade 'Truffles'. Cooler-toned in person than it looks online. Packaging is small and slim, which is great for someone like me–tiny one bedroom, so I'm always short on storage space. Really nice texture, pretty good color payoff and blends out easily. The only true con I can think of is that the color does fade more quickly than many of my other shadows, no matter if I use an eye primer or not and a setting spray or not…but for three bucks you really can't beat it.'
Sign Up for Elf Cosmetics
Elf Cosmetics offers its customers and fans a loyalty program called the Elf Beauty Squad. Upon signing up, you start earning points with every purchase, whether you buy a product from the brand's website, at Ulta Beauty, Amazon or anywhere else. Completing activities also lets you earn points. This gives you early access to new launches, a free gift on your birthday, access to events, free shipping, and more.
Where to Buy
Elf Cosmetics is a global brand available in many drugstore chains and other stores all over the world, including the likes of Amazon, Asos, Walmart, Ulta Beauty, and more. To find your nearest local store that offers Elf products, check the Where to Buy tool at the brand's website, where you can, of course, also purchase the full collection.
Elf Cosmetics Shipping and Return Policy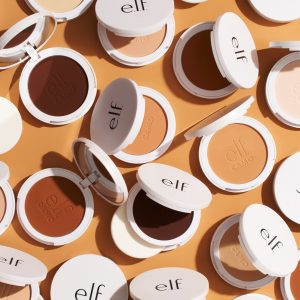 Shipping
Elf offers free shipping on all US orders over $30 and ships to all 50 states. Similarly, on the UK version of its website (as well as French, German, etc), the brand offers free shipping on all UK orders over £25. Otherwise, the shipping cost is $6.50.
Returns
Unfortunately, Elf Cosmetics does not offer any returns or exchanges, unless your product arrives faulty or damaged. The only exceptions to this rule are the brand's foundations as Elf understands that matching your skin tone to a shade online is no mean feat. Therefore, if you are unhappy with your match, you are welcome to request a refund within 30 days of the date of purchase.
Promotions & Discounts
Apart from the discounts for its loyalty program, Elf regularly provides promo offers, which can be found in the tab marked Promo Offers at the bottom of the page. This can be anything from two free minis with any orders over $25 or 30% off its new Dunkin' collection.
Contact Elf Cosmetics
In this Elf skincare review, we have tried to answer any possible questions you may have had. However, if you still feel like there is a question unanswered, then feel free to get in touch with the brand directly via:
Email at [email protected]
Phone at (212) 239-1530 on weekdays between 9:30 am and 5:30 pm EST
Contact form on the website
A live chat on the website
Instagram
Facebook
YouTube
Pinterest
Twitter
Snapchat
TikTok
LinkedIn
Elf Cosmetics Review: Editors' Verdict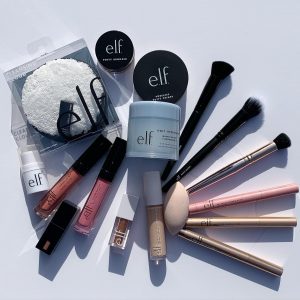 In this Elf skincare review, we have learned more about Elf Cosmetics as a brand, its values, ingredients, individual products (and its sheer volume), along with some existing customer reviews. So after going after all of this, what is our verdict? Do we think that Elf Cosmetics is worth the investment?
Honestly, it is rare to come across a brand like this one, where it's a struggle to find any negatives at all. It is a brand that's affordable, yet highly effective, with amazing ingredients and values as it is both vegan and cruelty-free. The range is incredibly vast so that everyone can find an Elf product that will work for them.
So all we can say is, hell yes, it gets our stamp of approval. The only thing that we would perhaps like to see improvement in is the brand's transparency as to how it's possible for it to be so high in quality, yet so low in price.
If you love Elf Cosmetics, check out our reviews of Jouer, Cover FX, Cult Beauty, and Beauty Bakerie. 
Elf Cosmetics FAQ
Is Elf cosmetics cruelty free?
Yes, the brand is entirely cruelty-free.
Are the products full or sample size?
All products are full-sized.
Where is auto-delivery available?
Currently, auto-delivery is only available for customers in the US.
What is Elf Beauty Squad and how can I join?
The Elf Beauty Squad is a loyalty program that allows you to earn points and rewards. You can join simply by signing up with your email address.
What countries are gift cards available in?
Gift cards are available only in the US.